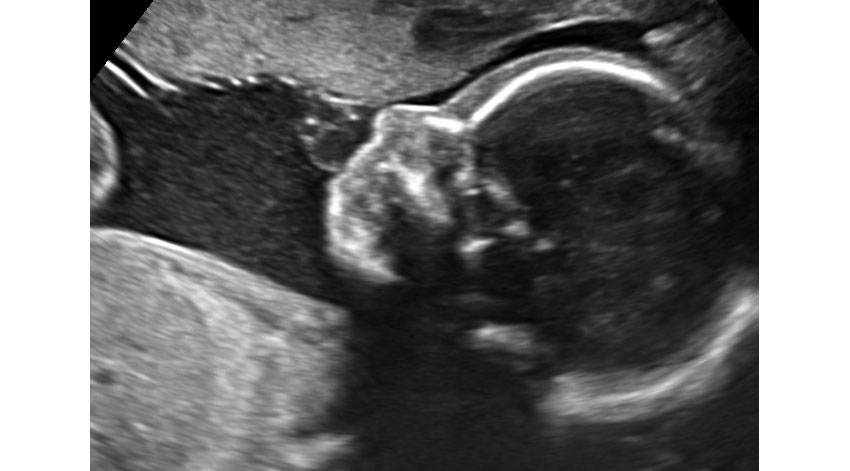 So  you're having a baby boy?  As a modern mama, who I can only assume is fashionably savvy [because you are here, reading this], it is ok to admit that there is maybe a little part of you that is disappointed you are not having a girl.  I am here to give you permission to feel that.  I can say this because I am soon to be the mother of two boys and I know that feeling all too well.  Let's face it, there is just so. much. more. cute girl stuff out there!  Whether you like frilly tutus and puffy bows, hipster headwraps and baby moccasins, or flower crowns and sweet little rompers, [or all of the above] the possibilities for girls are endless.  And I am not going to lie to you, dressing up girls IS fun [just see my instagram feed if you need further evidence of that].  Buuut, don't be distressed!  Nowadays, there are so many creative people out there making some pretty rad boy's stuff.  So if you wanna have some fun dressing up your little man, there is no reason why you can't!
When I was pregnant with my first son, I had a very generous friend who gave me ALL of her little boy's hand-me-downs.  Plus, he was my first, so between two baby showers and the hand-me-downs, we really didn't even need to go shopping for him for the whole first yer.  And because I felt so overwhelmed by being a new mom anyway, I was kind of ok with that.  Of course when my daughter was born, it was a totally different story.  Now with number three and having become pretty savvy with all the great handmade and eco-friendly little shops out there, I am getting excited to find fun and unique boy's stuff for my newest little man.  Of course he will still get some of his brother's hand-me-downs.  But I like to have some things for him that are special.
Last thing before I get to the goods: can we please get over the 'boys are blue' and 'girls are pink' thing already?  My boy wears both blue and pink and my girl, both pink and blue.  And both wear every other color in between.  To me, nothing says modern baby boy like black and white.  True, these colors can be gender neutral, but I have styled these pieces here with a baby boy in mind- and I think it works.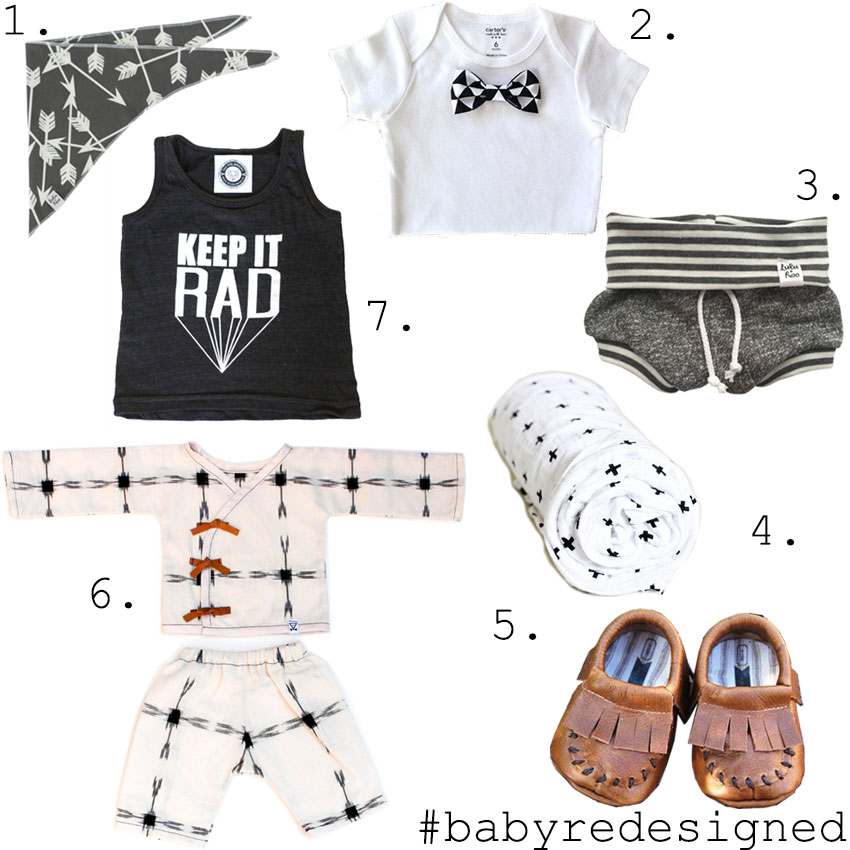 1. //  bandanna by lulu and roo // forget drool bibs, no modern hipster babe should be without a bandanna to wear around his neck.
2.// bow tie onsie by lennon and co // the bow tie is another baby boy must and they are available pretty much everywhere.  but I prefer this one that snaps on and off of the little onsie and can be layered under almost anything without the need for a collared shirt.
3.// beach shorties by lulu and roo // I've had my eye on a similar shortie/hoodie set for my daughter since last summer but I just love them for little boys too.
4.// muslin swaddle by modern burlap // let's face it, in those first couple of months, your babe isn't going to be wearing much of anything besides a swaddle.  and these organic cotton muslin swaddles are so versatile for long after that stage!  we have some blue swirls and pink elephants in the mix at our house, so I think we are due for an update.
5.// tan leather moccasins by cage & lantern // i'm so obsessed with these little moccs, we actually have this exact pair waiting for my little guy's toes.  i like how the design of them is different from a lot of other baby moccs out there.
6.// newborn gift set from duchess + lion // my love for duchess + lion is no secret [I've featured them on here before].  again, I just love how different this layette set is from anything you would find at a mass retailer, and they donate a portion of the proceeds to a non-profit organization helping babies in need, AND they are on sale RIGHT NOW!  go!
7.// rad tank by geo fox apparel // what would the life of a boy be without the quintessential graphic tee?  keep it rad people.
Even though I have had baby boy on the brain lately [for obvious reasons], a friend of mine asked me the other day for some super special baby girl gift ideas for a shower she is going to soon.  If you want to hear some of my suggestions to her in a future post, let me know in comments below!