I am on a constant quest for a more natural lifestyle.  I don't always succeed at that 100%, but I do my best for myself and my family.  I try to learn as much as I can about why it matters what products we use, how a plant-based whole food diet is beneficial to our health, alternative and natural remedies for common ailments, and how we can make a cleaner, safer environment for my kids to grow up in.
I recently have been reading more about how the chemicals contained in products we use on our bodies as well as those we absorb into them through other household products can be harmful to our health.  There is a barrage of new information available today regarding ingredients in products that were once considered safe.  There are also hundreds of thousands of products on the market with ingredients in them that have never been thoroughly tested for human use.  When I learned that, I found it pretty alarming.  It would take a lot of time and effort to sift through all that information to learn what is really potentially harmful.  To simplify life, I personally try to just eliminate as much of the stuff that is known to be harmful (or the stuff that has not been tested) as I can.  To read more about the crazy lack of household product testing in the US, as well as a (somewhat) concise list of what ingredients to look for and to avoid, check out this recent article from goop which also contains additional links with even more information on this subject.
One of the biggest challenges I have found when looking for beauty and cleaning products that are plant based, natural, and safe is finding those that actually work.  With the whole food/natural lifestyle movement of the past few years, it is easier than ever to find natural versions of products.  But which ones are really "green" or "natural" as they say they are on the packaging?  And more importantly, will they be effective? I chose these products because these were once some of the items I was convinced I would never be able to find natural alternatives for – because their less-safe counterparts work so well!  Here are a few of my favorite, ingredient-approved products that actually work.  And trust me, I've tried a million.  Once I find brands or companies that I like and trust, I am pretty willing to try just about any product from them, although some always work better than others.  So this is just a brief list of my favorite among favorites- with other product mentions from the respective brands in the notes below.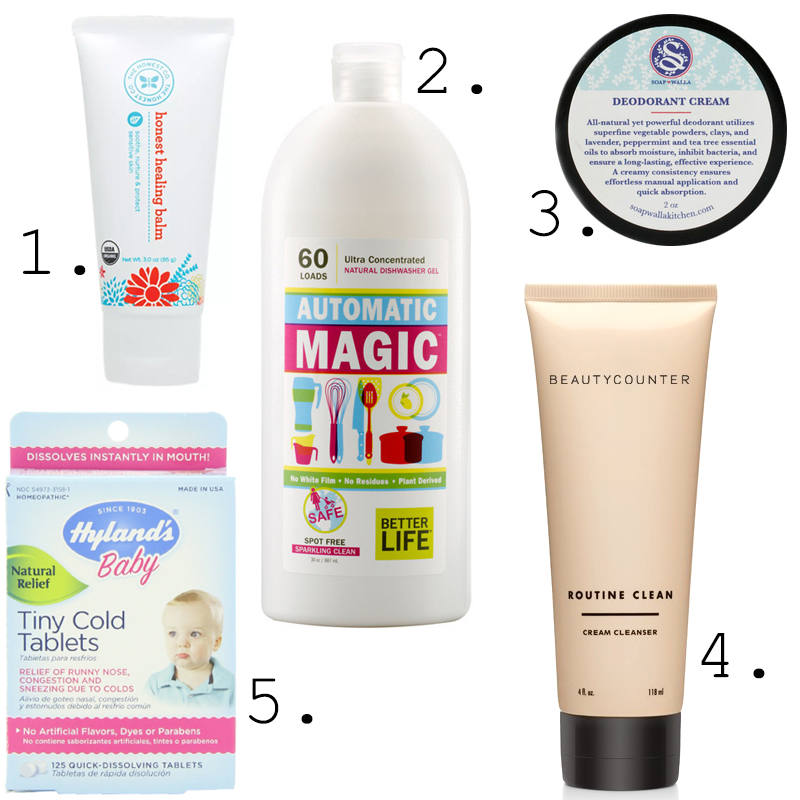 1./ healing balm from the Honest Company I have suffered from eczema on and off my whole life and unfortunately, I passed it on to my babies too.  This is a great alternative to the steroid cortisone cream for deeply hydrating dry patches of skin and it is organic.  So many other products from the Honest Co. are good but I'll save them for a more baby-centered post later.
2./ automatic magic dishwasher gel from Better Life We do a lot of dishes around here. For the longest time I would insist on doing most of our dishes by hand even though we have a dishwasher (a rarity in LA apartments) because I just felt they weren't getting clean enough.  Until I found this.  We also use several other cleaning product from them all around the house and LOVE them all.
3./ deodorant cream from Soapwalla I have been an antiperspirant addict basically since puberty.  I am not one of those girls who "doesn't sweat."  But I also know that aluminum used in antiperspirants irritates your skin in order to close the pores and keep them from sweating.  And that's tough on my sensitive skin.  This is the first natural deodorant I have tried that works and contains no aluminum.
4./ the essential face collection from Beauty Counter I just started using this whole face collection line and couldn't be happier with the result.  Over the past several years, I have had acne-prone combination skin.  These products are so gentle, smell clean and fresh, and my skin hasn't been this clear in years!
5./ tiny cold tablets from Hyland's  Having a snotty preschooler around a new baby is scary.  Last fall when little A was born, I keep these in our medicine cabinet at all times for when my little guy gets a runny nose.  They work amazingly for keeping the snot faucet at bay.  I've even used them myself in a pinch and was surprised how well they work!  (P.S. there are similar products designed for adults so you don't have to take half to bottle to make it work properly for your grown-up sized body 😉
What are some of your favorite products?  Click through the link at the top of this post to get to the comments section and let me know!  I'm always on the hunt for great finds!
A little bit of fine print:  1./ All products are based solely on my own honest opinion.  I was not compensated in any way for promotion of these products.  2./ The content of this post is not intended to be a substitute for professional medical advice, diagnosis, or treatment. Always seek the advice of your physician or other qualified health provider with any questions you may have regarding a medical condition. Never disregard professional medical advice or delay in seeking it because of something you have read in this post.