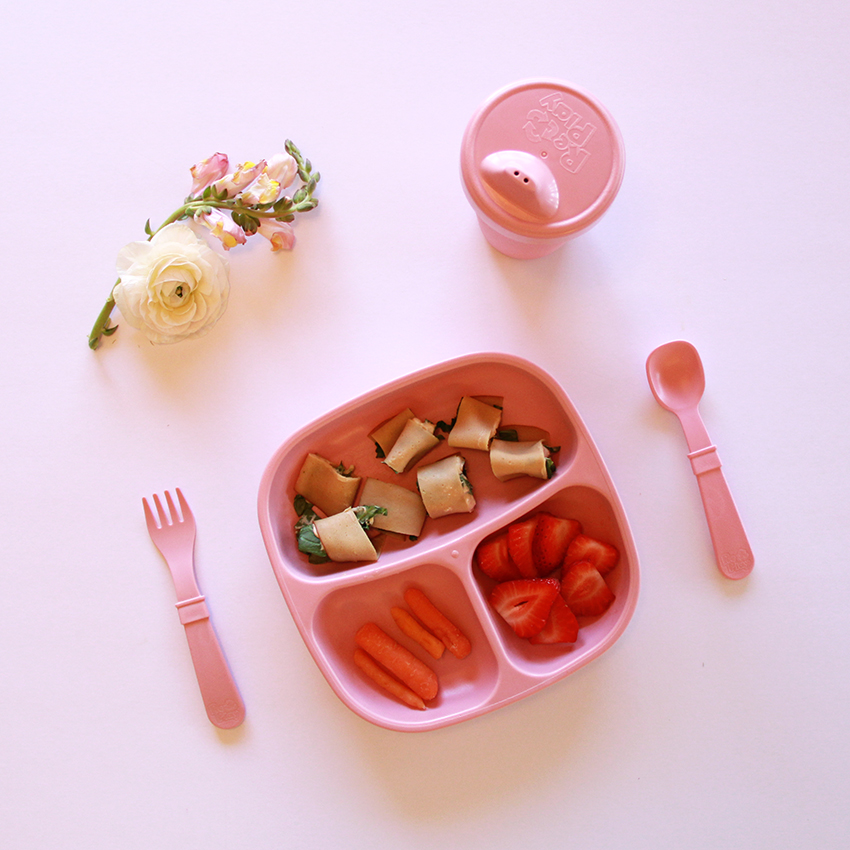 We recently got the chance to take some wares from Re-Play company for a spin in our house and are loving both the products the ethos of this uber-green company!  These colorful and durable, plates, cups, utensils, and more are made from 100% recycled curbside collected plastic.  I also love that they are made right here in the USA (not China like most plastic wares for children) and not only that, but their entire manufacturing process is centrally located in the southeastern United States, meaning less pollution during production and distribution.  The process is really fascinating and it is just so refreshing to know that there are companies out there that are so conscious of their environmental footprint!
It's hard to say what the best part about the Re-Play products is, but one aspect that really got this mama excited was the price point.  In a market crowded with fancy (read: overpriced) feeding products promising to make our lives easier in some way or another, it was so refreshing to find a 2-pack of divided plates for $5.99
, a 4-pack of utensils for $3.99
, and a 2-pack of sippy cups for just $7.99
!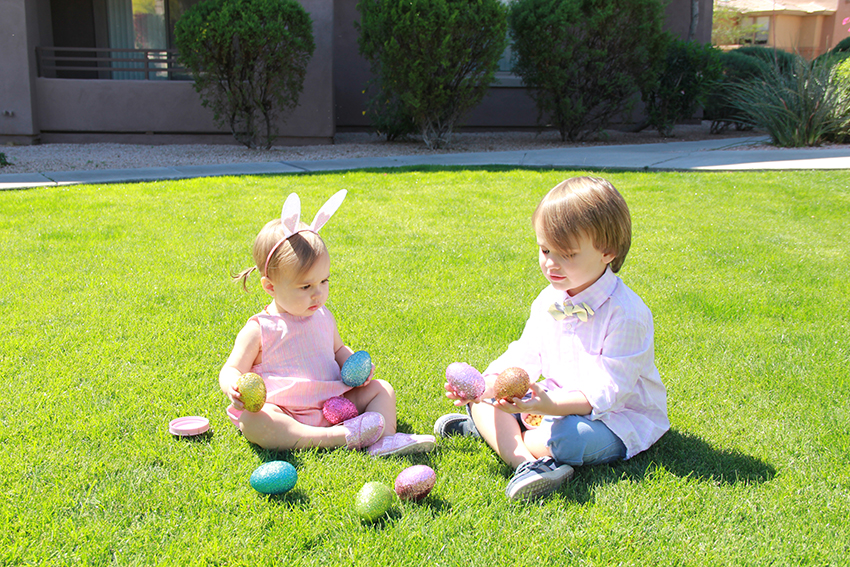 And let's not forget about the snack containers.  If your kids are anything like mine, they love snacks.  I don't know what it is about them – it hardly even seems to matter what the snack is – but if its in a container that is convenient for little hands, mine are all about it!  (In the picture above, they were momentarily distracted from their snack by the sparkly eggs.) Can you spy that tear rolling down her cheek (below) from when I tried to take the snack cup out of her hand for a picture?  Sigh.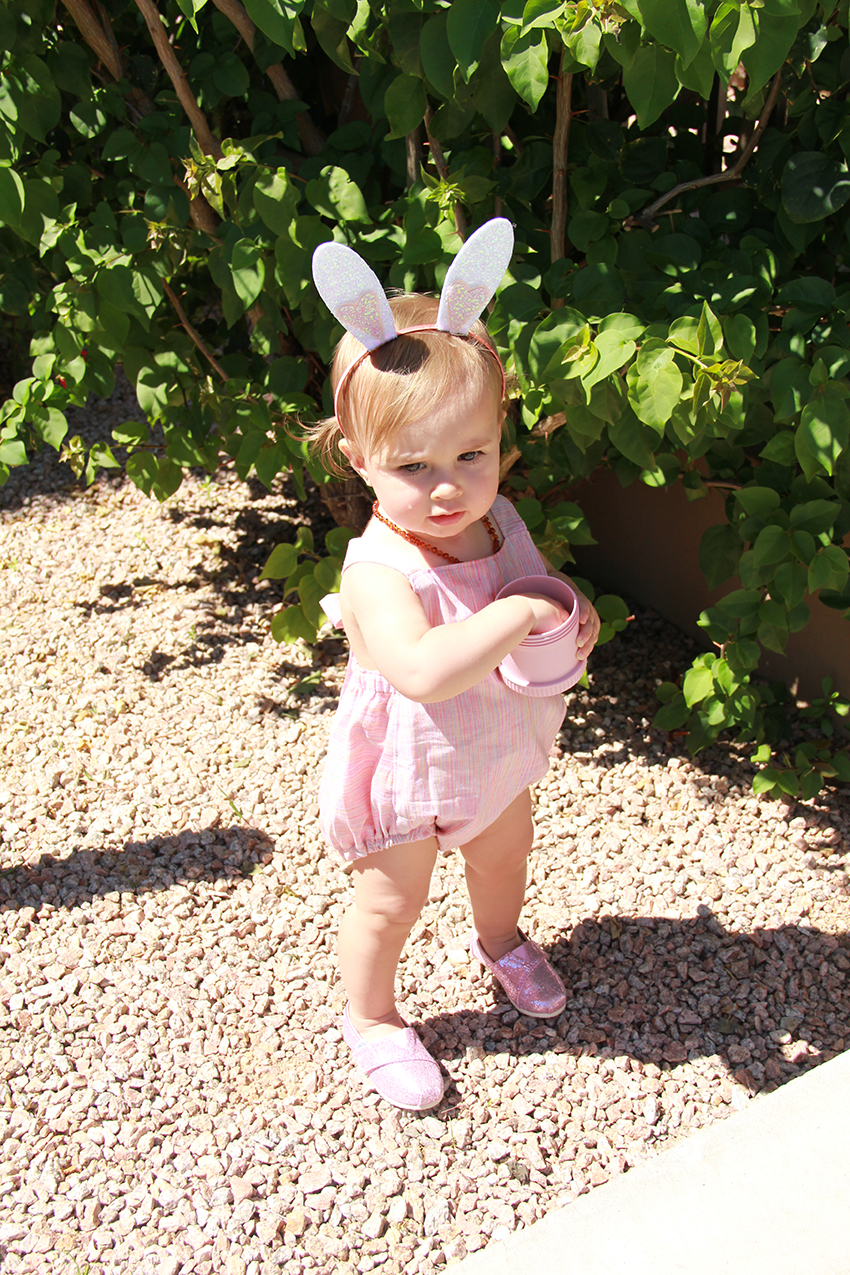 So this lead me to wonder what other great feeding products are out there that are new since my first was born?  I did some internet scouring for you guys, and below is what I came up with for this Feeding Essentials edition of my #babyredesigned series.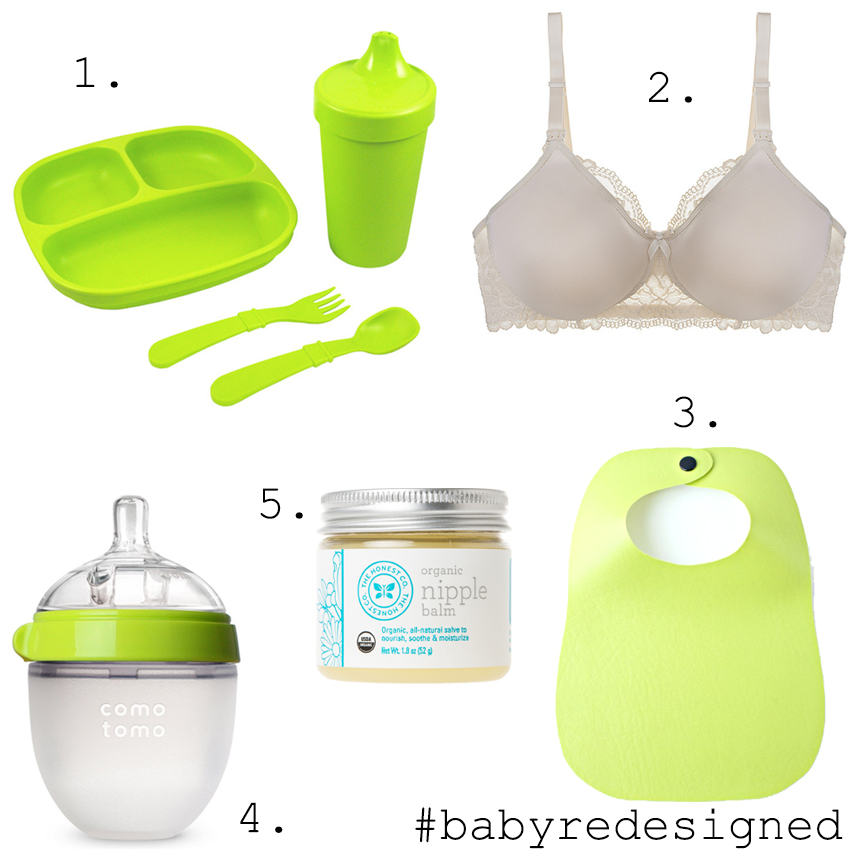 1.// feeding set by re-play recycled. [lots of info above]
2.// serena nursing bra by belabumbum.  Thanks the heavens that nursing bras have become cuter since baby #1.  I have some seriously frumpy nursing bras in my collection that are also a little tired.  I am hoping to nurse this baby for at least a year, so I definitely plan to update before (or perhaps soon after) he arrives!
3.// baby bib by snap bibs.  We washed and scrubbed, picked food out of pockets, and still got messes all over the floor with my big A.  I have to admit we haven't tried these yet, but the design is so simple and they are so easy to clean, I think we will need to add one (or a few) to our collection soon.  And they also come in sparkle colors for my princess baby so… yep.
4.// baby bottle by comotomo. When I was getting to go back to work after my first, the lactation consultants I worked with at my little mommy haven all highly recommended the Breastflow bottle by The First Years as my intention was to continue breastfeeding my son whenever I was with him for as long as possible.  My first was my easy baby and we never had a problem going from breast to bottle and back again (until the end of our breastfeeding experience, but that was another story).  My second was a little more temperamental when it came to taking a bottle at first, but she eventually caught on without further problems.  So in other words, I like the Breastflow and would still recommend it to any breastfeeding mother, however I wondered if there were any new players out there that were trying to make a better bottle for a breastfed baby?  A quick search landed me at the Comotomo bottle, which is highly rated on Amazon (my go-to source for trustworthy product reviews) and I loved the story behind how this company came to make a better baby bottle product.  Among other features, I thought the soft sided silicone bottle was pretty cool and definitely something I had not seen before.  Another one on my to-try list for sure!
5.// organic nipple balm by honest co.  To be perfectly honest (ha ha) organic nipple balm is not a revolutionary product.  In fact, it is part of my go-to practical shower gift kit for my new mama friends.  You may not know however, why it is important to use an organic food-grade nipple balm over, say, the previous standard – lanolin.  Yes, lanolin is a natural product (it is produced by sheep to protect their fur and skin from the elements) however it is not food-grade.  Which means, if you apply it to your nipples between nursings,  you will need to wash it off before feeding baby again.  As if you needed another thing to do when you are a new mom!  Also, all that washing can dry your nipples out worse than before – ouch.  I have tried other organic food-grade brands which I like, but a friend recommended Honest's to me and I like the company too, so I will definitely give this version a try this go-round.
What are your feeding essentials?  Leave me a comment below – I would love to hear about them!  And, if you know of any great must-have mama or baby products that are new to the market, show me them by tagging #babyredesigned on facebook or instagram.