About a month ago, I styled some family photos for my friend and photographer Brandi of Bhansen Photography.  That shoot was part of our Bhansen Beginners Photography Workshop and it gave the students a chance to practice what they learned at the workshop in an actual styled photo shoot session at the end.
We had so much fun and several requests, we decided to do another workshop coming up on April 11th!  [See more details about that on my facebook page or my instagram feed if you are interested in joining us!]
For this upcoming shoot, we are working with a beautiful family of four: mom, dad, and two little girls, the youngest whom is about to turn two!  And it just so happened that this little one is a Cinco de Mayo baby, so I was inspired to push outside of my normal comfort zone of a white, soft, neutral color palette and go for some bold colors with a somewhat Latin, somewhat Native, and a whole lot of Boho kind-of theme.  However to balance out all the colorful little accents, I still wanted to keep the family's main clothing pieces pretty neutral to allow those accents to really pop.   Starting with the littles (always my favorite to dress up), here is the outfit inspiration for the fam!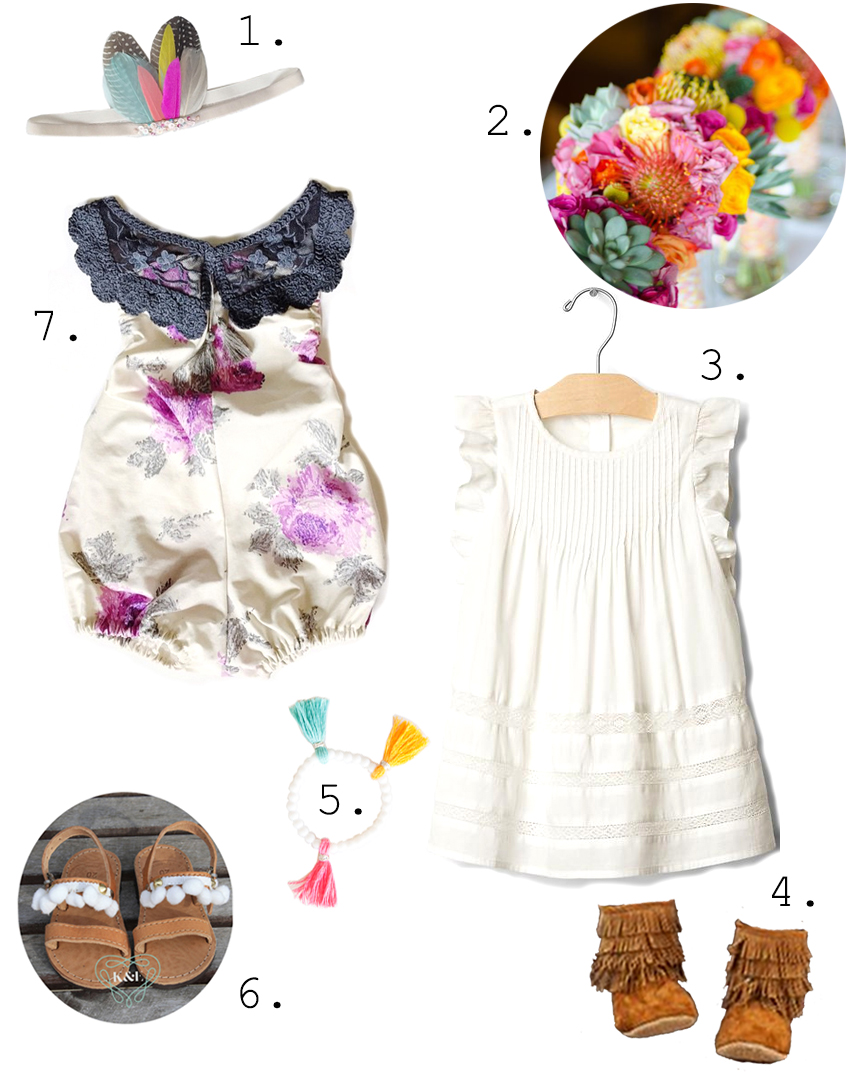 1.// feather headdress by a tiny arrow.
2.// floral inspiration via pinterest for a fresh flower crown I plan to make for the eldest.
3.// lace inset dress by gap.
4.// fringe moccasin boots by gracious may.
5.// petite paris bracelet by henny and coco.
6.// white pom pom sandals by k & elphy.
7.// lavender flowers romper by the brass razoo.
And here is for beautiful mom: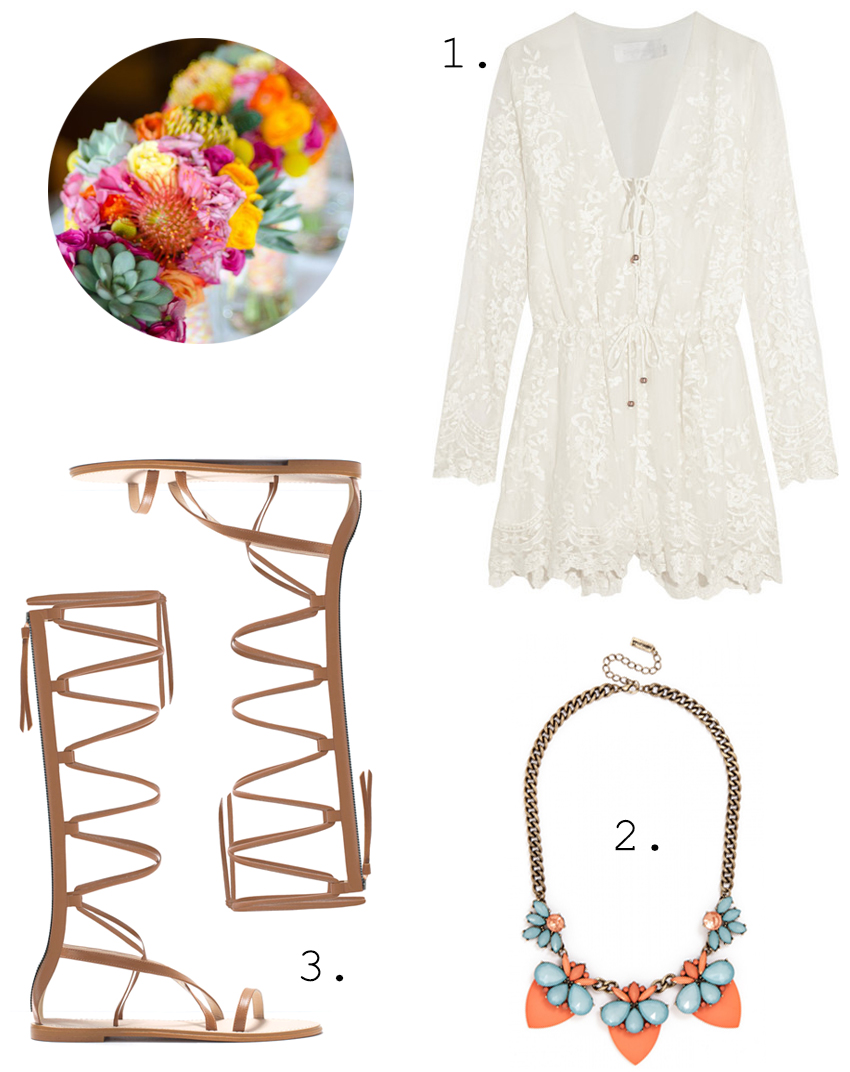 [same floral inspiration for a mama flower crown]
1.// zimmermann embroidered silk gauze playsuit on net a porter.
2.// paradise persimmon collar necklace on bauble bar.
3.// leather gladiator sandals by zara.
And finally (and always my personally most challenging family member to style), dad: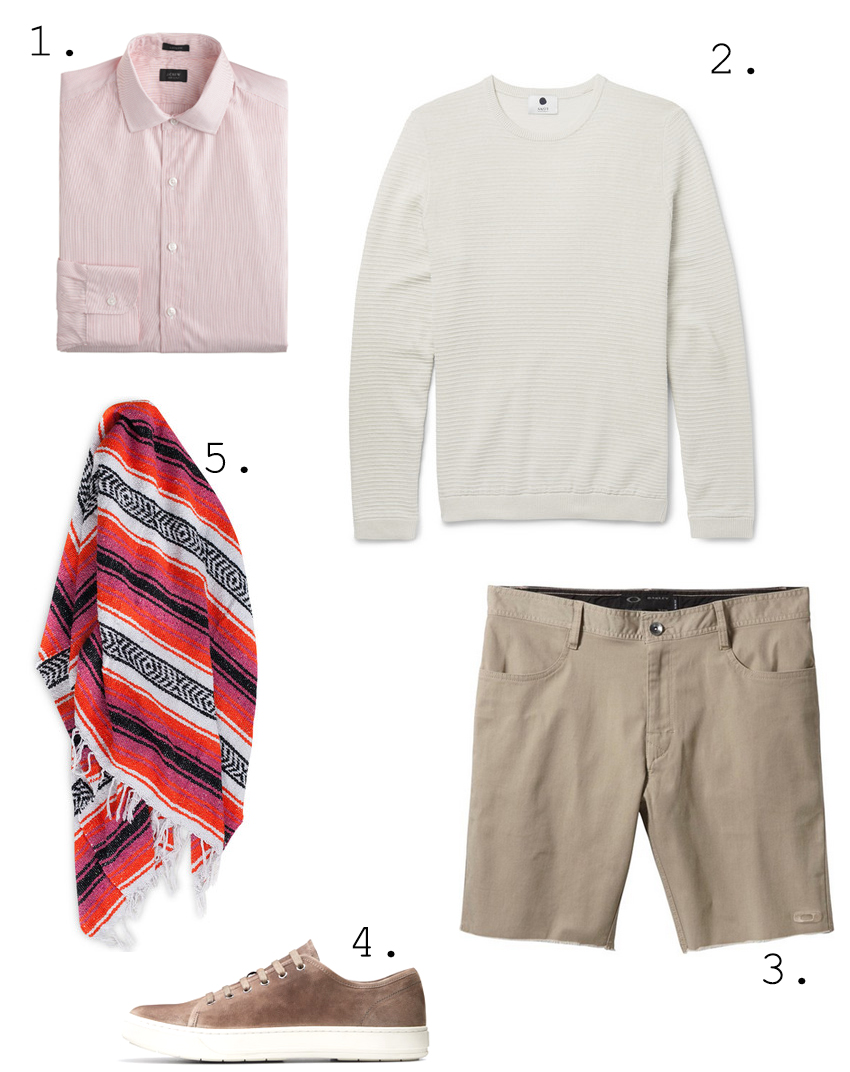 1.// the ludlow fine stripe shirt by j crew.
2.// colin waffle knit sweater by nn.07 on mr porter.
3.// men's slat shorts by oakley.
4.// austin nubuck leather sneakers by vince.
5.// the cairn mexican beach blanket by gunn & swain. (no, not for dad to wear- this is just for the backdrop and to show our pop of color ;))