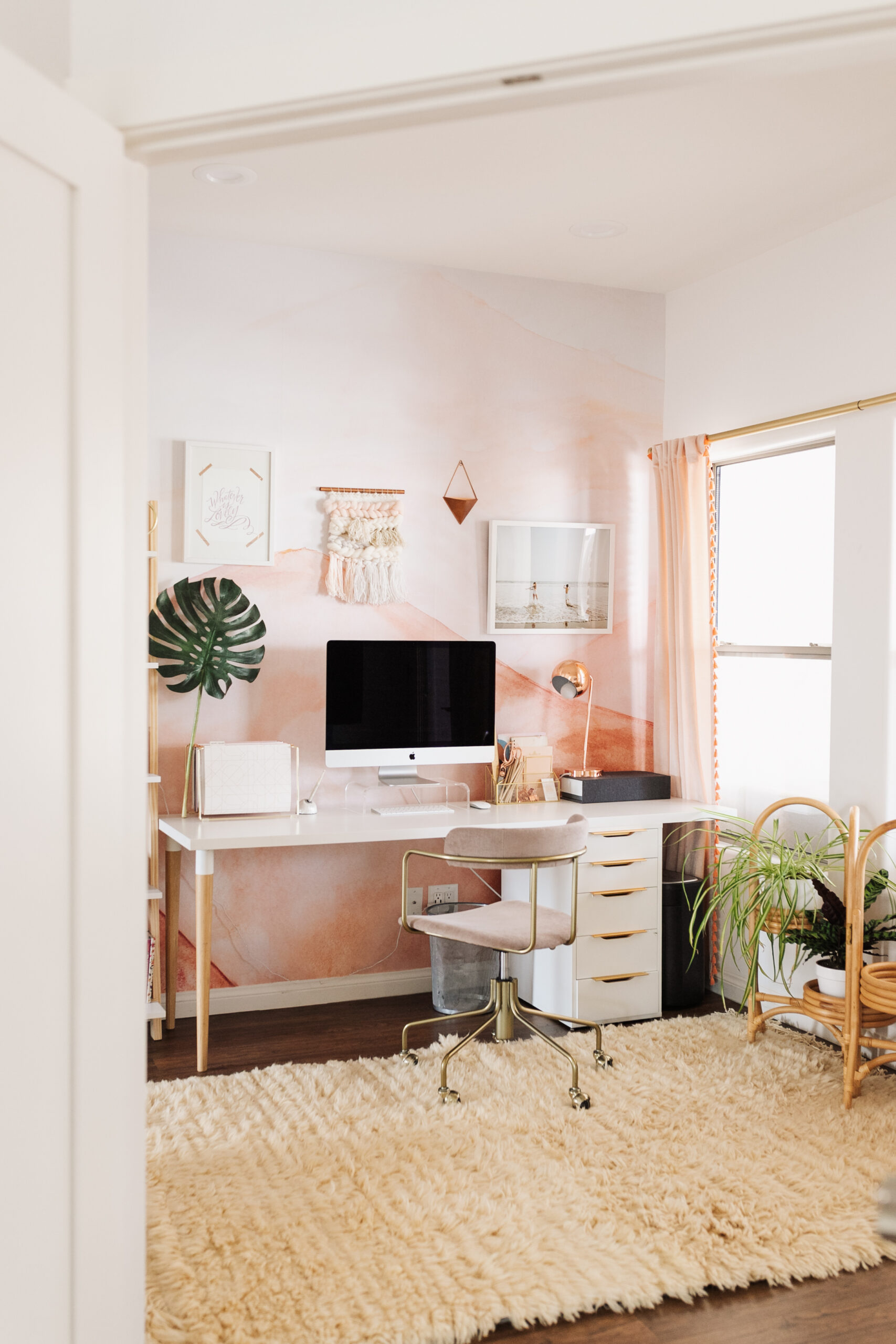 I LOVE working in my latest room update in the LDL home: feminine office update! But this wasn't always the case. When I first started my blog and social media seven years ago, we lived in a tiny two-bedroom apartment and had zero dedicated work space, while my husband was also working from home and I was trying to build my business. So now having my own office is a luxury I don't take for granted!
Honestly, this room before in our current house was functioning, fine. I actually didn't change the layout! Here's where we started: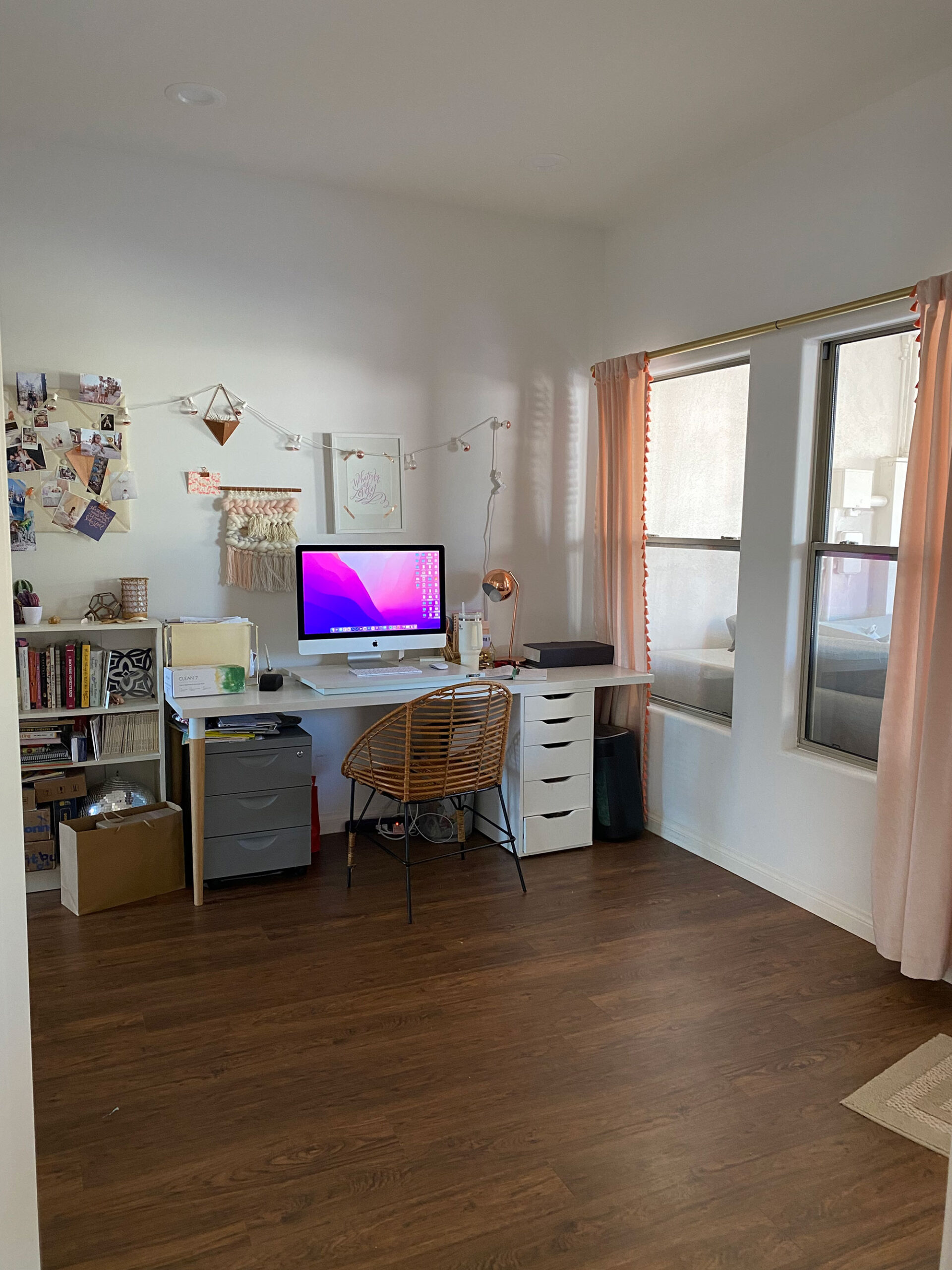 And just for fun, if you want to see my first office space I set up in our previous house, you can see it here. This soft color palette has always been one of my favorites and I consider it a part of my brand.
Here is where I started with my inspiration board for this project: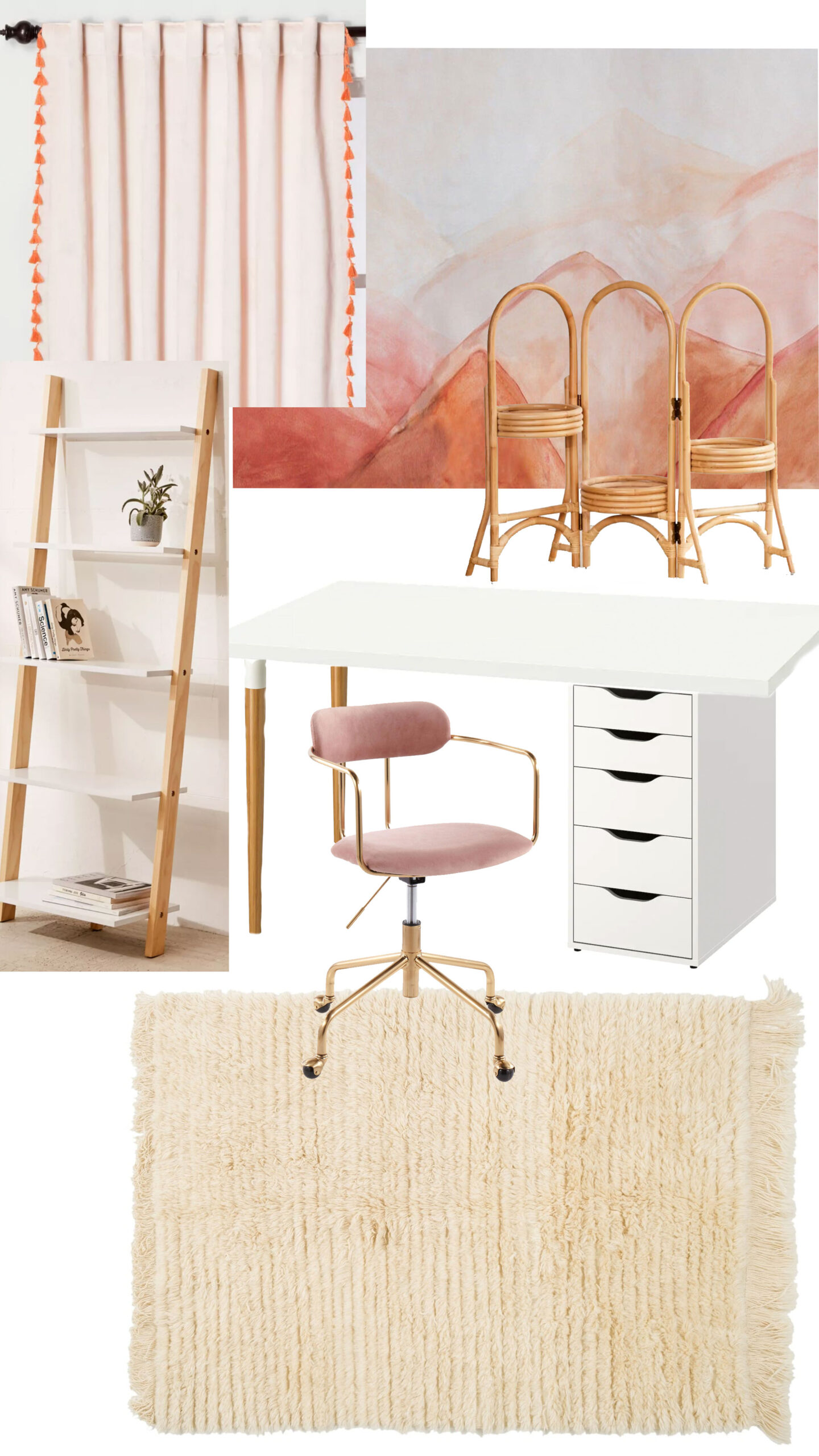 What prompted this update was the fact that my old rug got ruined by our new puppy last year, and I had been on the hunt for the perfect replacement ever since. Enter Revival, an amazing online rug source I've been dying to tell you guys about! If you've been following along with our home over the years, you already know I have an affinity for vintage rugs. I've paid a pretty penny for some of them! What I love about Revival is that their mission is to find one-of-a-kind vintage rugs that don't cost an arm and a leg, and then sell them direct to consumers without the obnoxious markup. YES PLEASE. They have tons of beautiful choices and I love knowing I got something unique.
I started out looking at pretty blush ombre toned rugs (and you can see why I wanted to go that direction from this palette).  But then once I decided to stick with the bush tones on the walls and curtains and even the chair, I changed direction on the rug and wanted a more neutral tone. When I saw this this hand knotted vintage ivory shag rug, with its' extra high pile and fluffy texture, I knew it was going to be perfect for this space. As it is one-of-a-kind, I will link some similar to this style at the bottom of this post for you!
Also, you can use my code: 10OFF-PAIGERANGEL for 10% off at checkout at Revival! But hurry, code expires April 5th!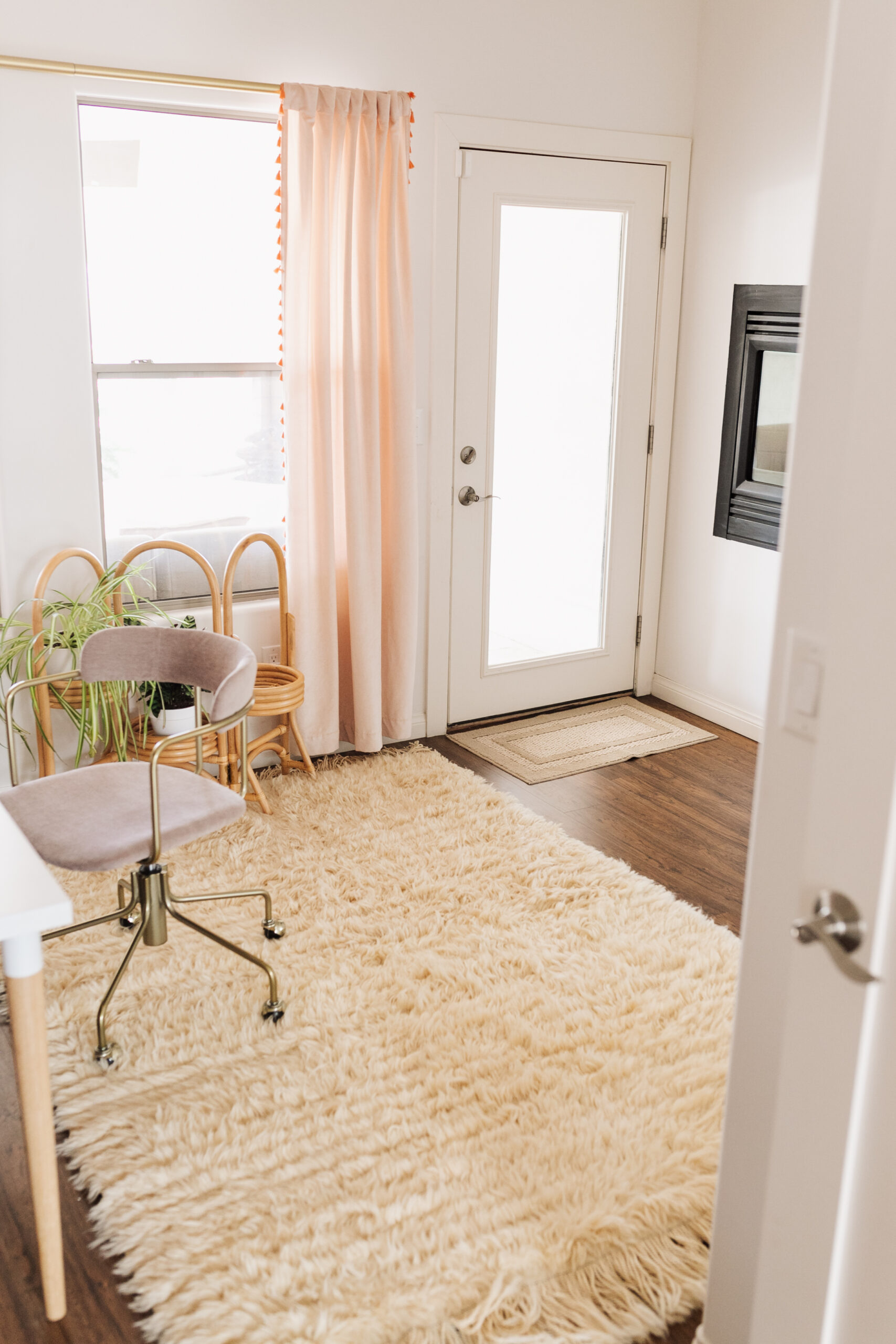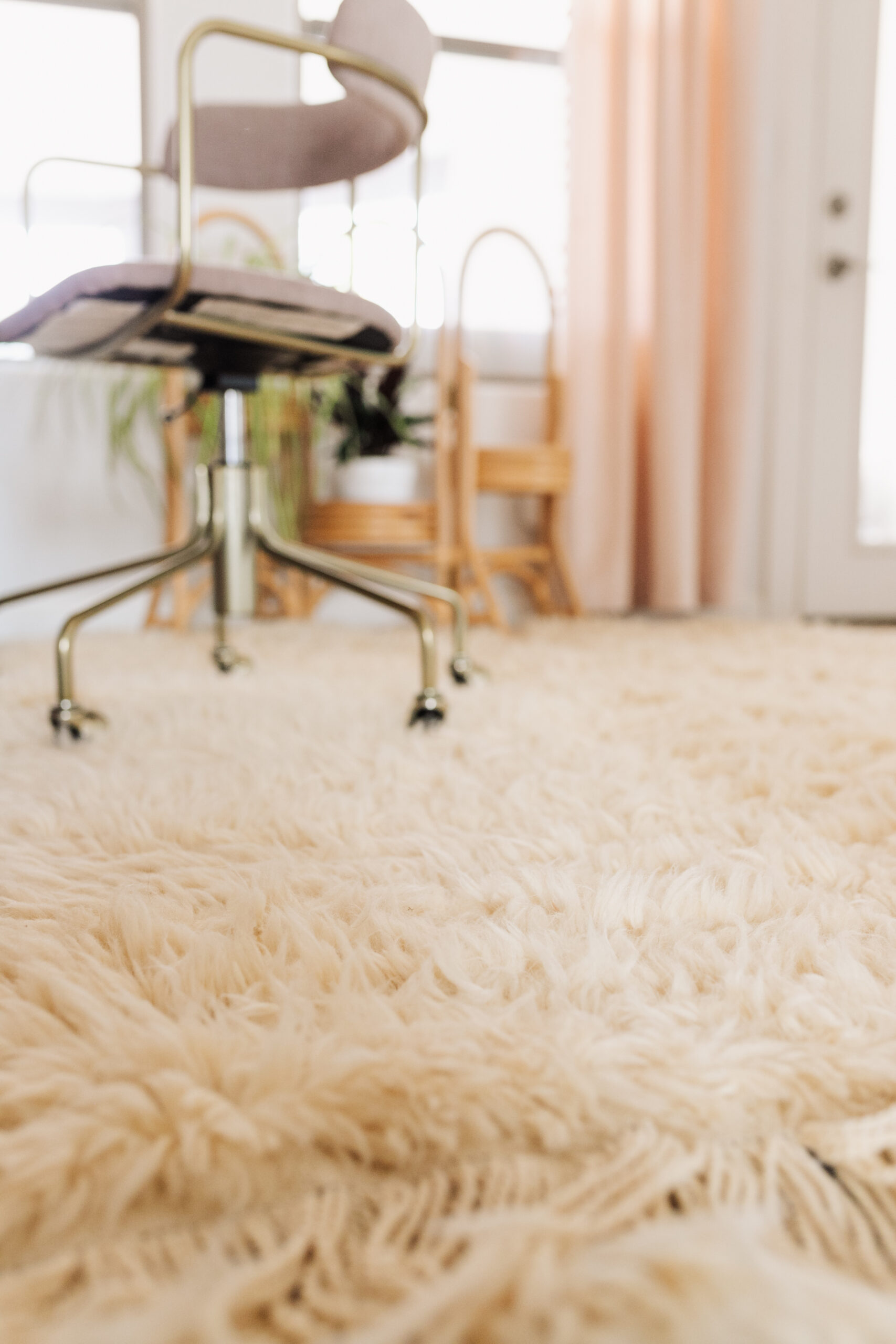 I have also have been wanting to do something fun with this wall ever since we first moved in. I decided that since I was updating with the rug, I might as well add a fun wallpaper in here while I was at it. This room is the only room in the house that is really "mine" and I don't have to work with the input of my husband or kids on. 😉 So I decided to just go for it with the feminine edge and and extra does of my favorite shade: blush. I love this beautiful mural "Unruly" by Angela @themissminty and available exclusively at Wall Blush.
Use my code: paige15 for 15% off at Wall Blush!
Over the years, I have always loved Minted art and used Minted many times for framing my own photos. One of my favorites is the most simple- "the big picture" for stand-alone images like this, or to create sets of images. As I was pulling together items for this room, I decided I wanted to pull in one of my favorite scenes – the California coastline. This photo was taken last year on our trip to Cali by Jade Sharp Photo and it needed its own frame.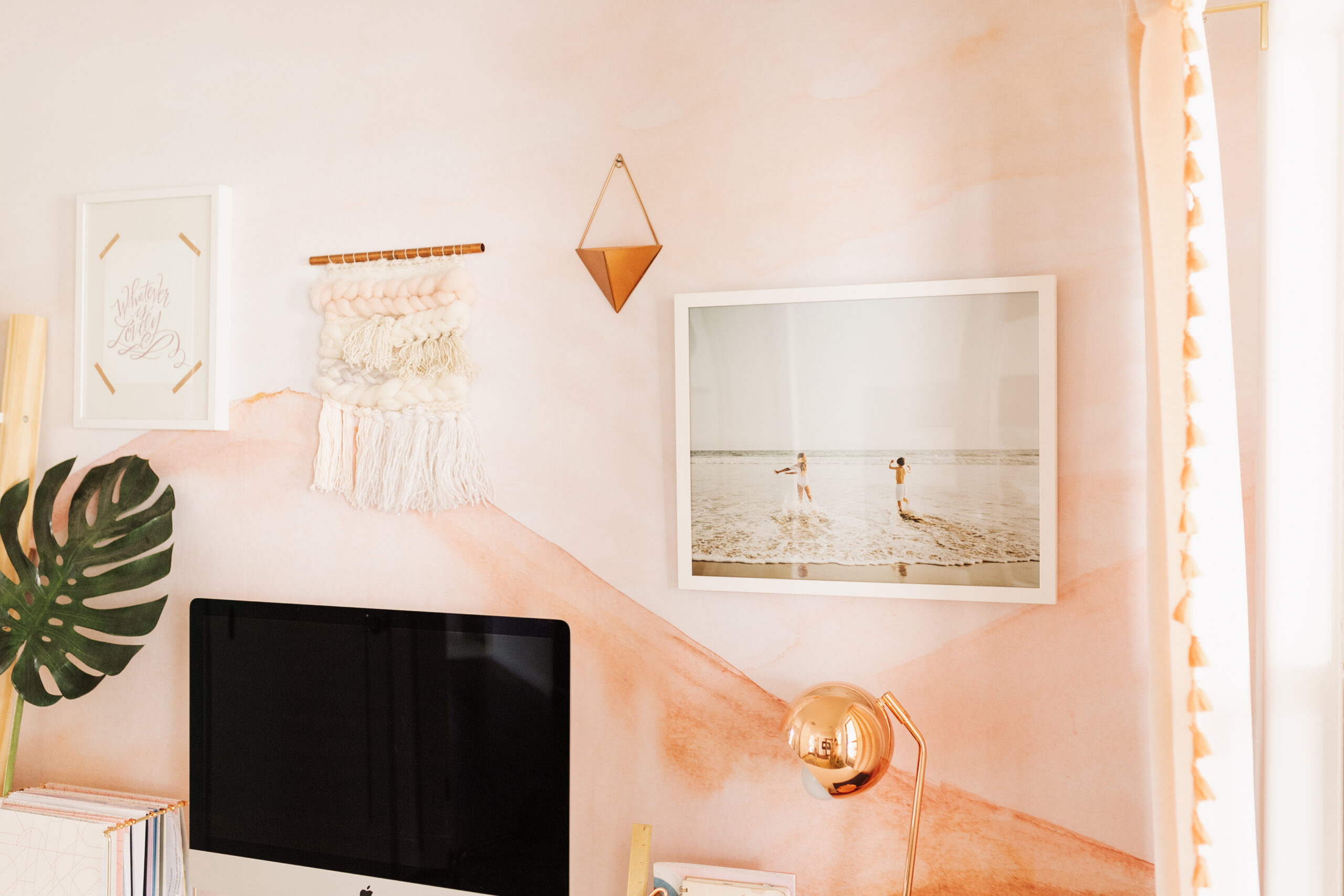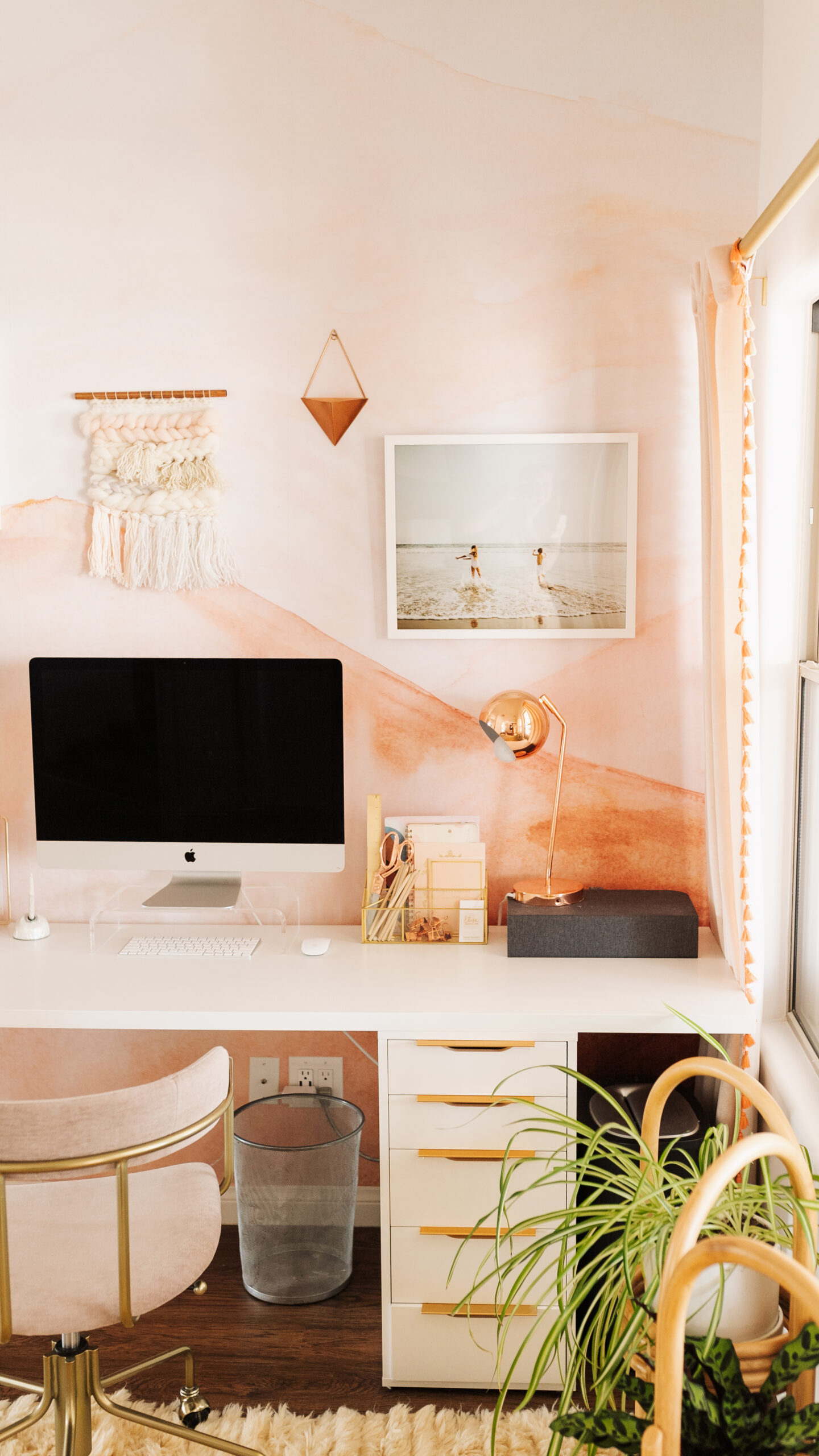 If you peeked back at my last office you probably noticed that the desk is the same – it's from IKEA and I do still like its simple functionality. I originally got it for it's extra long width, as I like to spread out when I'm working. And you can't beat IKEA prices, right? Anyway, I decided to give it a quick update with these simple gold drawer pulls I found a while back when I was actually sourcing for another project. They just barely fit in there, but I do think they elevate what is otherwise a very basic piece!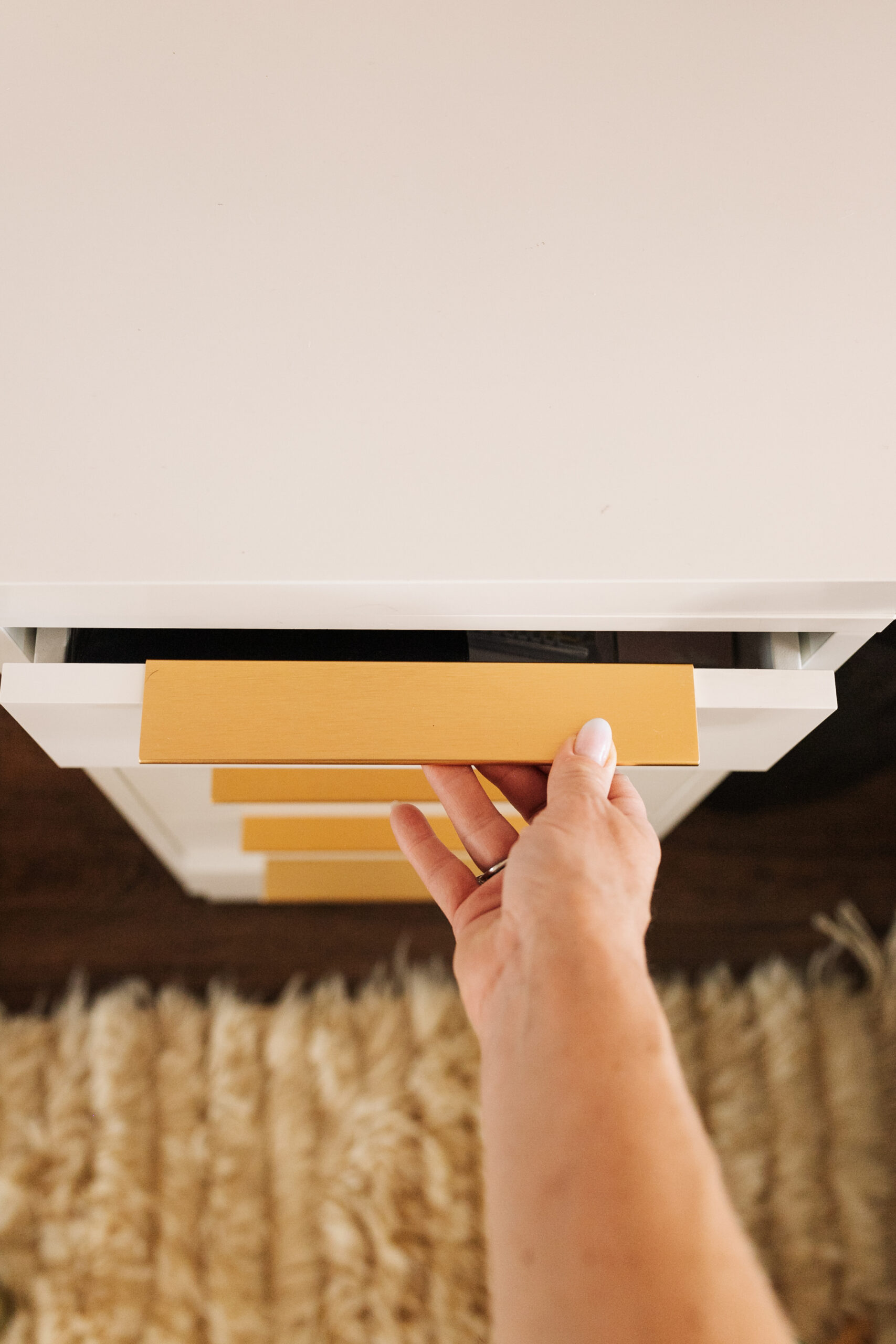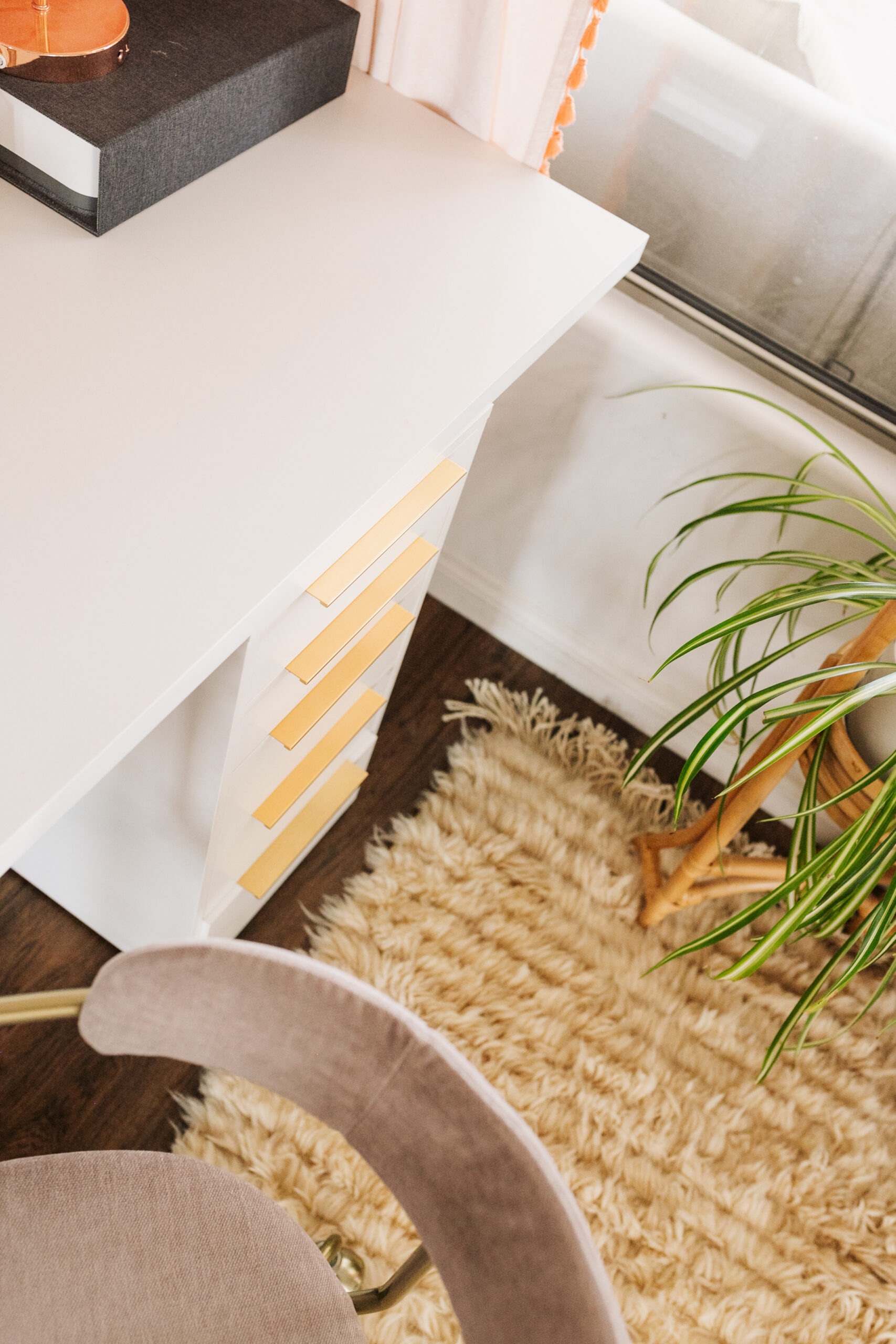 Oh and the chair drama! I really could not decide and honestly, I'm still not sure this one is the exact right color I had in my mind's eye. But it is functional and comfortable for the task at hand, so I'm overall glad I kept this one. I decided to save all the decisions you guys helped me with – from the rug to the chair – me with on my Instagram Stories in a Highlight here.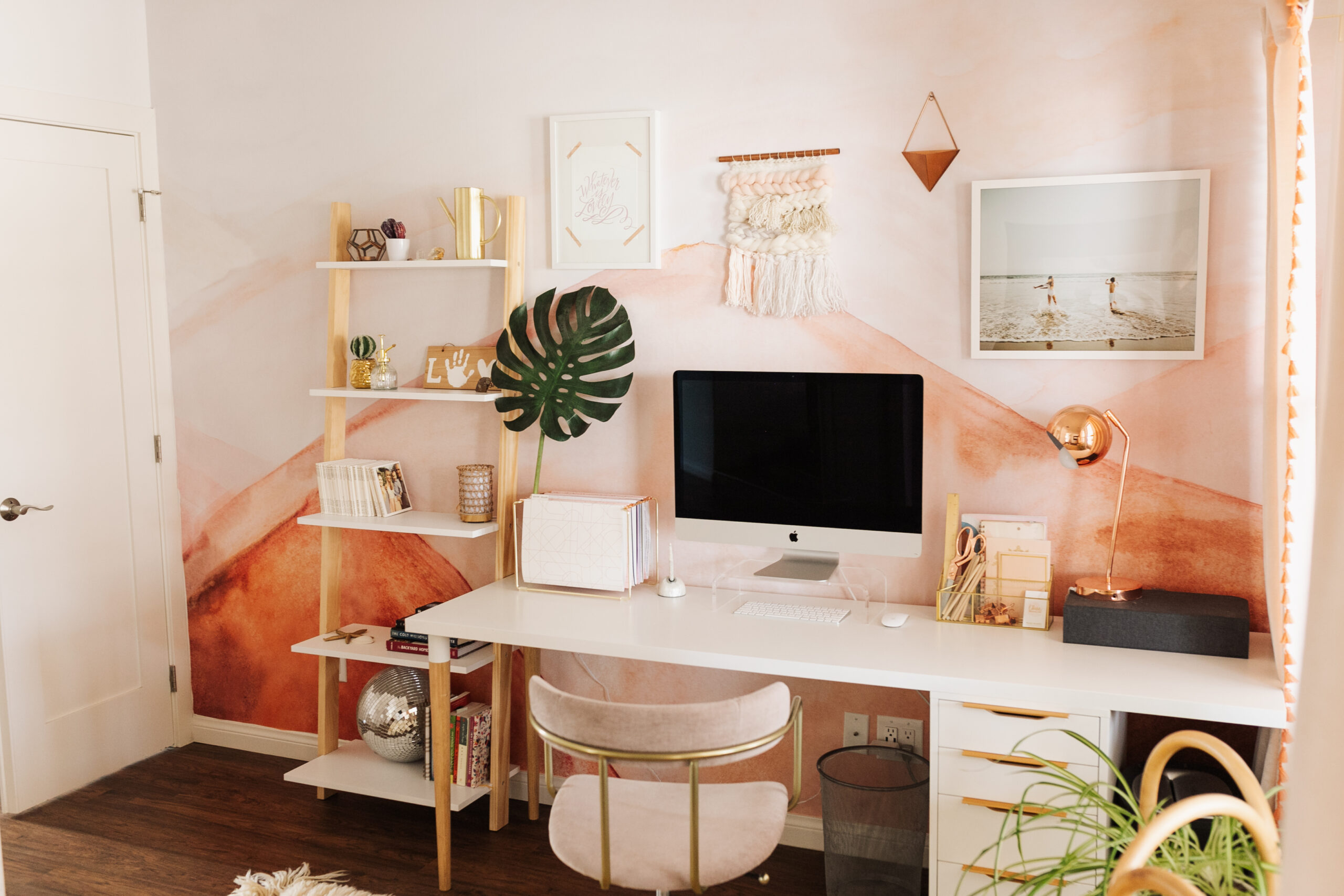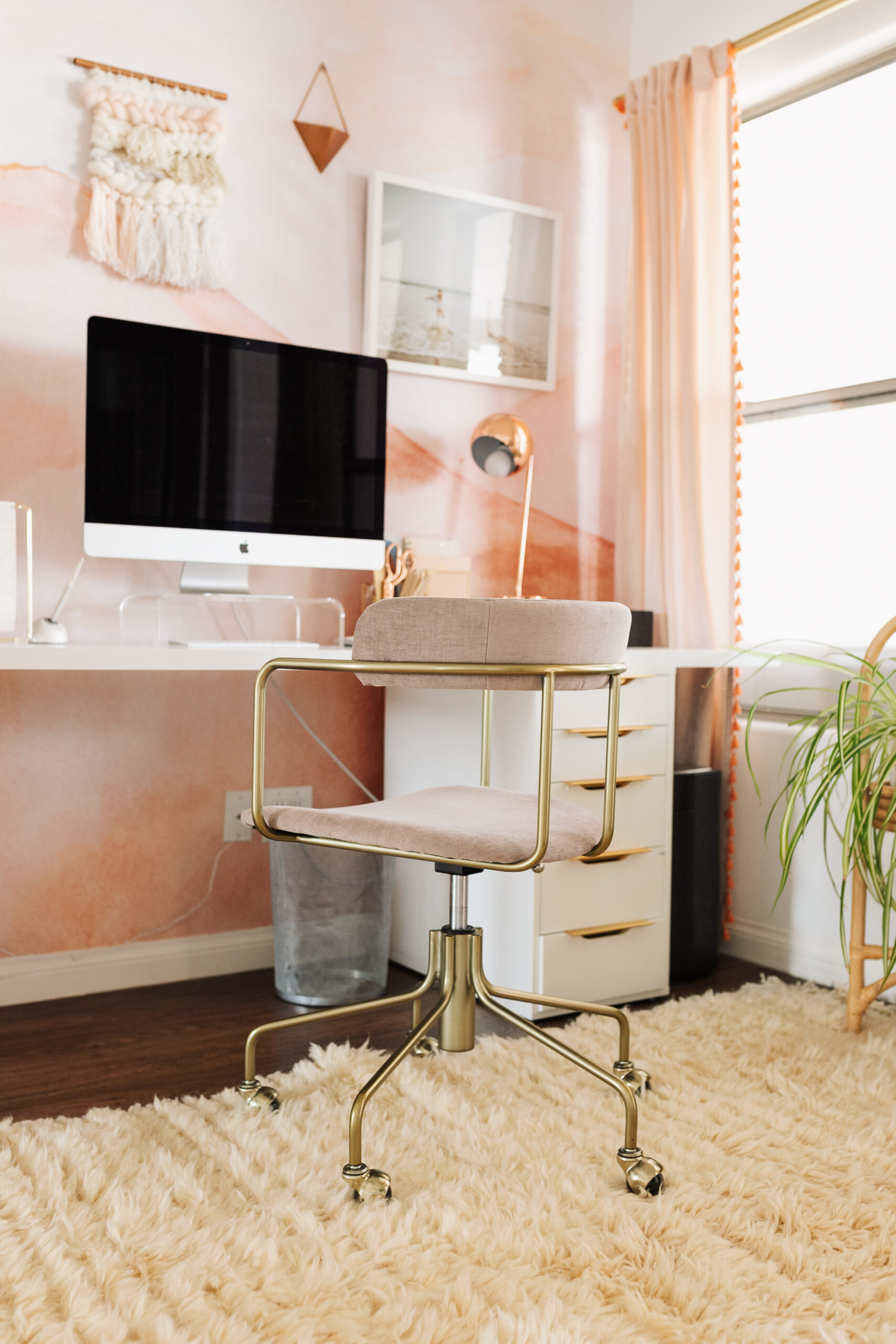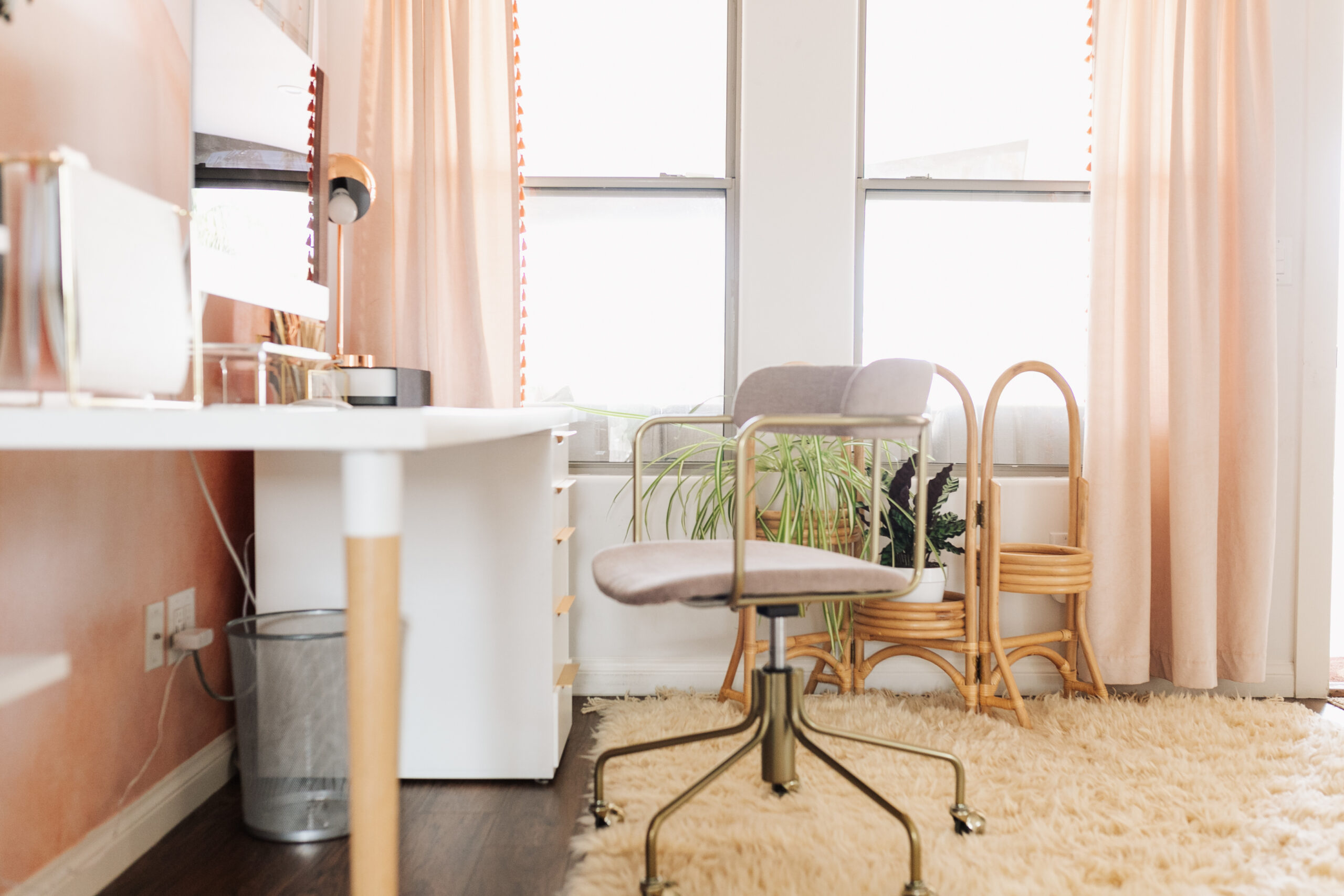 And just a few more pics and details. Everything will be linked below!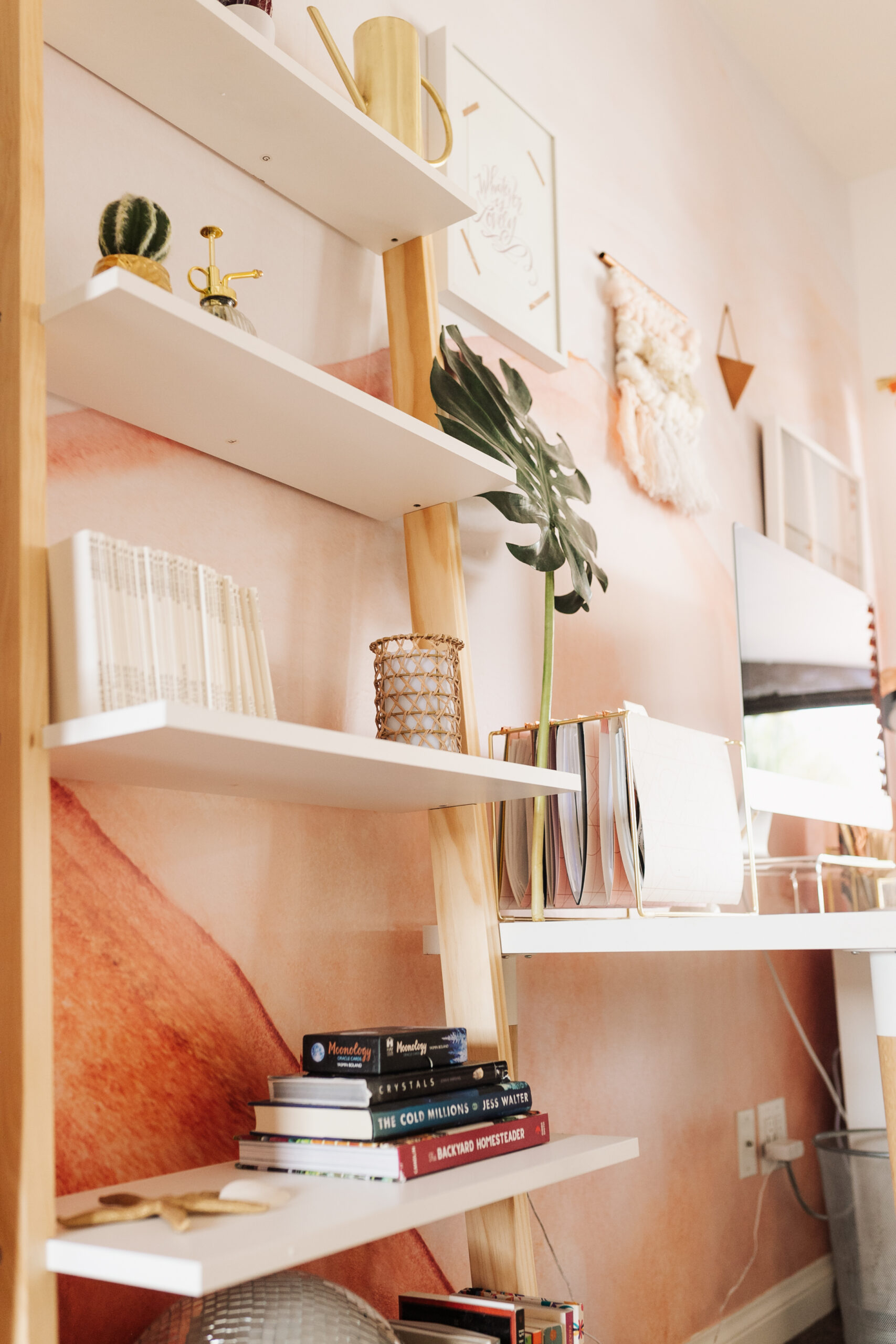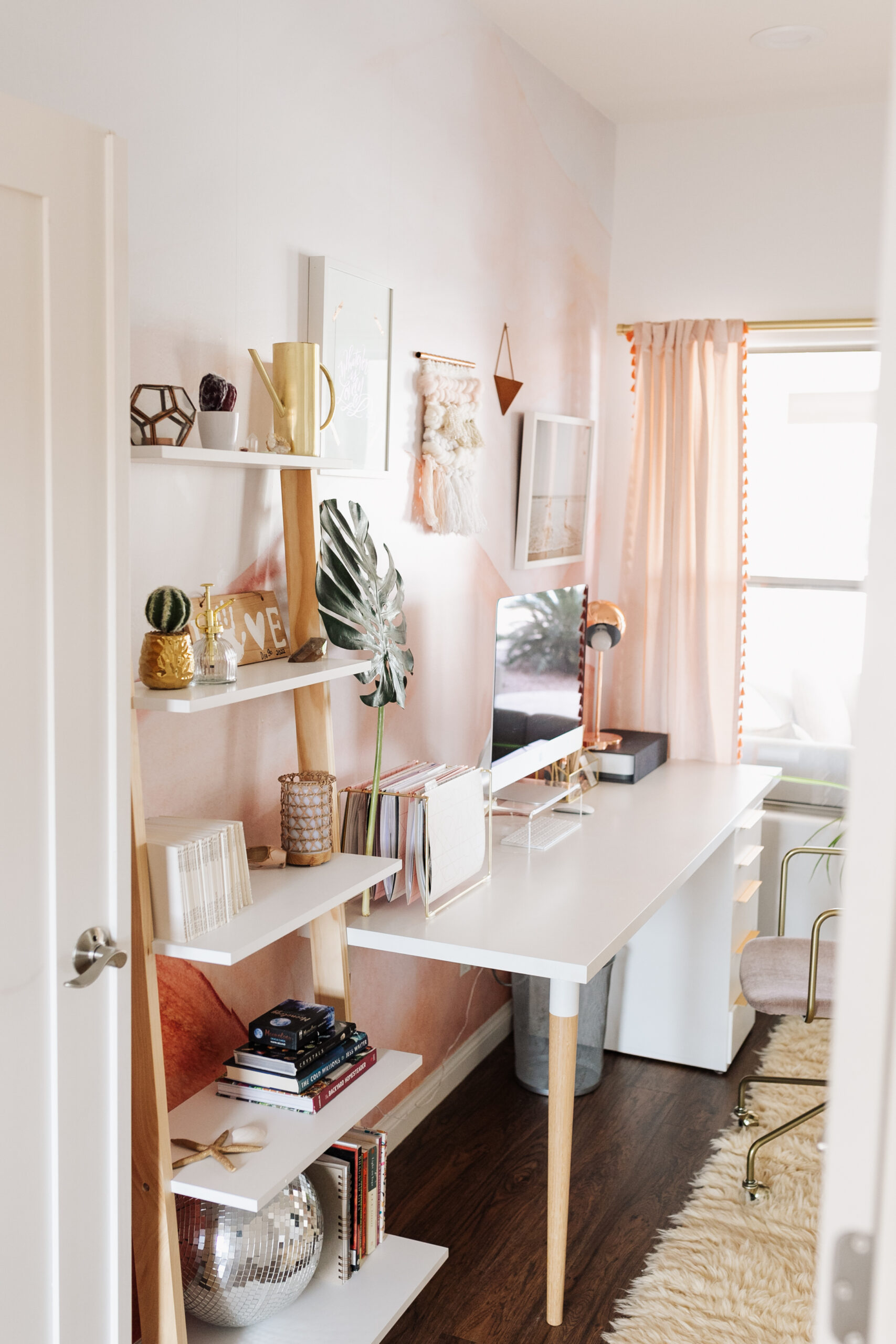 SHOP THE POST:

rug c/o Revival similar | similar use my code 10OFF-PAIGERANGEL (exp 4/5)
wallpaper c/o Wall Blushuse my code paige15
This post contains affiliate links. Some product was gifted for the purpose of creating this space and sharing my honest opinion. Thank you for supporting brands that help support my blog!