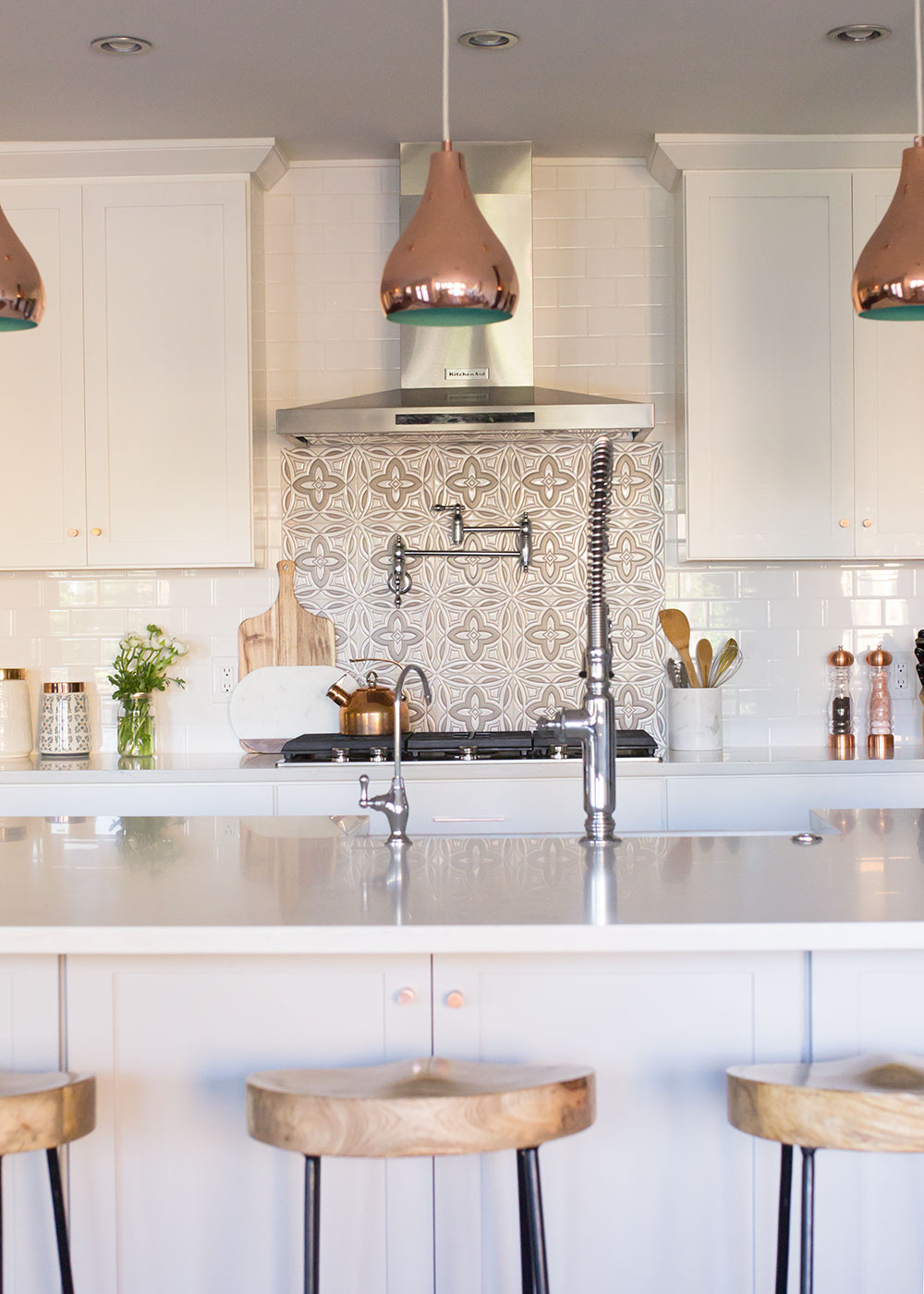 It's finally here, #theldlhome modern kitchen reveal! After the craziness of moving last year, then the holidays just snuck up on me, this project just kept getting pushed back. Silly me, I thought I would be blogging our kitchen reveal back in August, right after we moved in. But as it goes, even though our home was ready enough for us to move into last summer, it was far from "done". In fact, it still isn't done! Haha. And in this kitchen specifically, we had to wait for the tile backsplash to come in, the hood install, and one panel on the cabinets was missing for what seemed like forever. I'll write another post soon with all the updates on the rest of the house, but for now, at least, the kitchen is DONE. I'm so happy with how it's turned out! Like for real grateful every dang day for this beautiful dream kitchen that I got to design!
If you follow me on Instagram, you've already seen lots of "sneak" peeks of our kitchen. And each time I post, I get several questions about where we found certain items. So this post is to share with you all those details!
Before I show you everything in the new kitchen, let's just take a minute to see how far this kitchen has come, shall we? Be sure to check out the original kitchen that was here when we bought the house in this post. Here was a little update post after we tore everything out. And you can see my modern kitchen inspo in this post! I stuck pretty true to my inspo, as I wrote that post when I was sourcing/shopping for everything! In other words, it's another great resource, if you're into this kinda thing ;).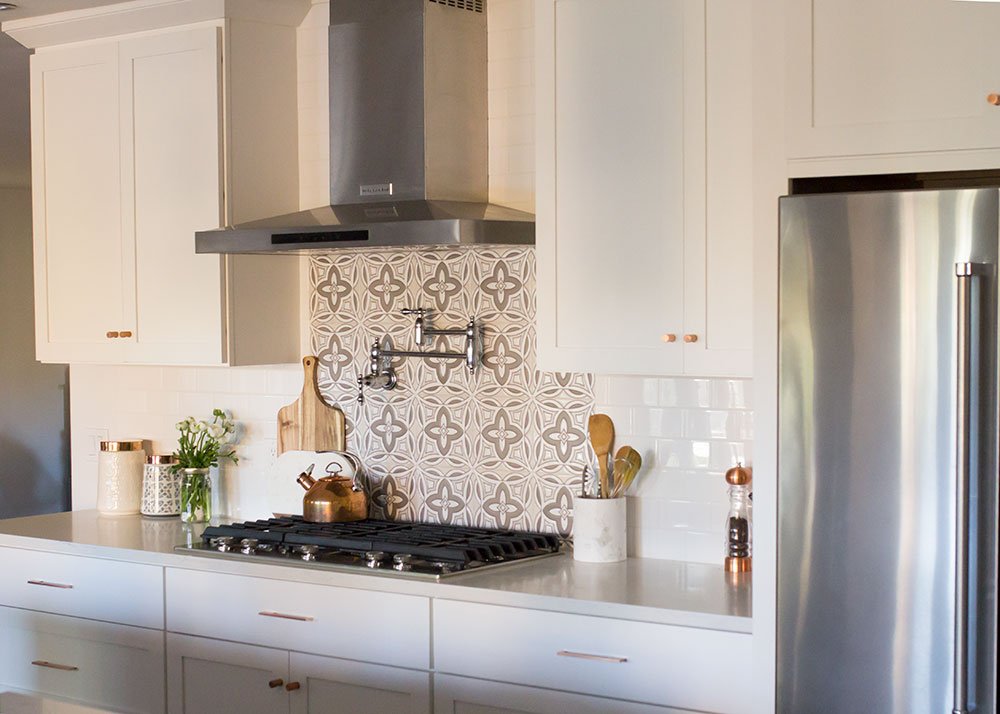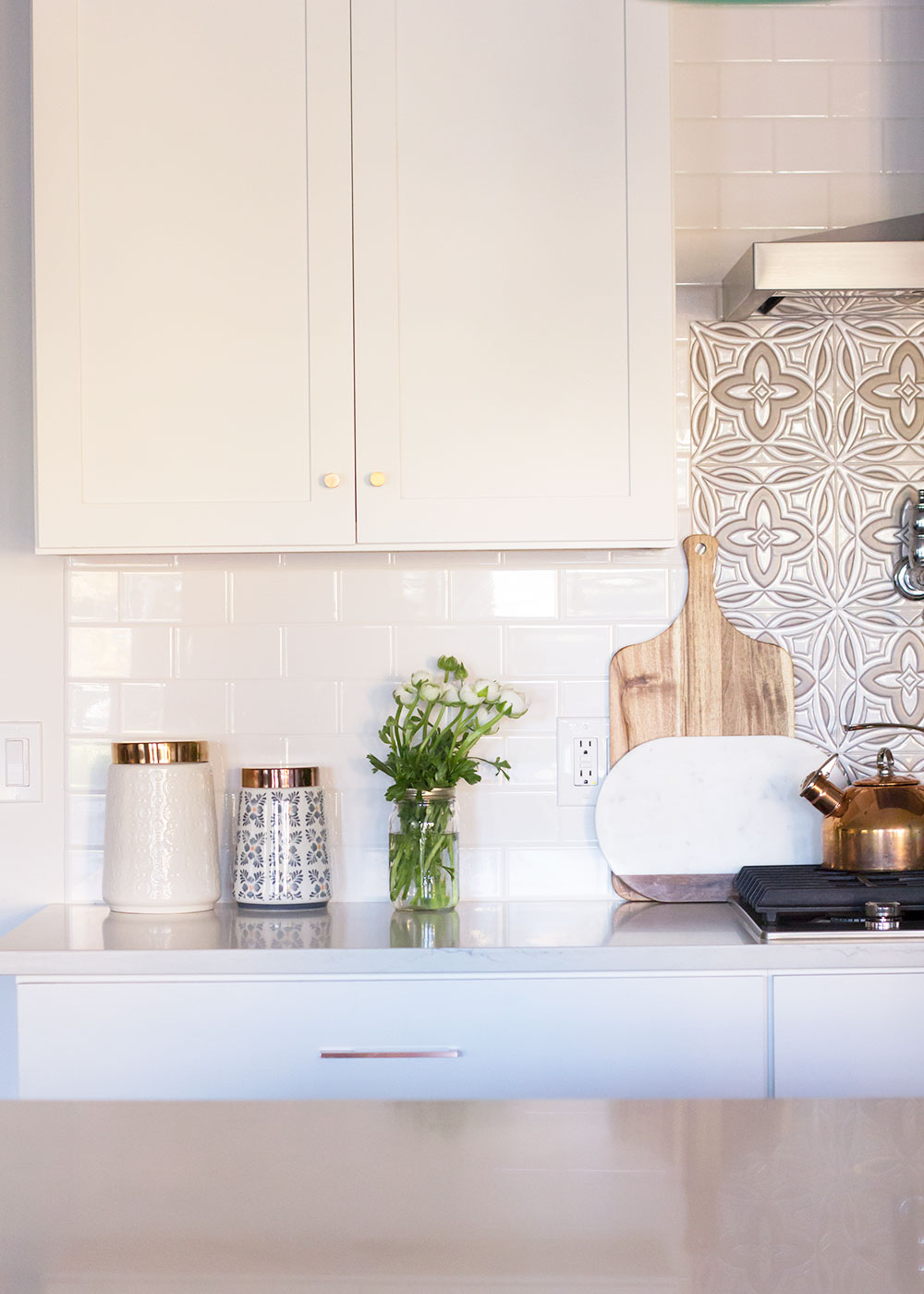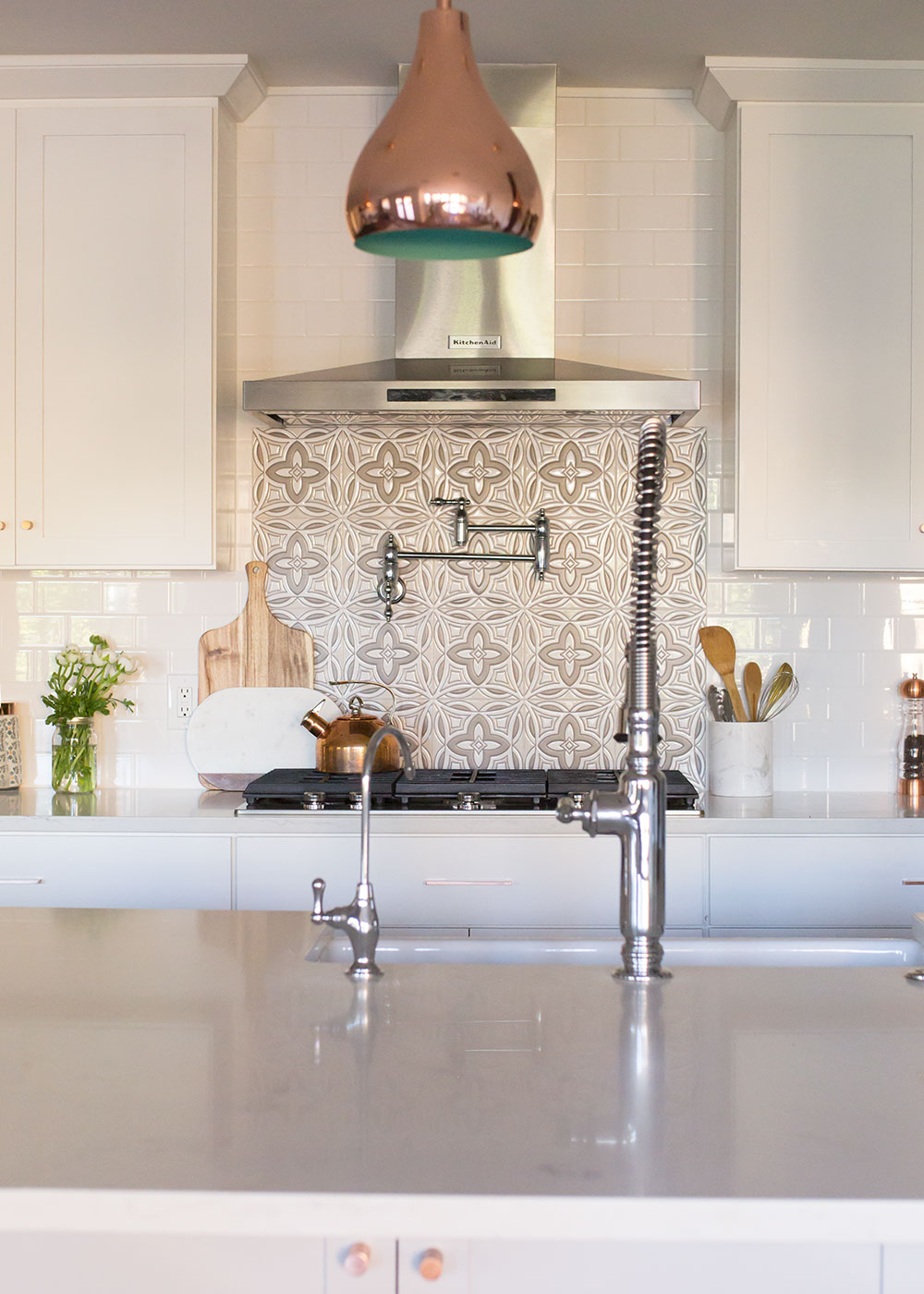 Let's start off with the focal point and perhaps my favorite part of the kitchen, these gorgeous hand-painted, American-made, recycled clay tiles from Fireclay Tile. I initially found a picture of some similar tiles on Pinterest, which lead me to the Fireclay website, and was instantly in love. Now I won't lie to you, these gorgeous tiles don't come cheap. The process to create them is nothing short of magic. So at first I tried sourcing other tiles with a similar look. Cement tiles are really popular right now too and a lot of people suggested that I go that direction. But honestly, cement tiles don't hold a candle to these. So instead, I worked with a Fireclay designer [Terapan, if you go there, is FAB] and he helped me come up with a way to make a small little statement piece to fit my budget. I at first really loved the navy/white combo [which was in my original inspo post], but at the last minute I decided to go with the neutral motif, in hopes that it will better stand the test of time. The rest of the tiles are just a standard 3×6 glossy subway tile of course. And lucky me, a friend had them left over from her recent home build, so they were free.ninety.nine! [But if you're looking for some, they came from Arizona Tile.]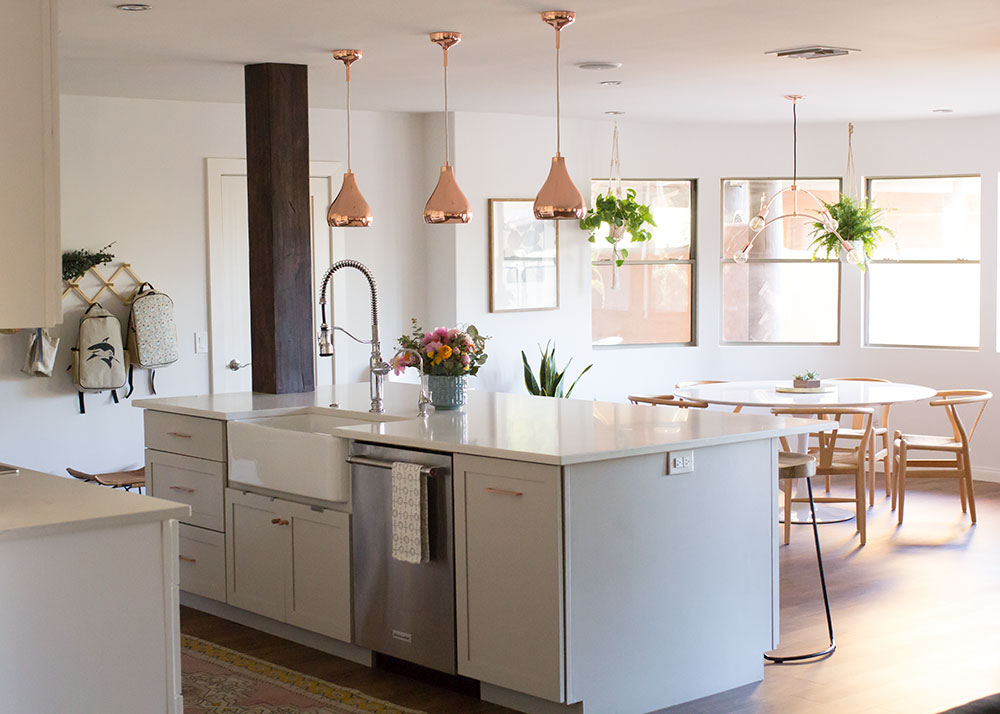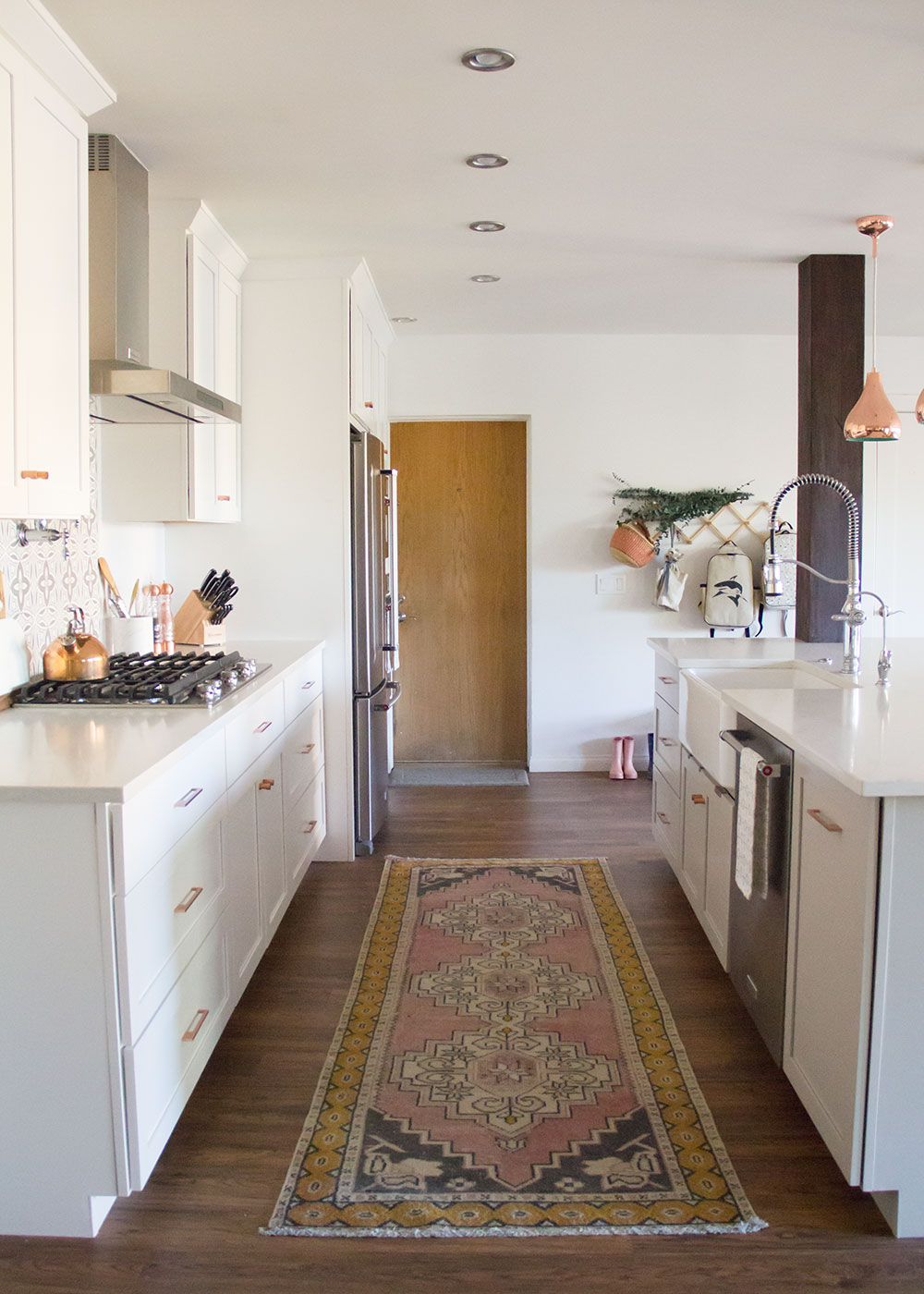 The cabinets are by Bridgewood, and we were able to order through my husband's uncle, who is the contractor and owner behind The Remodeling Firm here locally in the Phoenix area. They specialize in kitchens + baths, but do all types of remodel jobs! For those asking about the color, the main panel color is called SNOW and the island is in BOULDER (Bridgewood's own colors). I love both colors so much, but my only regret is not going a shade darker on the island, to make it more of a contrast. All of the installation work was done by our General Contractor, Alair Homes, who have been amazing and managing our entire home remodel project so far.
I've seen this style of bar stools around and I became obsessed with finding them. I found these on Amazon! One little note though: I accidentally ordered the bar height, which is taller than what you would typically put at an island like this. You would want "counter height". But it works for us with the kids being little. It actually puts them right at the right height for eating and they are the ones who sit here the most often! Either way, linking the COUNTER height version HERE. 😉
This rug is vintage, but it's from the gorgeous Kaya Kilims. All of her pieces are vintage and one of a kind, so if you see one your love, snag it right away! I missed out on another one before because I waited too long, but was lucky to snatch this one up just as soon as I laid eyes on it! Thank goodness it fits the space perfectly because I bought it before the cabinets were even in!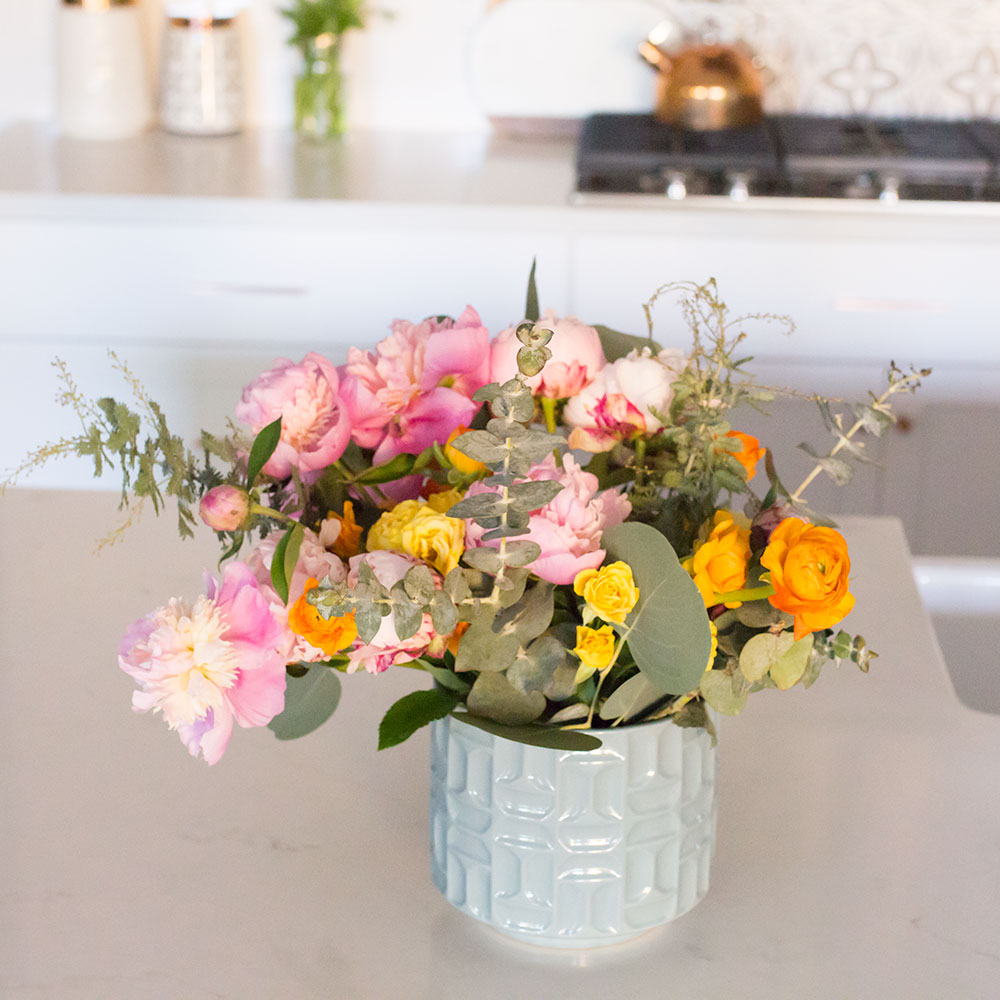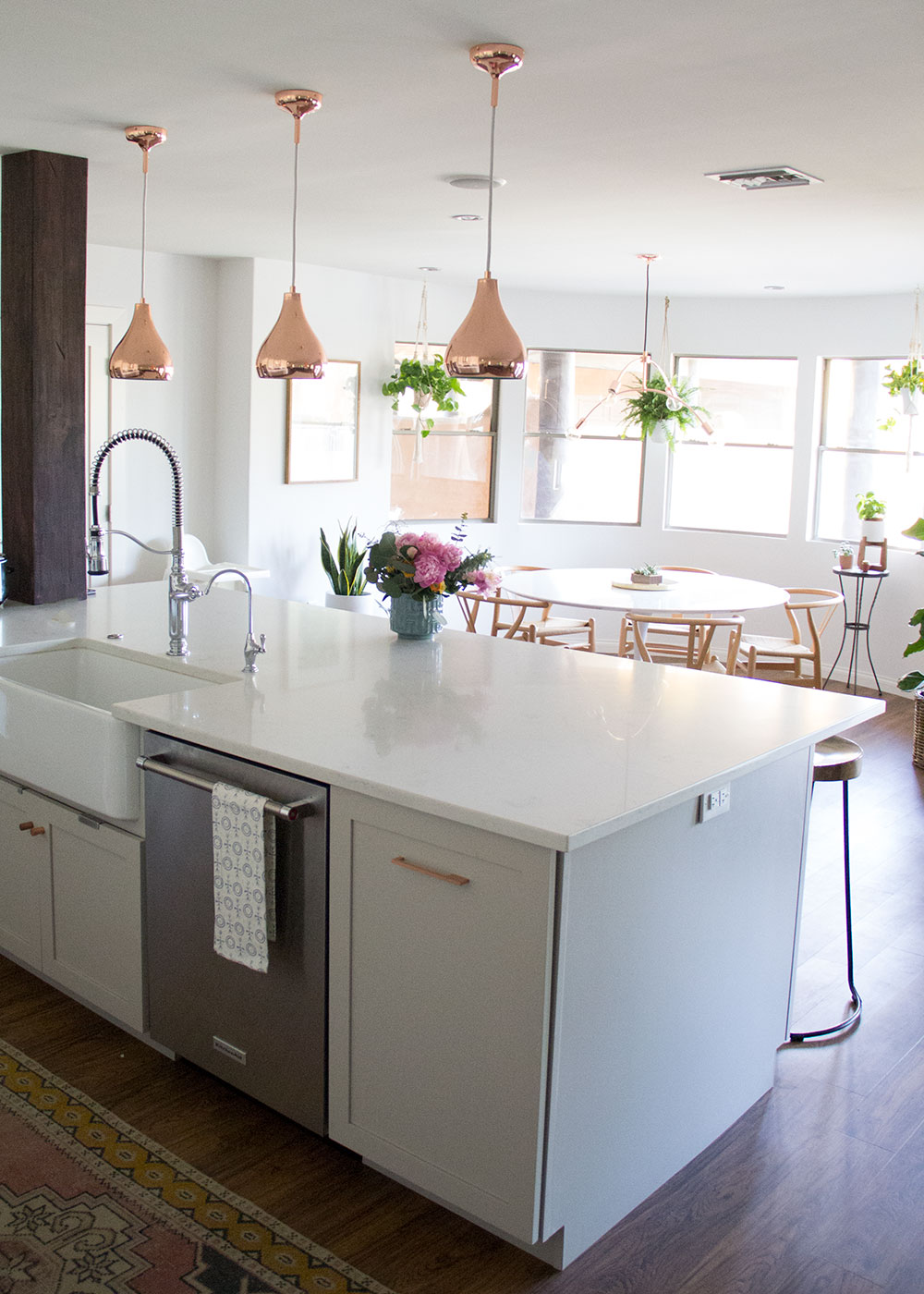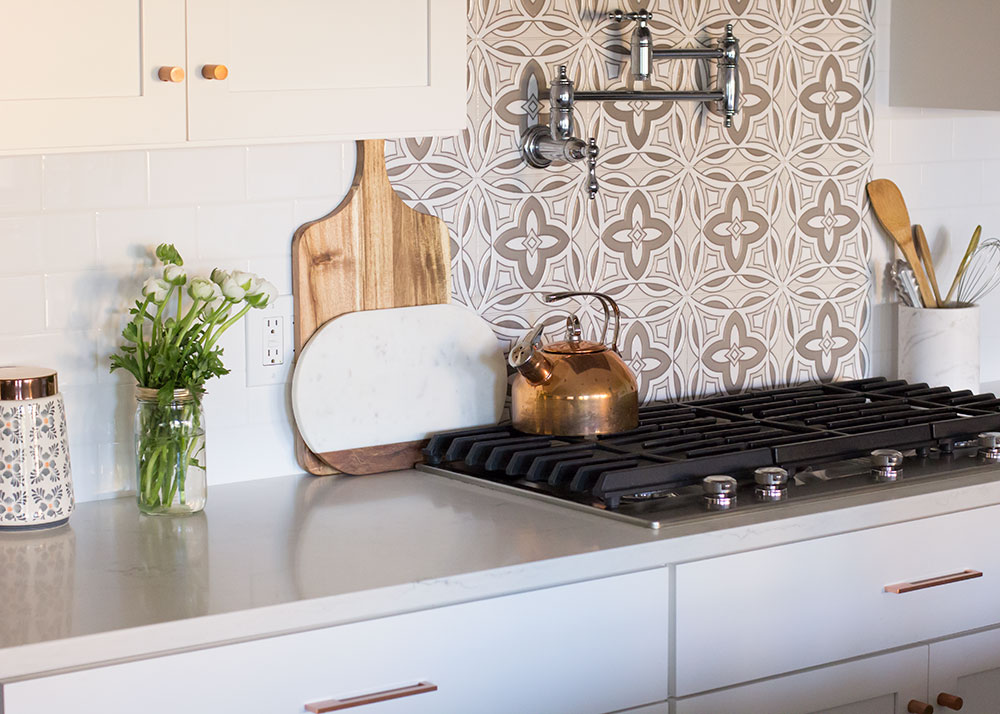 For the countertop, we ended up going with Quartz, which is technically a man made material. Another thing I have always said I wanted was white marble countertops. But once it finally came time to source such a material, everyone I knew said not to do it in a kitchen. Marble is very porous, meaning it stains easily. Between three kids, lots of coffee, and wine, I wasn't sure I was willing to take the risk. The good new is that Quartz is much more durable and much less expensive that marble! This particular Quartz looks very much like a carrara marble. It's called Tipperary and its the in-house brand Della Terra from Arizona Tile. Which is a local company, but I'm pretty sure it is widely available. So ask your contractor!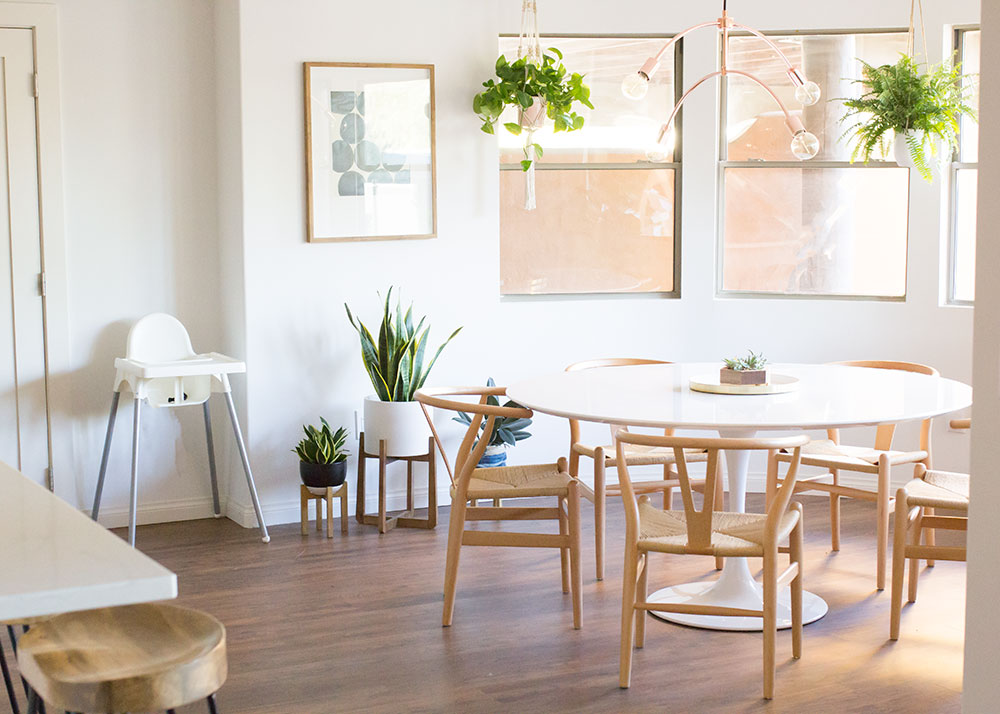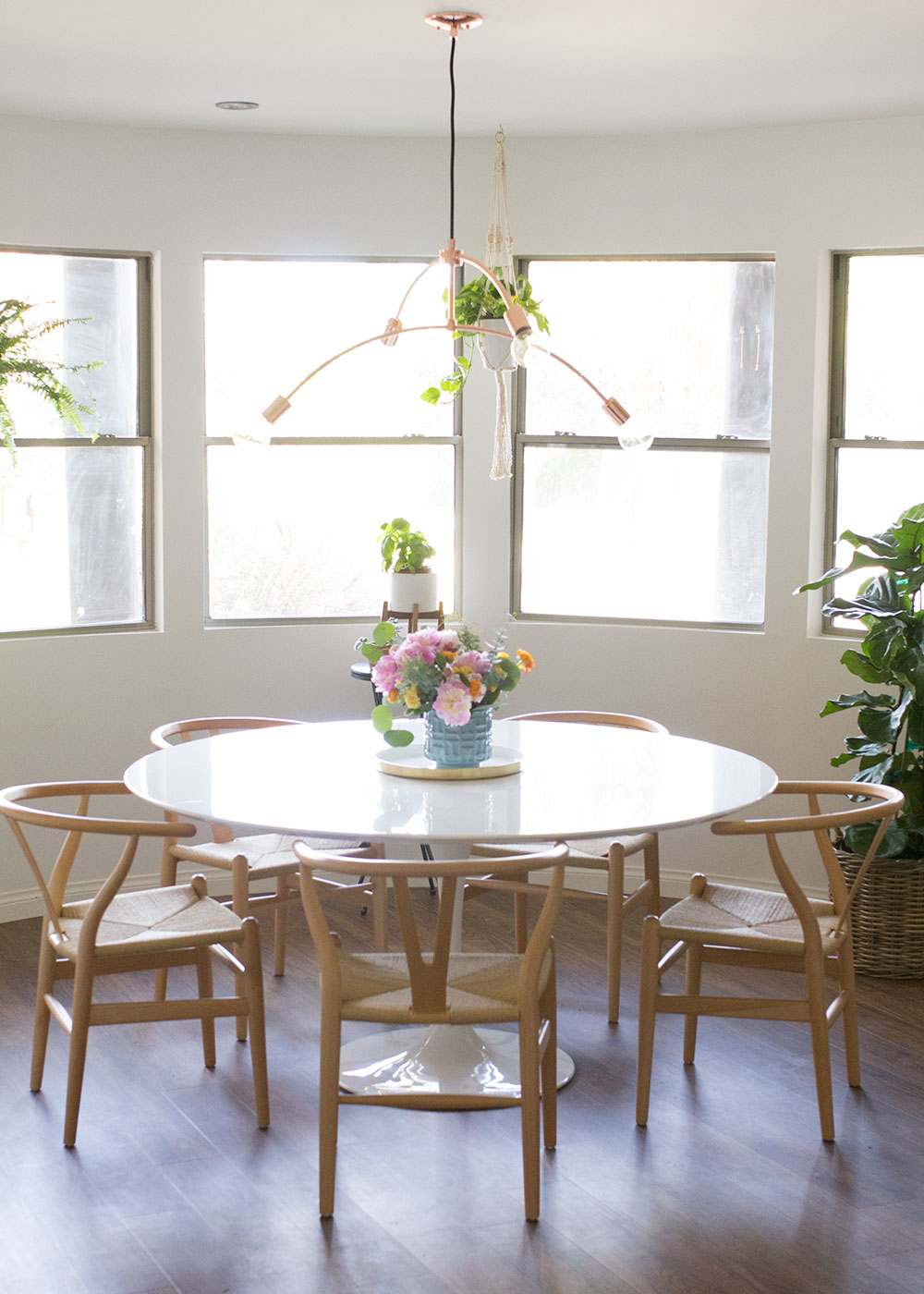 I waited a while at first, but finally just ordered this mod tulip table I've had my eye on. I actually have been wanting one of these Saarinen inspired tables for as long as I can remember. I've always been a fan of mid-century modern design, so lucky for me it is on trend now and much easier to find! We're calling it my "Christmas present" because my husband bought himself a TV for Christmas, so I got the table. The gifts we really want as grownups, right? Haha. I got the table and these wishbone chairs which I have also wanted for as long as I can remember, online from LexMod. I was very specific about what I wanted for this space and honestly, the prices at LexMod could not be beat anywhere else I looked. And so far we are super happy with the quality!
I've also always wanted a house full of plants, so I worked hard to find all the right pots and plants to fill this bright little breakfast nook. One of my 2018 goals is to keep them all alive! I'll link all the pots and baskets I can at the bottom here! But for real right now, Target is where it's at for planters!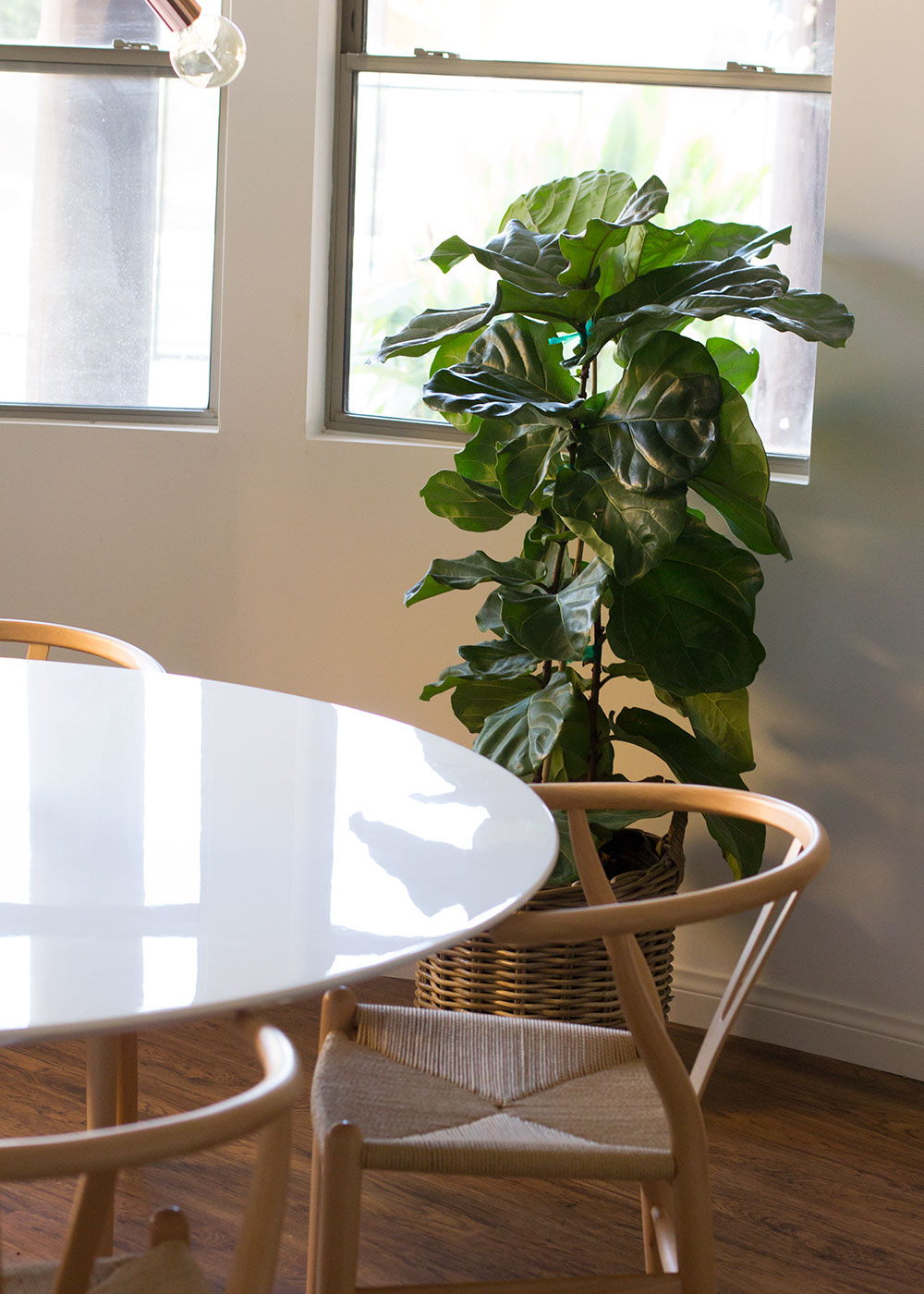 All of our appliances are KitchenAid. I can't remember the exact name of this line, but I know for sure it wasn't the most expensive. In fact, we got a really good deal shopping over Memorial Day weekend at our local Spencer's Appliance Store! We knew for sure that we wanted a gas cooktop and wall ovens. In fact, we had to have the gas moved in order to make that happen! The top oven here is actually a mini convection/ microwave combo, which has come in super handy.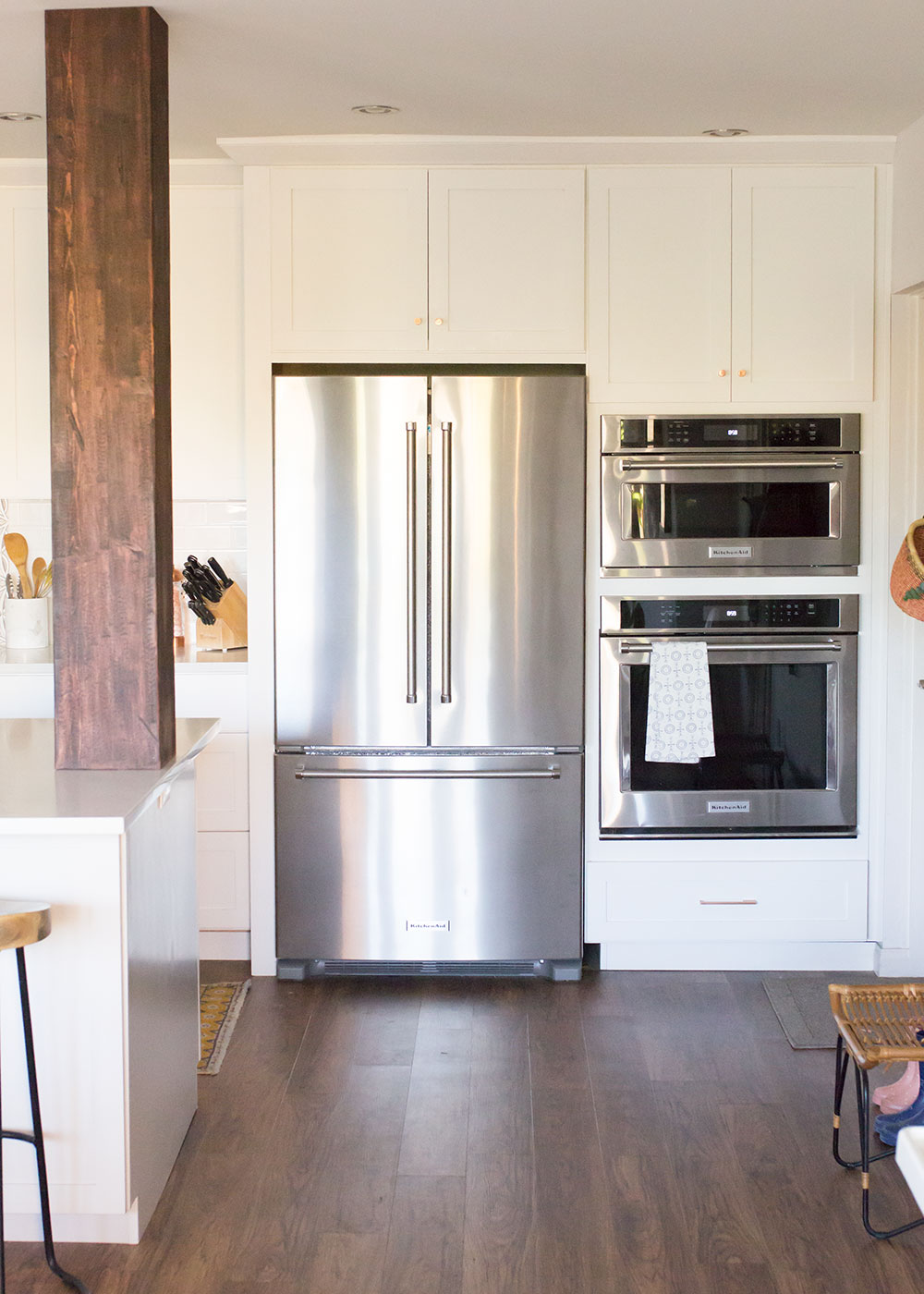 I think that is most everything in this room! I am going to link everything else I can think of here below. If you see something I missed that you want to know about, let me know in the comments below and I will add it to this post!
hardware – knobs // hardware – handles // cabinets via our kitchen contractor // kitchen faucet //
pot filler // pendant light [similar]// farmhouse sink //
field tile // bar stool // quartz countertop //
kitchen table // kitchen chairs // kitchen pendant [similar]
counter canisters // counter cutting board // cheese board // utensil holder // tea kettle // salt and pepper grinders // knife block
ceramic planter hanging in macrame hanger // rope hanging planter // large white floor planter // small black floor planter [similar] // small white planter on table // basket for fiddle leaf fig
more ways to shop this post!