This post has been created in collaboration with my partners mentioned below. In exchange for some product, I am sharing with you my honest opinion. This post also contains some affiliate links.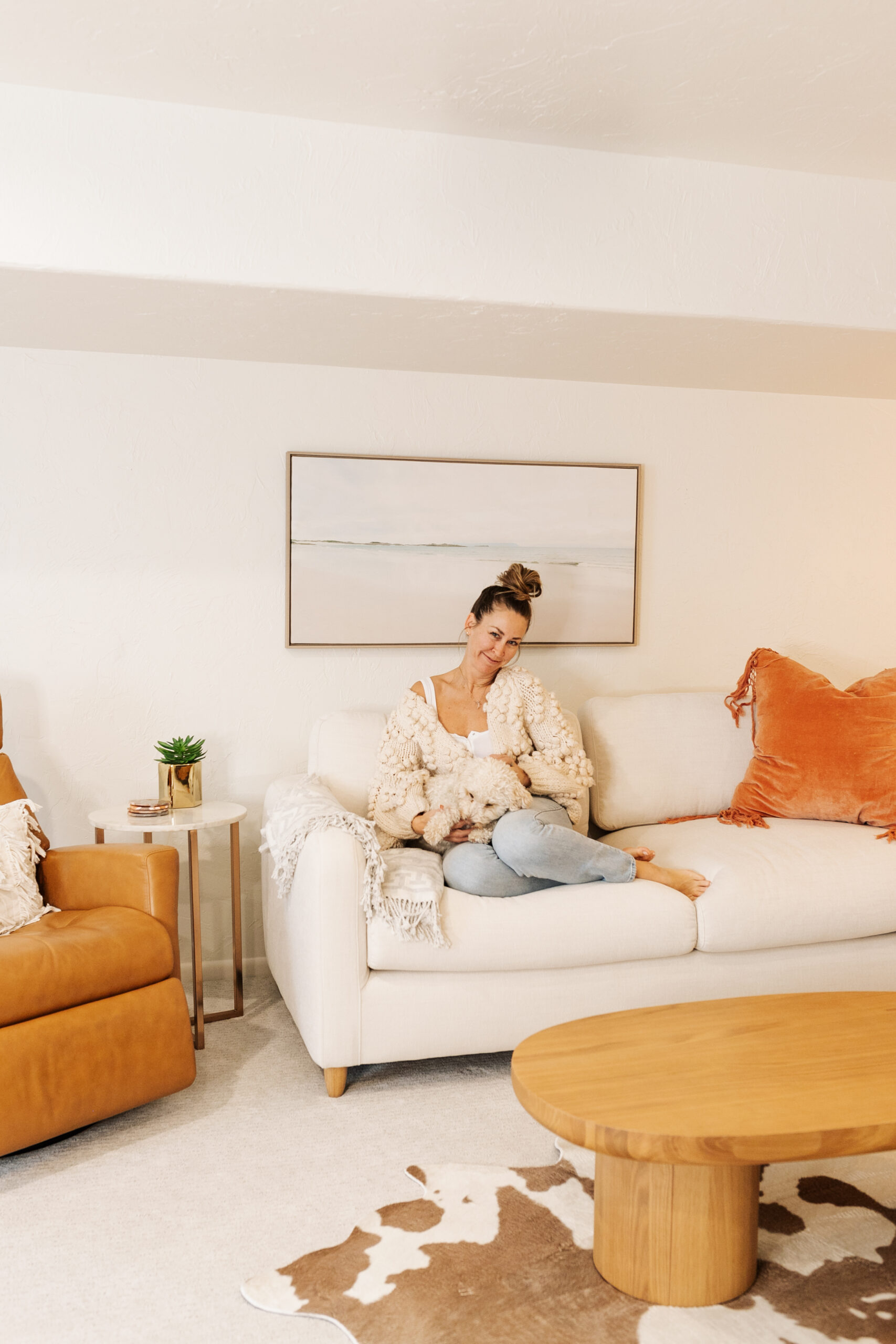 For my first the LDL home update since moving into our new house, I'm starting from the bottom – with a cozy basement refresh! When we first moved in, this area was a dumping ground of sorts for all the furniture we still wanted to keep, but didn't quite fit into other spaces in the new house. Well let me back that up… when we first took possession of the house, the first thing we decided to do was change out the old, brown shaggy, kinda crusty carpet for this low pile, fresh light grey color. We also did fresh coat of white paint throughout the whole house and just those two things made a world of difference!
Basements tend to be dark, cold and kinda boring, right? But I was determine to create a space that was warm and inviting for our friends and family in our new home. Here's where we started: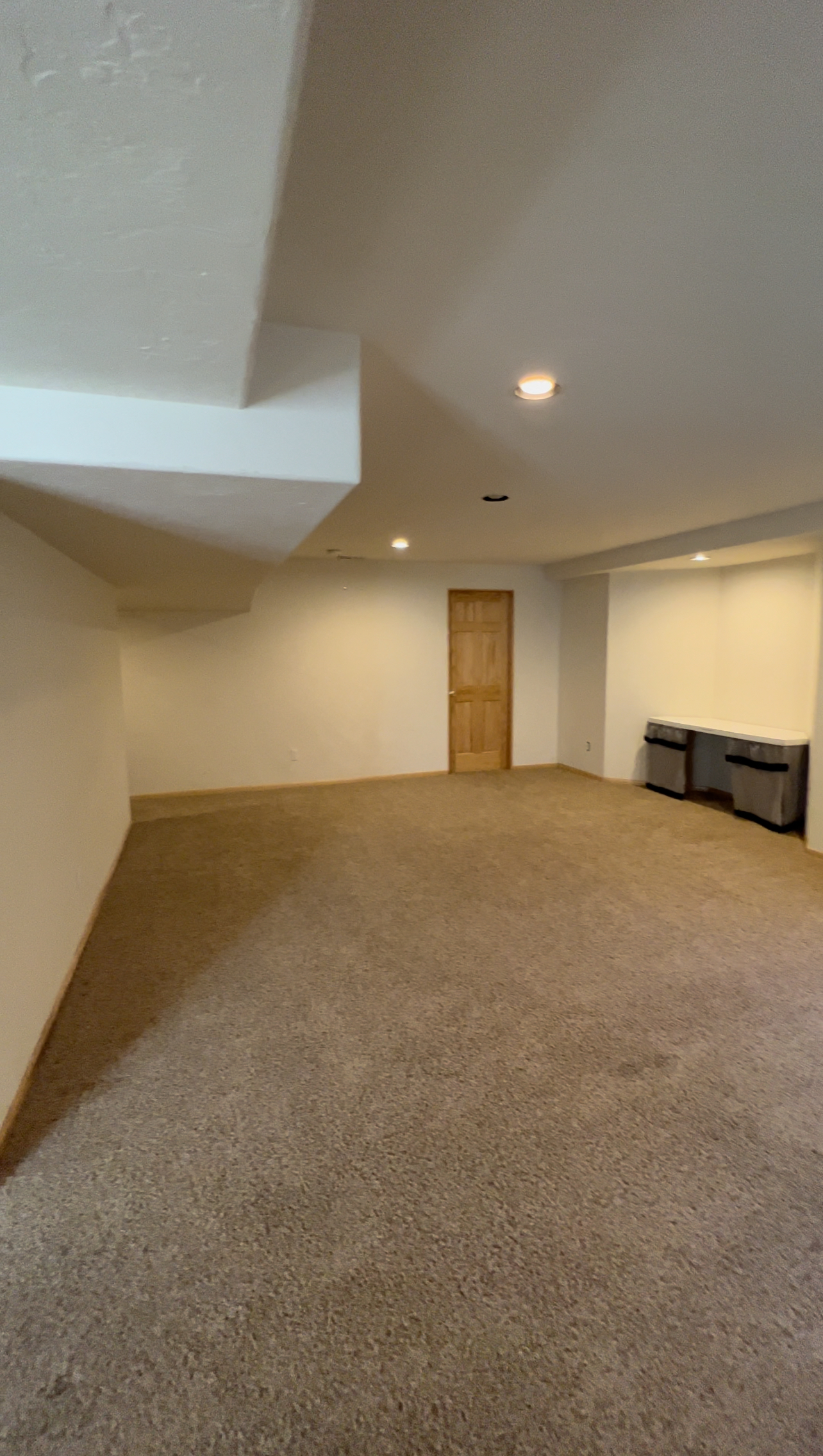 before we moved in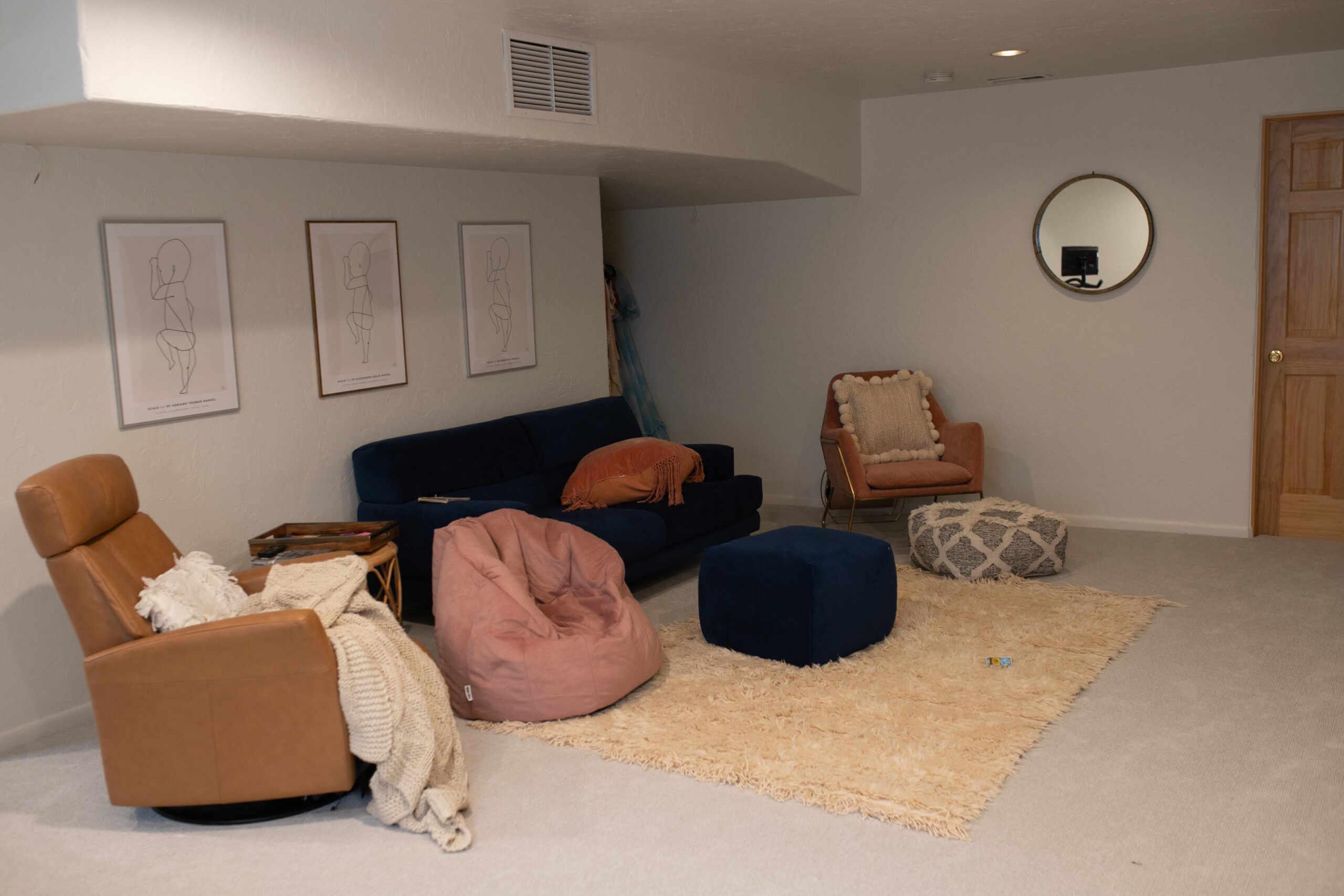 new carpet and our existing furniture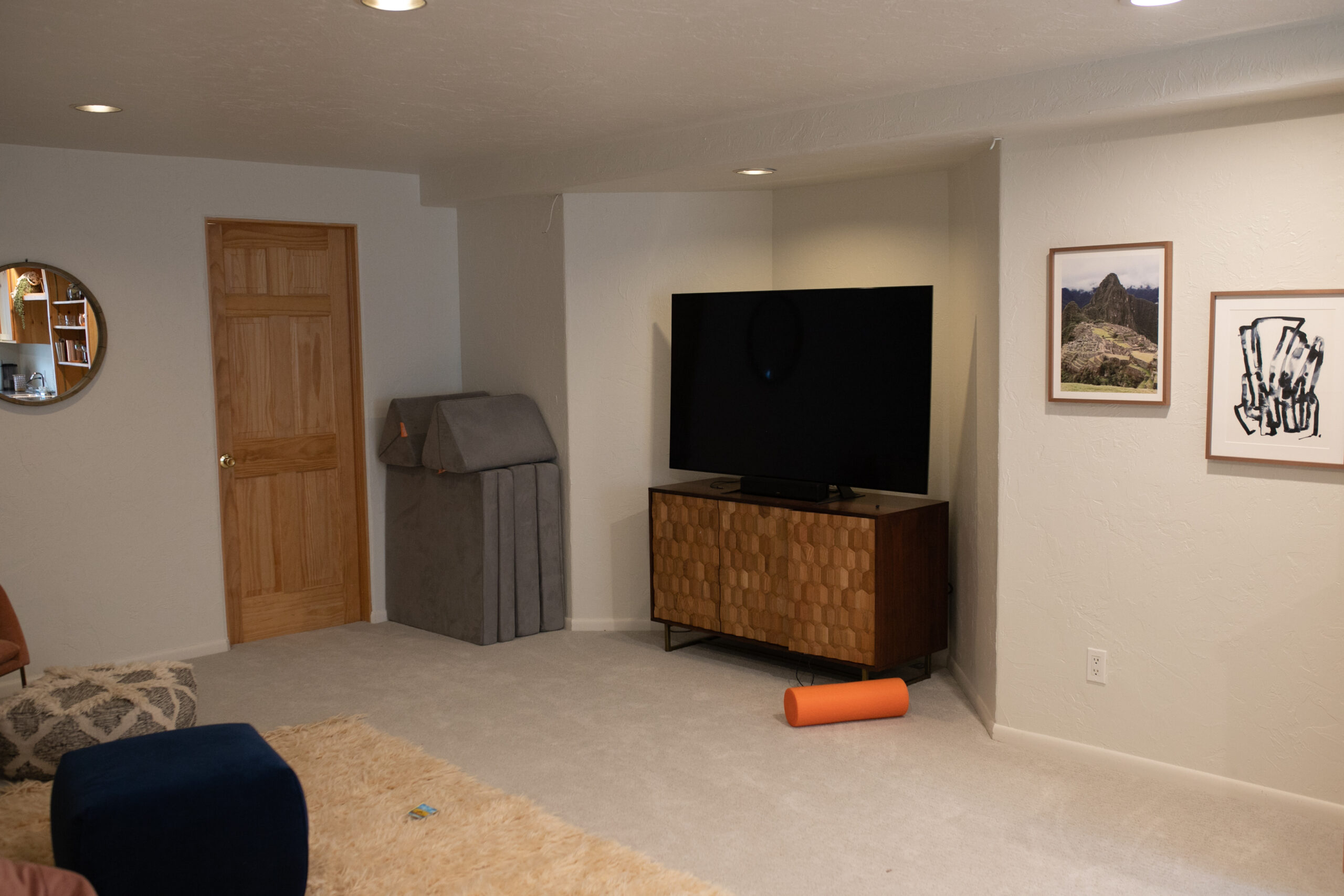 In general, this house has such a different layout than our previous house. In Arizona, we were in a ranch style, all on one level. We had the 'bonus space' of our casita, but that was mostly reserved for when my parents or other guests visited. We rarely used that space for ourselves on the day-to-day. We are now on three levels and what we gained in exchange for the casita in our old house was this basement space, which serves as a much more functional play area for the kids, but also houses both my husband and I's desks/office in one corner, an exercise bike and some home gym equipment, and our laundry room! Oh and there's also a full bathroom down here. In other words, lots of potential for this square footage, but we've had to work to make it multi-funcitonal.
Since we lost a dedicated guest room space with this move, we wanted this little corner to not only be a great place to watch movies or for the kids to play video games, but also serve as a functional guest room for our family and friends that come to visit.
Over the holidays, we had my husband's side of the family stay with us and let's just say… that numbers on that side can escalate quickly. 😉 We love having everyone together, but making sure everyone is comfortable is also a high priority for me. This was when we knew we really needed another bedding option. We considered adding a Murphy bed down here, but with the low ceilings, we just couldn't find one that fit the space. We also knew we ideally wanted a queen size bed, for maximum guest flexibility, depending who came to stay. I was hesitant about a pull-out couch, as I have slept on many in my day and I find most of them are not very comfortable.
Well, you guys know how I loooove Article pieces for our home. It started with this iconic leather couch back in 2018 and the obsession hasn't ceased yet. In fact the darling pink chair, copper floor lamp, and sideboard you see here are also Article pieces I used to design this awkward corner space in our last house.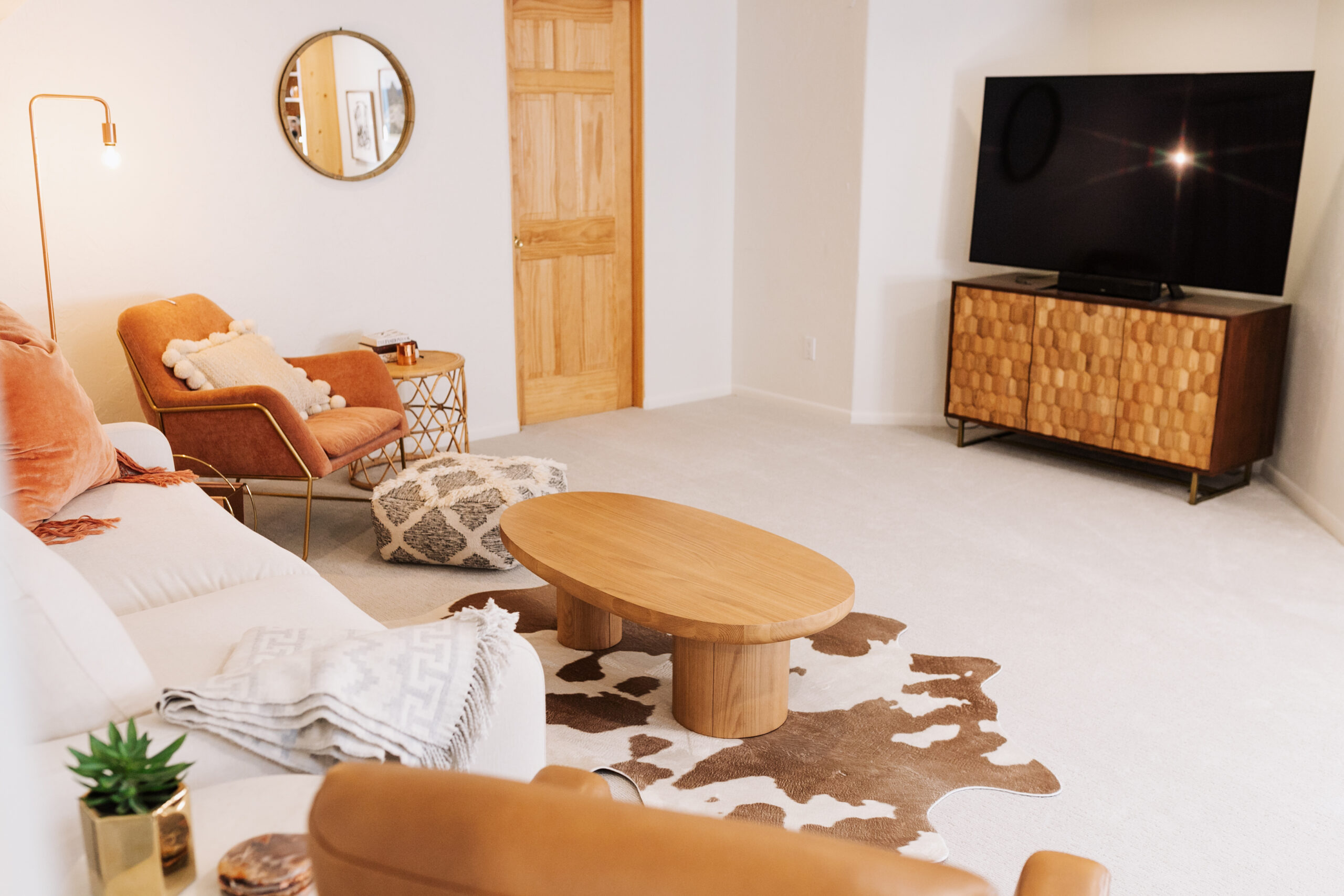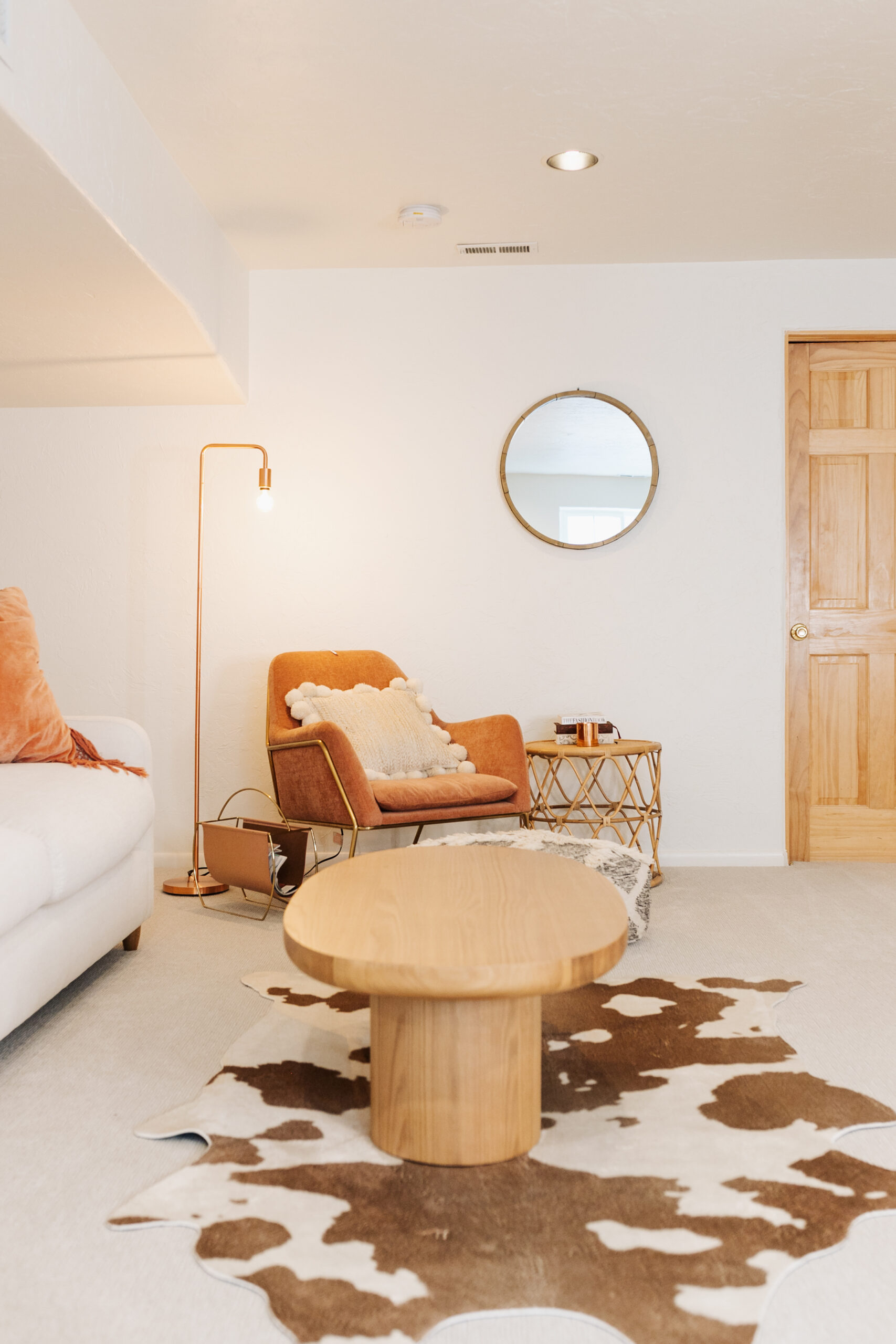 Ok ok so back to the couch/bed situation. Although that little blue love seat In the above photos is cute, it was not entirely functional for our family of 5 to watch a movie (for example), let alone when we have guests over to stay. It also felt a little too small for the space. So I was browsing Article online one day and THIS beauty popped up: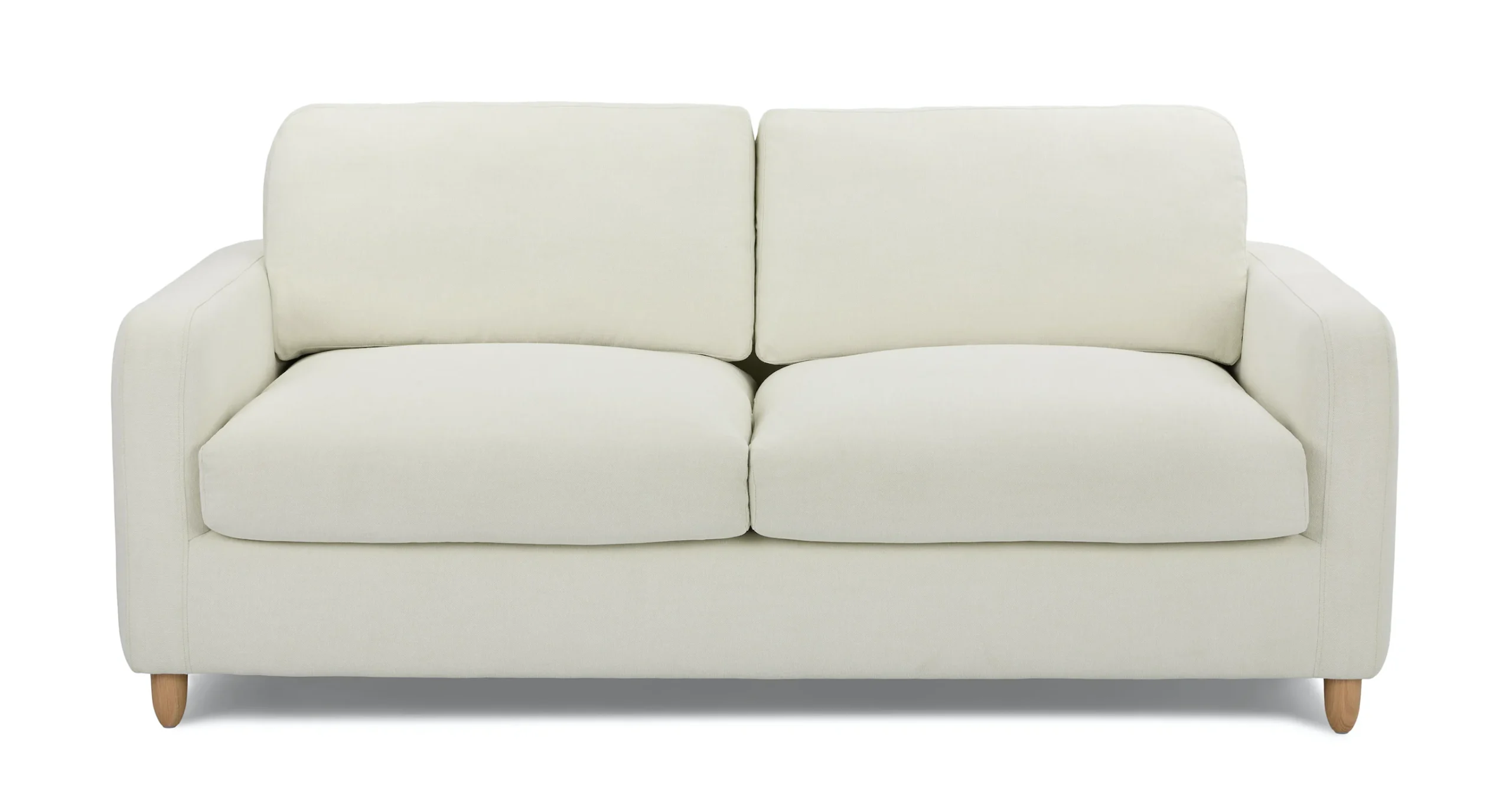 The Vati Buckler Ivory Fabric Buckler Sofa has entered the chat.
It was the perfect blend of what I was looking for – far from an eyesore (you can't even tell it's a sleeper sofa at first glance), folds out to a queen size, plush cushions, a memory foam mattress inside with no bar jabbing you in the back, and just so happens to be sold in my favorite color. All the heart eyes for this little lady!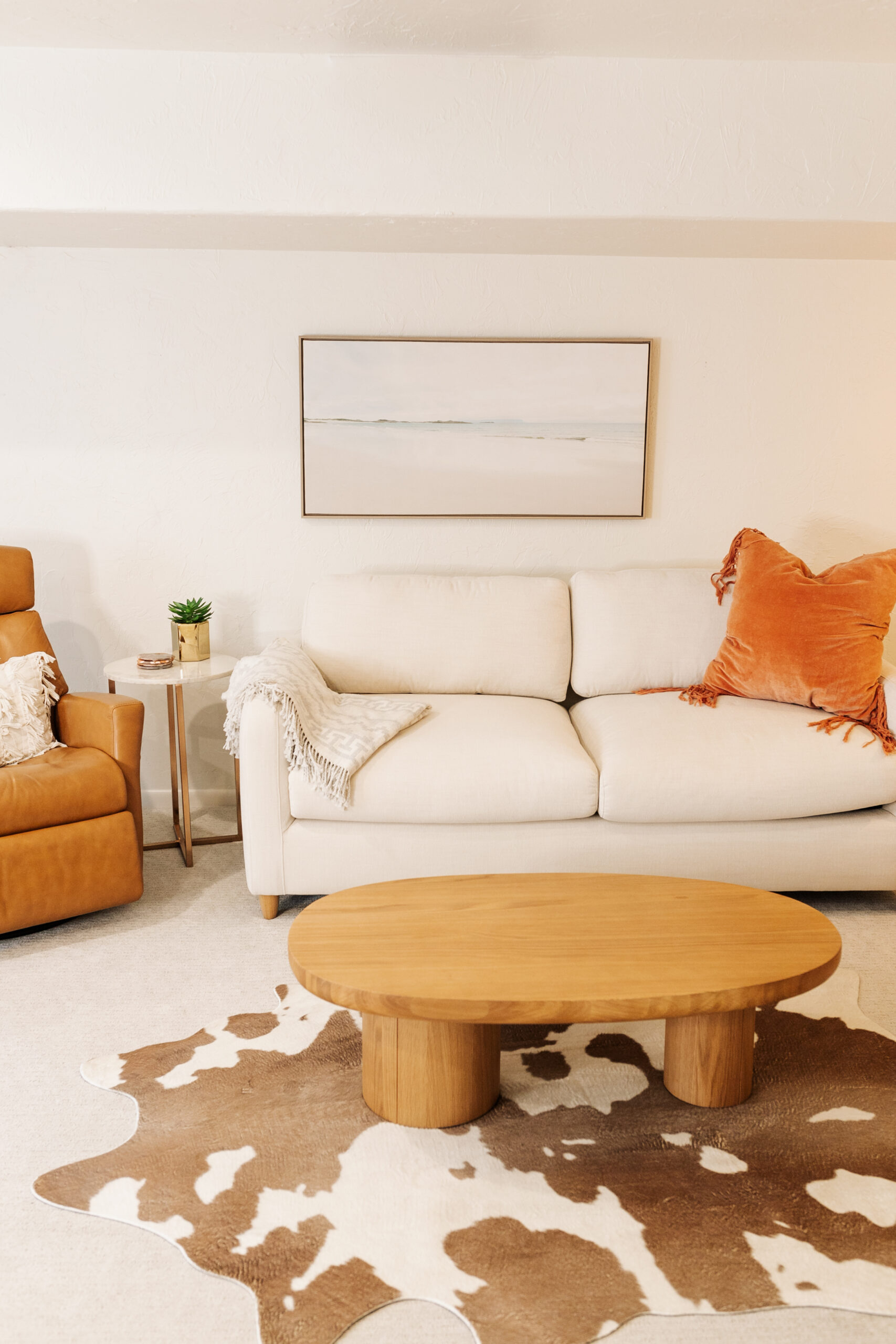 Here's how she folds out: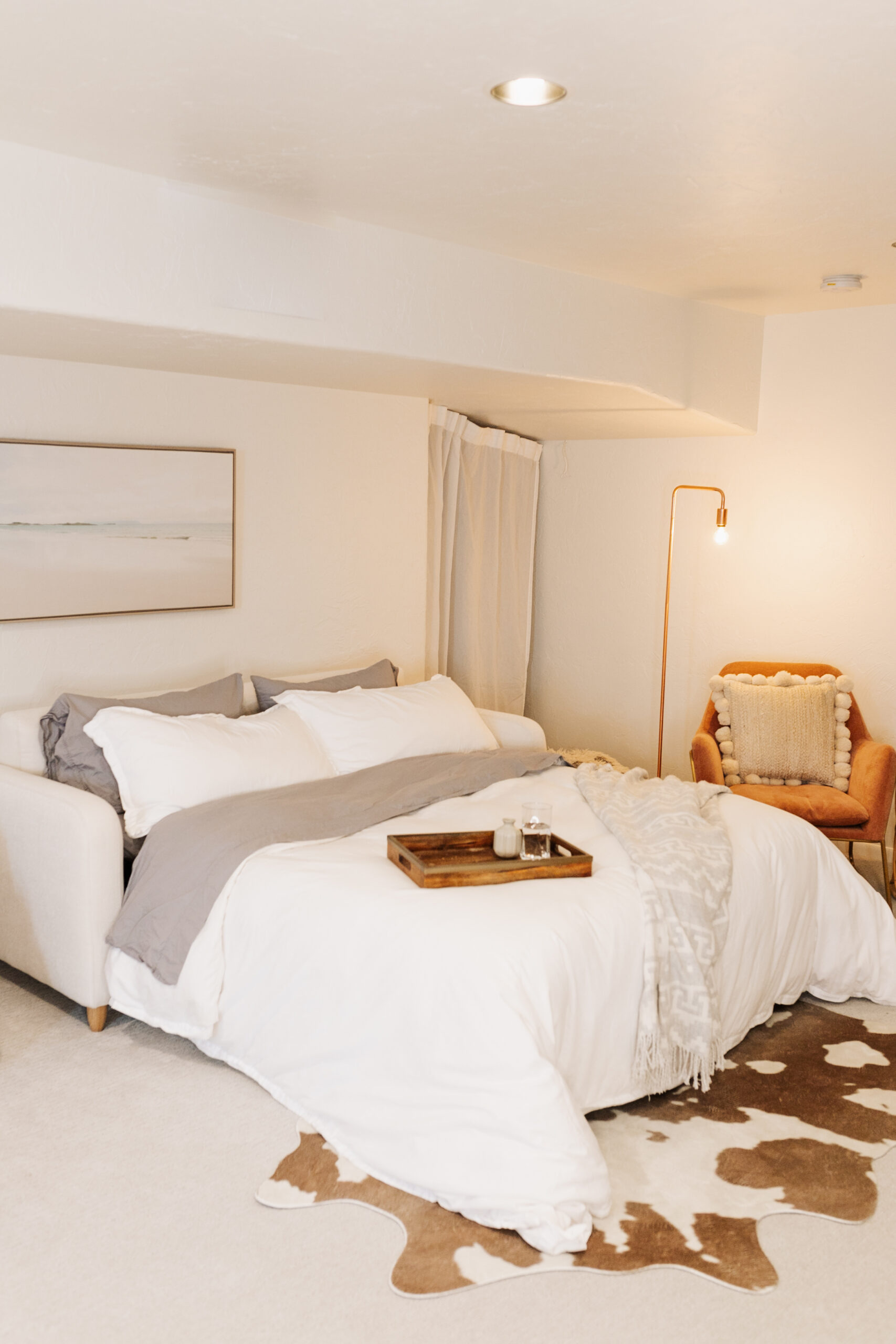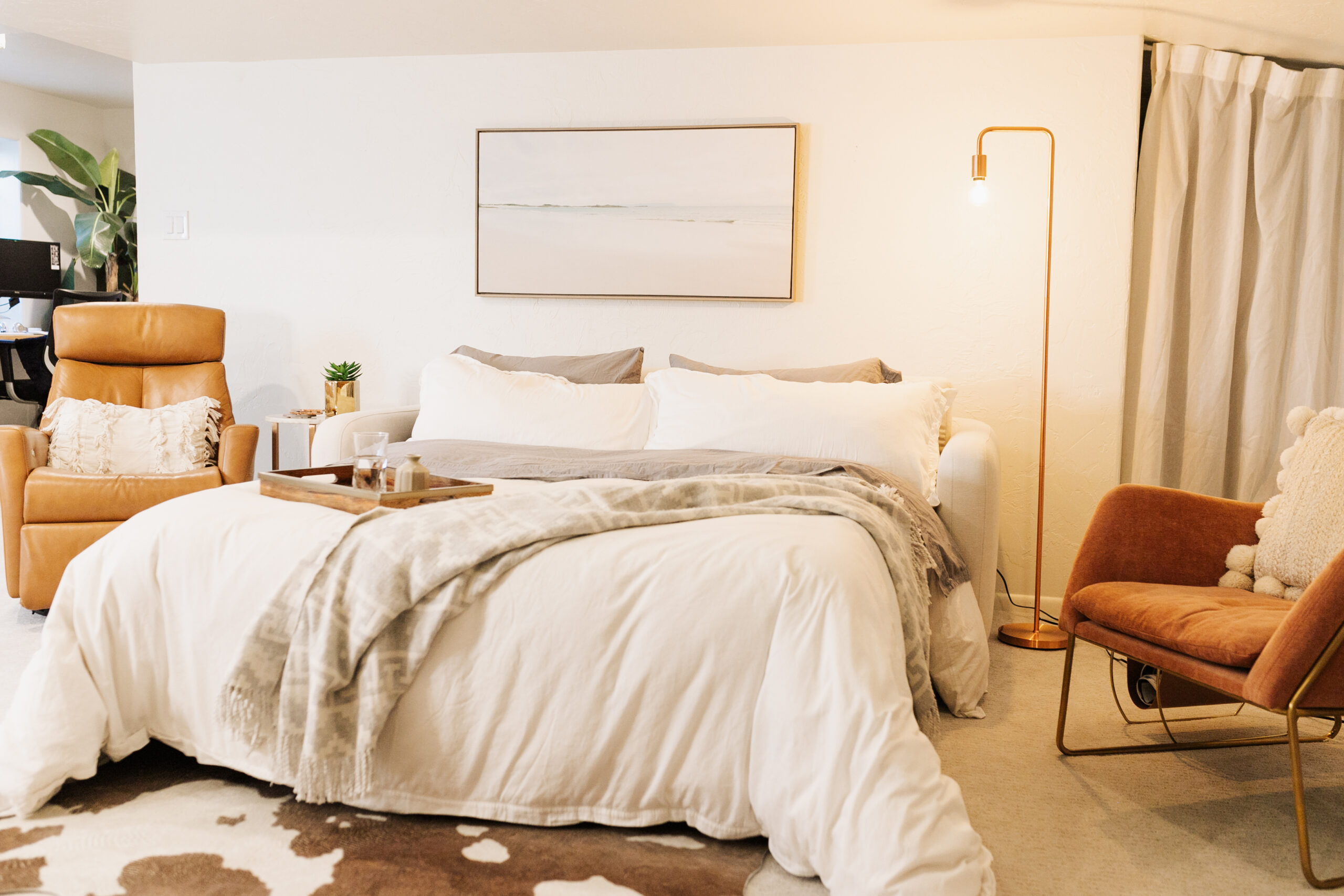 Since we didn't have a coffee table for this room previously, I couldn't help but add this darling little Baarlo Oak Coffee Table to my order. It is as described – SOLID and beautifully made with clean lines a sweet curved edge details.
My obsession with Article continues as I have never been disappointed with their quality or selection of thoughtful designs. They make it easy to put together a beautiful living space, and in this case, a beautiful multi-functional space. In-stock items deliver fast, and even when popular items get backordered, you can count on Article to get them to you as soon as possible. My order was actually originally scheduled for March due to the couch being backordered, but I got a notification in February it was ready after all! Article also offers flat-rate shipping of $49 to the US and Canada, or FREE shipping on orders over $999.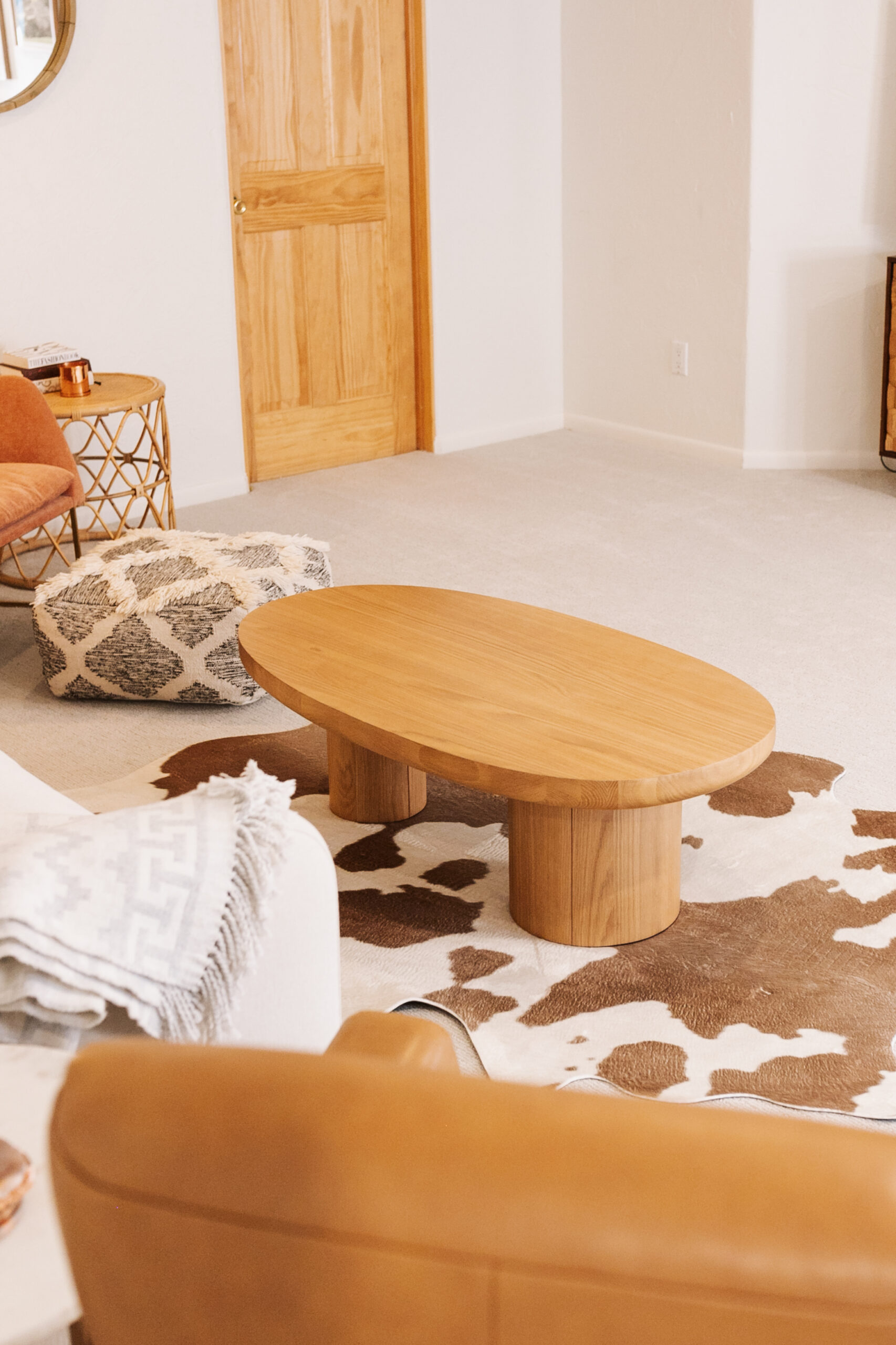 While I was at it, I wanted to update the rug. The previous shag rug that was down here I adored in my old office, so I wanted to find a home for it in this house. Unfortunately, the thick shag pile and ivory rug color over our light colored carpet just wasn't working for me here. I had been hearing for years about rugs from Ruggable. Have you guys heard of them? They make a bunch of different styles of completely washable rugs in various sizes!  Yes, washable! You can just throw it in the washing machine. As I mentioned, this will be partially a kid-zone and I do want to try to protect our new carpet, and having a washable rug that also added a little bit of color and texture down here was exactly what I was after.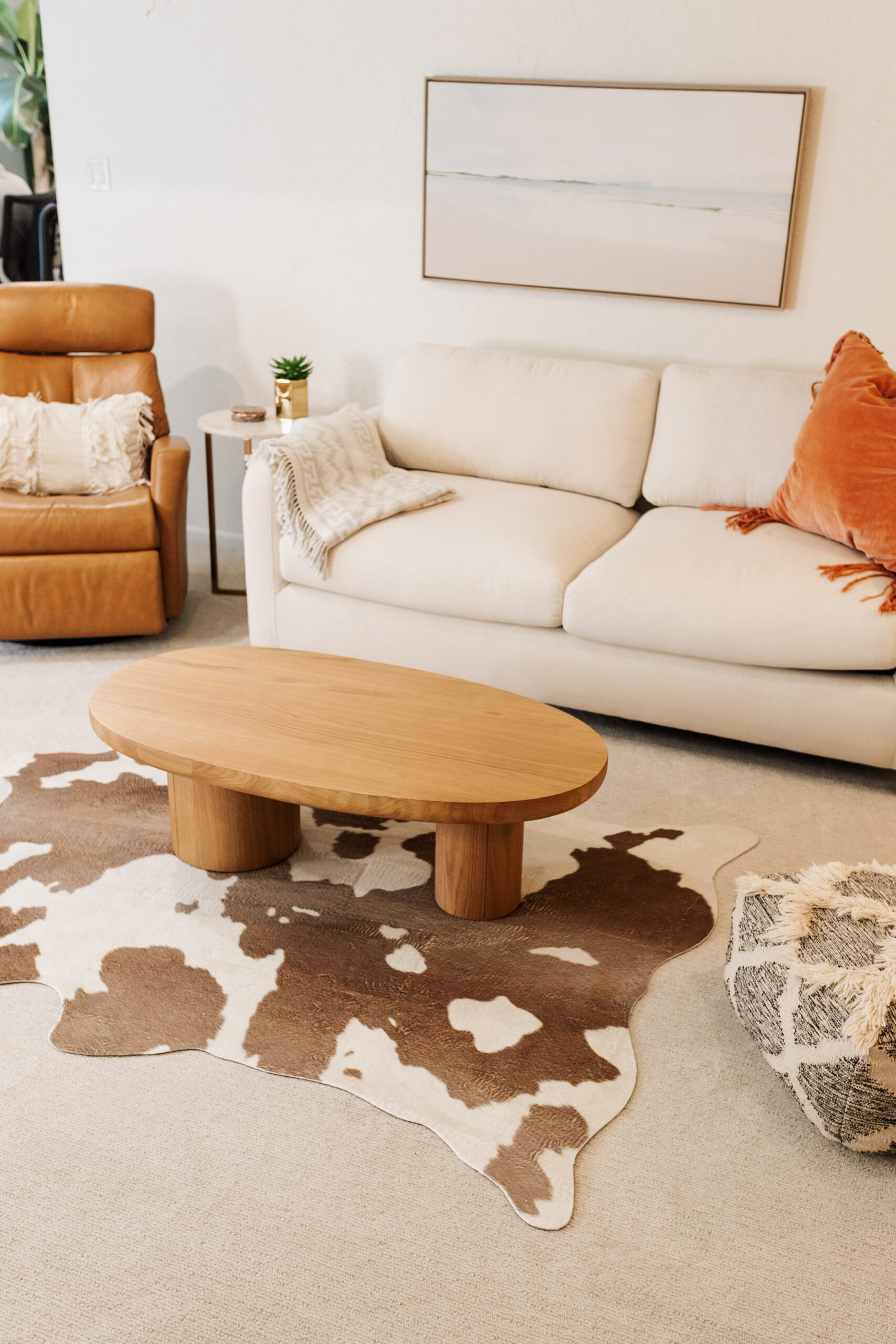 This Ruggable is the tan & ivory faux cowhide in 4.5′ x 6′ "cowhide" size. When I shared it on my Insta Stories a lot of you were asking what I thought. The answer is: so far, so good. Love the texture, look, and durability with the foot traffic so far. I'll be honest in that I haven't put it thought he washing machine just yet, but I will update you all when I do!
Oh and before someone calls me out – I know I asked you guys on my Insta Stories what I should do with that tricky corner closet and I was clear that I did NOT want to do a curtain, but here we are haha. IT'S A TEMPORARY FIX, OK?? The good news is, my brother-in-law has volunteered himself to build me a custom door there. It's the under-the-stairs closet and the ceiling is quite low because of the duct work, but he said he can do it! I'll update you when he does.
So there it is – a sweet and simple the ldl home: cozy basement refresh to make our new home more functional for our every day, and when guests come to stay. What do you guys think?