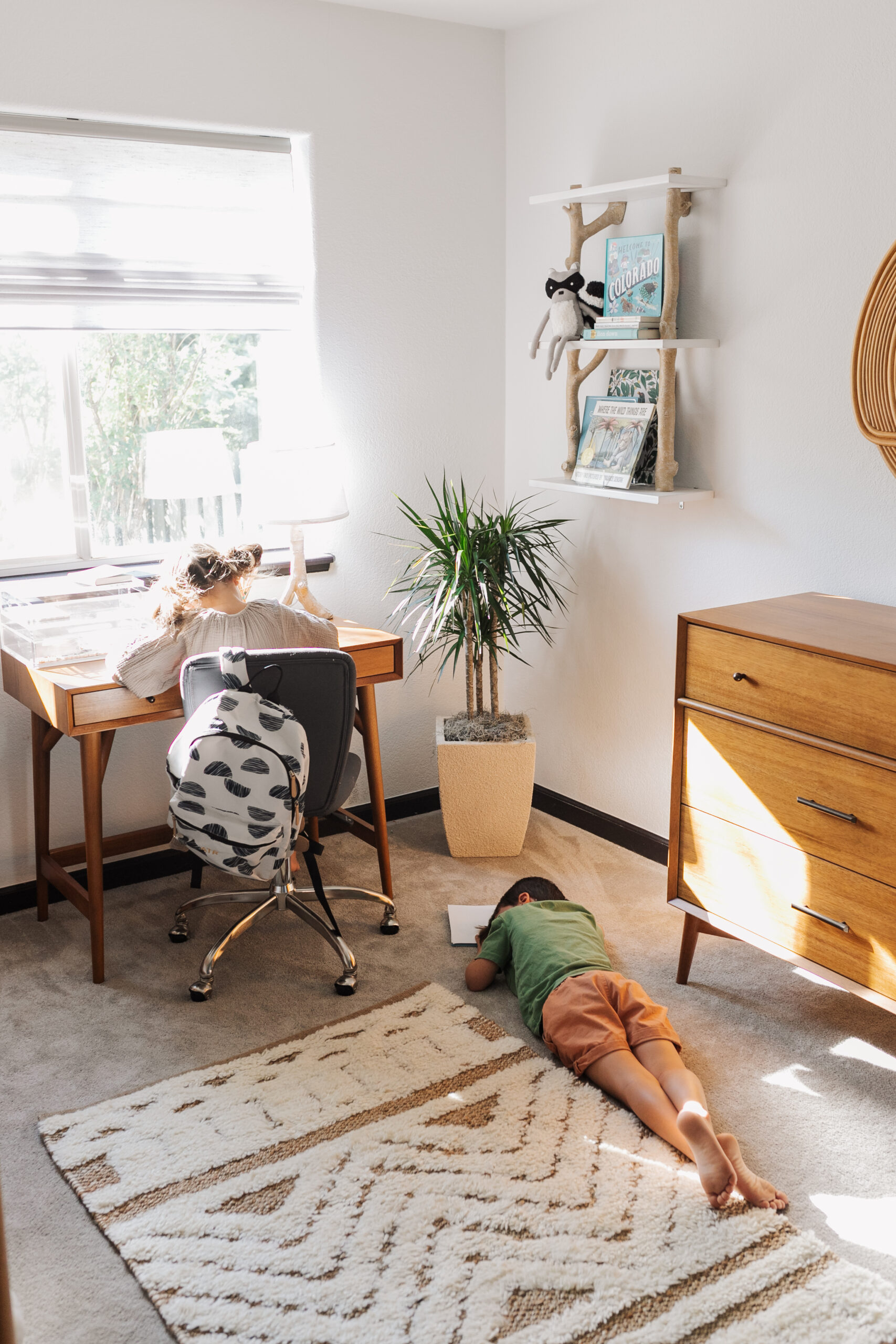 Today I have another exciting room reveal for you, our modern mountain bunk room! If you saw my last post, you know that this summer I was helping my sister finish a couple of rooms in her beautiful new home near Aspen, Colorado. I had the great honor of creating this room in partnership with Pottery Barn Kids, however I wanted to create this blog post as a way to tell a more complete story, and to link everything for you! As always, all opinions expressed here are 100% honest and my own! All products are linked at the bottom of this post, so keep scrolling. 😉
Since we love to come visit her in that most beautiful part of the earth often, I have a vested interest in making sure that our family all has a comfortable place to stay, without being too much in her way. When she suggested that this downstairs bedroom in her split-level townhome could be a kids' room, I was 100% on board with the idea!
Here's where we started with this room – basically a blank slate!
And here is my mood/inspiration board for the room: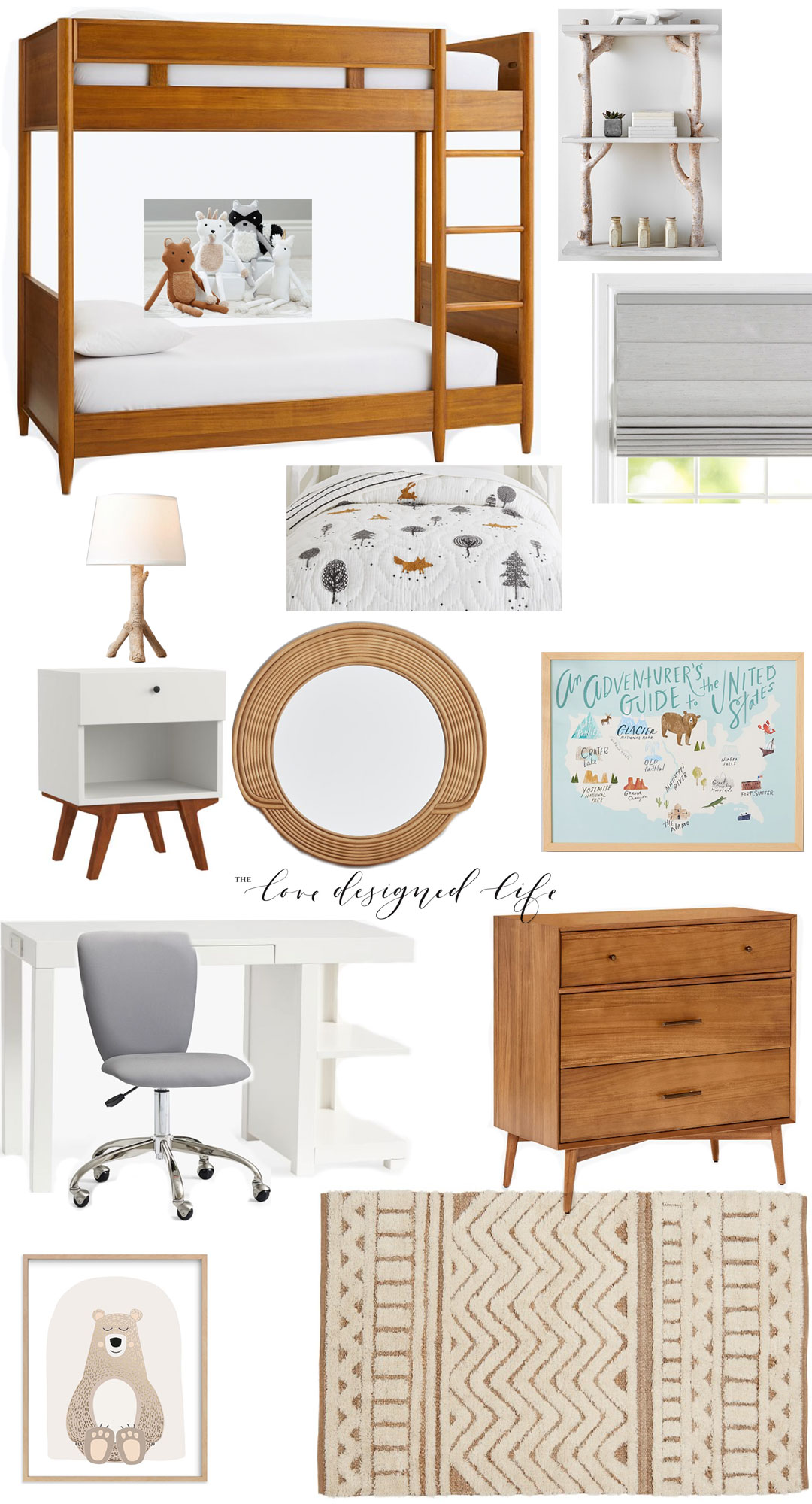 My sister and I agreed we wanted room should be as multi-functional as possible not only for my family's visits, but for other guests that come to see her, and also for her day-to-day living. Last year we visited here when my kids were in online school, and also after last year my husband now works 100% remote. This gives us greater flexibility for extended trips to visit Aspen. That got me thinking – wouldn't it be great to have a desk in here? I figured she might also use it herself when working from home or even just everyday tasks like paying bills.
We went with the beautiful mid-century modern desk that perfectly matched the rest of the theme in the room. We went with this classic twill upholstered swivel chair to give all the warm wood tones a bit of contrast in here.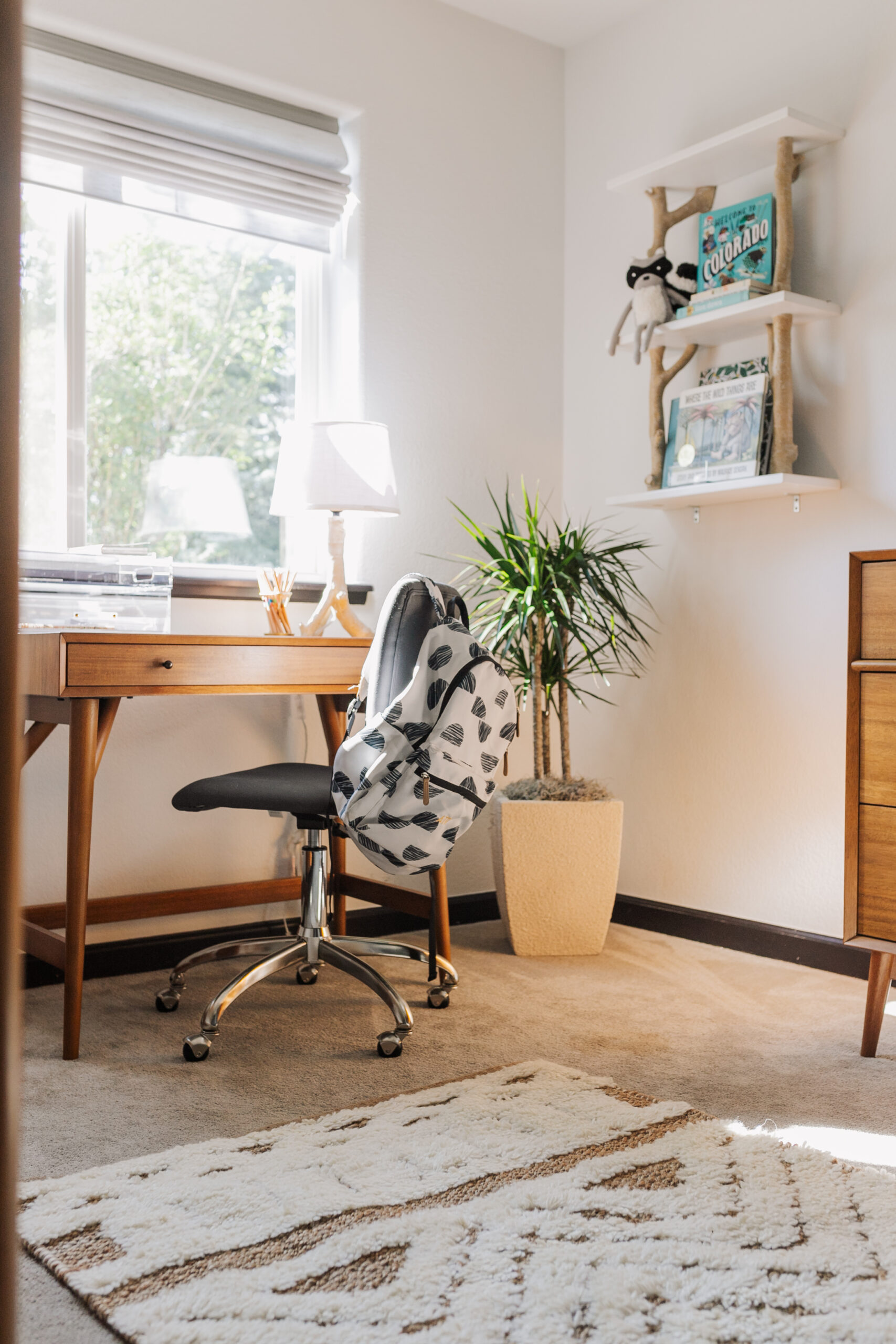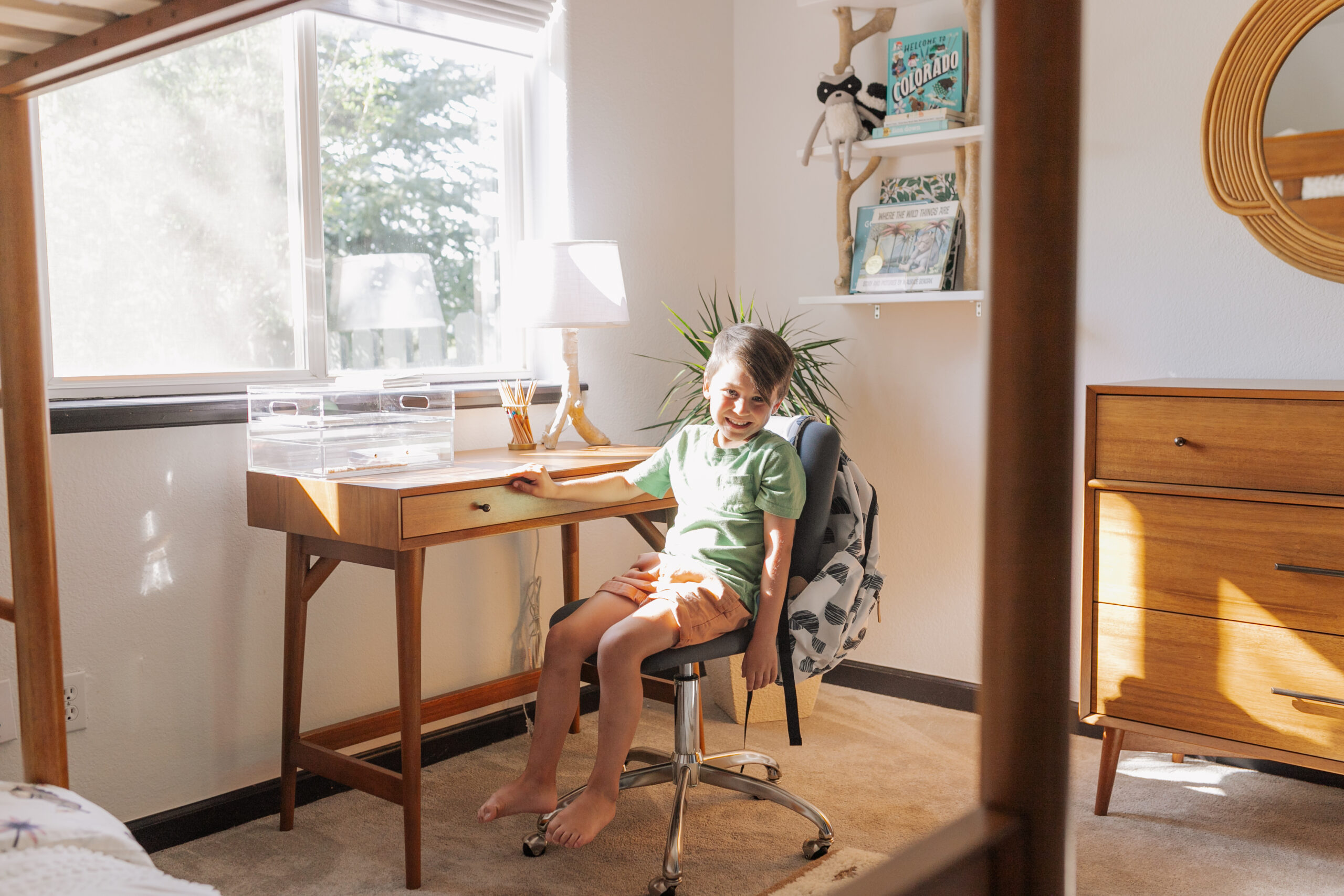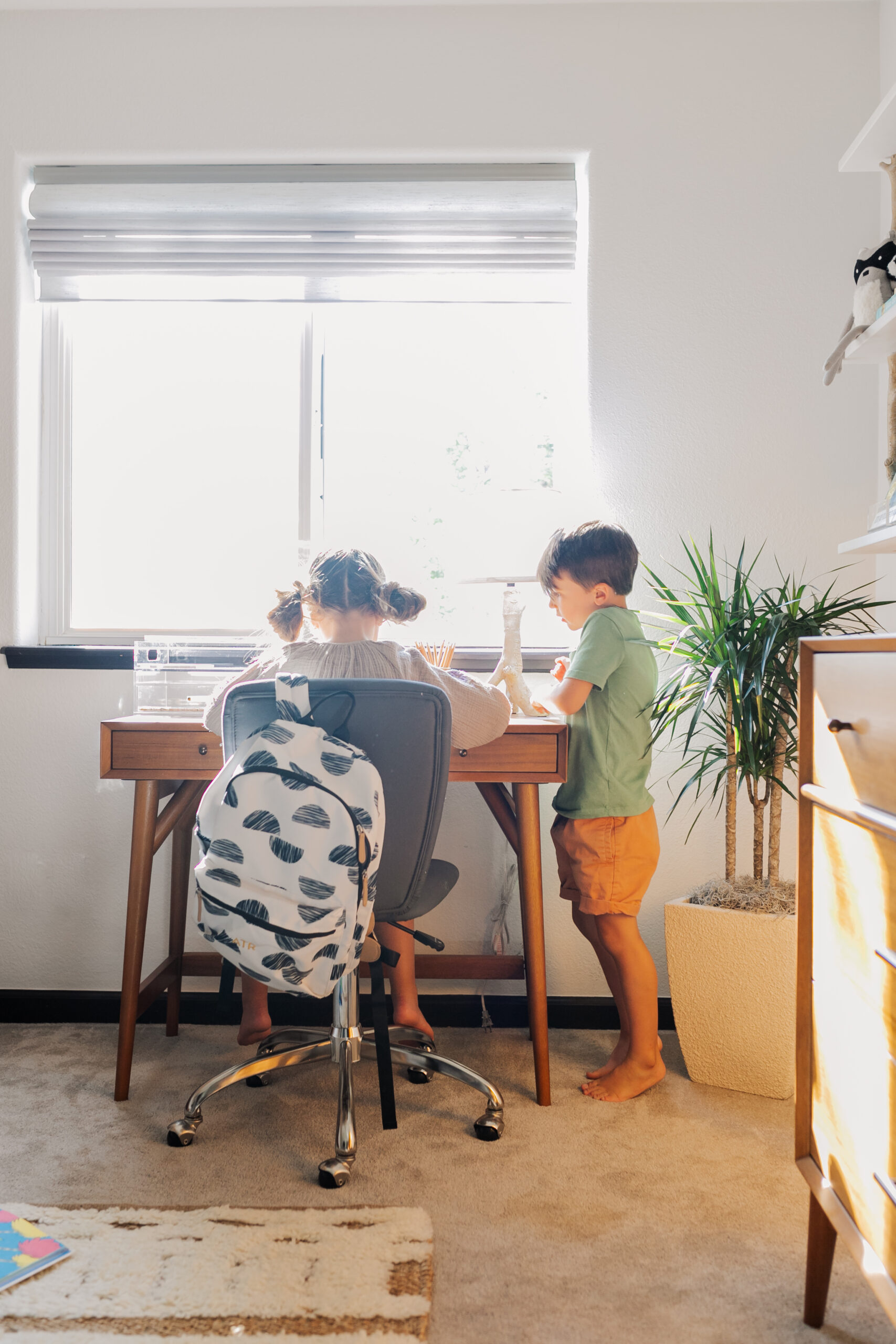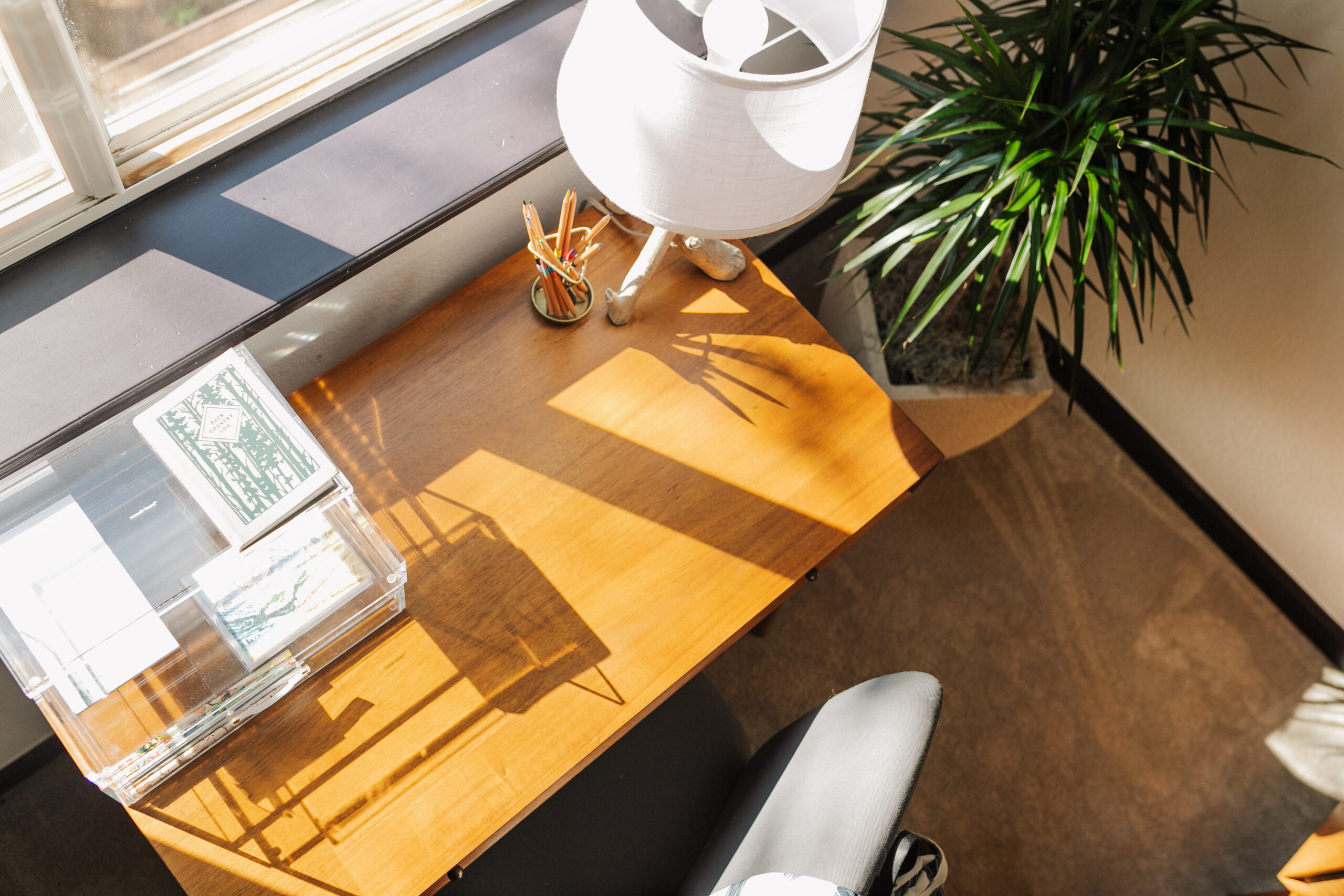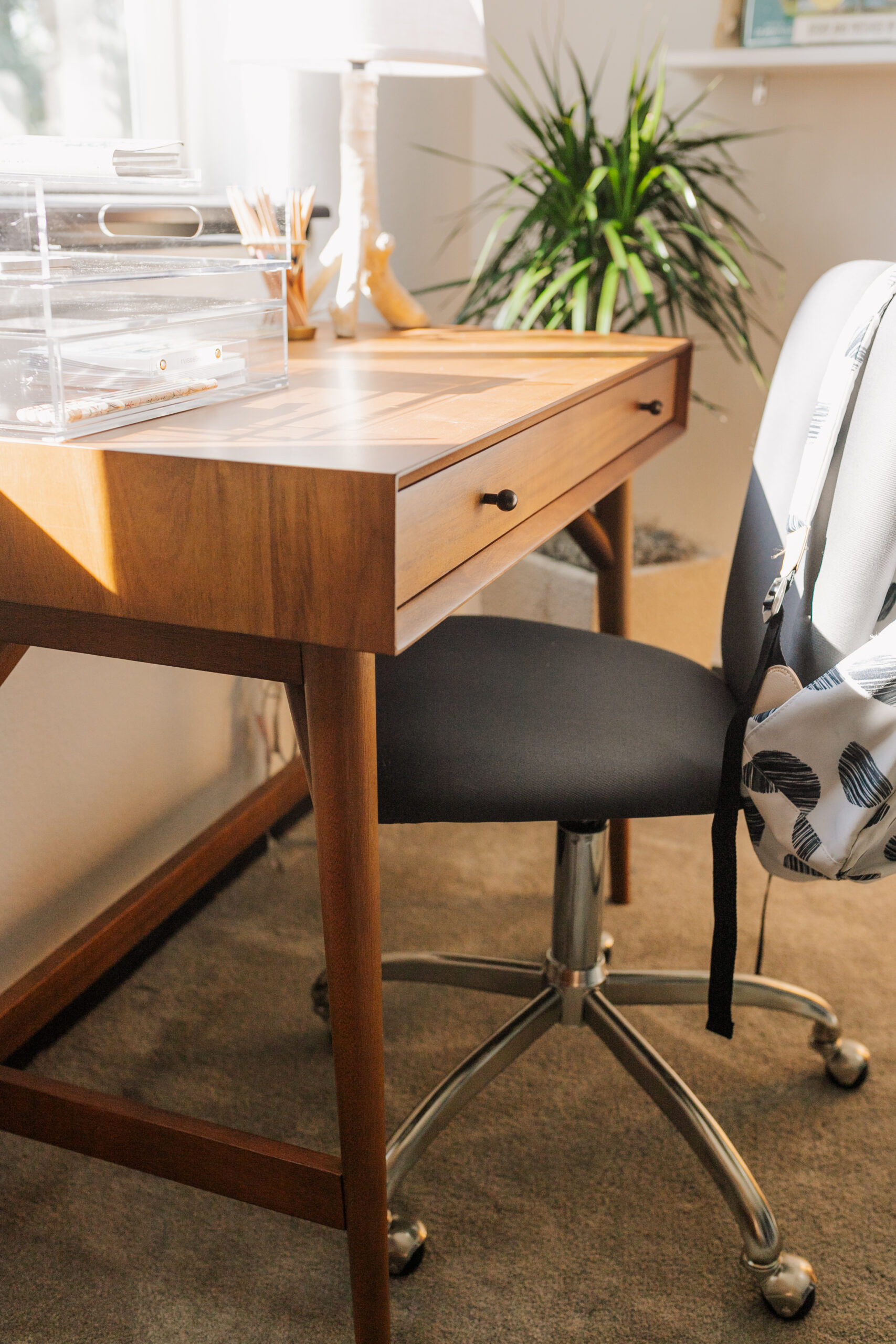 The kids were equally as excited about this finished bunk room as I was! What kid doesn't love climbing on bunk beds and turning them in to forts? As a parent, I was very impressed with the quality of this solid twin-over-twin bunk bed, designed by West Elm x Pottery Barn Kids. Other than being just a sturdy, well-made frame, I was shopping for furniture pieces that are Fair Trade and GREENGUARD Gold Certified – and this entire collection fit the bill!
One thing you can't see in these photos, but was equally important to me (as I would use nothing less in my own home for my kiddos to sleep on in our primary residence) was these Organic Bunk Mattresses that perfectly fit the twin beds, without being too thick or bulky. Also, super comfy to sleep on, according to the kids! I will link the rest of the gorgeous (and also organic) bedding at the bottom of the post!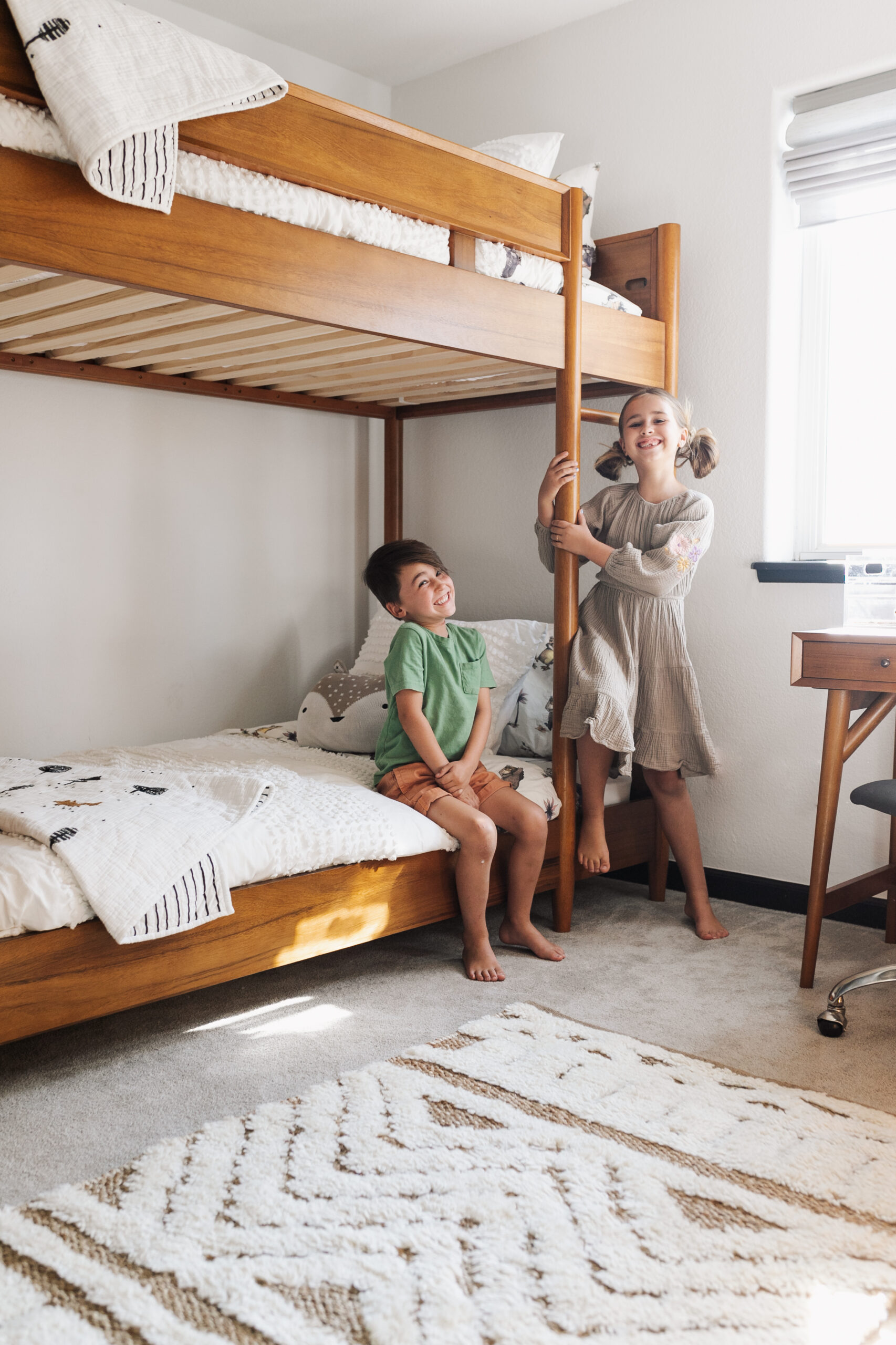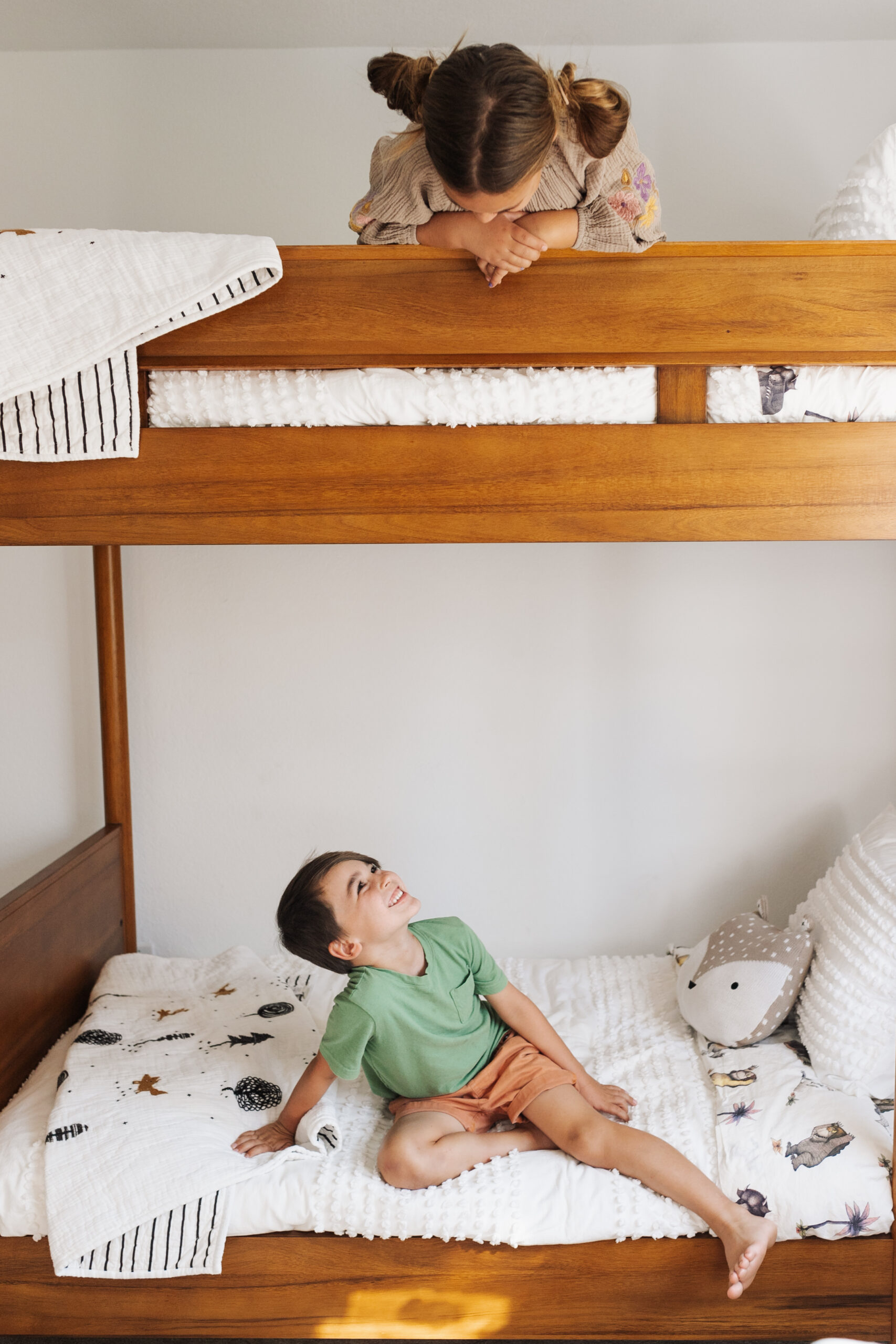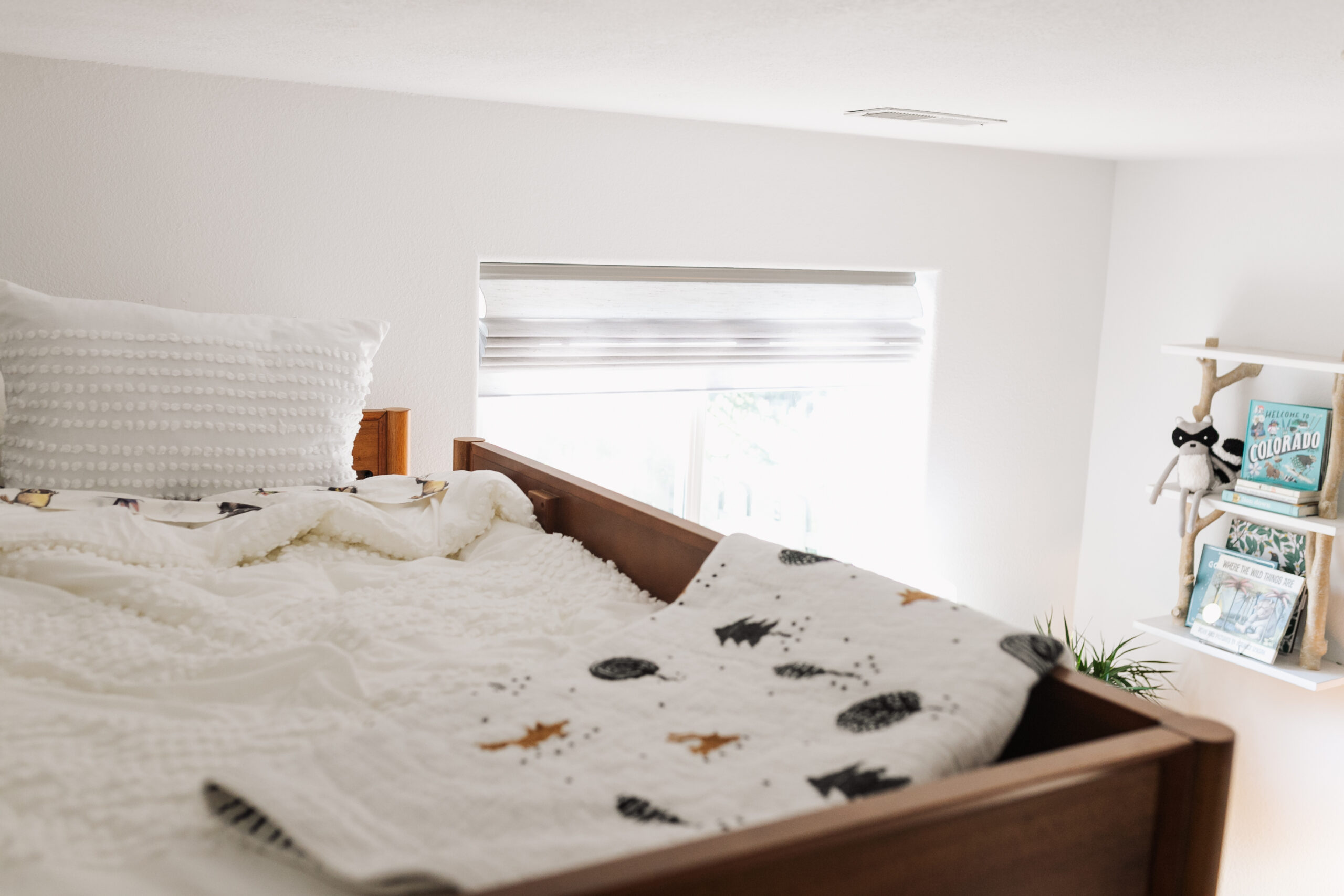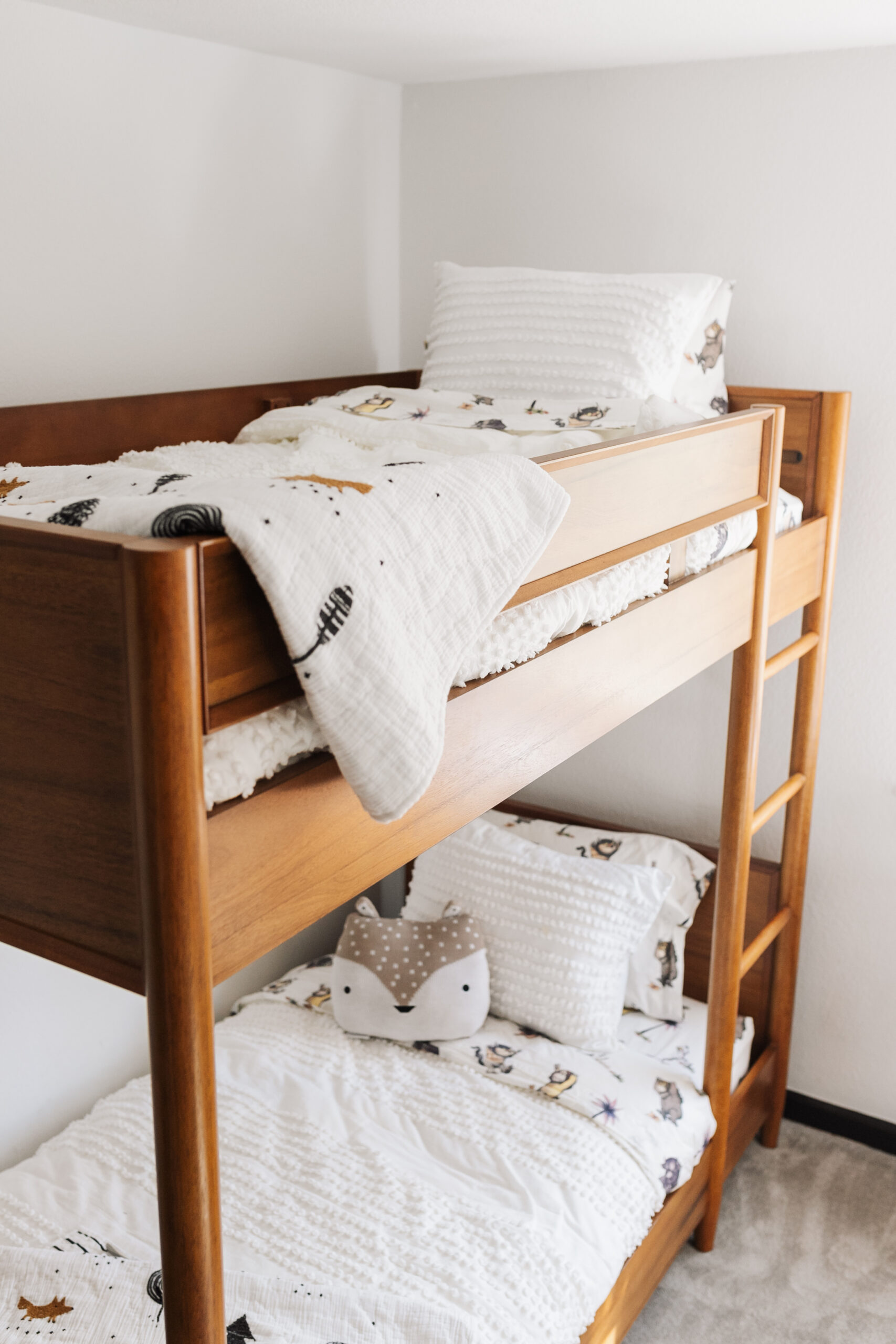 I just have to give this one opposite wall it's own moment too. If you follow along in my Instagram Stories, you may have seen that I was debating doing a custom mural over here. I am kinda still tempted to do it – but we ran out of time on this trip. What do you think – leave it clean and white OR add a full wall abstract mountain mural?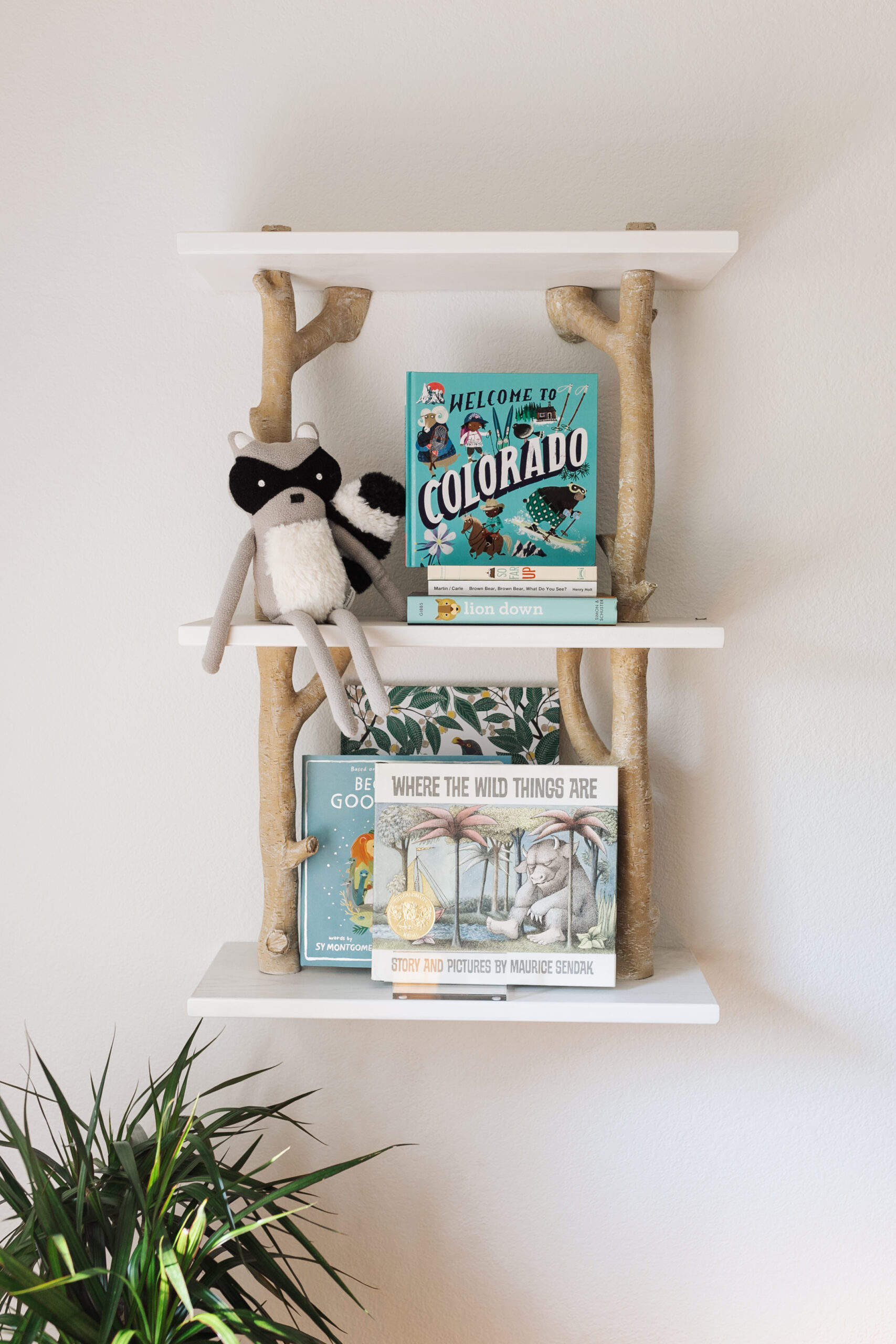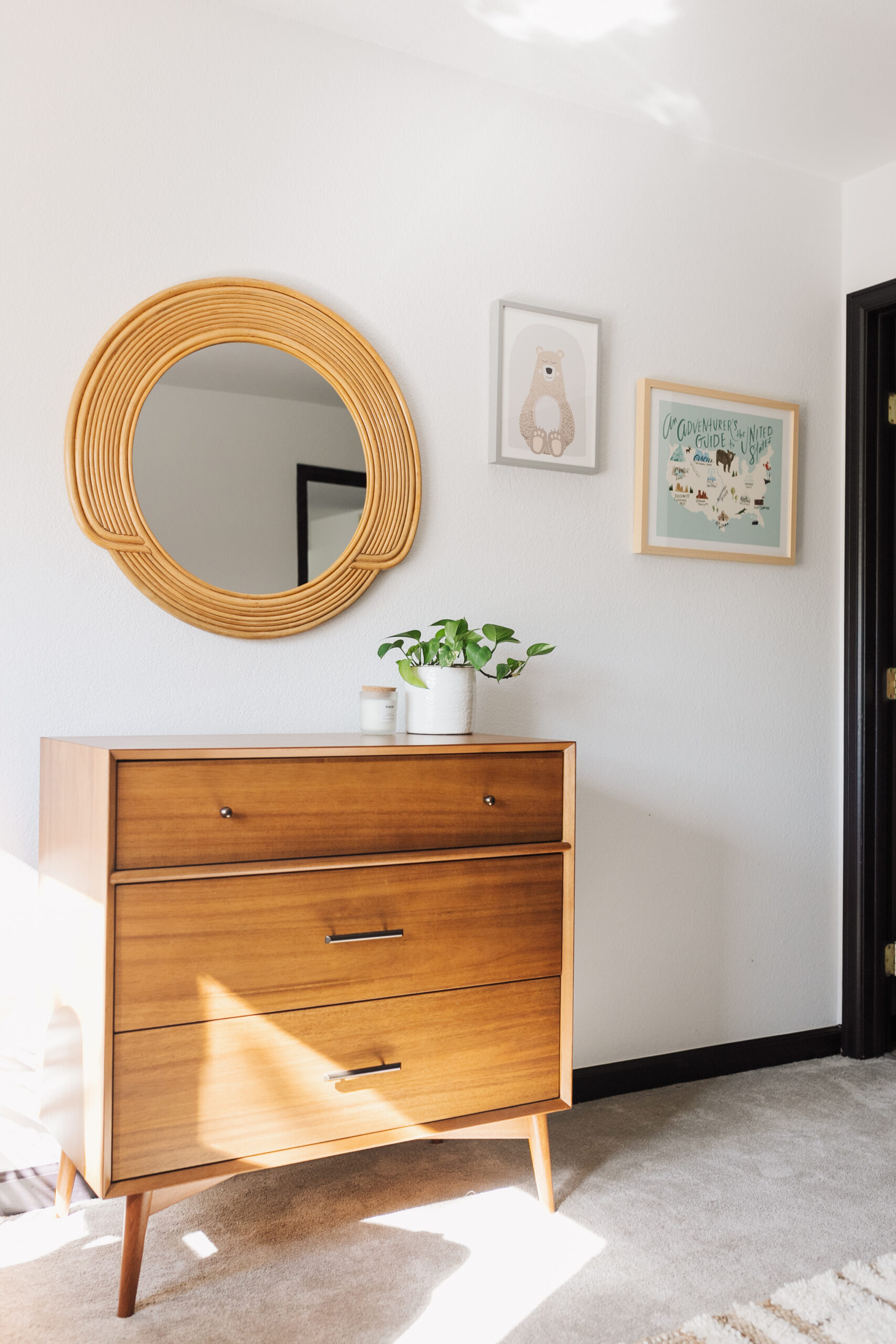 Ok as promised, all links for our pieces and accessories are available below for you to shop this post, in addition to a few similar items! If you see something I missed, please reach out, and I will do my best to find it for you!  xo, Paige
organic "where the wild things are" sheets
essential duvet insert and pillow set