This post has been created in collaboration with Article, and also contains some affiliate links, which if you click through and purchase I will receive a small commission from. All opinions are 100% honest and my own.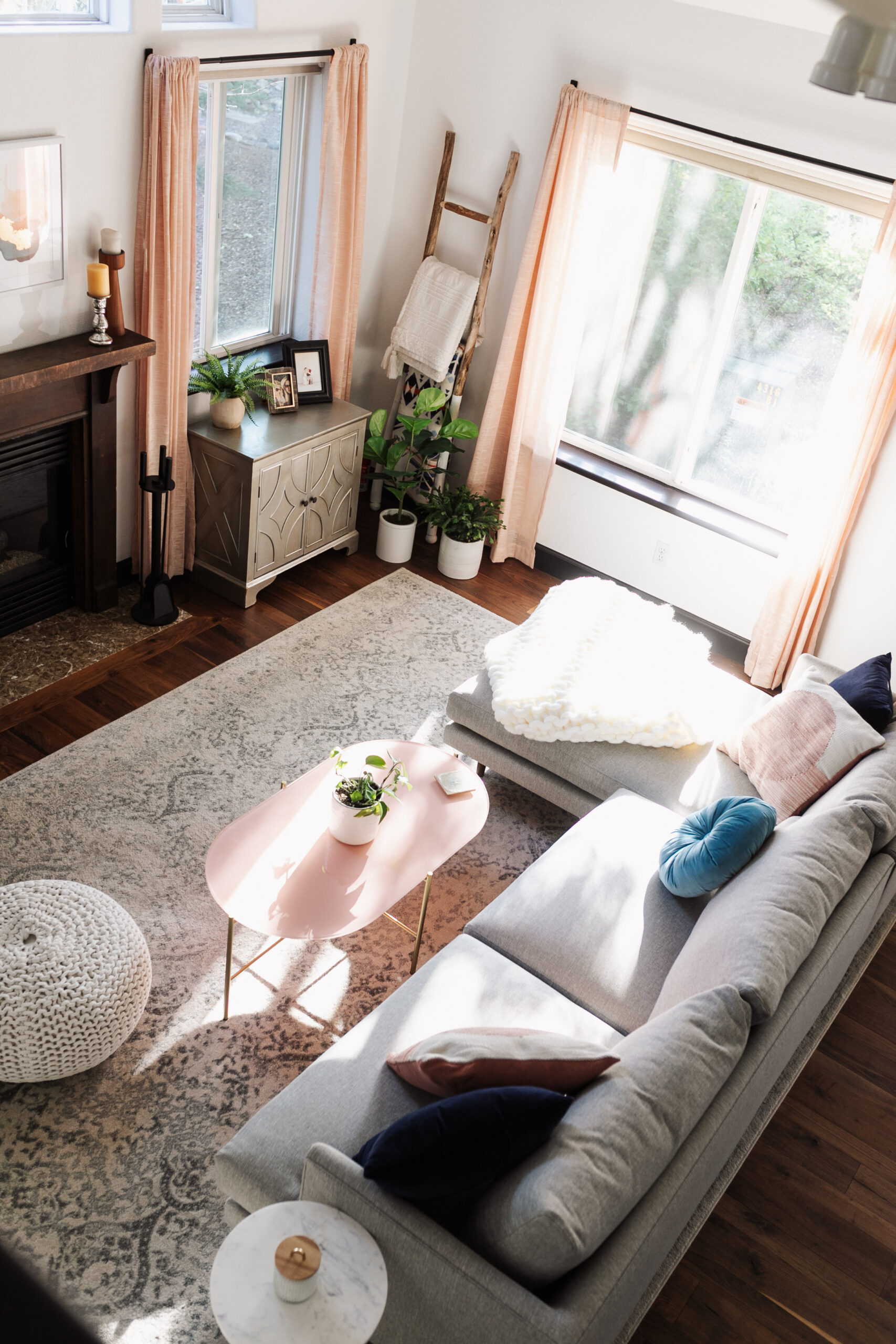 I'm so excited to share my latest home project with you guys: this modern mountain living room! Eeeeeppp, I've been sitting on this one for a while, because we were traveling this summer, then back-to-school, and life has just been crazy lately. Actually, this project was a part of the reason for our recent travels to Colorado this summer. I'm so thrilled to finally have had a moment to put this post together to share this somewhat unique story with you guys.
So, let's start at the beginning here. This is my sister's house! Years ago, my sister moved to LA and moved right in with my husband and I. Some may find that unconventional, but in an expensive city like LA, and pre-kids (for us), it actually worked out really well. She even stayed living with us through my oldest's first birthday, and I missed her terribly when she did eventually move out, even though she just moved a couple of miles away, haha.
Fast forward a few years from there: our family moved to Arizona, and my sister found a great job as an interior designer in Aspen, Colorado. Even though we no longer live together, or even in the same town, we make a point of seeing each other as often as possible. So when she was shopping for her first home last year, I was really hoping she'd find a place where we could come visit and stay with her often. This darling townhome fit the bill for her needs, but lucky for us – there's plenty of room for our family to come and stay as well!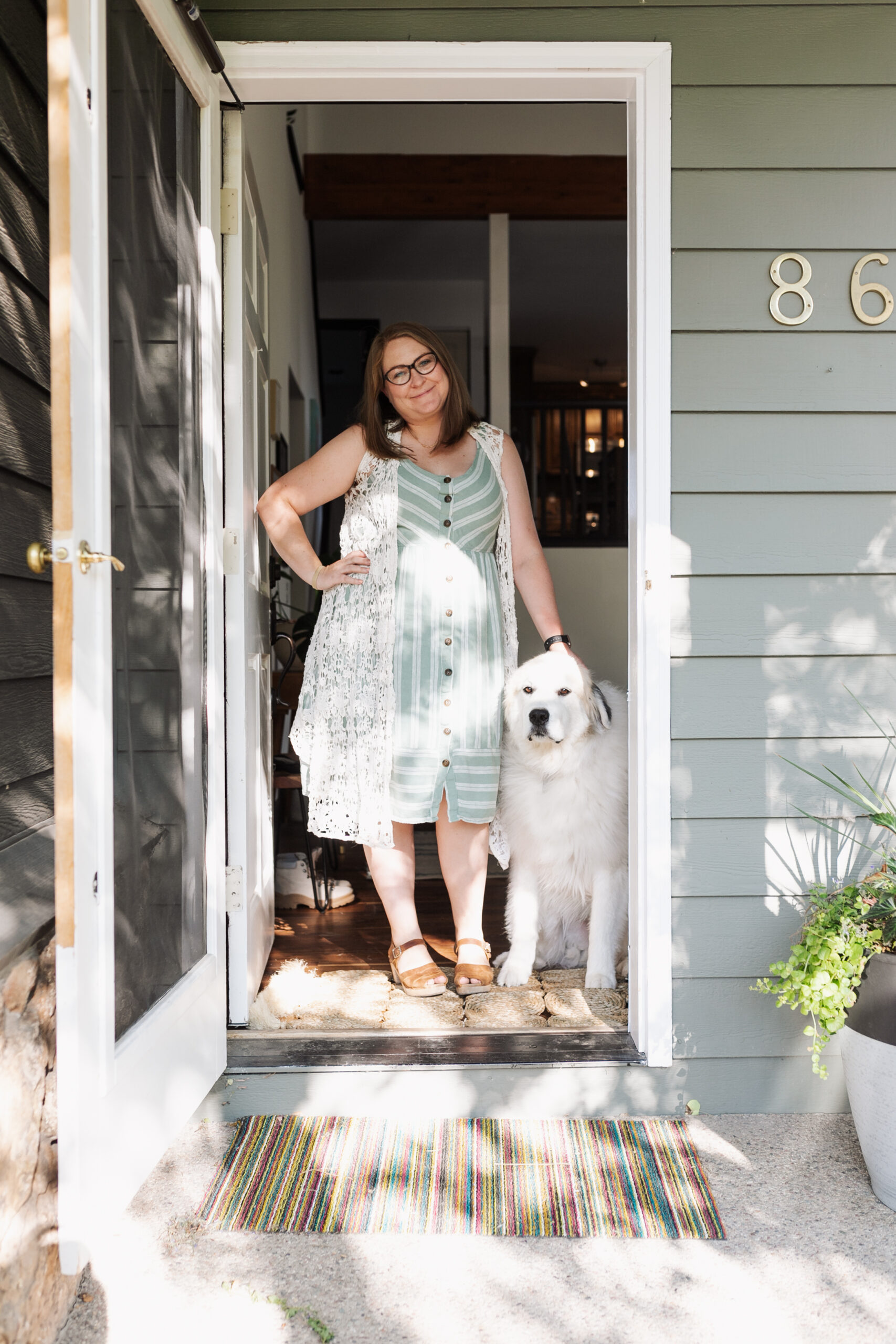 I like to think of it as our "second home" because we do visit often! We have absolutely fallen in love with the Roaring Fork Valley, which if you aren't familiar with Colorado, is the area surrounding Aspen. So much so, that we toyed with real estate there of our own. The seasons are beyond beautiful and of course, the ski mountain is world-class. But right now, this spot is just magic for us all.
Because my sister moved from a smaller rental apartment prior to this, it was going to take some work to furnish her new larger space. Here's a funny thing about some interior designers (or creative types in general): as insanely talented as she is when working with her clients, she is very indecisive when it comes to her own home. 😉 So I came in with a gentle sisterly nudge, to help her pull this space together. It ended up being such a fun project to collaborate on together, and we are both thrilled with the result!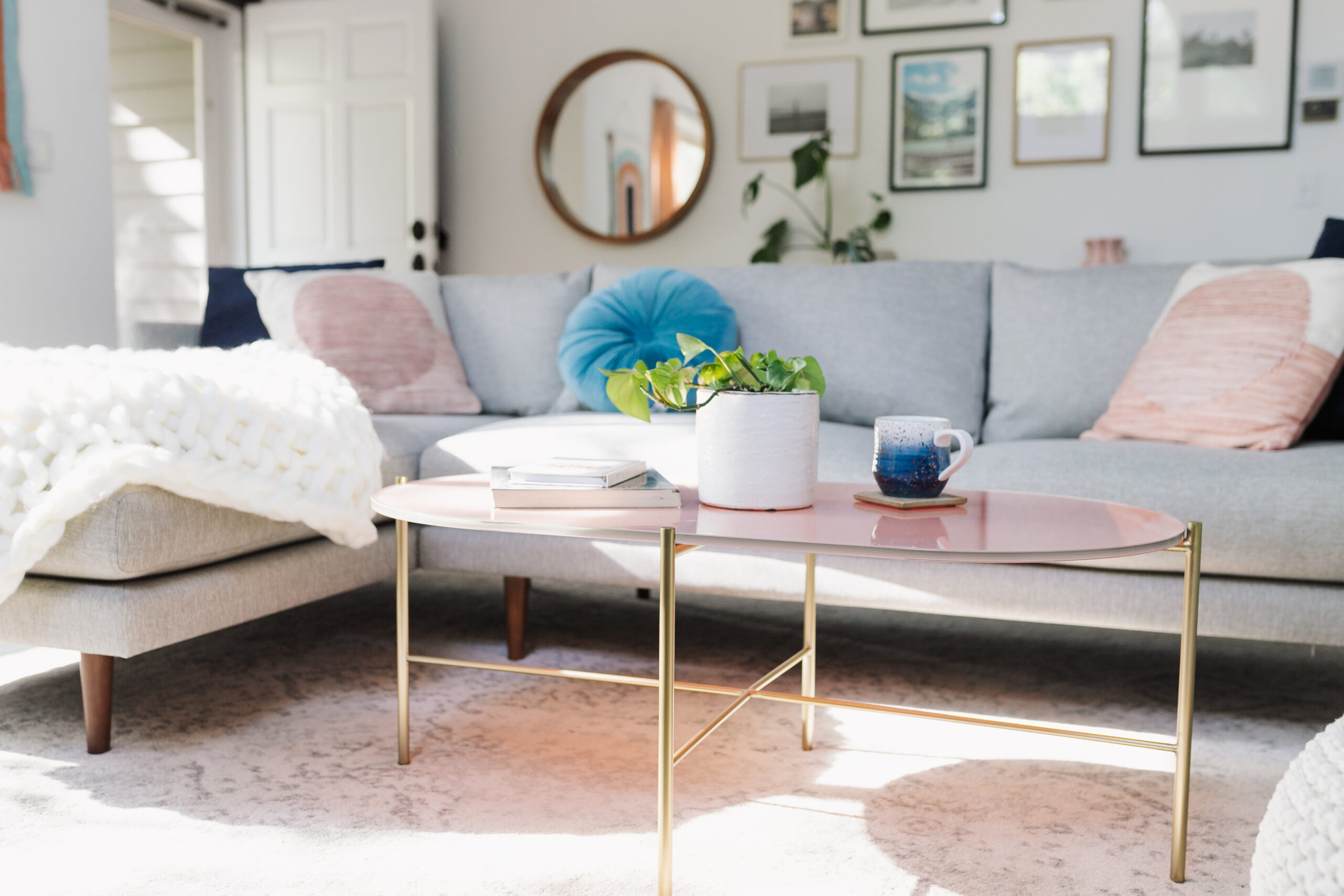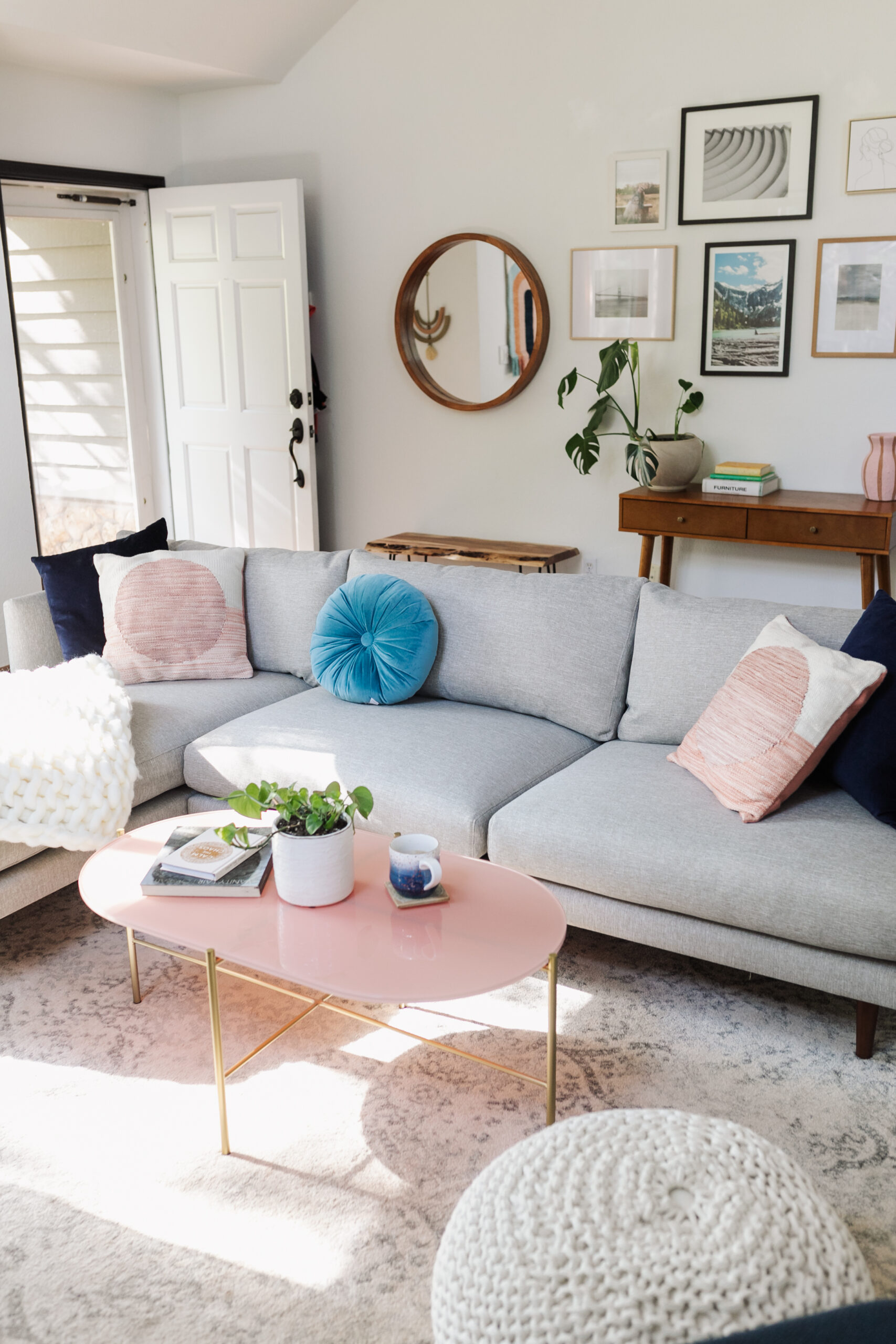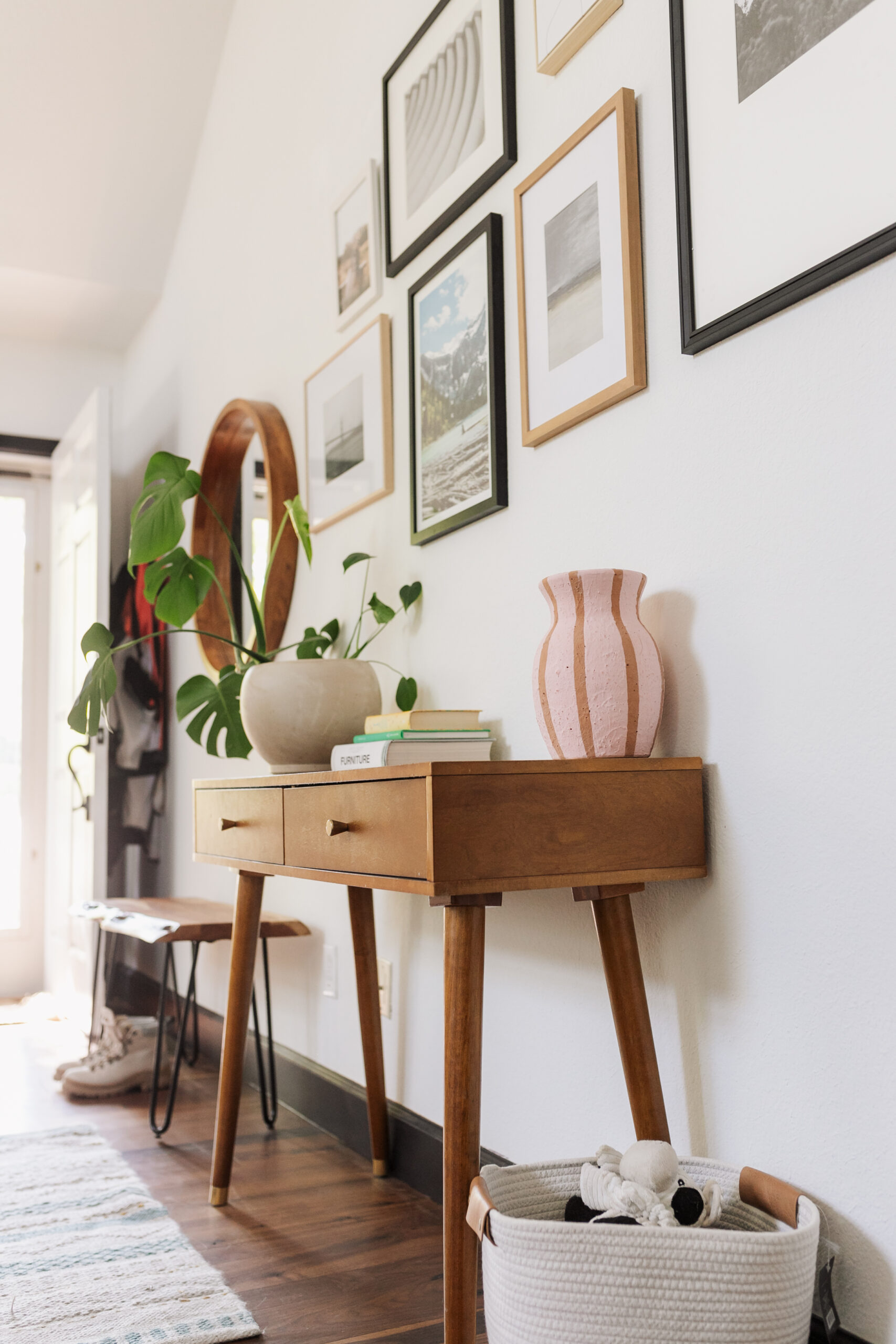 When we first started planning this space, we wanted pieces that would feel natural inside her mountain home, while still giving it a fresh, modern look. If you've been following me for the past few years, you guys know how much we love Article in our home in Arizona, as we have furnished many spaces with pieces from Article in our living room, dining room, reading nook, and backyard. I have been so impressed with their quality over the years, while still having great prices and availability, even through this crazy year of shortages and delays on pretty much everything. In-stock items deliver fast (just check estimated times on each product when you shop)! Article also ships almost anywhere in the USA and Canada for a flat rate of $49 on orders above $999.
In addition to being fresh and modern, the space also needed to be functional, and provide extra seating options for guests. Between this deep-seated Burrard Seasalt Gray Left Sectional Sofa and this functional Spin Ink Blue Swivel Chair, I think we covered that. Right now, this room serves as a more "formal" living room/sitting room, but eventually, she plans to add a TV in here, so it's nice to have seating that can accommodate both scenarios.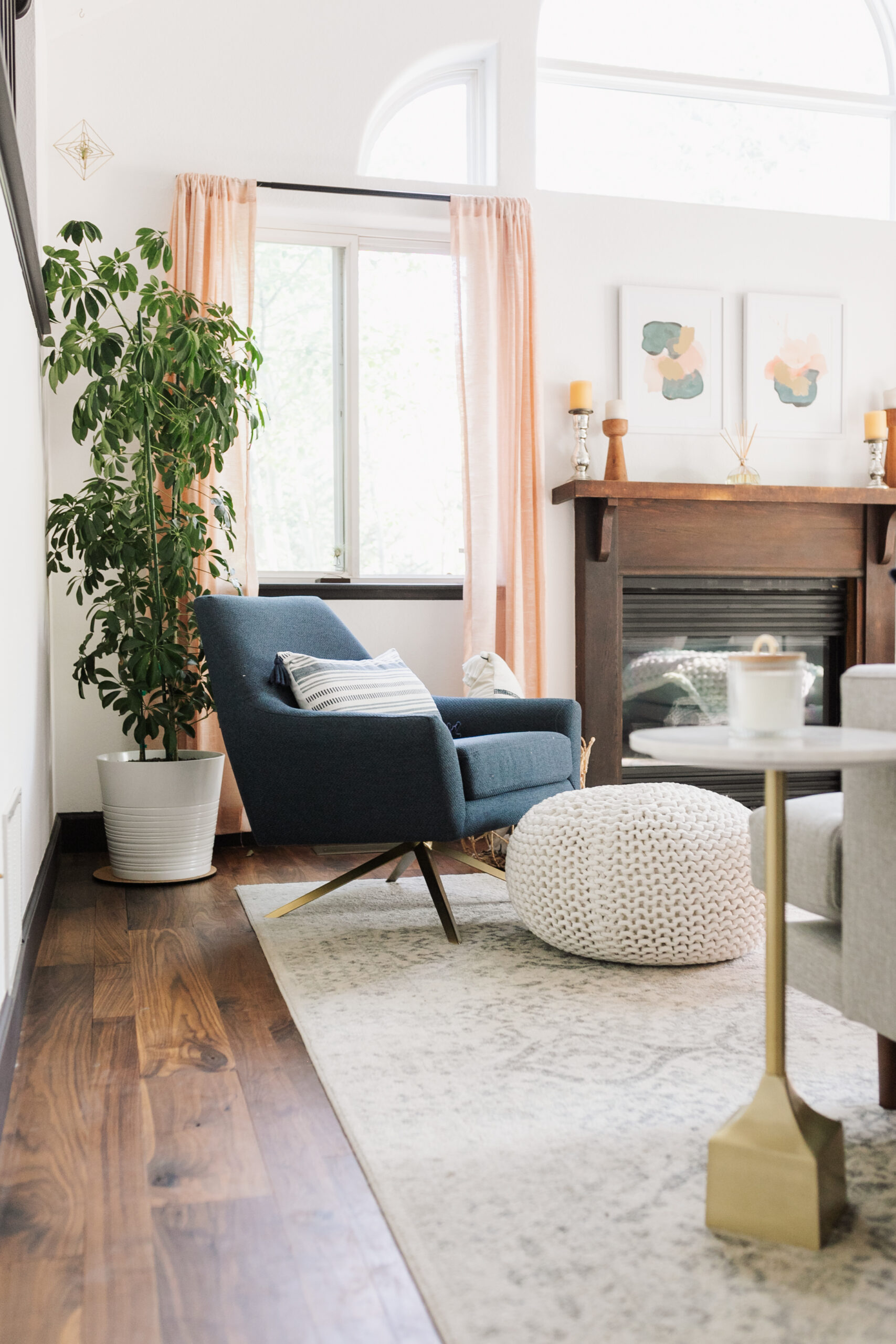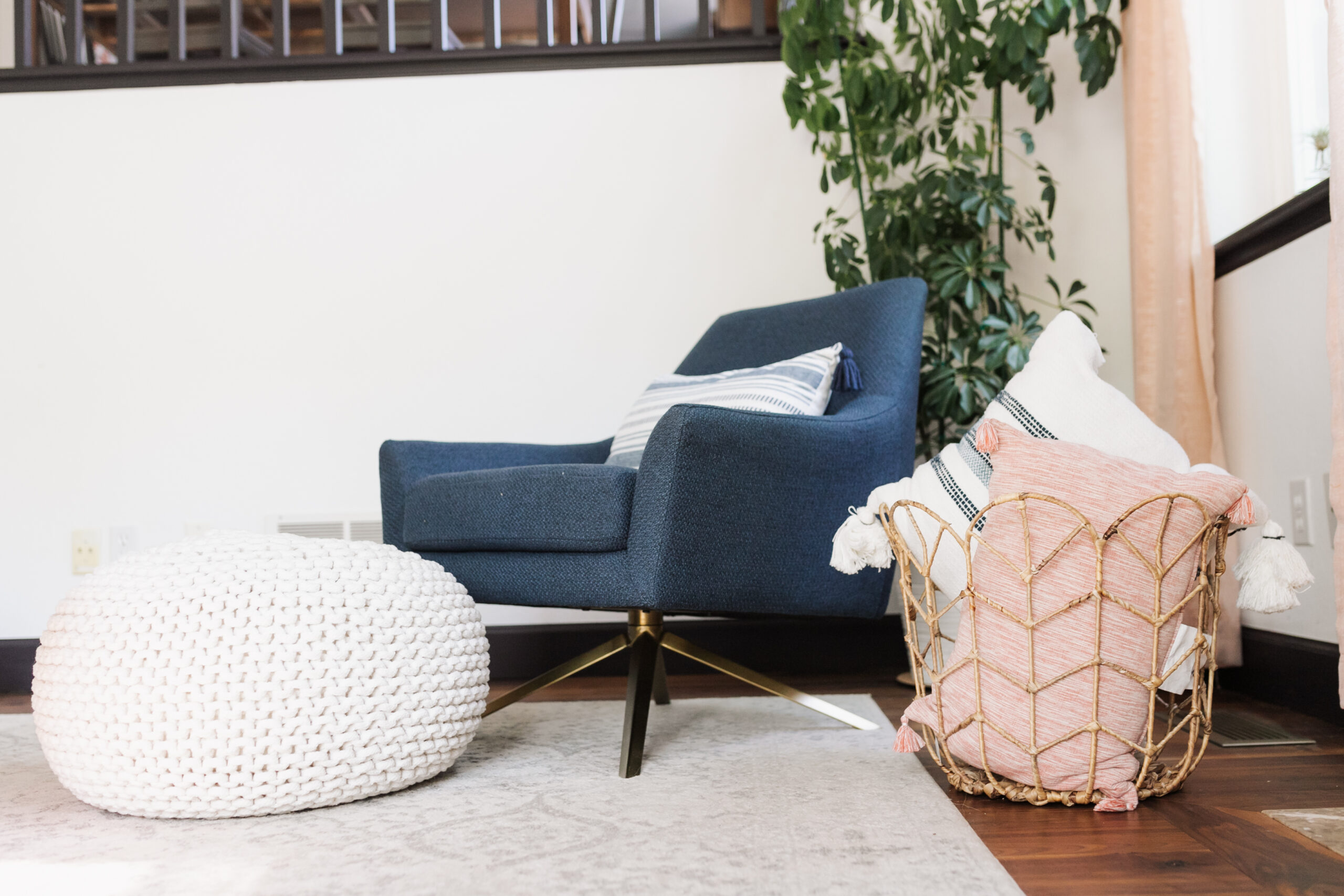 Of course, we also needed a coffee table as the centerpiece of the room, and this soft pink glass-topped Silicus Oblong Coffee Table felt like the perfect feminine touch. It actually inspired us to add more pink touches in the soft textiles.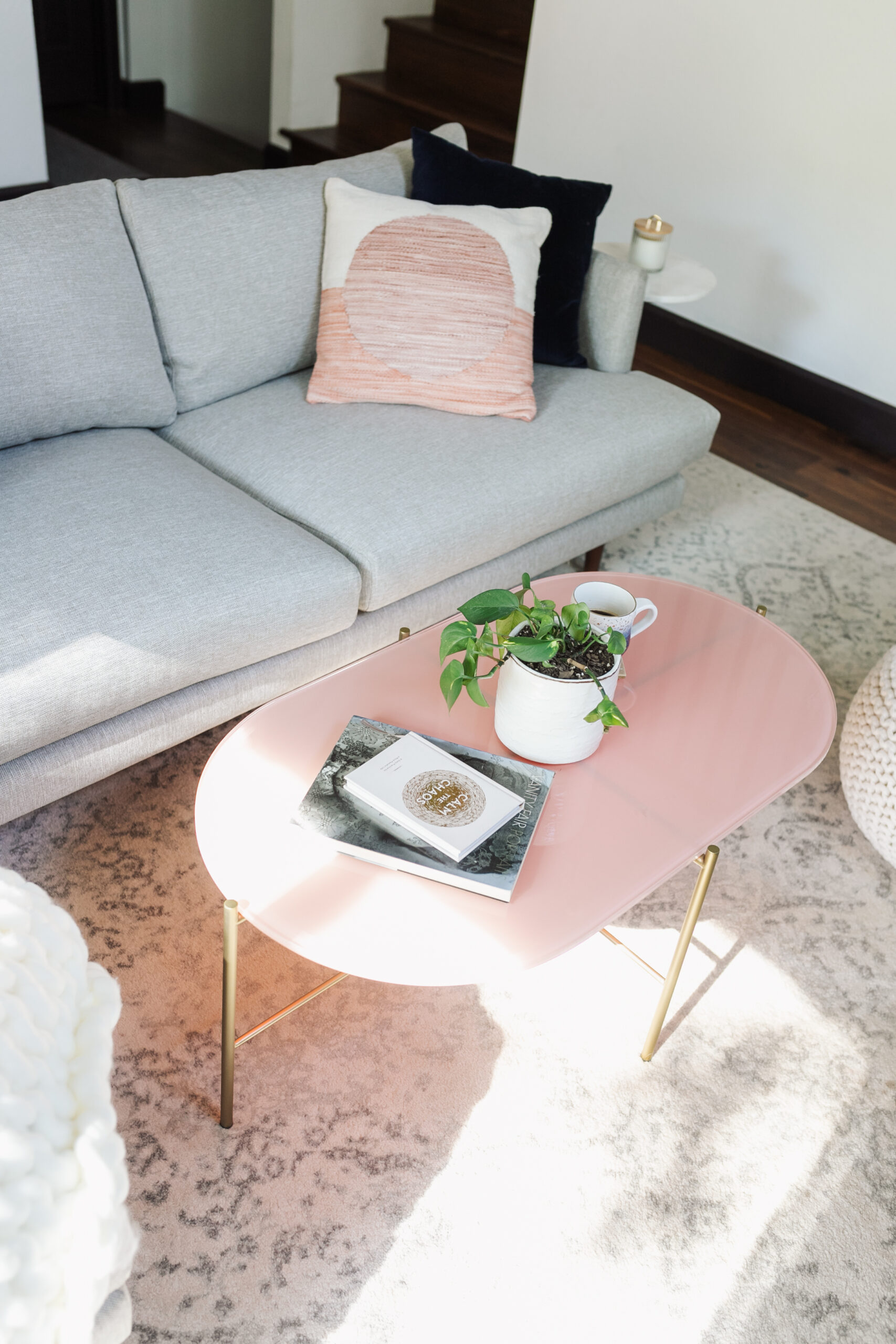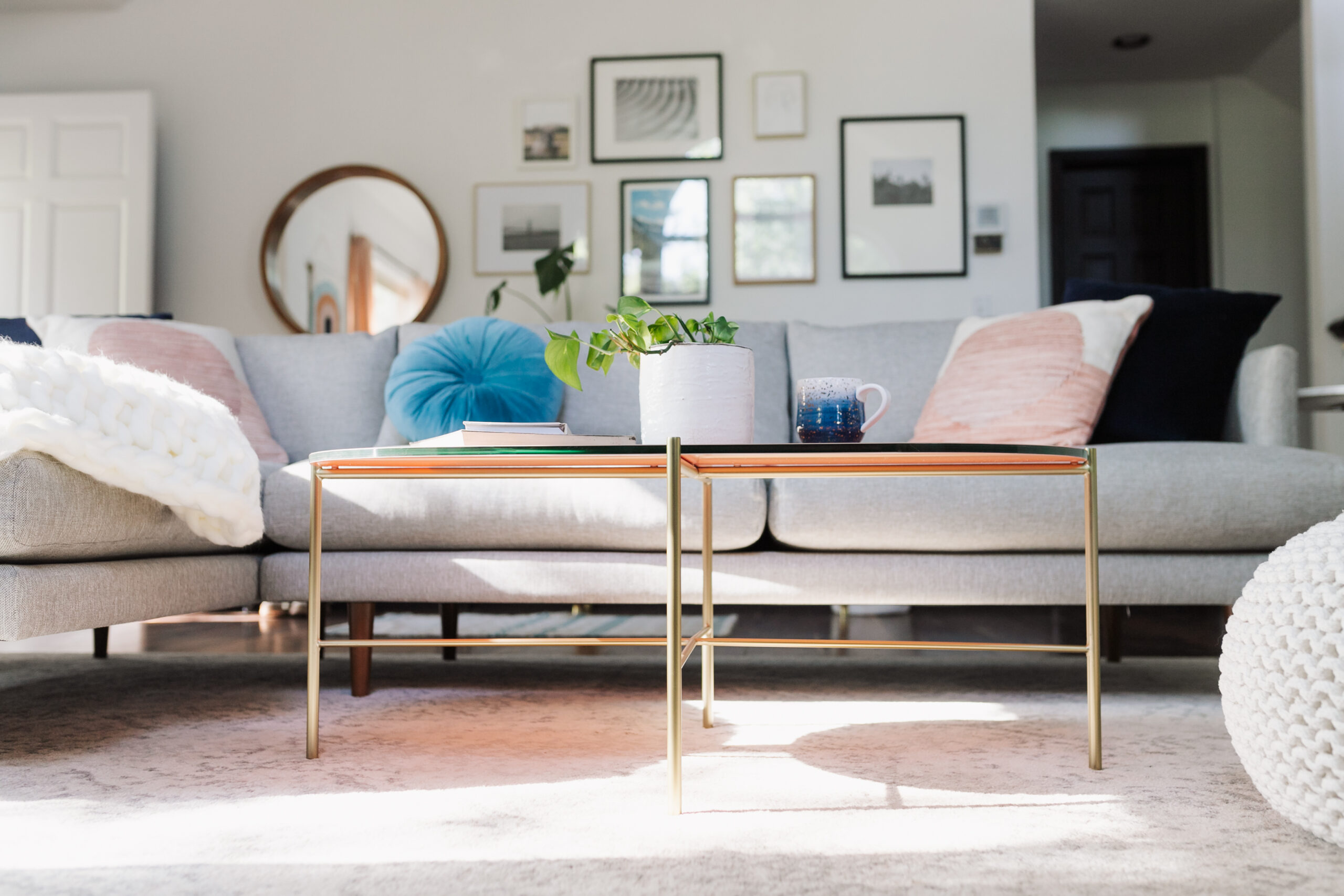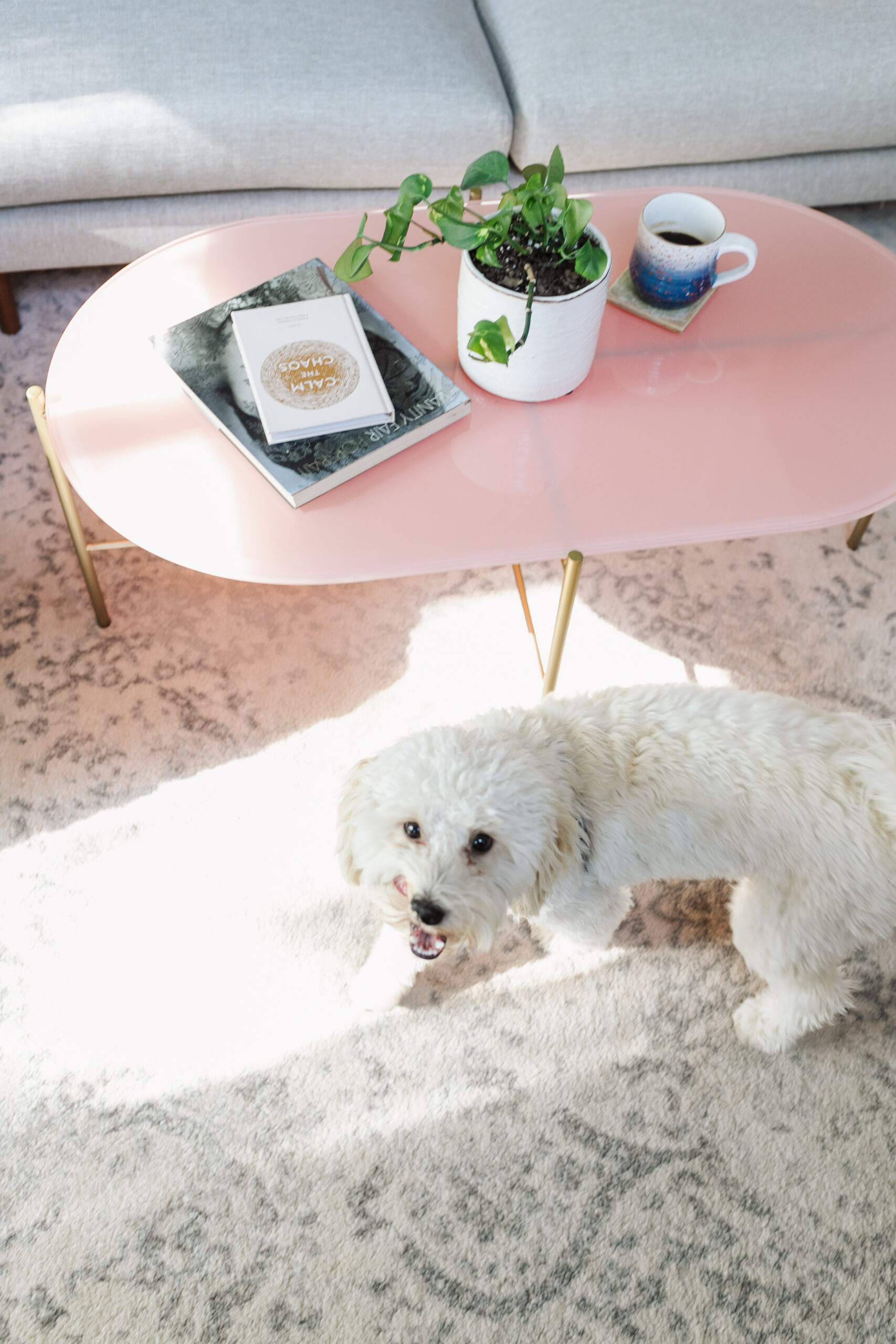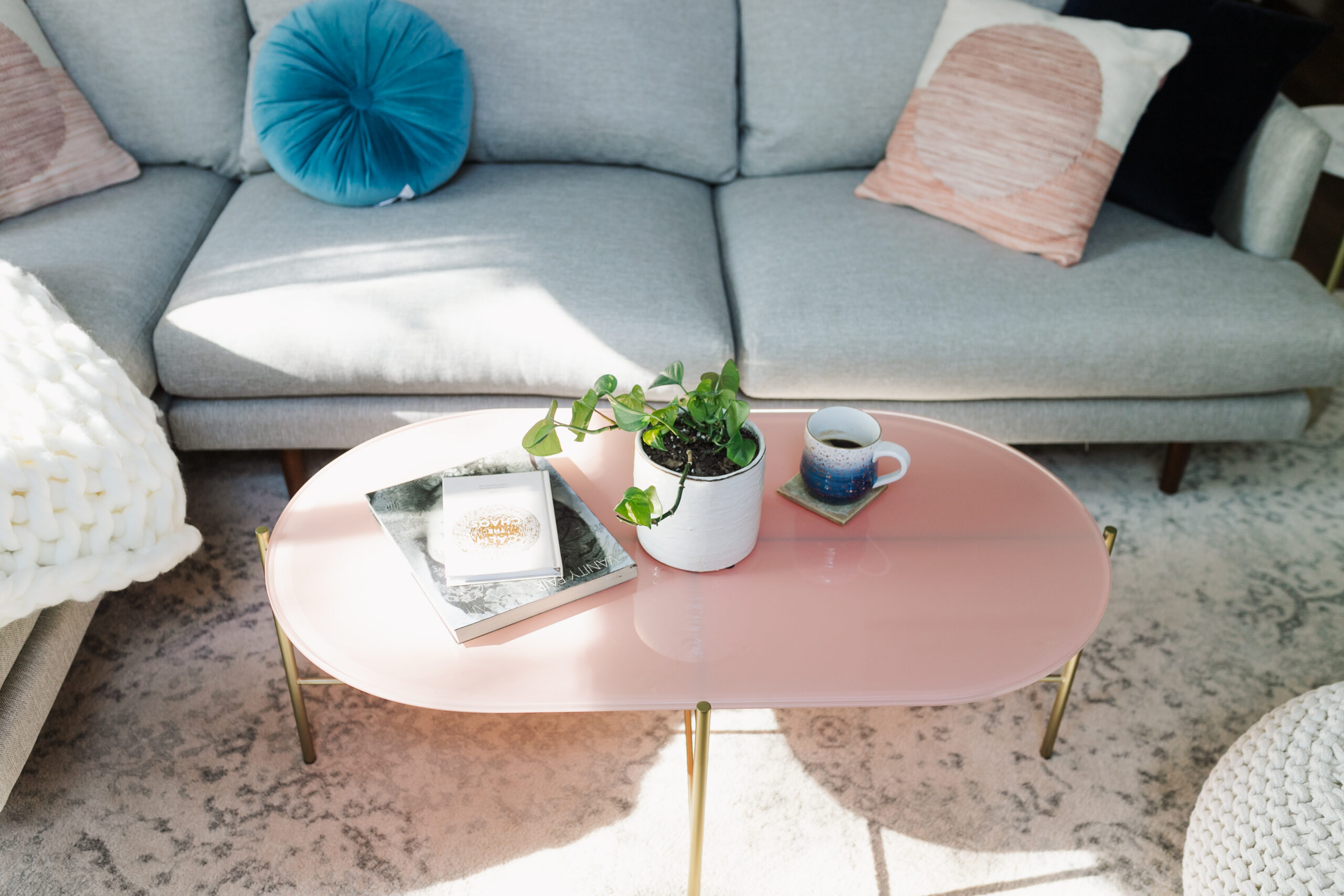 This room gets such beautiful natural light all day, at first, we weren't sure about adding curtains. I eventually talked my sister into at least trying it when I found these soft pink sheers from Target, as they definitely worked well back to the pink glass table.  Once they were up, we agreed that they really did pull the room together and make it feel more "finished." Some of you may recall my struggles with installing the curtain rods on my Instagram Stories, haha. I'll save it in a highlight for ya if you missed it!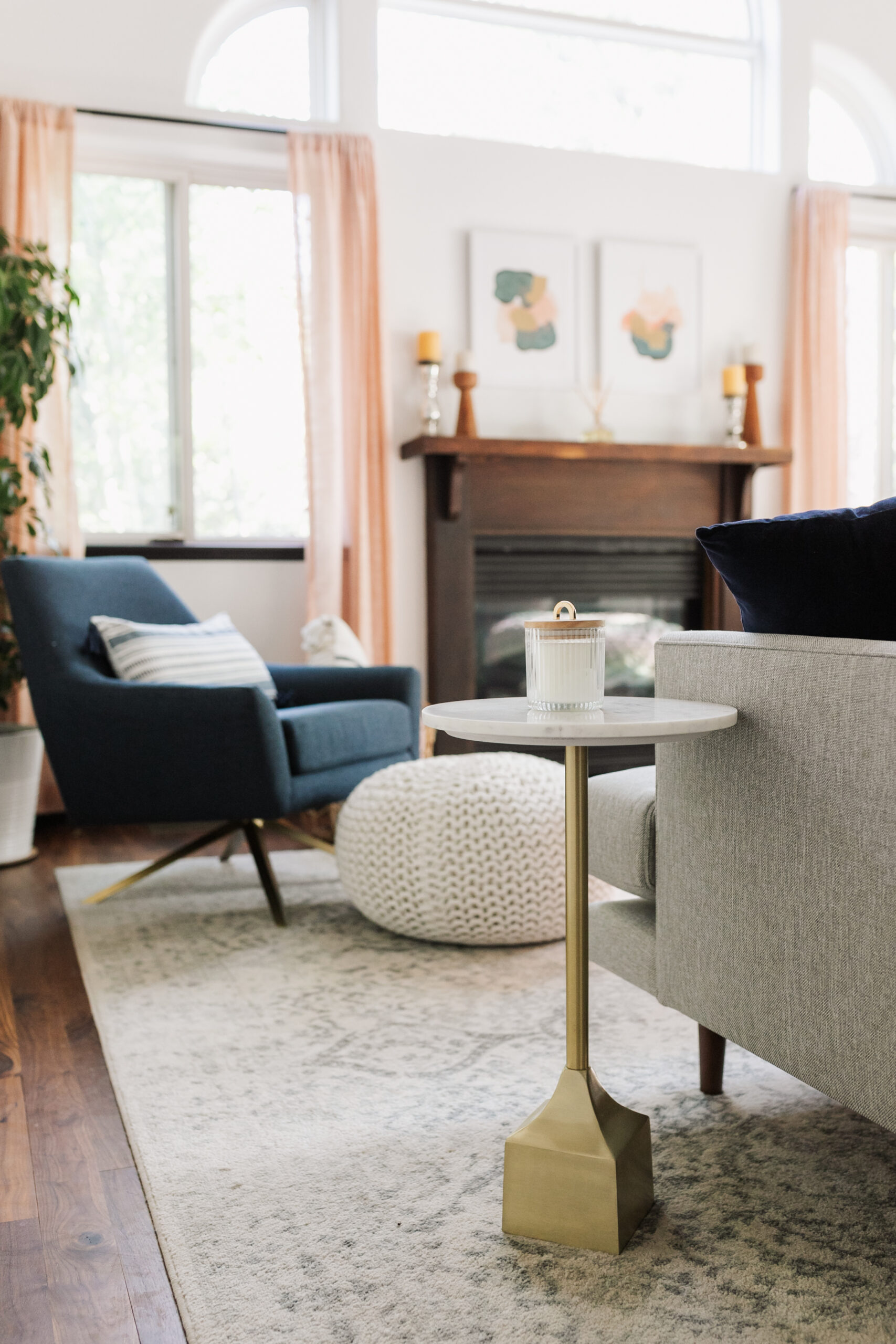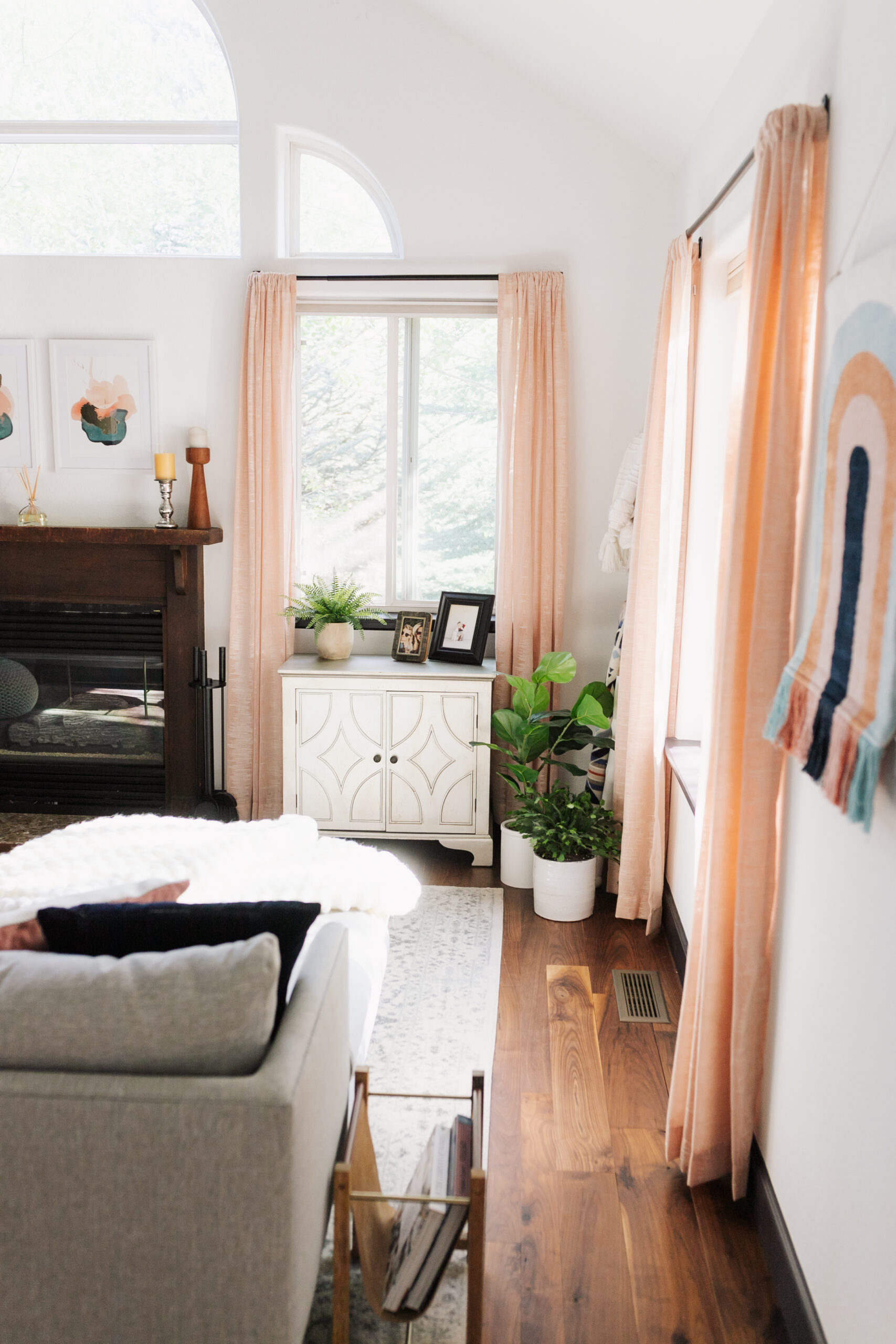 The other thing we wanted to work with were a few of her existing pieces. That silver-ish small cabinet we actually found together at the Pasadena Flea Market back when we both still lived in LA. I love that she still has it in her home. We also kept this entryway table and bench. But we updated the large round Acacia Mirror and added a gallery wall on the entryway side to the front door. My sister does gallery walls for her clients all the time, and thank goodness she does, because they are certainly not my forte. We stayed up late doing this one night, and I love the unique way it took shape.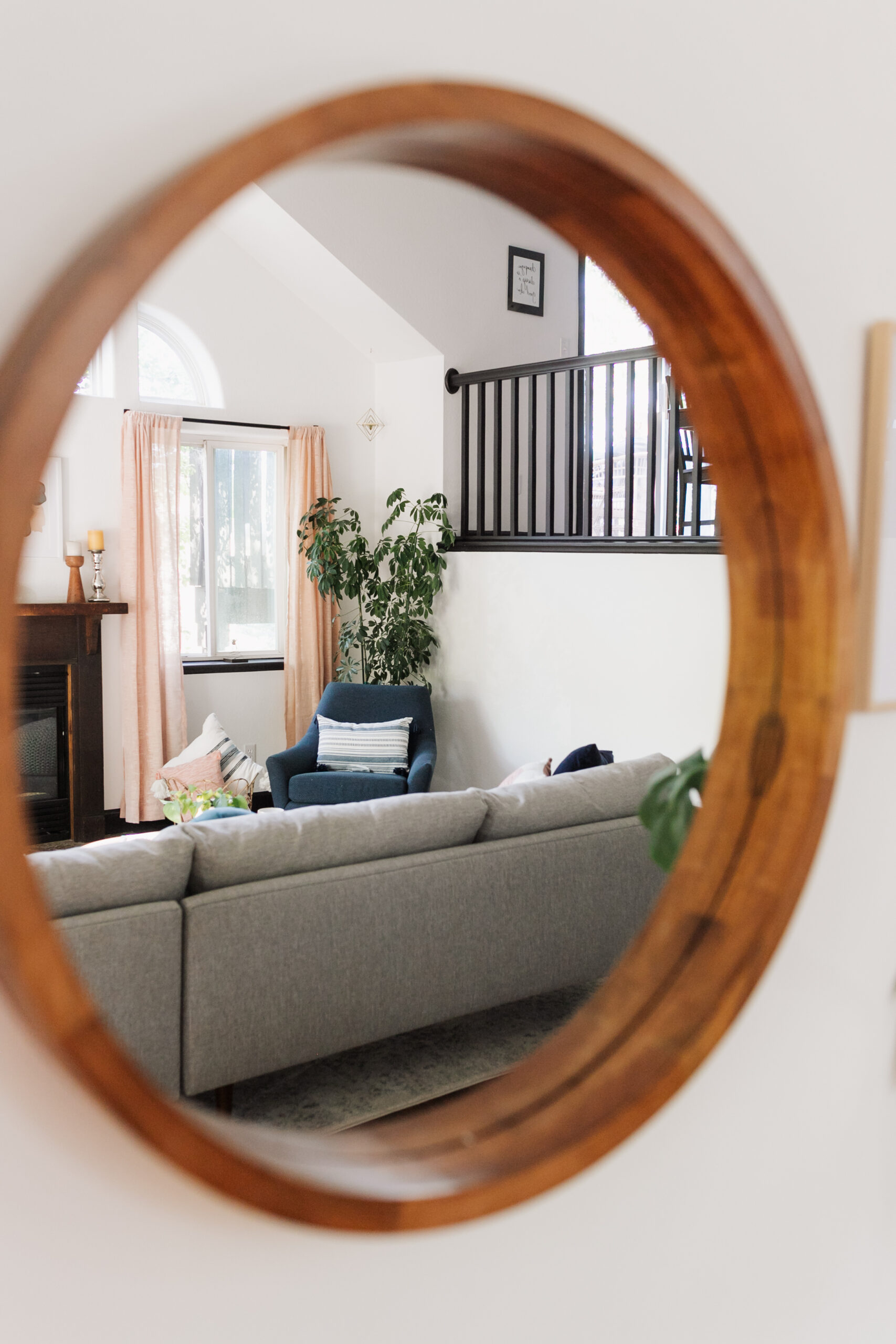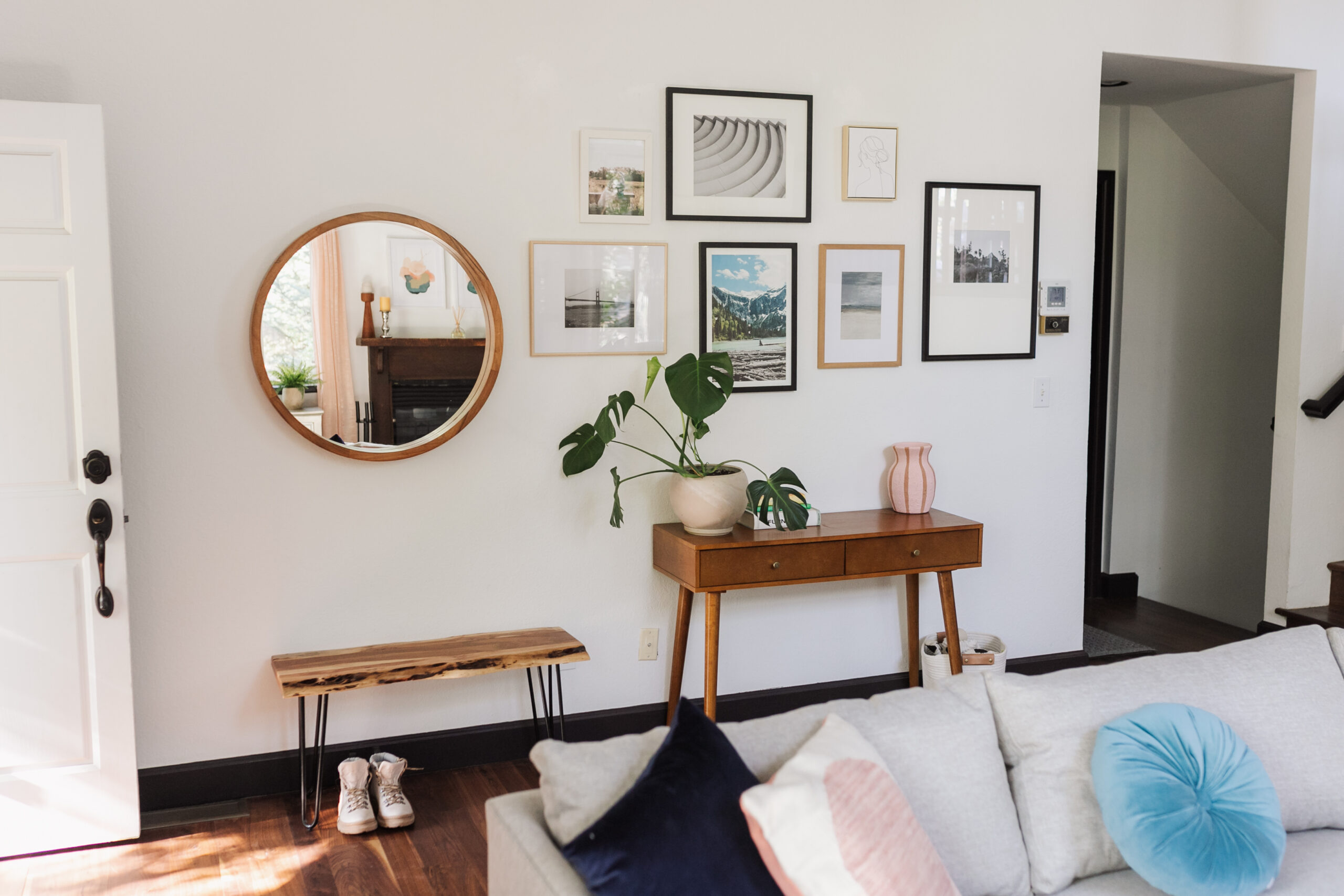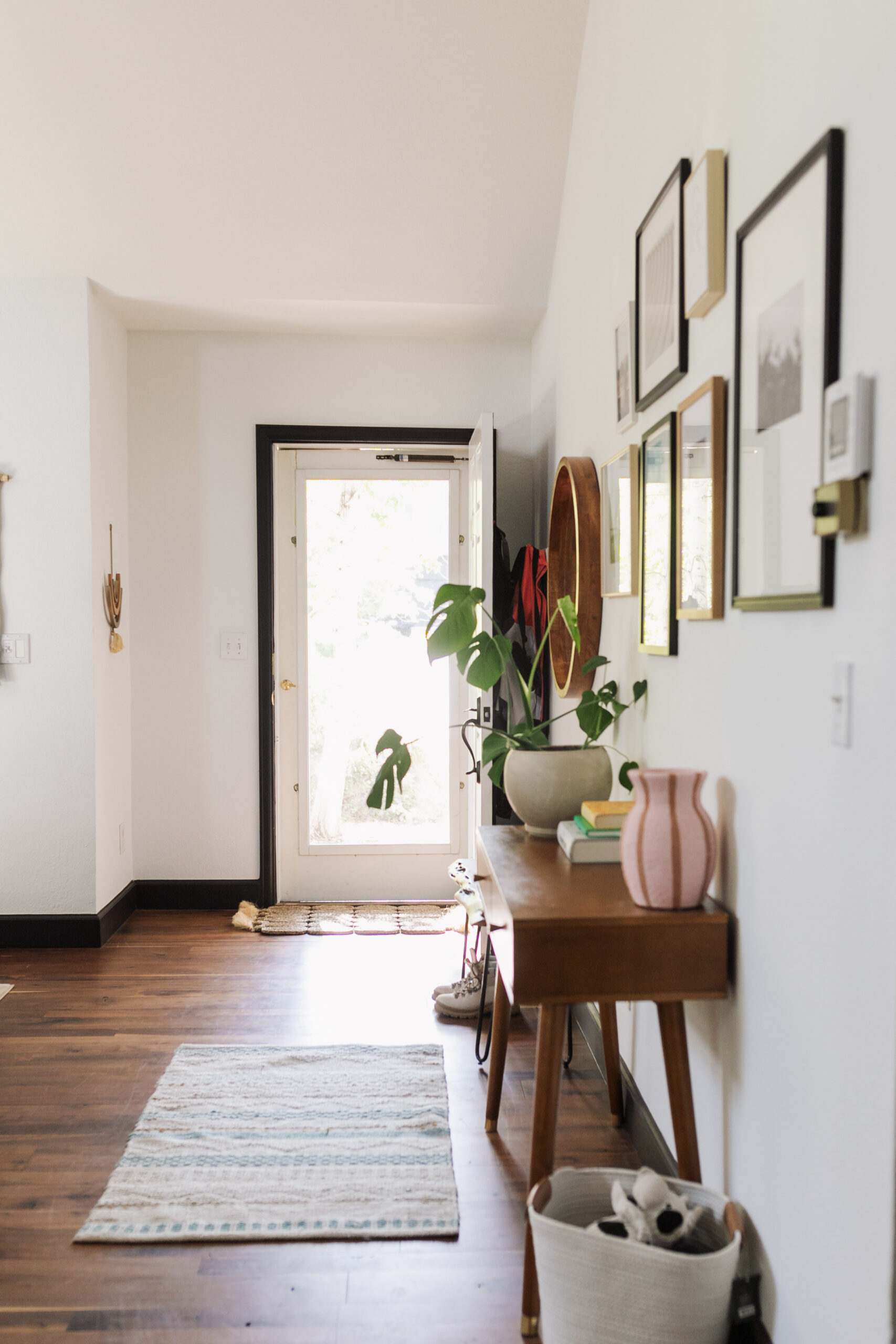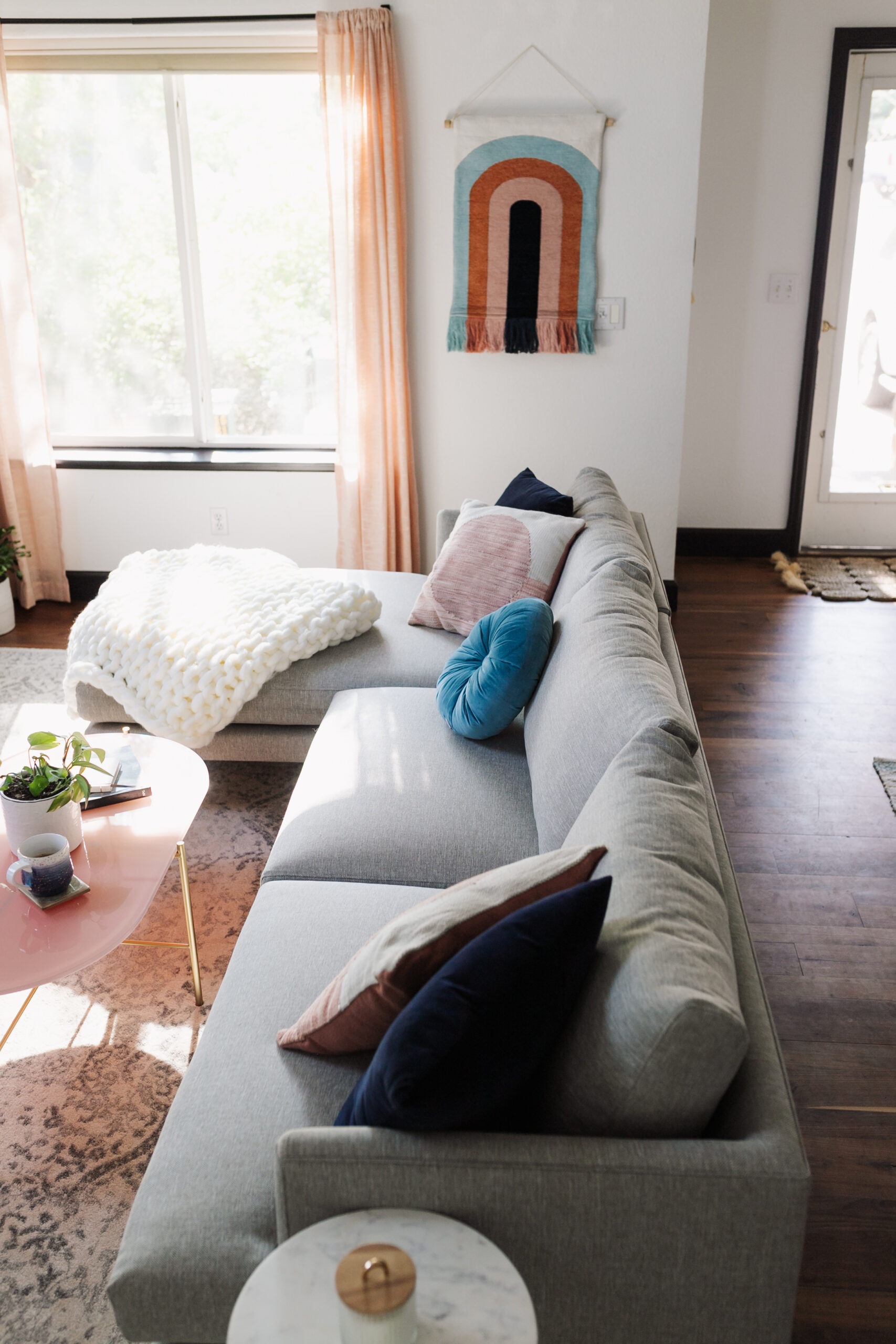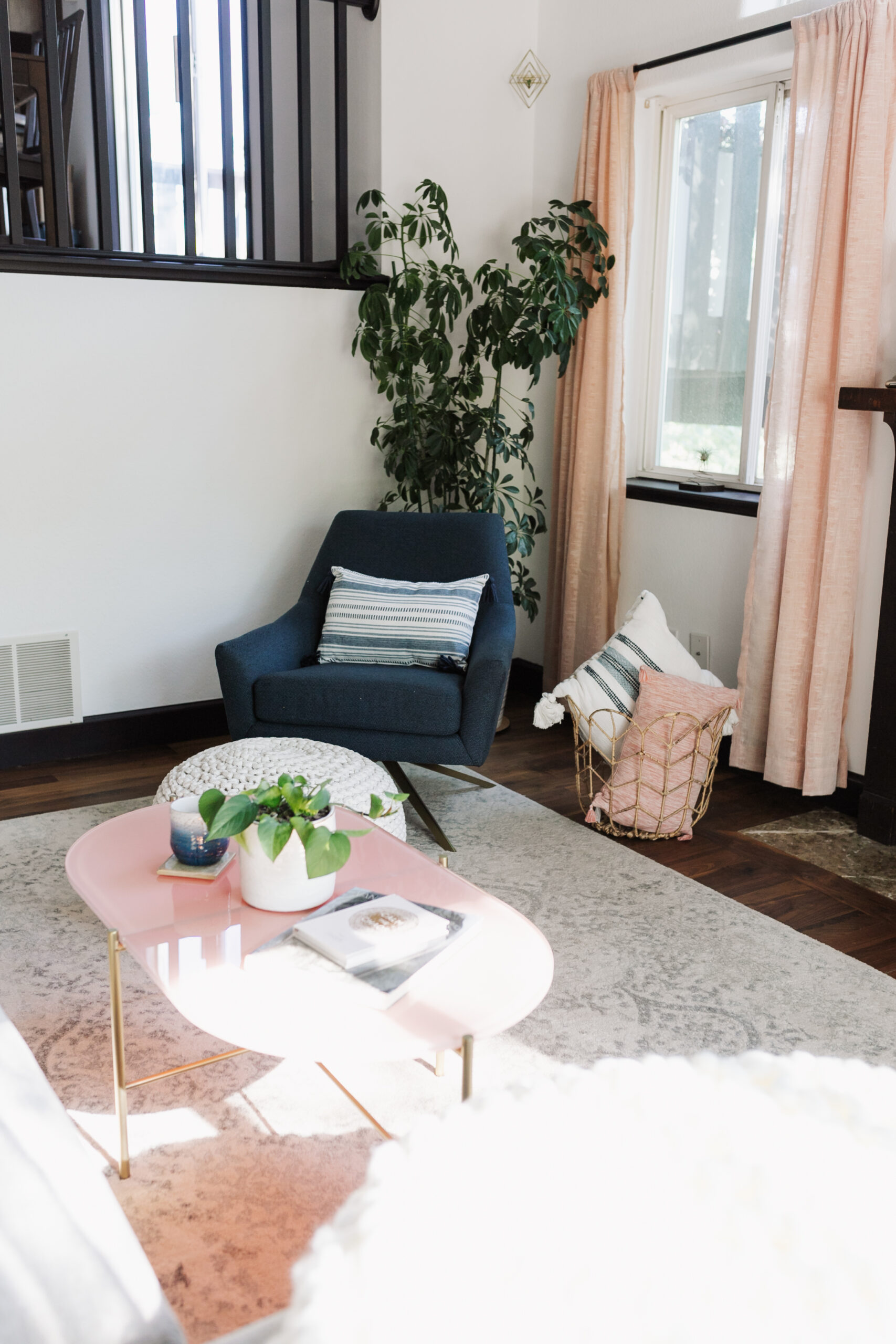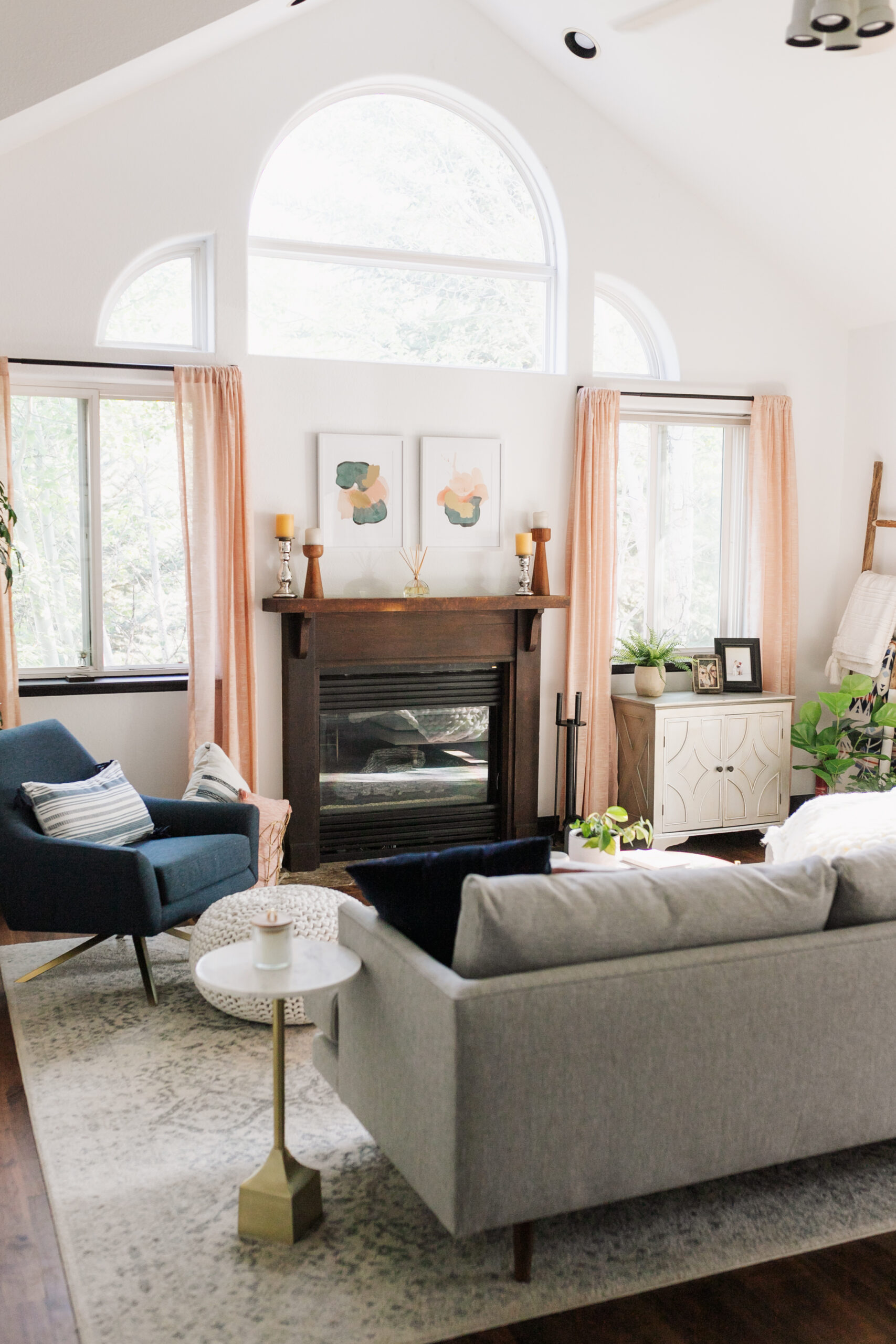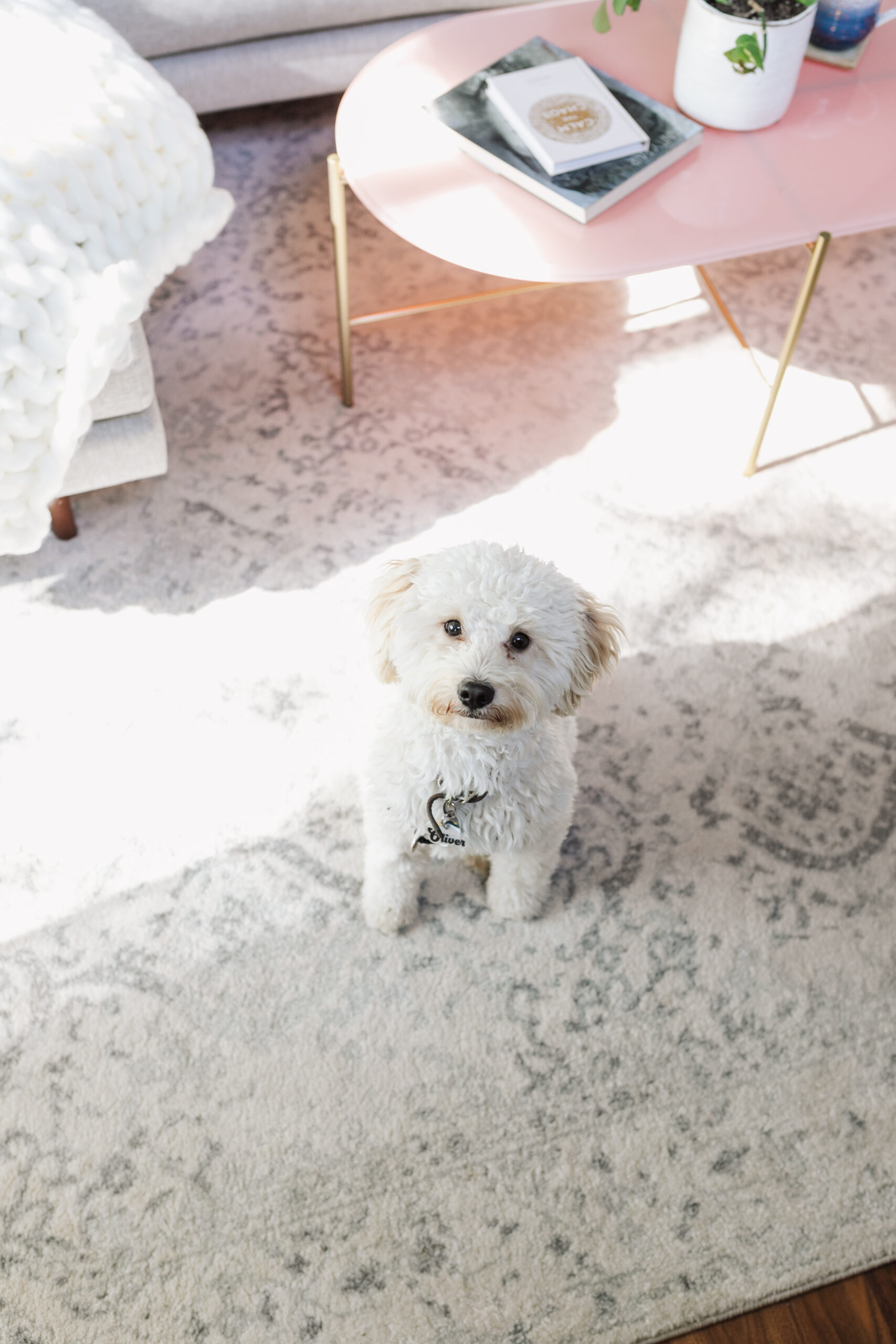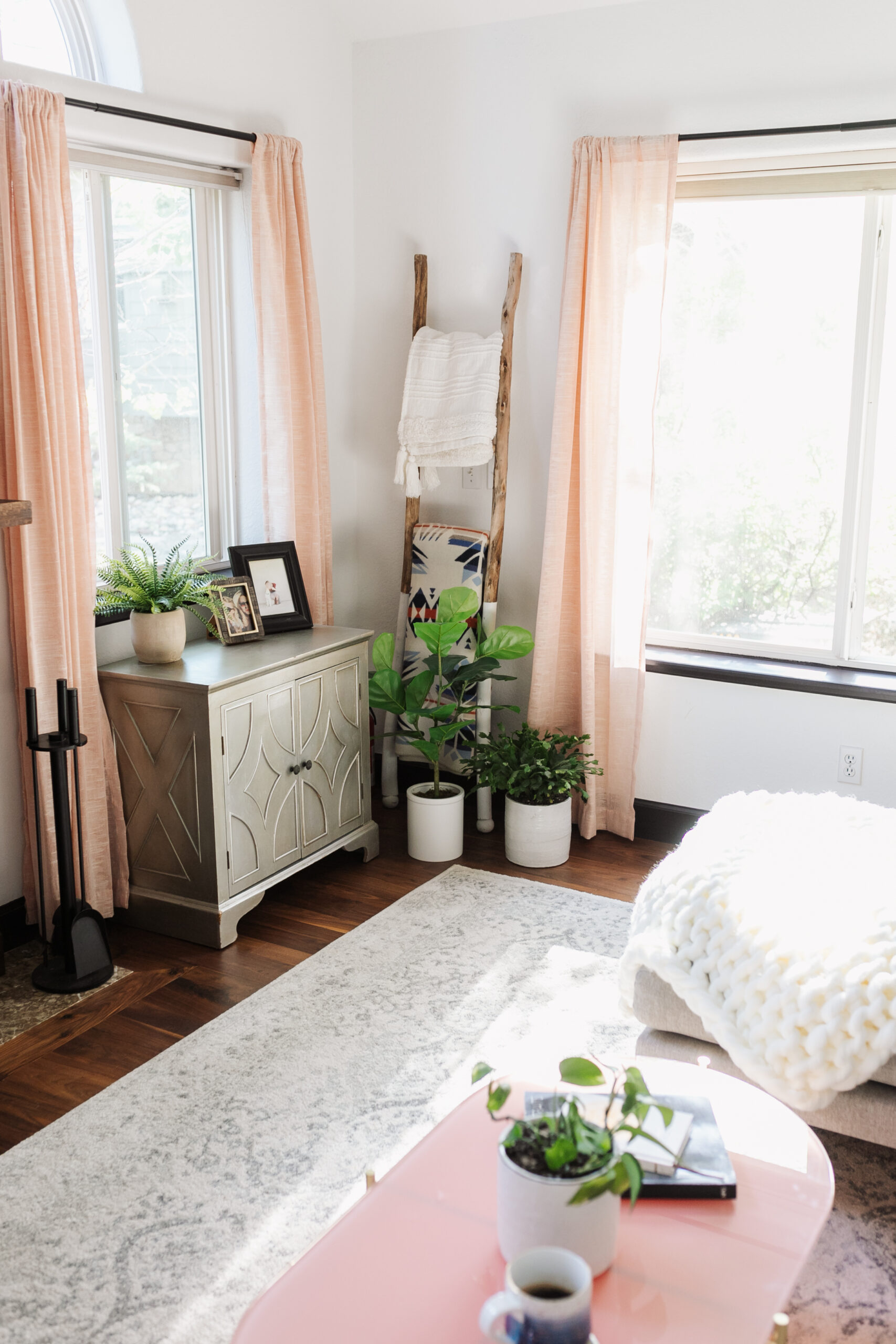 It's been a while since I've had a chance to help design a room, and this was the first time my sister and I did it together (even though I'm always texting her for her opinion!). So happy with how it came out and can't WAIT to go visit the beautiful Roaring Fork Valley again in the Fall! Oh and also Oliver approves. 😉
As always, linking everything I can below. If you have any questions about anything else, please drop them in the comments below!