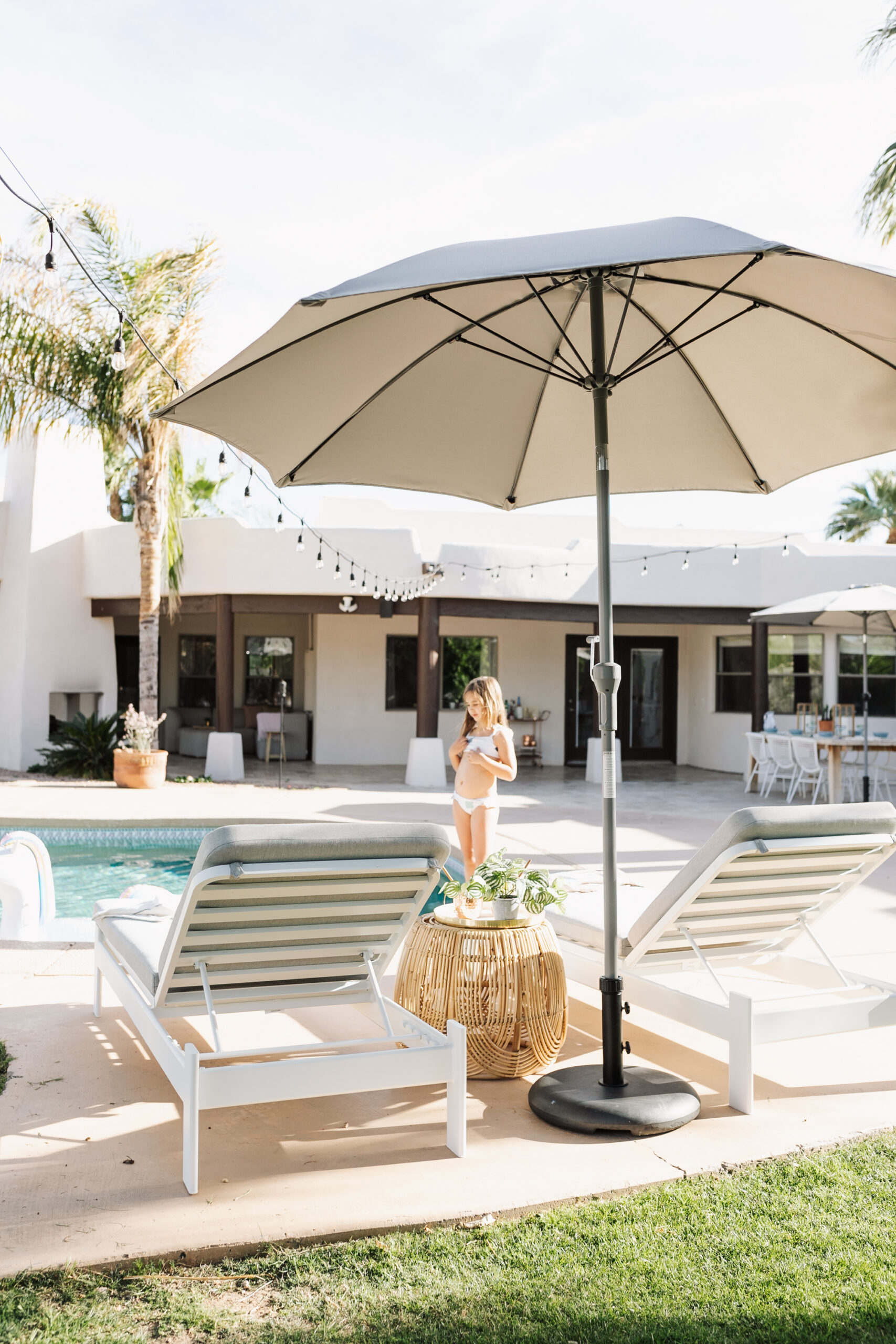 After almost a full year of staying home and plenty of time spent here, I never thought I would write another blog post about this space in our home, but here I am with springtime in the backyard. 😉 Famous last words, I guess, haha!
In spite of the amount of time we spent back here last year, my antsy-ness to explore walls beyond our own, and our wanderlust as of late, I am still forever grateful for our backyard. When my husband and I were first married and living in a string of tiny apartments with no yard space whatsoever, it was always a goal of ours to have a big backyard for our family to grow in. And when we bought the house a few years back, we loved the lot size and the yard layout generally, but we ended up doing a ton of landscaping to it after we moved in to make it work better for our family. Including adding more grass, more pavers from the house and under the covered patio to the pool, and plants that suited our modern style.
The biggest change from when we moved in was all of that landscaping we did, which I talked more about in this post from a couple of years ago. Since then, we have also added fresh furniture in our pool ramada, and a bigger custom-built clubhouse for the kids to play in.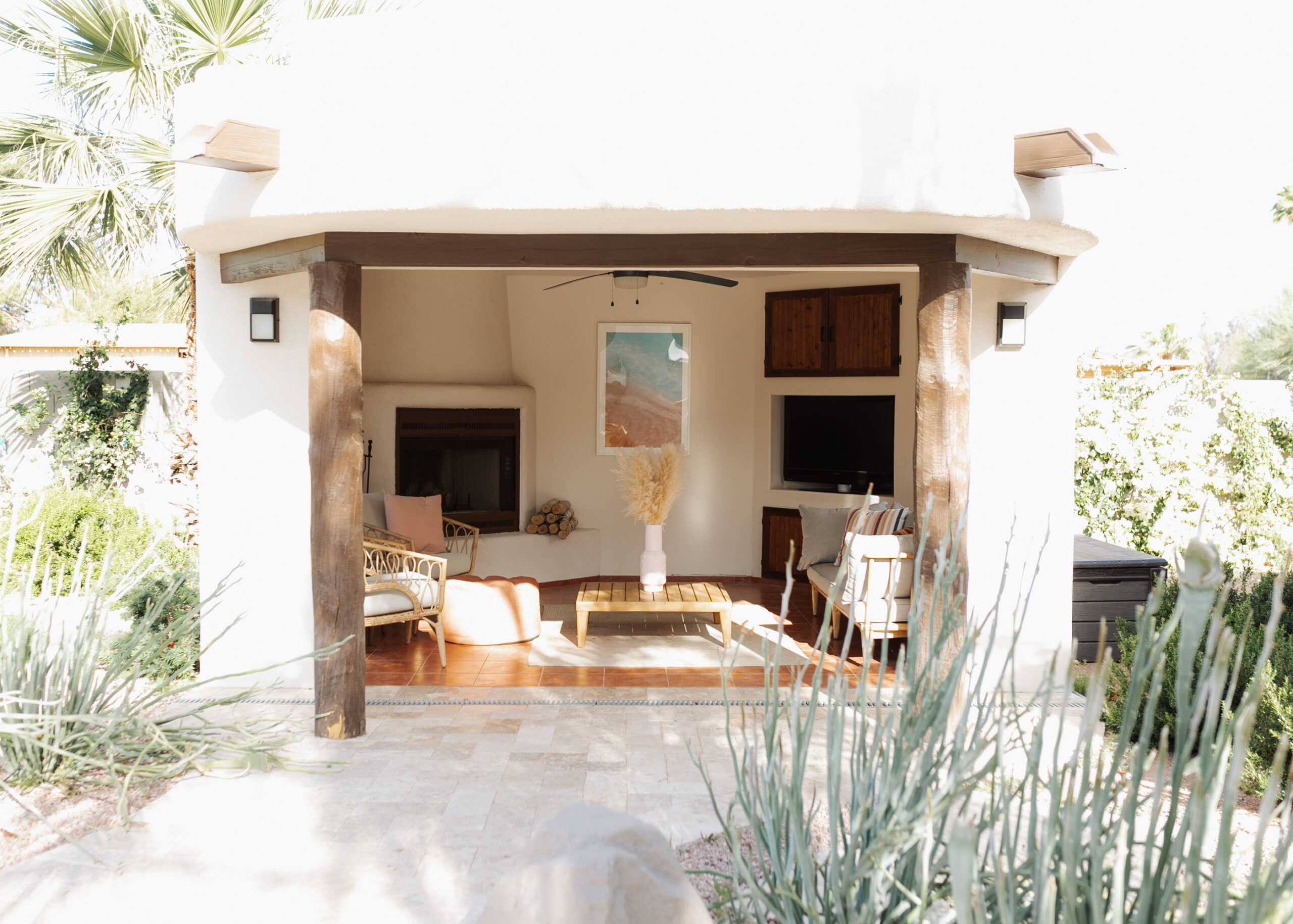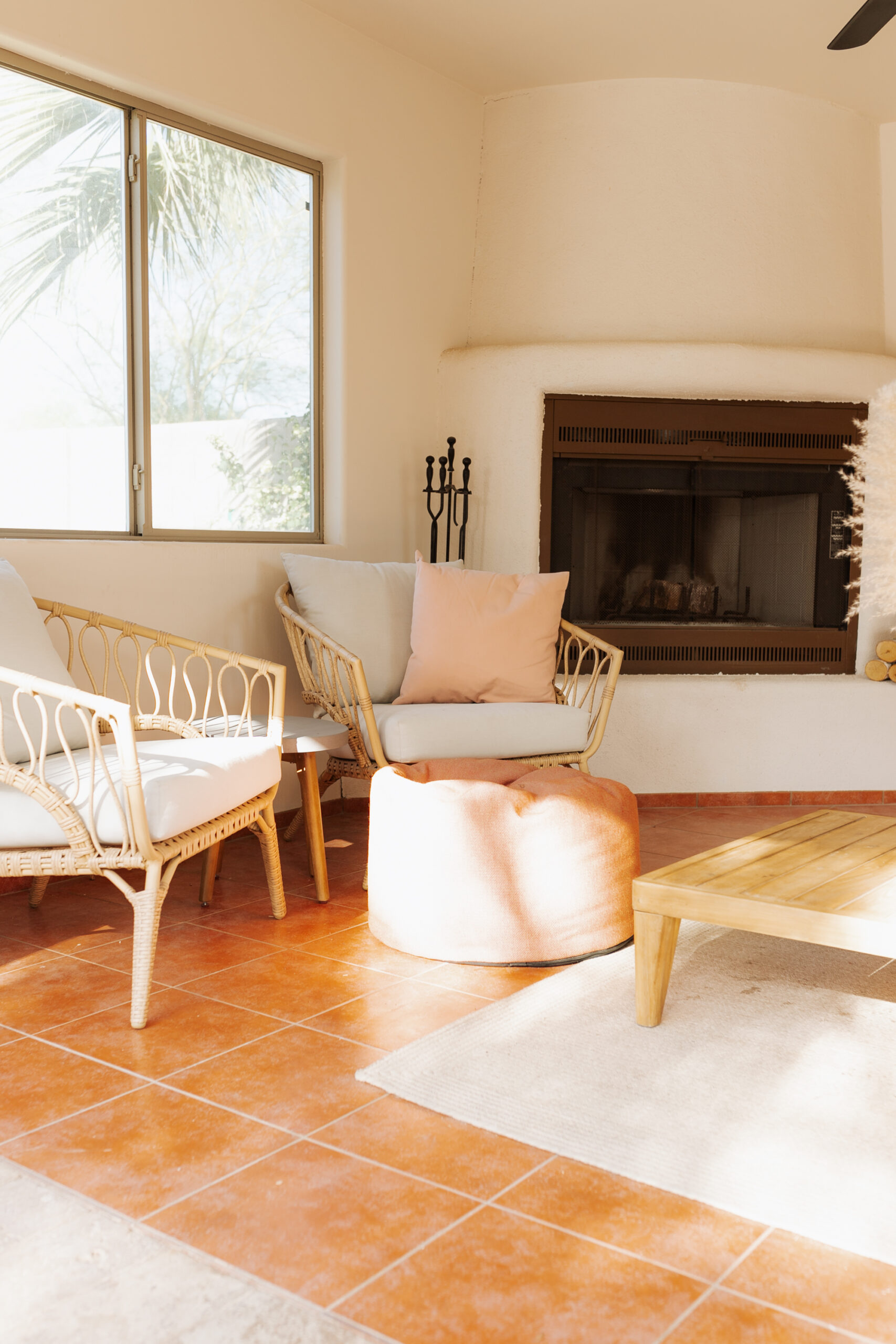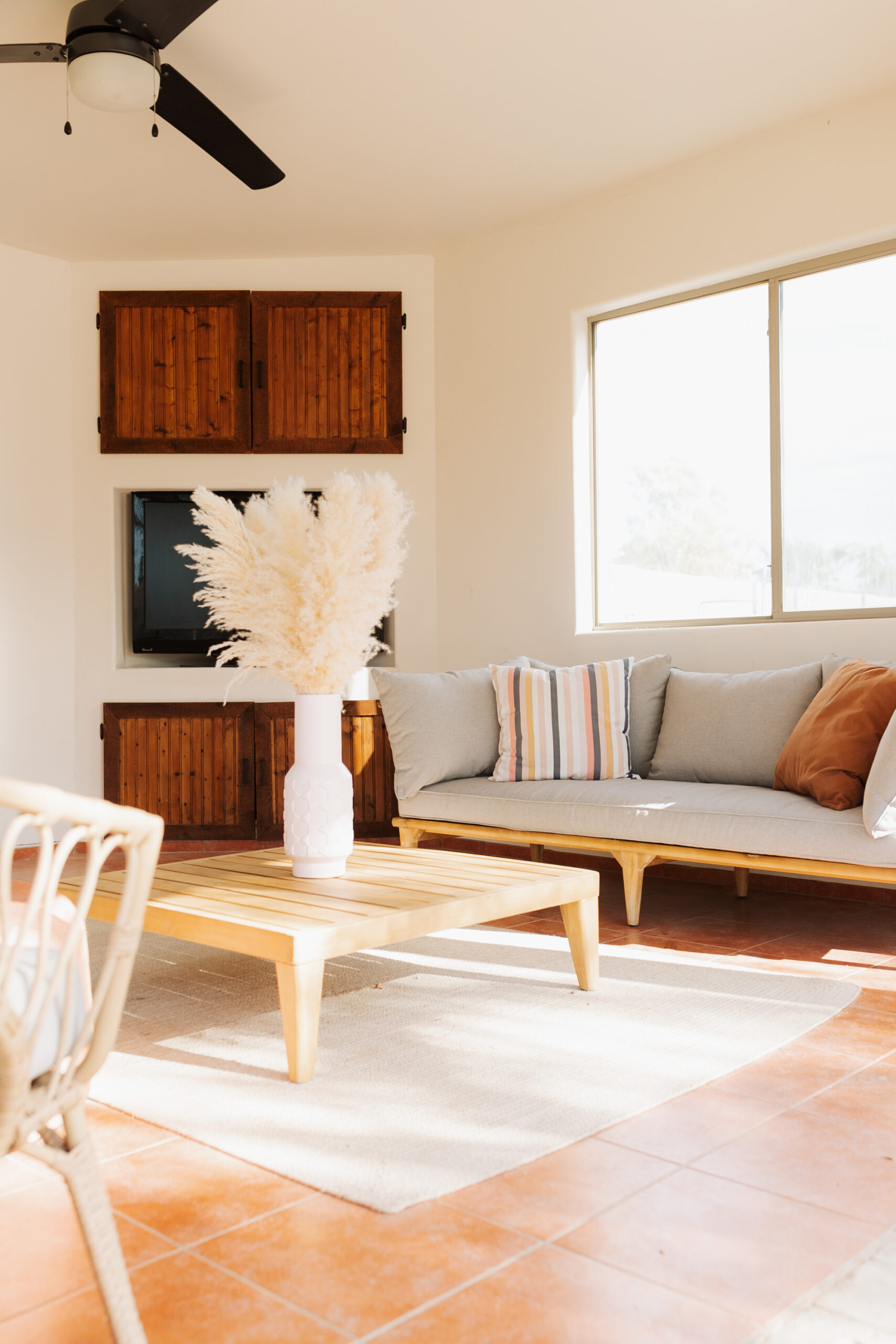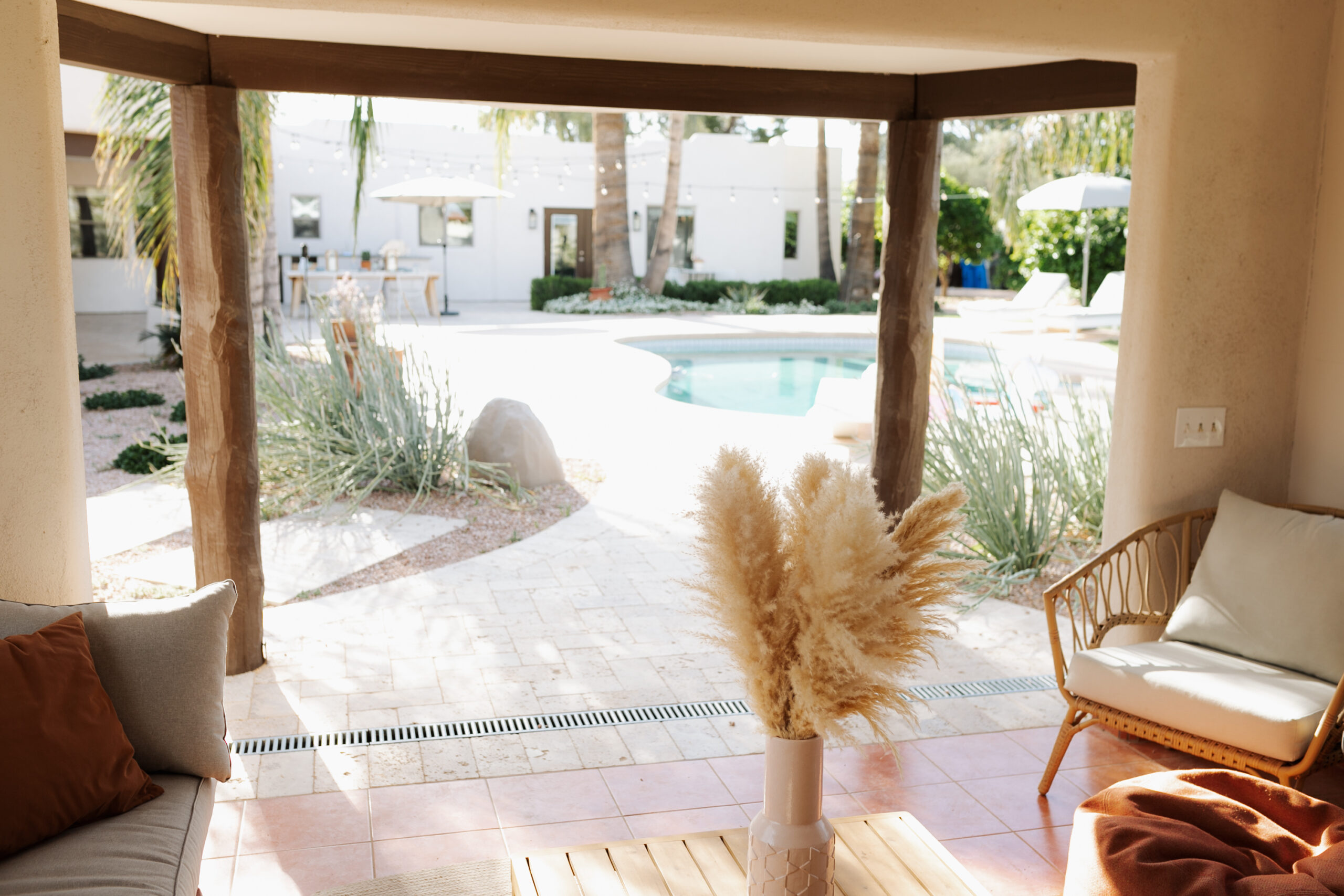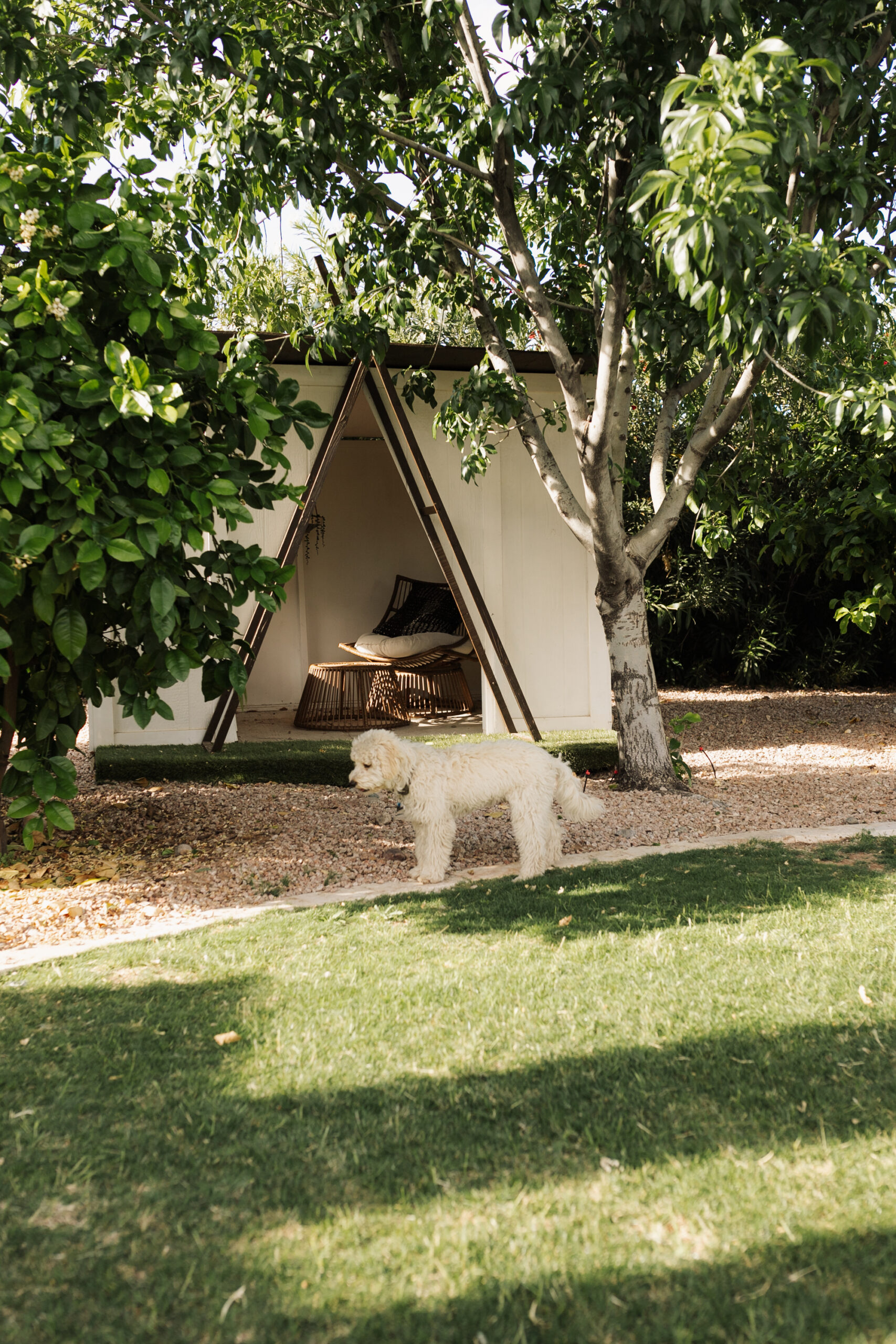 As a reminder, here's what the backyard looked like before, in the listing picture of our house. We loved all of the greenery, but by the time we moved in, it was all horribly overgrown, and that garden area in the back was falling apart at the seems, and not really worth keeping.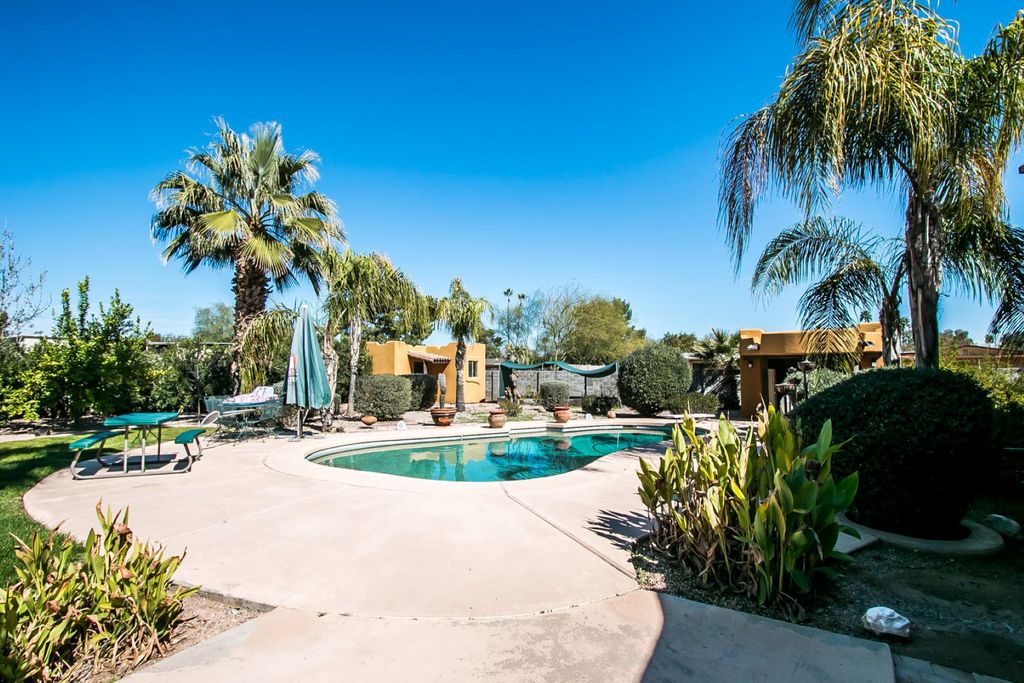 And here's that same view today!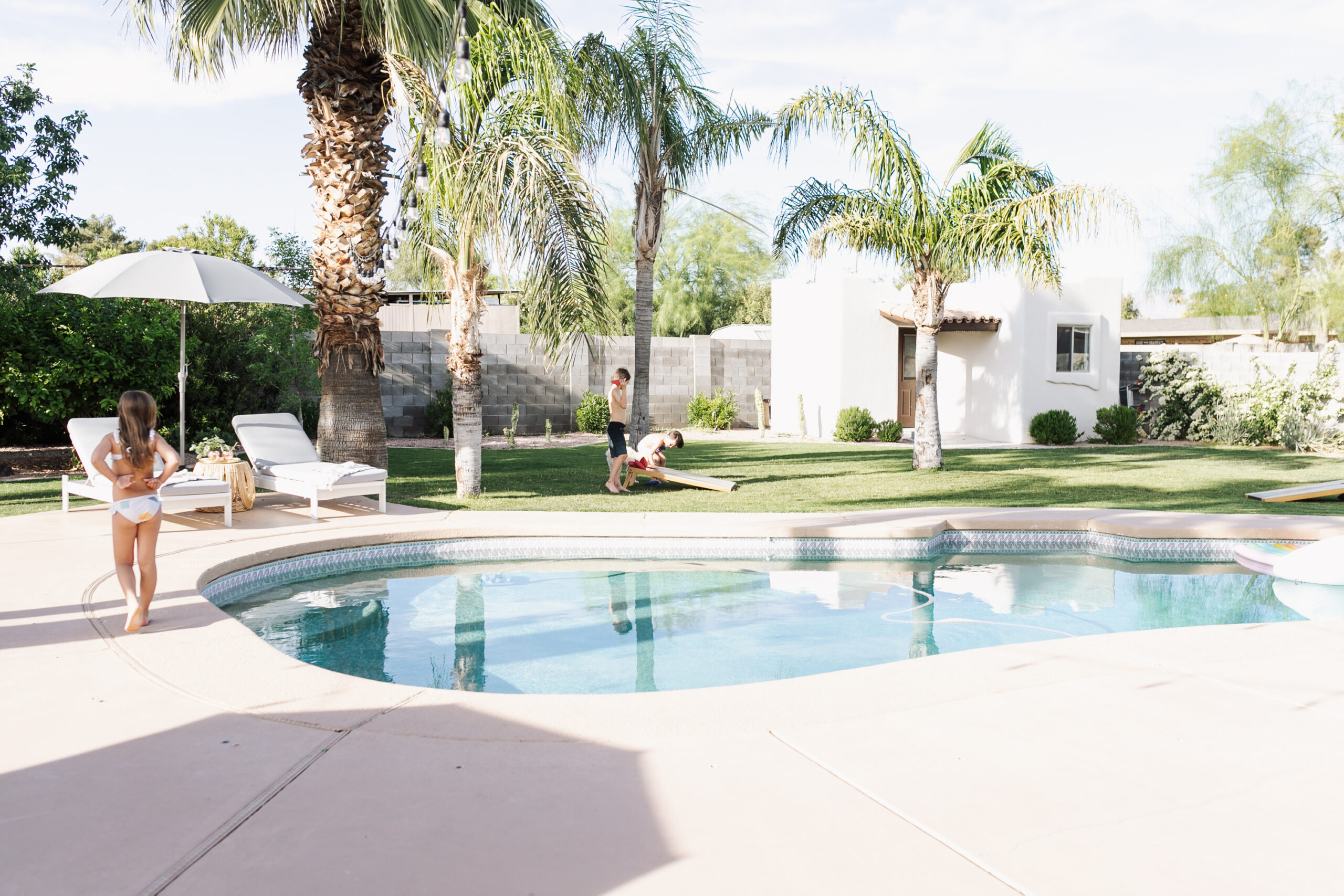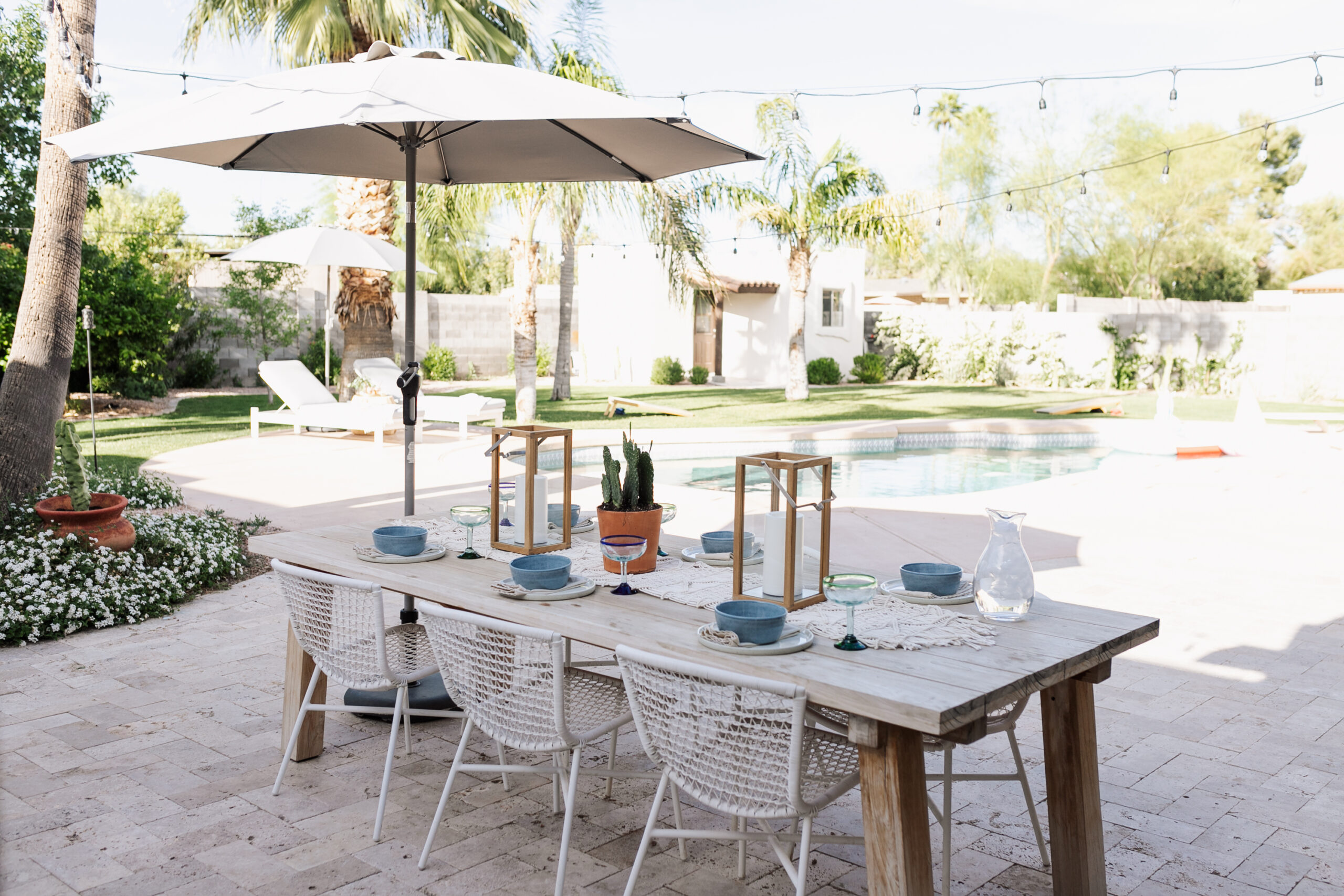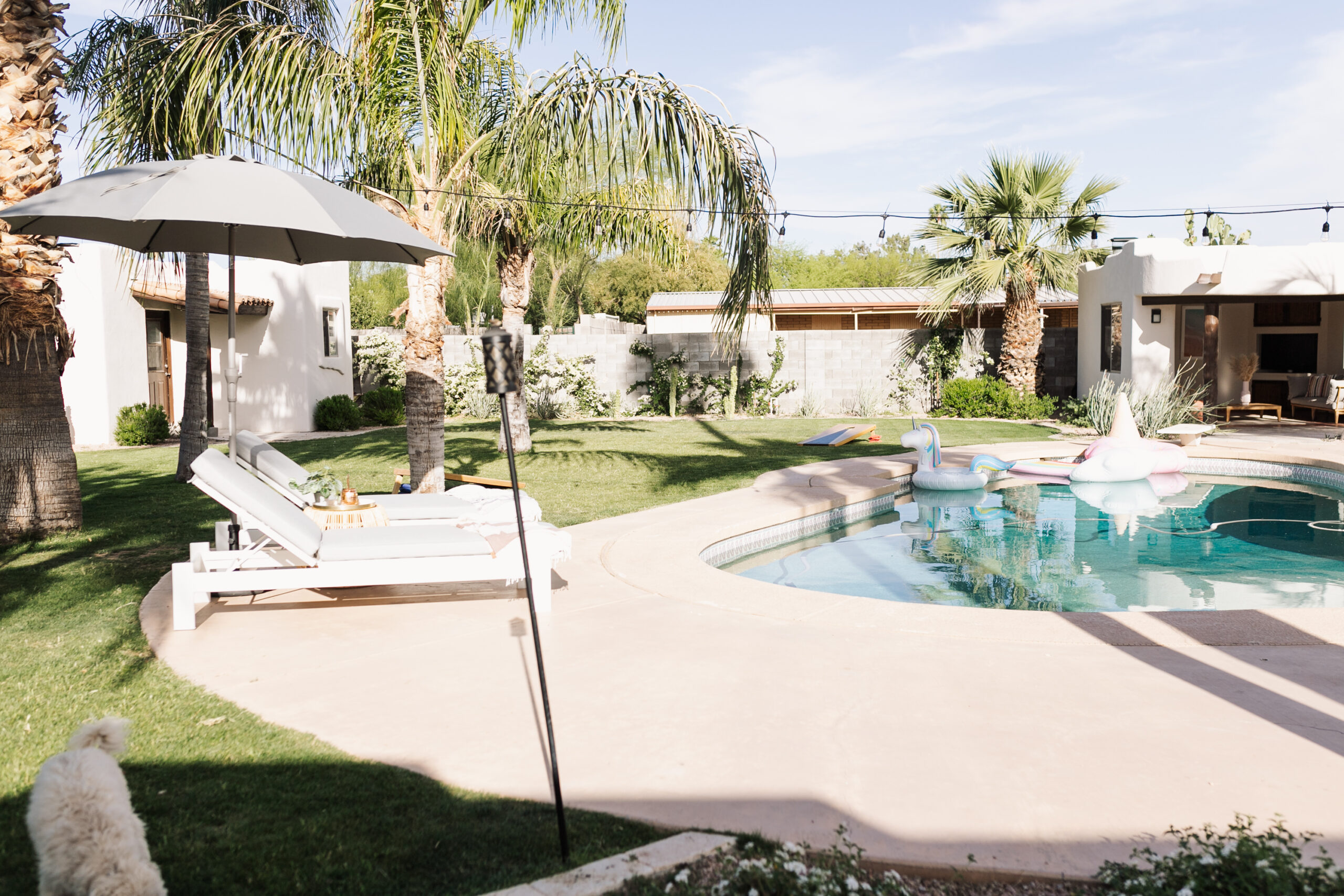 The latest addition to our backyard is these two new loungers, this rattan side table, and a second umbrella (with base) for our pool deck. This setup was actually one of the first areas I really wanted to fill in when we first moved in. But as it goes, we did have a budget to stick to and I had to prioritize what we needed most and in what areas. Lounge chairs felt (and still do feel) like such a luxury, so we waited to get them until now. But I always envisioned this space like this, and I am so happy with how it looks now!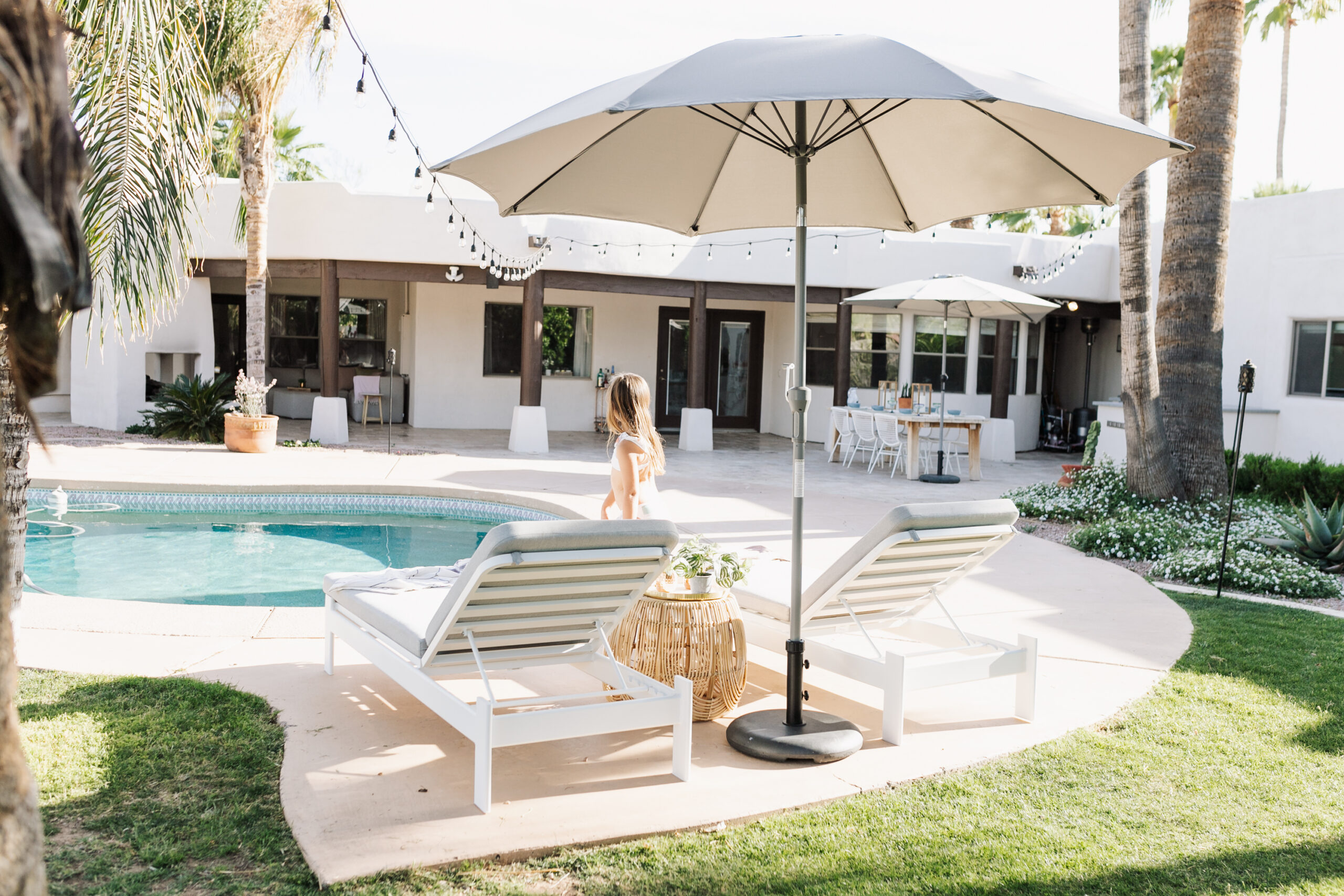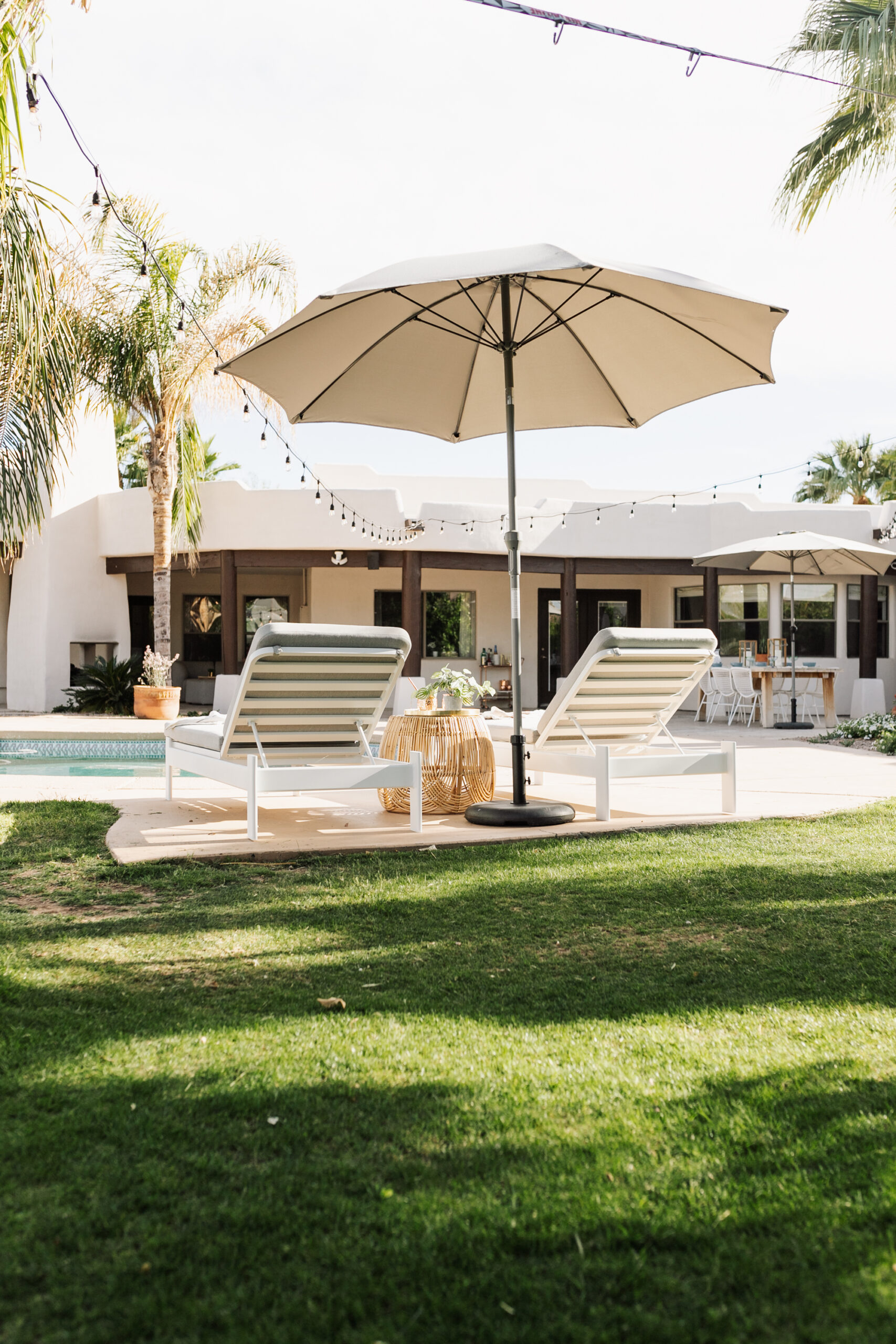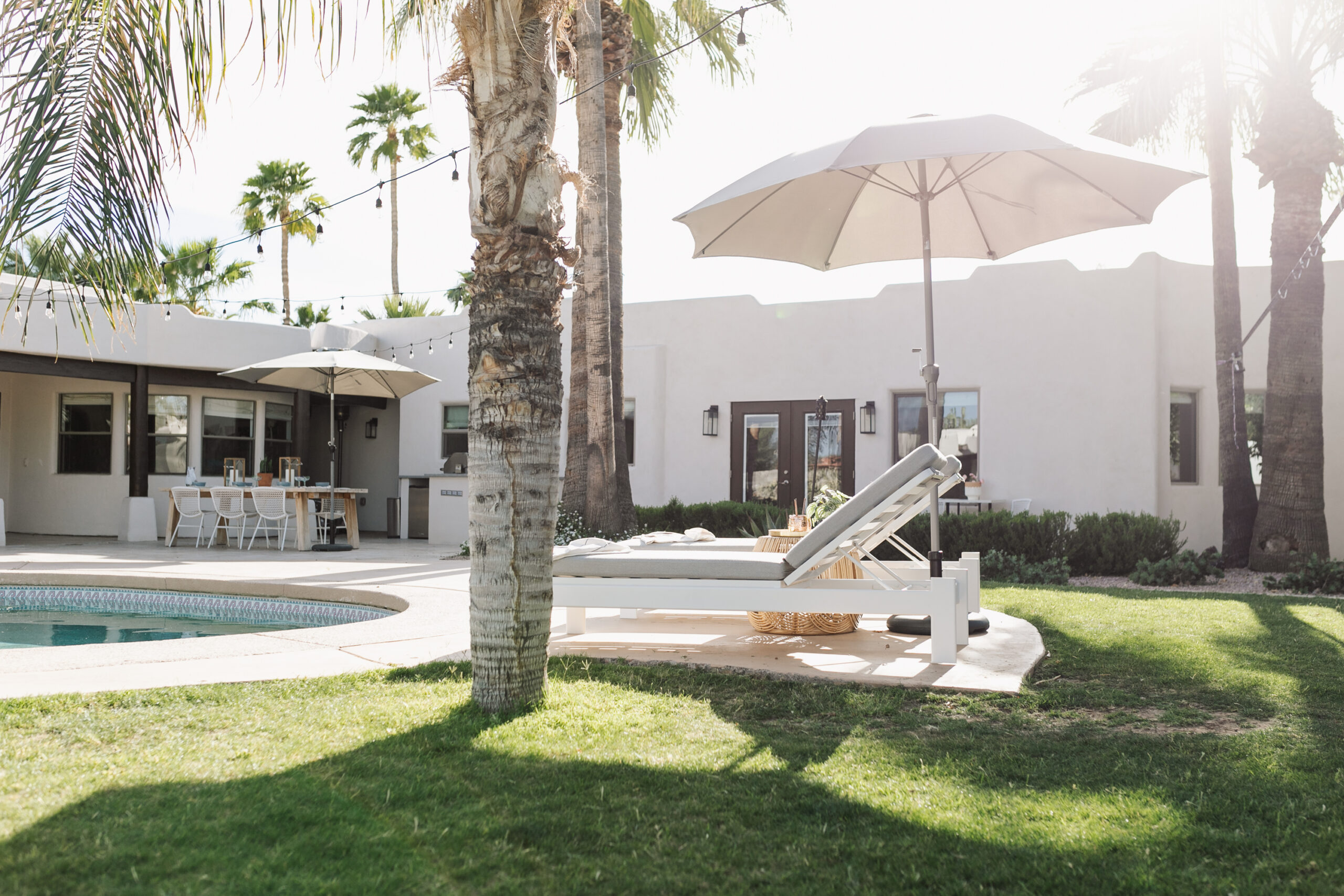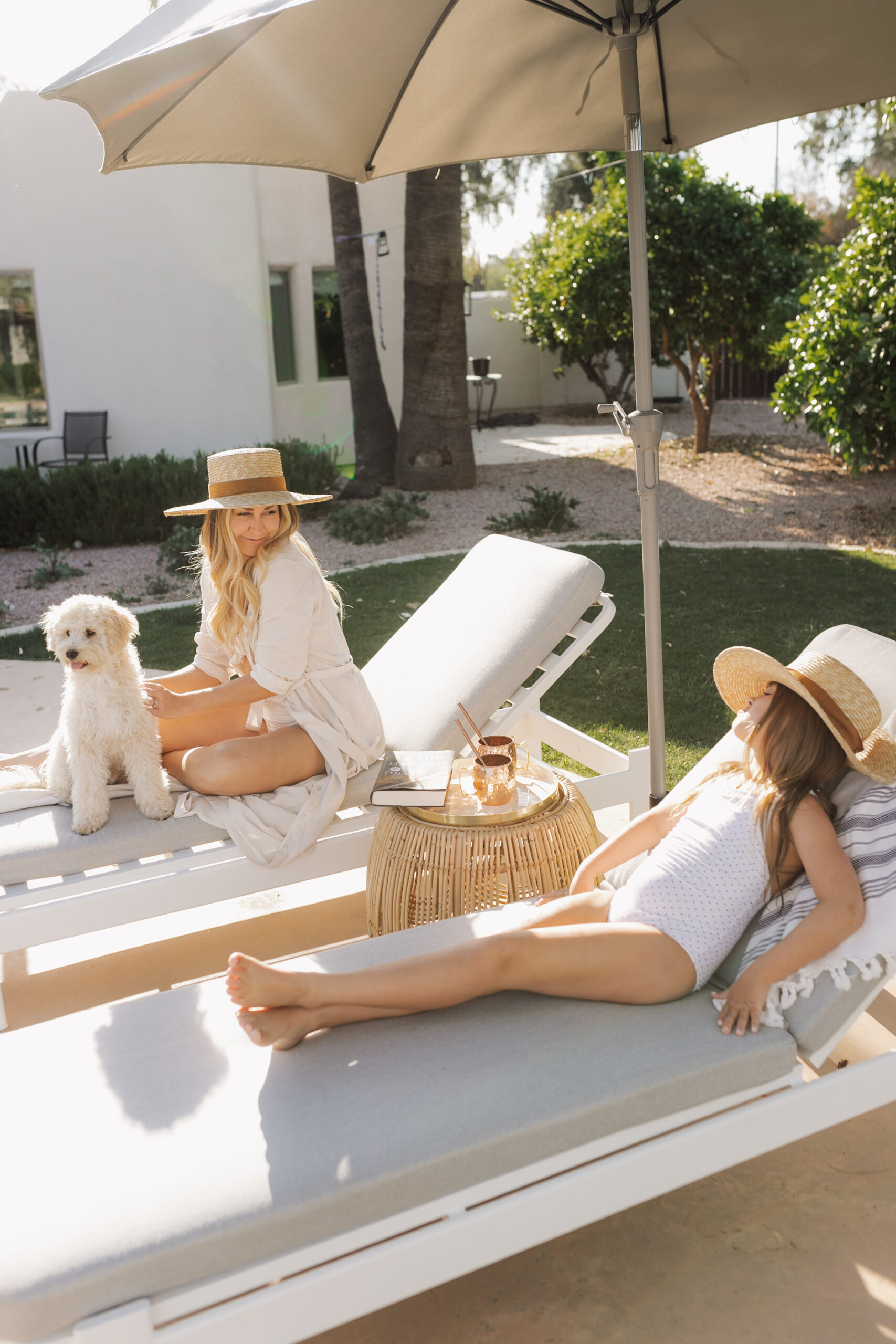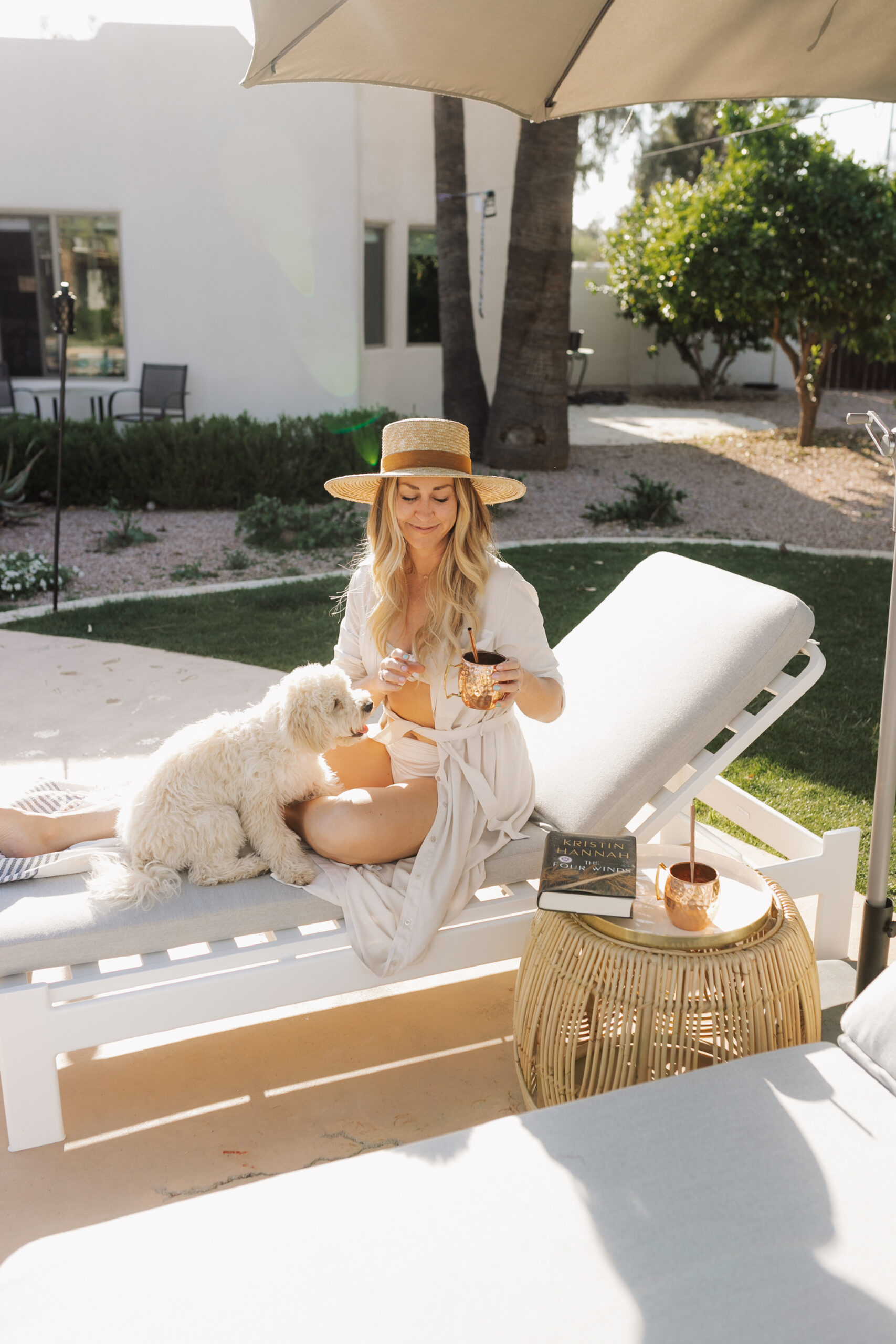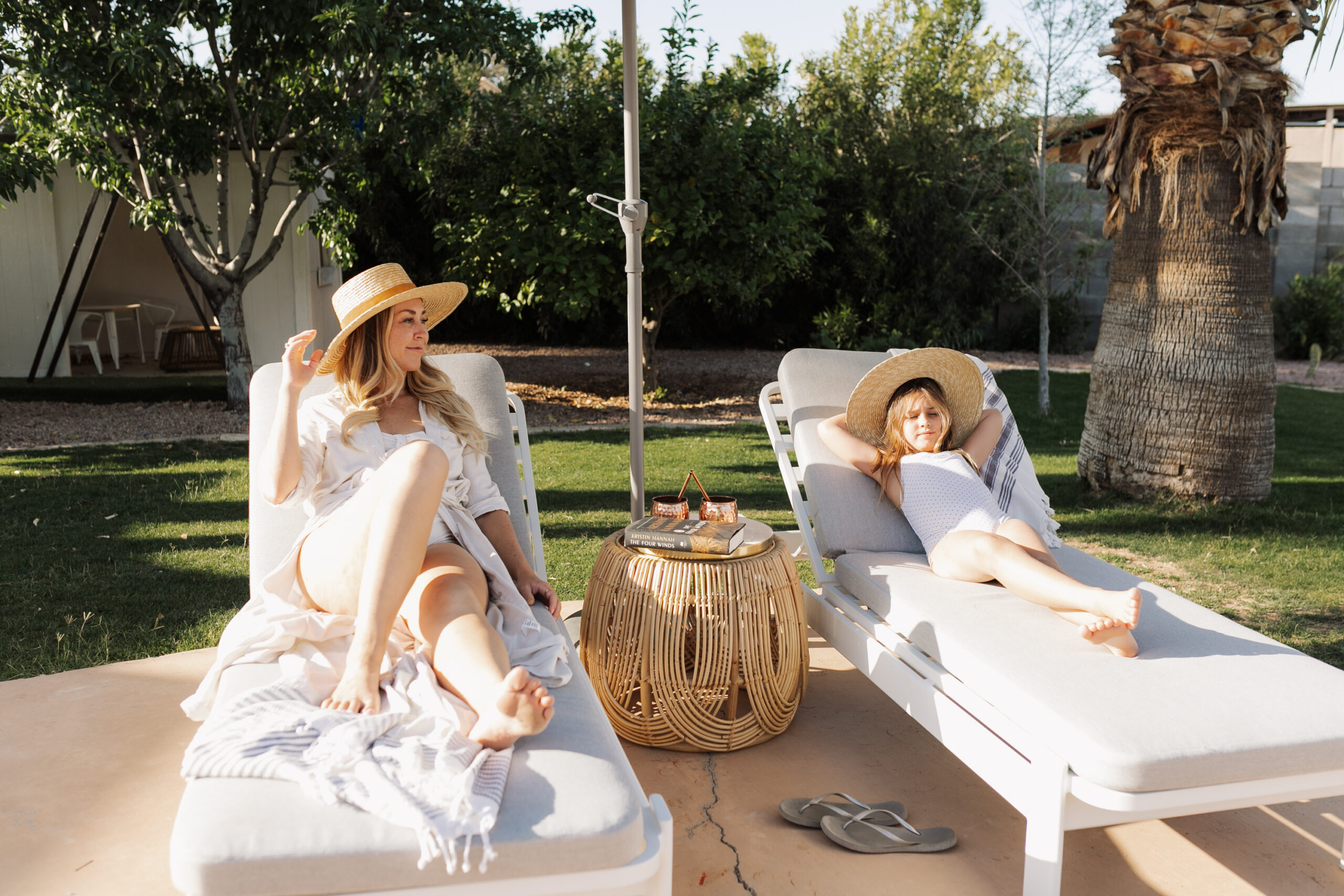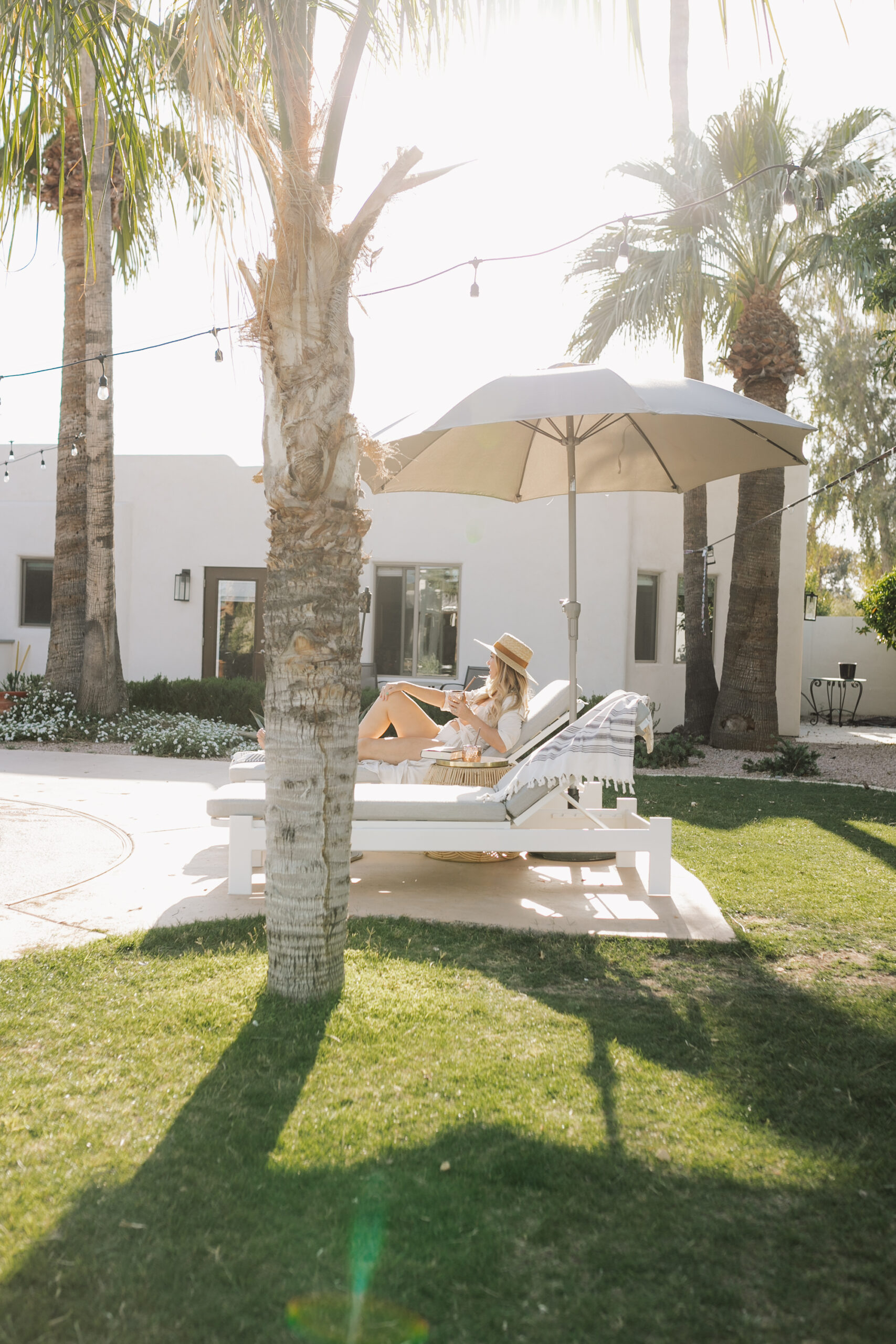 Here's another peek at the not-often-seen cozy corner by our outdoor fireplace. We got this sectional from Big Joe a couple of years back and it's held up so well! It's made completely of Sunbrella fabric and they are surprisingly lightweight. We move them around a lot when we have guests over and such!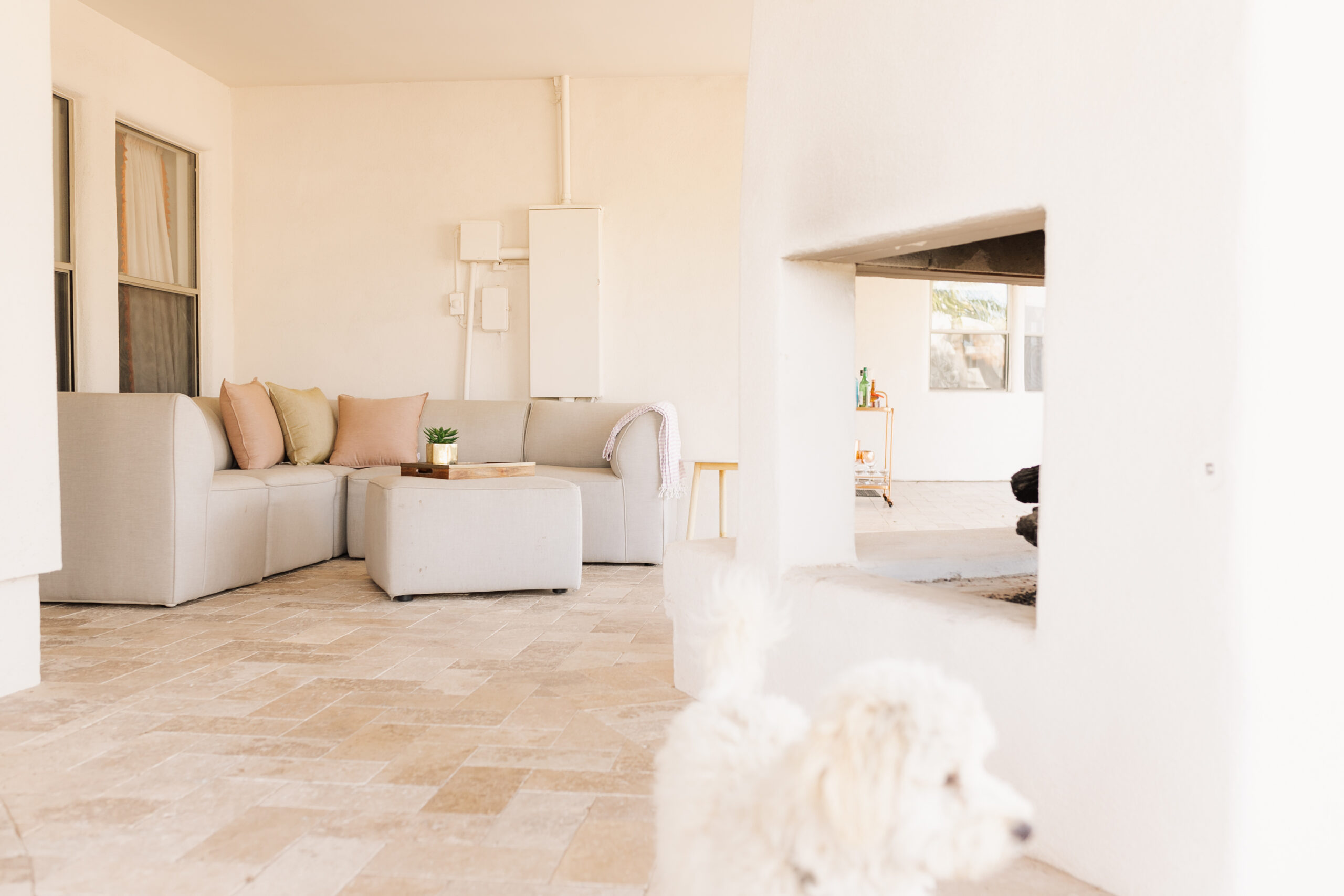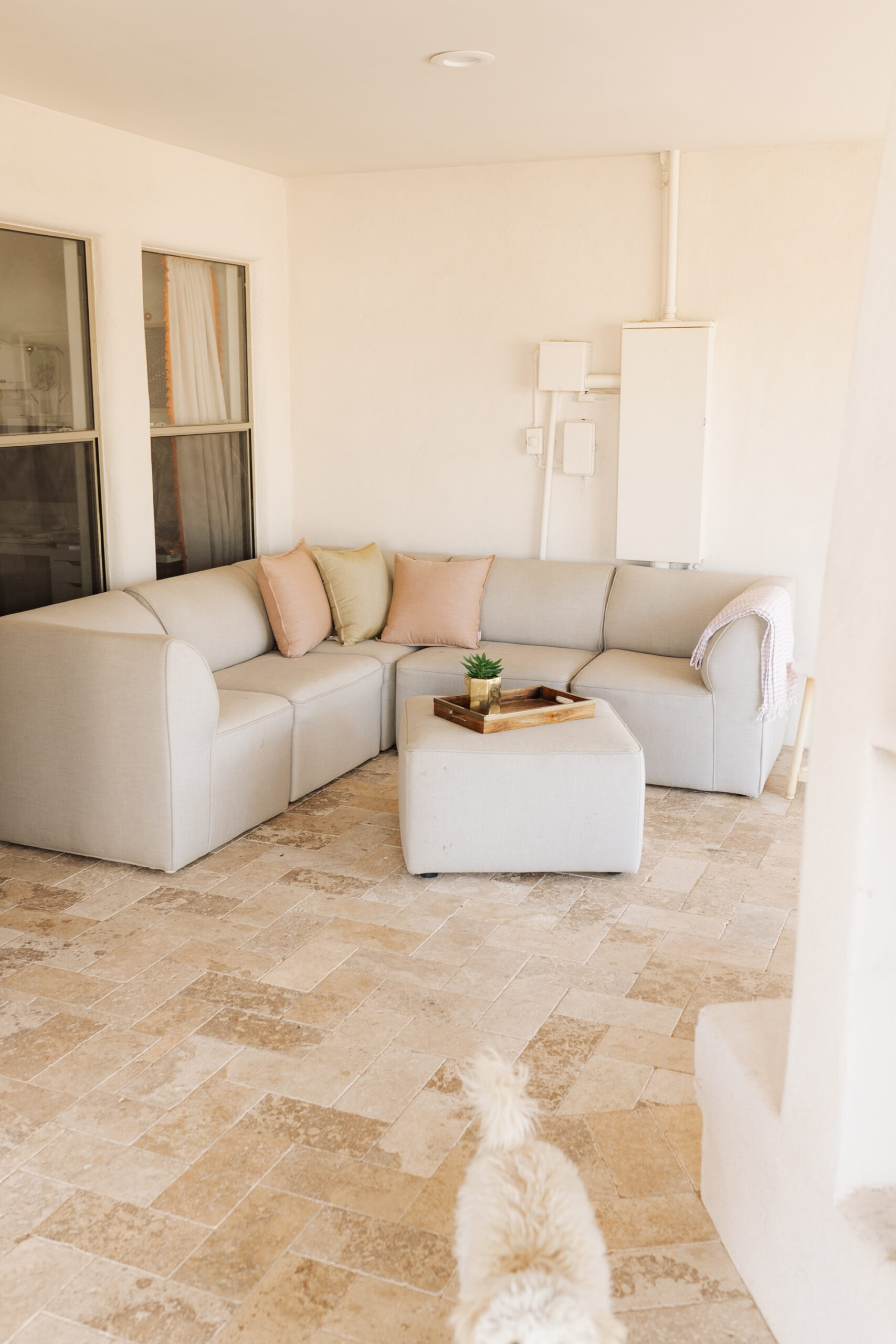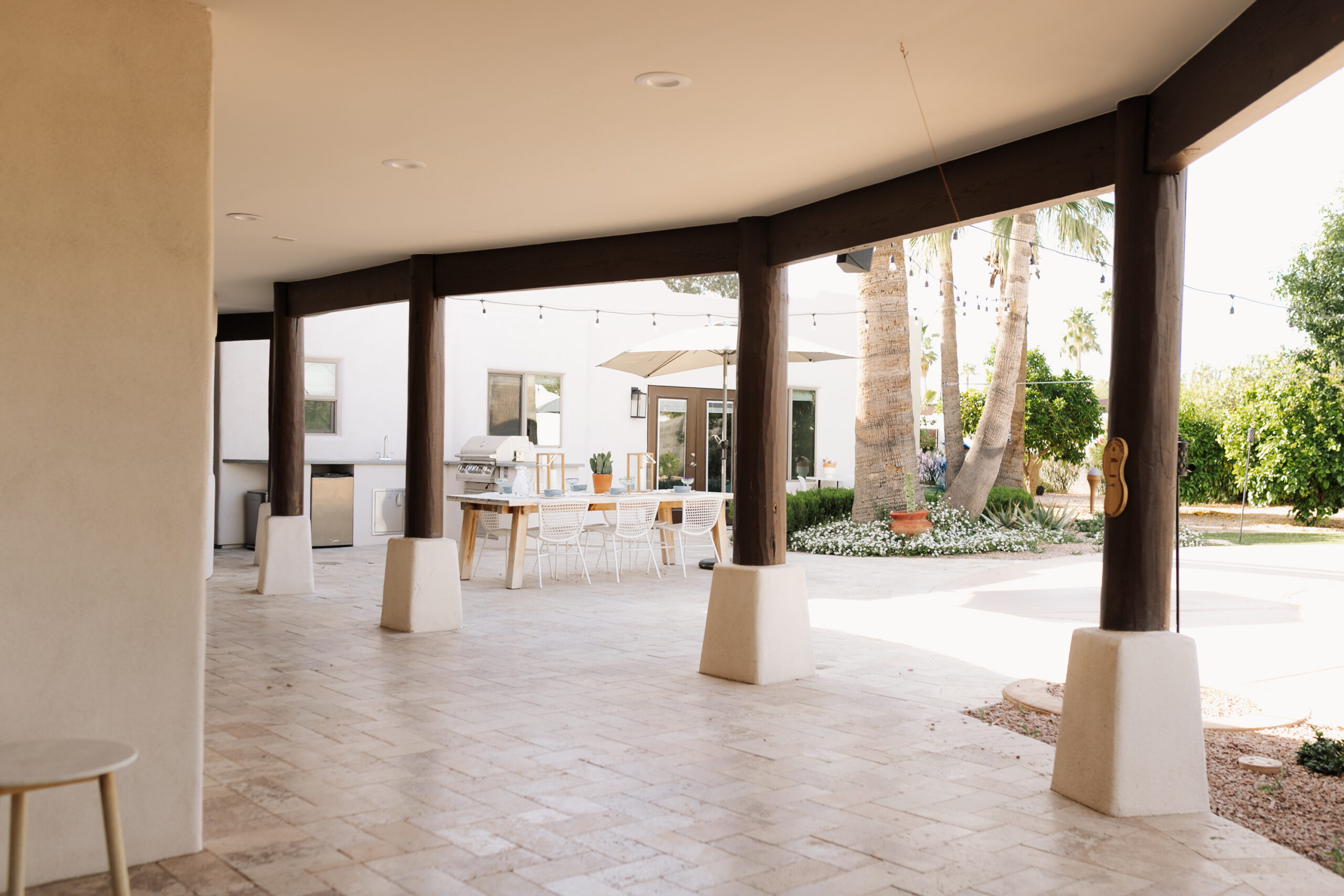 Speaking of pieces that have held up well, we are still loving our Article Teaka dining table, Sala chairs, and Paras umbrella we got a couple of years back. The real teak and oversized nature of the table is amazing and still looks so beautiful. We do store it under this covered patio in the winter months and during the hottest part of the summer, but for patio season, we bring it out here!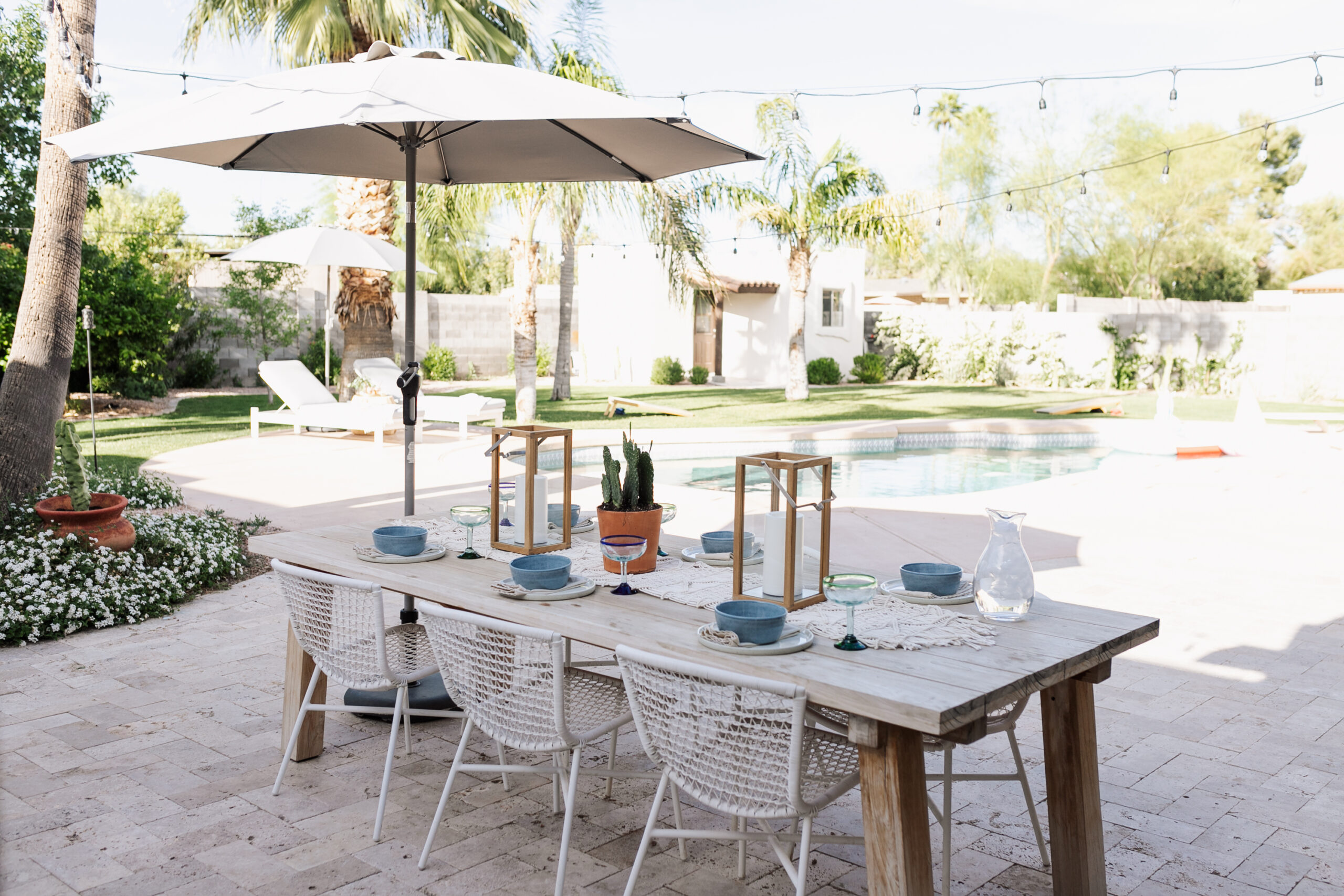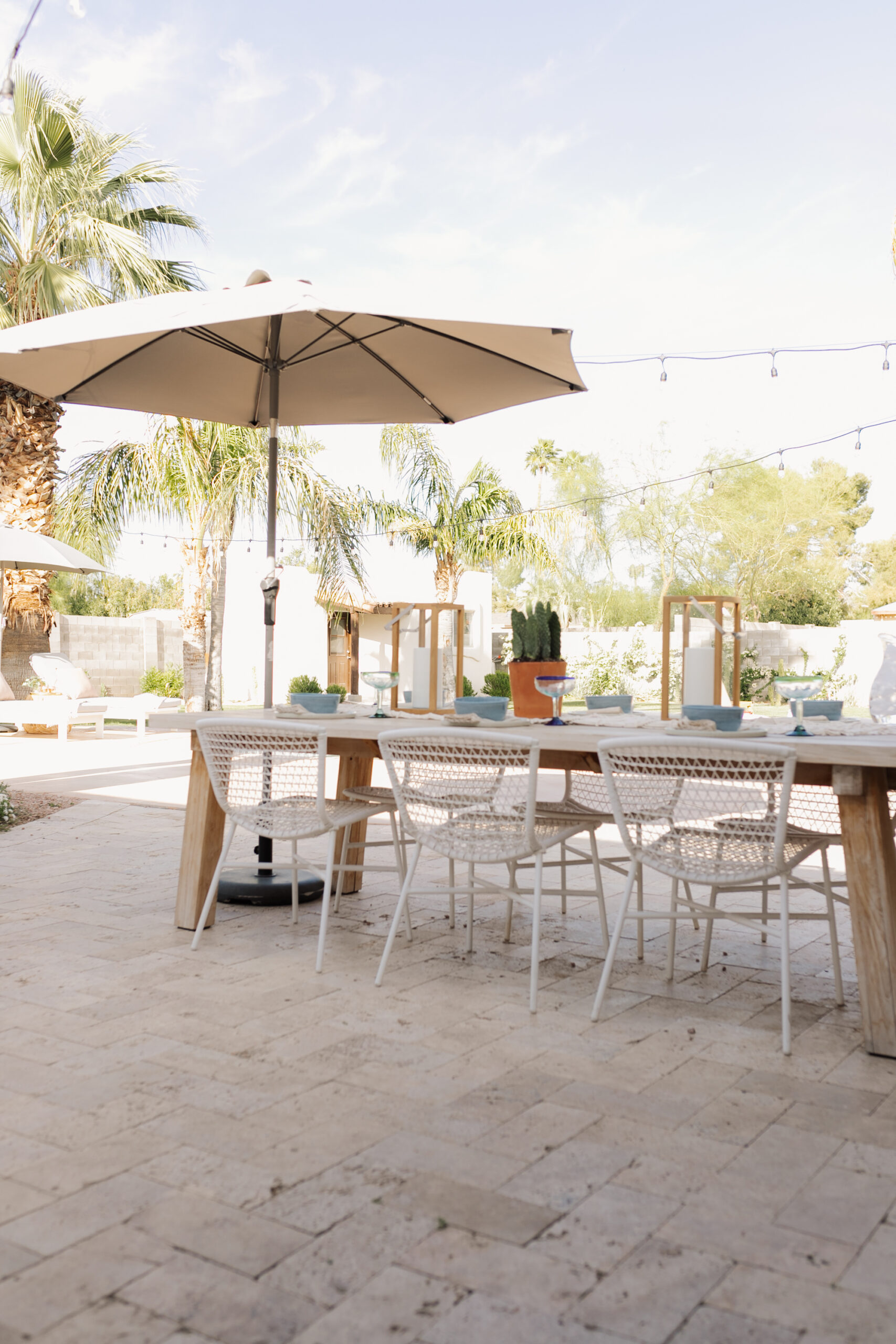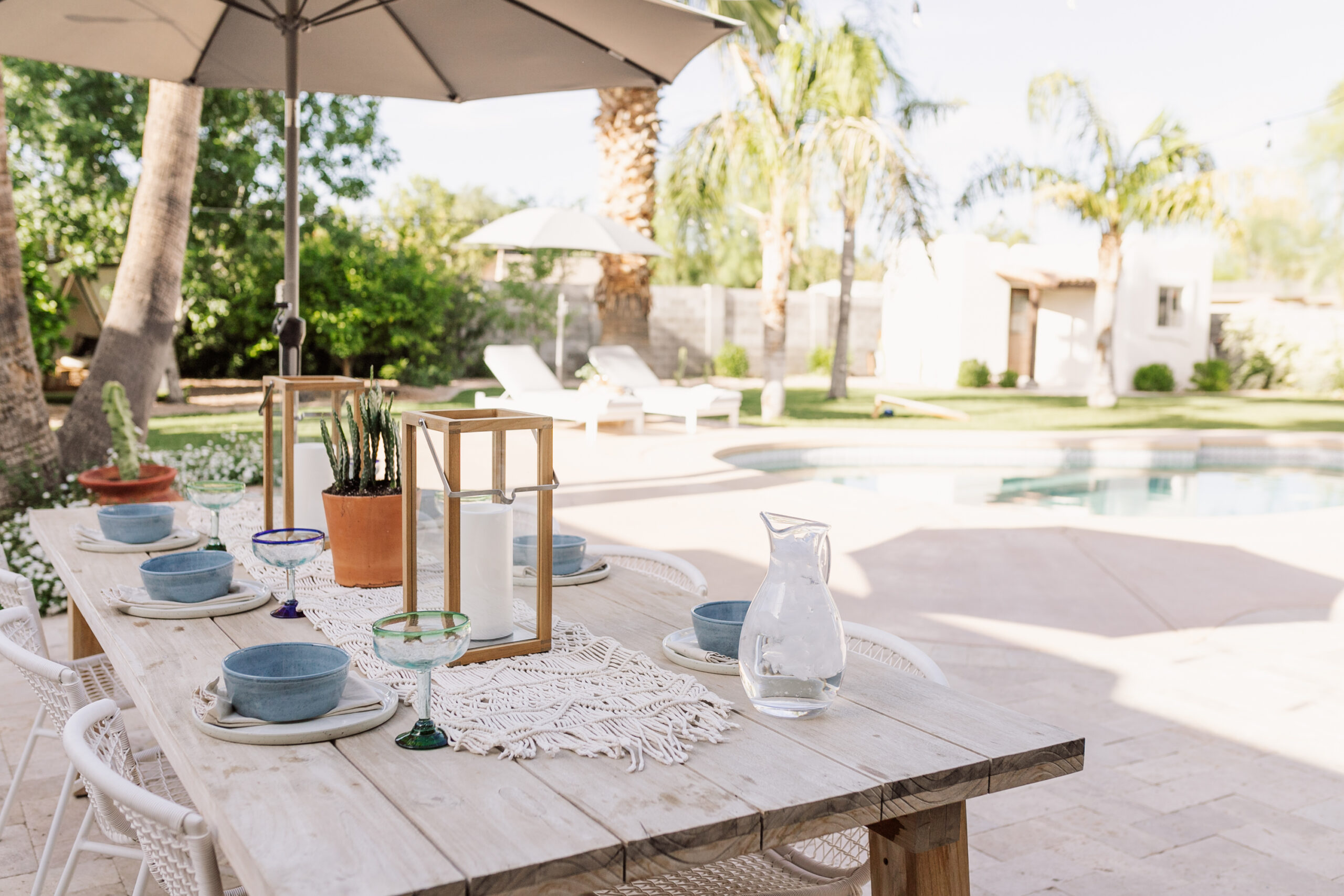 As you can see, spending time back here is one of our favorite things to do. What's your favorite part about your home?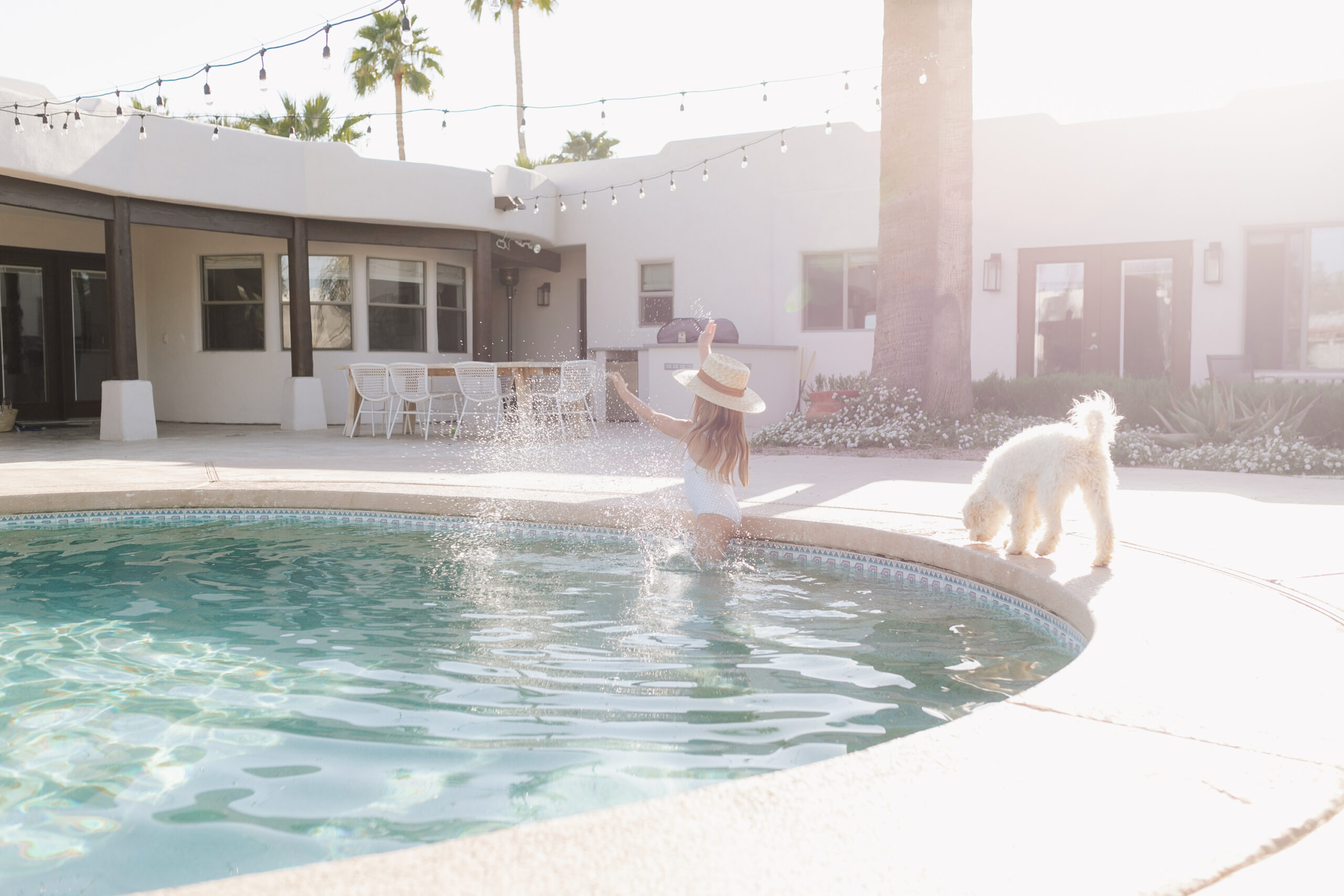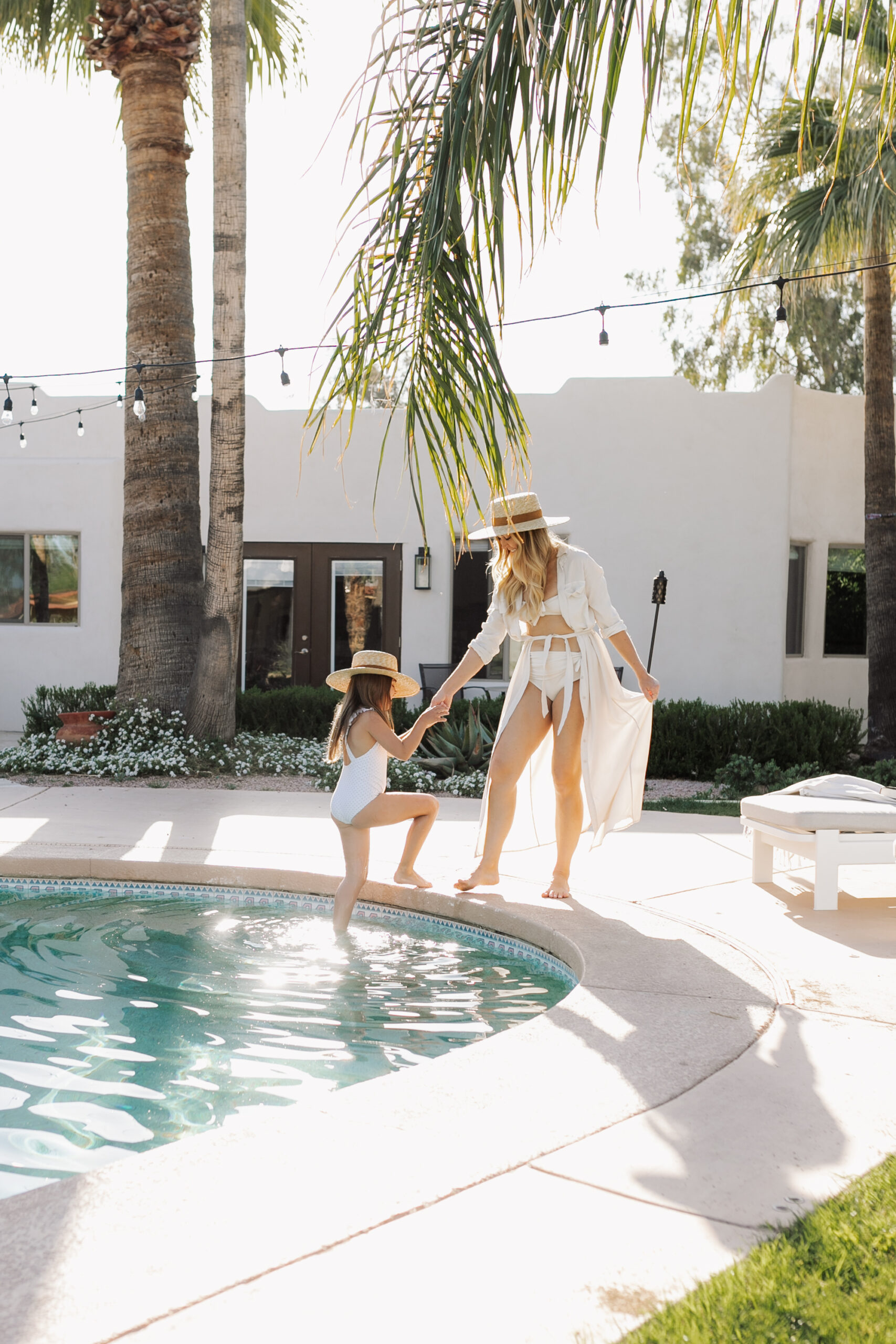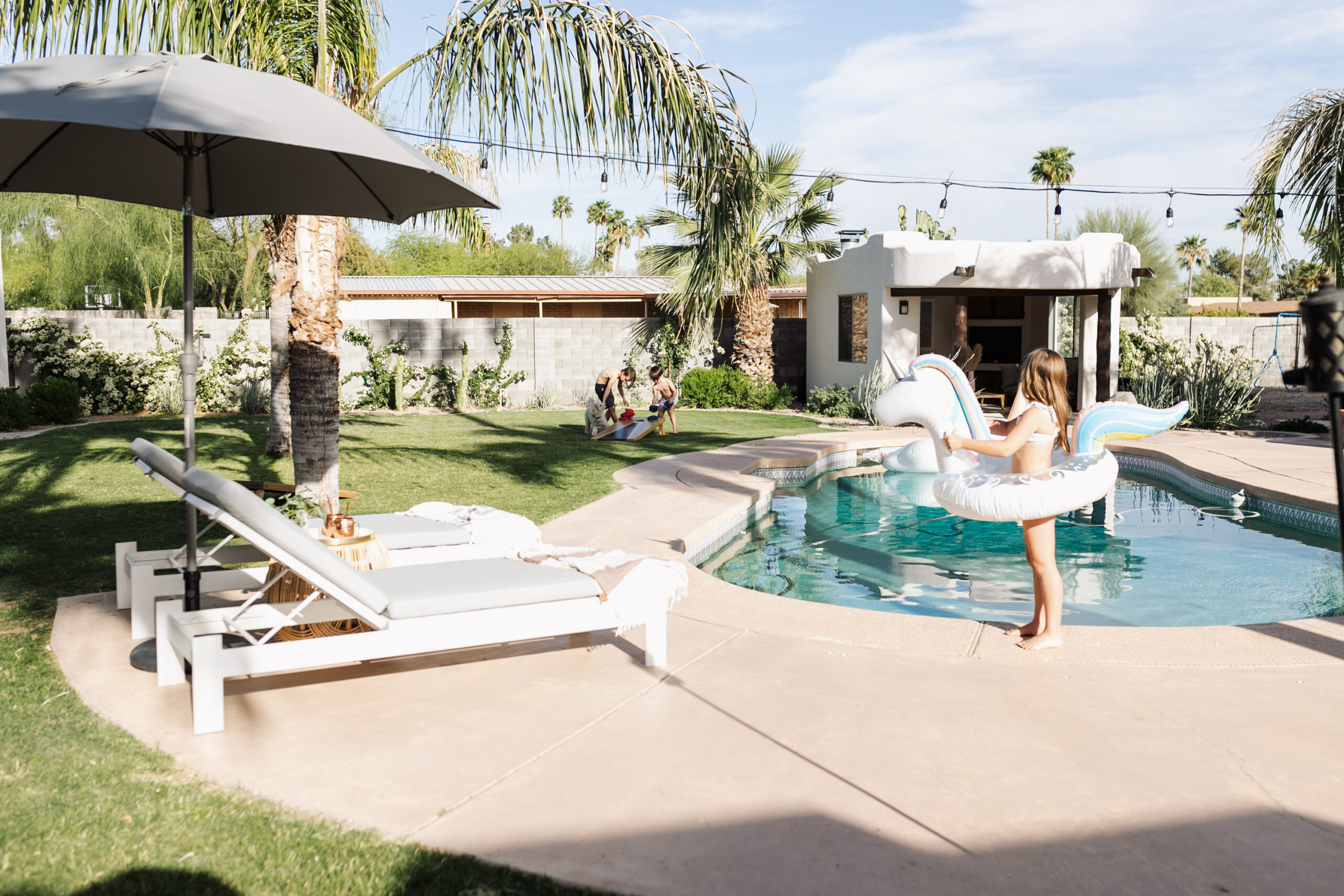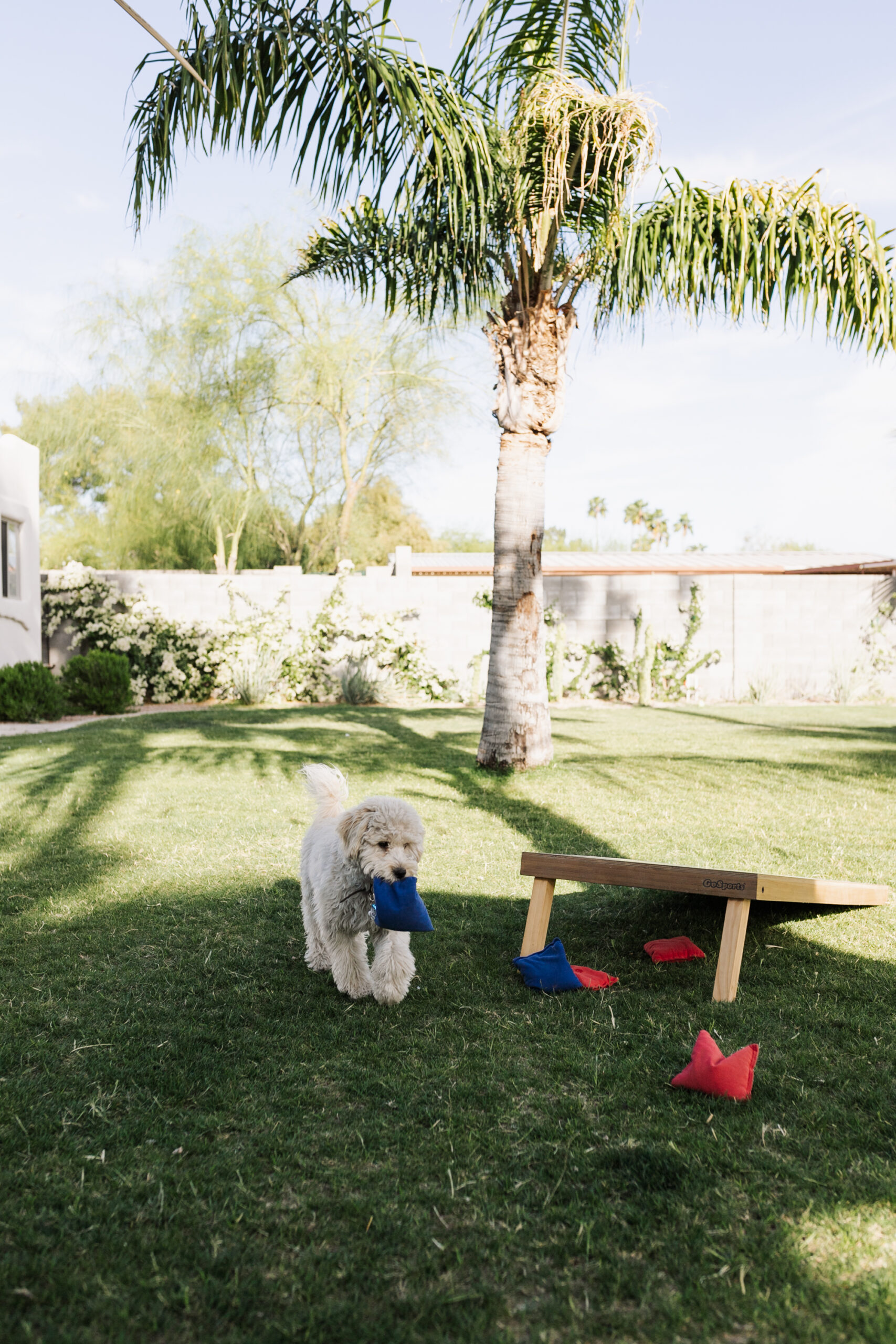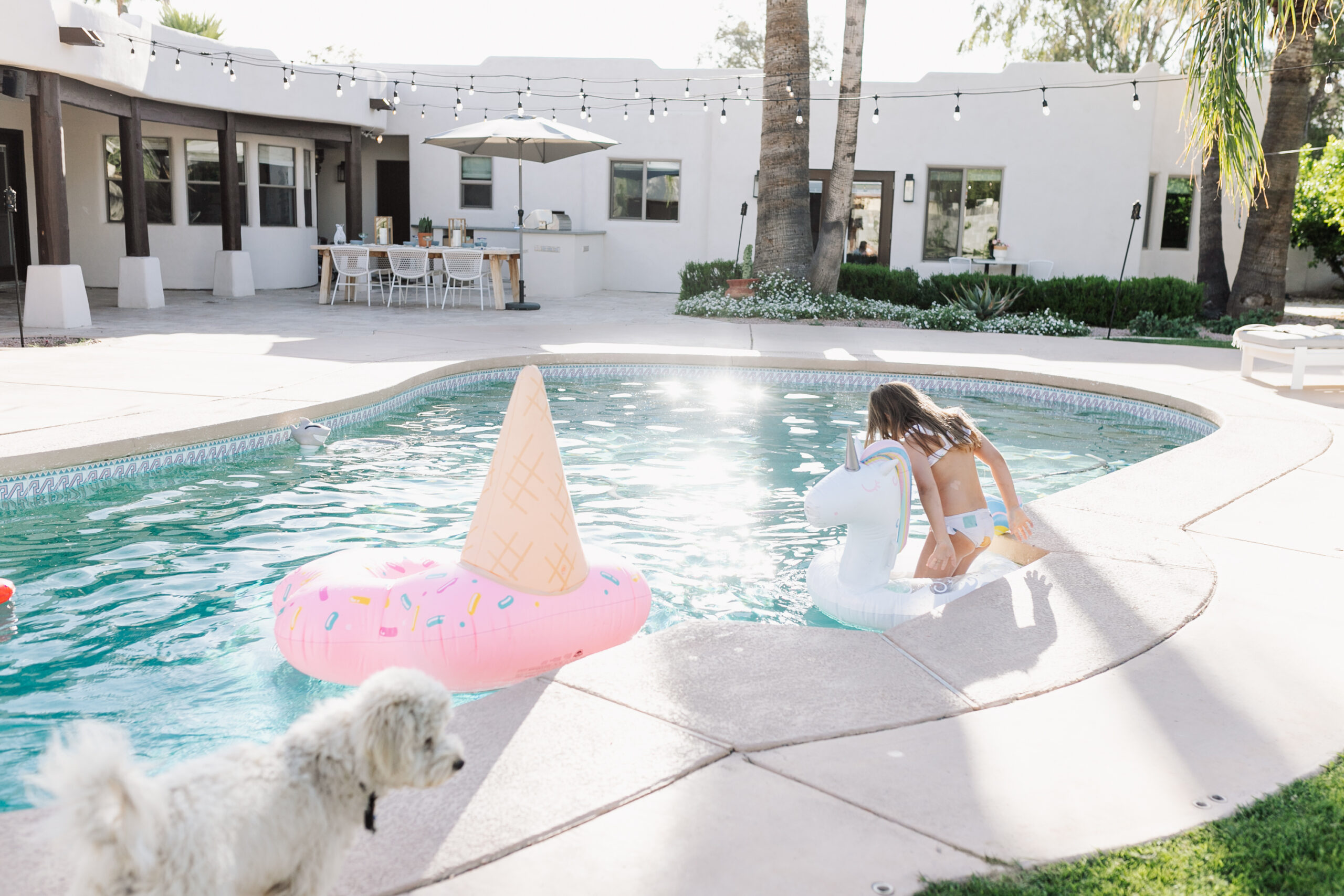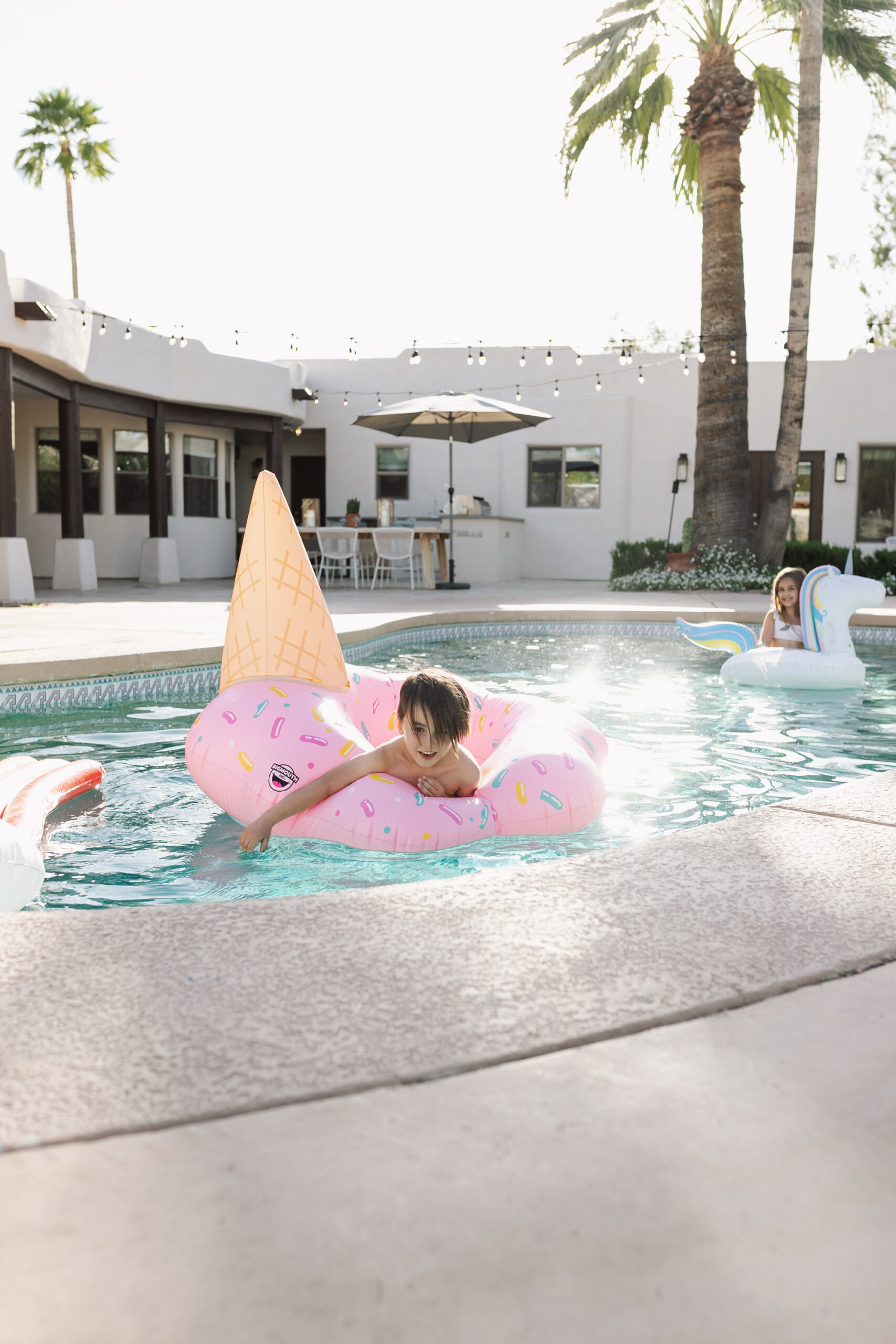 Ok, I promised in an Instagram post recently I would link everything I can, so here it goes! All furniture and some of what we wore are linked in the list below. There is a reason all of our furniture is from Article. Yes, I did work with them in collaboration for the furniture three times over the past three years, but I kept going back because the prices are affordable and the quality is so high and built to last. They have flat rate shipping on all orders to the US and Canada for just $49, or free for orders over $999. I also love their modern designs! It's win/win all around if you ask me.
I will also add some accessories in the tool below, where you can stroll through the little images and click to shop!

This post is not sponsored, however, it does contain some affiliate links, which if you click on and make a purchase, I will recieve a small commision. Thanks, as always, for your support of my blog and content creation! xo, Paige