This post was created in partnership with Article. As always, all opinions expressed here are my own.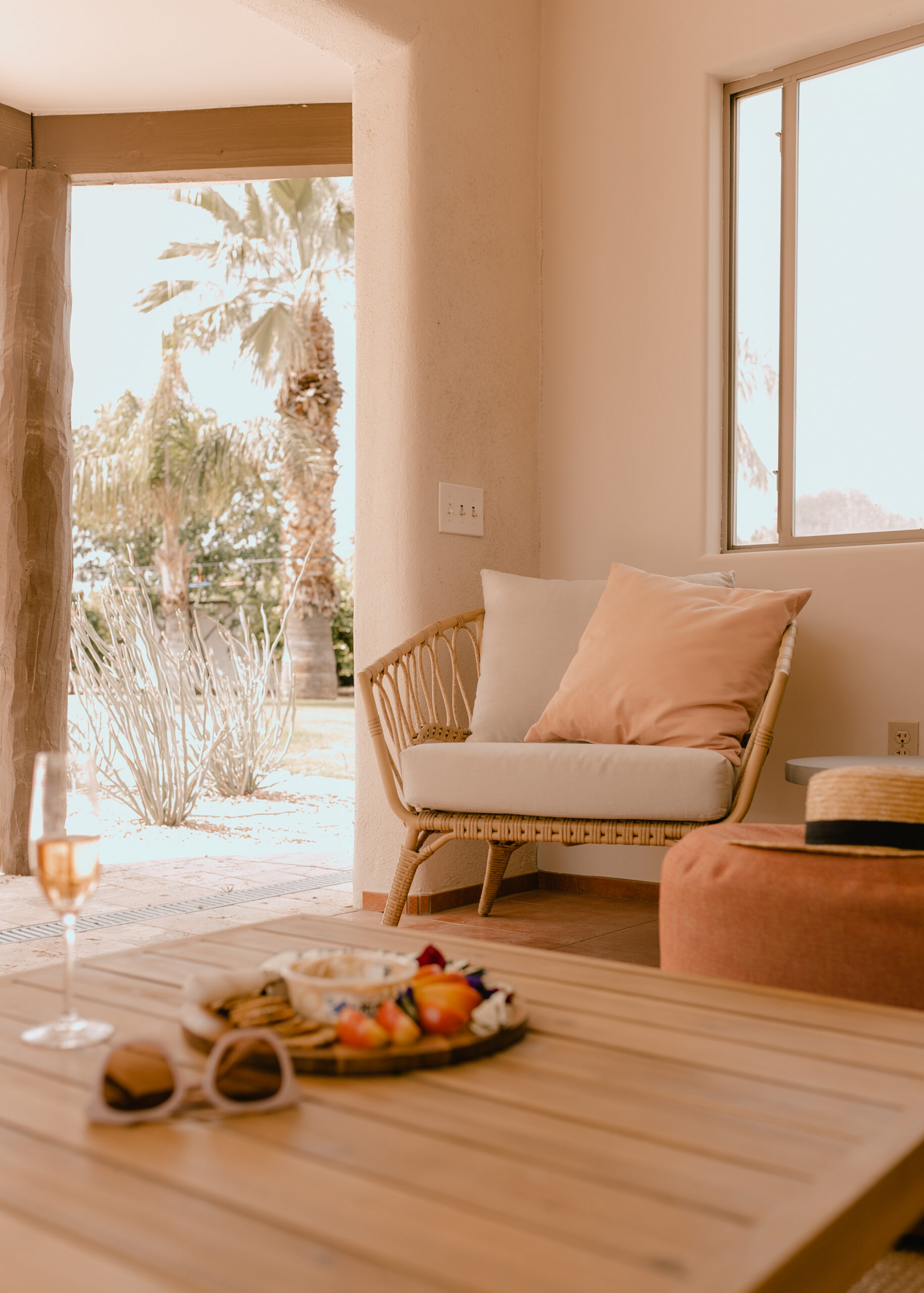 Here at The LDL Home, there's always one more project to on the to-do list. During this period of staying at home, I was thankful to have a project that I have been meaning to get around to for a while: our pool ramada update!
I didn't really intend to do three blog posts in a row from our backyard, but ya know, when there's a global pandemic… the backyard is where we've been spending the most time! Again, we are thankful for our beautiful weather here in Arizona, and for this beautiful space. When we first bought the house three years ago, we were really adamant about finding a big backyard. We have lived in several apartments and small spaces prior, so a big backyard had been a BIG dream for us. But the space when we first bought it was not ideal. It's taken time, landscaping, and a lot of work to get it to where it is today. Which is pretty perfect for the way we're using it now.
You can more see pictures from the original house here.
Here's one pic I have from the real estate listing of the backyard before we did anything (note the lovely mustard color, lol):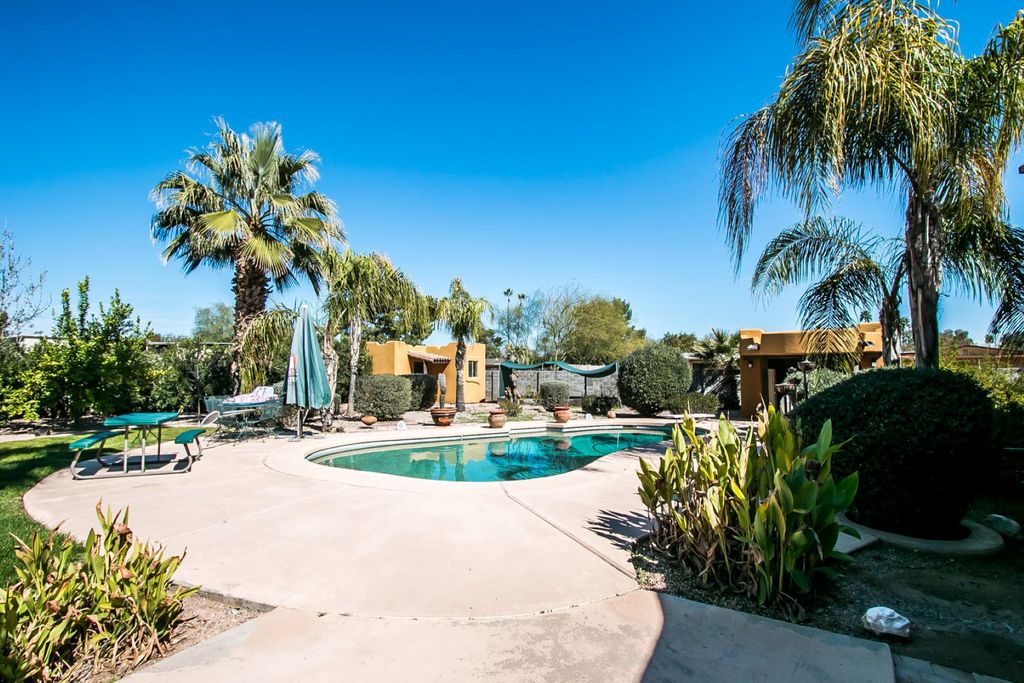 Also, see more from our backyard after we finished landscaping and added our outdoor dining table last year, here.
This pool ramada came with the house as well. At first we thought it was a bit awkward and we weren't sure how to best to utilize it. But as it is a (relatively) permanent structure, I was determined to make the most of it. We didn't really do much with it when we were going through the rest of our home remodel. Really the only thing we did was add the tile (before it just had a concrete floor) and brought our old tv out here. Oh, and the fan was new as the old one in there died.
We did paint the outside of the pool ramada to match the rest of the external house paint when we did that, but left the inside as it was, because we just weren't sure what we were going to do with it at the time. I showed in my Instagram Stories more of the process of transforming this space, if you want to check it out!
Because Before and Afters are always fun, here's how the space looked before I started my DIY project: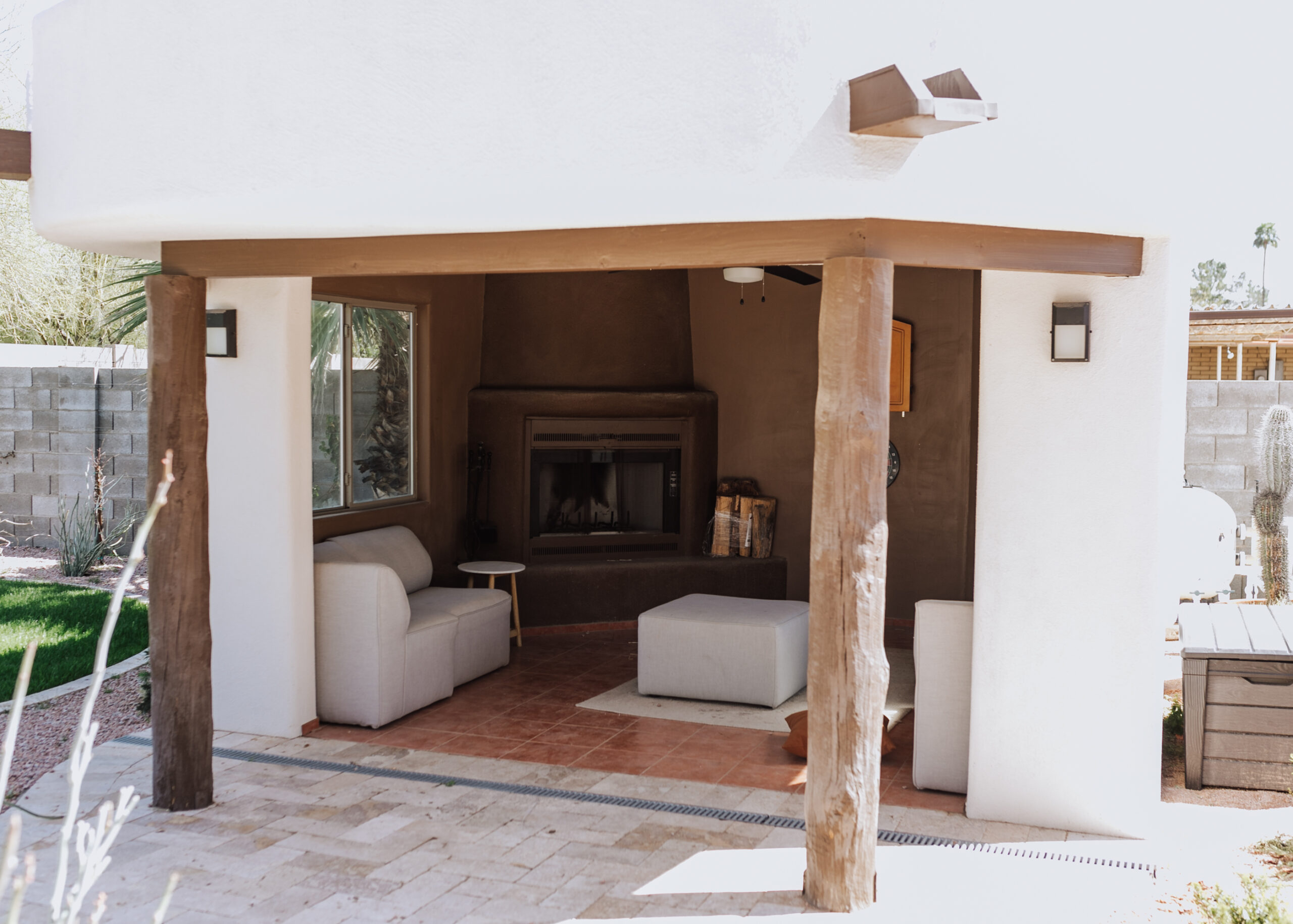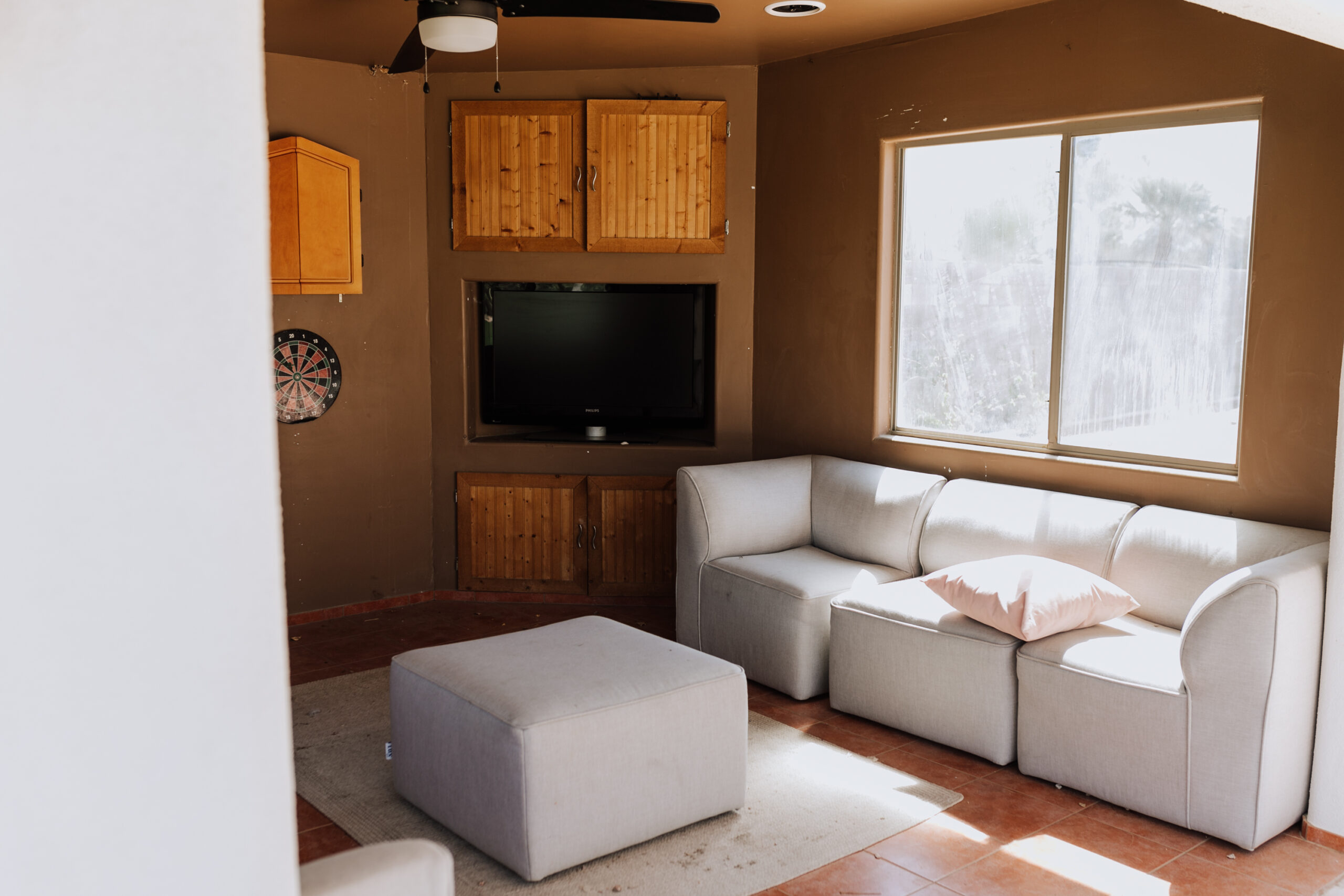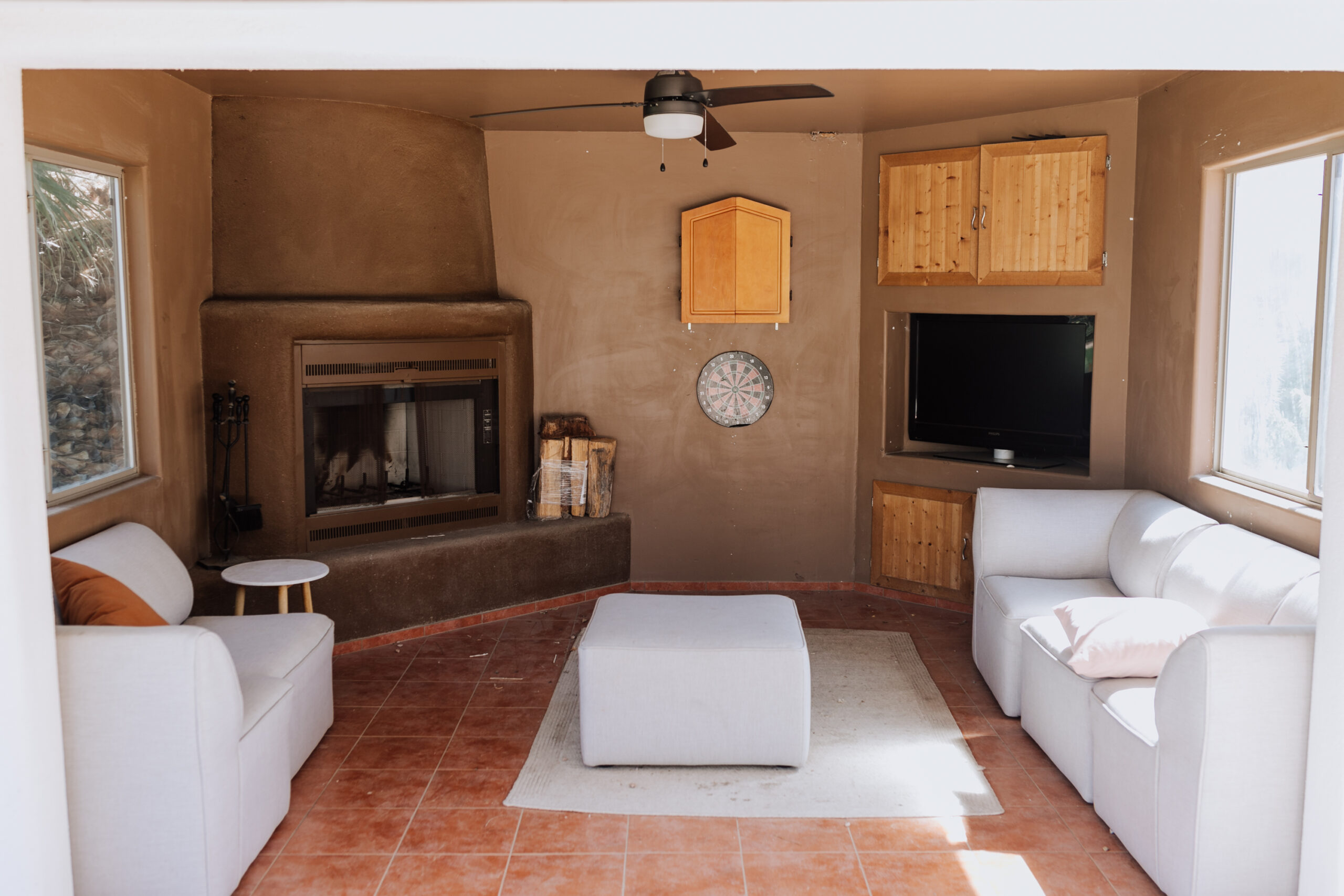 The furniture we had in there was not old, but it just wasn't quite right for the space. It felt too big and overstuffed to me. I despised the brown walls, as it made it feel very cave-like to me. And the cabinet doors were just unfinished wood with out of date hardware. It needed a little face lift!
And here is the after: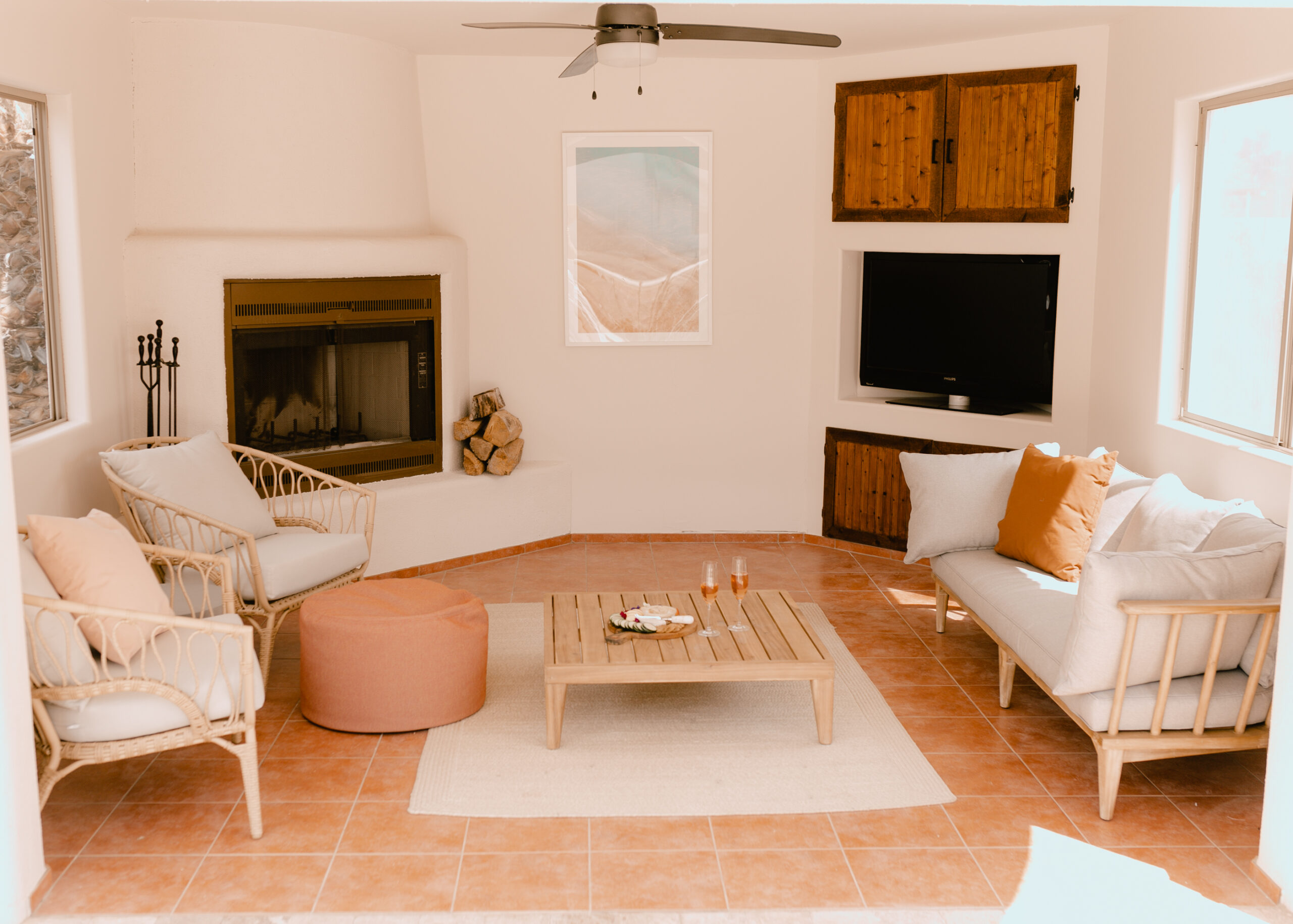 I am loving the bright new look! We actually had leftover exterior paint, so I used that in here, to avoid having to buy more (or trying to match it the rest of the house). I did have to get some primer though because the brown color was so dark. It took me one coat of primer and THREE coats of paint to cover up that ugly brown! We actually found water damage in one of the walls too, so we (ahem, my husband) had to fix that before I could paint.
After painting, I took the cabinet doors off and stained them a darker shade. I also found some simple but modern matte black hardware to replace the outdated nickel hardware that was on there.
And of course, all new furniture from our friends over at Article! I am thrilled with these pieces and how they came together in the room. Even though the look is more minimal, we actually have more functional seating in here. One of these days, when all this coronavirus business is behind us, I can't wait to have guests come over to hang out in here on nice days and evenings!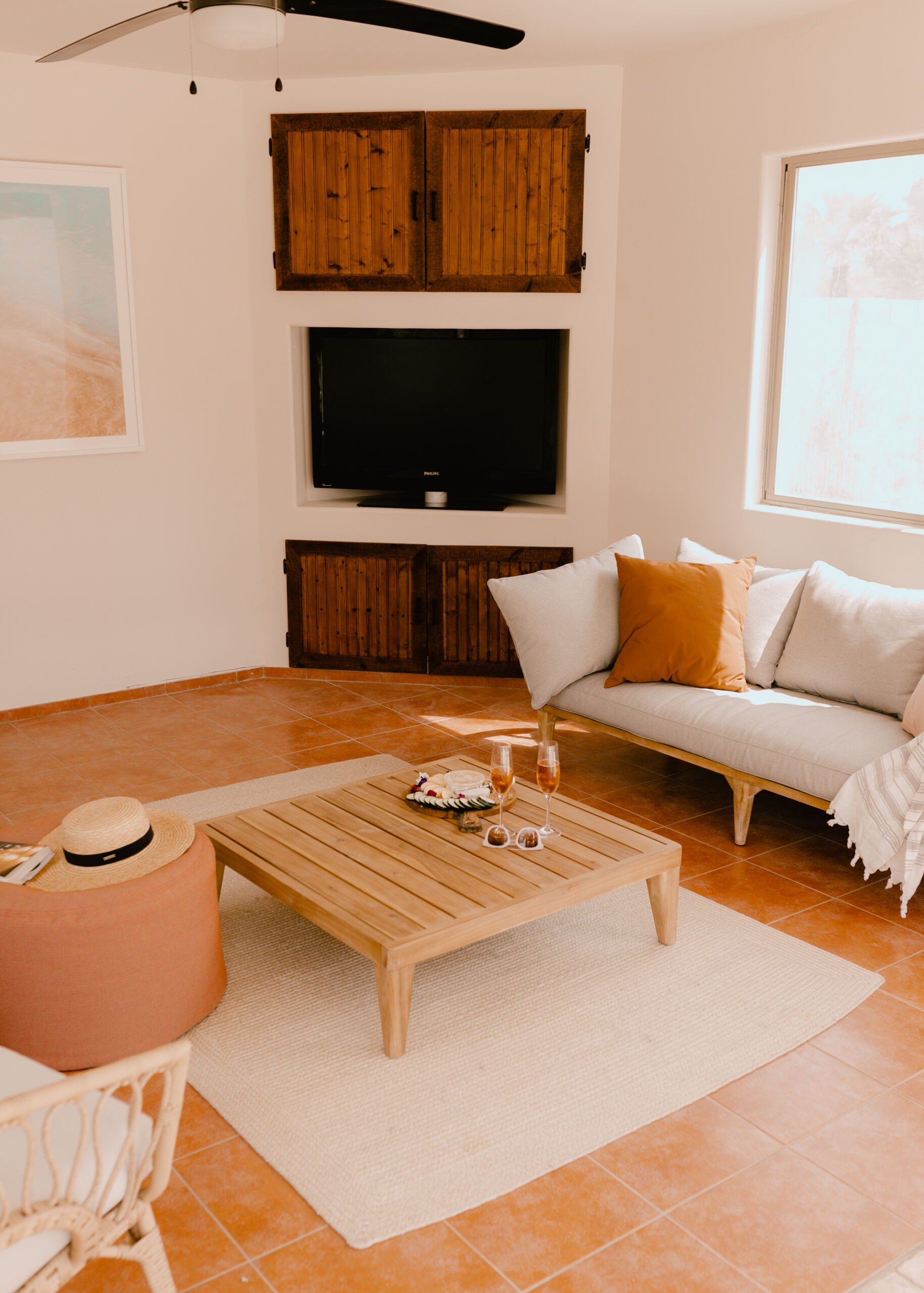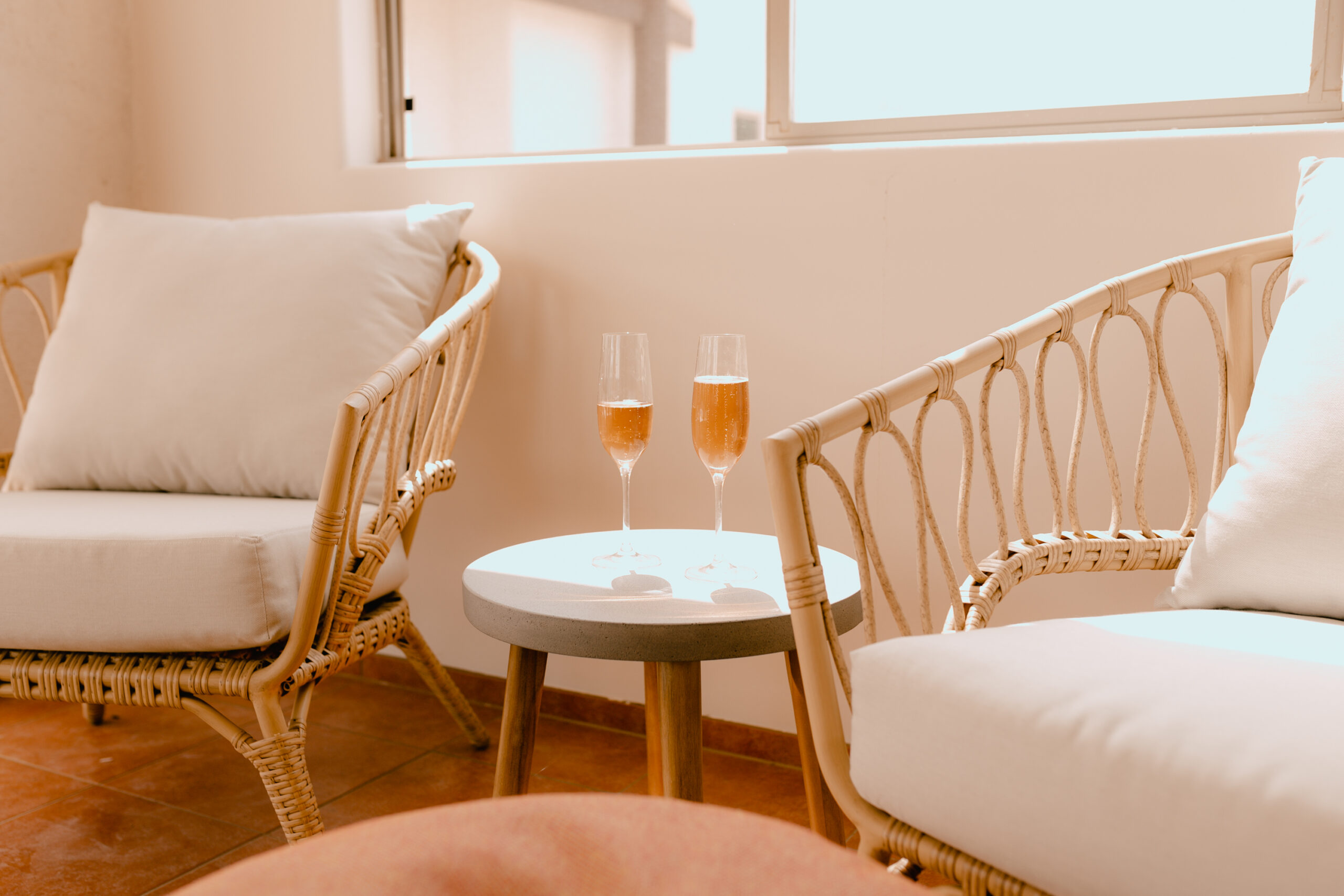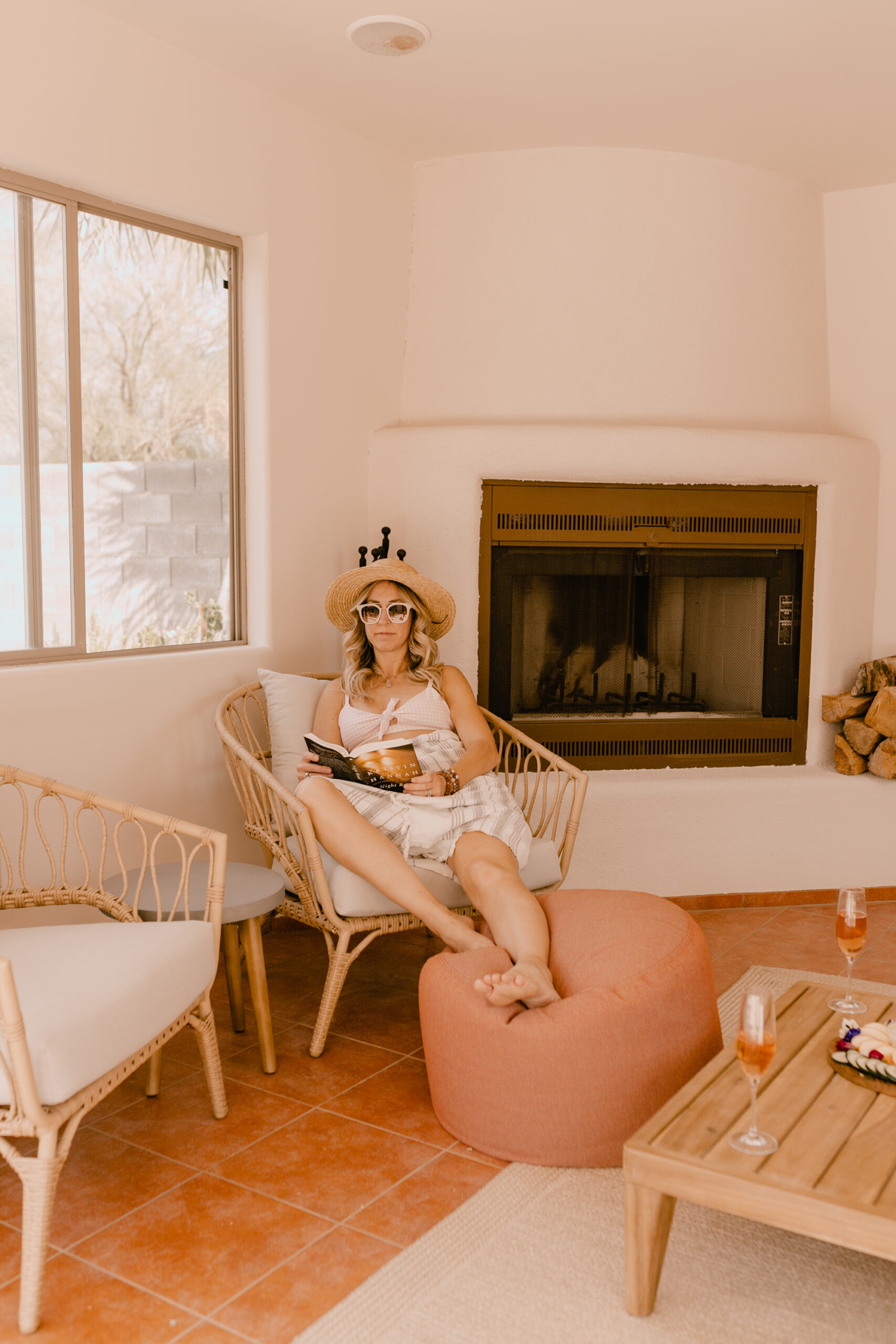 These two Lucra Lounge Chairs are SO comfy. I love the depth of them and the cushioning is just perfect. The synthetic wicker is designed to endure outdoor weather. And the are actually stackable for storage in the off season! The little Atra Round Concrete Table in between is the perfect perch to set down your drink.
I paired our chairs with this cute little Olara Ottoman, shown here in the Saffron Red. It actually comes in five different colors! The insert is made with breathable polyester and polystyrene beads, which means its lightweight and has an almost bean-bag-like quality, making it easy to move around for versatile seating.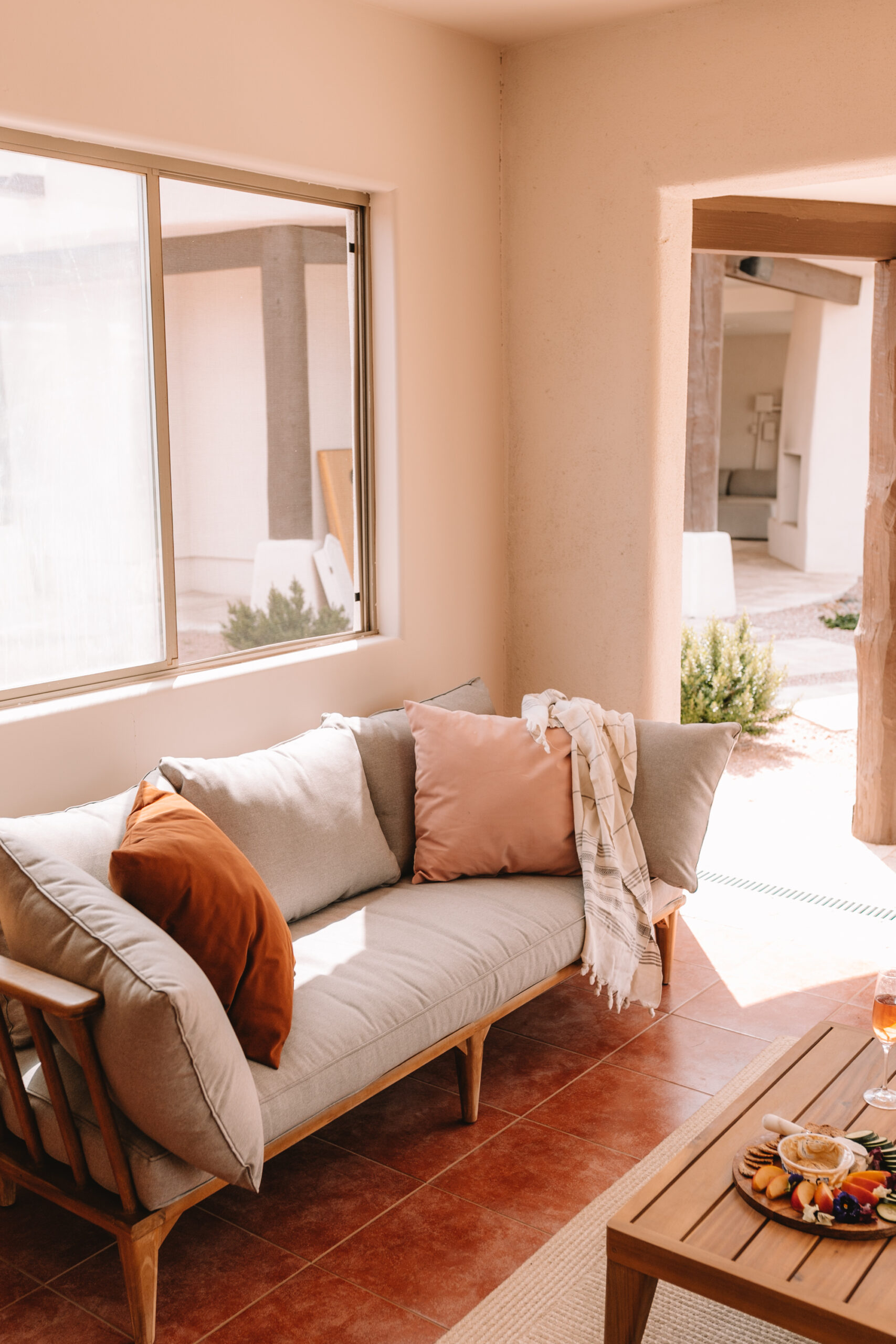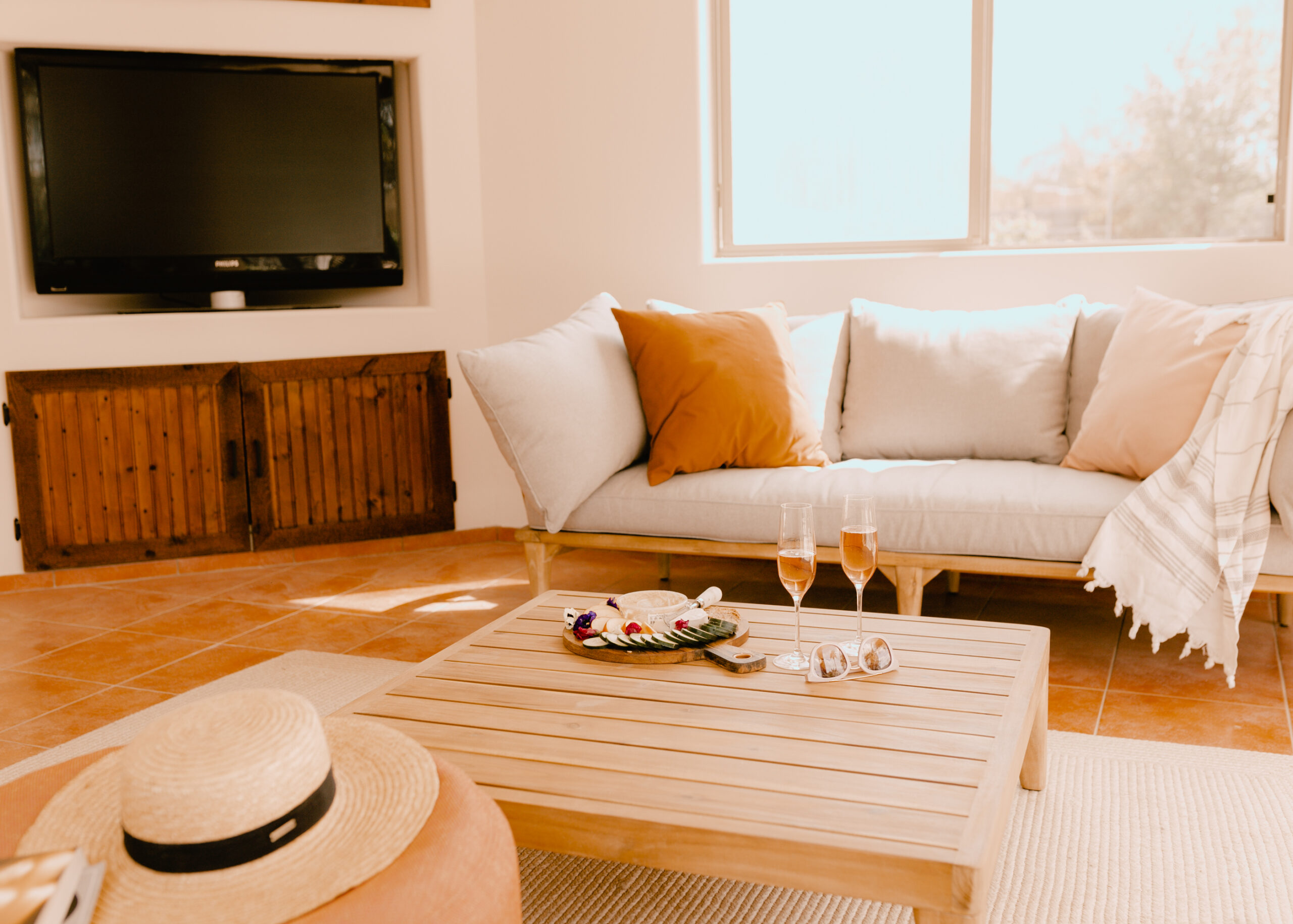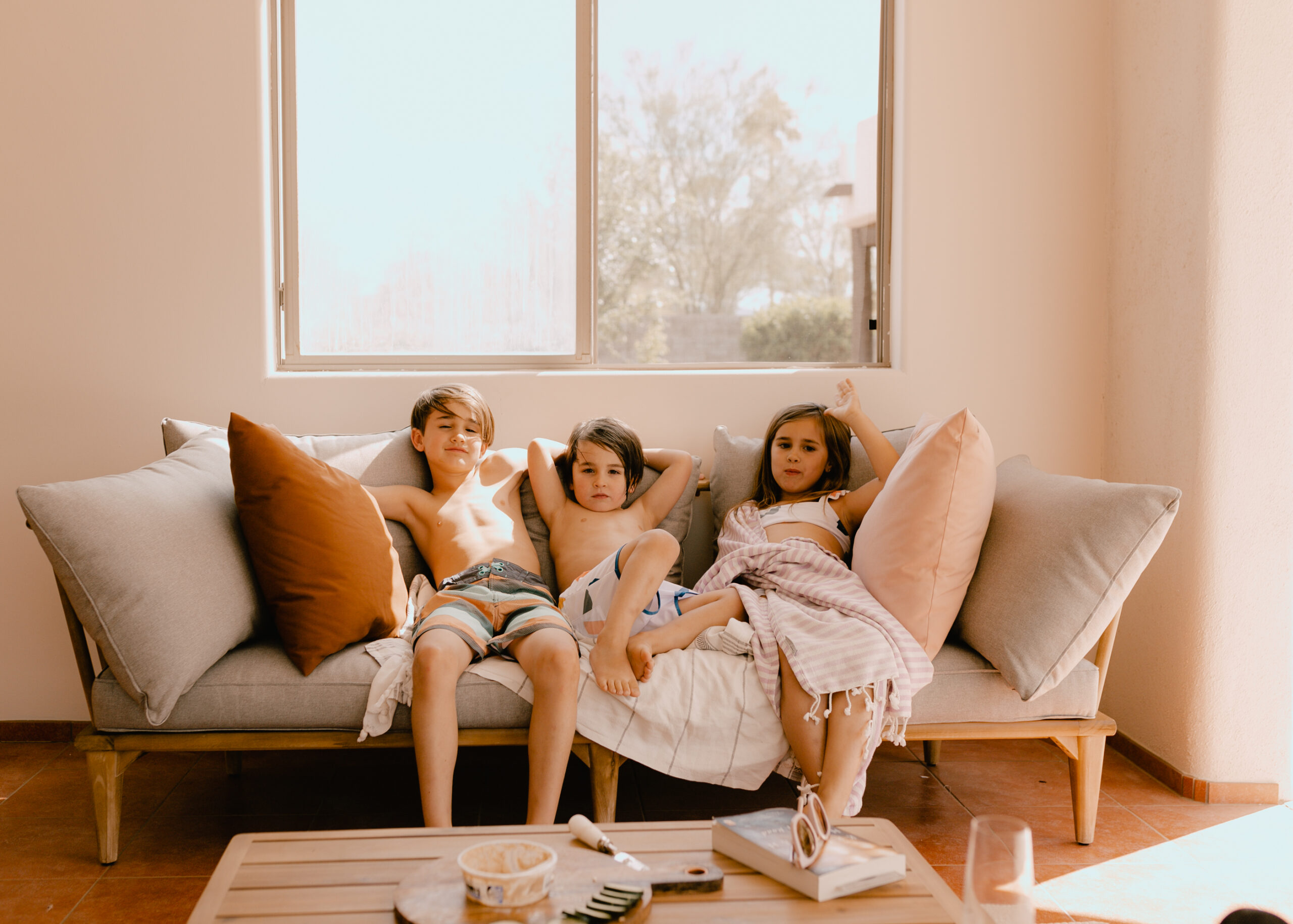 When I first saw this Sora Sofa, I knew it was the one for me! I am obsessed with the mid-century styling on the legs and around the back. And I love that it can hold all my people, or all my pillows, or both, lol! Many out Article's outdoor furniture pieces, like the base of this couch, are made from solid Acacia, which is durable for outdoor furniture in most any climate. So I know it is quality made, and will stand the test of time.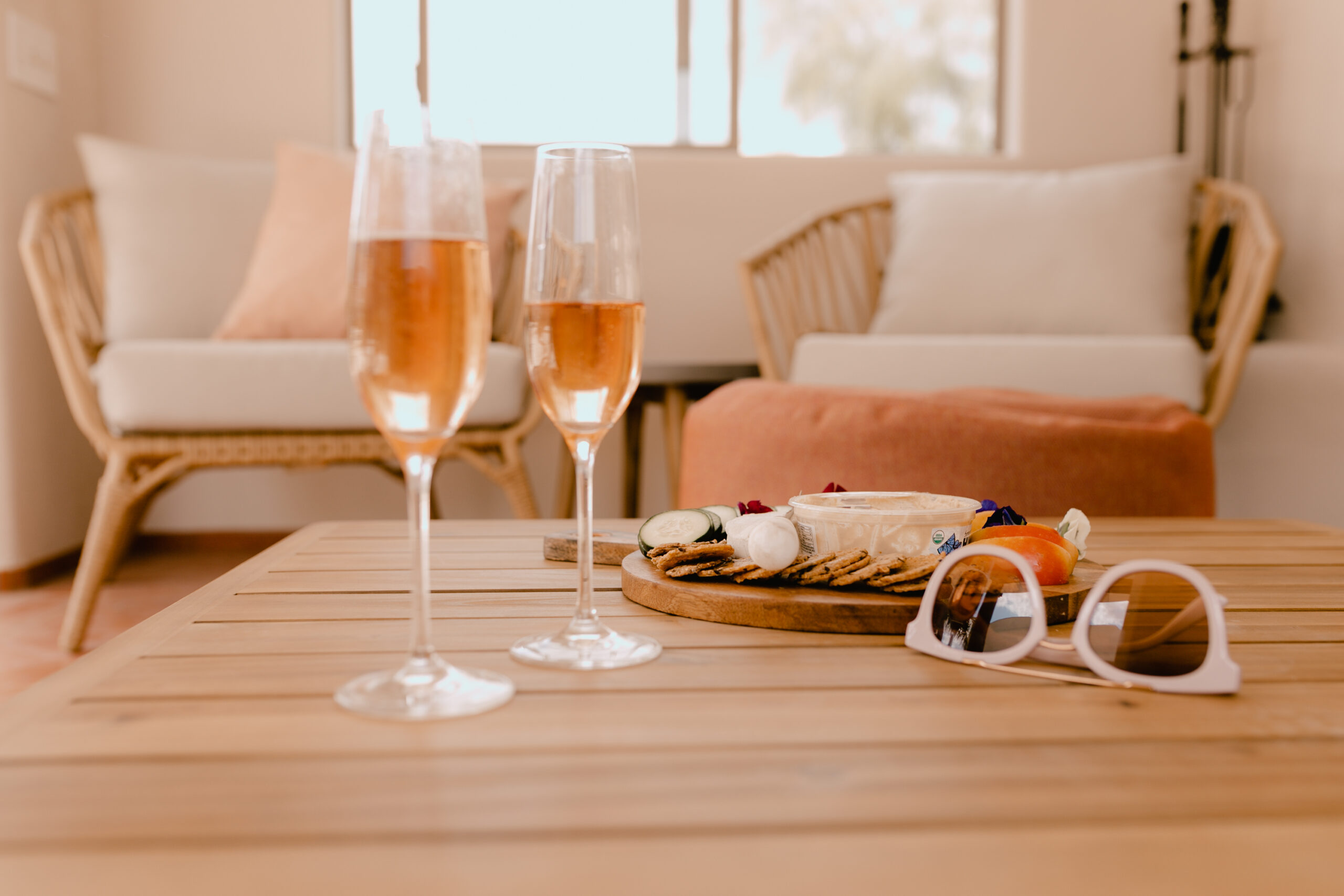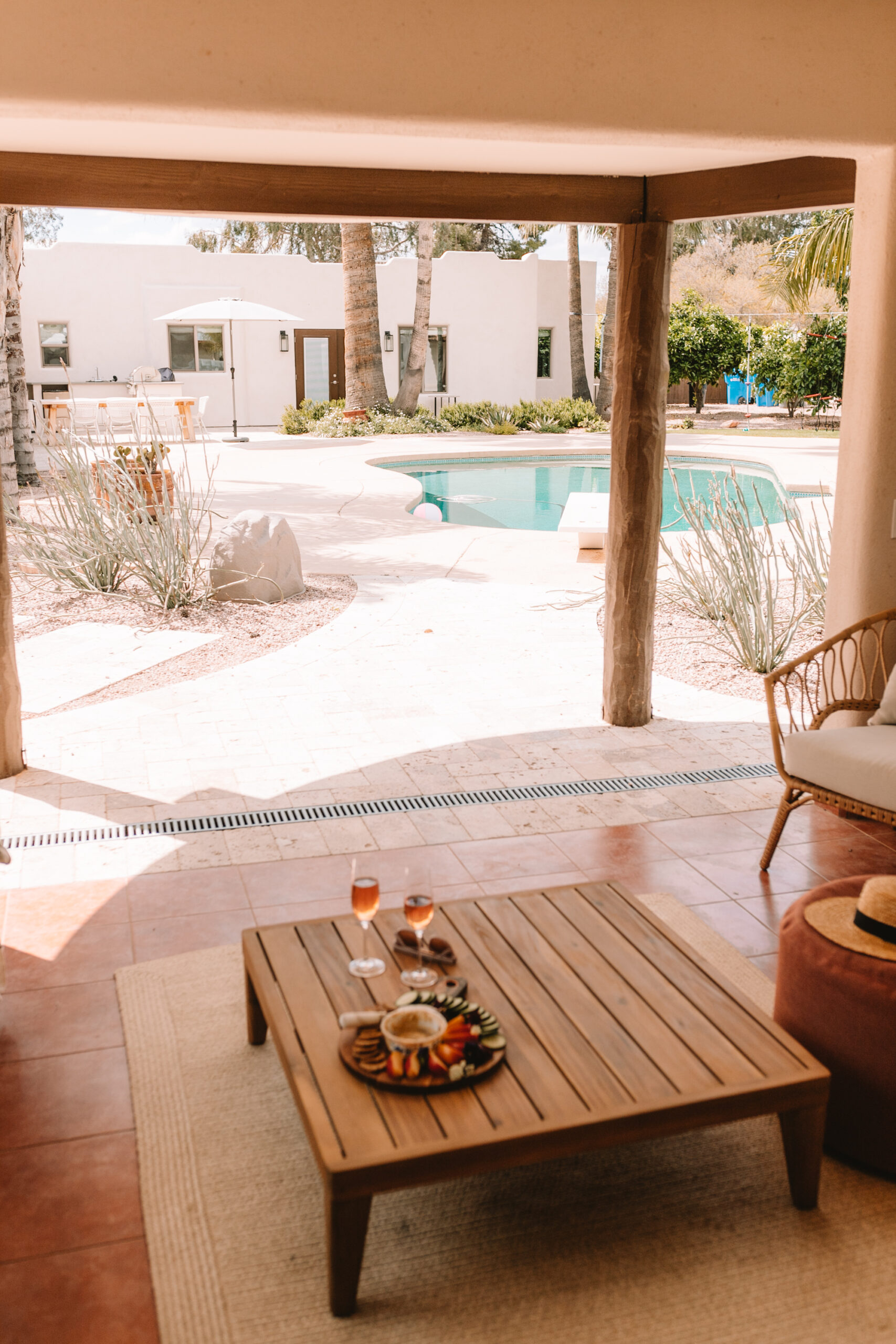 Speaking of solid acacia, this Urba Coffee Table is also made from the same natural material. I chose it because it's bigger than some other coffee table options, and in this room it could again become multi-functional, depending on how we are using the space. I love it's simple design, and I feel that it really brings the room together.
There are days when being stuck at home feels like a real downer. But then again, at least we get to do it from here. I don't think I will ever tire of this view!
So that this installment of the ldl home: our pool ramada update. What do you guys think?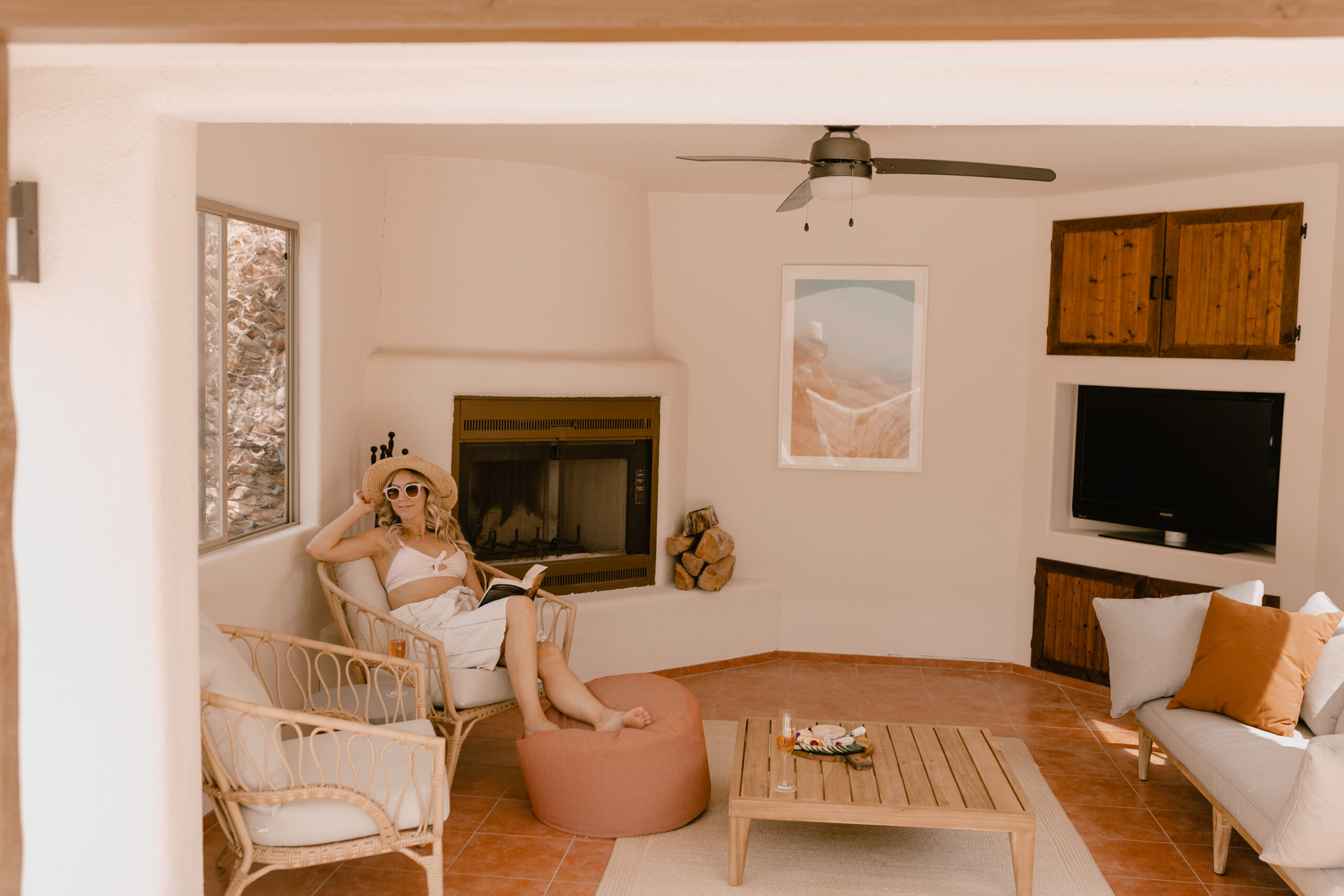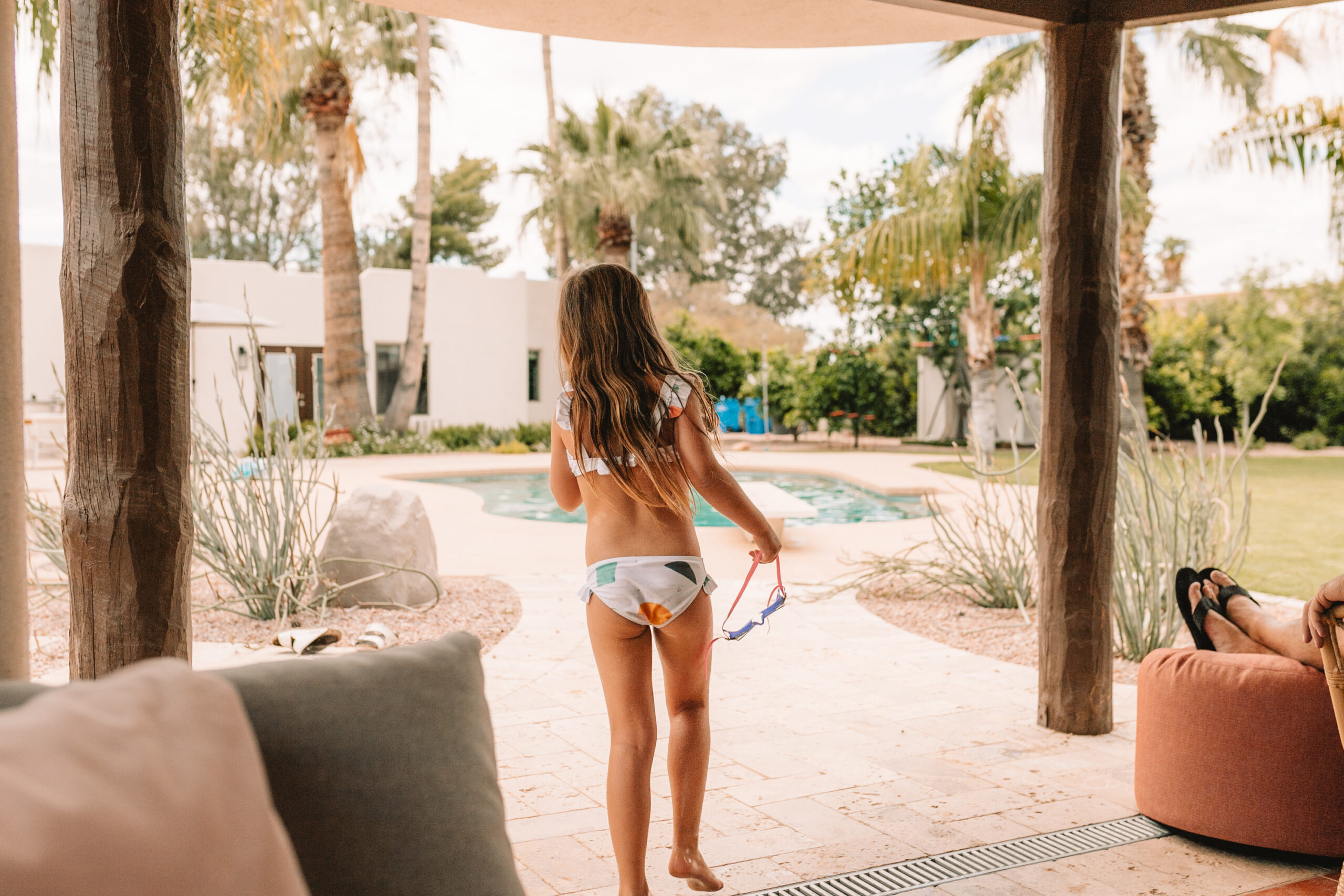 If you're in need of a quarantine project too, you should know that Article offers free ground shipping on orders over $999, and a 30-day satisfaction garantee. And currently, they are offering no-touch delivery, so you don't have to worry about a thing!
Atra Side Table c/o Article
Lucara Lounge Chair c/o Article
Sora Sofa c/o Article
Urba Coffee Table c/o Article
Olara Ottoman c/o Article
Watercolor Print c/o Max Wanger