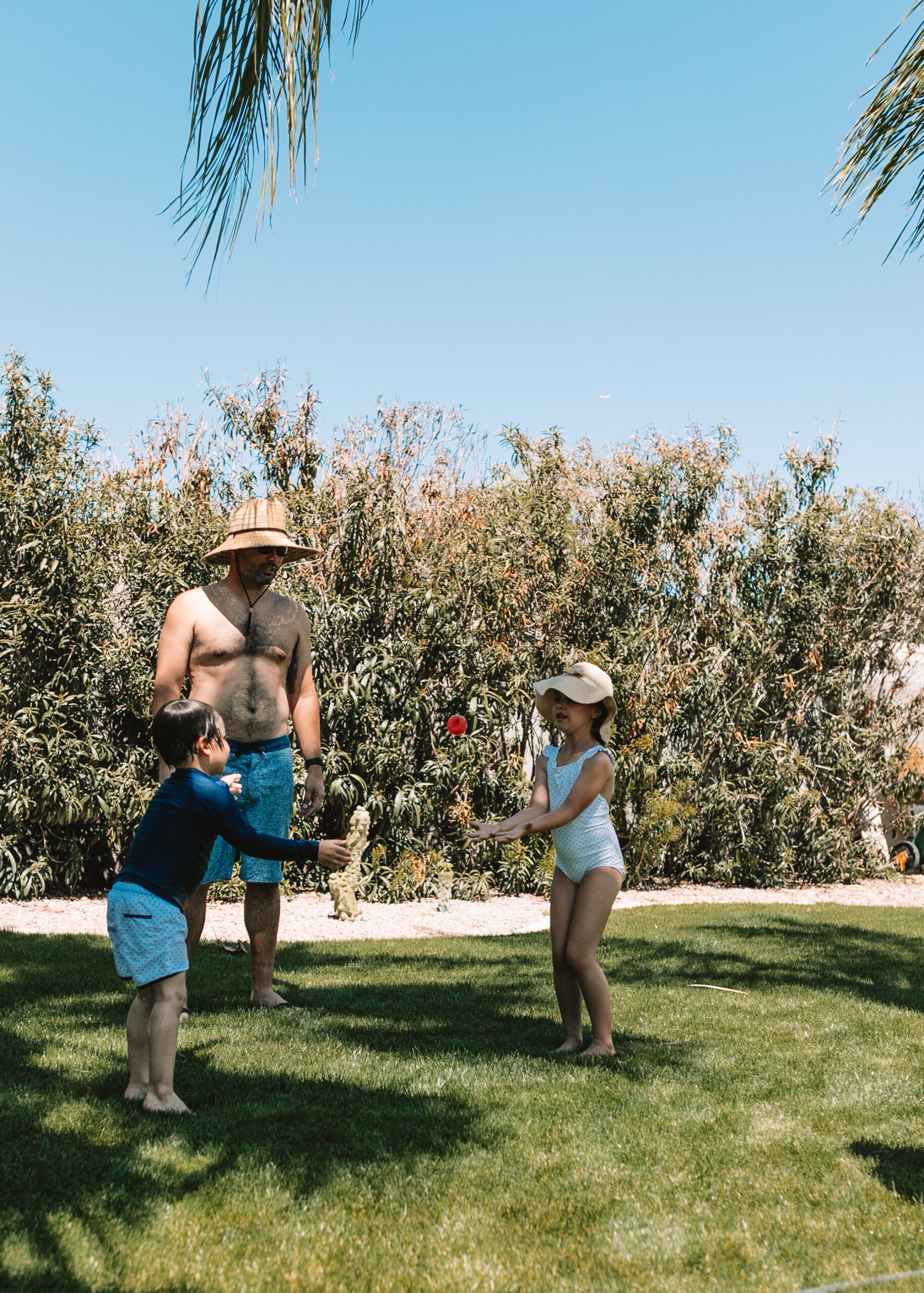 Like everyone else right now in the wake of the COVID-19 pandemic, staying home full time, homeschooling, and still trying to work from home, I am just over here trying to navigate our new "normal." I've had my highs and lows for sure, depending on the day, week, or even the hour. But now we have homeschool mostly up and running, zoom classes to work out, and we are starting to find a rhythm to this new stay home life.
One thing I know for sure, both for myself personally, and for my family, is that we thrive on routine. I also believe it's important for all of us to have some sense of normalcy. I've deleted a bunch of fun things off my calendar this season, but eventually, it was just making me too sad. I couldn't delete it all. One of the things that was still hanging out on there last week was Kindergarten Field Day for my daughter's class.
Field Day was always one of the BEST days when I was in elementary school. I have very fond memories of it. I know it's a day my kids look forward to too at their own schools. So, I decided to use what I had, and create our very own Backyard Field Day!
We are so lucky to live in Arizona, where the weather is just about perfect here in the springtime, so we might as well take advantage. And although I did have the kids finish up their required assignments for the day before we began, I still felt like these fun activities were also learning activities. There was creative thinking and reasoning involved in most the activities we set up. And it killed an afternoon in the best way possible. All in all- I call it a total mom win!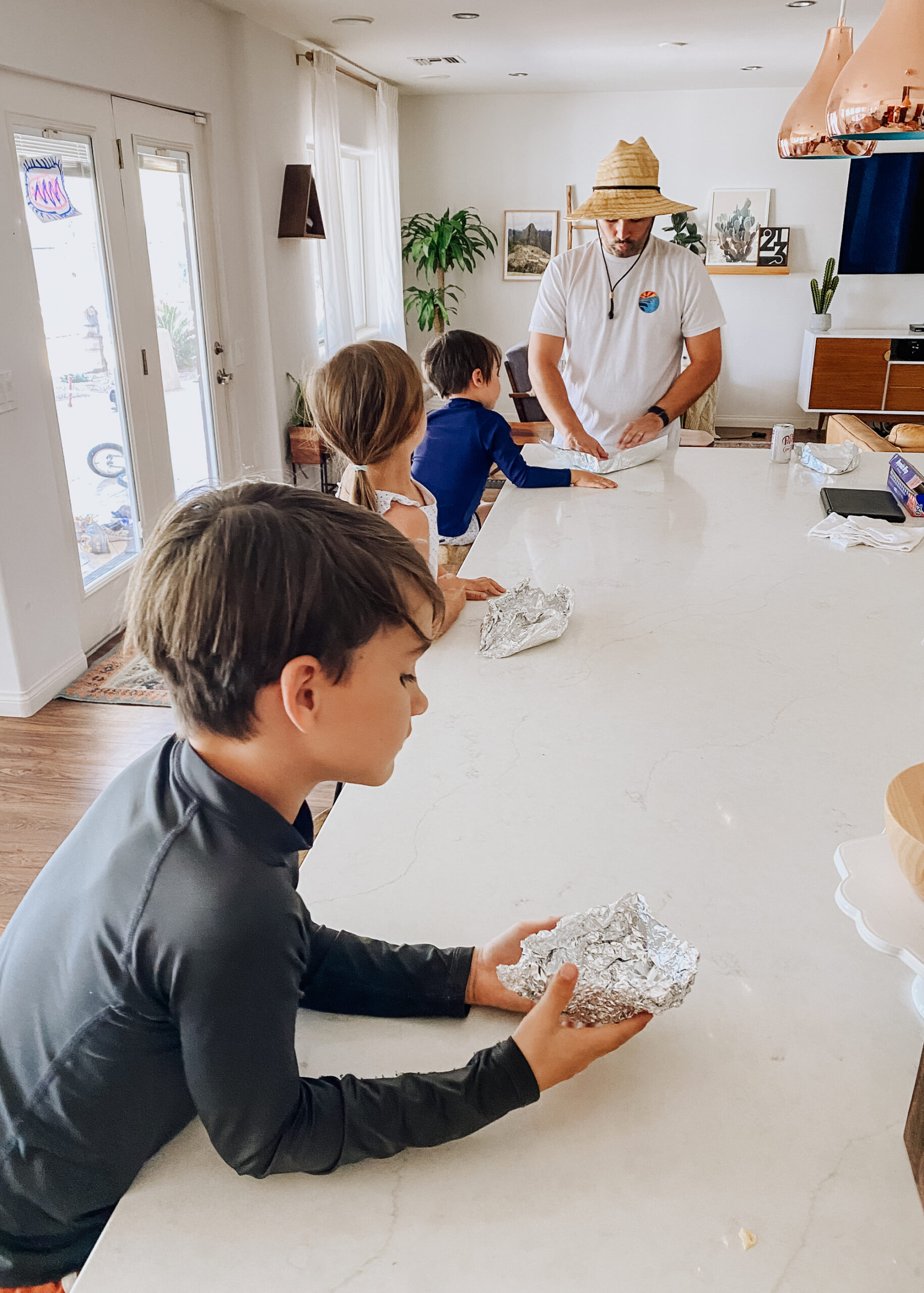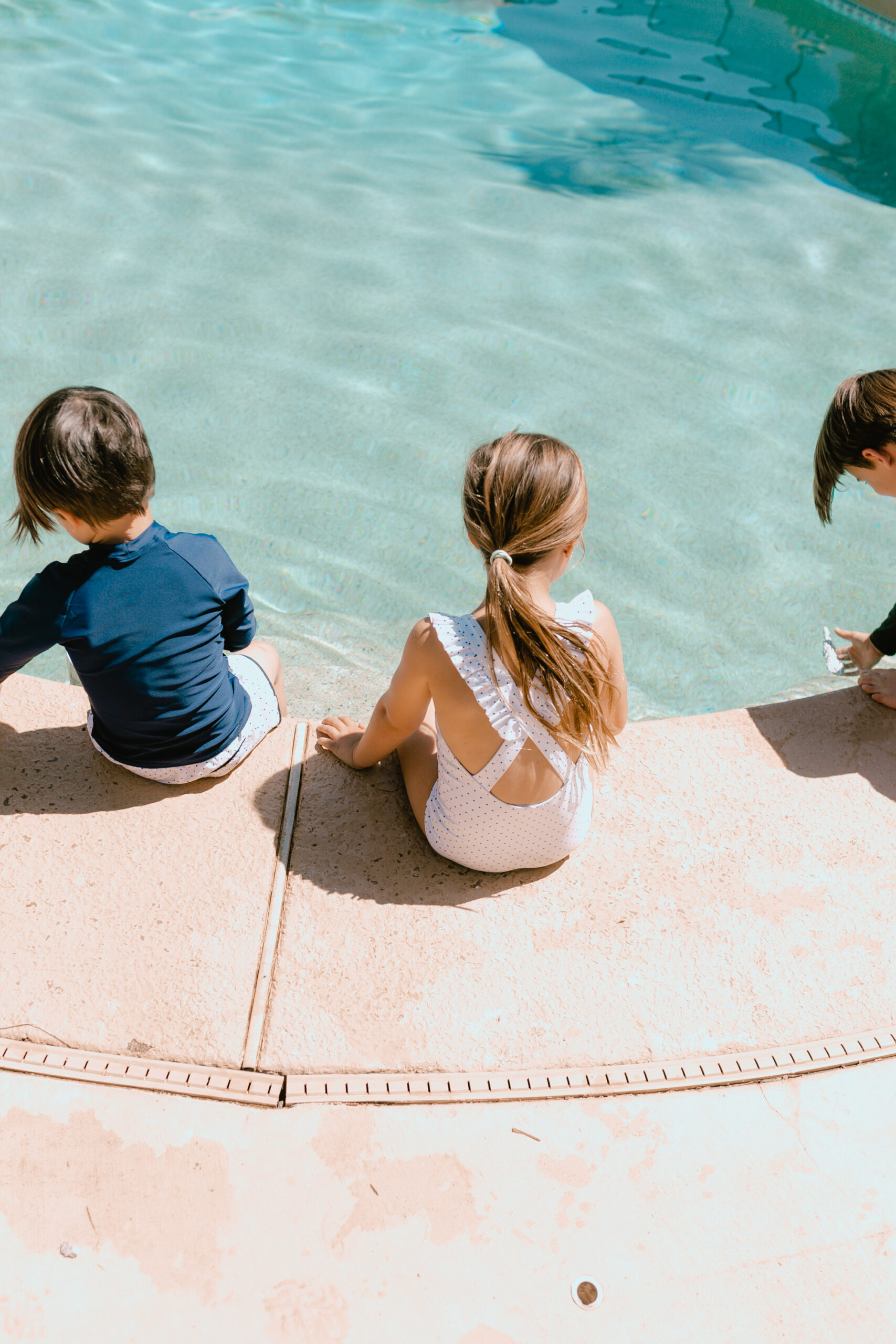 foil boat STEM activity
This first activity was one a friend of mine had done earlier in the week. It's pretty simple, but requires creative thinking.
Give each kid/adult a piece of aluminum foil and ask them to create a boat. The boat can be any shape you want. Ask the kids: Do you think the boats will float? Which shape of boat will hold the most weight?
Test the boats in water. If you don't have a pool like ours, you could also use a small inflatable pool, or even a bathtub. Did the boats float?
Once the boats are floating, start adding weight. We used some spare change we had laying around. Mostly pennies, but we did distribute nickels, dimes, and quarters too. Which shape of boat held the most weight before skinking?
Clean up: dive for or fish out all of the coins! Who can get the most?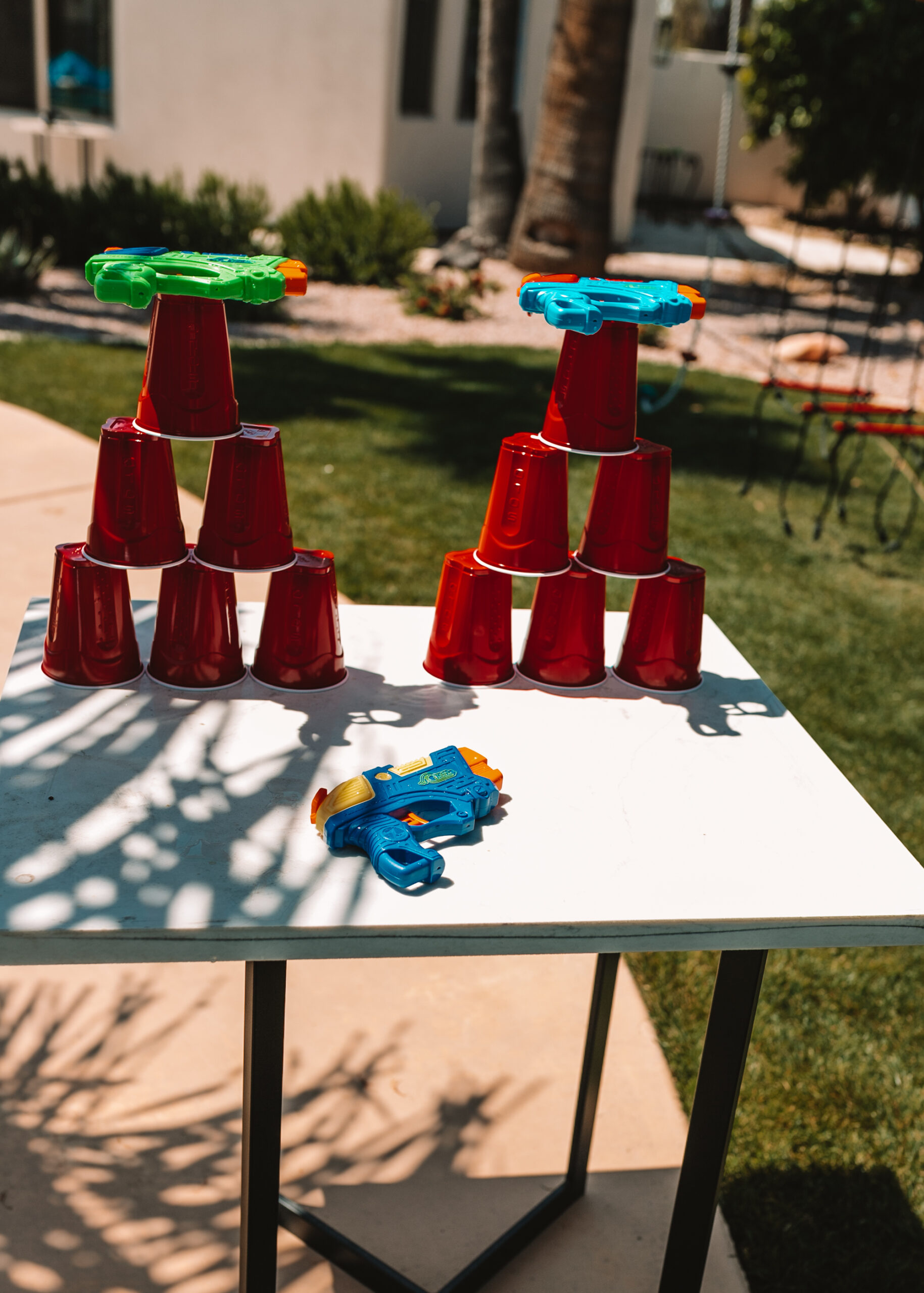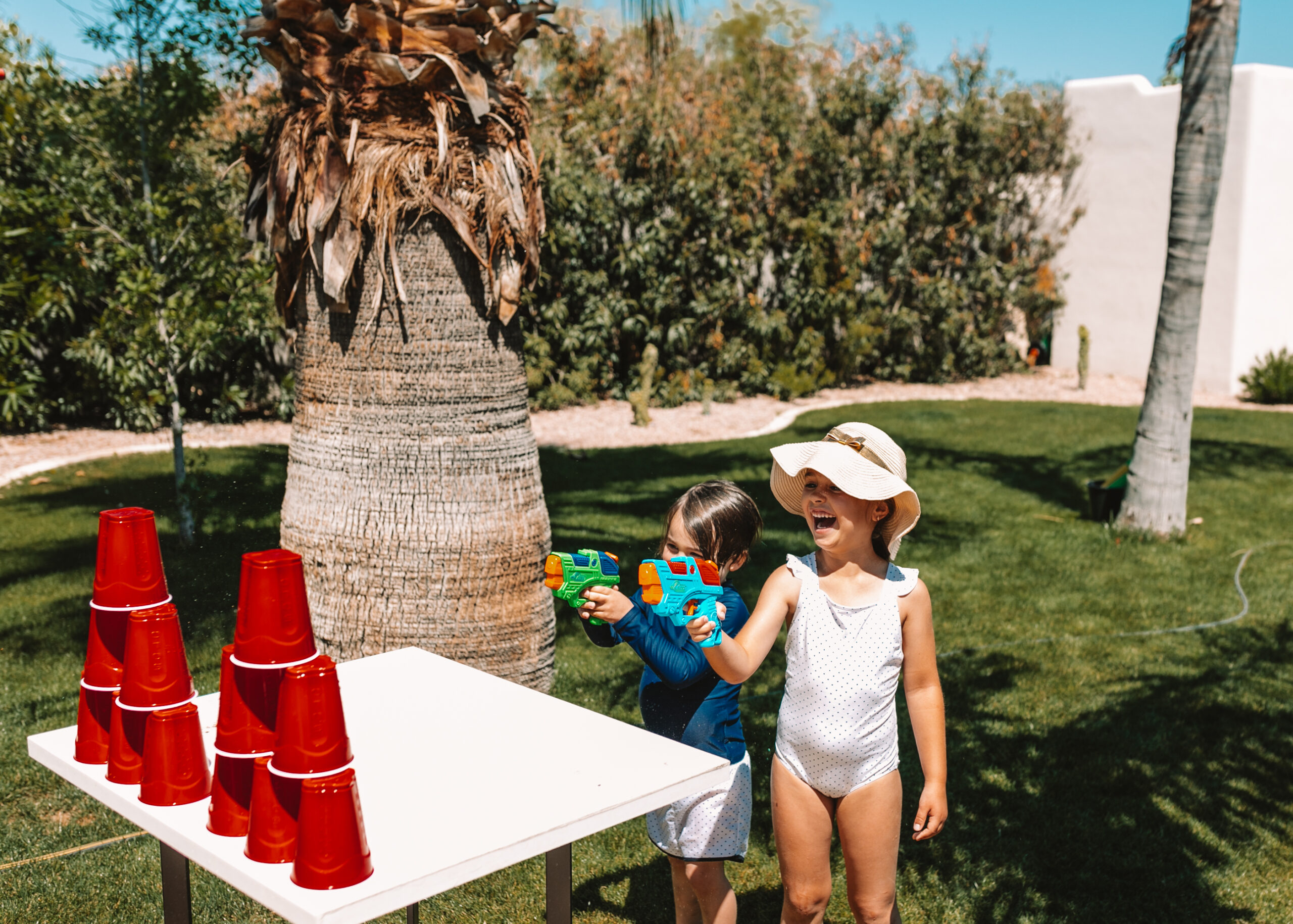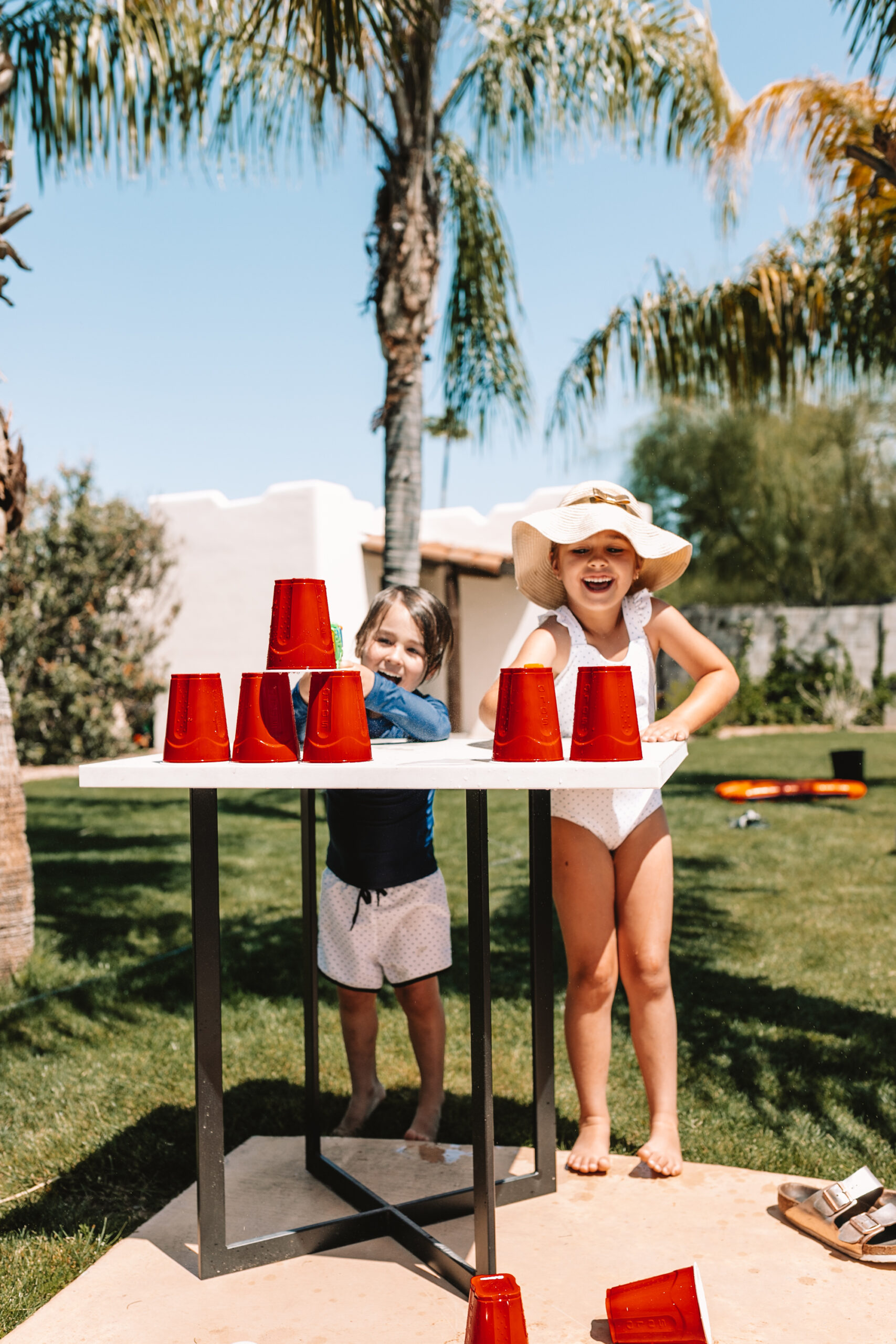 water gun cup shooting
For this game, you will need 1 water gun per plastic cup tower. It's best to have two side by side like this, if possible. Again, I just used what we had, but I did discover that a more powerful water gun would've probably worked better. Near the end of the game, they just got frustrated and started pushing the cups off the table, haha.
Set up a tower of 6 cups on a table. Set them near the end of the table, to make them easier to knock over.
Have both players start at the same time. See who can knock them all over first!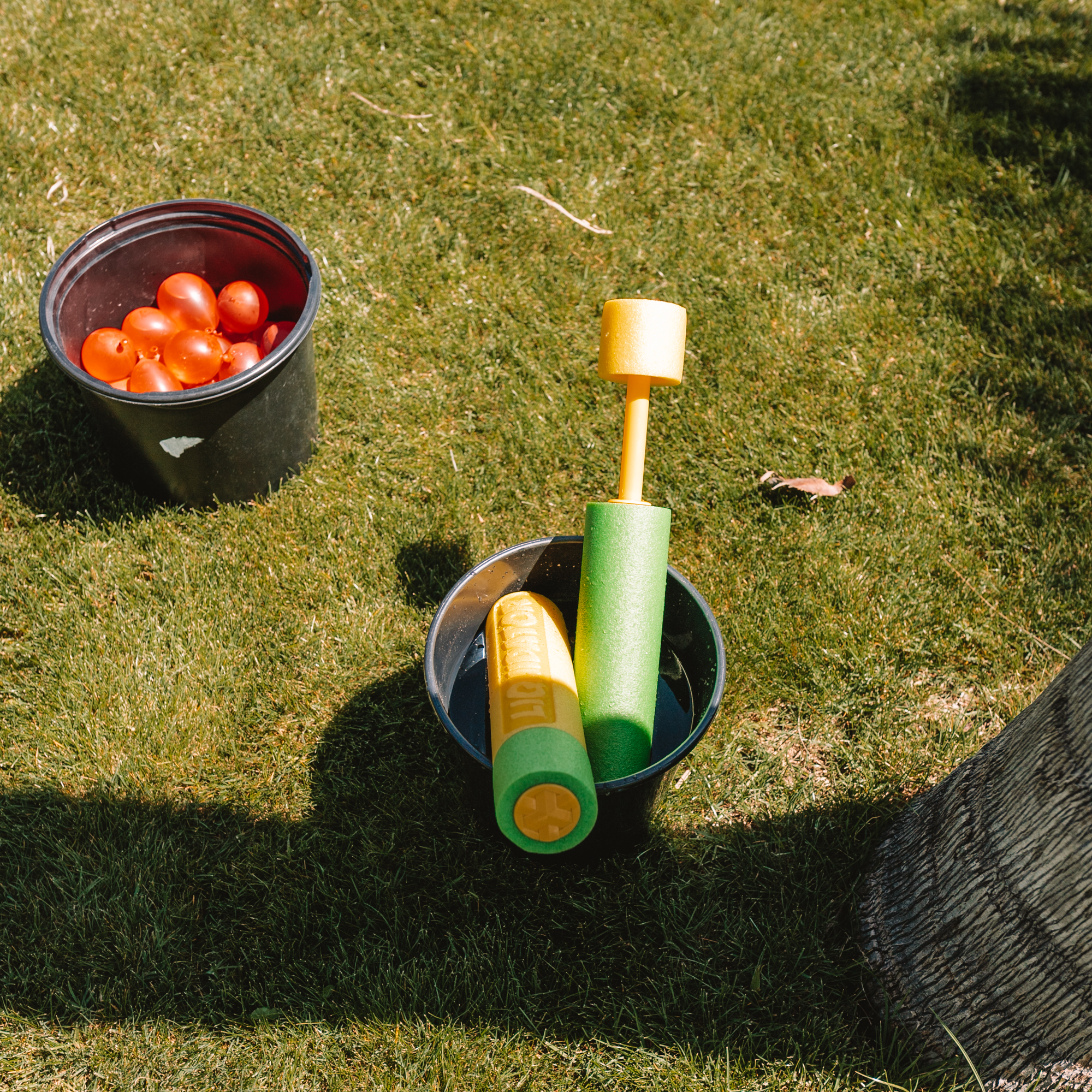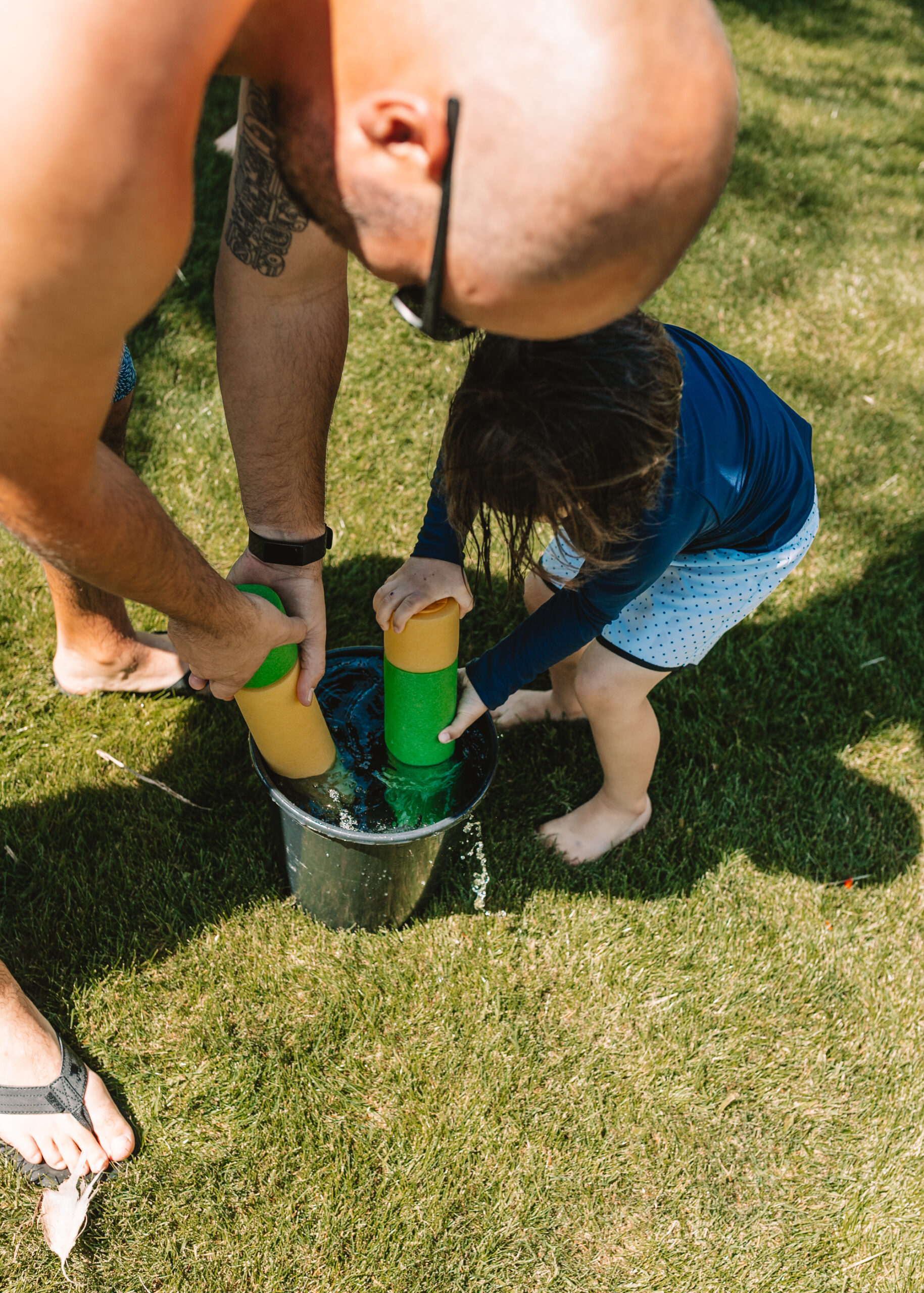 fill the bucket
In this activity, you will need 3 or 4 buckets. We used three, the one shown being the full bucket. You also need two of these water squirters. The two on the other side should be the same size, but empty to start.
Set a stopwatch for 30 seconds (or time increment of your choice).
Players race to see who can fill up their bucket with the most water before time runs out!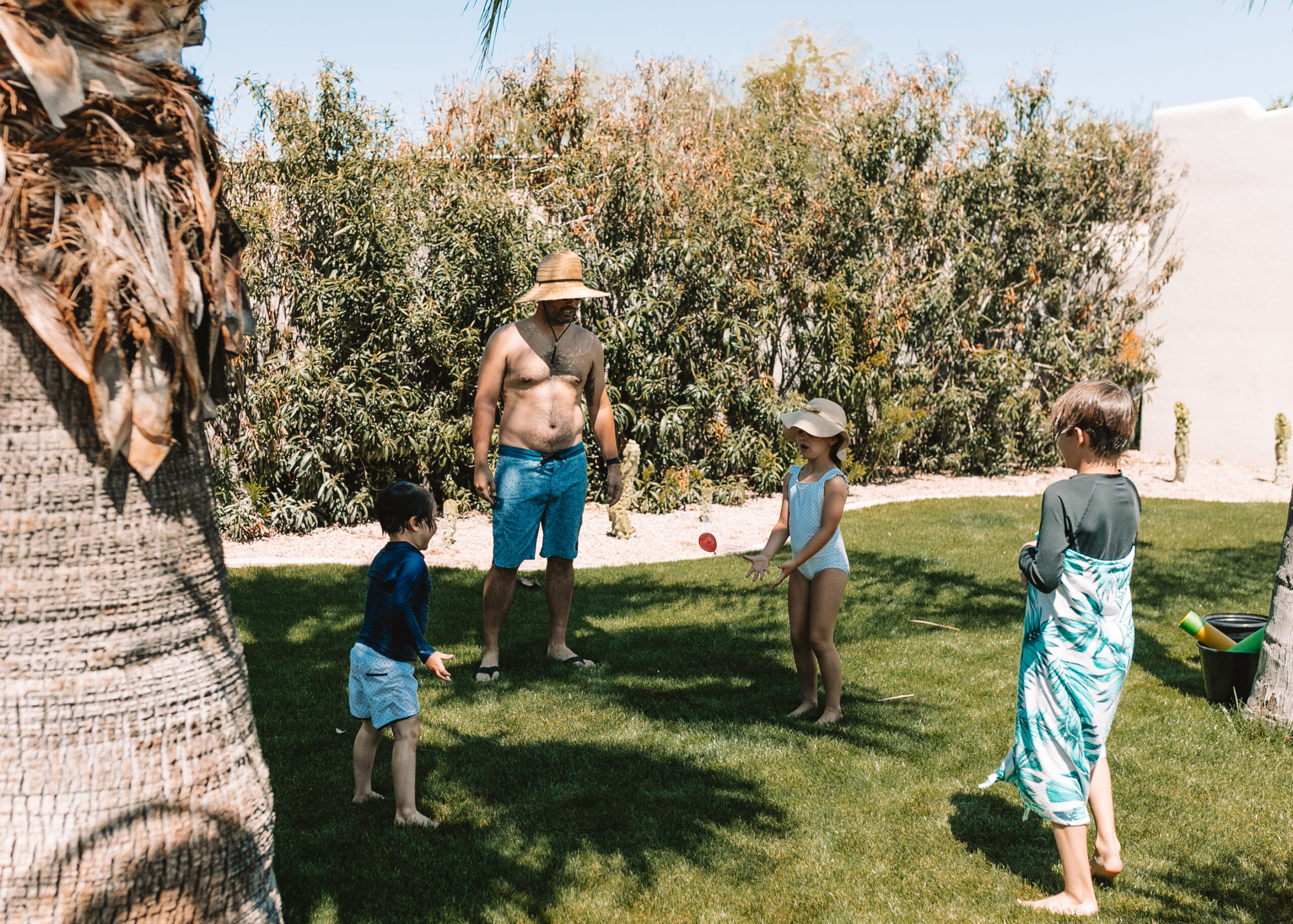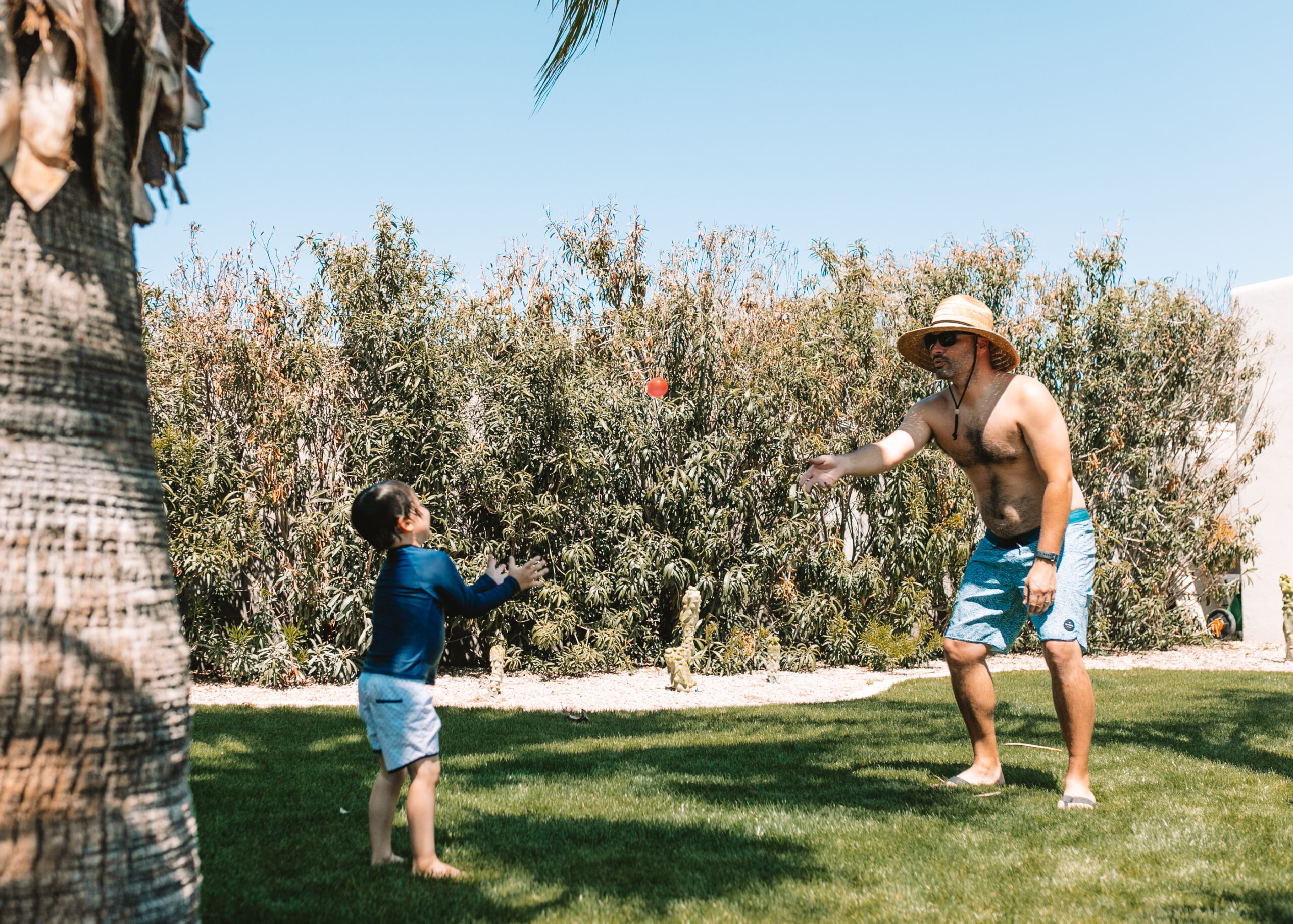 water balloon toss
This is a good old fashioned one! My kids tend to want to revert to throwing them at each other, so it's nice to start with a more gentle, easy game. 😉 I found an extra large pack of Bunch O Balloons at Costco pre-quarantine. But I only used one bunch for this activity, so any size you can find will be enough.
Find a partner tand about 3 feet apart to start. Start gently tossing the water balloon to one another.
With each successful pass, the passer takes one step back. See how far you can go before the balloon drops and breaks!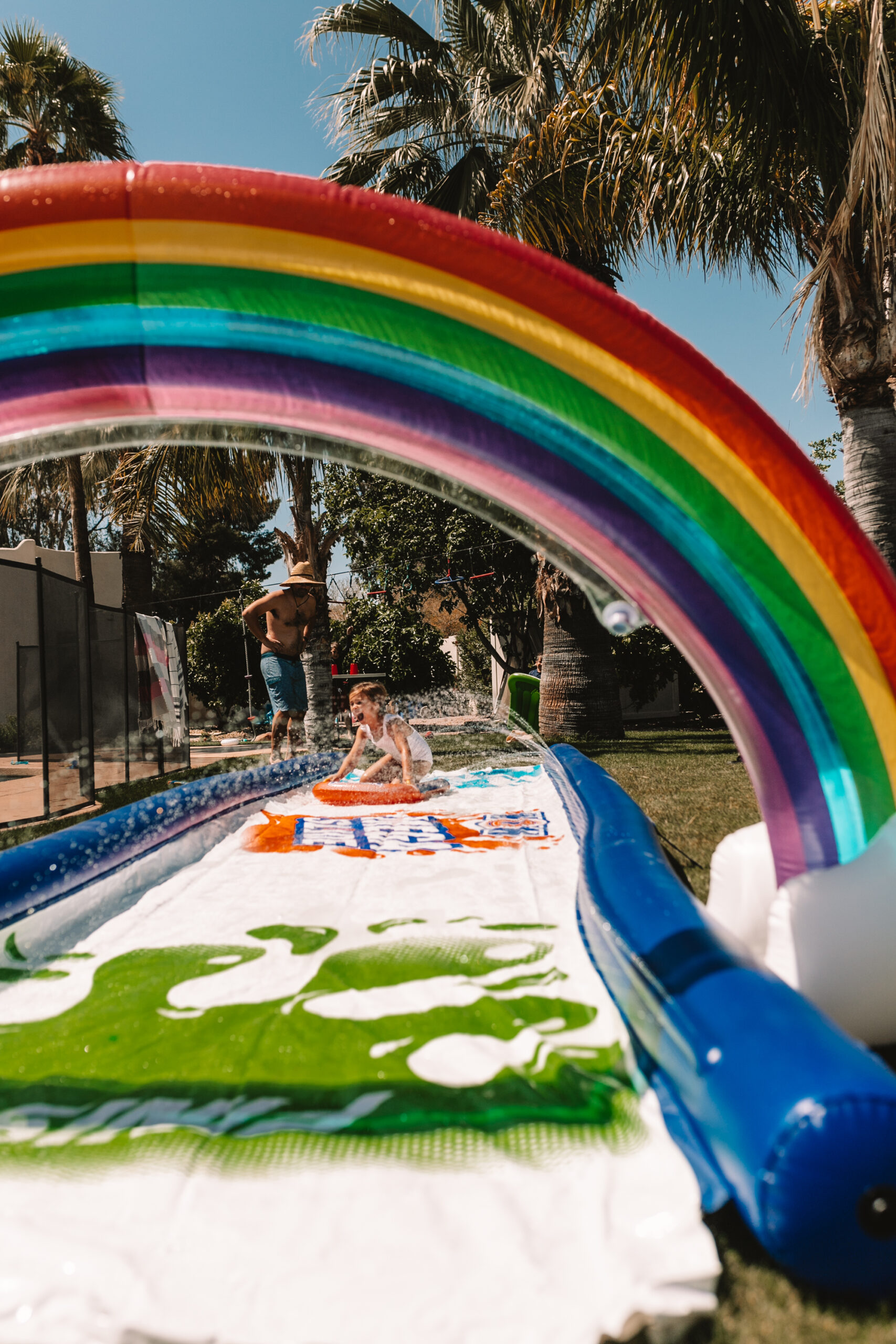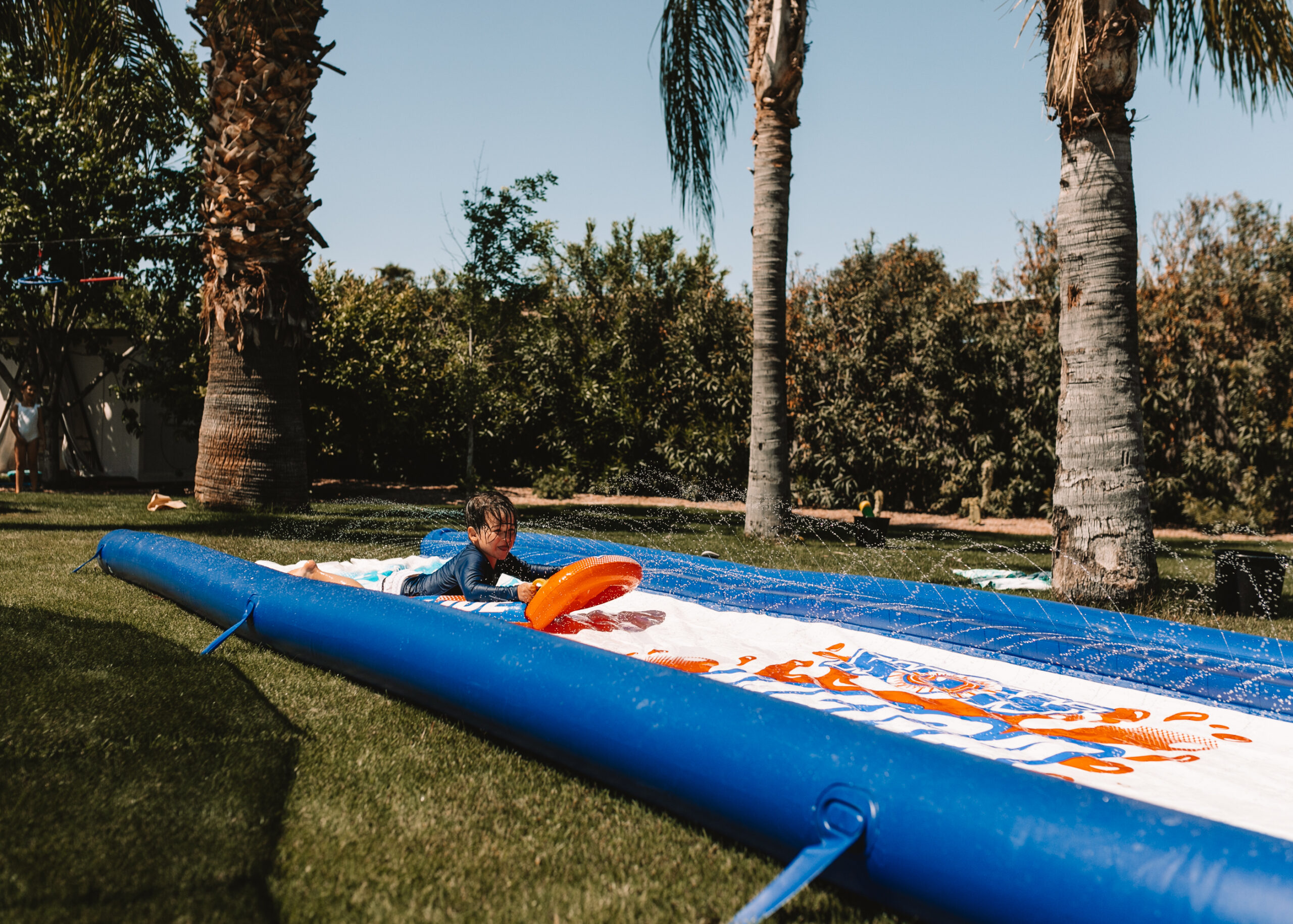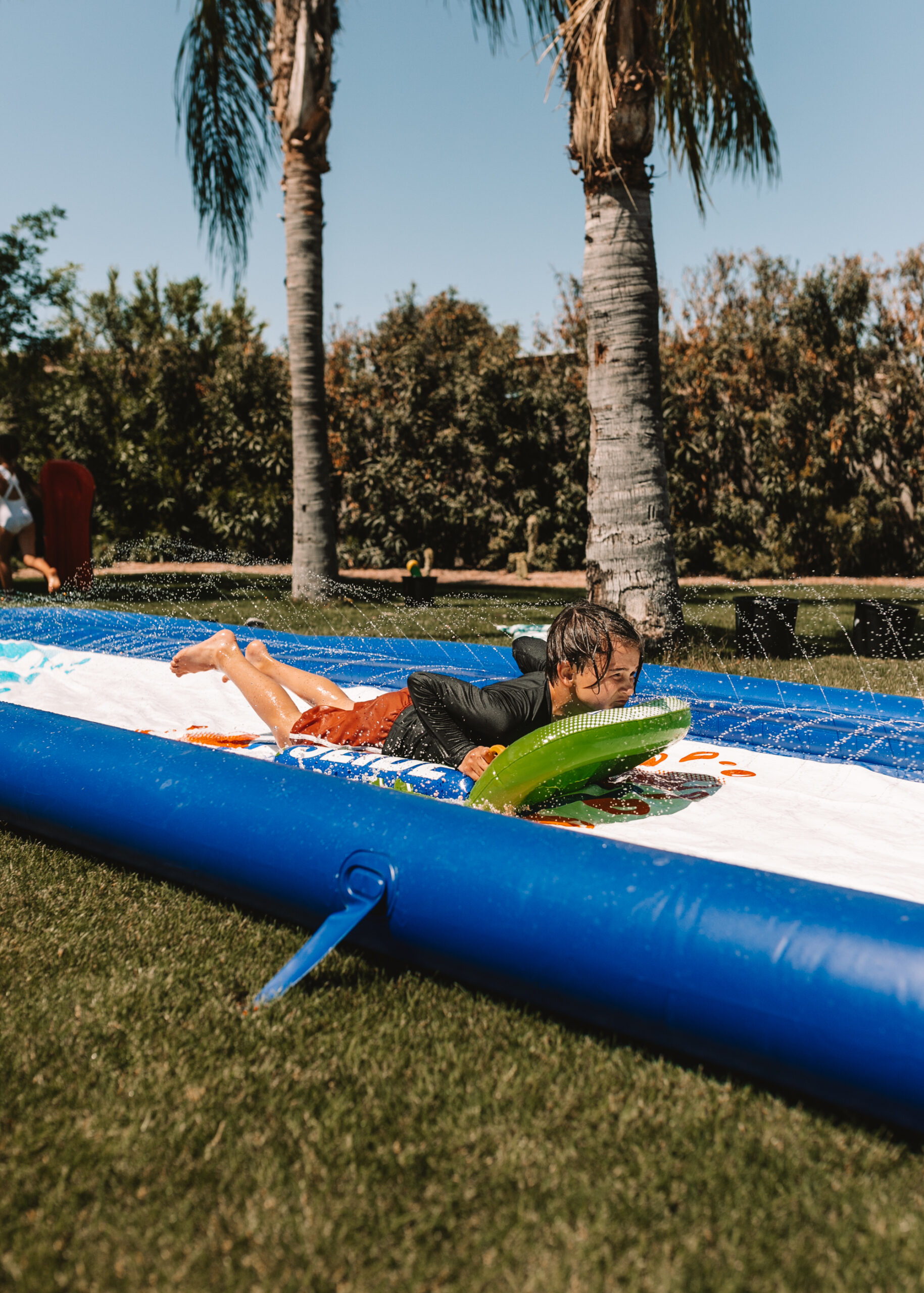 slip and slide
Yet another classic, and also self explanatory! The kids were asking to go on this ALL day, but I had to save the best for last! I found this one last year for our son's birthday party at Costco. This exact model is not sold there anymore, but I did find it here.
The rainbow inflatable is a separate piece that is also a sprinkler! We also had this one from last summer. We just only turn on one at a time, to save water. You can find the inflatable rainbow sprinkler here.
It was a some work to set everything up, but SO worth it for the joy it brought our family on our backyard field day. Since we are home together, we might as well enjoy our backyard, our beautiful weather, and each other, right? I also will be adding the videos I took from the day to my Instagram Story Highlights, if you want to see some of these activities in action.
What are some backyard activities you could set up to create your own field day? I'd love more ideas! Again, I encourage using what you already have, but if you're looking for some of the things we used, I will link them below here for ya. 😉