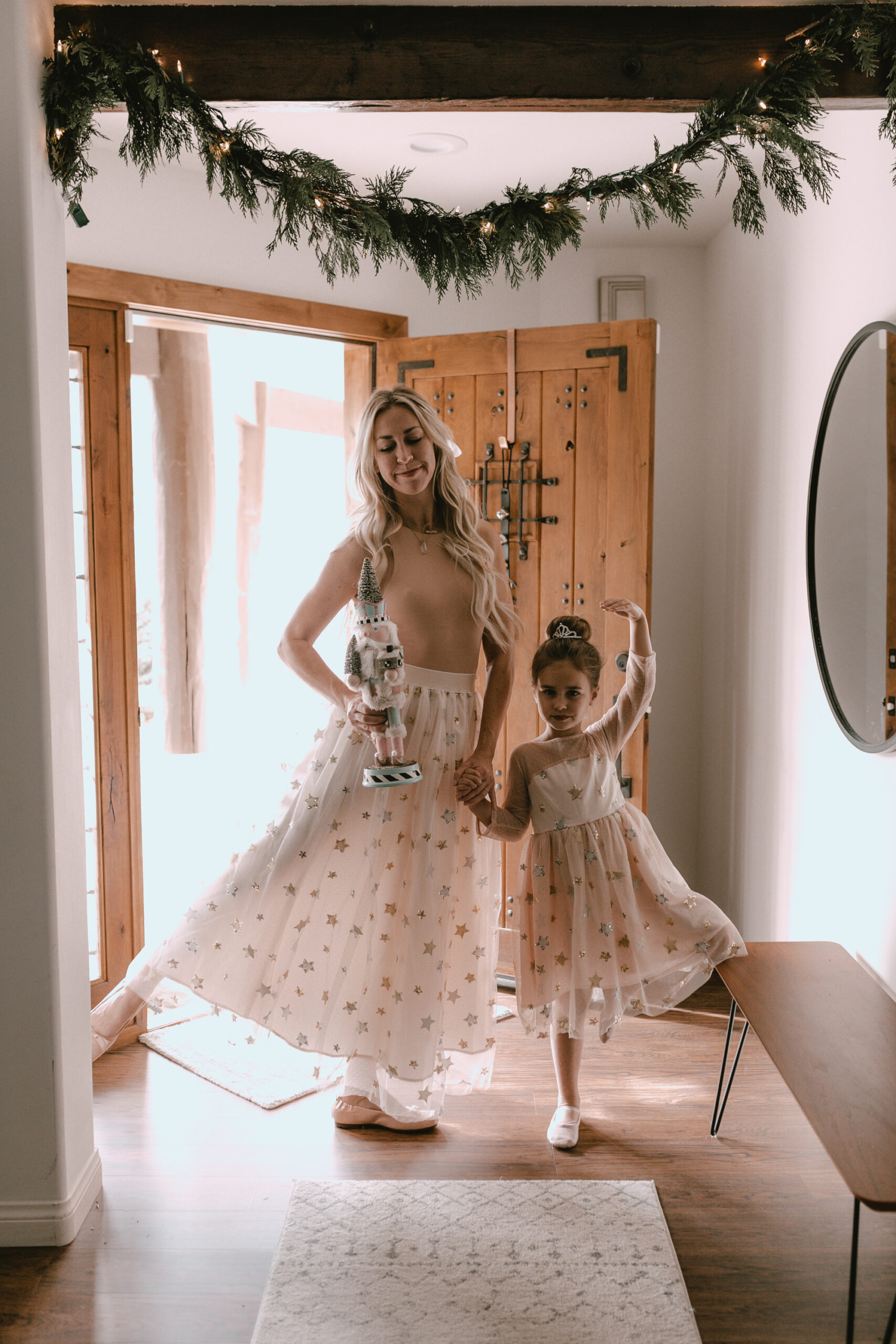 10 family friendly festive fun things to do in phoenix – say that ten times fast – HA.
I've sort of been writing this blog post in my head for years, and now feels like the write time to hit "publish." It's one of my favorite times of year in general, but it's even better here in our beautiful Phoenix weather as the time to get outside and enjoy some festive fun. It feels like the most magical way to make memories with my family, even when there's no snow on the ground. We have tried all of these activities over our seven years of living in the valley of the sun as a family, but we've never done them all in a single year. I think last year I doubled down on outdoor holiday activities due to lack of family coming to visit, haha. So I feel like I have a lot to share on this topic! Hopefully this will give you some fun ideas for this holiday season, but don't worry about hitting them all at once. 😉
This year our family will unfortunately be missing out on some of our standard festive fun adventures we would normally do (thanks to quarantine), but that doesn't mean you have to! Here are some of our most favorite family friendly things to do in and around the Phoenix, Arizona area during the holiday season.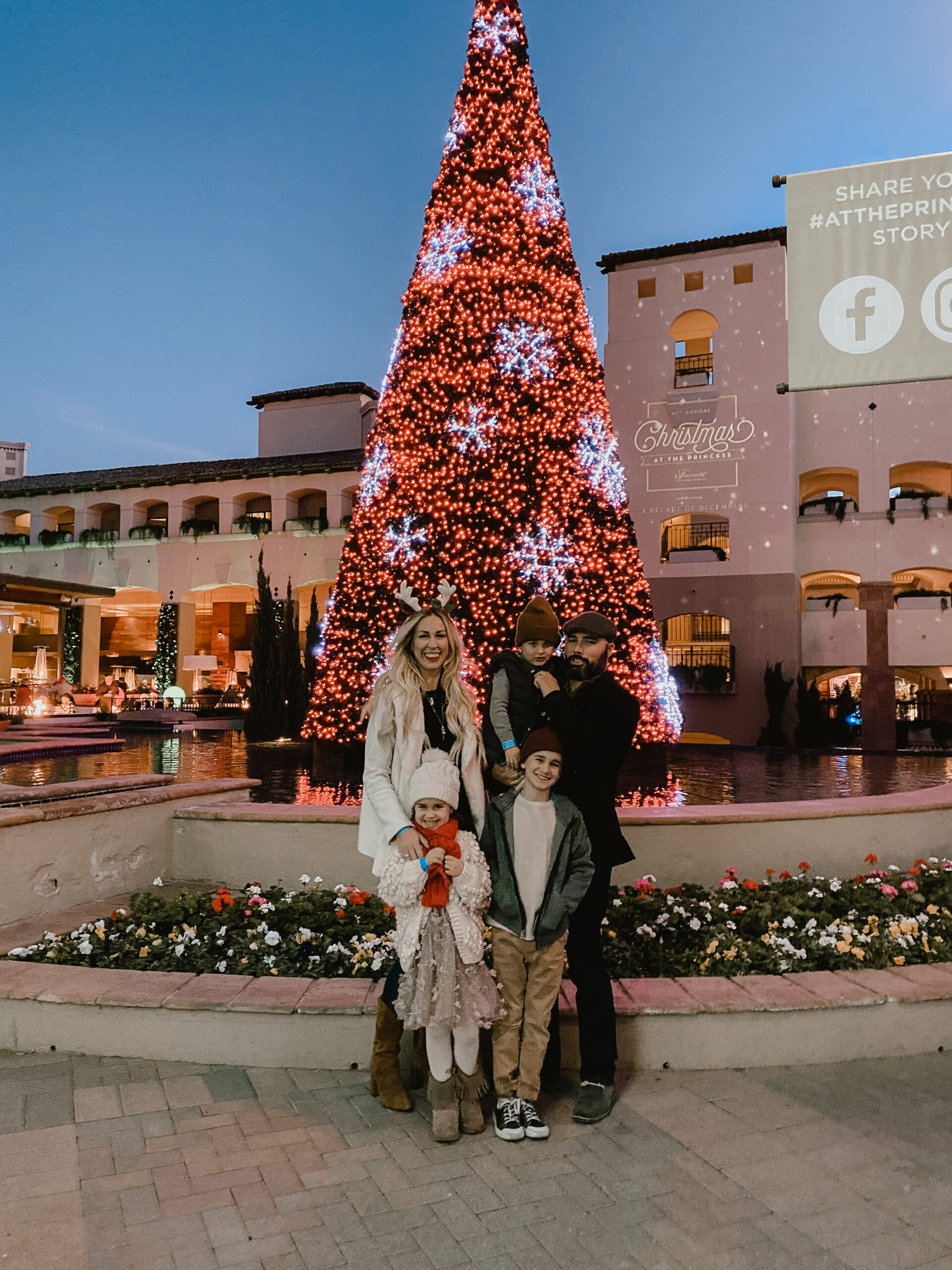 when: November 16th – January 2nd // Generally 5:00 pm – 9:00 pm but check here for your exact dates and attractions
where: Fairmont Scottsdale Princess, Scottsdale
You do not have to book a stay at the Fairmont Princess Resort in order to enjoy a train ride to see the magnificent lights around the property, carnival rides, s'mores by the fire, and even ice skating! Self parking includes up to 4 wristbands and is probably the most popular option at $78, or ride share for $18/person/wristband. The wristbands get you into almost all of the activities, but the ice rink, photos with Santa, igloo rentals, private fire pits, and of course food + beverage are an additional cost. (Note: there are plenty of free fire pit areas for warming up and s'mores in the S'mores Land ride area.) OR you can book a restaurant reservation and if you spend over $75 (easy to do at the restaurants there) you get "free" parking and the 4 wristbands too.
If you book early enough, there is a Groupon for this too that will save you a few bucks, but this year's is already sold out! I'll leave the link here though, for those who want to book early next year. 😉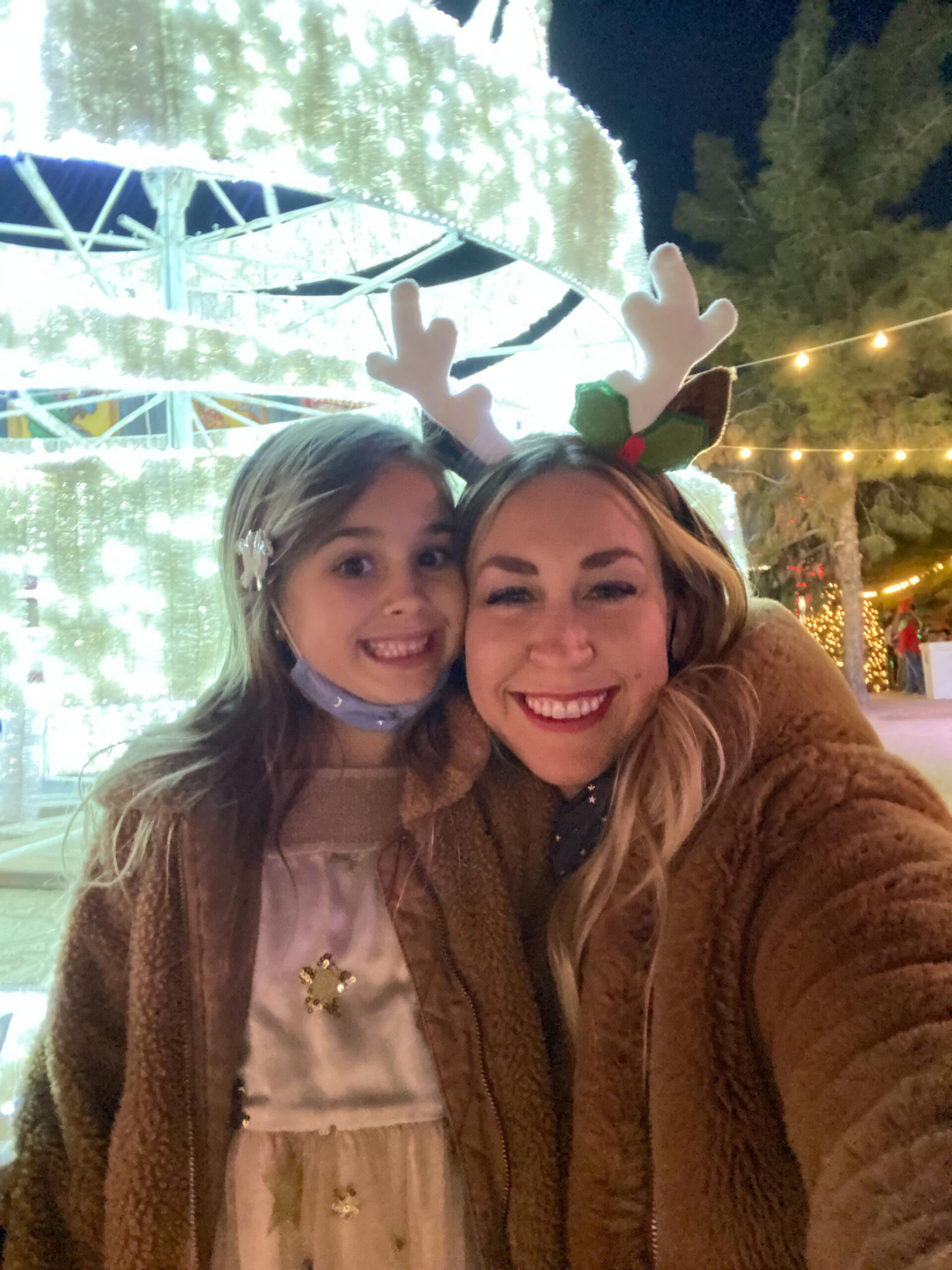 when: November 14th – December 31st // 5:30 pm – 10:00 pm
where: Schnepf Farms, Queen Creek
We visited Schnepf Farms for the first time last winter, and it's quickly become one of our favorites! There is so much to do included for the cost of admission, which makes it a great value. An Arizona family farm staple of the valley, this Queen Creek Farm has vastly expanded their holiday fun over the years. The World of Illumination train ride is not to be missed and the giant inflatable obstacle course kept our kids busy forever! (Both an additional cost.) But there are plenty of other activities included in the cost of entry, such as: Pine Cone Decorating, Letters to Santa, Christmas Caroling, Santa's Deer Hayride, Snow Globe Mini Golf, Meet & Greet Santa Claus, and more! Weekday tickets (ages 2+) are $15/person and weekends are $17 when you purchase in advance.
Use my code CHEERS10 for 10% off at checkout!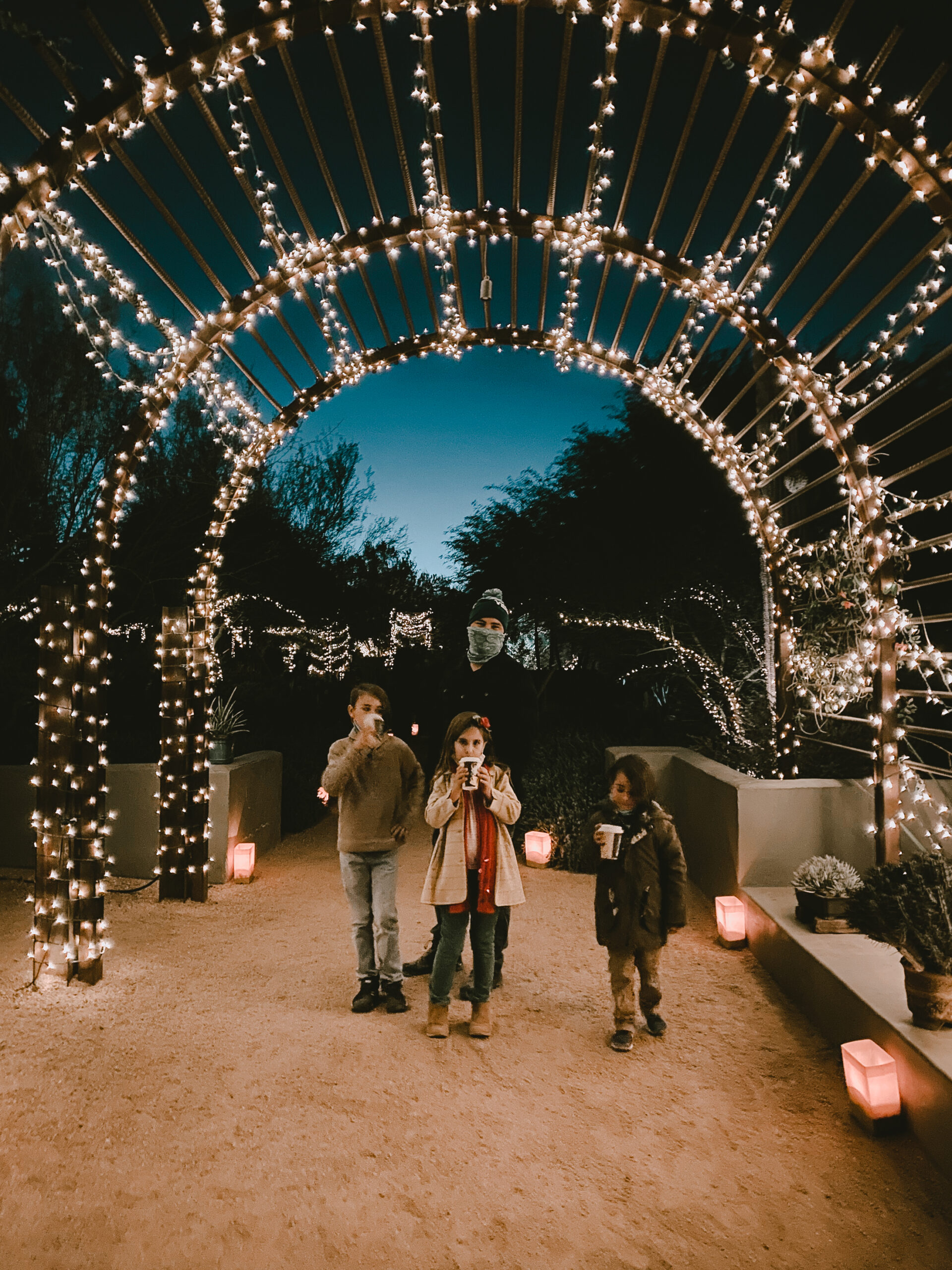 when: Select Dates December 3-31st // 5:30 pm – 9:30 pm
where: Desert Botanical Gardens, Phoenix
This was another event we tried for the first time last year, and seeing all of the Luminarias lit up at once was truly beautiful. There was also live music, additional light displays, and food and beverage available for purchase. A bit pricier at $49.95 for non-member adults and $18.95 for non-member kids, but worth it for a beautiful night out and stroll in the Botanical Gardens, imo. Also worth noting there is no running in the garden and there are no rides here, so might be best for an older crowd or if you have kiddos young enough to chill in the stroller. Dates are pretty limited for this event, so be sure to purchase tickets in advance!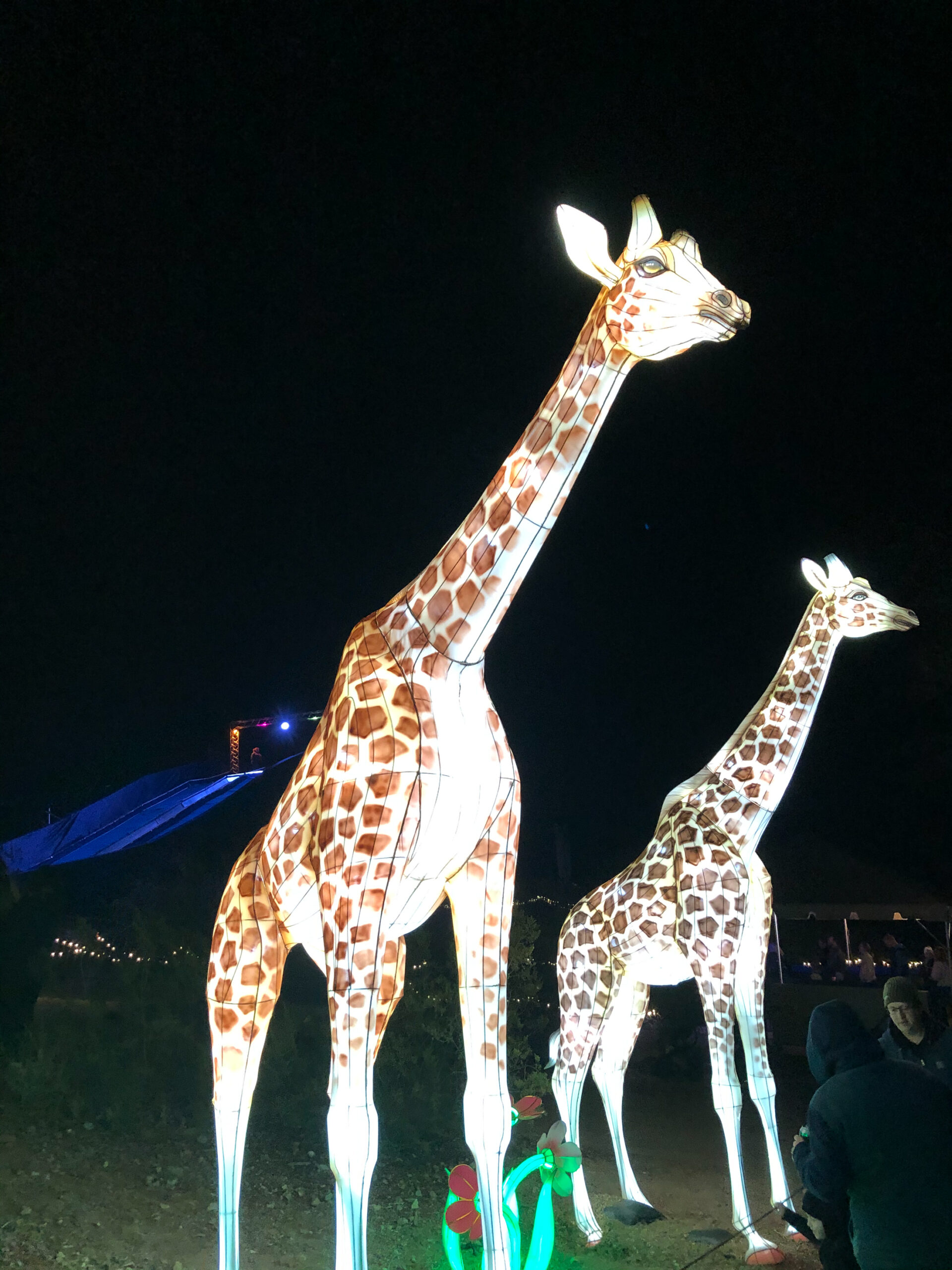 when: Select Dates November 24 – January 15th // 5:30 pm – 10:30 pm
where: Phoenix Zoo, Phoenix
We have done Zoo Lights a few times over the years! I love that they've added more light-up attractions over the years, but honestly I was a bit bummed to hear there there is no Santa or Polar Bear Plunge (a big slide) for the kids this year. It's a lot of walking, so again, good for stroller aged or older kids who can handle the walking, since they eliminated those other two kid-friendly attractions. But still fun to see and worth doing. Tickets for Zoo Lights must be made in advance, as they are not sold at the gate.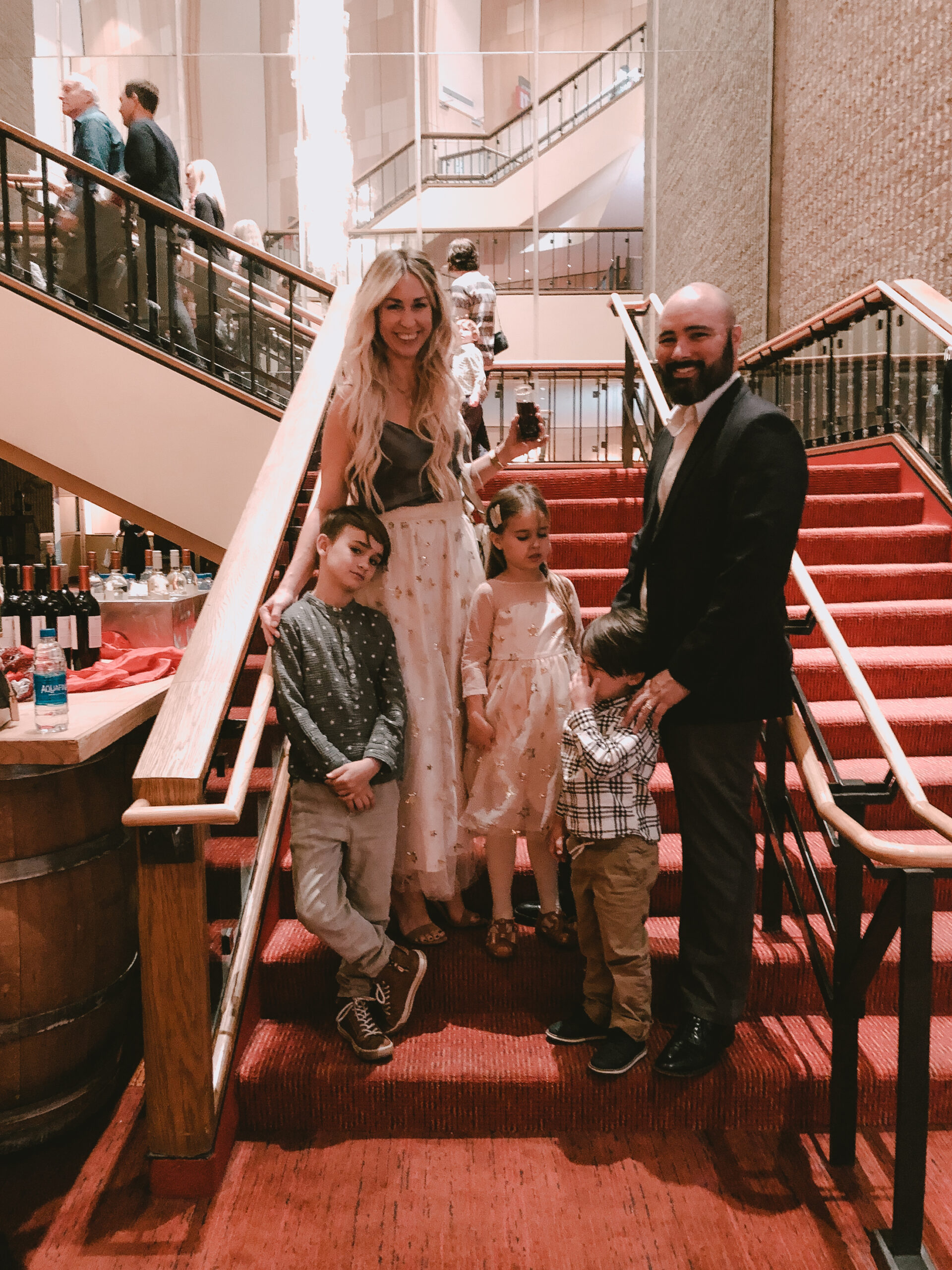 when: Select Dates December 10th-14th // 2:00 pm matinee & 7:30 pm evening
where: Phoenix Symphony Hall
We skipped this last year, and honestly, I'm not even sure it was produced (for obvious 2020 reasons), but when we saw it the two years previous it was one of my most FAVORITE presentations of the Nutcracker I have ever seen! And I grew up going most every year. I know there are other production of the Nutcracker in the valley but in my opinion, this one is worth the ticket price! Ticket prices do vary pretty widely based on seat selections, dates, and availability. Definitely need to purchase tickets in advance for this one, and the sooner the better for the best prices.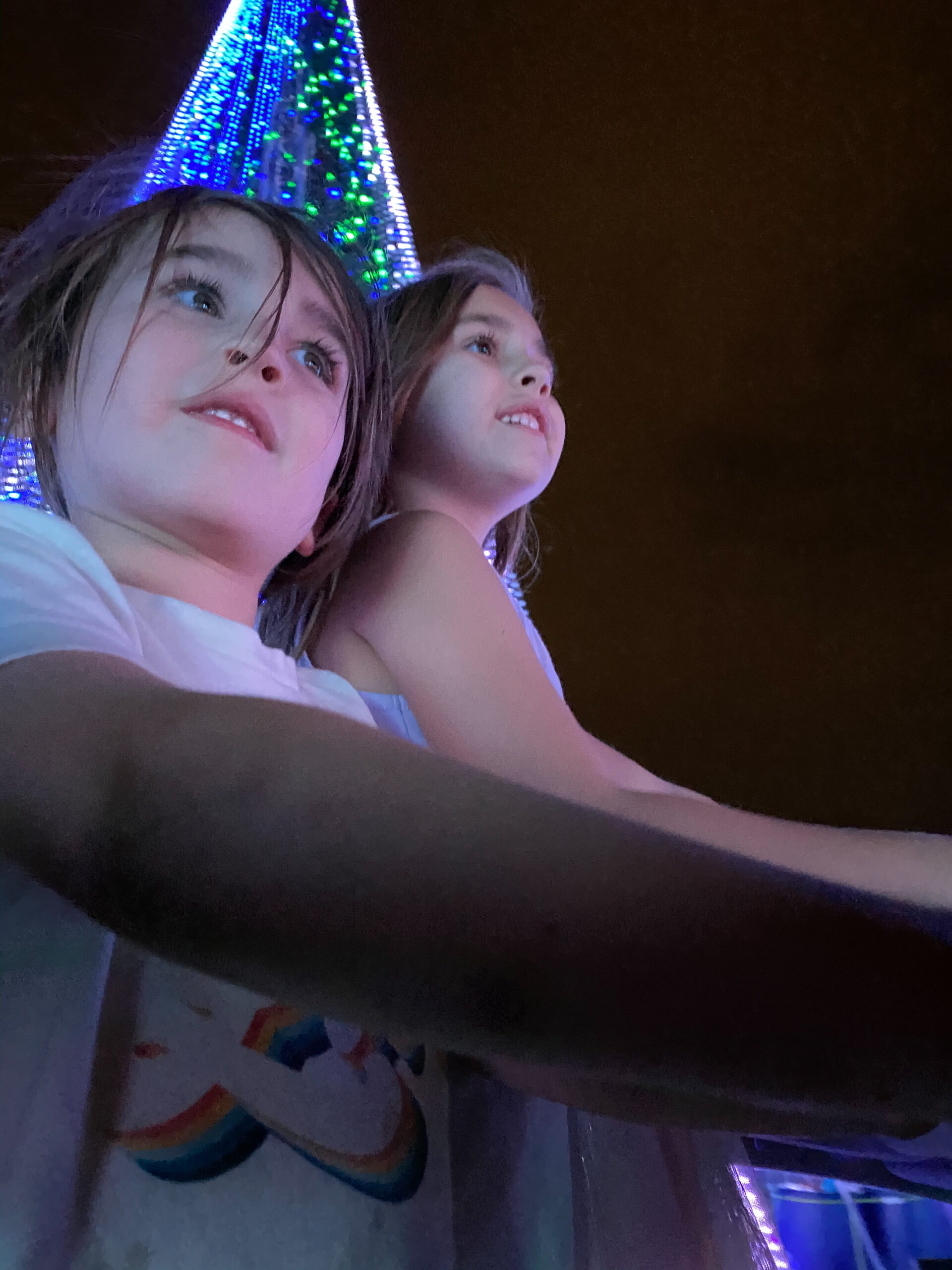 when: November 20th – January 2nd // 6:00 pm – 10:00 pm
where: Locations in both Tempe and Glendale
We visited the Glendale location last year and it was fun to see! Depending where you live, I would suggest maybe doing this on the way to or from another activity (even if it's just dinner). While it is a very Covid-safe activity, it's also pretty fast , as it is just a Drive-through light display, and then that's just it. For us, Glendale was a pretty big drive for such a short activity, so I think we won't do it this year. Tickets are by the car and are $39 on weekdays and $49 on weekends. Reservations are required in advance, as they do not sell tickets at the gate.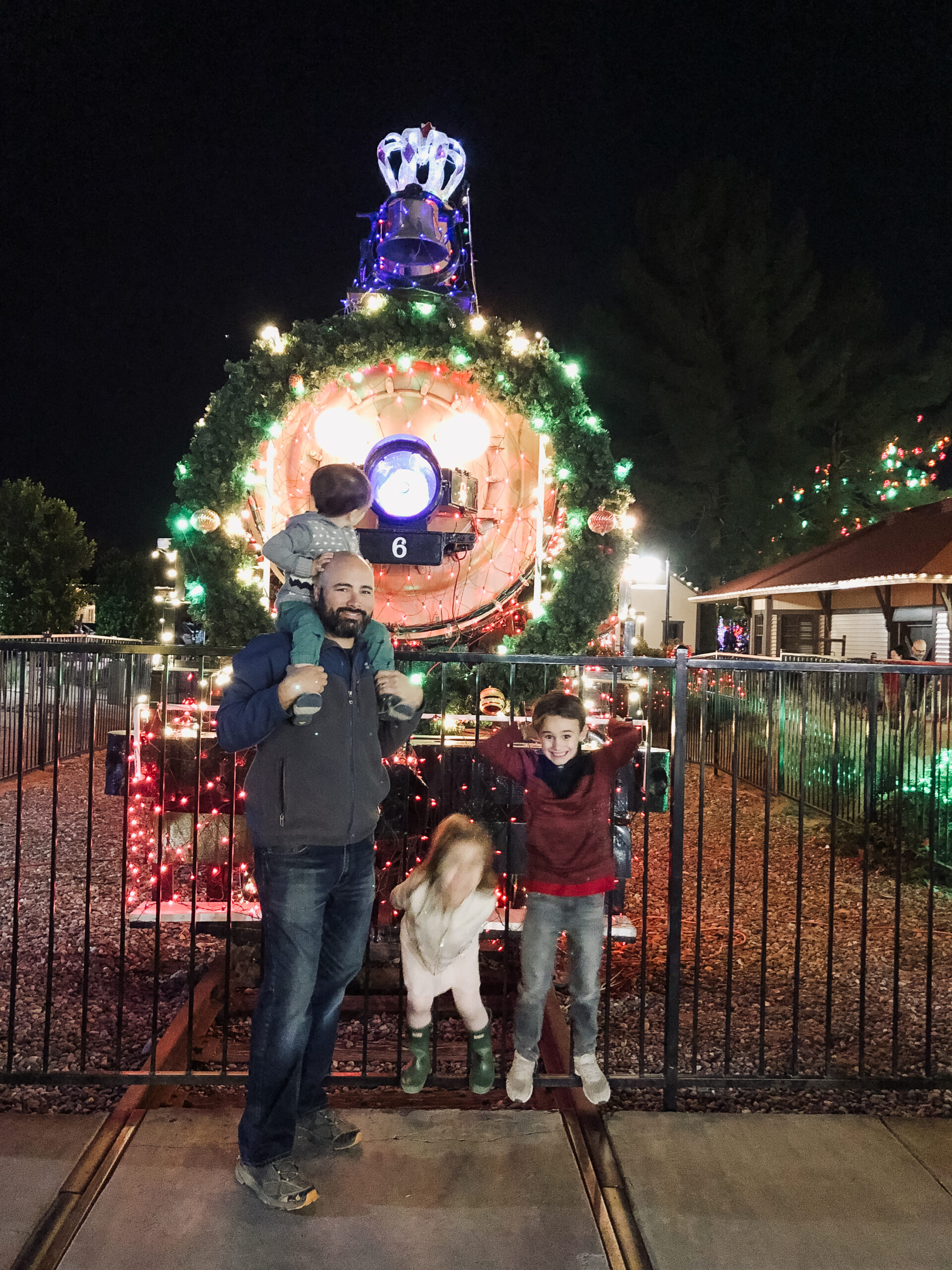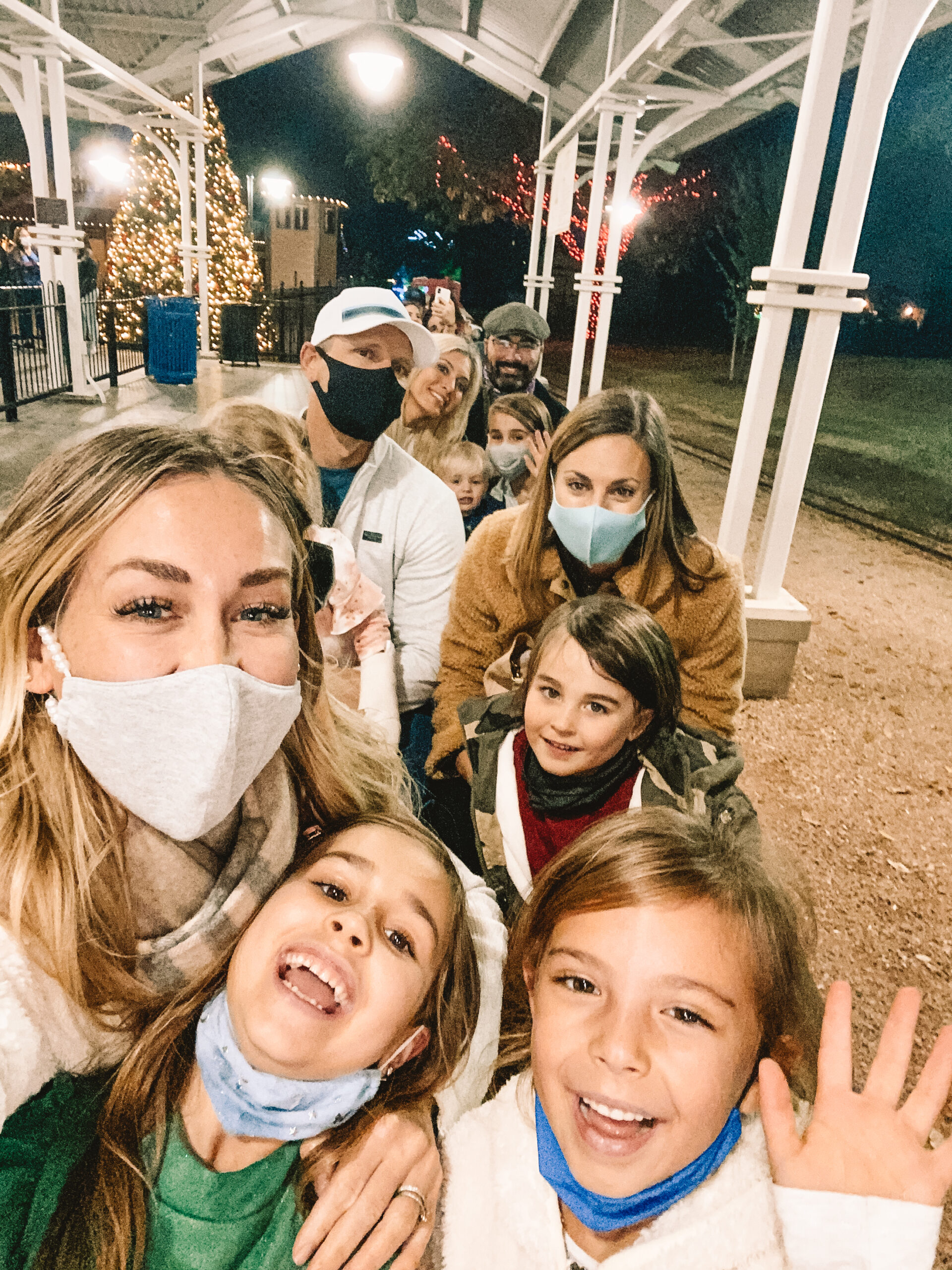 when: November 26th – January 2nd // 6 – 7:30 pm or 8 – 9:30 pm
where: McCormick-Stillman Railroad Park (aka, "the train park" to locals)
This is an easy one for us because it's close and fun! I would say this activity is best suited for the toddler-aged set, but my 6 and 8 year old still love it (the 10 year old is a little over it, but he manages, haha). For the younger set, the 1.5 hour time slot is just the right amount for the train ride in the lights, a carousel ride, and Santa, and maybe a picnic or some time on the playground. Tickets are $15 per person, ages 2+ and are half off for members. Perfect for even a little weeknight holiday fun! Everything is in advance these days, so you guessed it – book this one in advance too!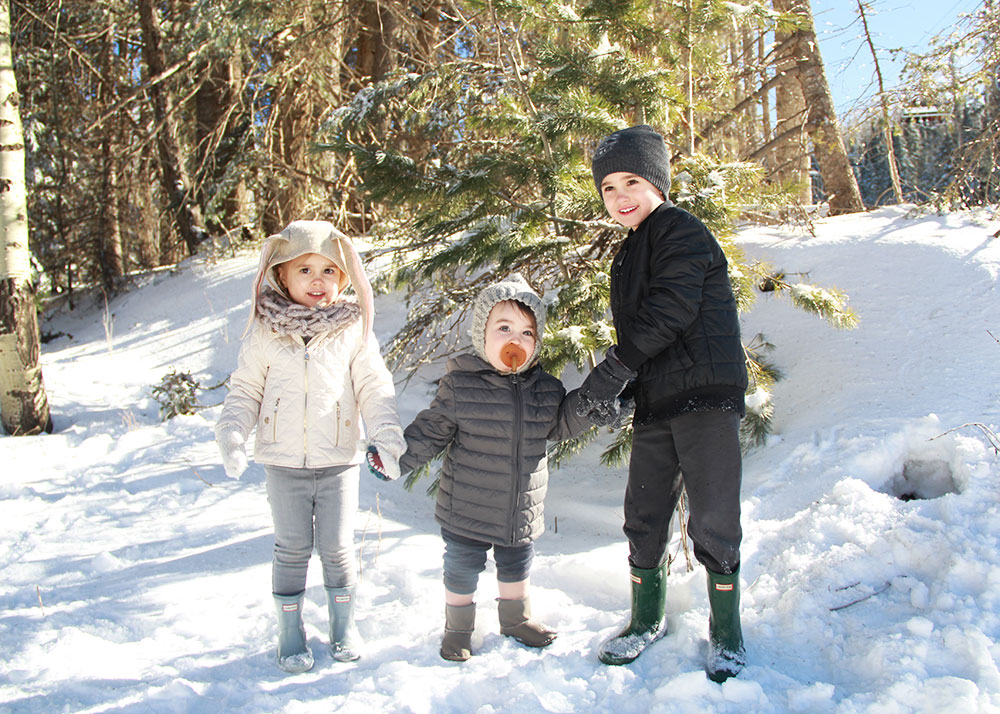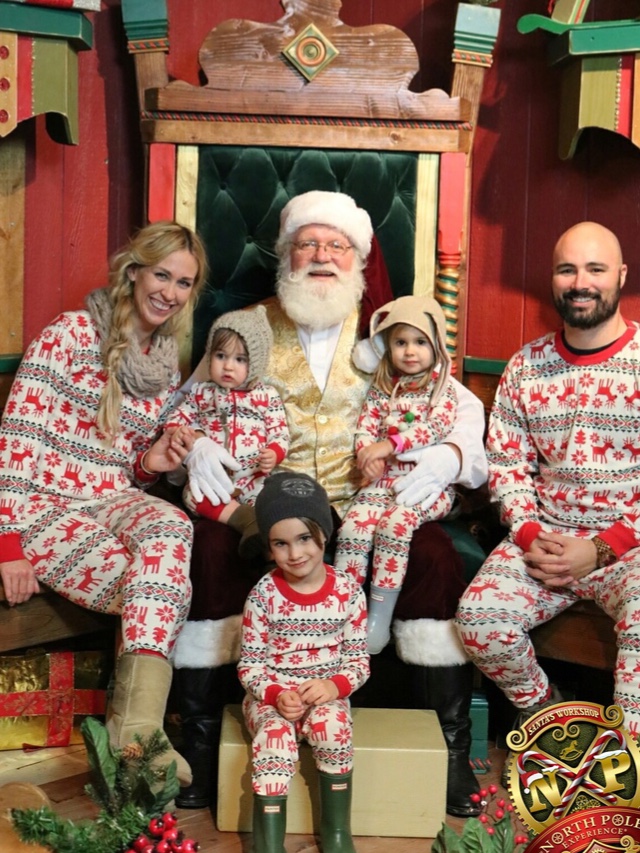 8. The North Pole Experience
when: November 13th – December 26th // 8:00 AM – 3:40 pm or 4:00 pm – 6:30 pm
where: shuttles depart from the Little America Hotel, Flagstaff
Ok a couple of things here, first of all, I realize this is not in Phoenix. But a lot of Phoenicians will drive up for the day, or stay a night or two in Flagstaff to make the most of it! We did this for two yeas in a row when the kids were younger and they absolutely loved it! Genuinely so magical and again, so much to do in the 1 hour 40 minute guided tour. You can chose between the day tour for a little lower ticket price (Adults $63, Kids age 18 mos+ $56), or the night tour (Adults $69, Kids age 18 mos+ $62), but I would for sure recommend the night tour for the most magical "portal to the North Pole" experience. Also, I have to say that tickets for this experience usually go on sale in July, so I'm sure available time slots are super limited at this point. But another one to think about more in advance for next year. 😉
when: November 12th – December 30th // 5:30 pm or 7:30 pm
where: Grand Canyon Railway & Hotel, Williams
Another one that's not in Phoenix, and this one we actually haven't tried before! I've heard lots of good thing about this experience though! Compared to NPX (above) where you get out of the bus and take a tour of Santa's workshop, the Polar Express is just the train ride where you do not get off, but you do get a literal hot chocolate song and dance through the wintery tundra. Hoping to try it one of these days!
when: December 1st – December 24th // 9:00 am – 6:00 pm
where: Mortimer Farms, Dewey
Full disclosure, I think I have been to Mortimer Farms with the kids every other time of year besides Christmas, haha. But they do have a great set up there, including a Christmas tree lot, letters to Santa, farm inspired rides and activities, carolers and more! My kids always have a great time there. Santa also makes visits on select dates for an additional fee. Another great value for all there is to do, $13 on weekdays for ages 2+ and $15 or weekends. Tickets purchased in advance are recommended, but not required.
If you're a local Phoenician, what did I miss? Tell me what we need to try this year so I can add it to the list next year!
Share the post "10 family friendly festive fun things to do in phoenix"