I know it's a busy season for most of us, but the fall/holiday season is extra busy in our household on any given year. Especially this year because I decided to add into the mix a BIG surprise whiskey + cigar themed 40th birthday party for my husband! Hence (again) why this post is a bit delayed from the original celebration.
Most years we keep our adult birthdays pretty simple and quiet. Even with my husband's milestone 40th birthday, we originally weren't going to do a party. With the loss of my sister-in-law earlier in 2021, who was also about to turn 40, we weren't feeling very celebratory. So instead we planned a trip, just the two of us, and that was that.
But the more I got to thinking, the more it became clear to me that a party with all of our local friends and family was actually just what we needed. If there is anything this last year has taught us, it's that there are no grantees in life. Also my husband and I both love to host, but my husband isn't big on celebrating himself. So a surprise party was the only way to go from here. 😉
I started out small, prioritizing gathering our loved ones, regardless of the setting. But my party-planning-self couldn't hold out long on keeping things small. As I started to add more details, I realized I was getting in over my head. So I called in And Why Not Productions for reinforcement. This dreamy event planning business is based out of Los Angeles, but available for travel! And it just so happens to be run by one of my best friends since childhood, Tina.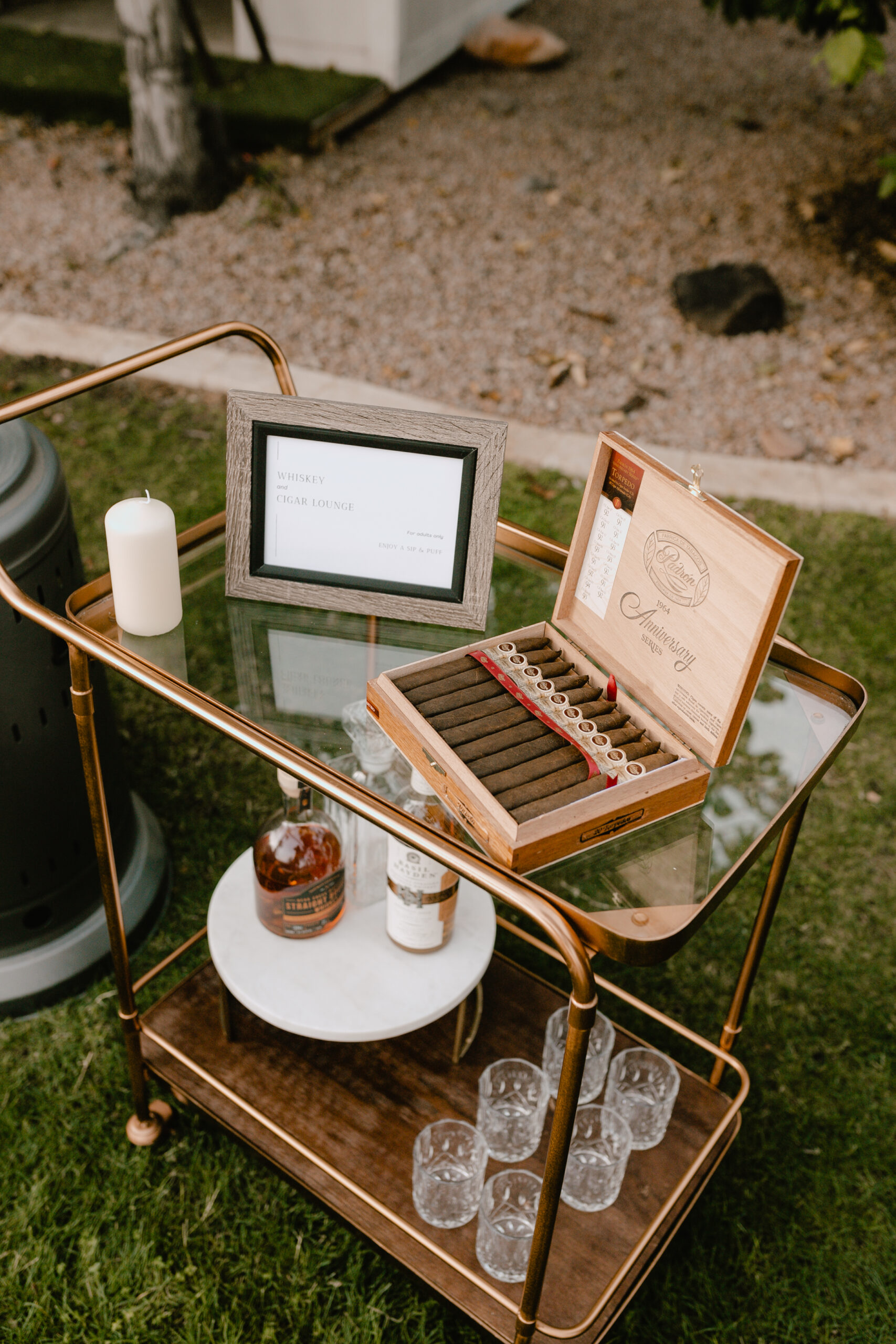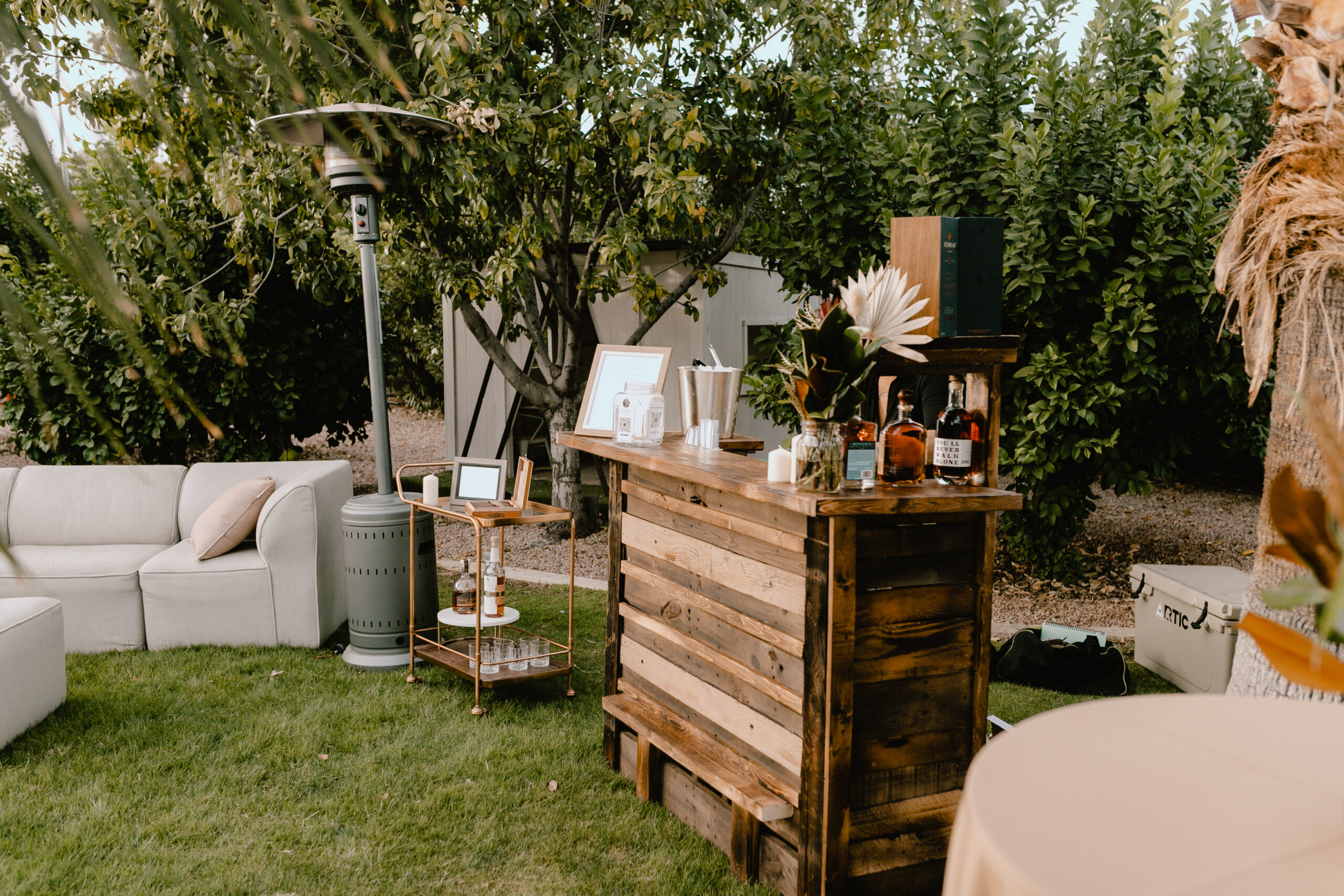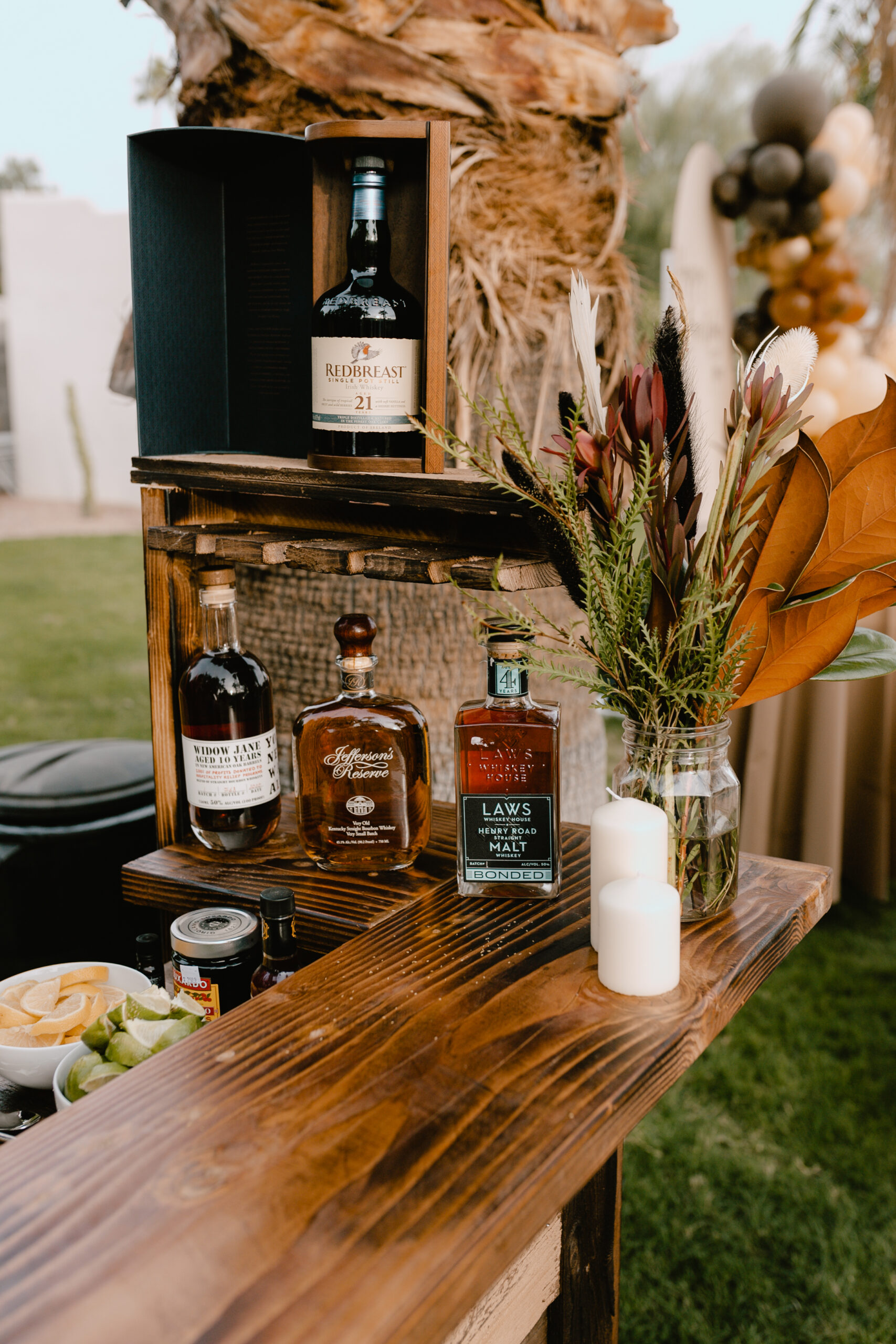 Tina helped me narrow down my ideas and focus on our theme. At first I wasn't sure about a theme at all (I hate when they are cheesy and over-the-top), but I love how this one came together. We went for a whiskey + cigar theme for my husband, who loves both. From there, we chose neutral colors including browns, gold, and tans to reflect the natural hues of both whiskey and cigars, while still keeping everything classy. She also kept me organized by creating a detailed spreadsheet so we could both keep track of what had been done.
Our party-planning situation was a bit unique, as I am normally a DIY-type party planner, so this event was truly a collaborative effort with And Why Not Productions. However, I do want to emphasize that Tina can do your full event planning and is an expert in tablescapes for your event of any size!
The first thing I knew I wanted to rent for sure was the big "4-0" from local Alpha Lit Phoenix, who can literally spell out anything you want in marquee lights for your event. I actually used this same company last year for my girlfriend's baby shower.
I also have become such a huge fan of balloon garlands in the past year or so, but I ran into a couple of snags there. Because I was late to start party planning and November is a big party season in Arizona (due to finally having such beautiful weather) I was having trouble finding a balloon vendor who could complete my date. I think it's also true that air-filled balloons have become a huge trend in the party industry, so the demand in general is just high! But I finally did find Full Bloom Party Co, who could take my order.
I ended up adding this photo prop backdrop at the last minute, which Full Bloom painted a custom color for me. And another girlfriend made me the "Happy Birthday Tony" decal on her Cricut machine.
BONUS MONEY SAVING TIPS: Order some balloons already inflated and strung together, then add a DIY kit or two in the same custom colors from your local vendor to add on your own and on site. Physically picking up the balloons myself also saved me money on the delivery cost!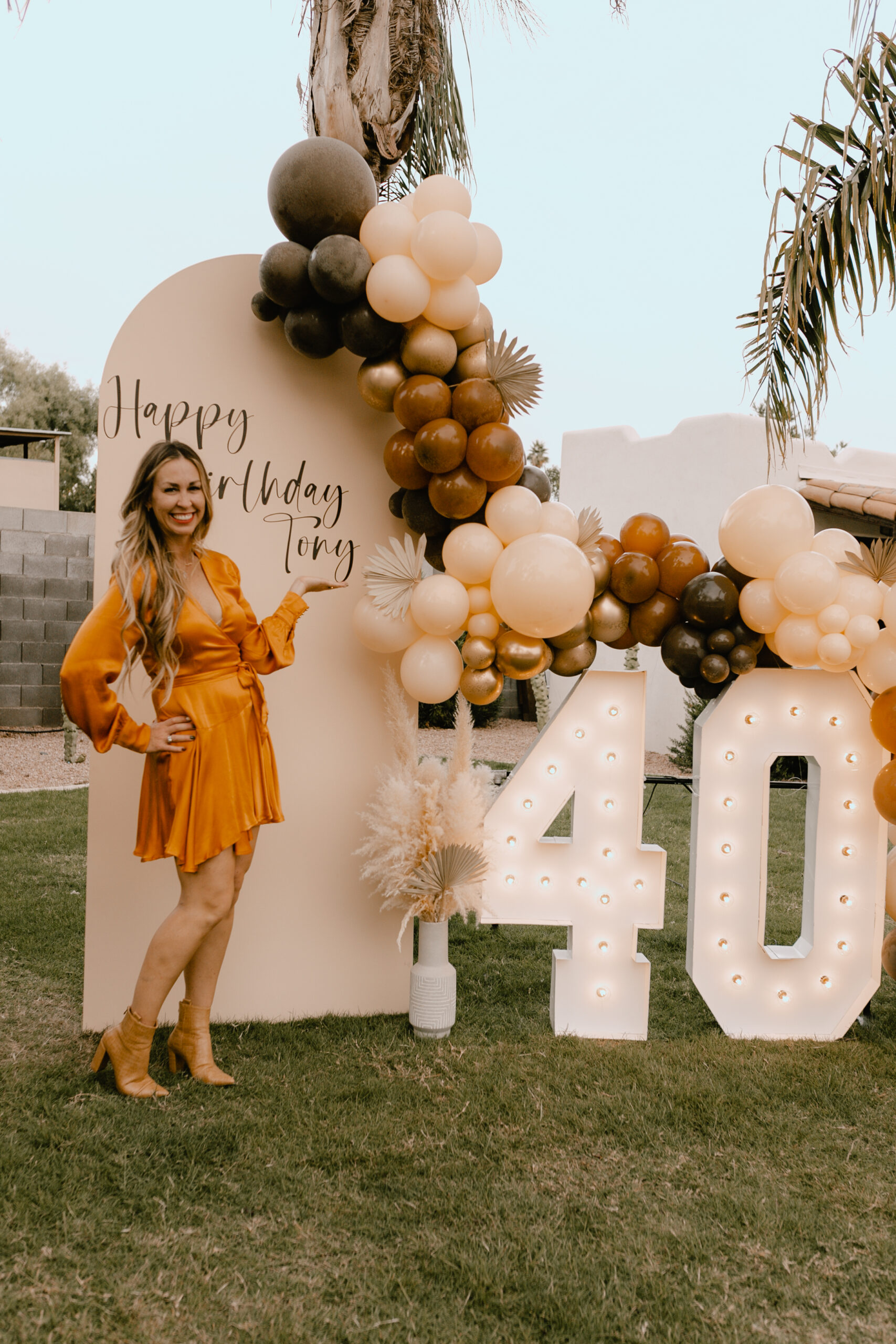 The floral arrangements were another fun adventure! I totally love and value professional florists, but it just wasn't in the budget for me on this party. Also, I didn't want a bunch of flowery florals for my husband, who cares very little about that sort of thing, lol. So while Tina and I were running errands the day before the party, we made a stop at Form Floral at The Fredrick in Phoenix and stocked up on some unique dried and preserved pieces like these palm fans.
MONEY SAVING TIP #2: This is a more common party planning tip, but purchase as many florals as you can at Trader Joe's! Get there right when they open for the best selection. Even professional florists do this! But you do have to be flexible in what you want and can get, because it really depends on what's in season and their supply for that day. You can also communicate with the staff there and sometimes make requests, if you know what you're looking for. We felt like we got lucky with the selection that day of magnolia leaves and other fall-ish colored greenery that fit right in with our color scheme. From there, we took it all back to the hotel and Tina from And Why Not Productions arranged these all for me!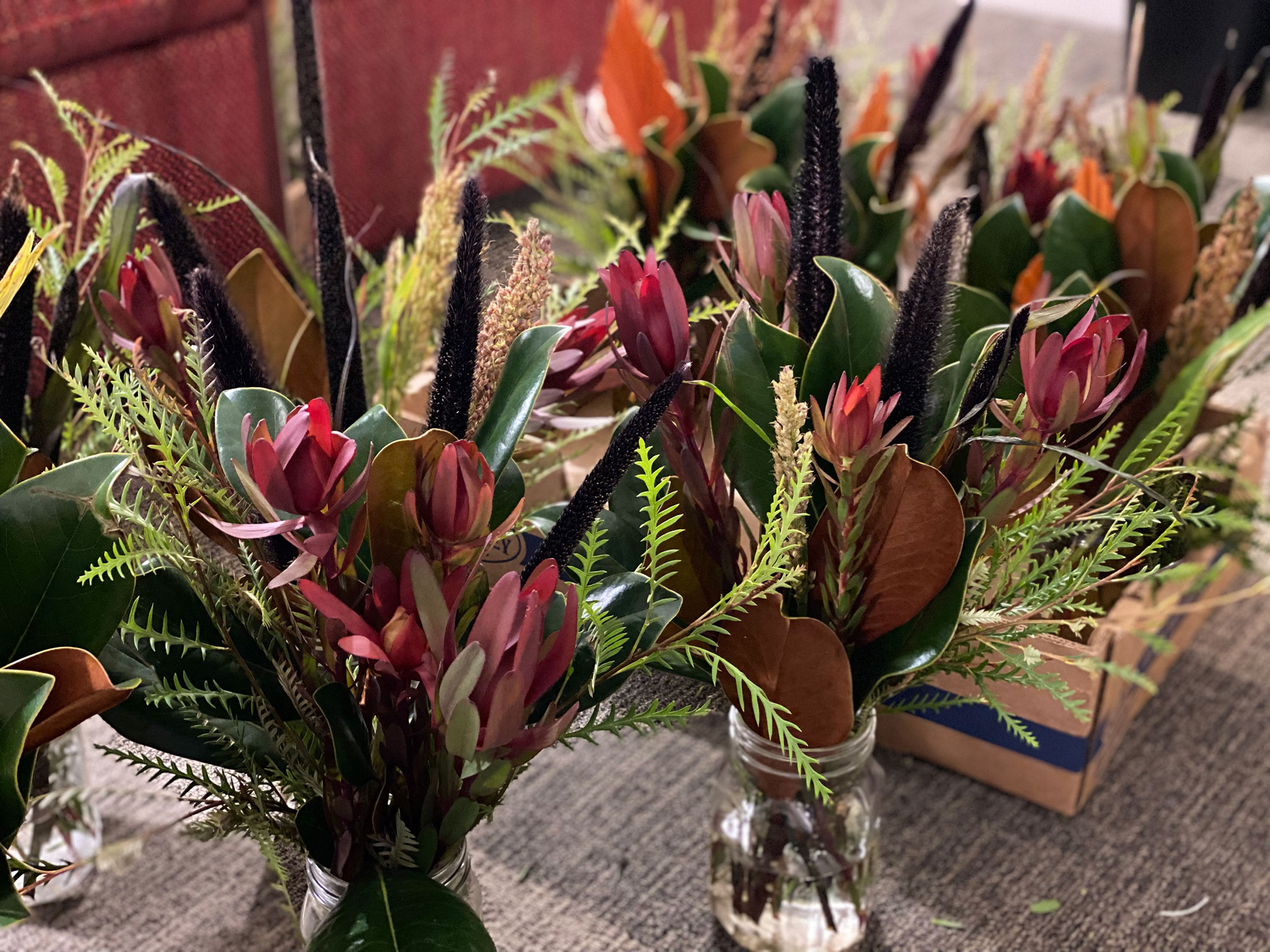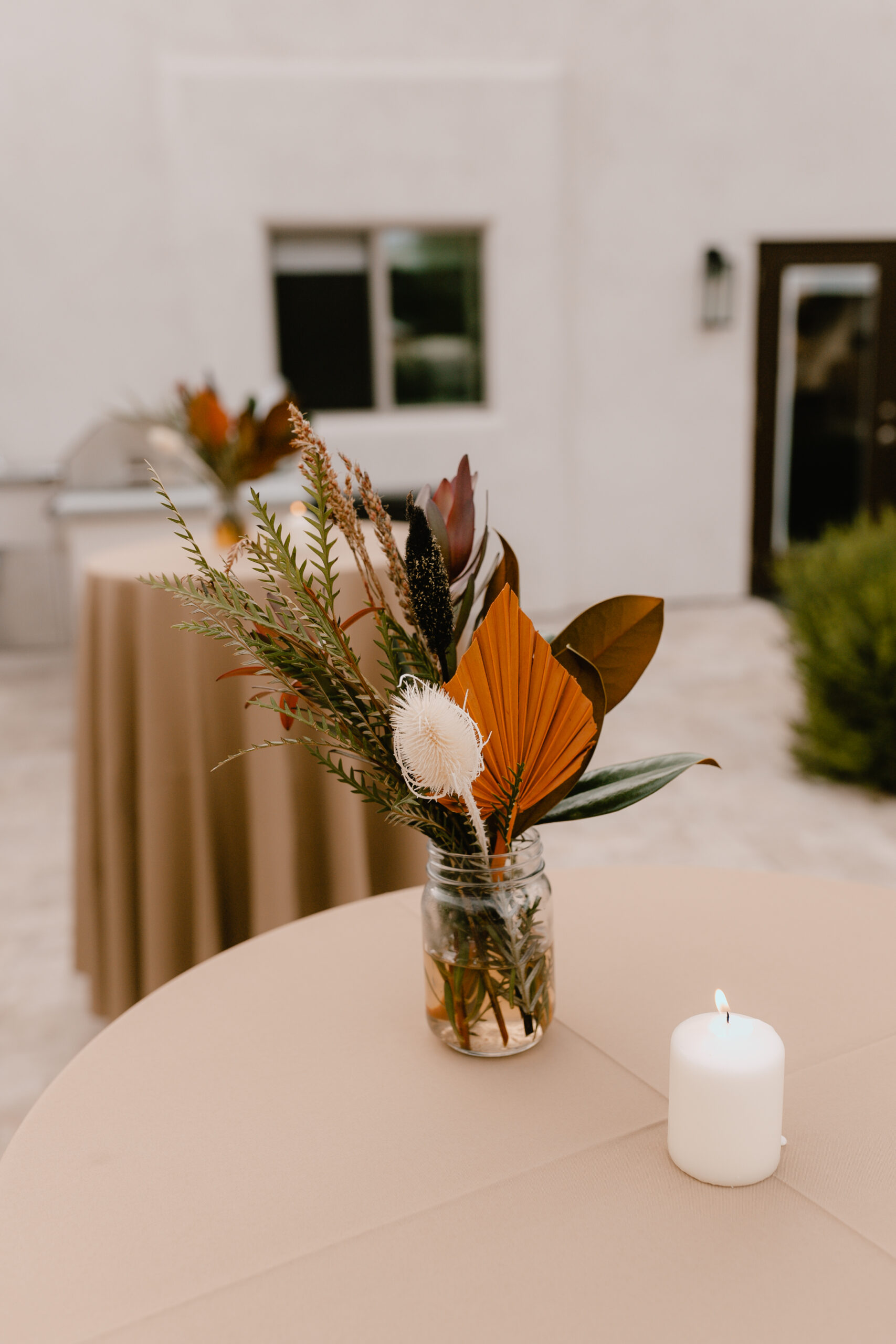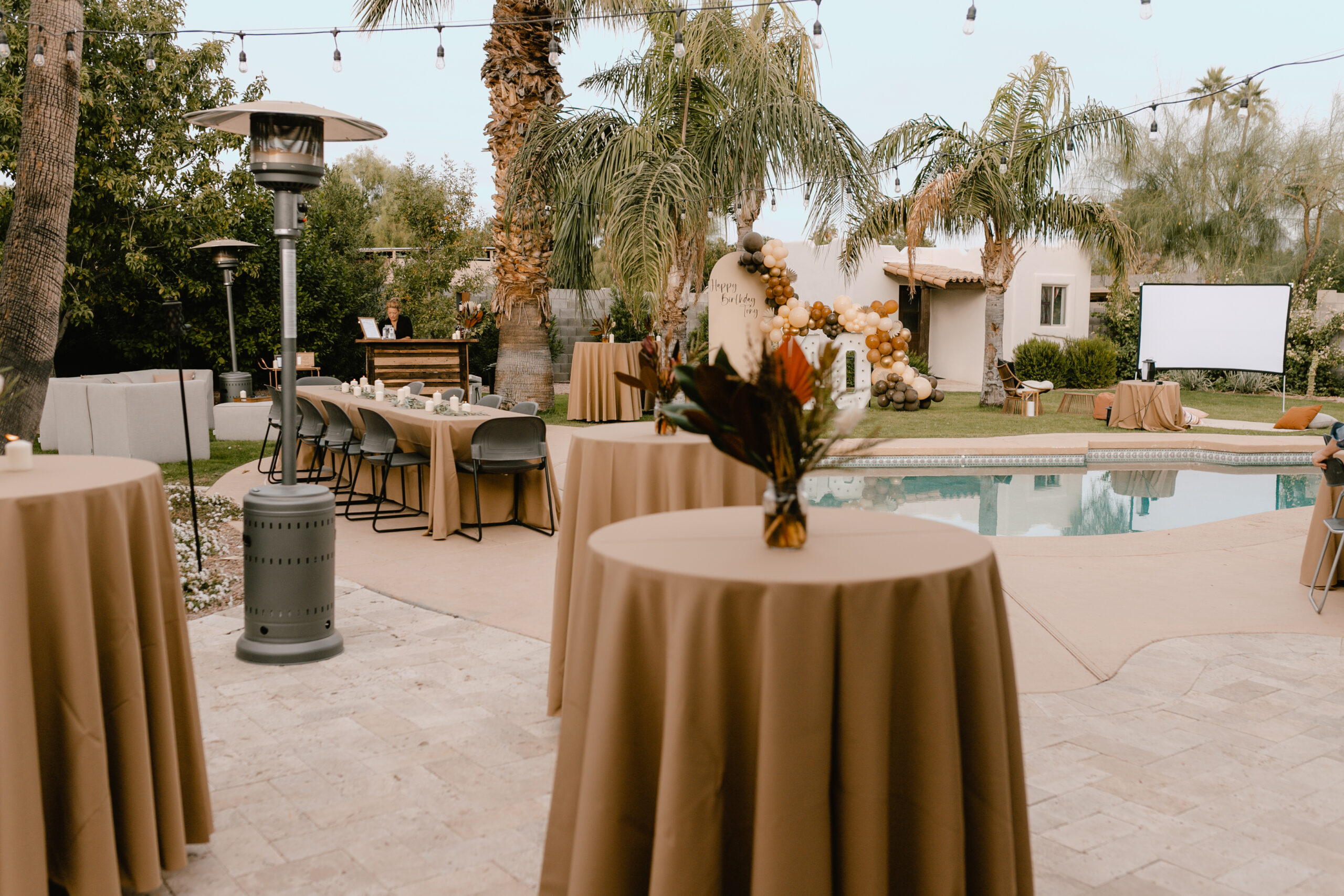 For the tables, I wanted to keep things relatively simple. I feel like the eucalyptus and simple white candles came together beautifully.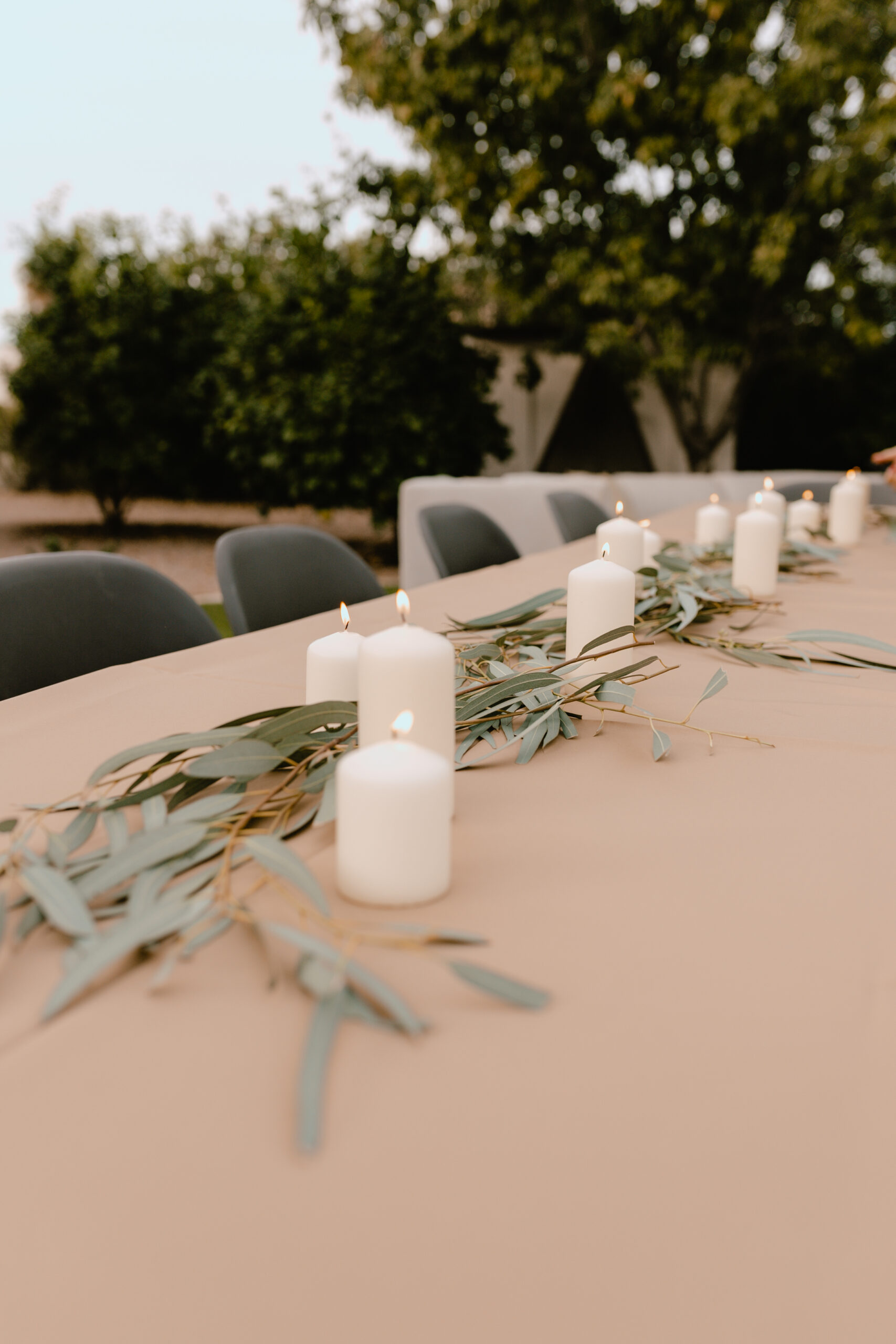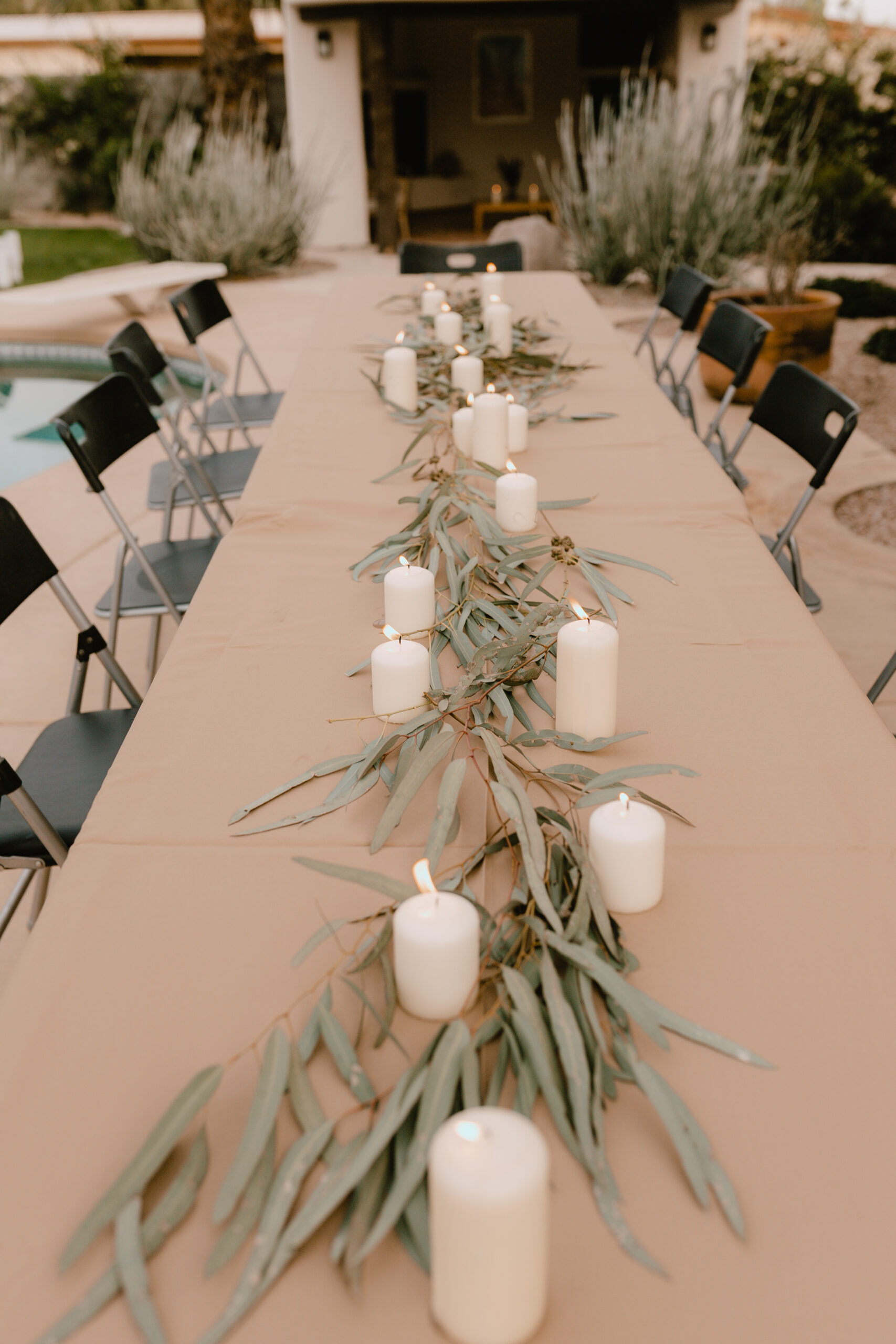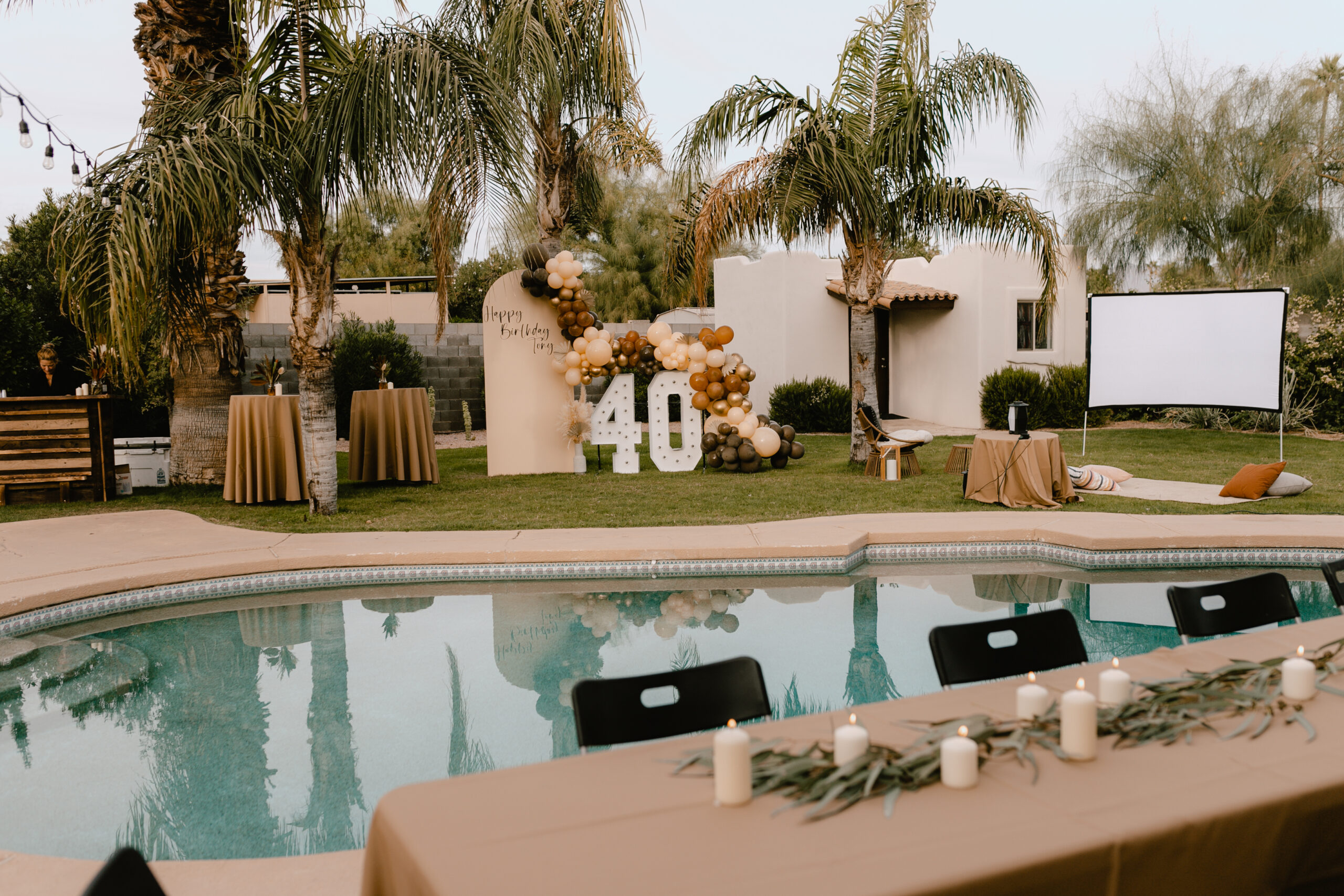 I was really excited to set up the screen and projector over on the one side of the yard for a fun collaboration I did with Quilted + Fry's Food Stores, where I created a video for Tony of the friends and family who couldn't make it to the party. You can see his reaction to the video reveal here. It's will forever be a special memory for me!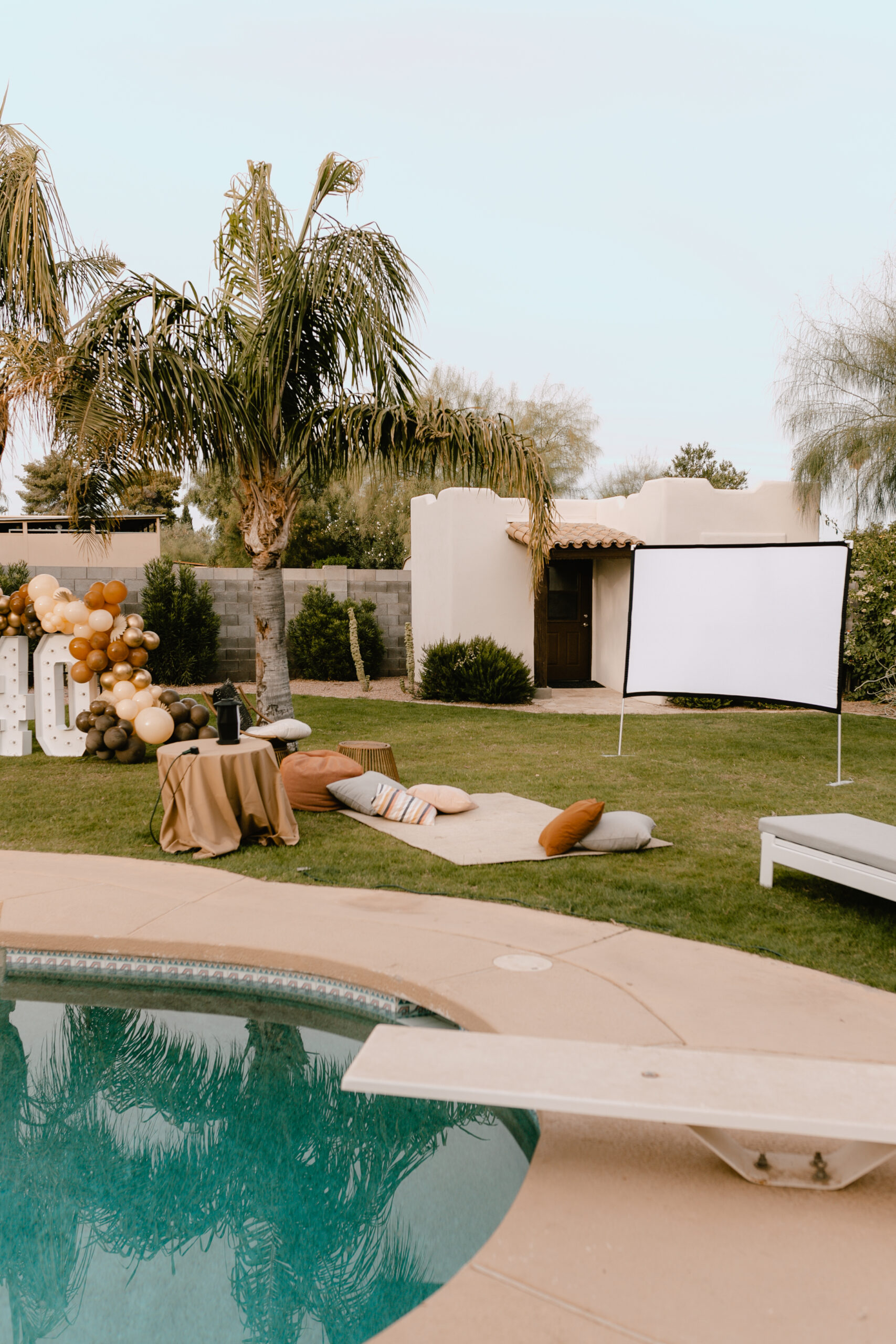 Next, I want to talk about the FOOD. Because feeding a crowd is no joke, amiright? We had about 75 people in our backyard that night, so I wanted to be sure everyone was taken care of. I was so grateful a friend of mine told me about Don Taco Mobile Taco Stand for catering, and many of you asked about them. They came and did all the set up, grilled veggies and 5 different meats for tacos, and cleaned up at the end and it was AH-MAY-ZING and so worth it.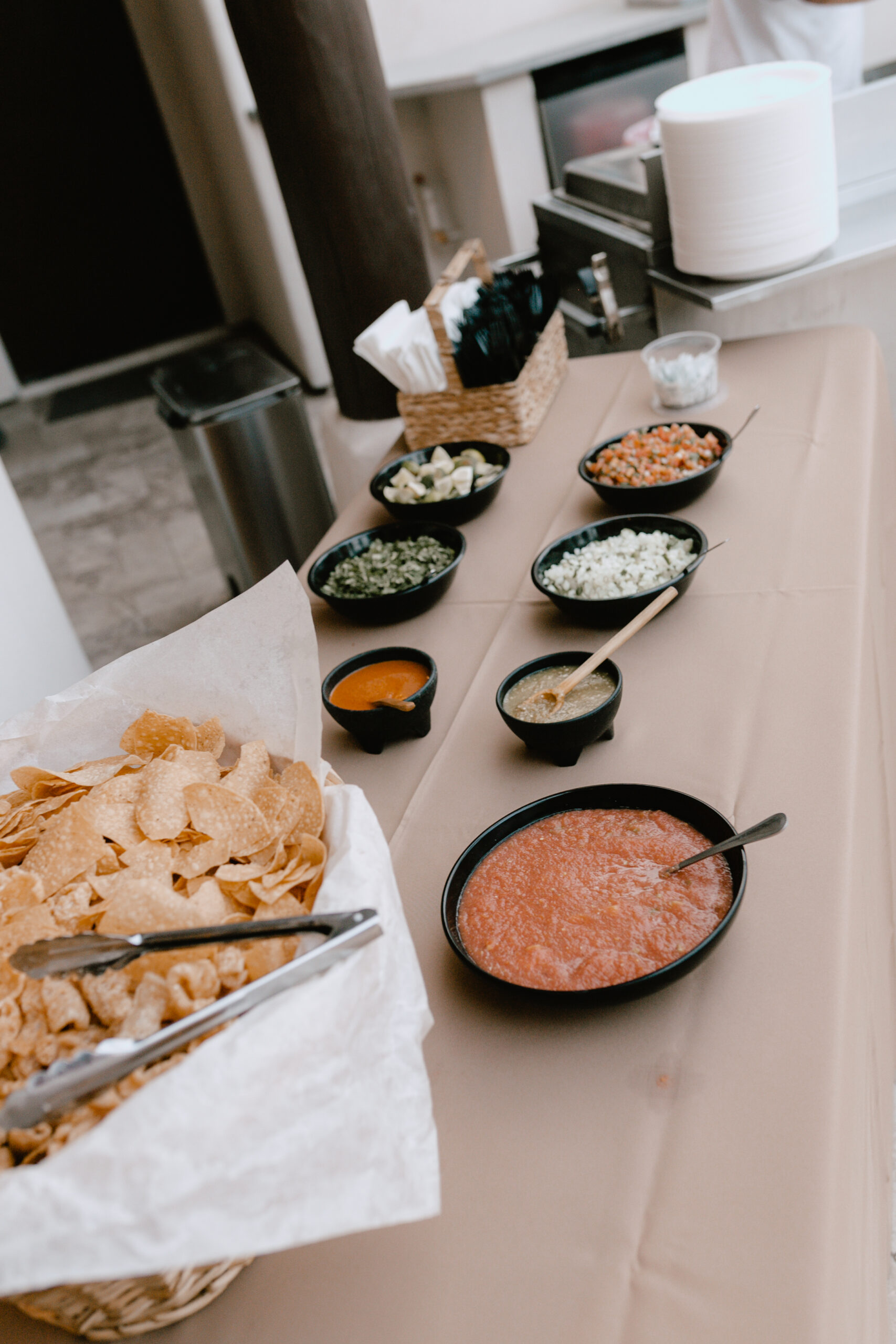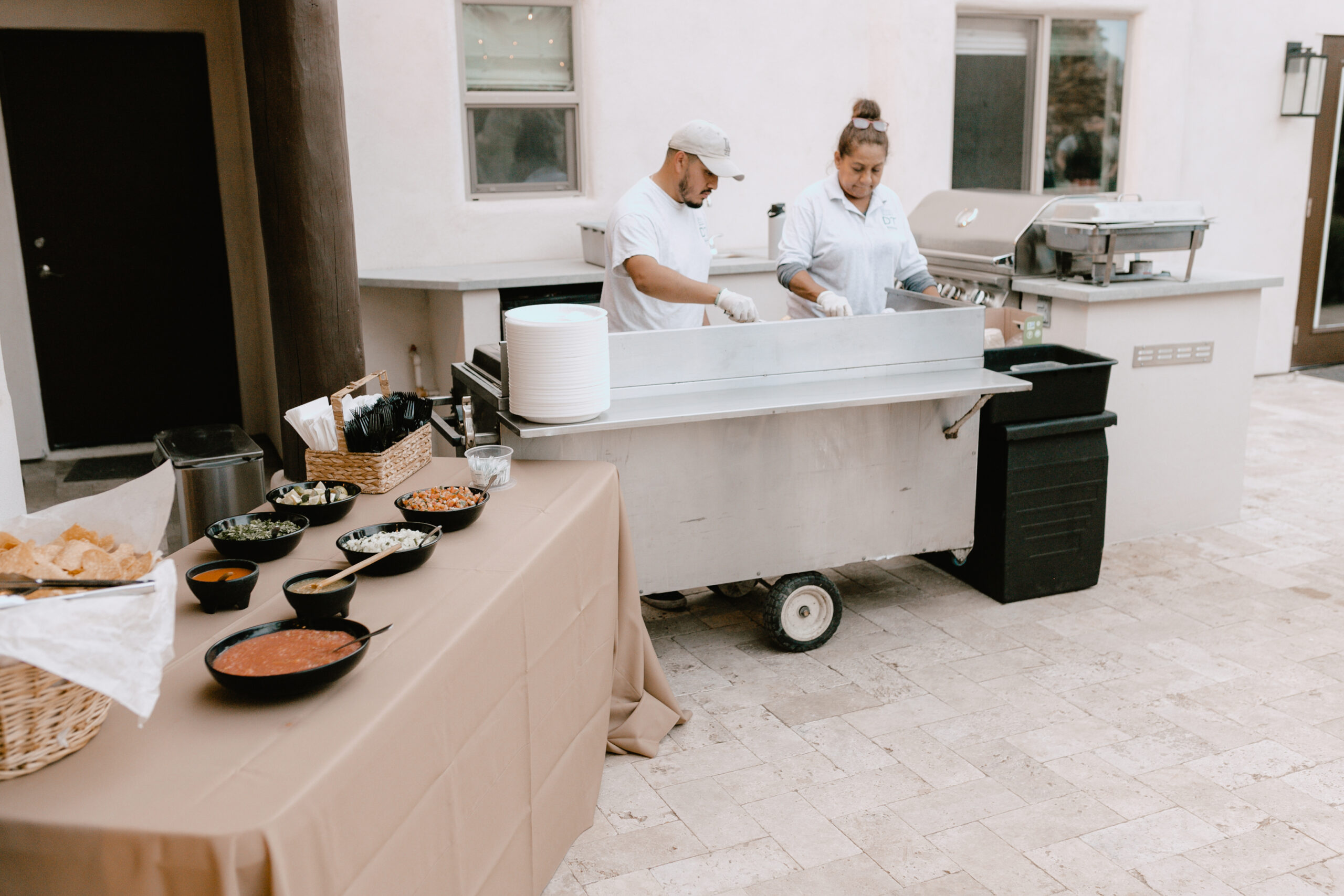 For appetizers, we got what we could from the grocery store and arranged it on a separate table. But I also ordered these beautiful charcuterie boards from Zuccherino Charcuterie and they did not disappoint. In fact, I probably should've ordered more!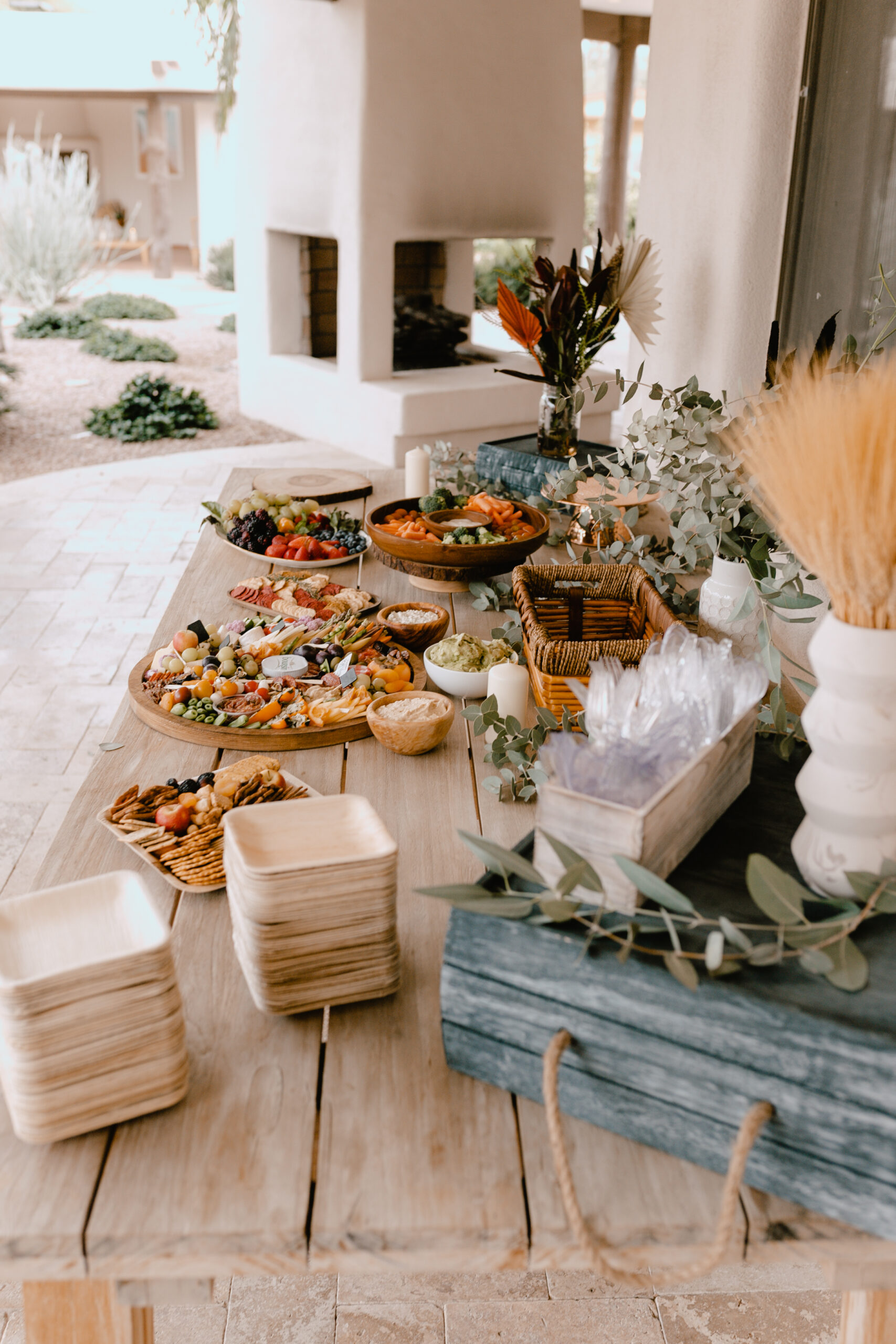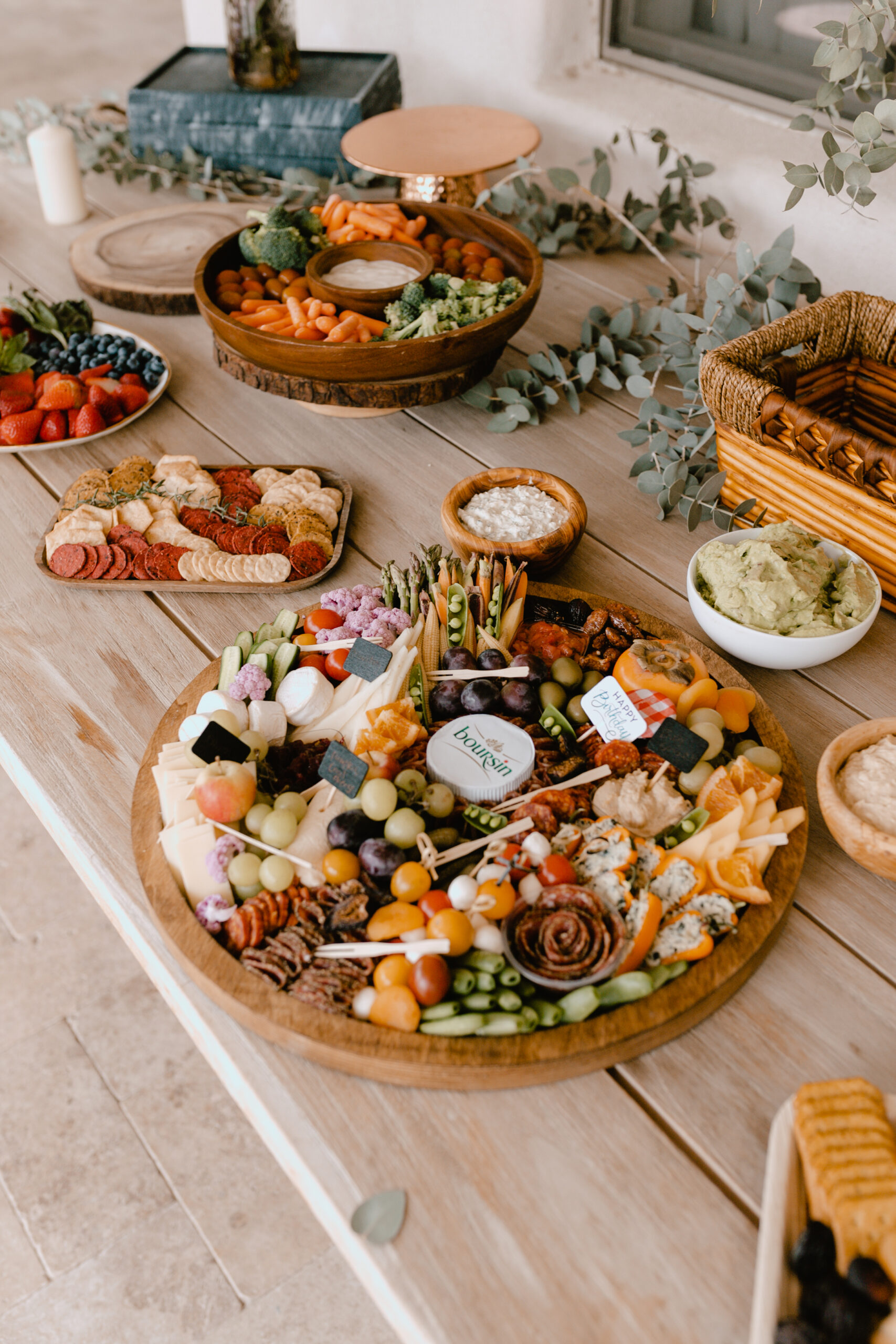 MONEY SAVING TIP #3: Like florists, I value professional bakers. However and again when you are on a certain budget and trying to feed a crowd, it wasn't in the budget for me this time. In which case, I highly recommend grocery store cakes. We bought two different flavors from Whole Foods and sliced them up in advance, so when we were ready to sing to the birthday boy, the cake was cut and ready to go too! It was for sure a step up from your traditional Costco cake, but more affordable than a custom baker's cake. So many people complimented the cakes!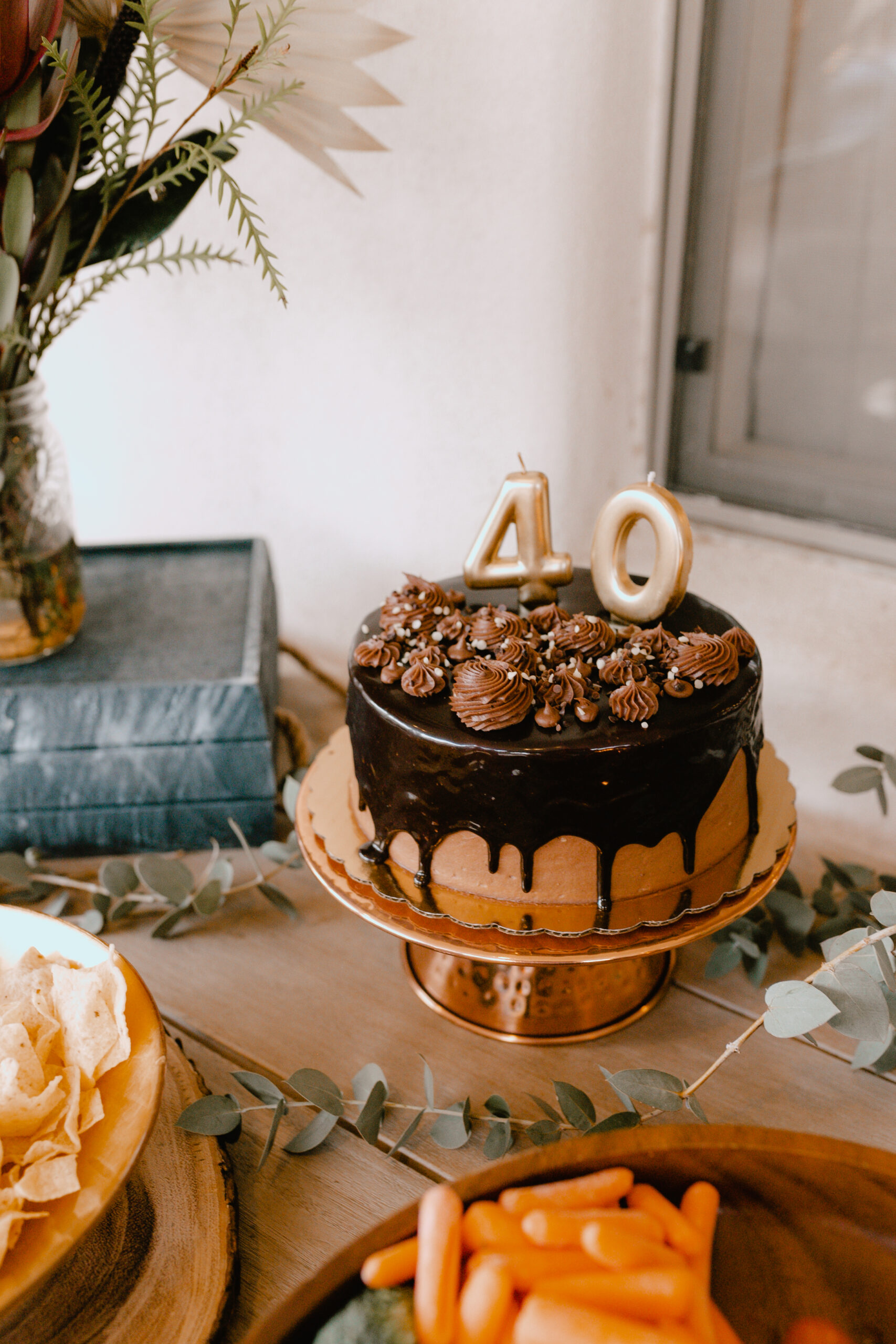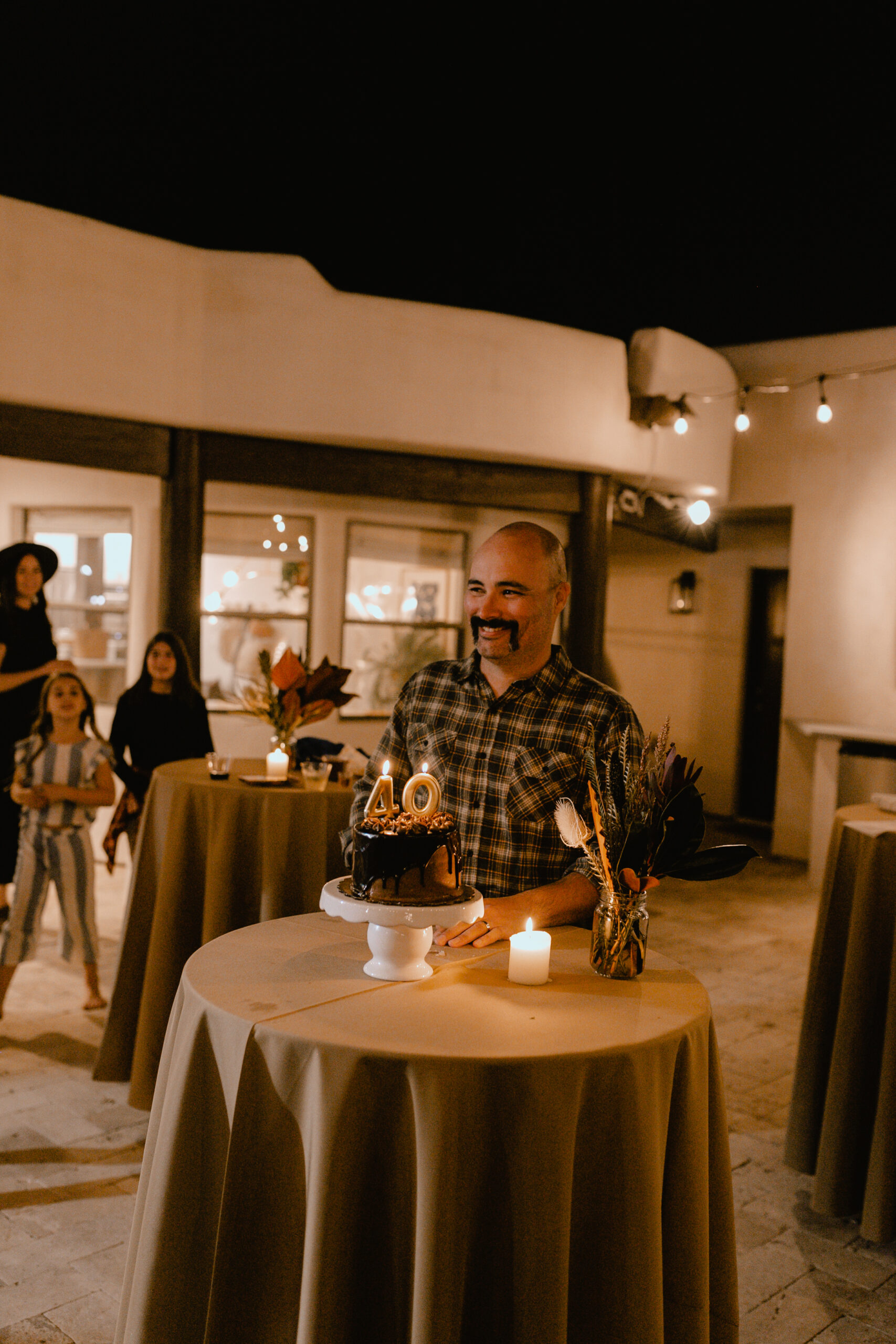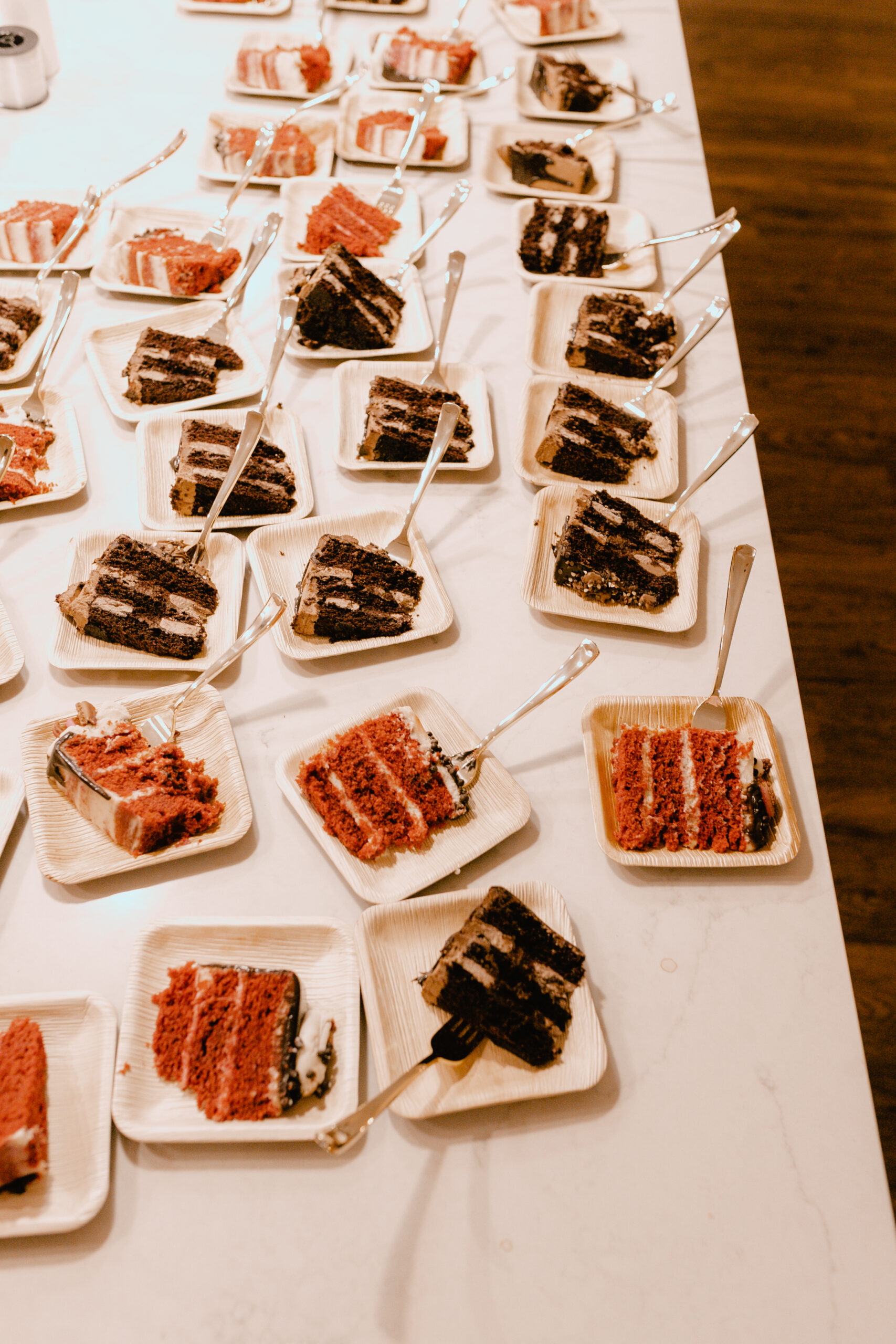 I think that about covers it! If you are planning a party in the Phoenix area (or beyond) anytime soon, I hope these tips and vendors will help you along the way! The key is, with a little bit of DIY combined with some professional help you can turn out a GREAT party. I am so grateful for all the special people in our lives who came together to make this happen for my wonderful husband!
party planning + coordination: And Why Not Productions
balloons + photo backdrop: Full Bloom Party Co.
marquee numbers: AlphaLit Phoenix
table + linen rentals: A to Z Party Rentals
bartending: Preferred Bartending
food: Don Taco + Zuccherino Charcuterie
florals: diy using Form Florals + Trader Joe's