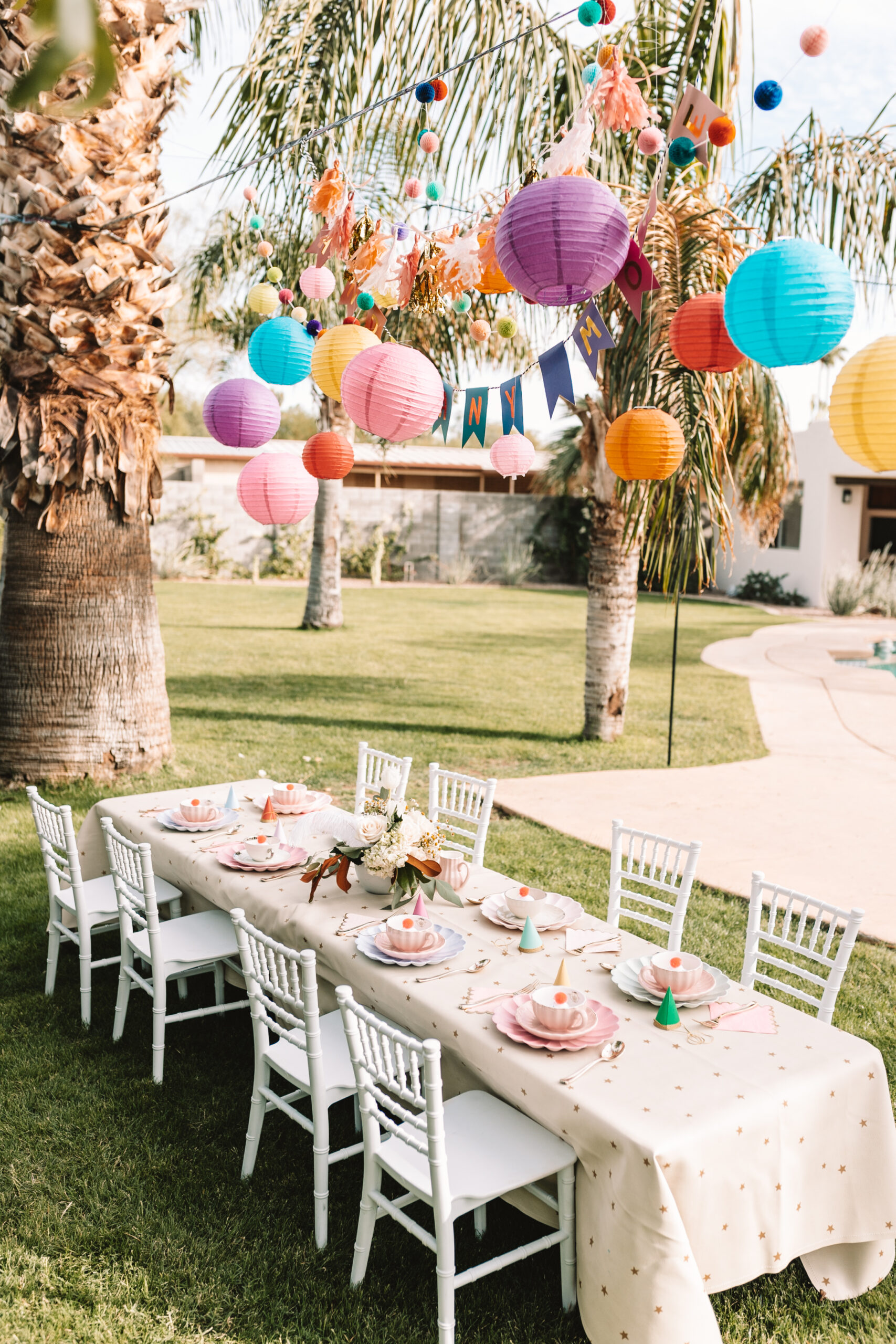 Back in November, we celebrated my sweet baby girl turning seven (7!!) with a very merry unbirthday party. It's hard to believe that she's seven when it seems like only yesterday we were celebrating her first birthday party (still one of my most popular blog posts to date). I say this with every kid on every birthday, but it truly does go so fast. And I'm sure I won't ever feel differently!
The inspiration for this party stemmed from her Halloween costume, which was Alice in Wonderland. It was a very fancy dress that I had custom made for her by Doloris Petunia. This designer makes gorgeous flower girl dresses and costumes. I have followed them for a while, and I actually reserved a spot for her Halloween costume a year in advance! Very unlike my last-minute self, lol. Anyway, it was so beautiful, we decided we had to get some more wear out of it. I stepped in as her White Rabbit. 😉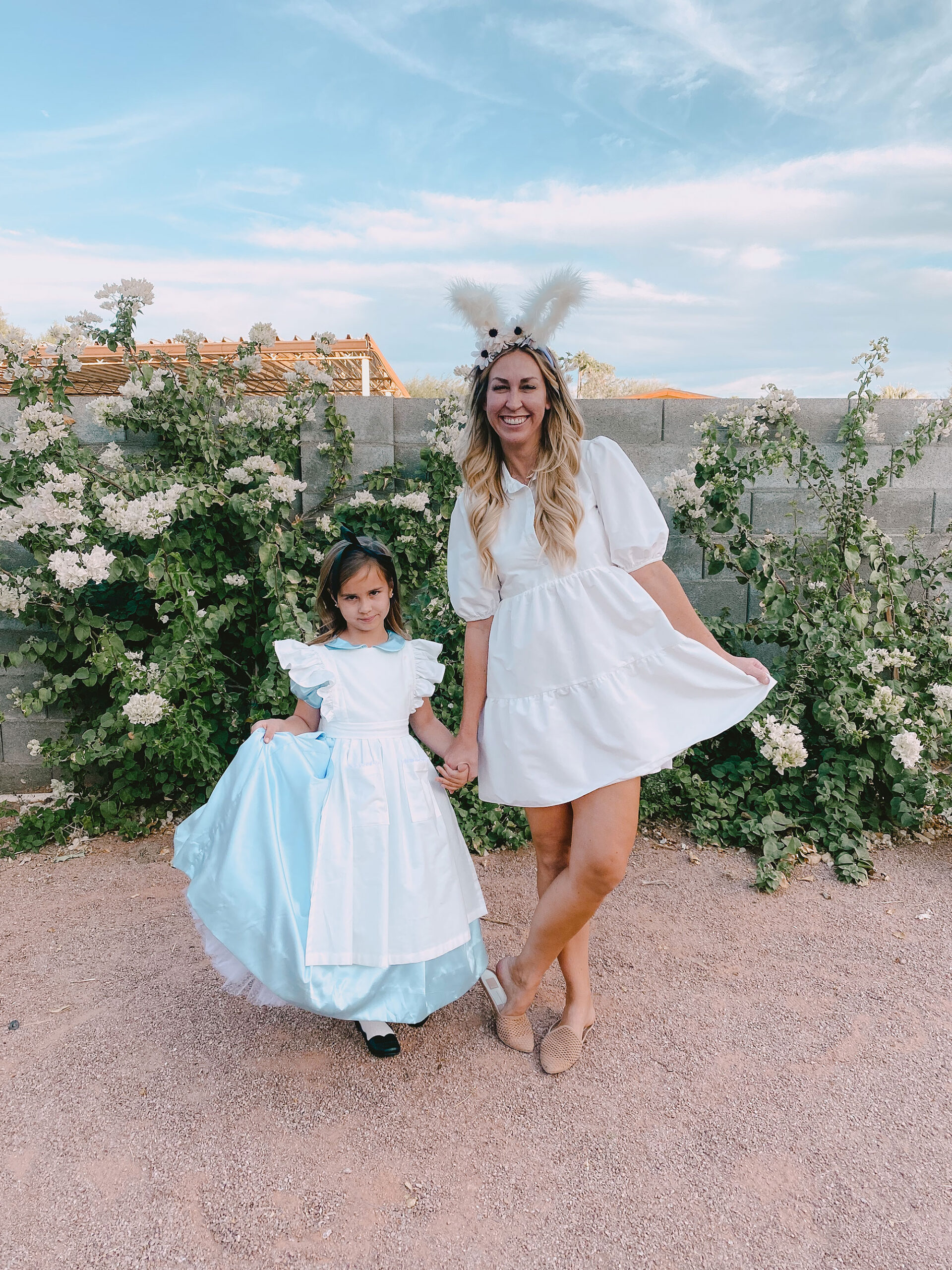 My daughter LOVES having tea parties and has pretend tea parties home all the time. So a real tea party with a "very merry unbirthday" theme felt like a special thing to do this year for her. We invited over just a few of her close friends, set up with some real (herbal) tea, and had tea sandwiches and cakes. It was just what she asked for, and I thought turned out perfectly,
She even got this real tea set from her grandparents for the occasion! I saw it and thought it was just perfect for my now-big-girl on her seventh birthday. It's real porcelain, so not great for younger kids. But the scallop design and light pink color fit in perfectly with our theme. Also, I really love that it serves six, rather than four, which is all most sets I saw serve. I just used a few of my own teacups to fill in, which I thought was fitting for the somewhat quirky theme of a "mad tea party" as well.
This Gathre leather tablecloth has proven a worthwhile piece for all sorts of kids' activities since we got it earlier last year. And I thought it looked nice again here for the party. Also, so easy to clean up after!
Lots of questions on the paper scallop plates when I posted this on Instagram. Don't worry, I'll link all the decorations I can at the bottom of this post!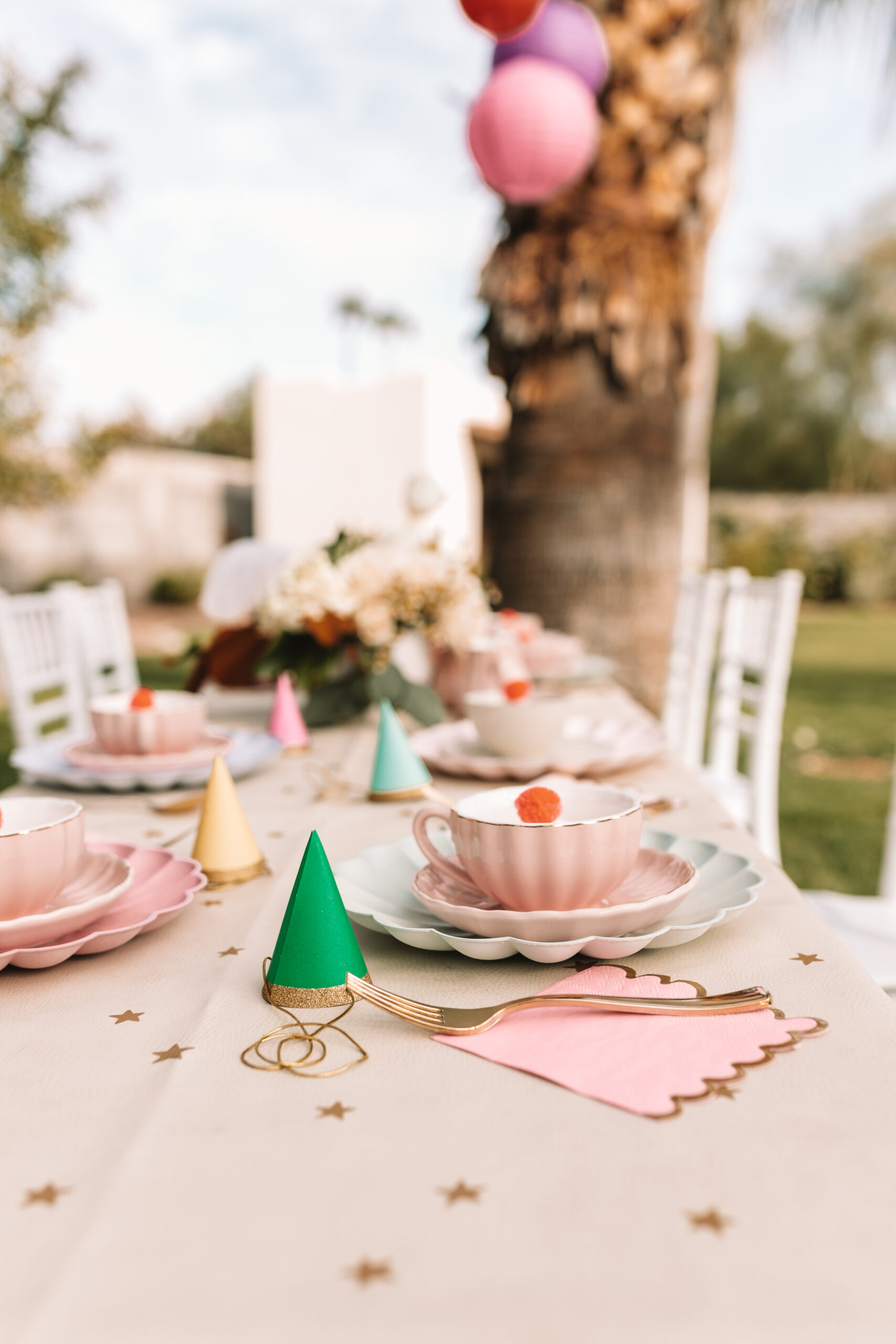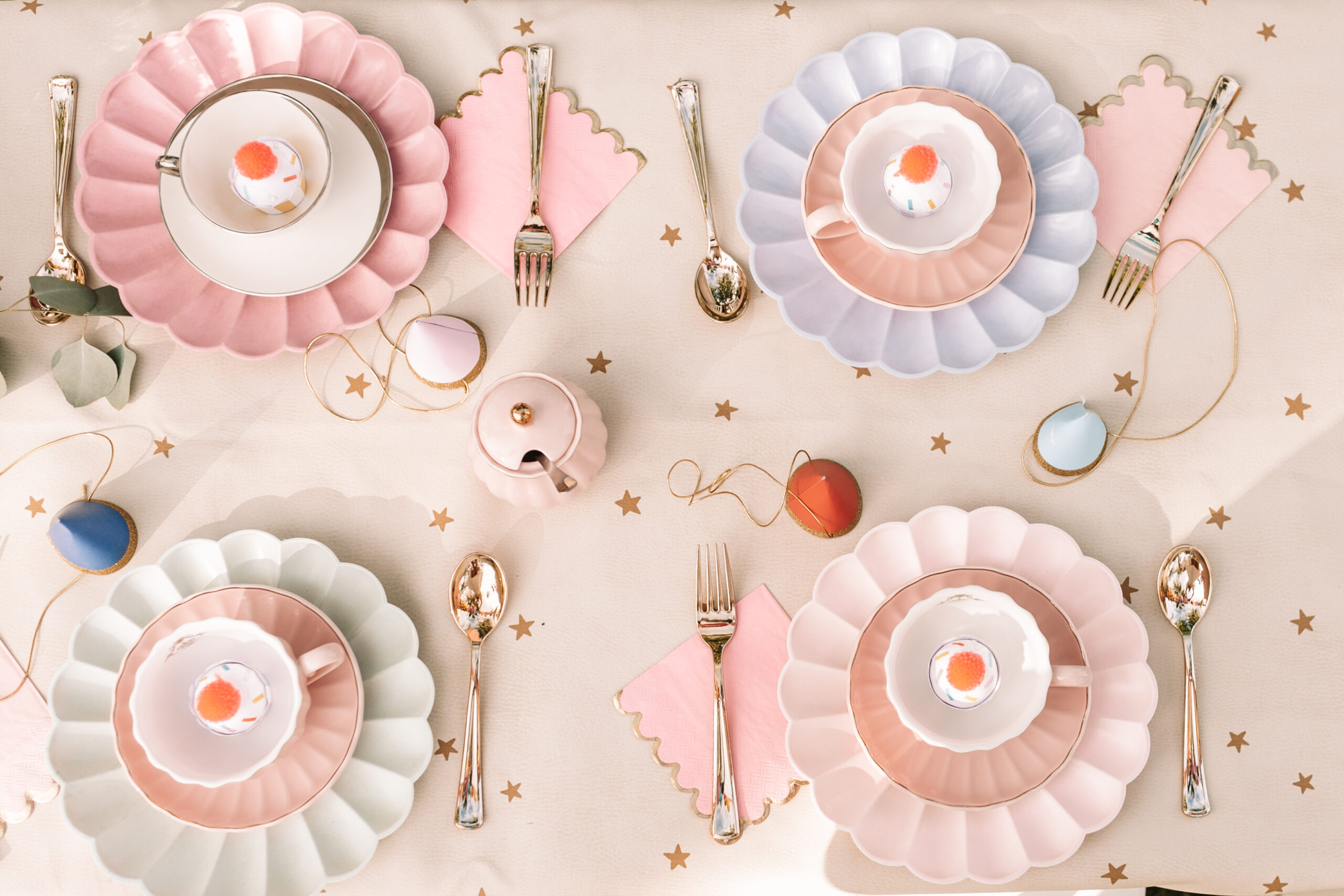 For food, I wanted to keep it simple. We had the party mid-afternoon, at "tea time". So rather than do a full meal or the typical party pizza, I made a few mini tea sandwiches. The cucumber sandwiches with vegan chive Kite Hill cream cheese were a total hit! And then I also put out some veggies, fruit, crackers, and dip so everyone had something healthy-ish to snack on before the treats came out.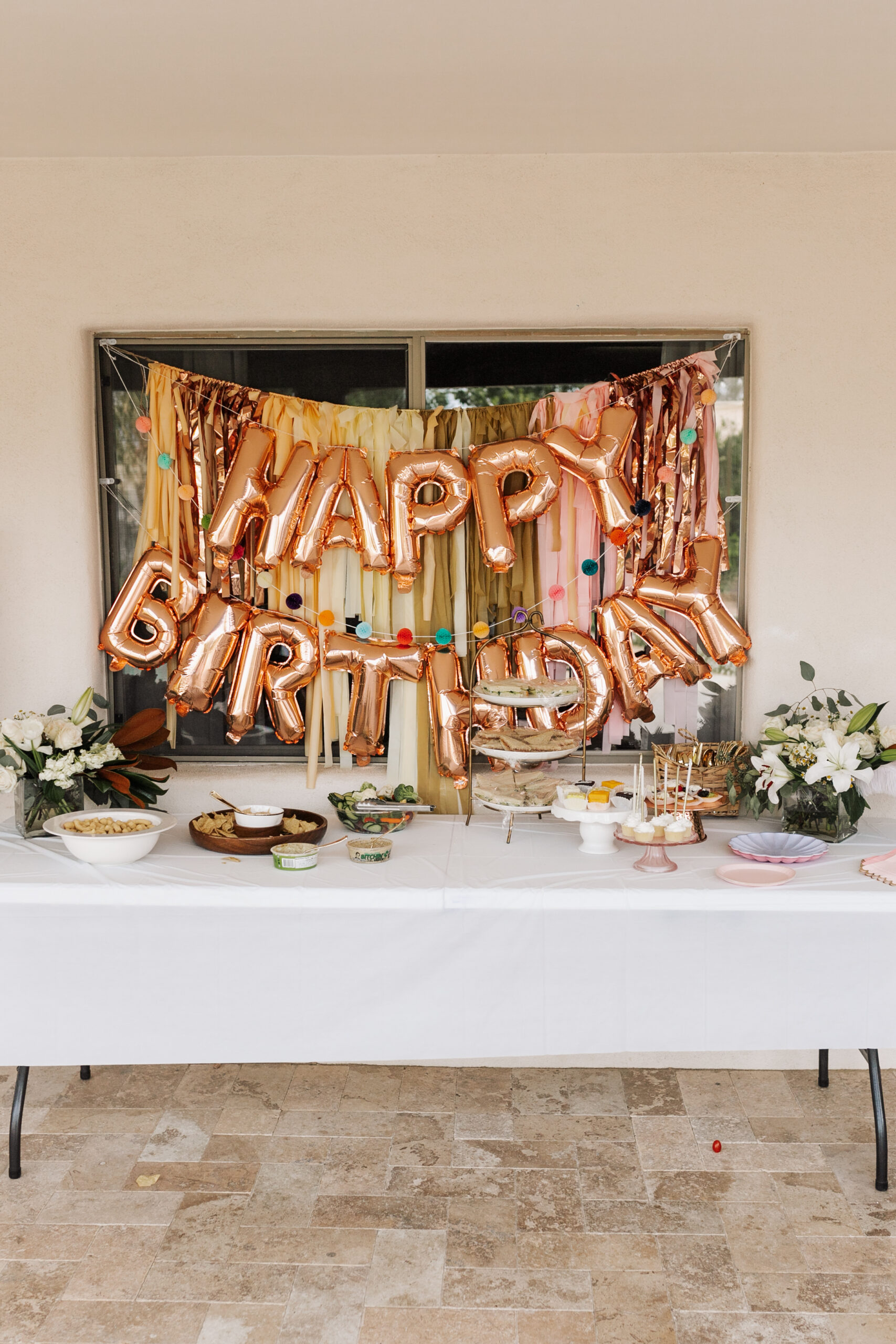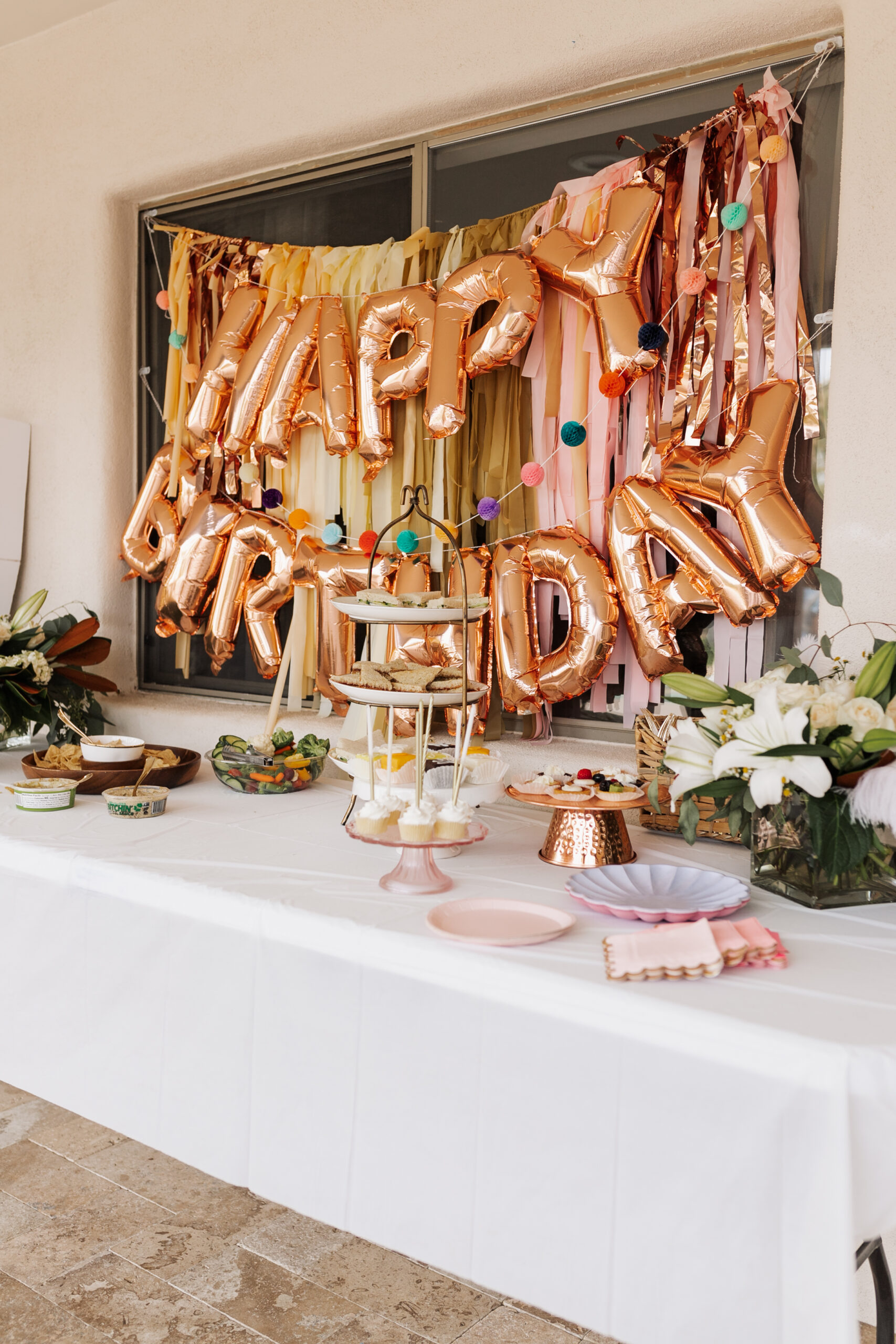 A lot of the decorations I had were from previous parties that I repurposed, like these fun fringe backdrops from GameFete, and the happy birthday balloon banner. Even the flowers I repurposed from another gathering we had had the night before!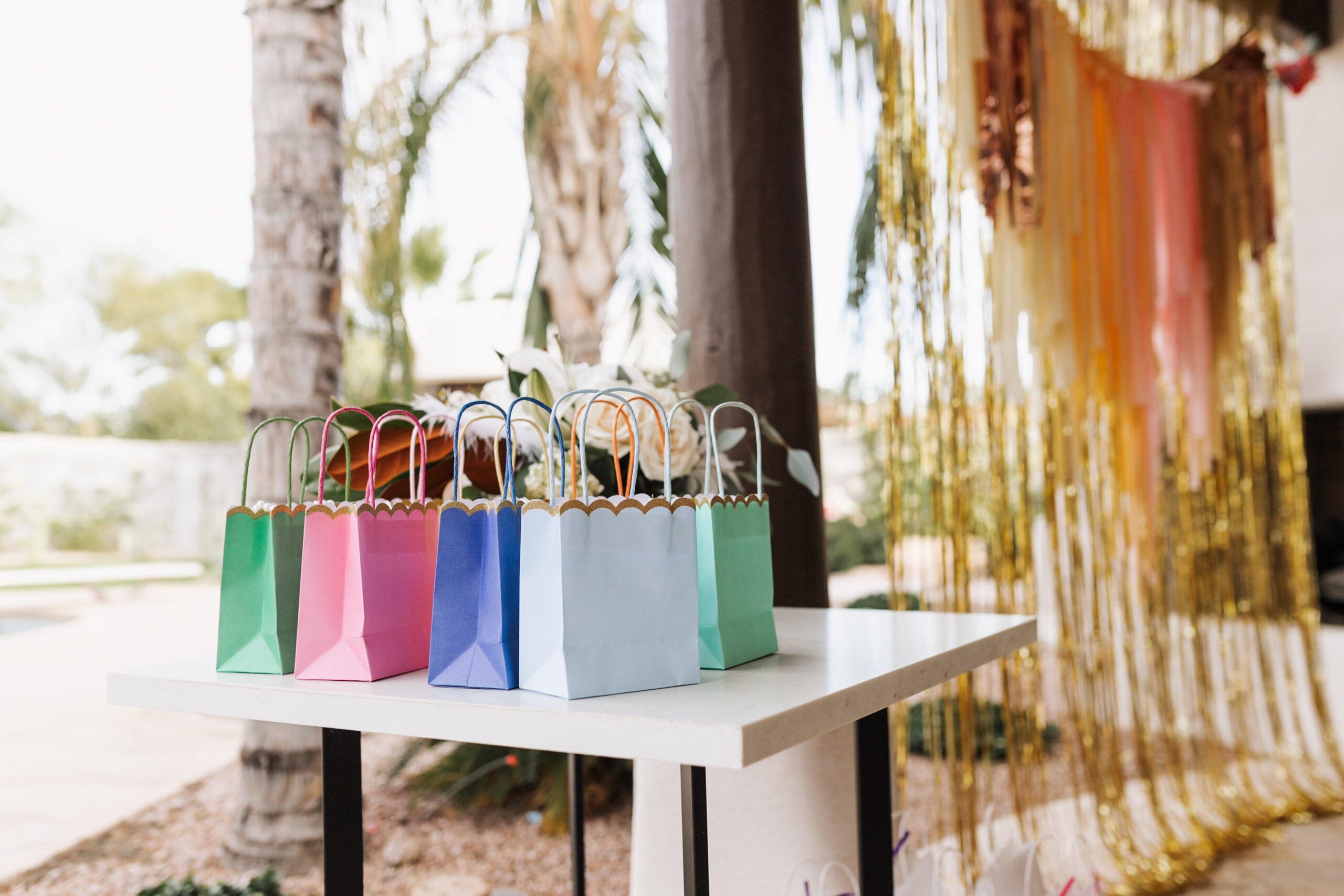 For a fun activity, I hired my friend Heather of Masterpiece Art Parties and she created the cutest little craft to make "mad hats" for our tea party. She also came over when we did a Valentine's playdate in our backyard last year. I always think it's fun to have an activity to do at a party, but by the time I finish planning all of the food, decorations, and treats, I run out of steam for the activities. Masterpiece Art Parties makes it easy because not only does she come up with the craft idea, she also brings all the supplies, directs the kids, and cleans up afterward! I mean, what's not to love about that?!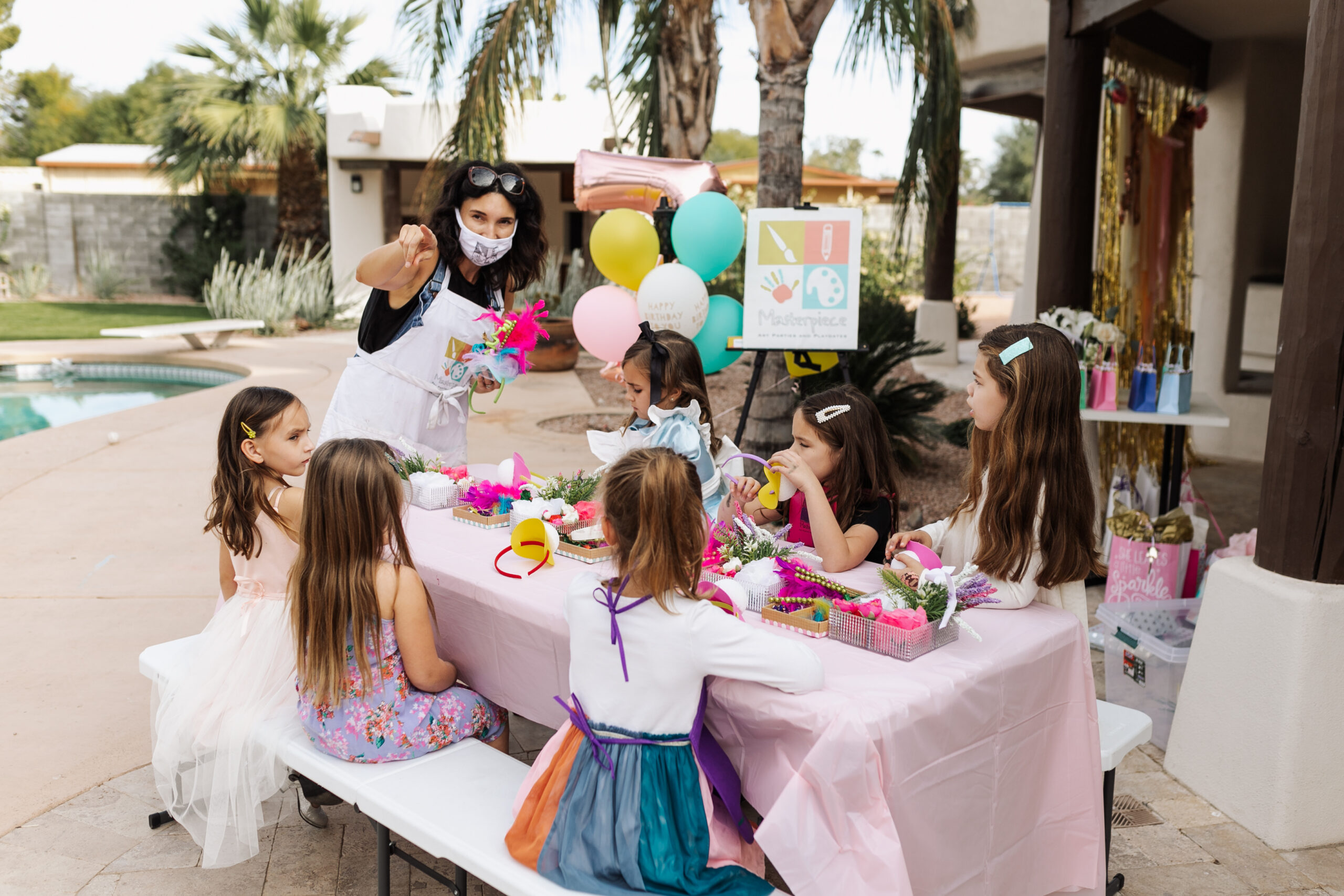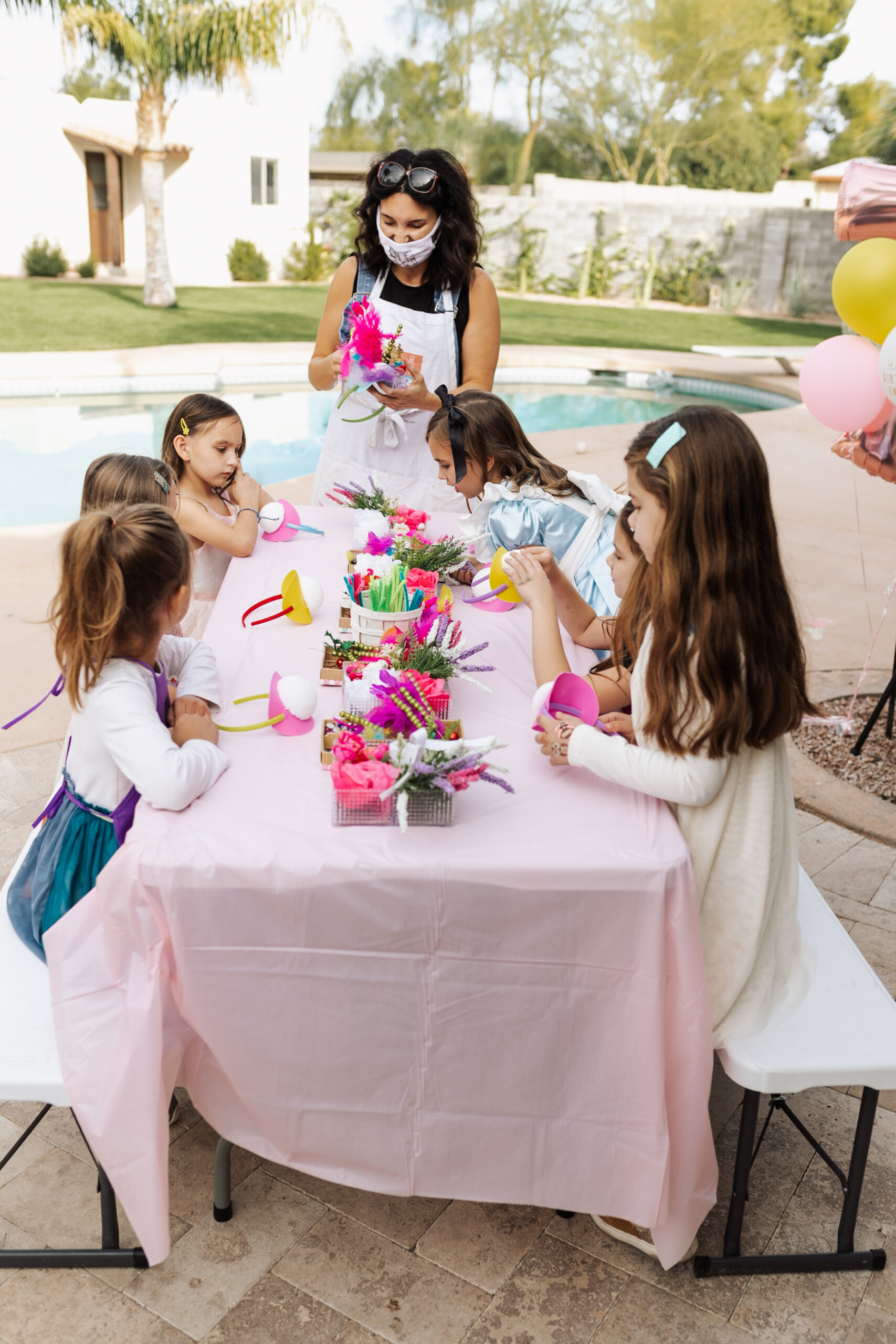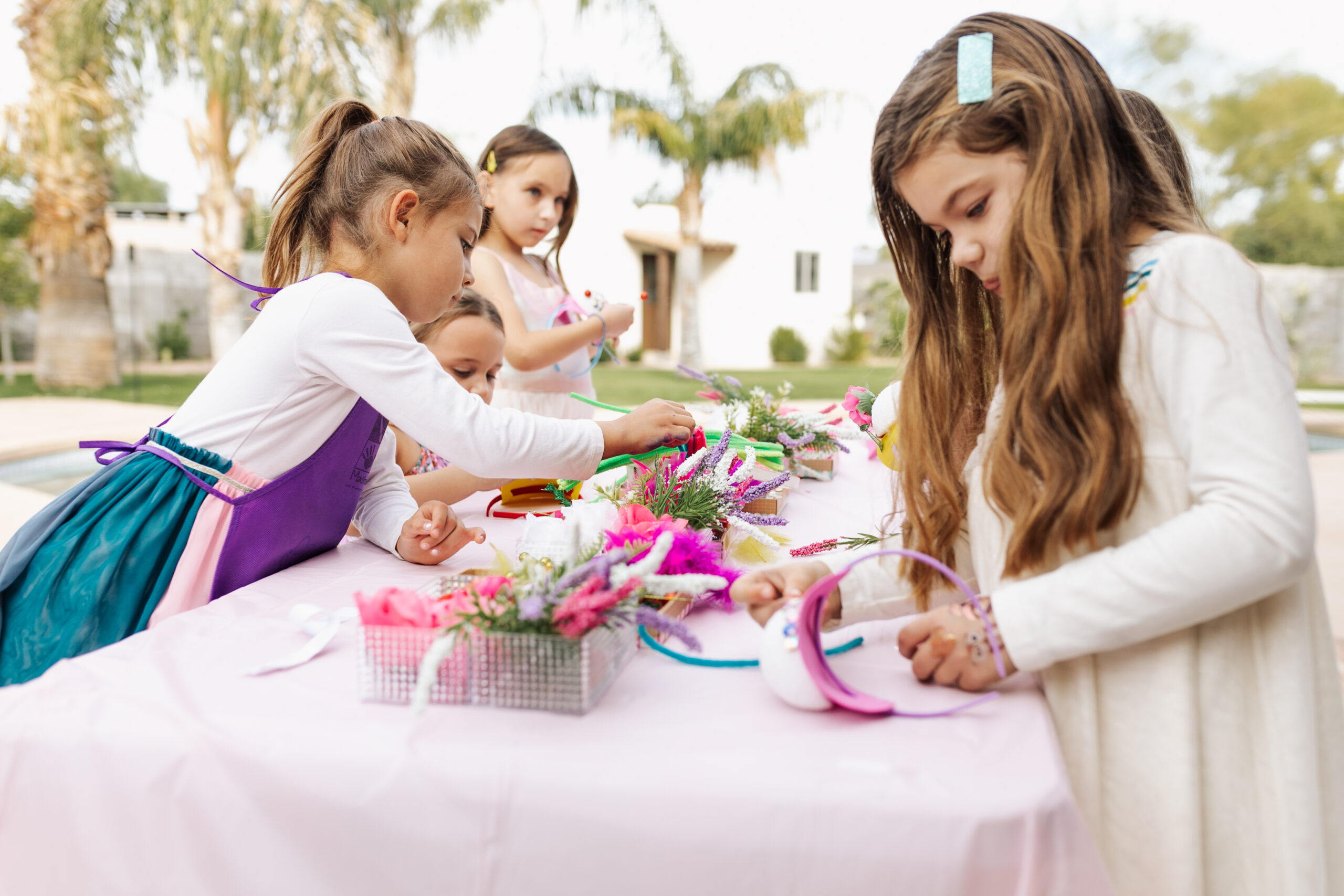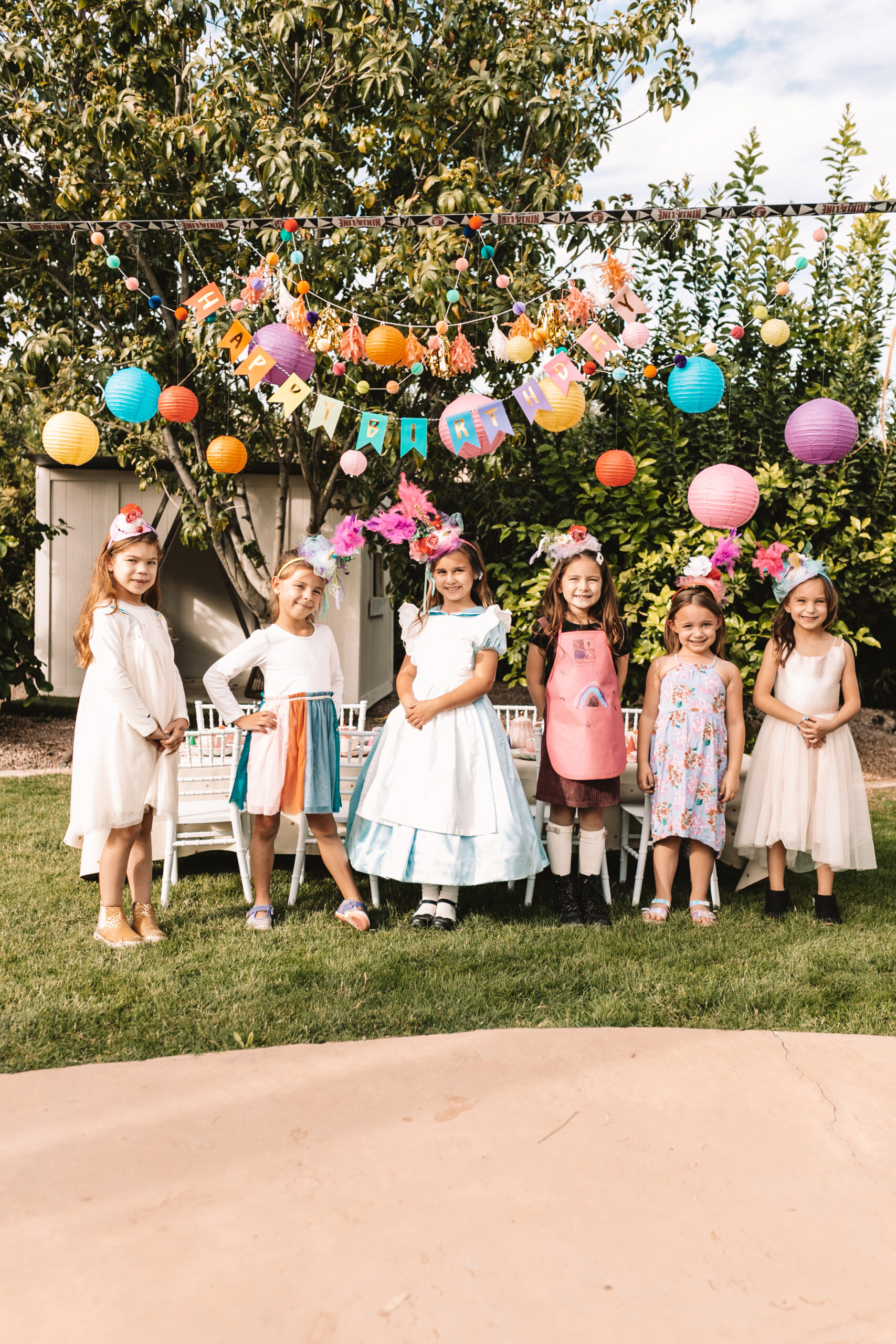 Instead of doing a big cake, we opted for mini tea cakes, cupcakes, and petit fours, per the birthday girl's request. She has a major sweet tooth so she loved getting to try a bit of ALL the things, haha. I was able to find all of these (and even some dairy-free options for our sensitive girl) at our local Whole Foods. No need to order in advance, as they had them ready in the dessert case of the bakery!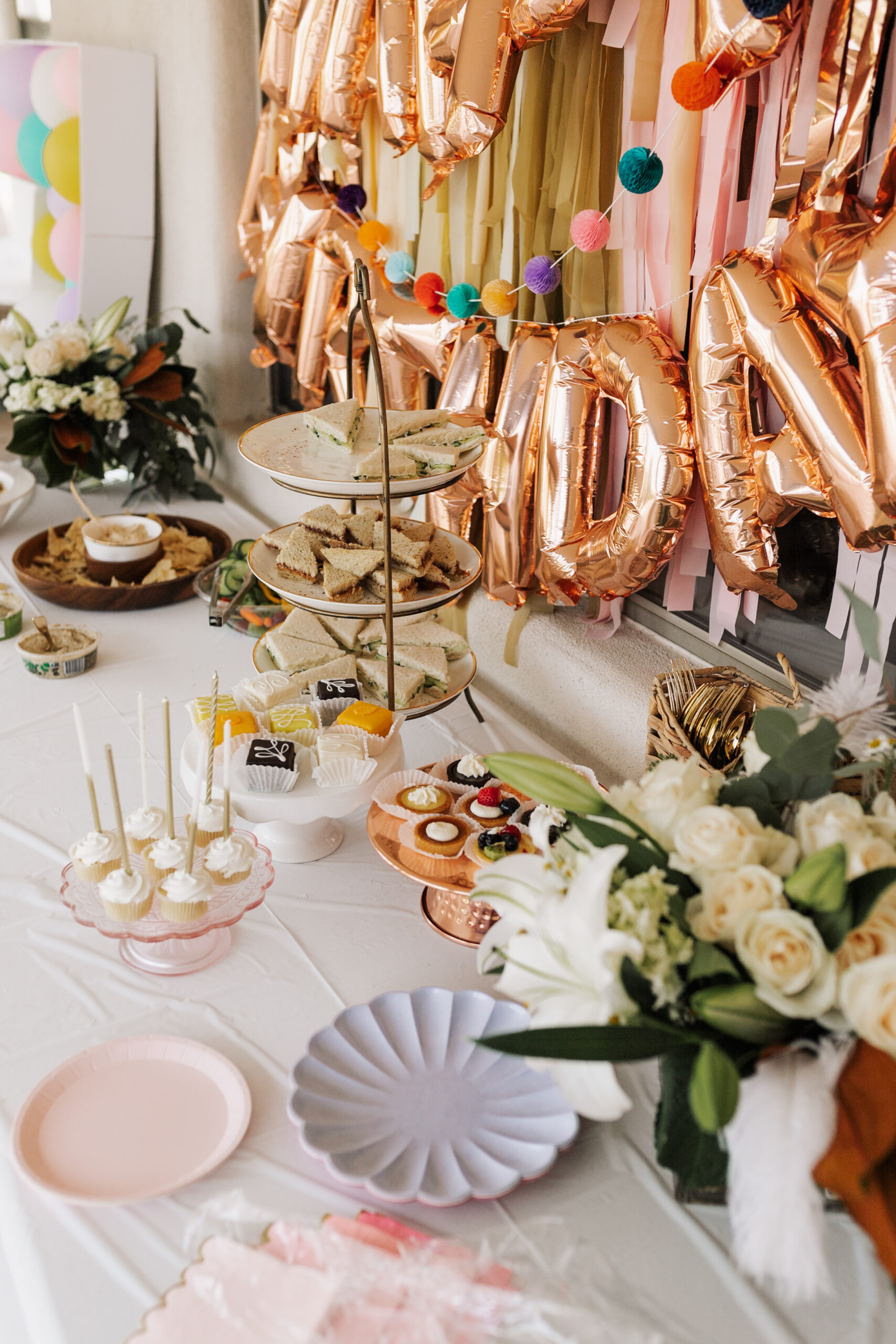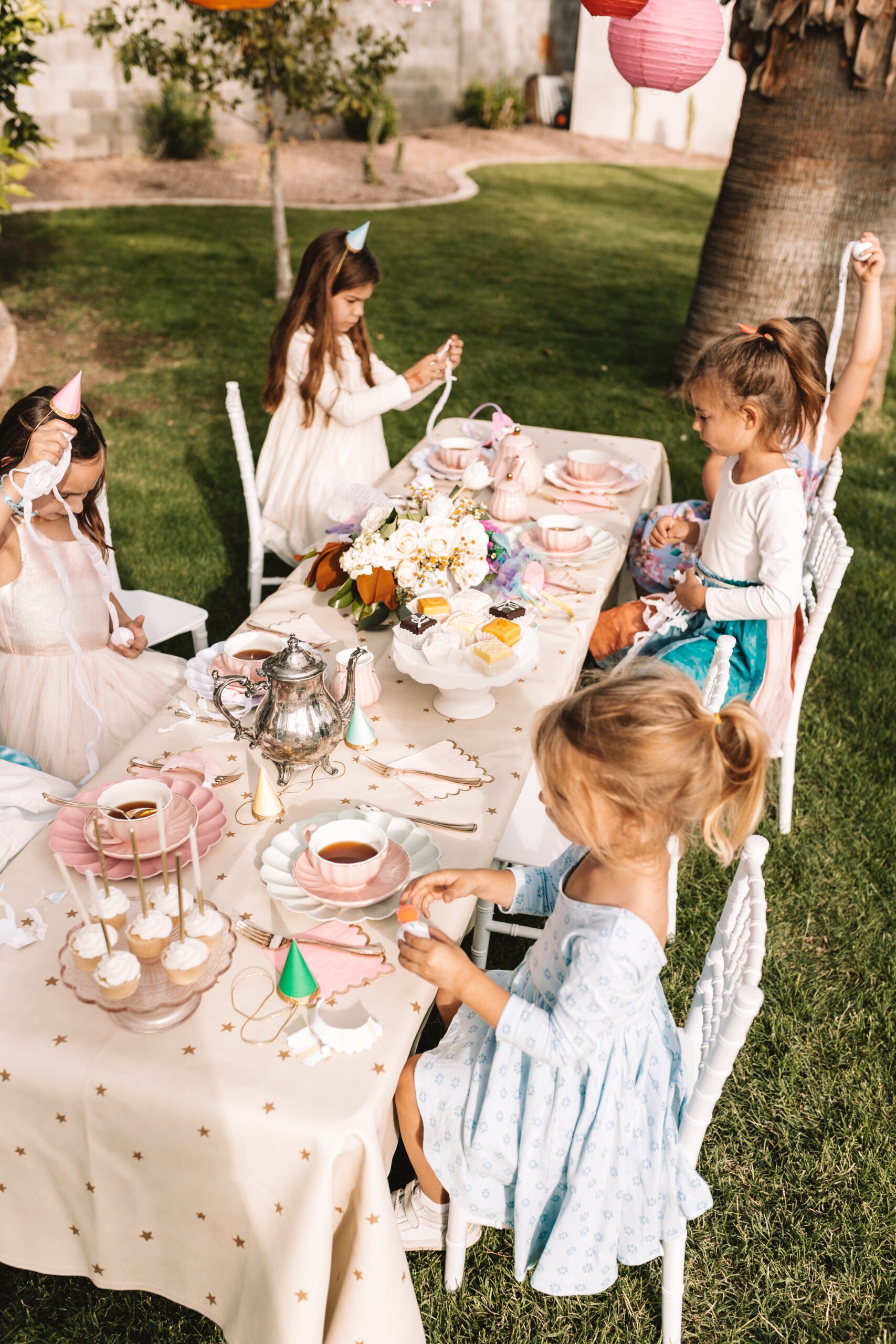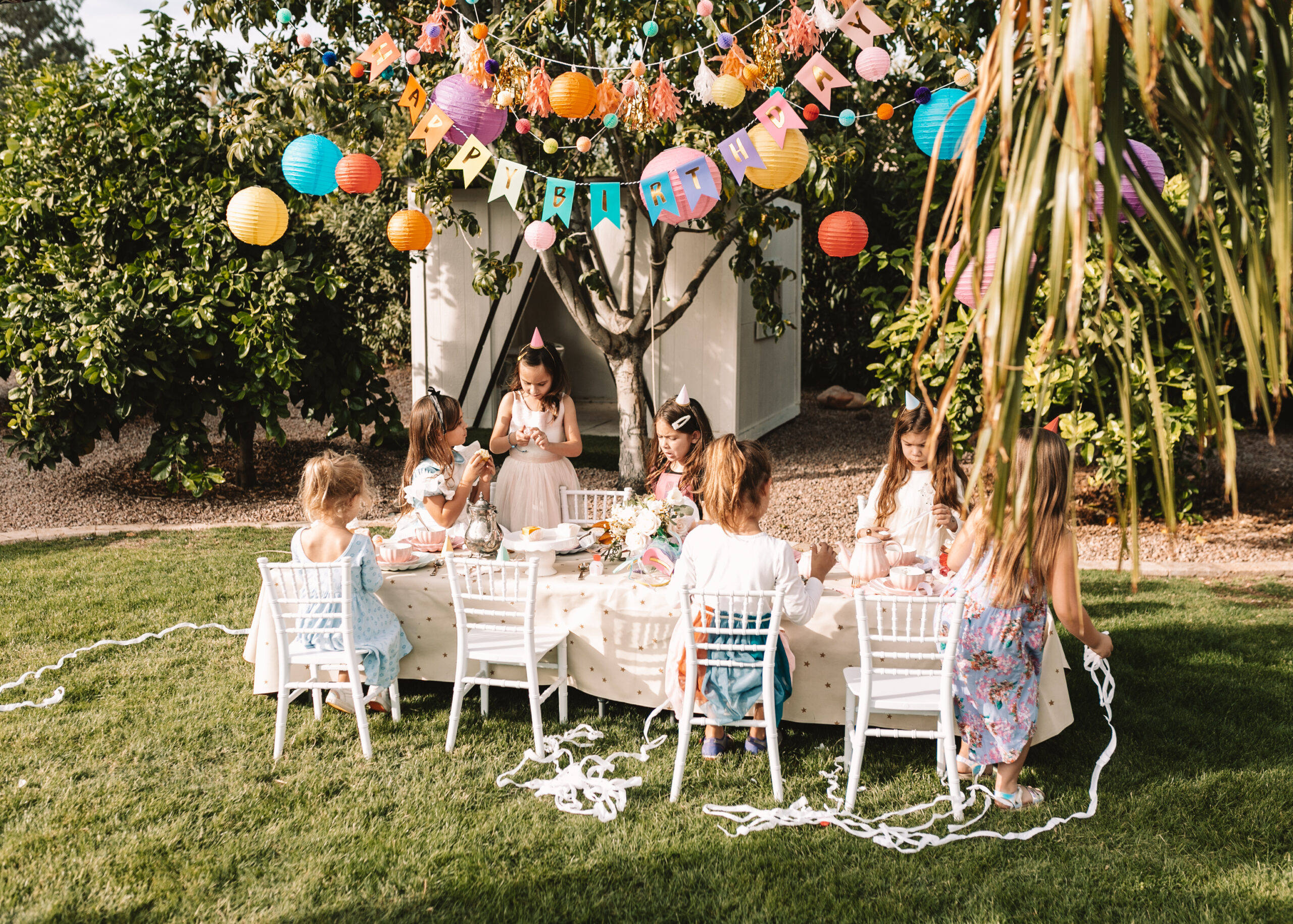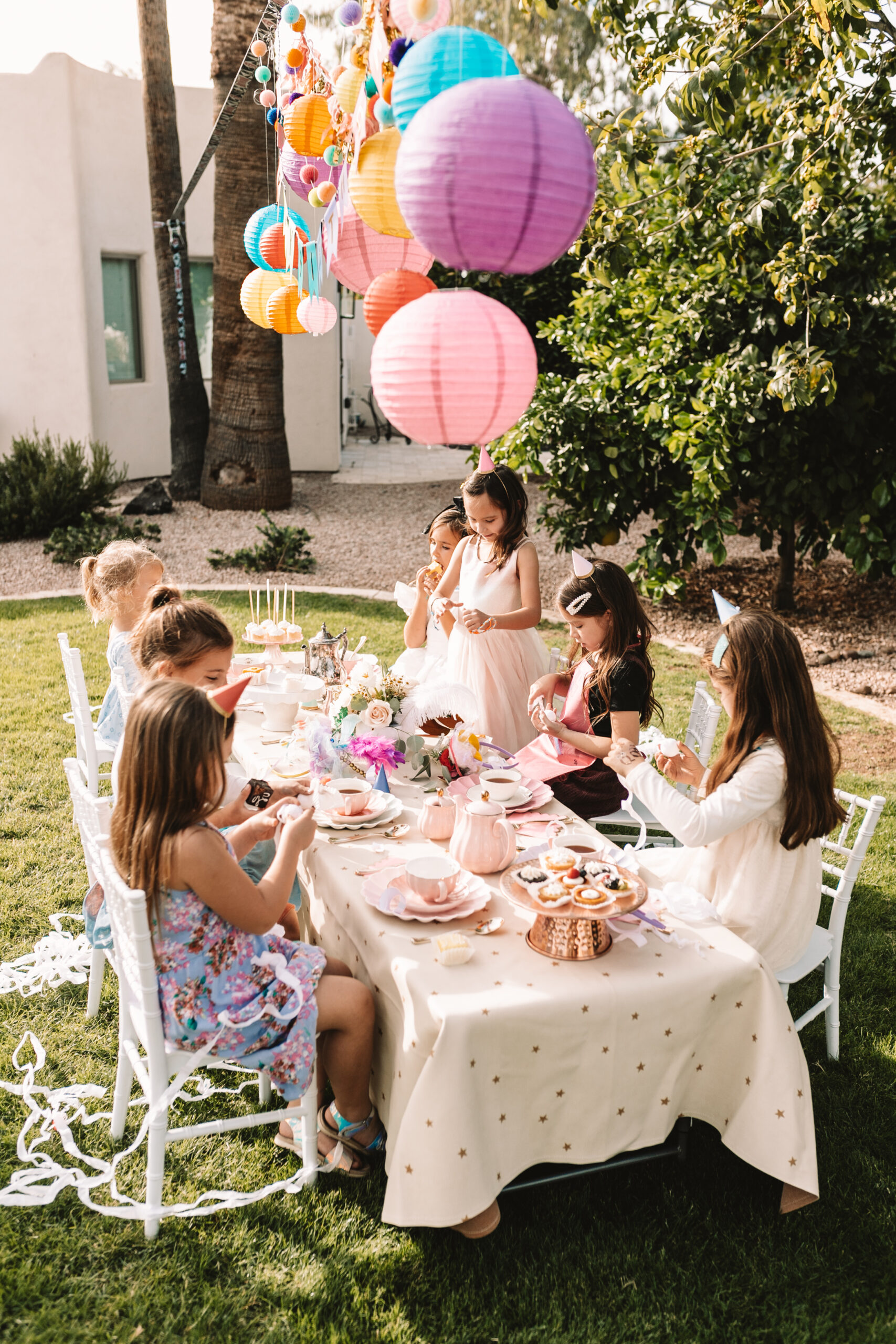 Our girl had a great time with her close friends for a very merry unbirthday tea party. If you try this or are wanting to try this, will you share with me in the comments how it turned out? I'd love to see!
bonded leather star tablecloth
kids party table (shown here are 2 pushed together)
eco scalloped plates (large)
gold balloon happy birthday banner
cupcake surprise balls (similar)
"Mad" Hatter Craft idea + execution by Masterpiece Art Parties
Party Styling by yours truly

This post contains affiliate links, which if you click through and make a purchase, I will make a small commission. Thank you always for your support!