I am very excited to finally reveal my latest project from the LDL home: our updated big boy room for my oldest son today!
As with most of my home projects, it took a bit longer than I anticipated. Especially in this crazy year, where we also ran into delays with ordering furniture and things due to the ongoing pandemic (which caused delays in both production and shipping). ANYWAY, it's all here now and we are thrilled with the result!
How it started: my nine-year-old has actually always shared a room from the time he was first born. It started with him in our room as an infant, then he shared with his sister when she came along and for a few years, when we lived in smaller spaces. Most recently, he has been sharing with his brother. You can see the boys previously shared room here. When we moved into this house a few years back, we actually had enough rooms for each kid to have their own bedroom. But we really wanted one of the bedrooms to remain a playroom. And also, I think the benefits of having a shared space with siblings provides so many life lessons.
As I mentioned in the reveal of our younger son's space-inspired bedroom, we briefly considered converting the once playroom into a schoolroom when we learned we would be doing online school this year. But for my fourth grader, I found that having him separated from my first grader while they were both doing school online actually worked better, as they were less distracted from each other. Also, my big boy has been asking me for his own room for a couple of years now, so it felt like the right time to get him a proper desk and a space he could call his own.
As the oldest, I let him chose which room of the two he wanted. The stipulation being that this Rafa Kids top bunk bed piece stayed in this room, because it has a perfect little nook in it for it to fit (which the other bedroom did not have). I thought he might choose to have the bigger (full size) bed that was going in the new bedroom, but he wanted to keep his bunk bed. So the first thing I did was order him another small bed to fit under here. I wanted the extra sleep space for sleepovers and also when family comes to visit (because then the kids could share in here and we'd have an extra bedroom for guests).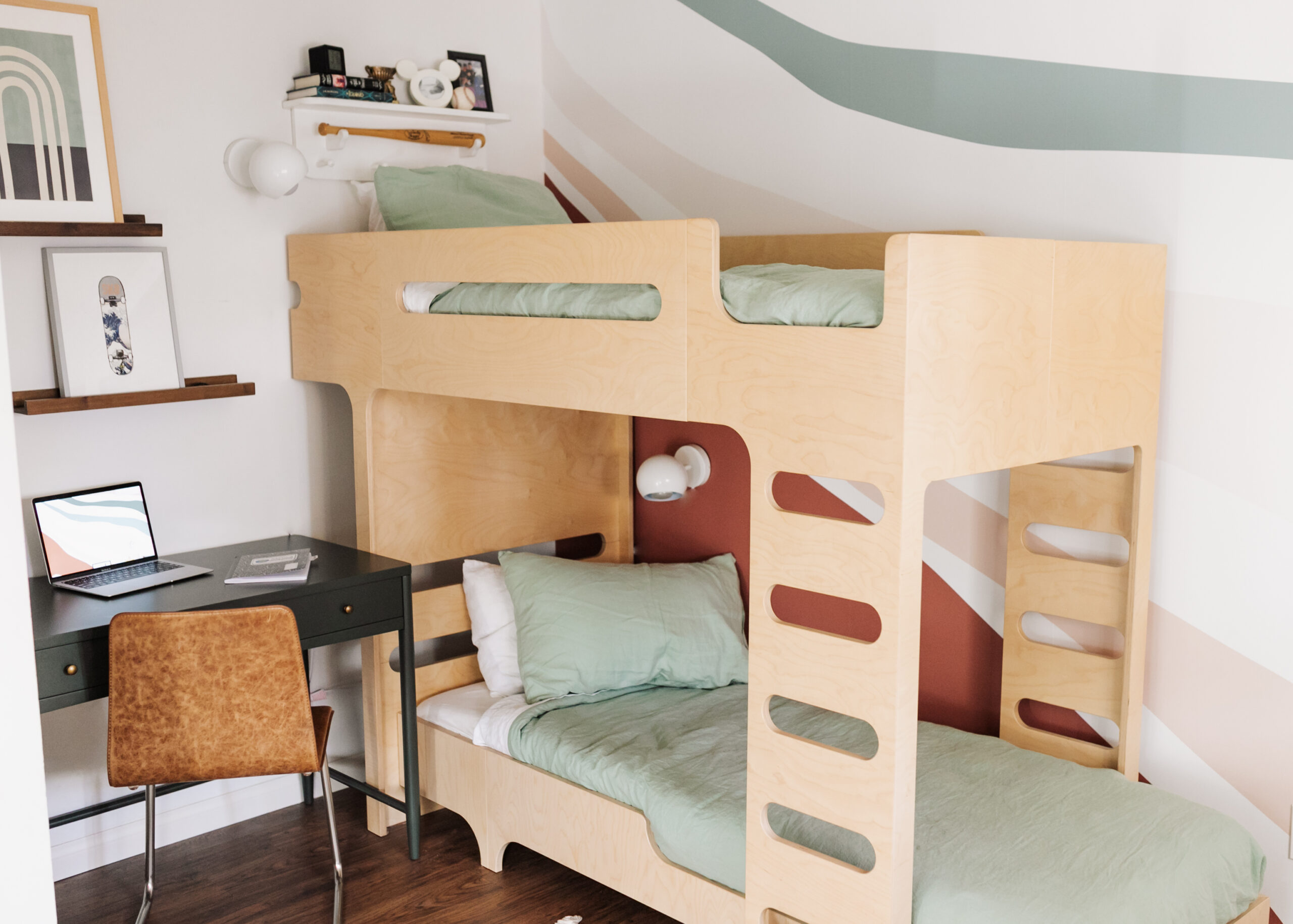 As you can probably tell, this room is a small space. This side of the house follows the original footprint of the house, which was built in the 1970s. So the bedrooms are each about 8′ x 8′. I honestly think it's a fine amount of space for a kid's room, but it just requires a bit of creativity when it comes to fitting in furniture and making the most of the space we do have. Which is yet another reason we kept these compact bunk beds in here.
The original top bunk fit neatly right into that little alcove, lengthwise. But adding the second bed underneath in this configuration meant I had to rotate the bed 90 degrees to fit. This also opened up space for a desk to go in, and I spent a lot of time searching for one that would fit just so. When I saw this Hampshire desk in this olive green (it also comes in blush and white), I immediately fell in love with the color and knew it would fit into the design I had in mind. It was even better luck when the measurements worked out! I originally wanted this desk chair to go with it, but when it was back-ordered, I went for this dining chair instead.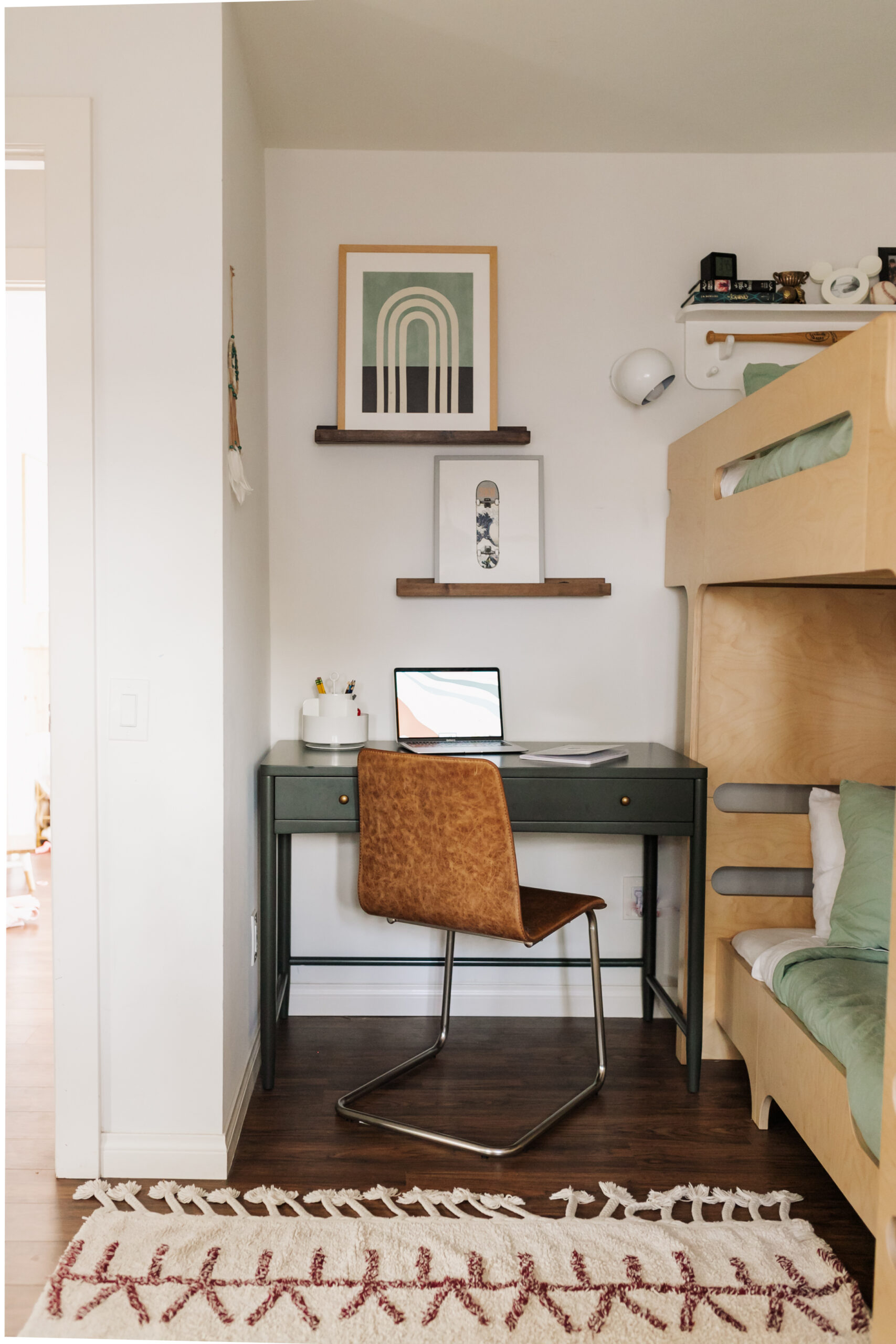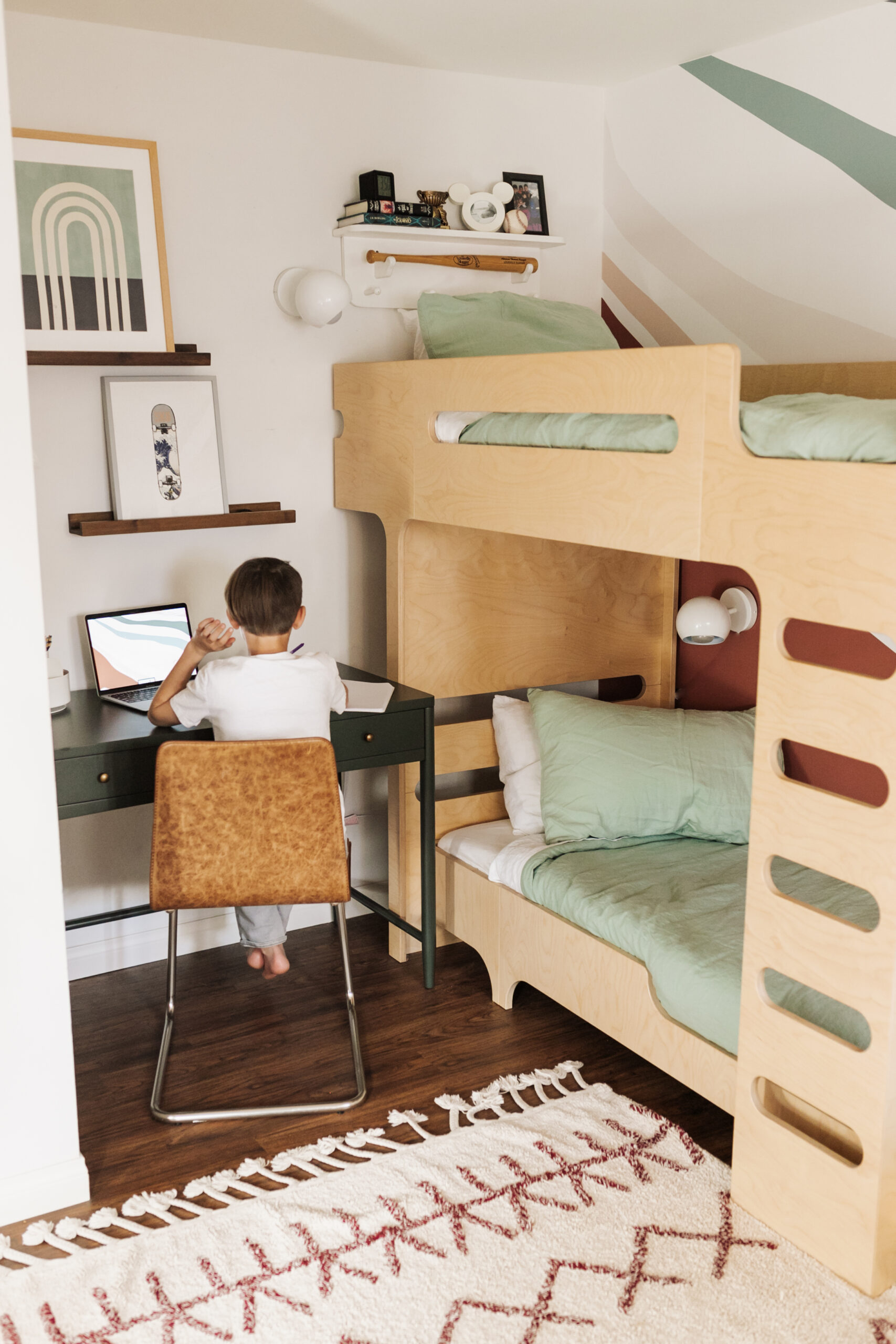 Part of the coordinating set of furniture with the Hampshire Desk was this equally gorgeous Hampshire Dresser. I don't know why, but I have always been very picky about dressers. It's one of the furniture pieces I've held off on buying the longest. I guess in my mind, dressers are more of an investment piece, so I like to take my time searching for and finding the most perfect one that will (hopefully) stand the test of time. Both of my other kids' dressers are actually vintage and restored. But for this one, I felt like a newer (but high quality) style was the way to go. I also don't always like our furniture to be so matchy-matchy, both in material and style. But I of course want it to still coordinate. So I like that even though these two are part of the same set, we still have different colors and textures in the bed frame, chair, and even the little side tables. I'm so happy with how it fits in! Not to mention it gives my big boy a lot more storage. My only complaint is that I wish the drawers themselves were a bit deeper.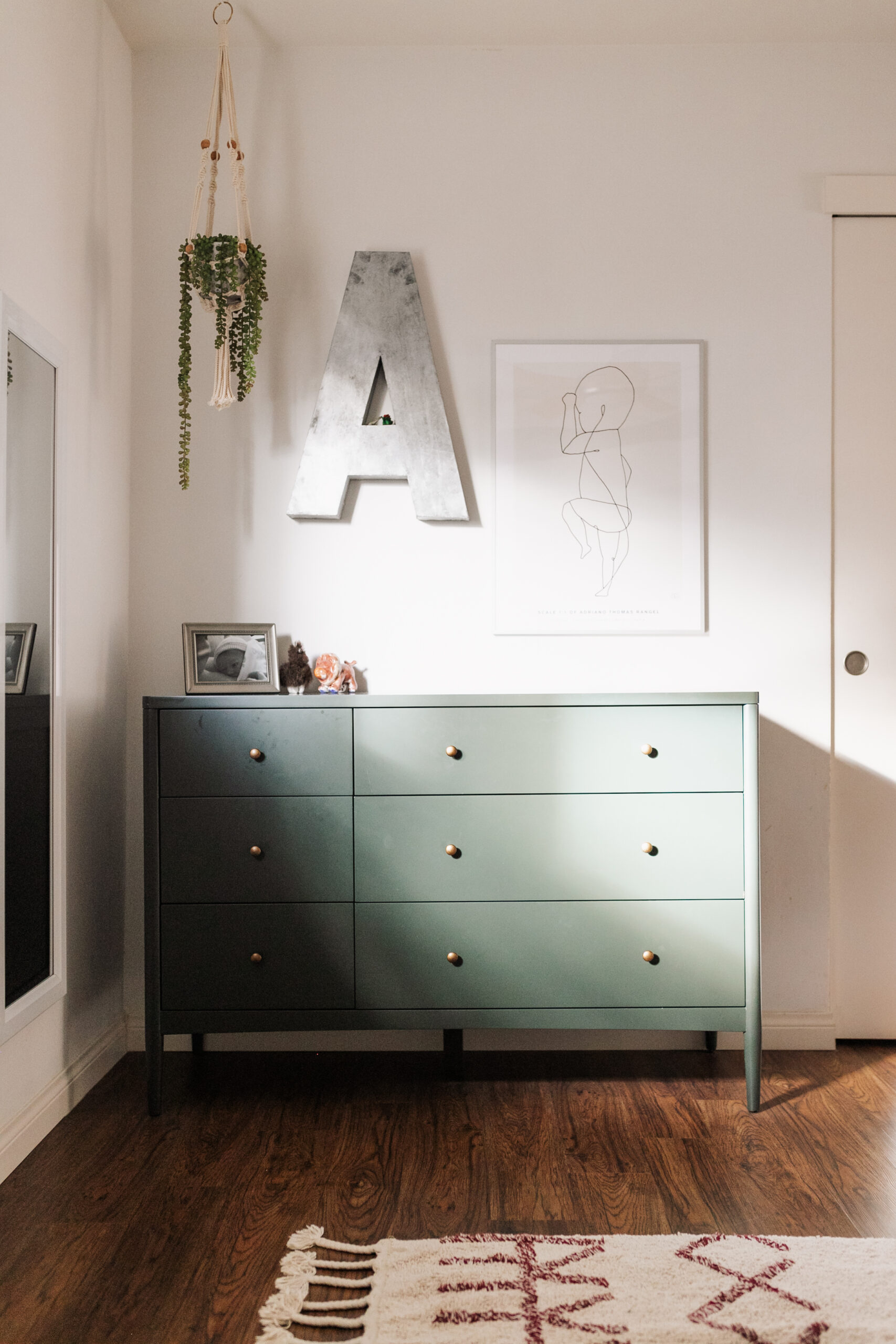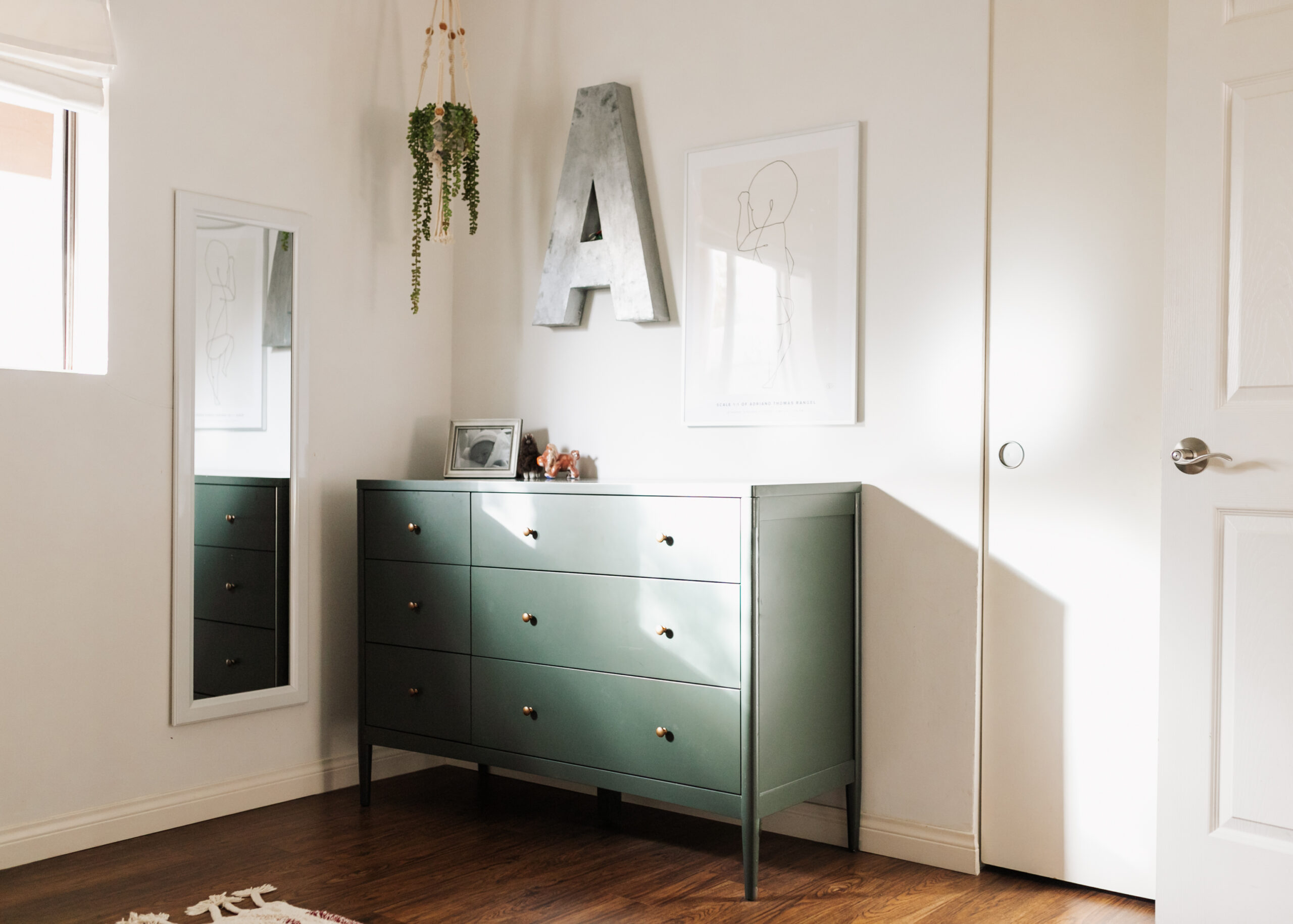 Ok, I have to circle back around to this reading nook, and HOW ABOUT THAT WALLPAPER?! Honestly, maybe I should've started this post with the wallpaper because it was the inspo for the whole room! If you've been following along for a while, you know that I feel that wallpaper can really change a whole room's dynamic. And the peel and stick from my friends over at Loomwell is my jam. So easy to put up, easy to take down, easy to make a big impact! The wallpaper we had in here before was also from Loomwell, a few years back, and it came off like a dream. This mural we recently put up is called the Jade and it was a part of a recent artist collaboration that Loomwell did. The color pallet it provided is what helped me design the rest of the room, including the forest green dresser and desk, as well as the sage green bedding.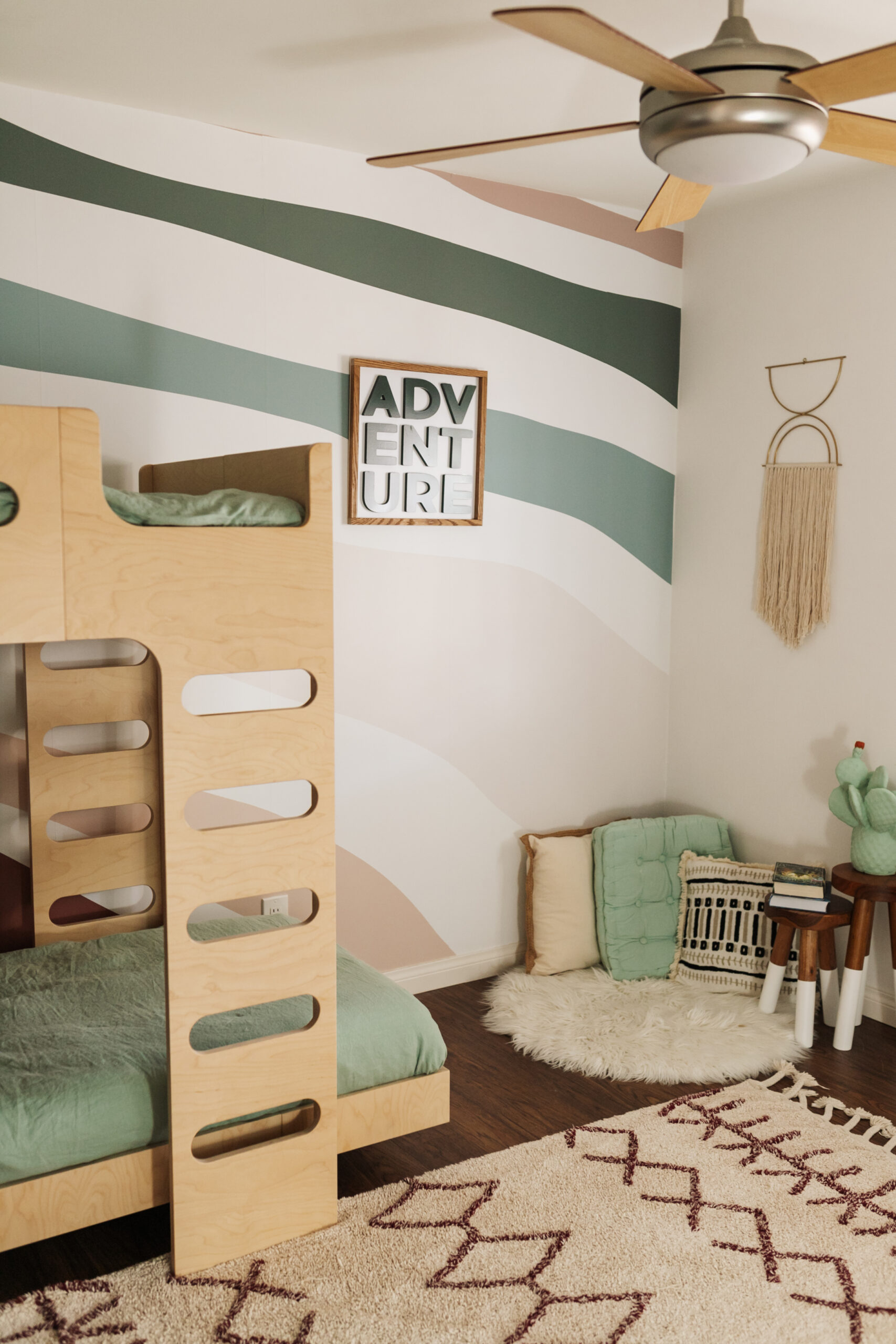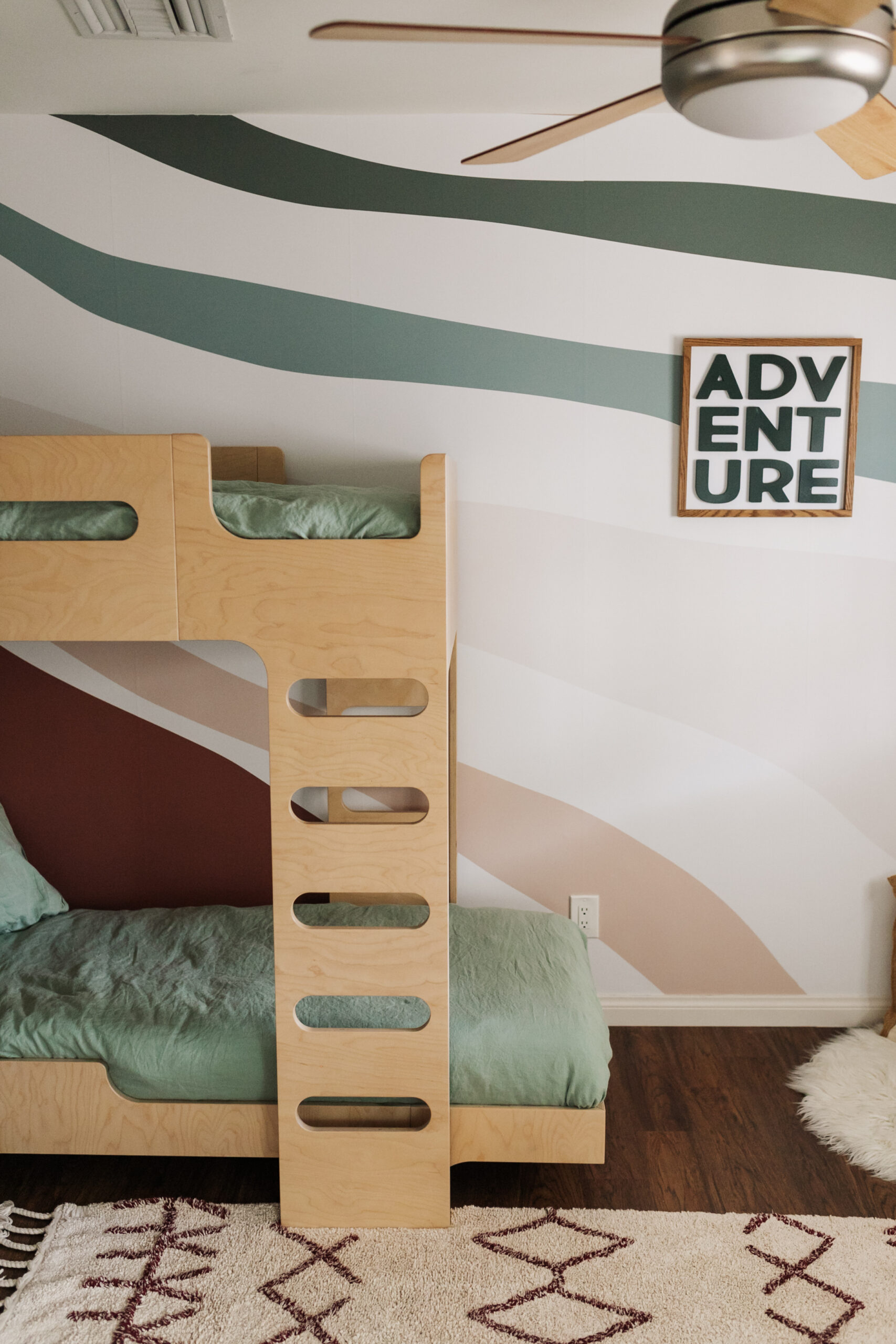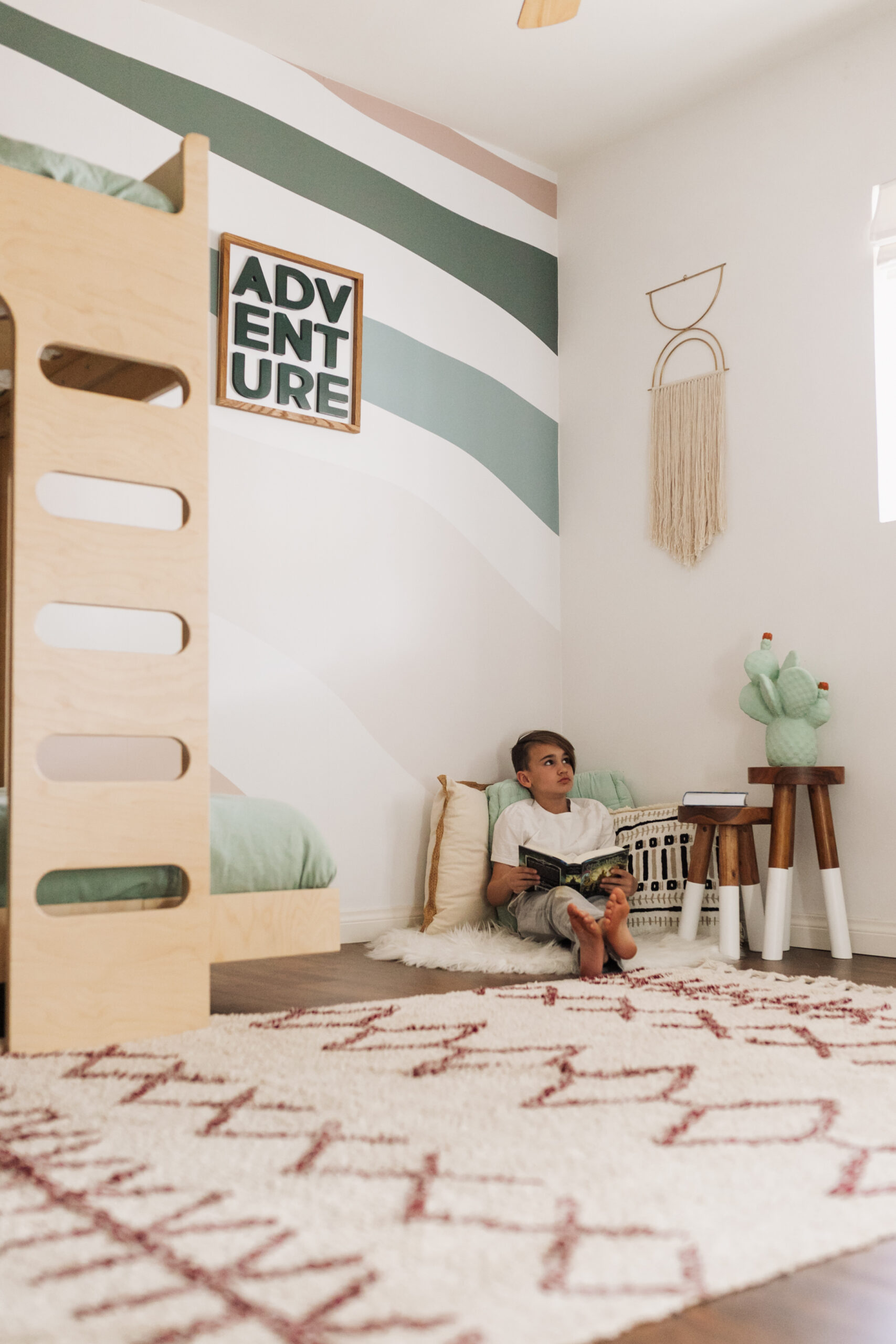 Speaking of bedding, I have to call that out here too! I again went with our favorite eco-friendly linen bedding from Piglet in Bed. This is the same bedding we have in our master bedroom, as well as what we did in the space-inspired bedroom. We loved it so much for our bedroom, that I had to add it to the boy's refreshed rooms too. Not only is it eco-friendly, but linen also naturally gets softer overtime! I was honestly skeptical about that at first, but it's truly amazing. And Piglet in Bed recently released these Little Piglets bedding bundles, that come with a fitted sheet, duvet, and pillowcase. I love the ease of it and the availability of these basic bundles in twin size. But I actually ended up going back and ordering additional pillowcases and flat sheets for each bed though, because I love the more traditional look of layers of a full bedding set.
Overall, I'm proud of how this room came together. But I'm even more proud of this kid right here, after all the changes we've been through this school year. From online-only, to in-person, and back again, it has not been an easy school year. But through it all, he has stayed focused and with a little help from this dedicated space, he has found success with his studies.
I will link all that I can here below. If I miss anything or you have any other questions about the space, please do let me know in the comments below!
jade wallpaper c/o loomwell
use my code THELOVEDESIGNEDLIFE to save 15%
bunk bed set c/o rafa kids
retro vibes framed art c/o minted
SK8 deco framed art c/o minted
adventure sign c/o opal + olive
This post contains affiliate links, which if you click on and make a purchase, I will earn a small commission. Thank you, as always, for supporting this blog by supporting the brands we love.