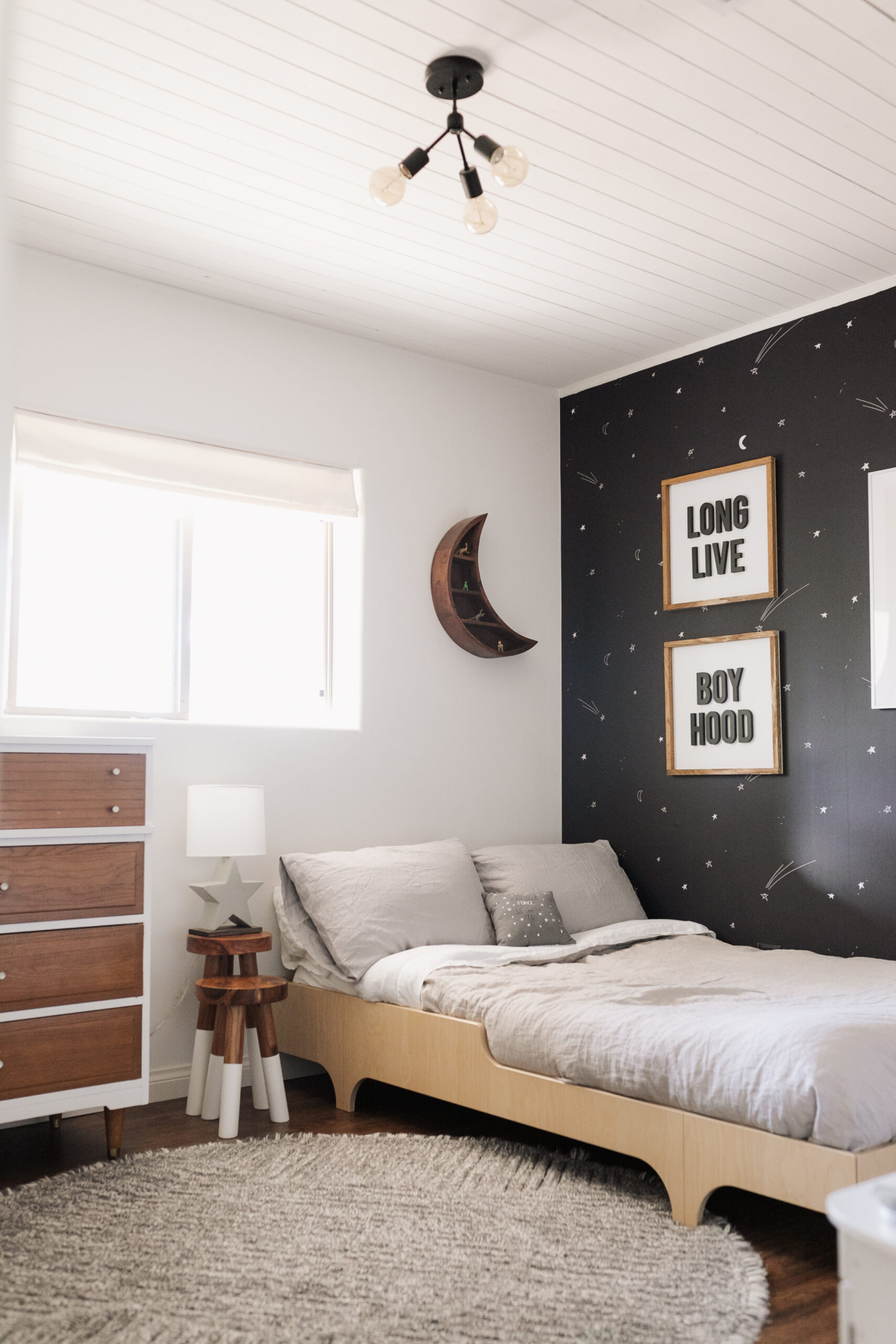 Welcome to the latest update in the LDL Home: our big boy's space inspired bedroom is finally done! If you've been following along with my blog and updates in The LDL home for a while, you know that I usually make some commentary on how long it takes me to design and put rooms together. I guess this is why people pay interior designers the big bucks! Lol. But this is real life, and in real life, big projects take time. Add on to that a global pandemic, which caused production and shipping delays in many industries, including furniture and home goods, and you have where we are with this project today.
Back in August, when my kids first went back to "school" but were online-only, I knew I needed a better solution for how we were going to manage to have four out of five of us on our computers for a better part of the day. In my Instagram Stories, I took a poll on what to do with this room (which was previously our playroom). The options were to convert it to a "school" room (with more desk space) or to convert it to a bedroom for Diego (age five) so that my nine-year-old would have space in his own bedroom for a desk to work at. I'll be honest with you, most of you voted for the schoolroom, haha. But after just a few days of online school, two kids on computers, and lots of conflicting noises in my dining room, I knew it wasn't going to work for us.
When we bought the house, we always intended to use the three bedrooms on this side of the room for the three kids. I wanted a playroom too, but that just wasn't how our space worked out, so it was one or the other. I am also a big believer in room sharing, for lots of reasons. The simplistic one being, it builds character. 😉 Actually, my kids have always shared a room in some form or another, until now! But we were getting to the point where the daily fighting was too much (for me) and we had a relatively easy solution in having this room available to rearrange.
For visual reference, here's a satisfying step back in time with some pictures of this same room as our playroom, and then as the original room when we bought it, before it became this space inspired bedroom.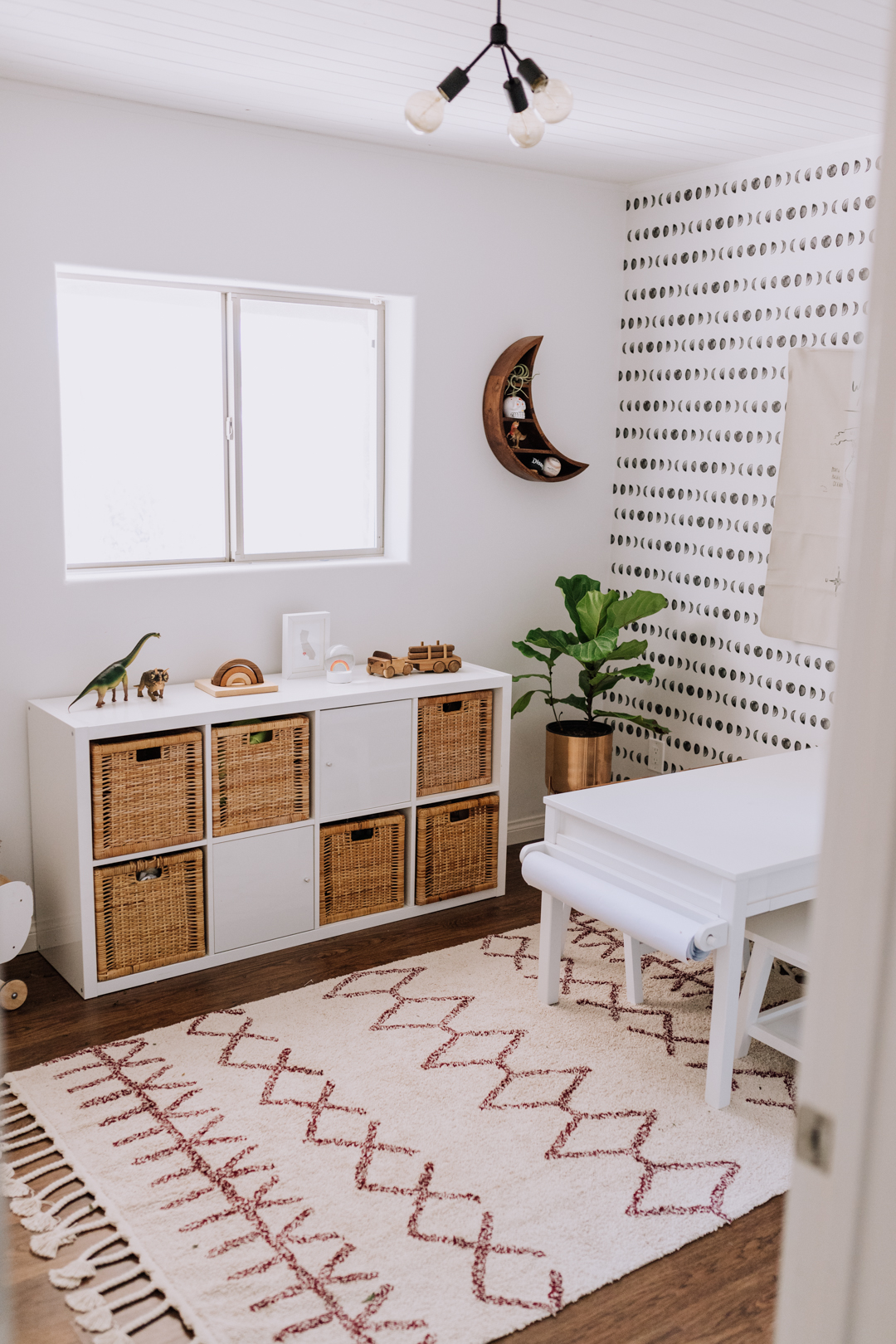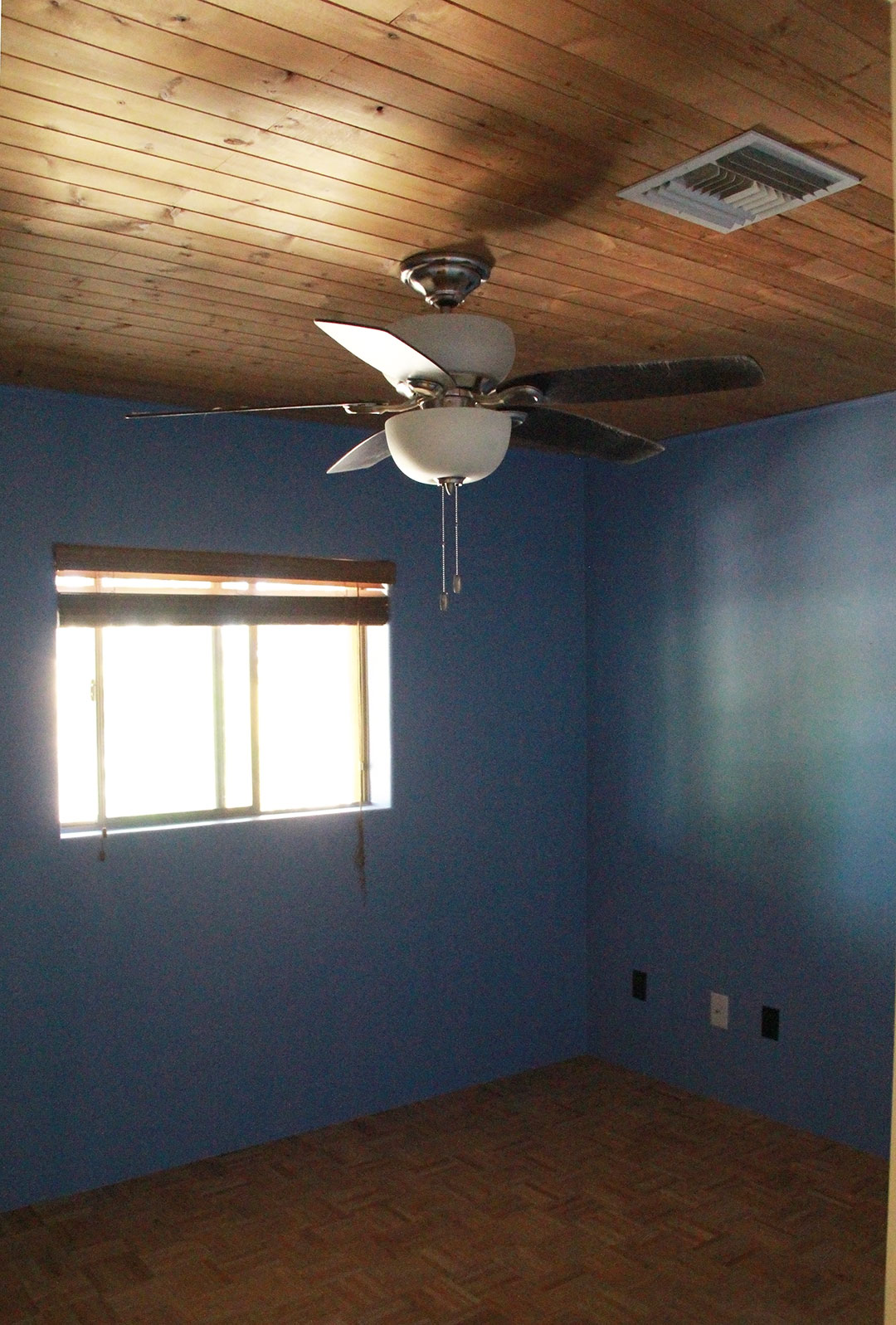 Ok so let's talk about some of my favorite details! And of course, I will link everything at the bottom of this post. 😉 First off, I think you all know how much of a fan I am of wallpaper, especially in kids' rooms. It is are such a fun way to change up a room, without the hassle of paint. I have done many DIY paint projects, and I honestly think the wallpaper is easier! It can be tricky to get it up, but once it's up it makes such a difference. And it's sooo easy to pull it down. For proof, you can see my Instagram Stories Highlights or Reels when I pulled them down. I always get the peel and stick, for this reason. This wallpaper is Loomwell. I've used them a few times before and always been happy!
Loomwell makes not only beautiful peel and stick wallpapers, but also bedding and blackout curtains too! They also do exclusive artist collaborations, which includes this Spencer wallpaper we used. Some peel and stick wallpaper designs can be found at other retailers these days, but with Loomwell's artist collaborations, you know you are getting something truly unique for your home. As I was looking through all of the beautiful choices with Diego, this one stood out to us because it looked like being in outer space! And for my little space inspired boy, it seemed like just the thing for his new big boy bedroom in our home.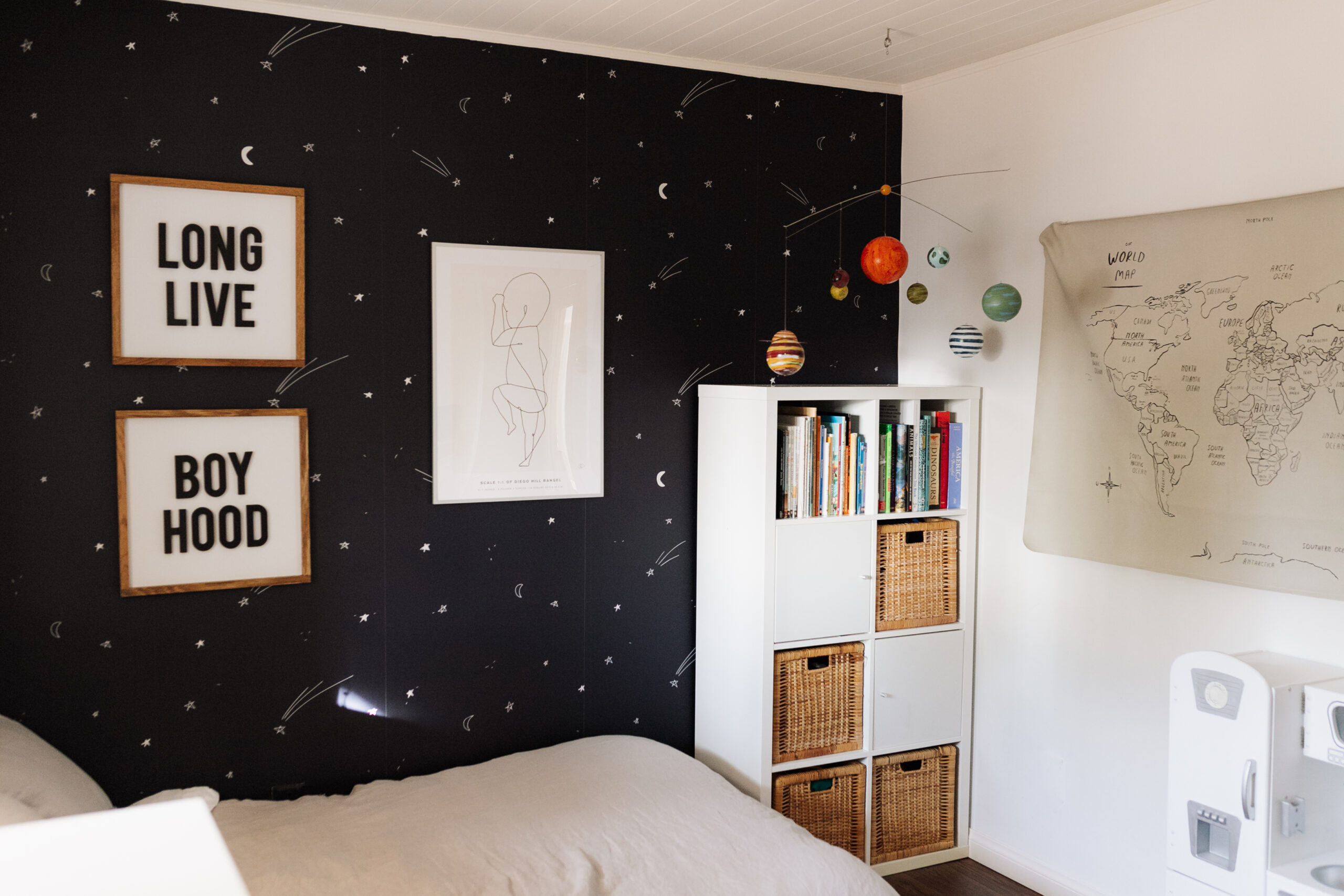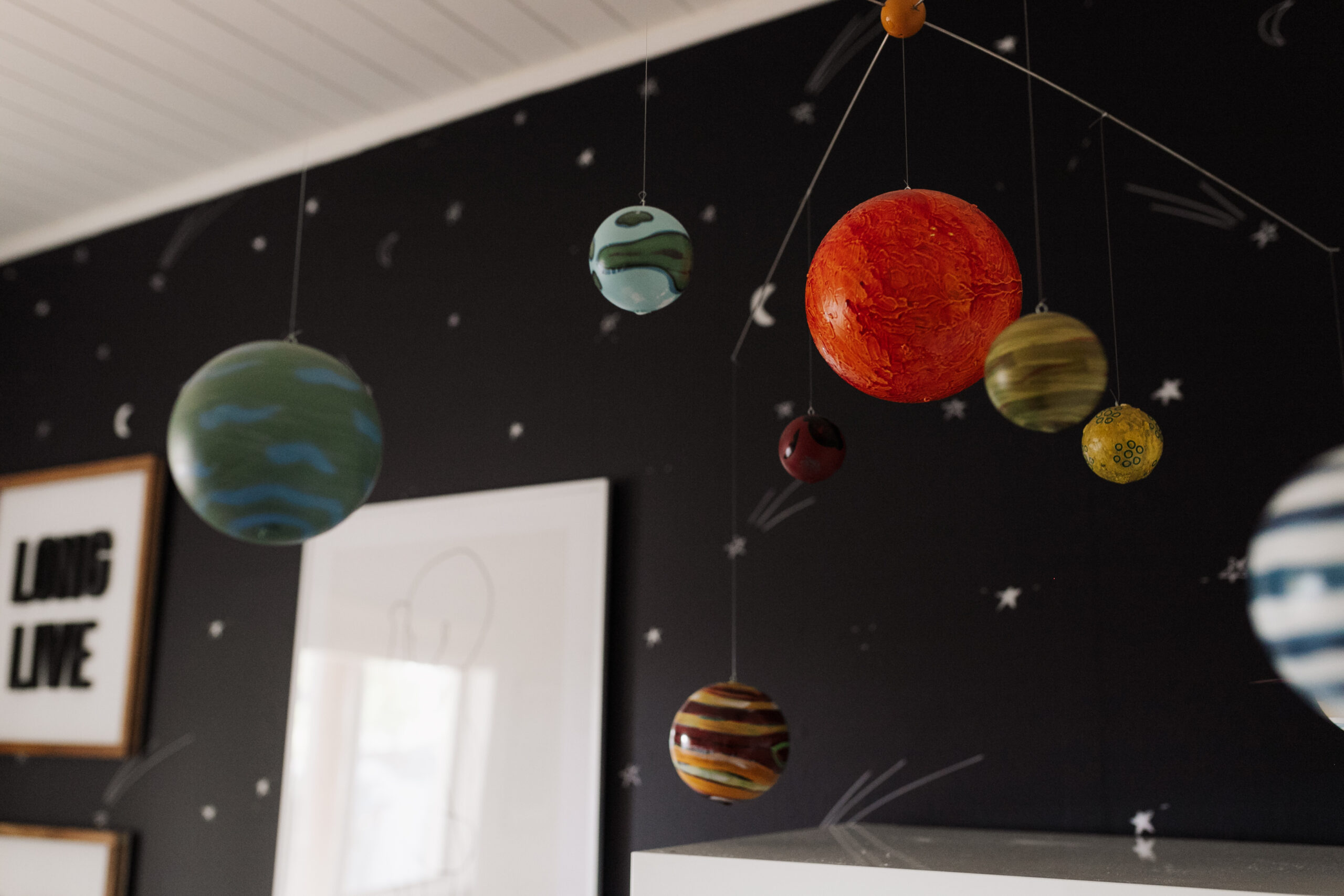 Along this wall, you can see one of my favorite art pieces in this room, which is the handmade "Long Live Boyhood" signs, from Opal + Olive. This was the last piece I was waiting on for this room. I had a vision of them fitting in right there, and I'm so happy with how it pulls the room together for my boy. Opal + Olive has so many beautiful handmade signs, perfect for kids' rooms. And be sure to check out their holiday collection too! So darn cute.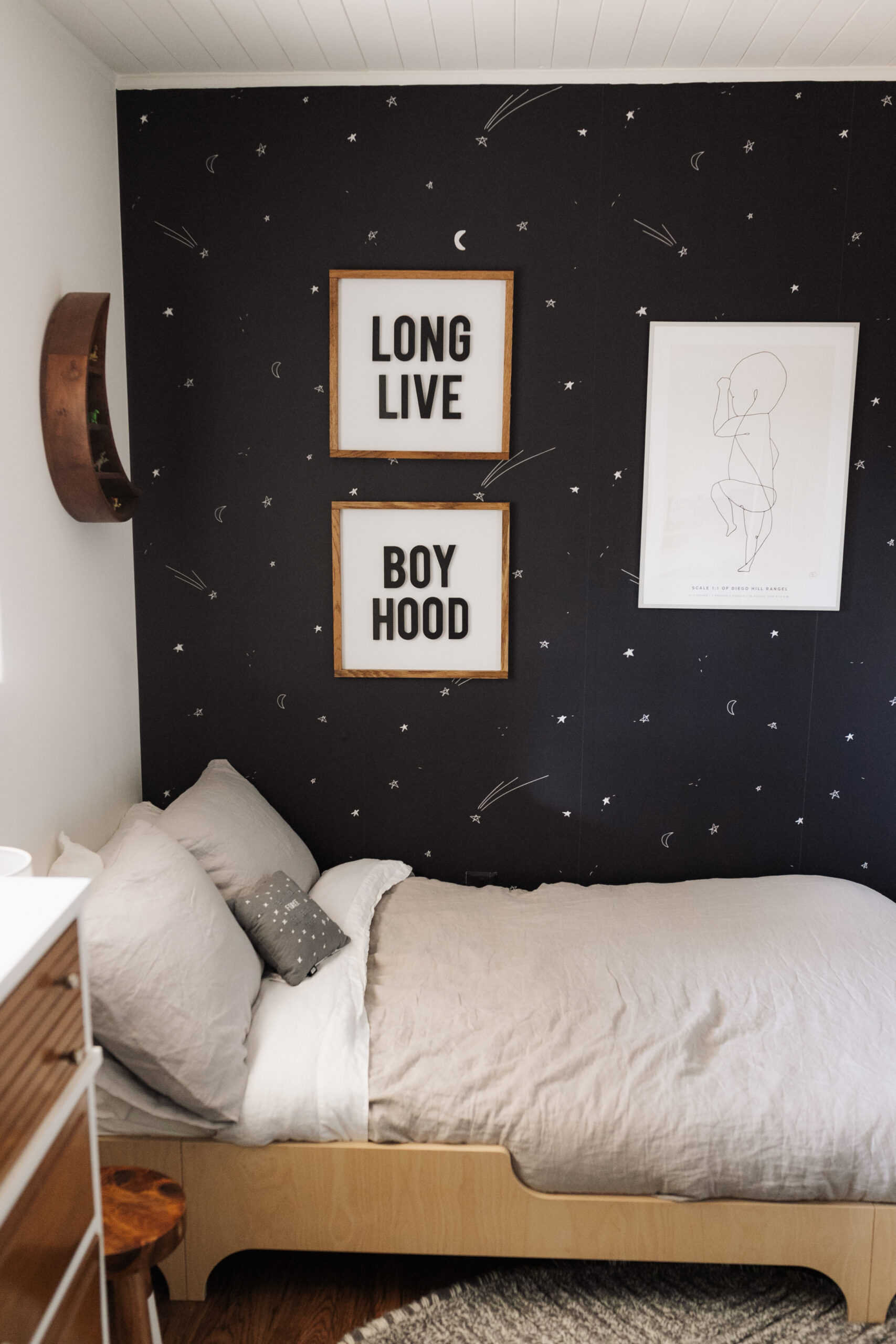 Speaking of art, another go-to for me when looking for quality art prints at affordable prices is Minted. As I was designing this room, the first thing we picked out was the wallpaper. From there, I was browsing Minted and looking at the 2020 Children's Art collection, and that's where I found both of these cute spacy prints. The "Rocket to the Moon" by Morgan Kendall and "Future Space Explorer" by Amy Payne complement the color of the wallpaper perfectly and really pull the theme of the room together in this opposite corner. And I always love how you can customize the size, matte, frame, and more when you go with Minted.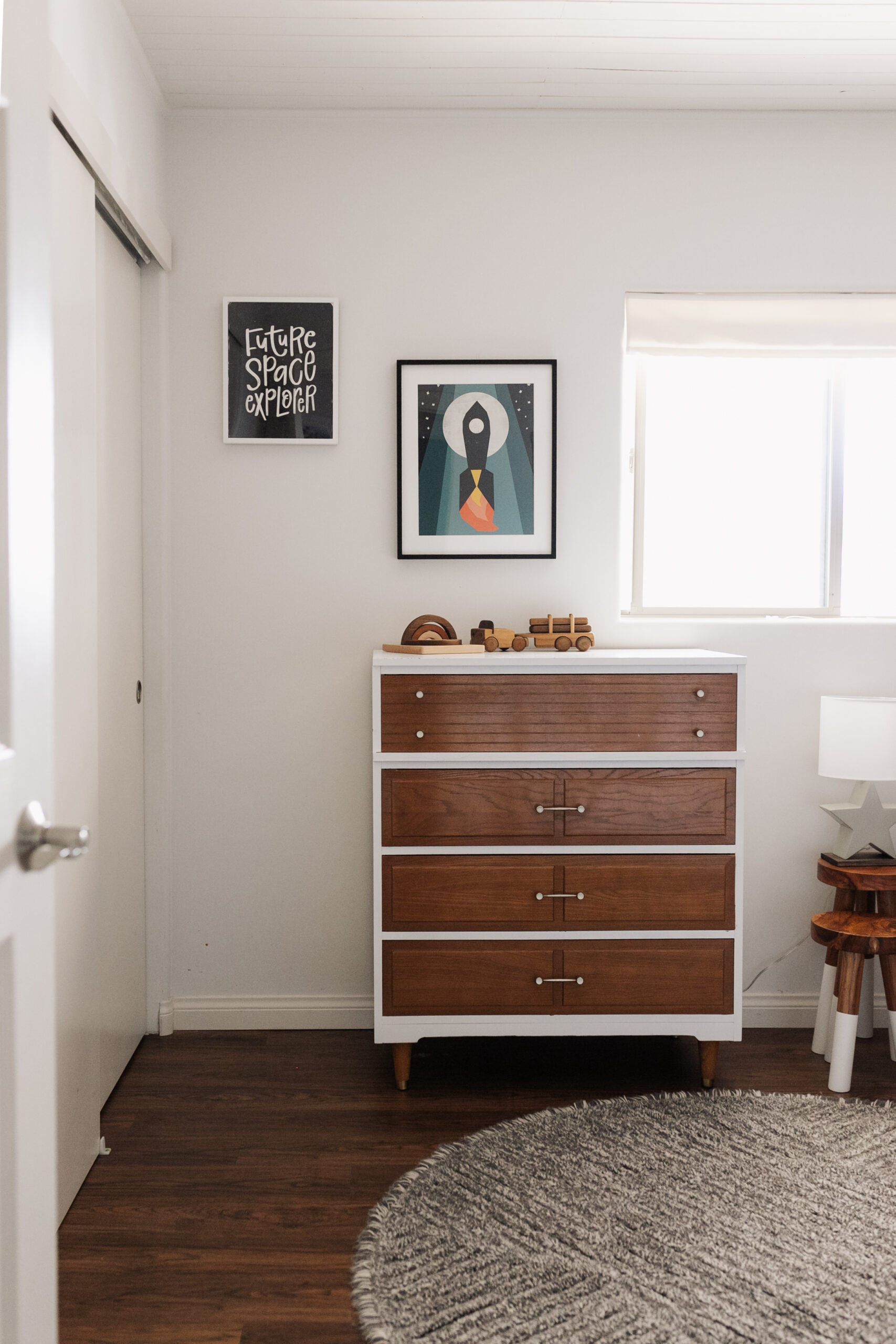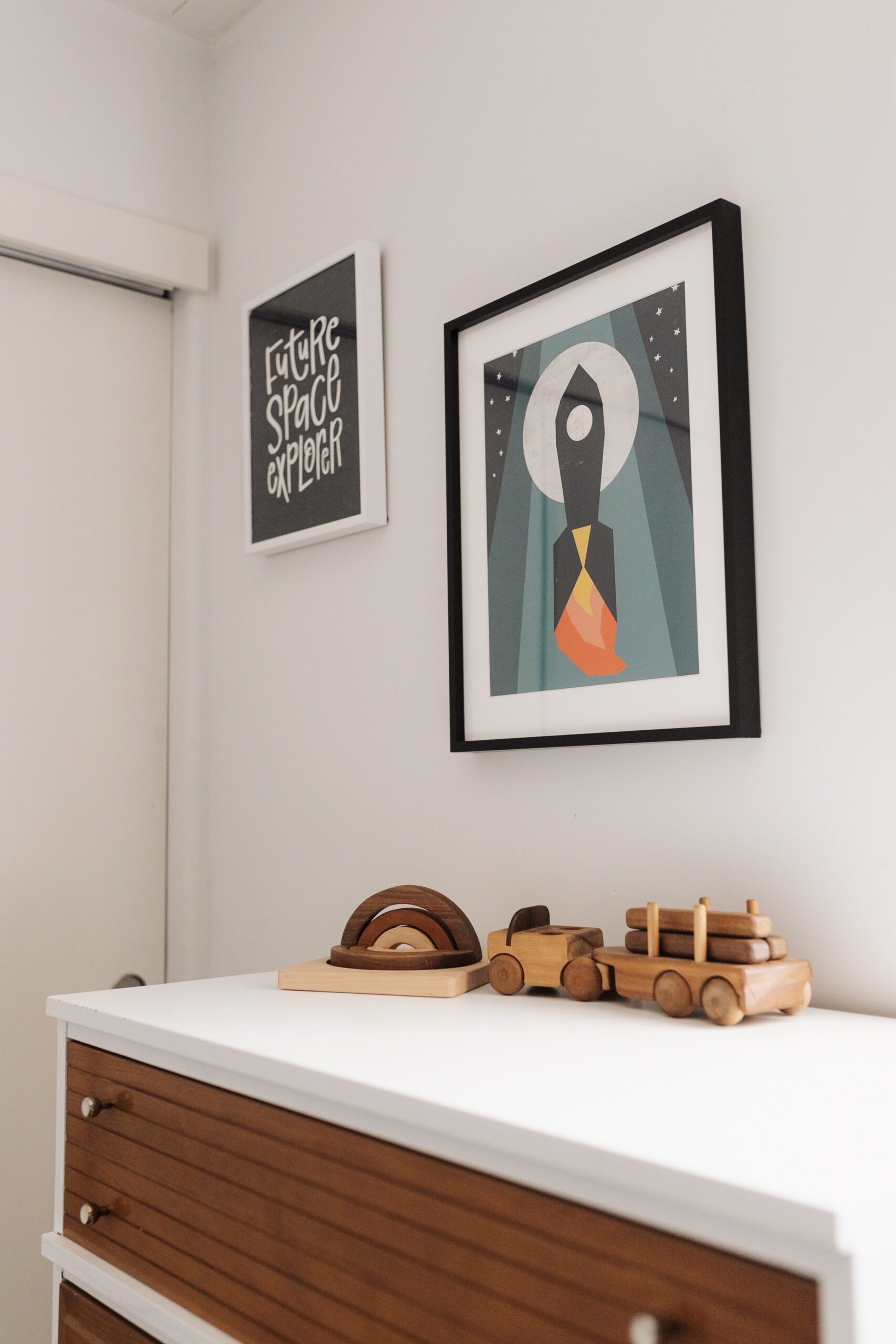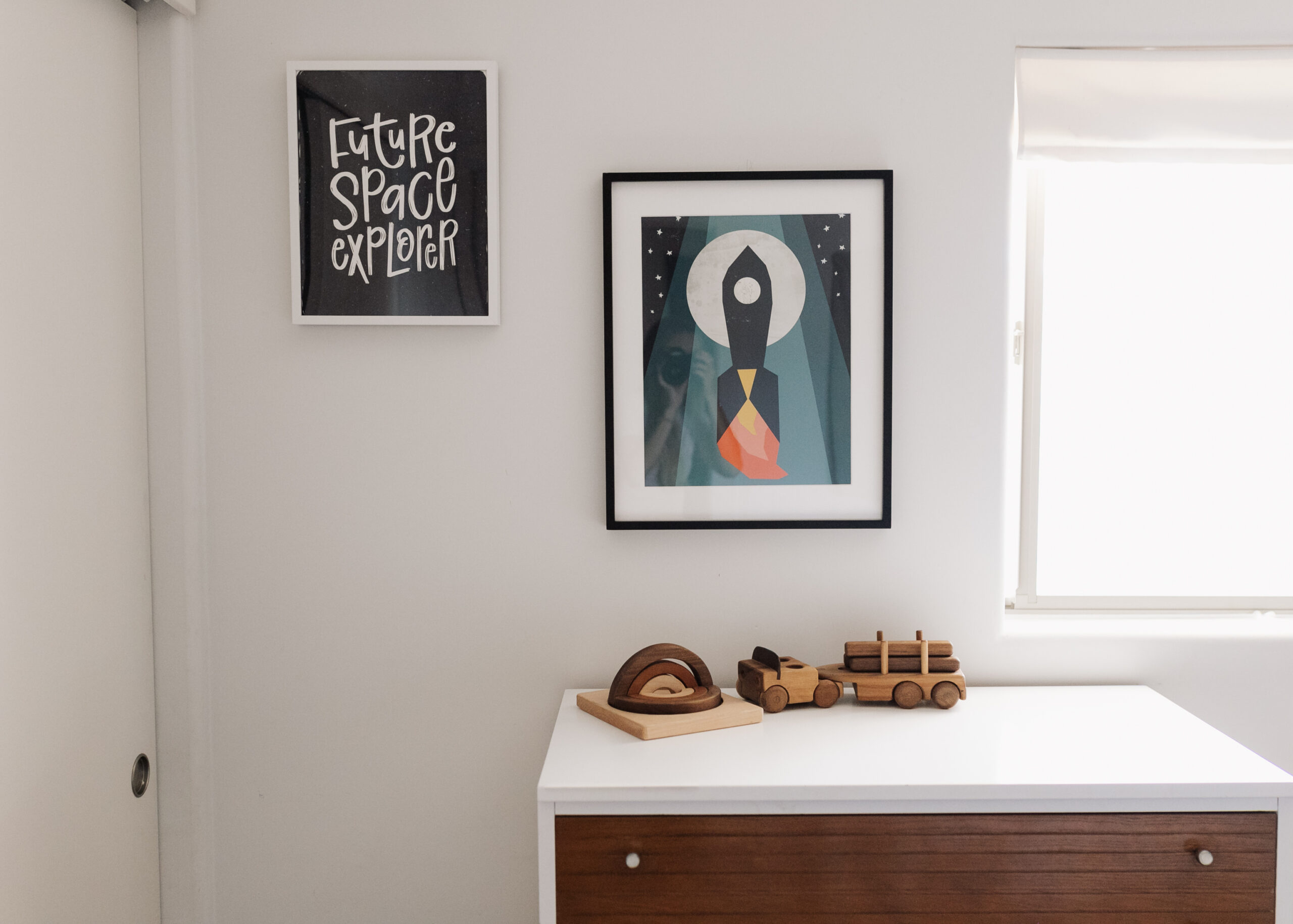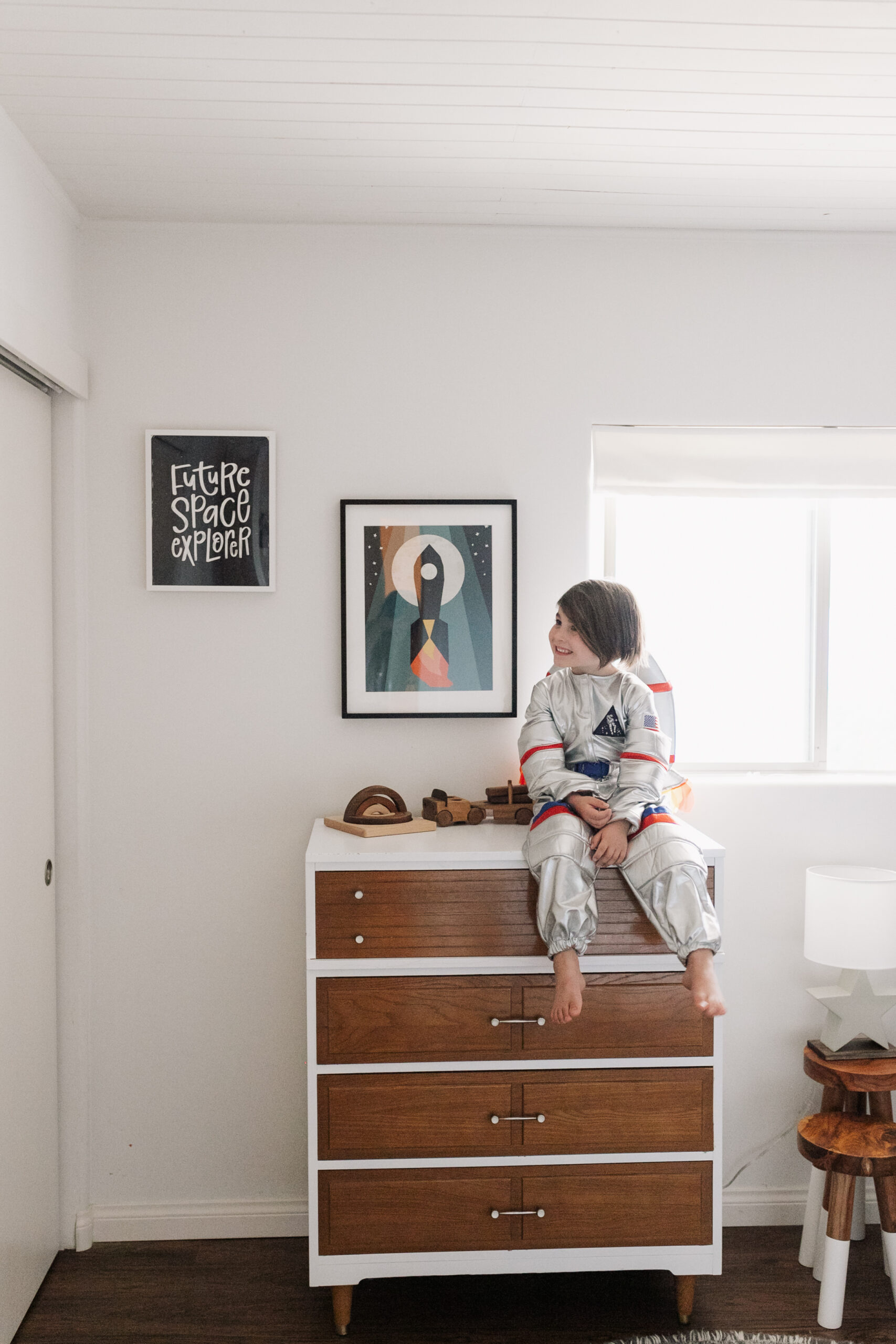 Because I know someone will ask, the dresser is vintage. But don't worry, I will link some similar bellow!
The bed was another piece of furniture we already had. I purchased it for my boy's original shared room almost 4 years ago, as the bottom part of the bunk. It is from RAFA Kids, a modern kid's line from the Netherlands. I adore the smart design and clean look of all of their pieces. And we've been so impressed with the quality. It's already held up so well these past few years. All of their furniture is designed to fit into small spaces, which works perfectly with our small bedrooms. This size is called the "teen 120" bed, which is most similar to our American "full" sized bed and will grow with our sweet boy for years to come.
For the bedding, we were able to order our American sized "full" from this beautiful brand that makes all eco-friendly linen bedding, from Piglet in Bed. I ordered a linen bedding set from them a couple of years ago for our own bed, and it has been our absolute favorite bedding set. Eco-friendly linen gets softer with every use, is cool in the summer and warm in the winter, and just feels so good to the touch. I think everyone should be sleeping in linen! This set is the Dove Grey Complete Set, which comes with a fitted sheet, a flat sheet, four pillowcases. I just wanted to point that out because some of their sets do not include the flat sheet and/or the additional pillowcases. So just double check before you order!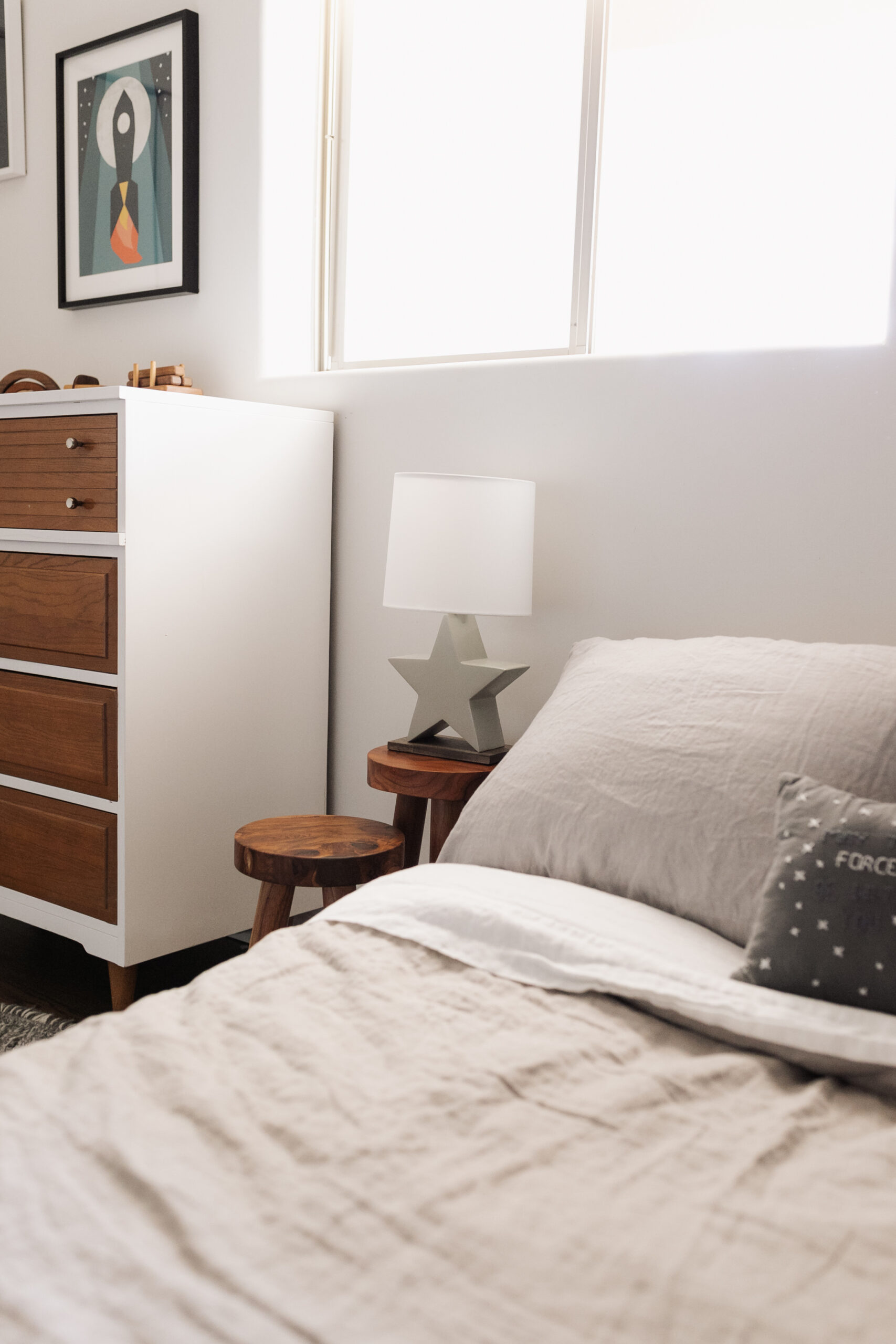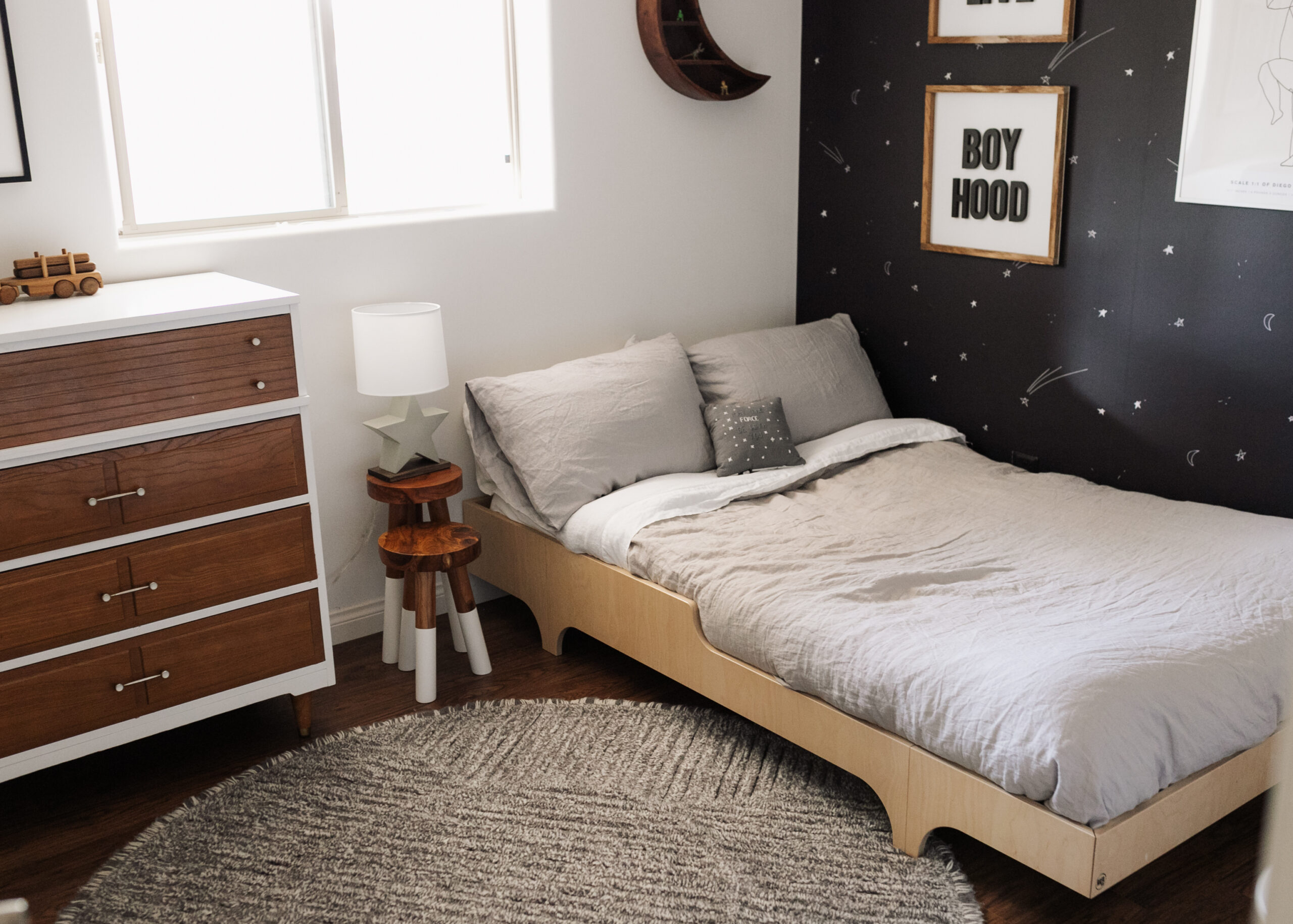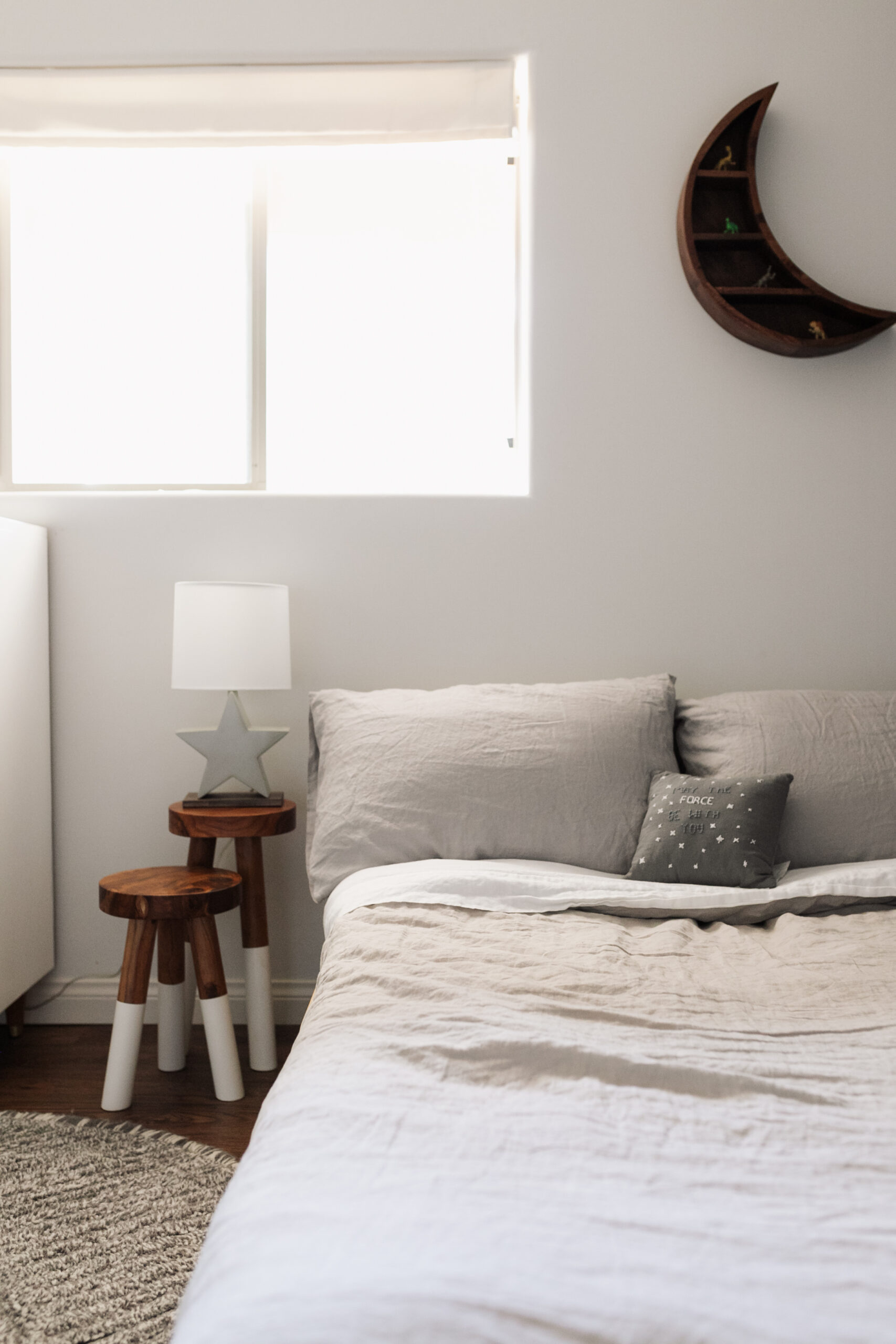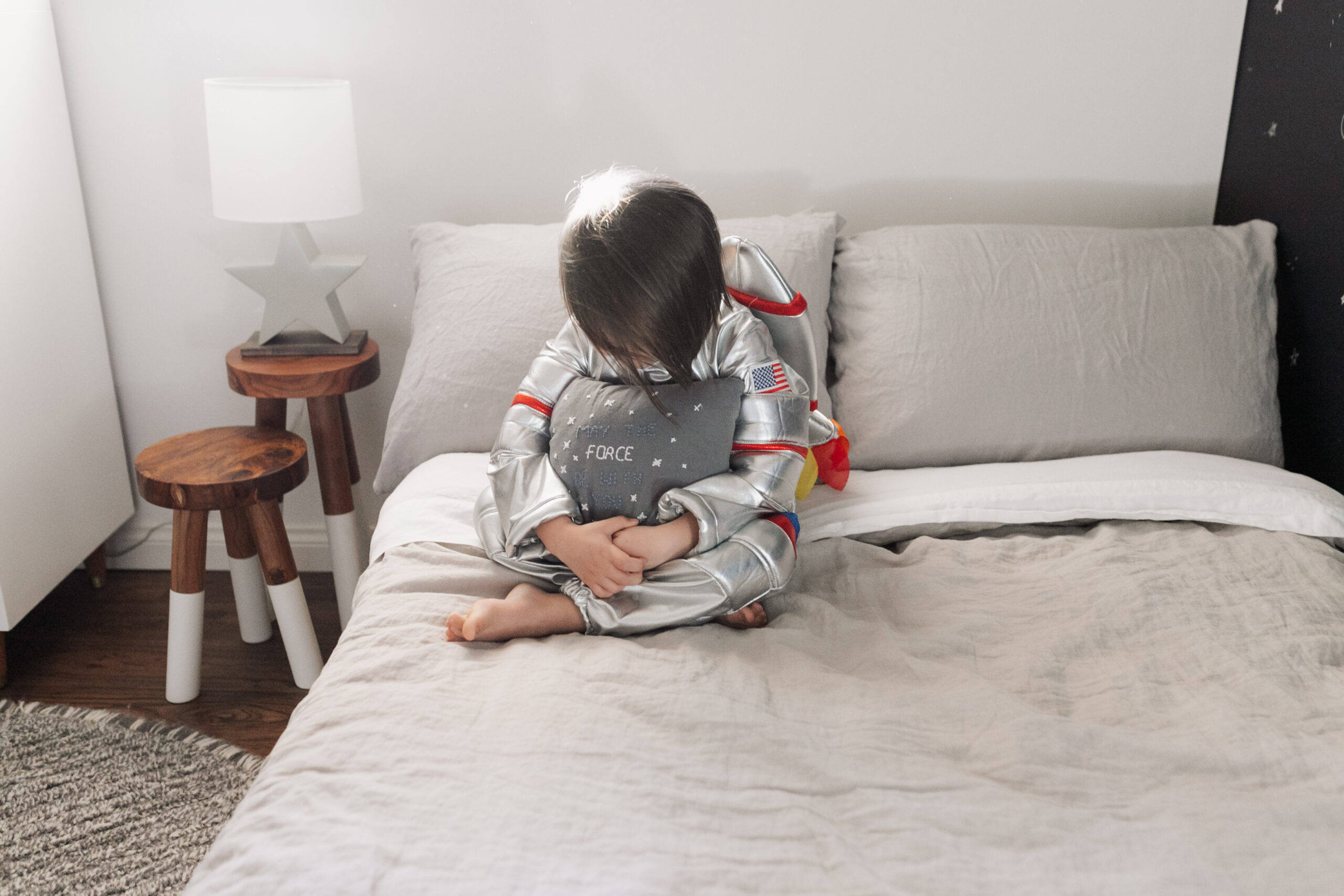 This last side of the room includes a couple of other pieces we already had. We've had this IKEA KALLAX shelving unit for probably six or so years. Unlike most IKEA things, this has actually held up! It went from being our tv stand in our apartment (with storage for kids' toys, to toy storage in the playroom under the window, to just turning it up (and mounting to the wall) as a bookshelf, and yes, still toy storage. I'm a fan!
The little play kitchen has been a staple for my kids since my oldest got it as a Christmas gift when he was a toddler. It's honestly been a favorite toy amongst my kids and every kid who comes to our house to play over the years. I almost got rid of it, but they still play with it today! Definitely a toy that has stood the test of time.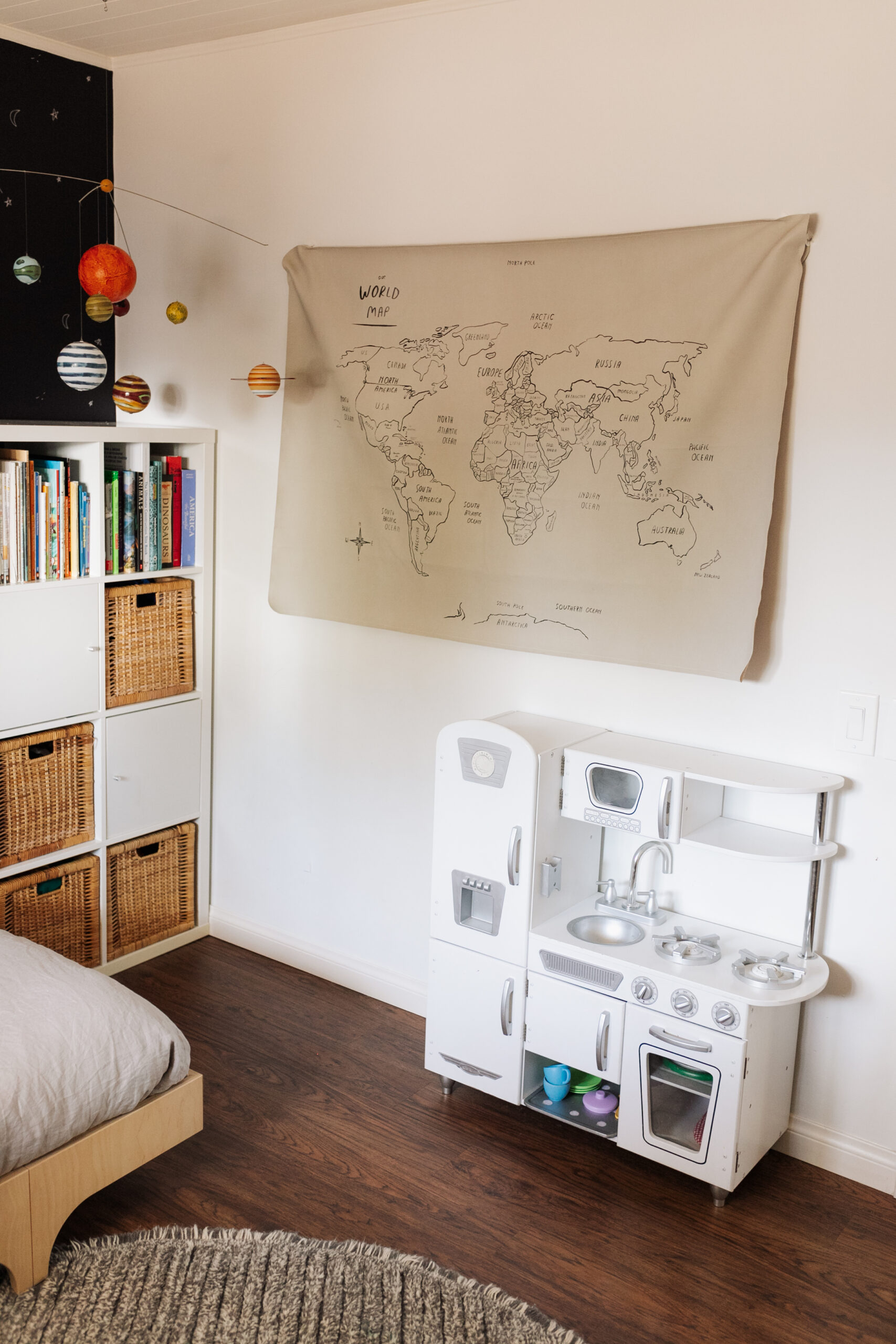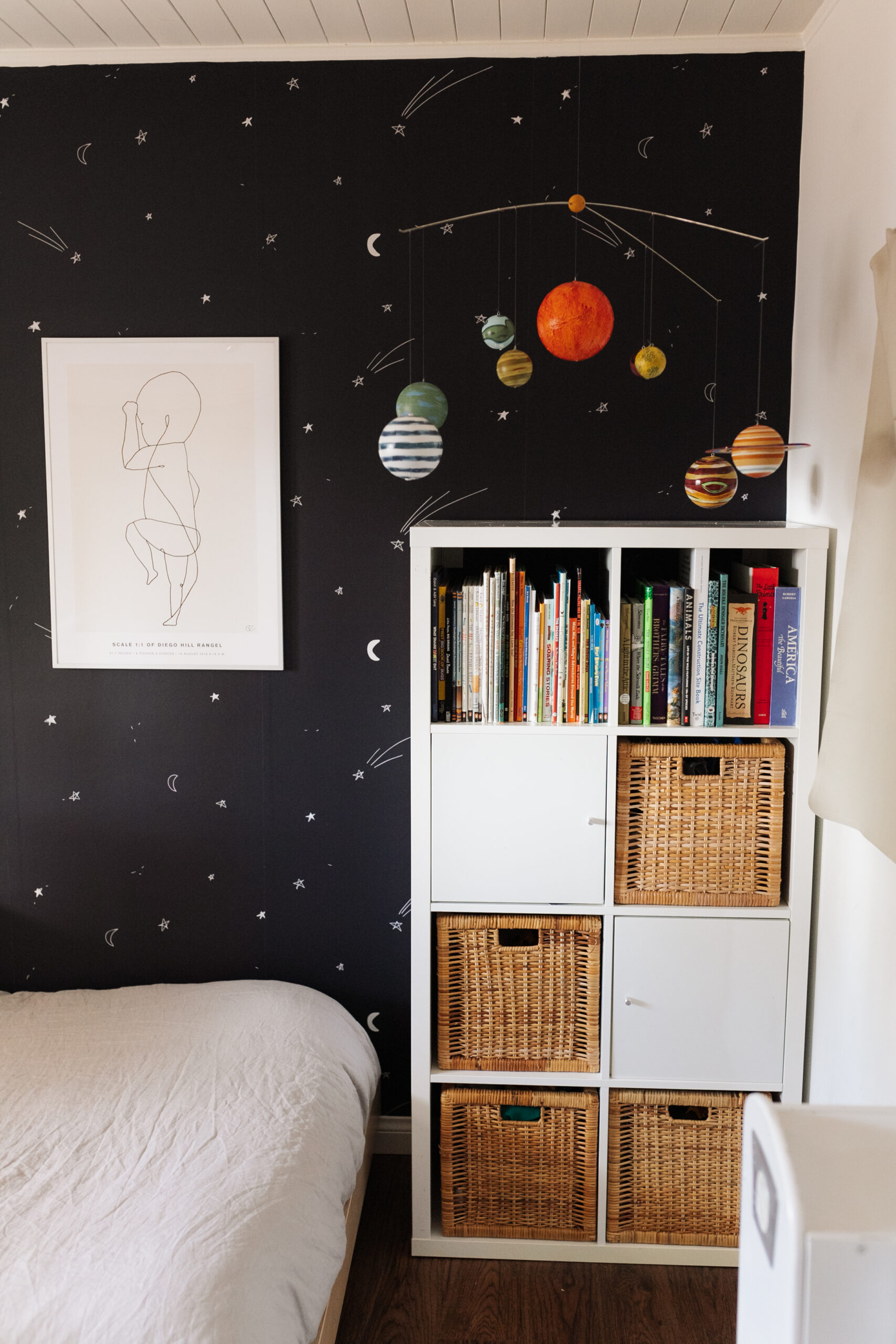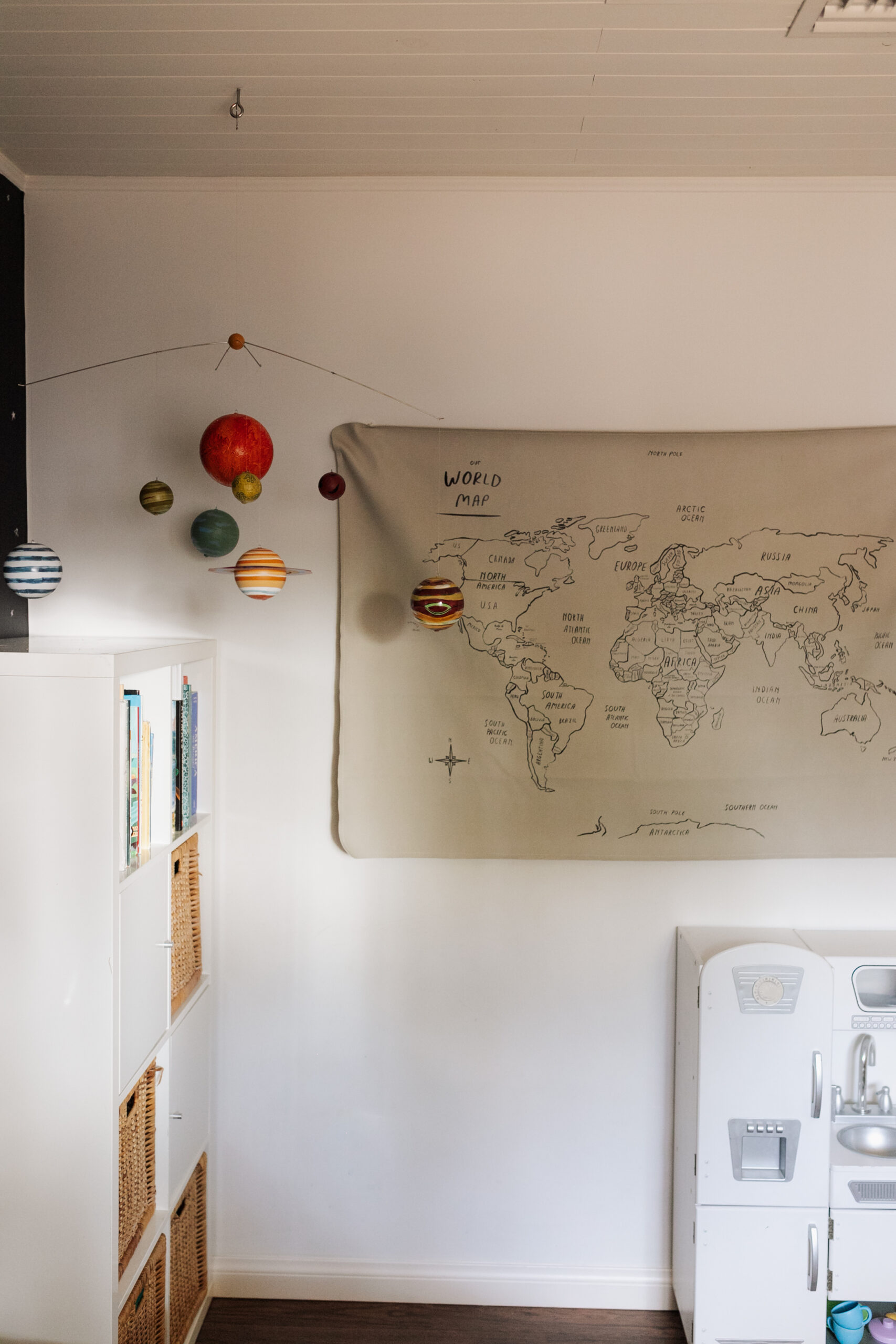 If you followed along on my Instagram Stories through this room process, you saw that I was having a lot of drama surrounding the wall bookshelves. I was really set on adding more book storage, as the closet in here used to hold all of the kids' books when it was the playroom with an old shelf. We also re-did the closet to allow for more kid-sized clothing hanging space, so the bookshelves had to go. I actually loved these IKEA FLISAT wall bookshelves most of all, out of all of the wall bookshelves I saw, but they were out of stock for a while! After trying to order a (*ahem* more expensive) version from Etsy, I returned those and the IKEA shelves came back in stock!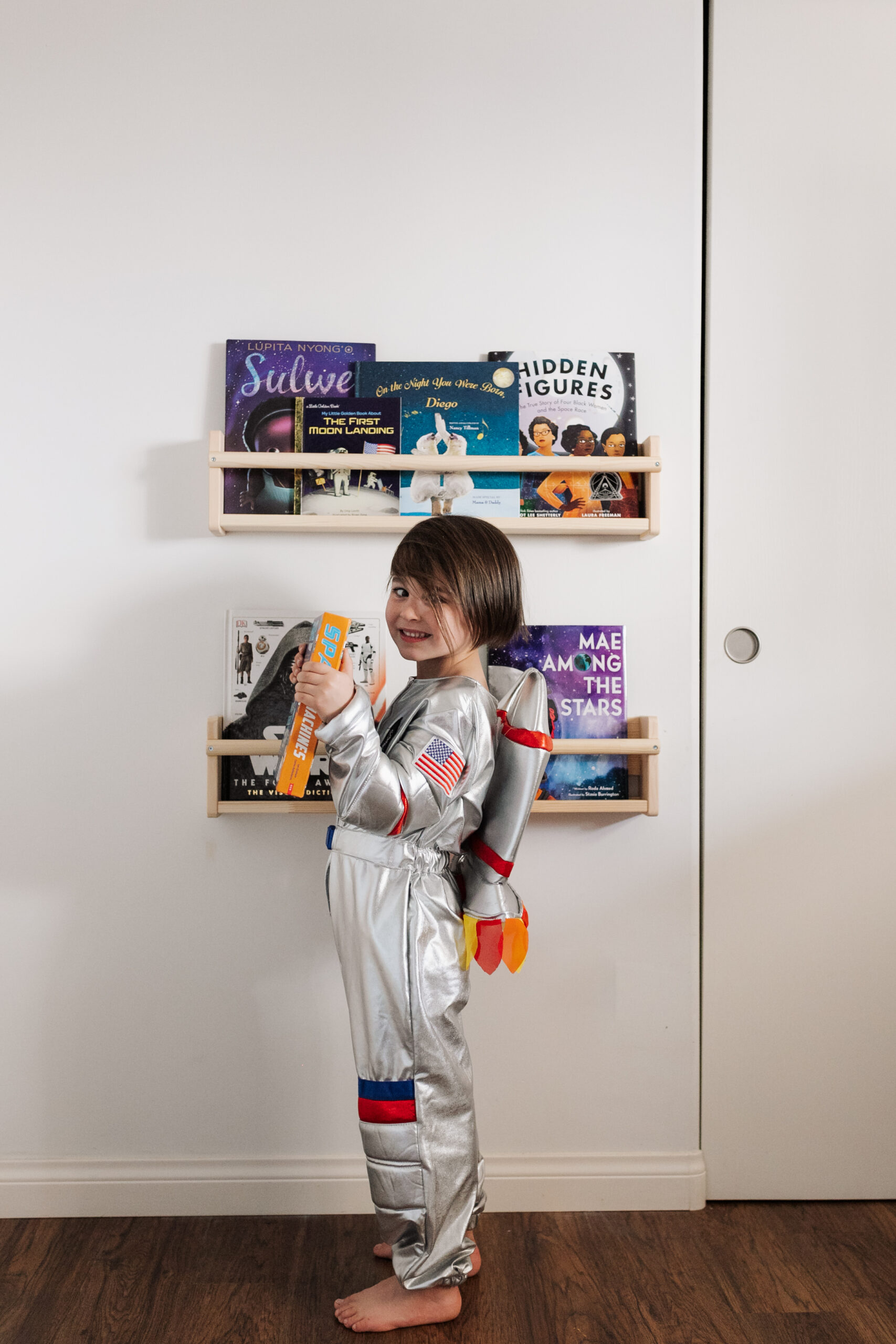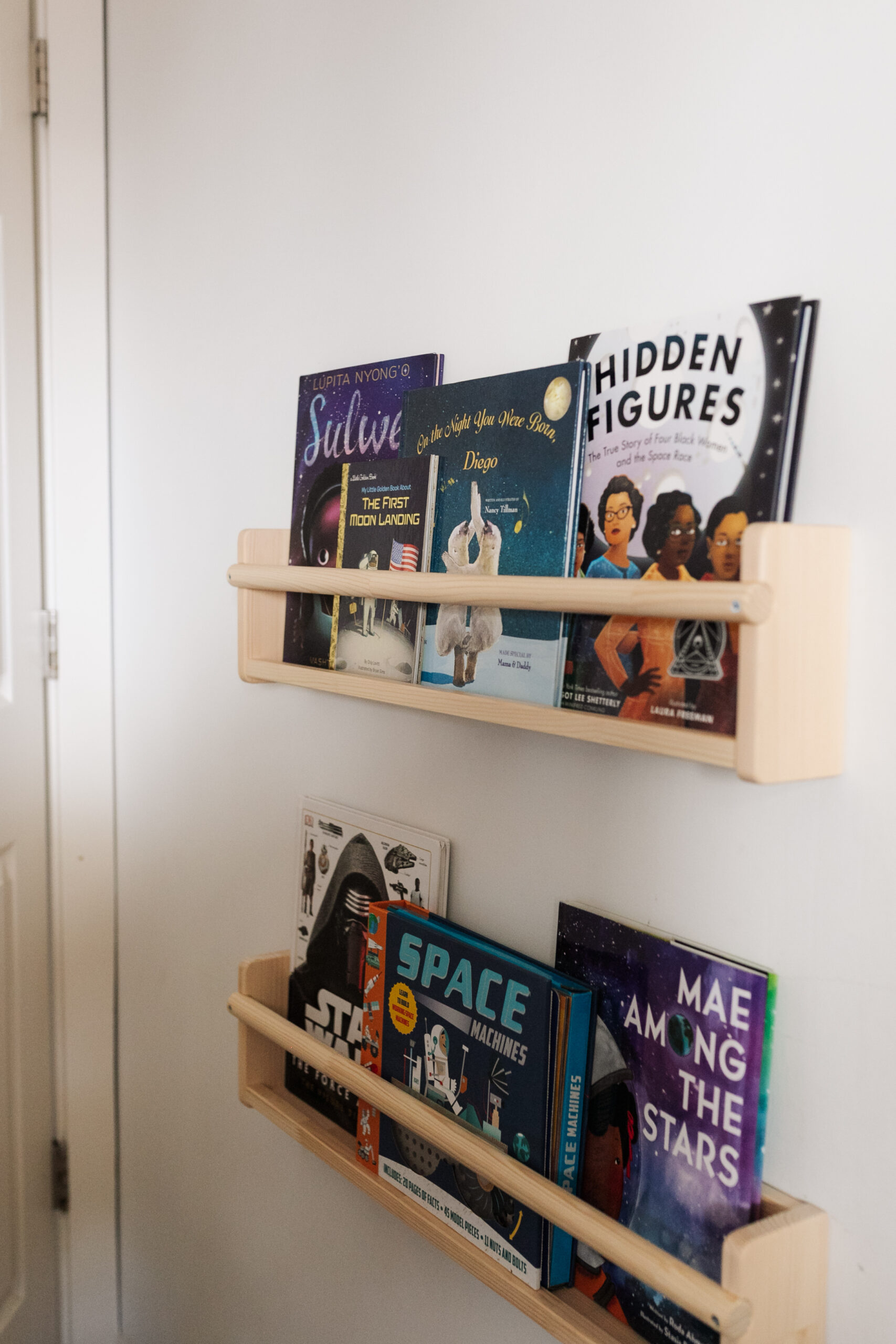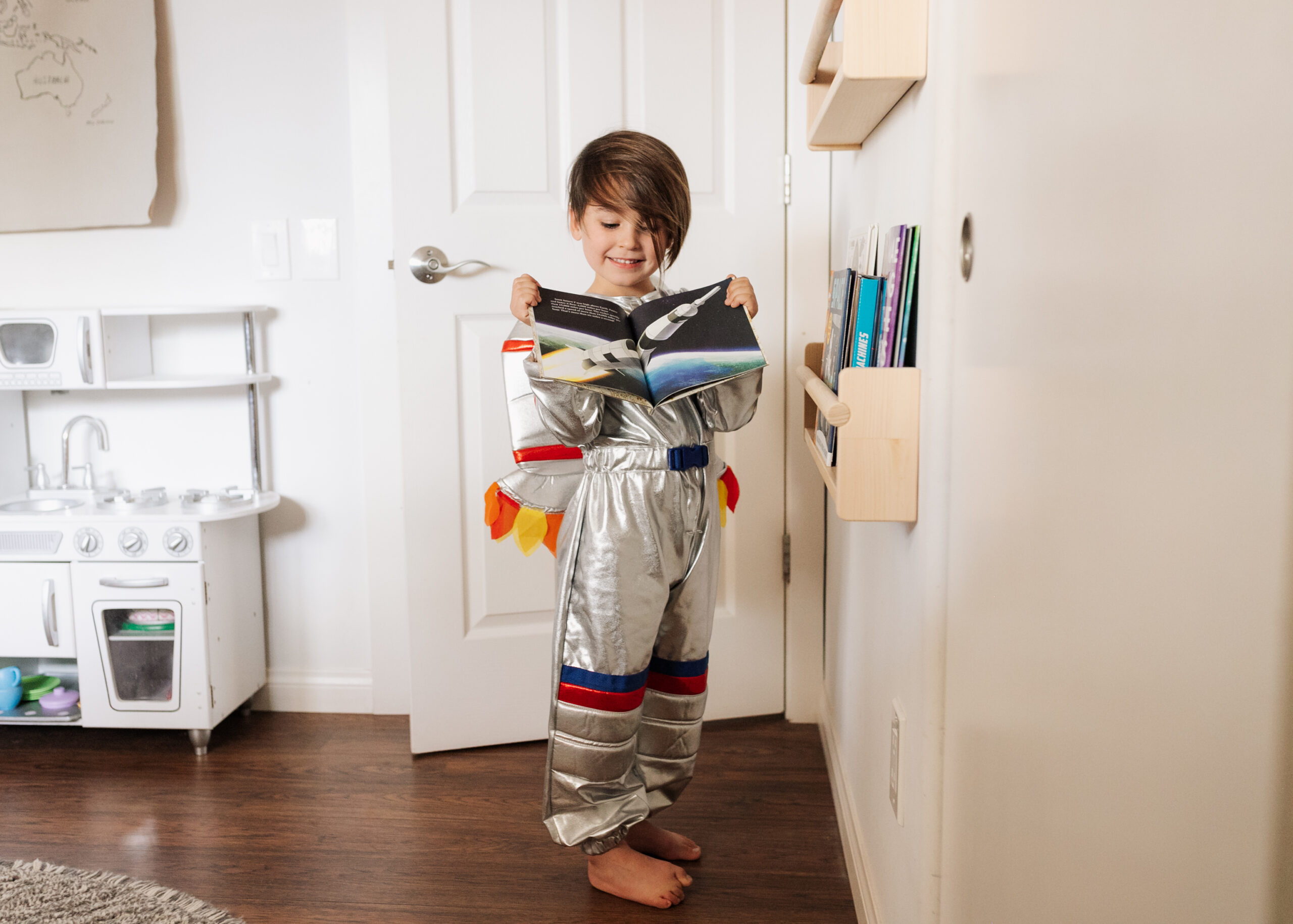 Lastly, I had to share the finished closet! This was again something I was agonizing about in my Instagram Stories. I knew we had to do it, for functionality purposes. However, it took a few tries to get it right. I've never believed in spending a ton of money on closets. They're all more or less all made of the same material, but some can be SO expensive, while others are so much less. I started by looking at IKEA, as that's where we designed our master closet from their system. But they didn't have a system that could do what I wanted for this small reach-in style closet. And again, I needed it to be super functional, to store as much as possible. Since we converted this room from the playroom, this used to store a bunch of toys. When we did our big remodel on our home a few years ago, we decided closets back here were not a priority then. So we have been living with what we have.
Anyway, what we ended up with was this prefab set from Home Depot. It has some flexibility in the configuration, and you can cut the pieces to fit. Luckily, my husband is pretty handy, but I also cut some pieces while he was out, to finish it off. I'm pretty proud of how it turned out! And also pretty happy that we didn't spend anywhere from 2-4x as much on a similar result!
All of the gorgeous felt bins navy blue wired baskets are from Open Spaces.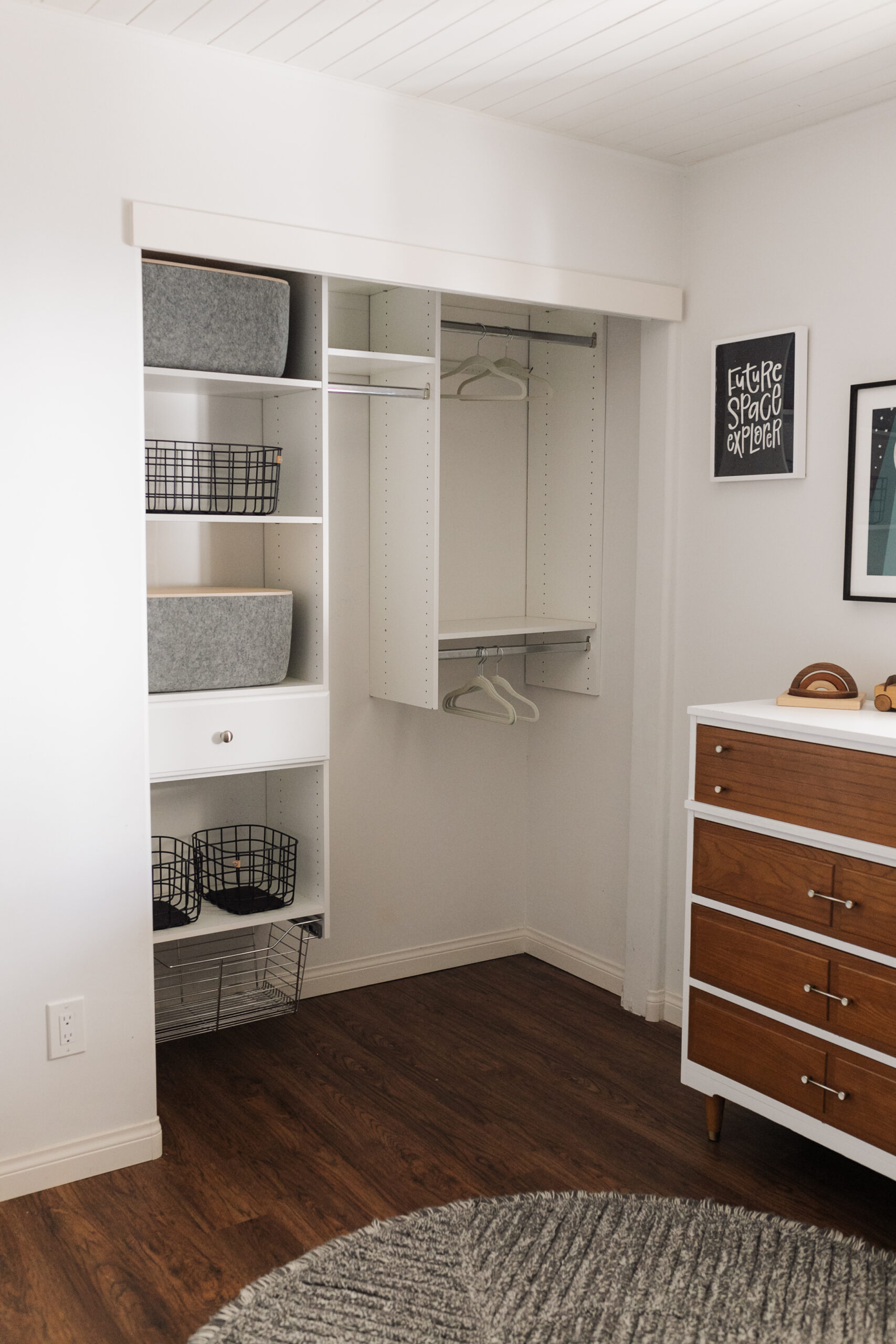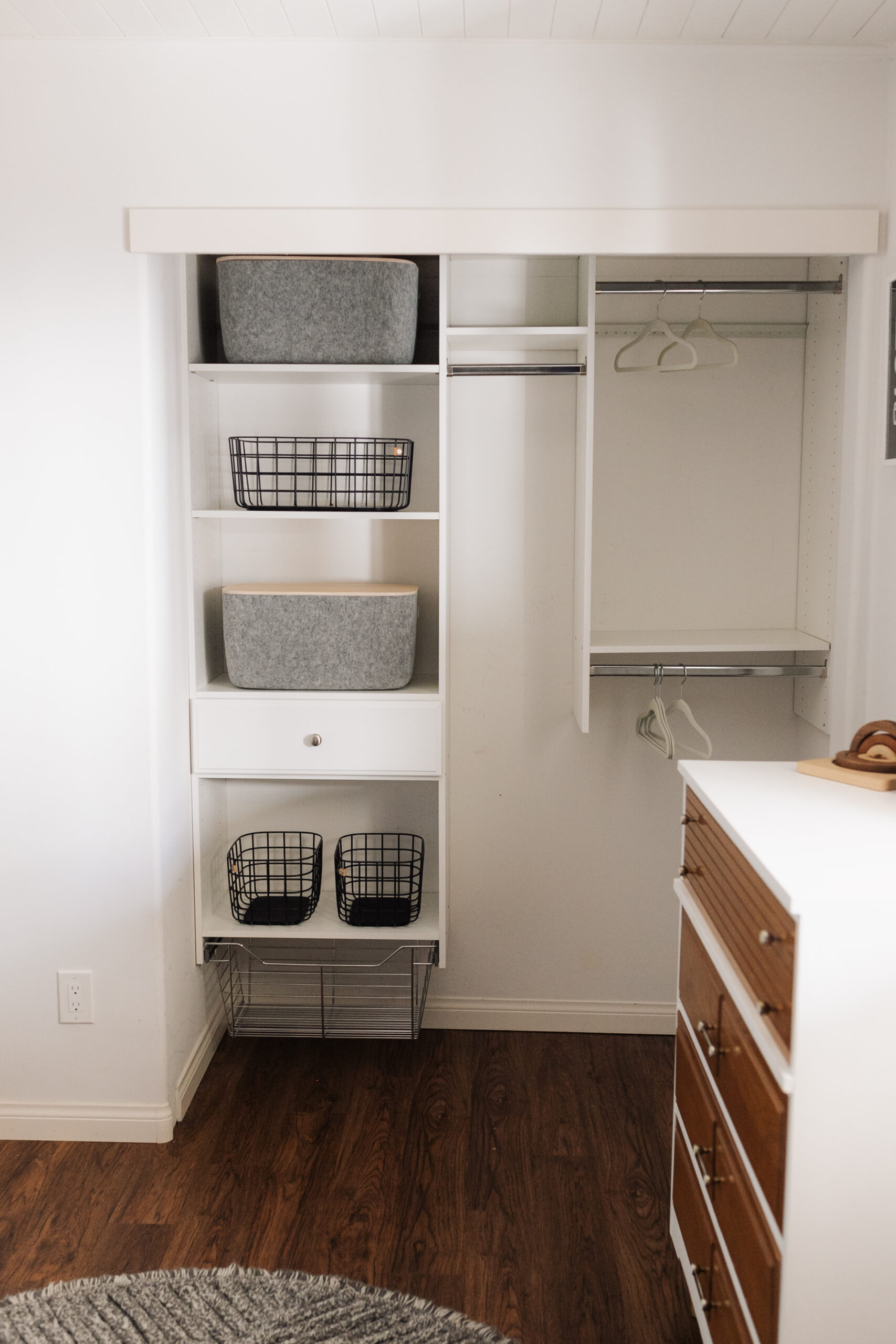 Our little spaceman is so excited with his new space inspired big boy bedroom room in The LDL Home, all to himself. I will add all the links to everything I can find below for you guys. For those businesses that are having specials this holiday weekend, I will update with codes when I can with those deals for you too!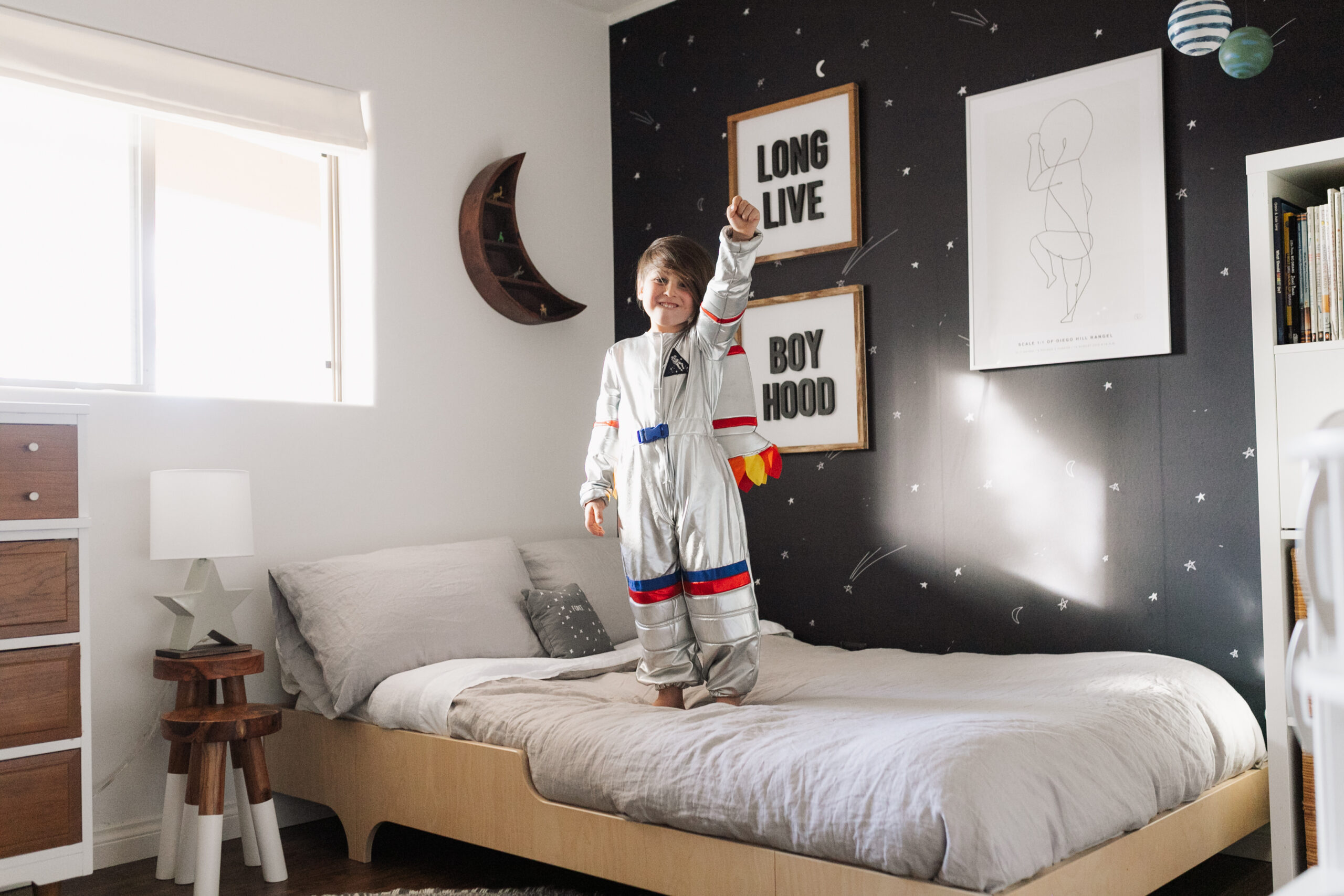 wallpaper c/o loomwell
*use my code THELOVEDESIGNEDLIFE to save 15% anytime!
long live boyhood signs – c/o opal + olive
bedding c/o piglet in bed
*currently on clearance! for 30% off!
"may the force be with you" pillow
"future space explorer" print c/o minted
"rocket to the moon" print c/o minted
large felt bins c/o open spaces
large wired baskets c/o open spaces
medium wired baskets c/o open spaces
dresser – vintage (similar, similar)
astronaut costume (from halloween so they only have the baby sizes left, on sale!)

This post contains affiliate links, which if you click through and purchase from, I will receive a small commission. I always appreciate your support of this blog!