This is a sponsored written by me on behalf of  Safeway. As always, all opinions expressed here are honest and 100% my own!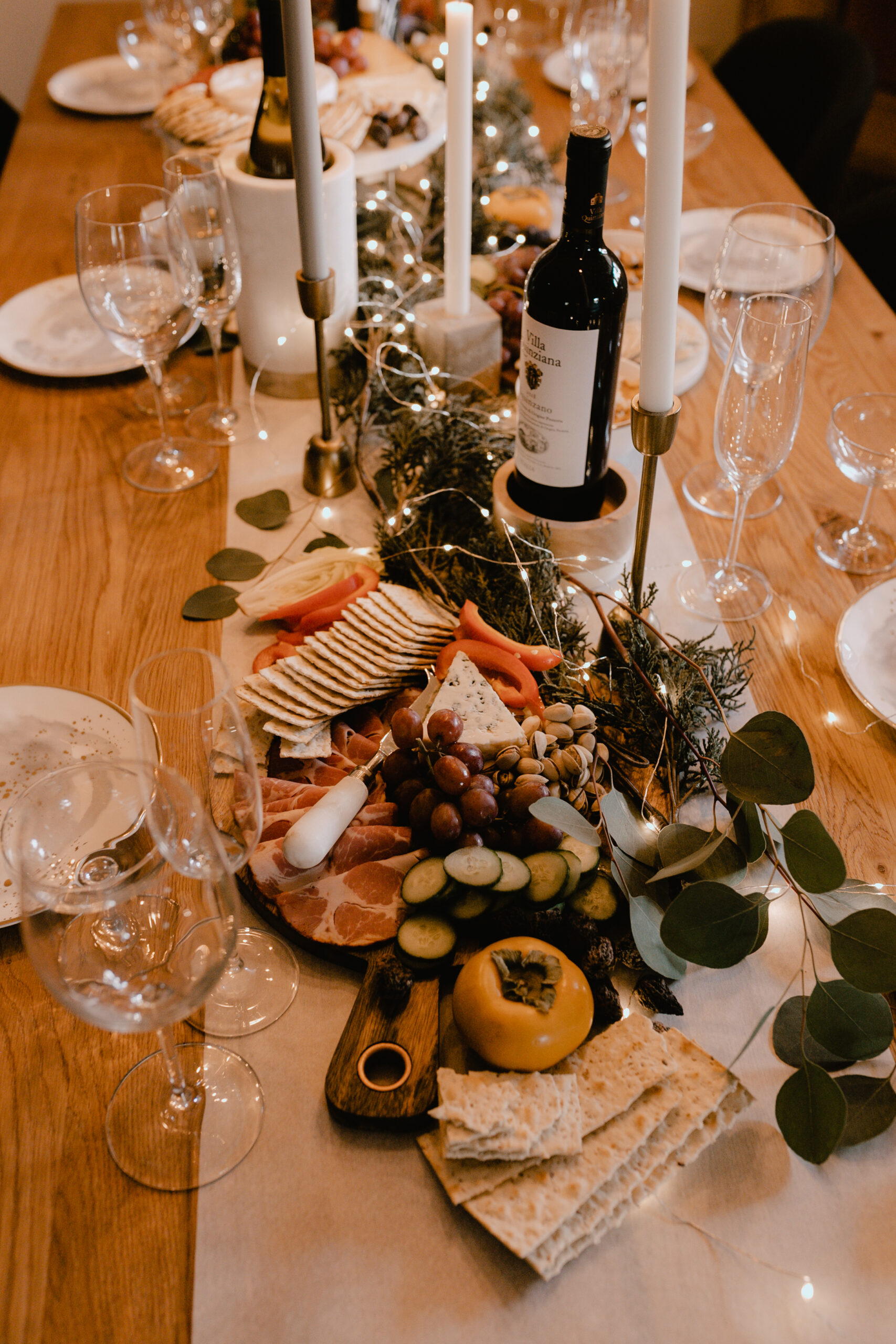 The holidays are upon us and it's my most favorite time of year! The perfect excuse in my mind to host a very merry charcuterie gathering. Of course, this year, like everything else, we are doing things differently. We are still being cautious about who and how many people we see. But that doesn't mean we can't celebrate! So, the other night, in the spirit of the season, I invited a small group of friends over for wine tasting and charcuterie. I wanted to create a little how-to guide for you guys so you can recreate this very merry charcuterie board in your home too! It doesn't have to be complicated or stressful in order to still feel special and festive.
The premise was simple: grab your favorite wine and bring a bottle to share, so we can all have a little taste test. I created the spread with all of my favorite charcuterie snacks, all found at my local Safeway! The best part was I spent less than $100 on all of this yummy food, (and still had plenty of leftovers after). One of my key tips for keeping things simple is to get everything in one stop. My local Safeway had everything I needed to create this spread, without needing to run all over town! And you guys know I love the quality Safeway brand products I can find, all at amazingly low prices. O Organics®, Open Nature®, and Signature SELECT™ are some of my favorite products that I can find at my local Albertsons and Safeway stores, and you can also find them exclusively at the Albertsons Companies family of stores, including ACME Markets, Jewel-Osco, Vons, Pavilions, Randalls, Tom Thumb, Shaw's, Star Market, United Supermarkets and Carrs. Visit albertsons.com or safeway.com to find a store near you and discover meal prep tips and recipe ideas. It's a win/win!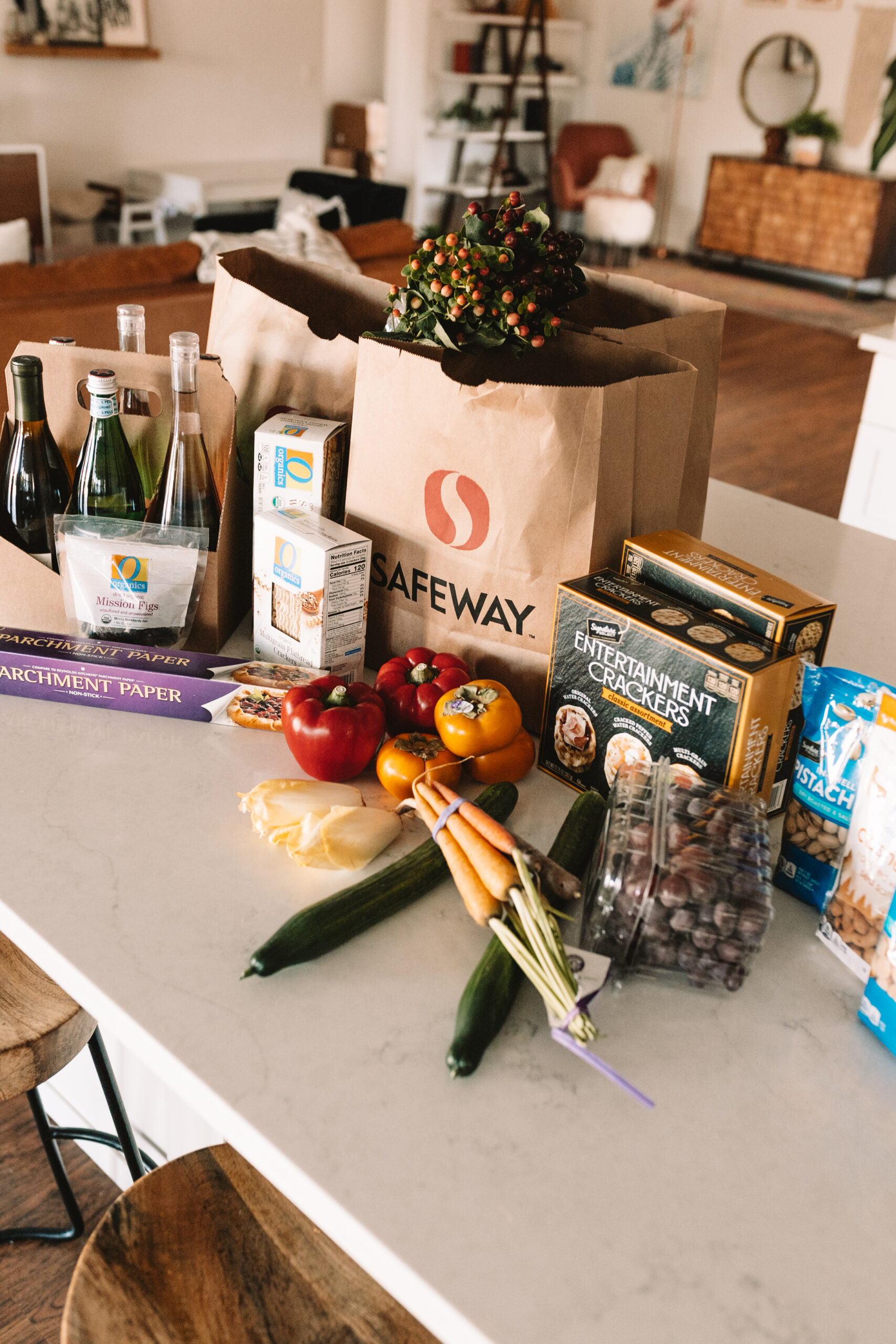 step one: gather the goods
I'm including some of my favorite key components of any good charcuterie spread below. I always say to get more than you think you need because it's better to have too much than not enough. Also, that way, you can replenish throughout the night, as needed, depending on how hungry your guests are. A great place to start inside any Safeway store is near the deli area. There is a case that has all the gourmet cheeses, sliced charcuterie meats, and some of the more gourmet cracker choices that are perfect for a spread like this.
If you're into saving even more time this holiday season (and who isn't?) don't forget Albertsons and Safeway also offer Grocery Delivery and DriveUp &Go™ for convenient ways to shop! I included some links below too for some of my favorite products for this spread I created, so you can add them right to your cart. I love DriveUp & Go™ on my busiest days because I can spend less time shopping and more time finishing up work projects or other errands.
various cheeses (chose different shapes, hard and soft, slice some and wedge others for variety)
various sliced meats (charcuterie)
various crackers (I snagged these Signature SELECT™ Entertainment Crackers, these O Organic® Stoneground Wheat Crackers, and these O Organic Flatbread)
nuts (I like finding various singular types like these Signature SELECT Macadamia Nuts, O Organic Cashews, and Signature SELECT Pistachios)
dried and fresh fruits (I love dried figs, grapes, persimmons, and pomegranates this time of year)
veggies (carrots, cucumbers, bell peppers, and endive are my go-to's for dipping)
dips (hummus is always classic, but anything you like!)
olives (they have a beautiful olive bar inside some Safeway locations, near the deli!)
*A little note for those of you who have been following along with our dietary needs as a family this year. We still are a mostly gluten-free, dairy-free, and vegetarian family. However, when hosting, it's always my goal to make sure there are enough options for everyone who is coming over! I realize that most people do not have the same food restrictions/needs as we do, so I enjoy creating a spread to include all the things for my guests.
step two: prep the table
I am a big fan of using what you have already to create beauty for your gatherings. I've seen some other charcuterie board ideas out there using butcher paper as a starting surface for your spread. But I found this Signature SELECT Parchment Paper and thought that would give the same effect, but easier to find (and cheaper!). I rolled it out across the center of our dining table like a table runner as a starting base. The best part was it made for super easy cleanup at the end of the night.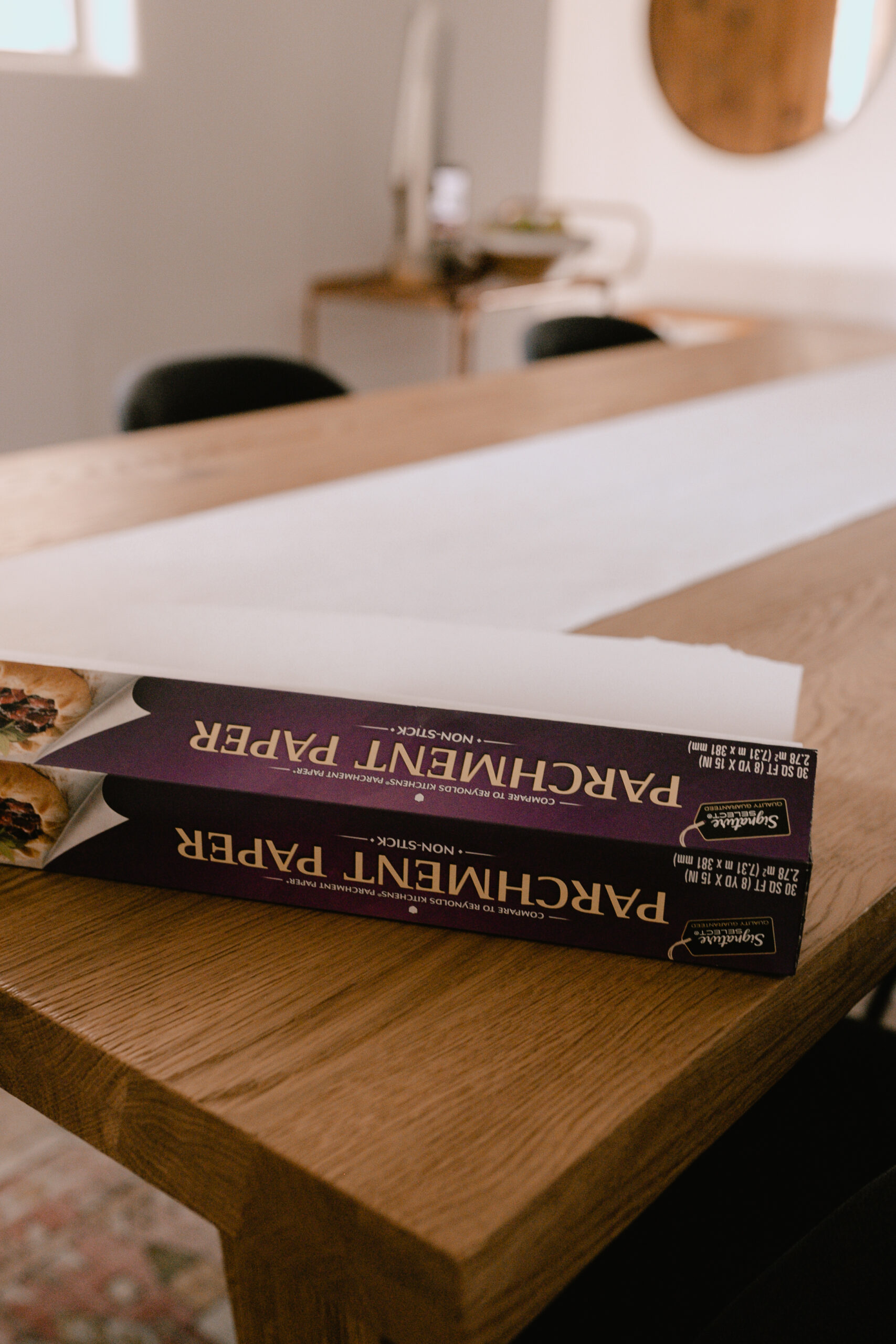 step three: layer in boards, greens, candles, and lighting
I have a collection of serving and cutting boards I have gathered over the years. So I started by laying those out across the butcher paper. Use what you have! Vary shapes, textures, and heights if you can (I even used a cake platter there near the center).
Next, add some greens and candles. I love a tapered candle around the holidays for a more formal feeling, but you could also do tea lights. For greens, you can use pine tree trimmings or eucalyptus, both of which are pretty easy to find this time of year in your floral department! I used a pine tree garland I had and also added fresh eucalyptus. For an even more festive feel, add some twinkle lights to the table too!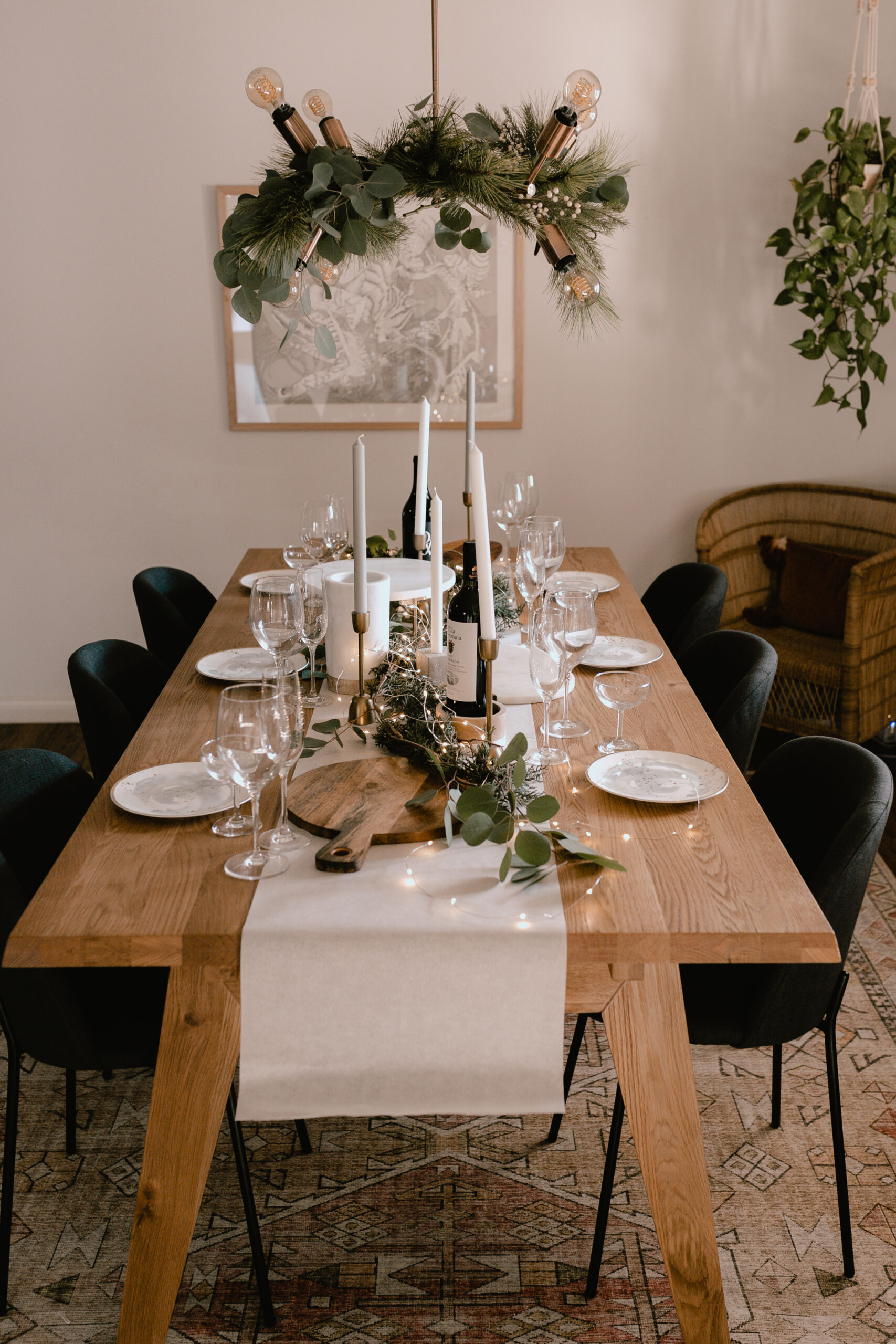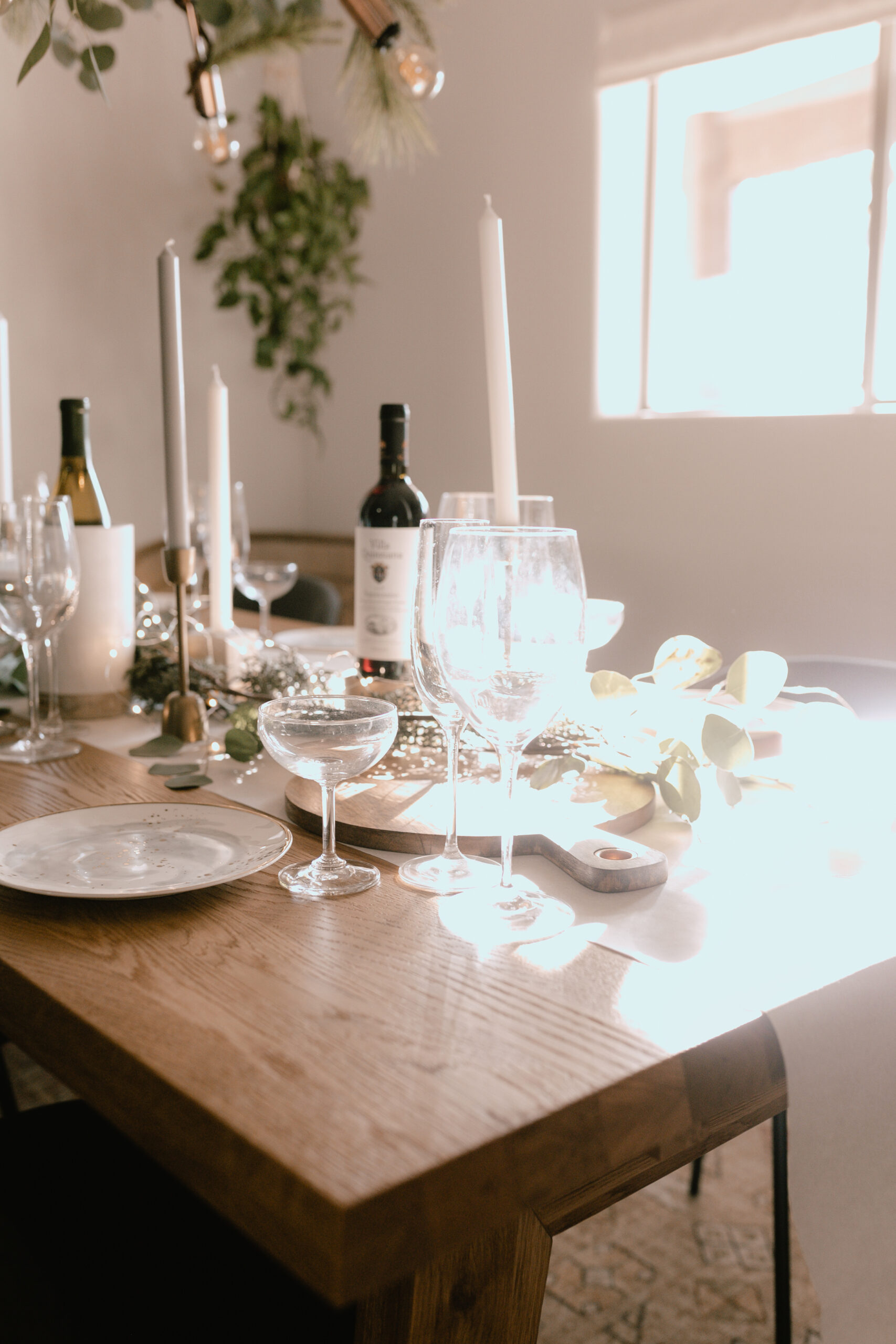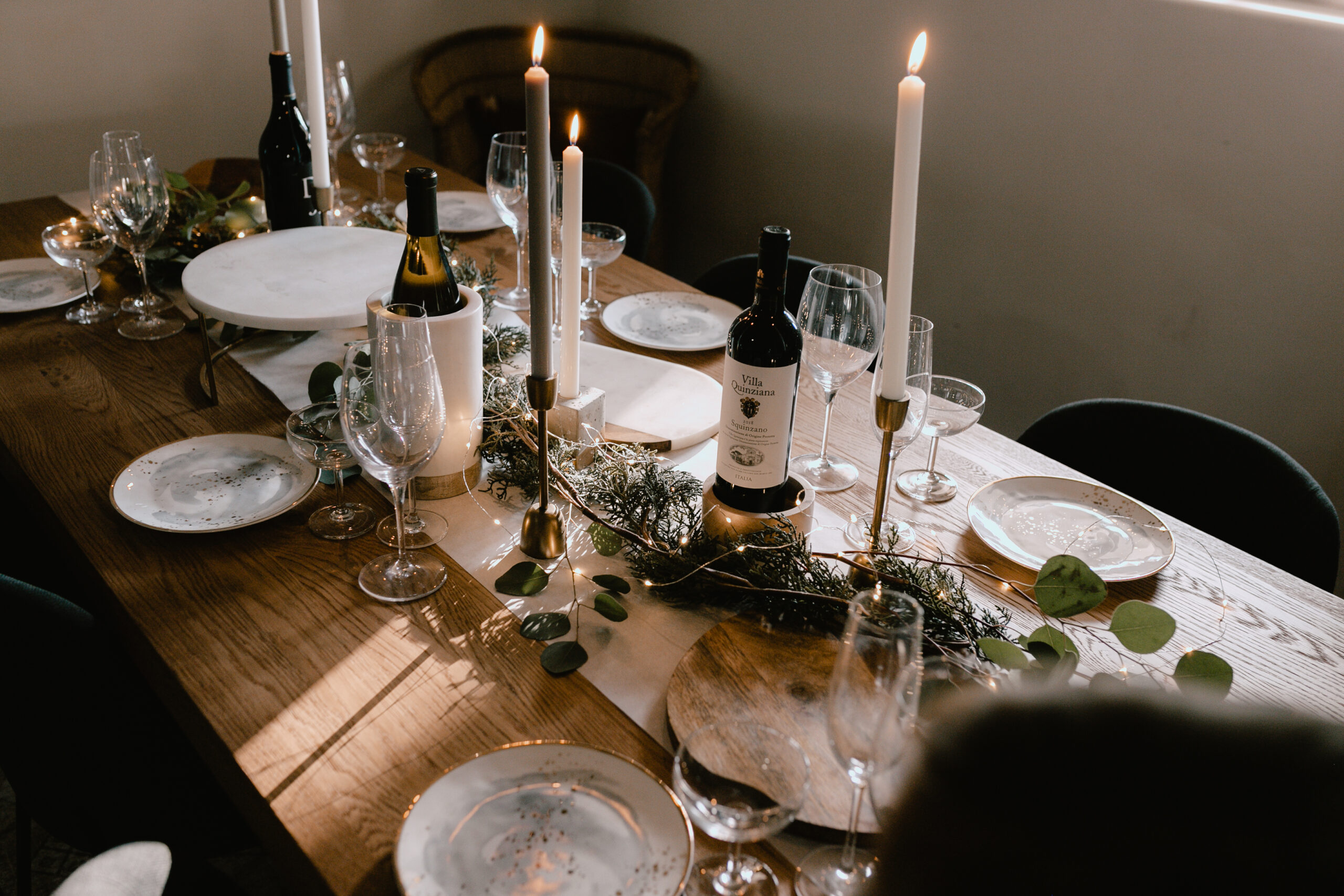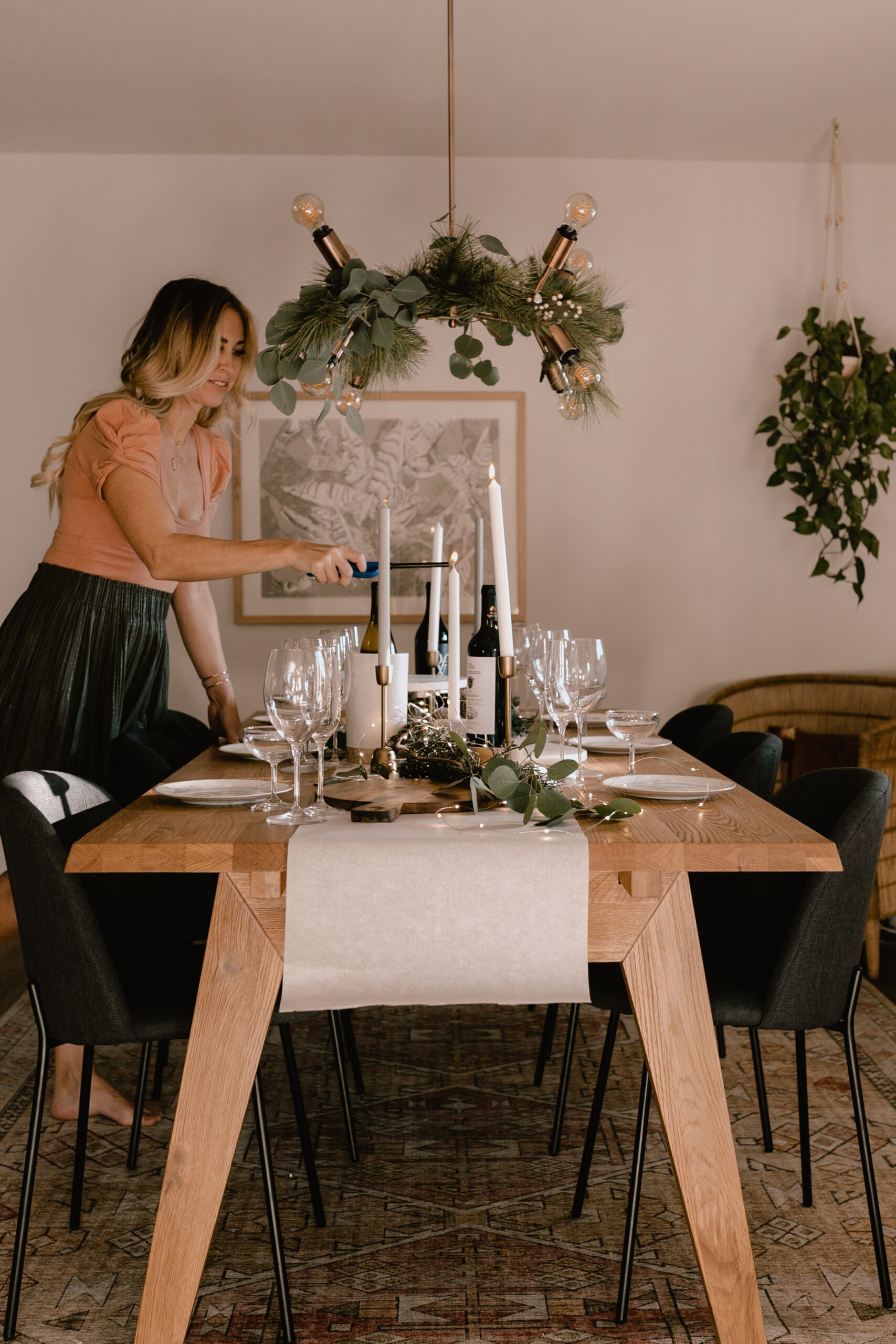 I also put out our small side plates for snacking, and multiple wine glass sizes at every person's setting, so we could all try the different wines each other brought over. I like to do all of this set up first, for two reasons. The first is so I can see how things look altogether, and move and arrange the table as necessary, without worrying about food getting spilled or messed up. Secondly is so the food isn't sitting out too long before the guests arrive, of course. 😉
Now we're ready for the food!
step four: create your spread
With the food spread, there isn't an exact science to it. Have fun and get creative! But for a little guidance, I like to start with the cheeses and dips and place the various types near the center of each board, then follow with the meats. Make sure you either slice the cheese or leave your guests a cheese knife so they aren't feeling shy about digging in. I also like to roll and toothpick some of the more delicate meats like prosciutto to again make it easier to snag one. Then add the fruits and veggies. Again, be creative with the way you cut, slice, and add to the table. I love bunches of grapes (so easy), sliced cucumbers, whole baby carrots with a bit of stem, and sliced red peppers. Add the dried figs and/or olives in small bowls for the table. I like to pile the nuts directly on the boards where I can find a little space, or you can use small bowls too. And last is the crackers, fanned out around the edges.
Here's where the parchment paper comes into play! Even though I put out the cutting boards as an outline for where I wanted the food to be, I also let some crackers fan out and nuts and veggies spillover onto the parchment paper. This makes everything feel more accessible to guests so they are more willing to dive right in!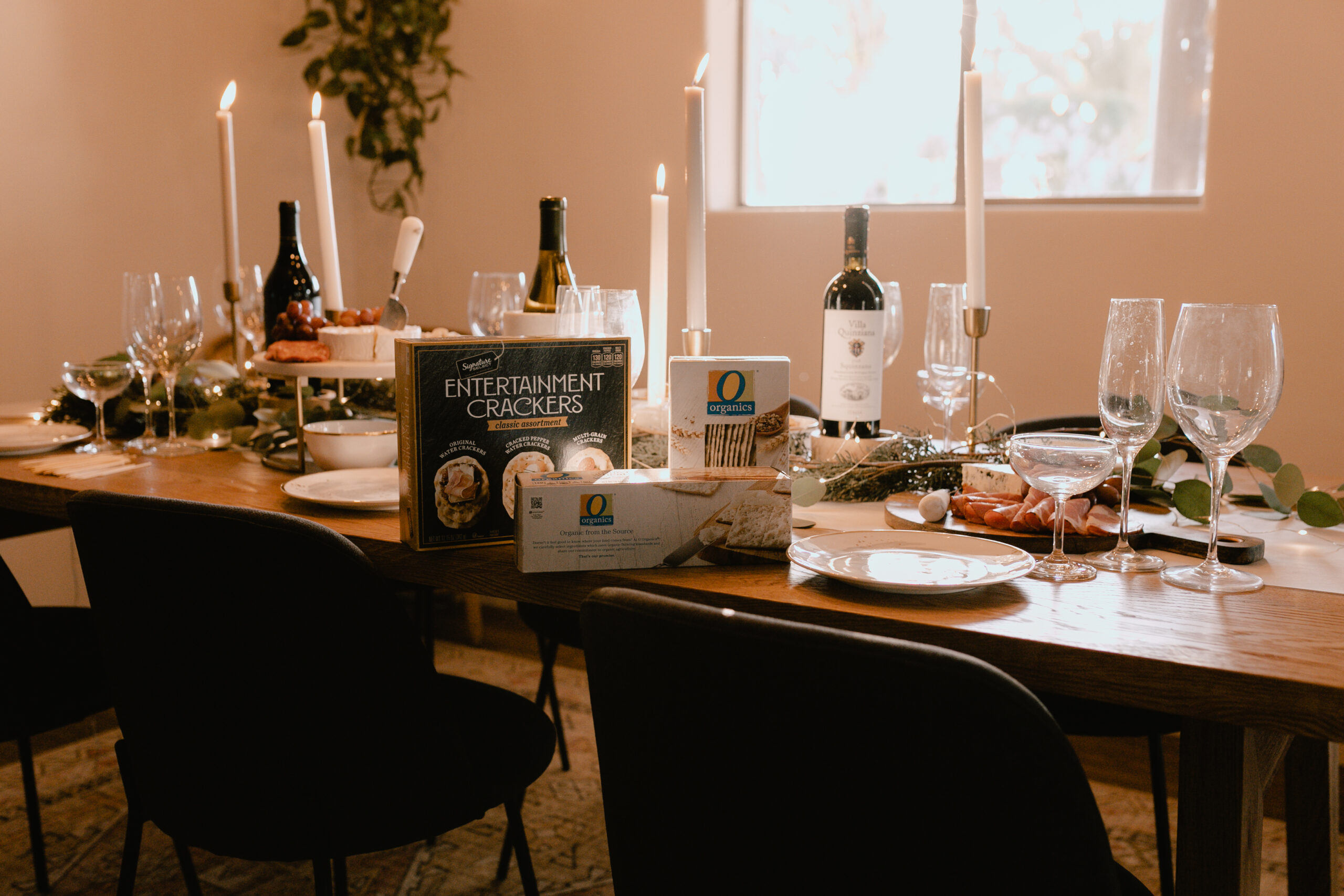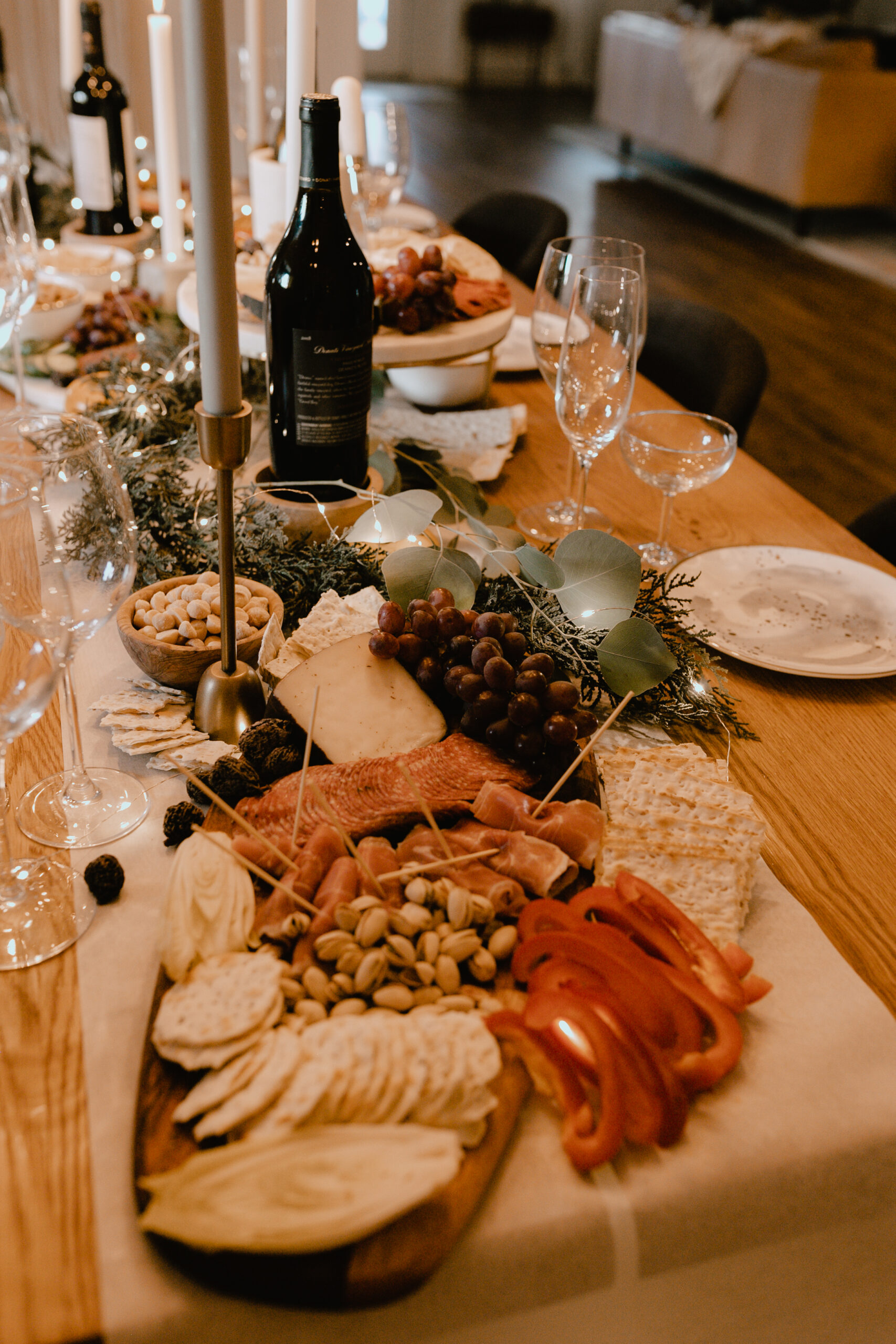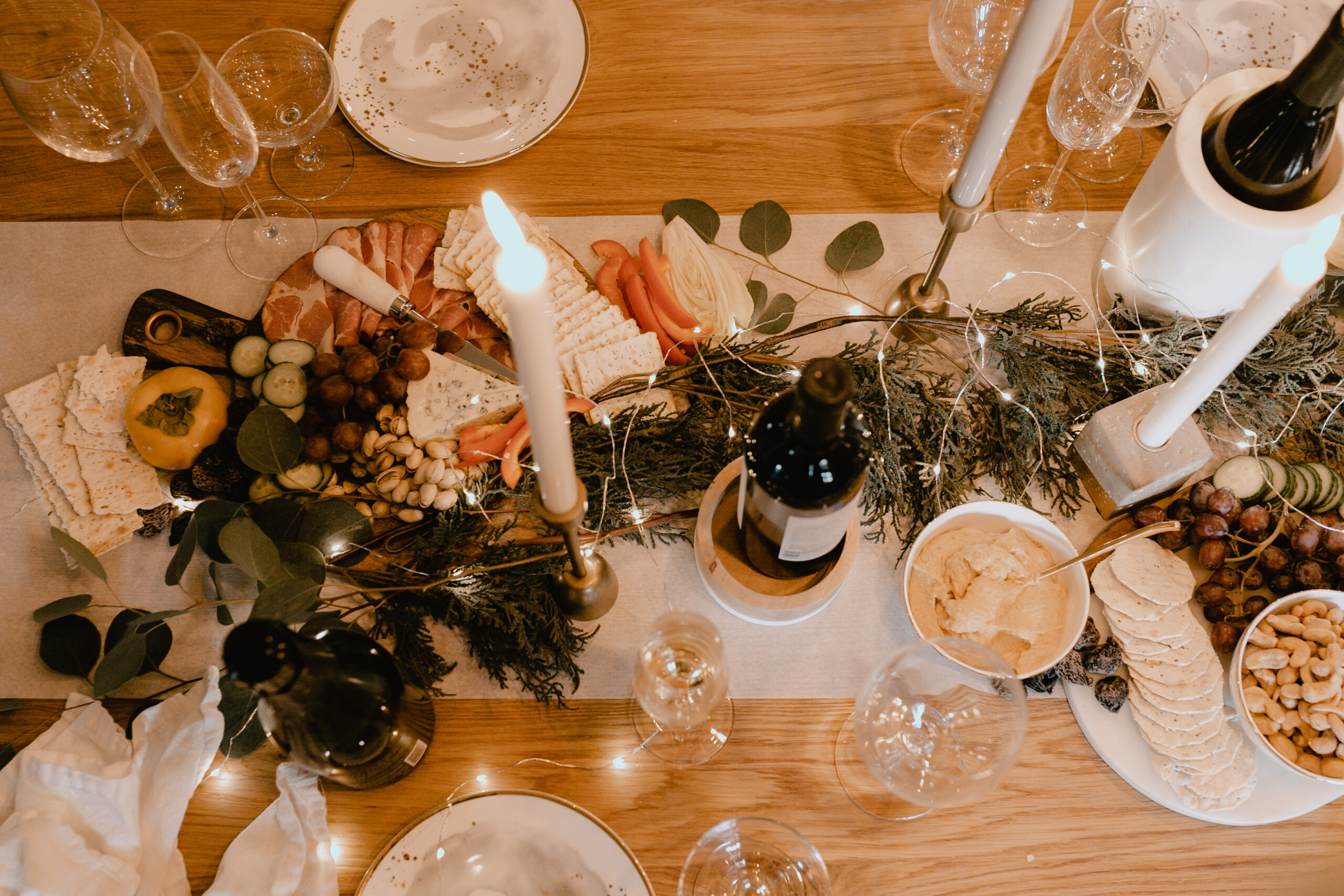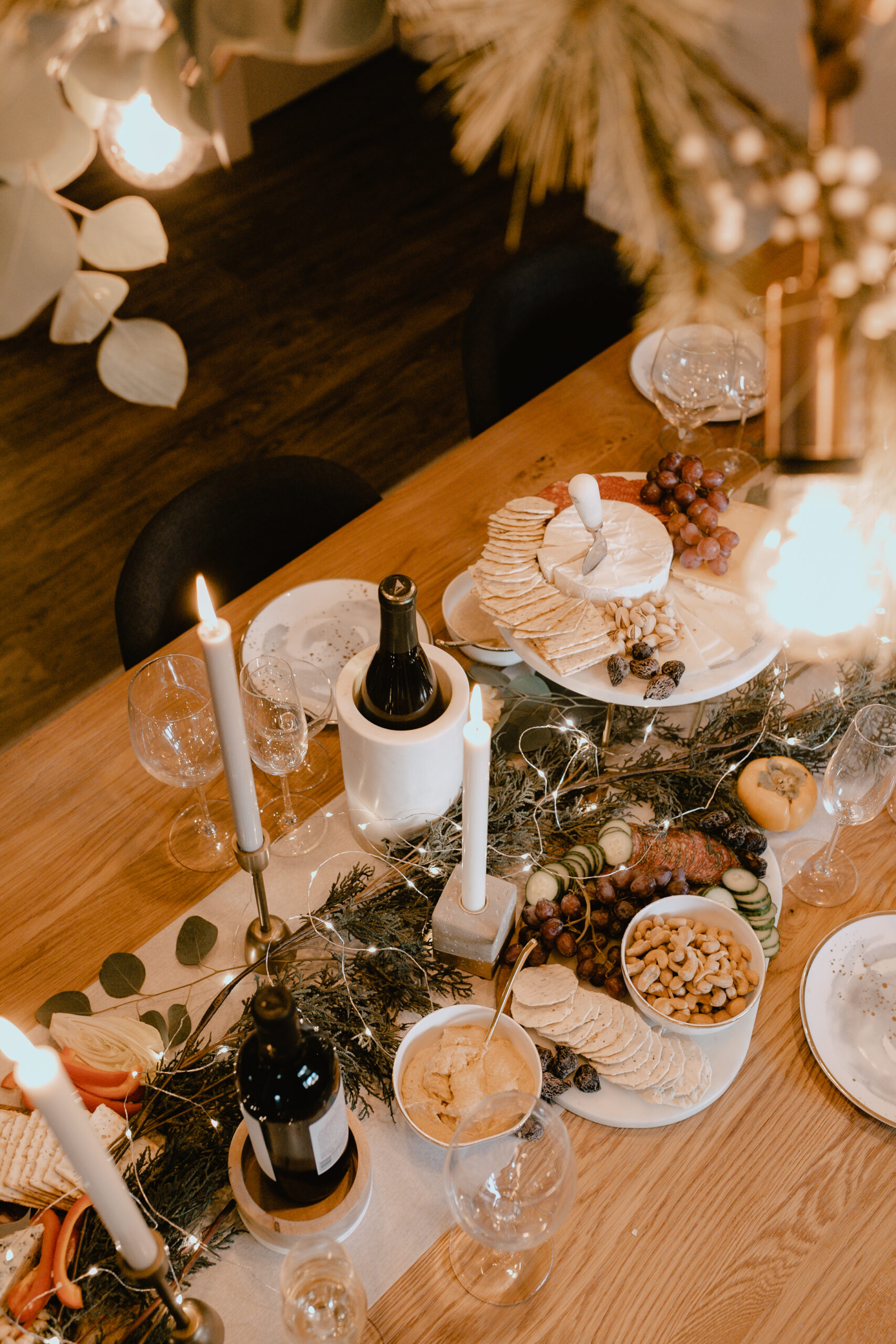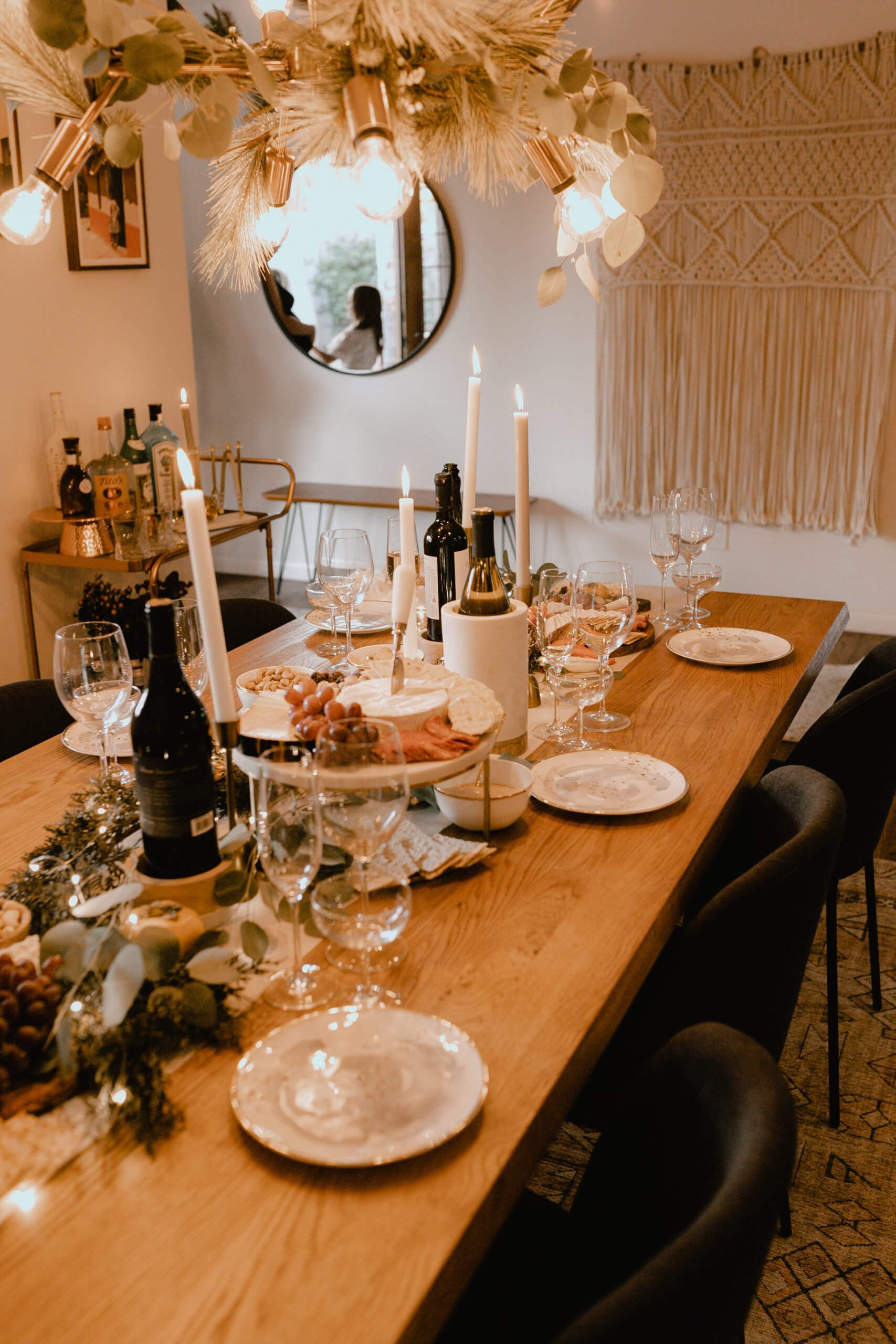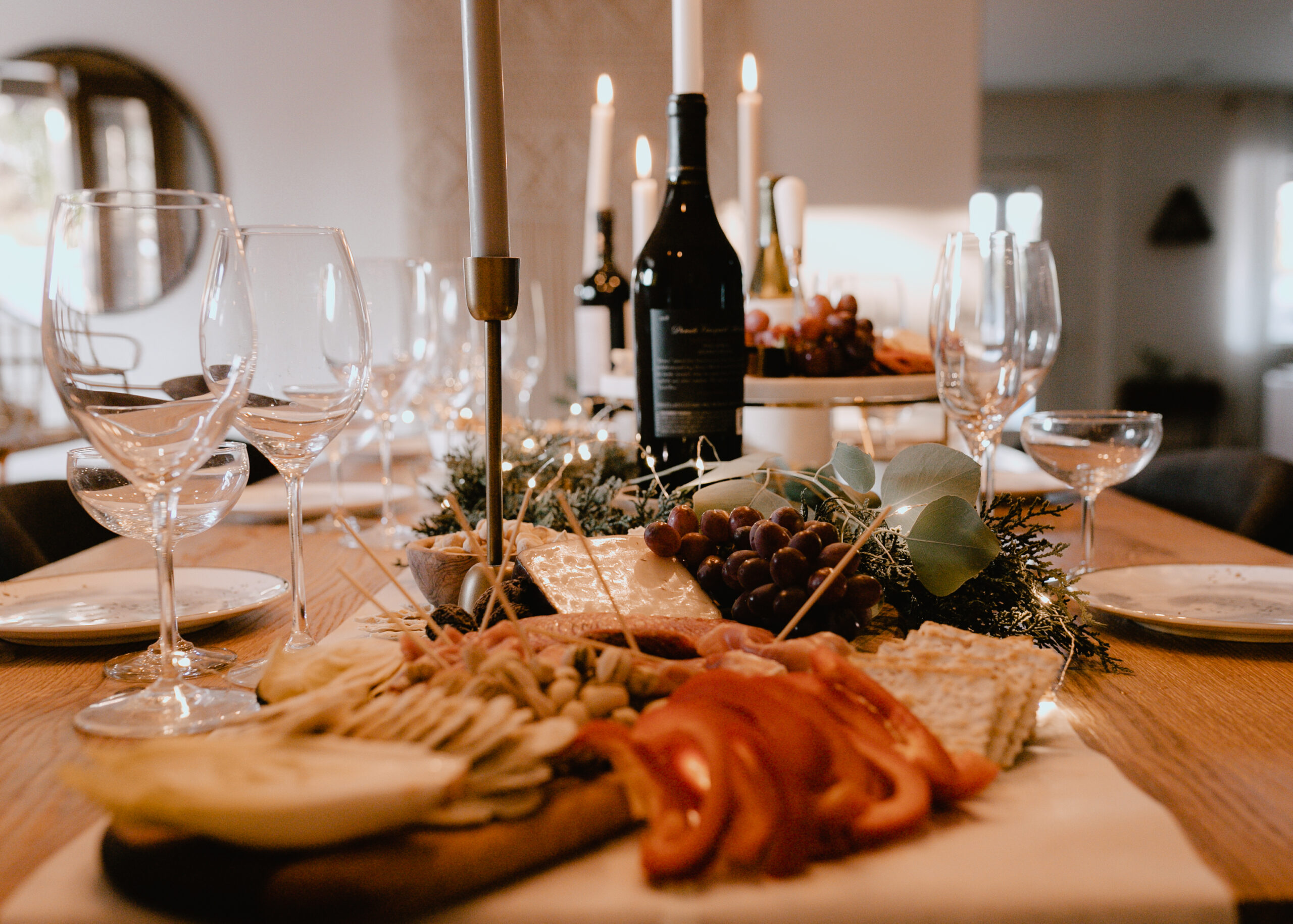 Now we are ready for our guests to arrive so we can celebrate the holiday season! I think one of the best parts about this was there was no cooking or baking involved! Literally so simple, but still feels fancy and festive. Now the only trouble is trying to keep the cute little hands out of it until your guests show up. 😉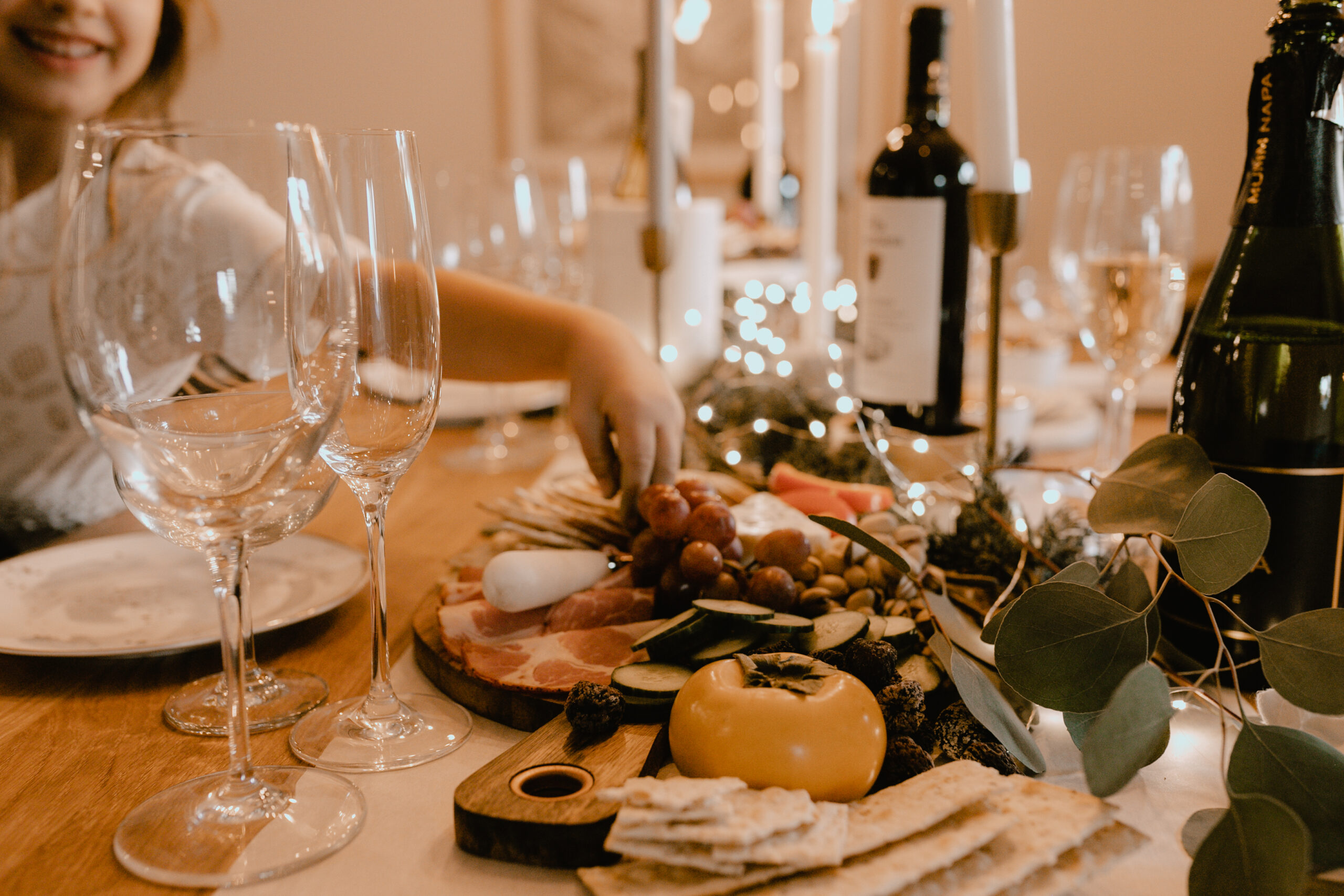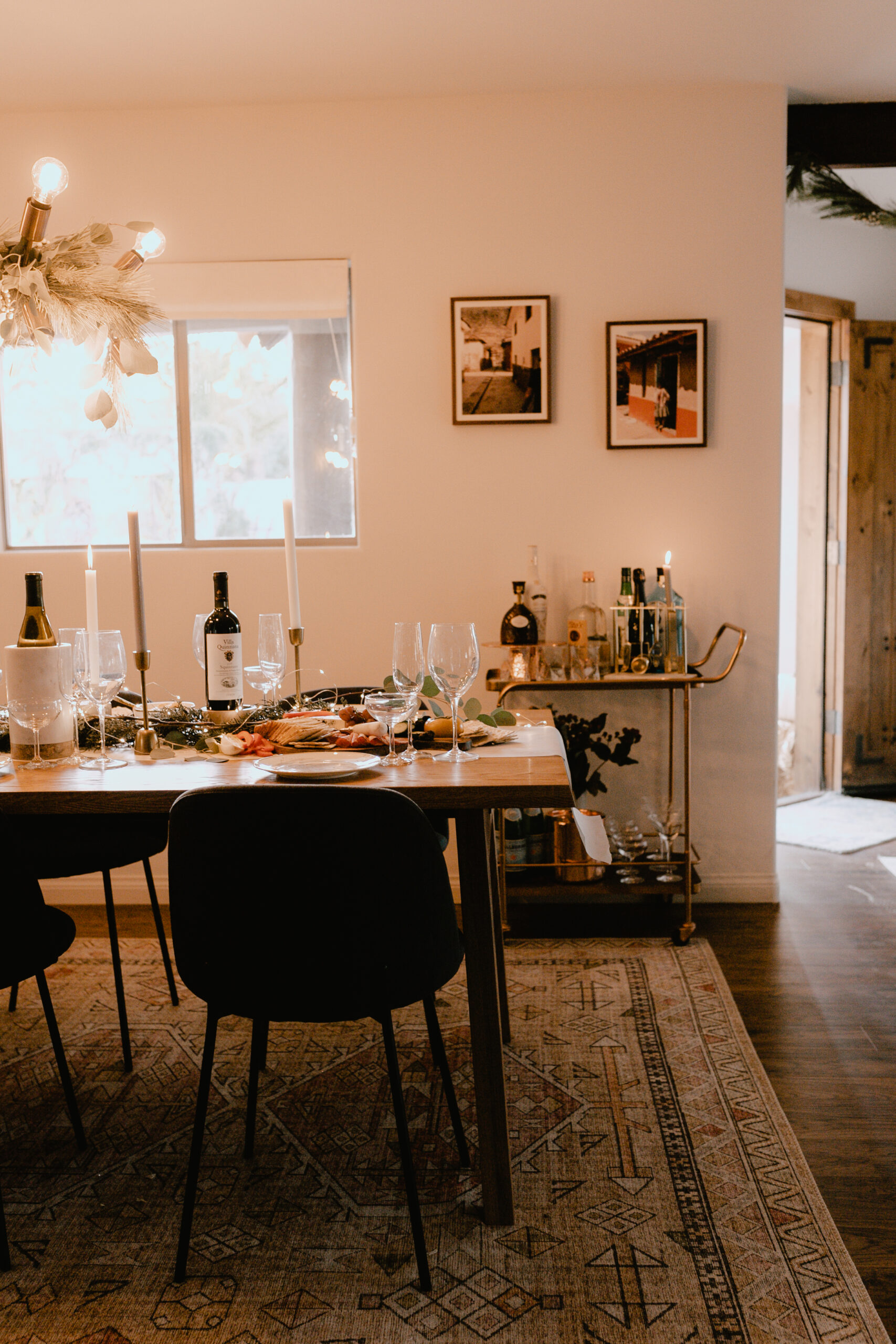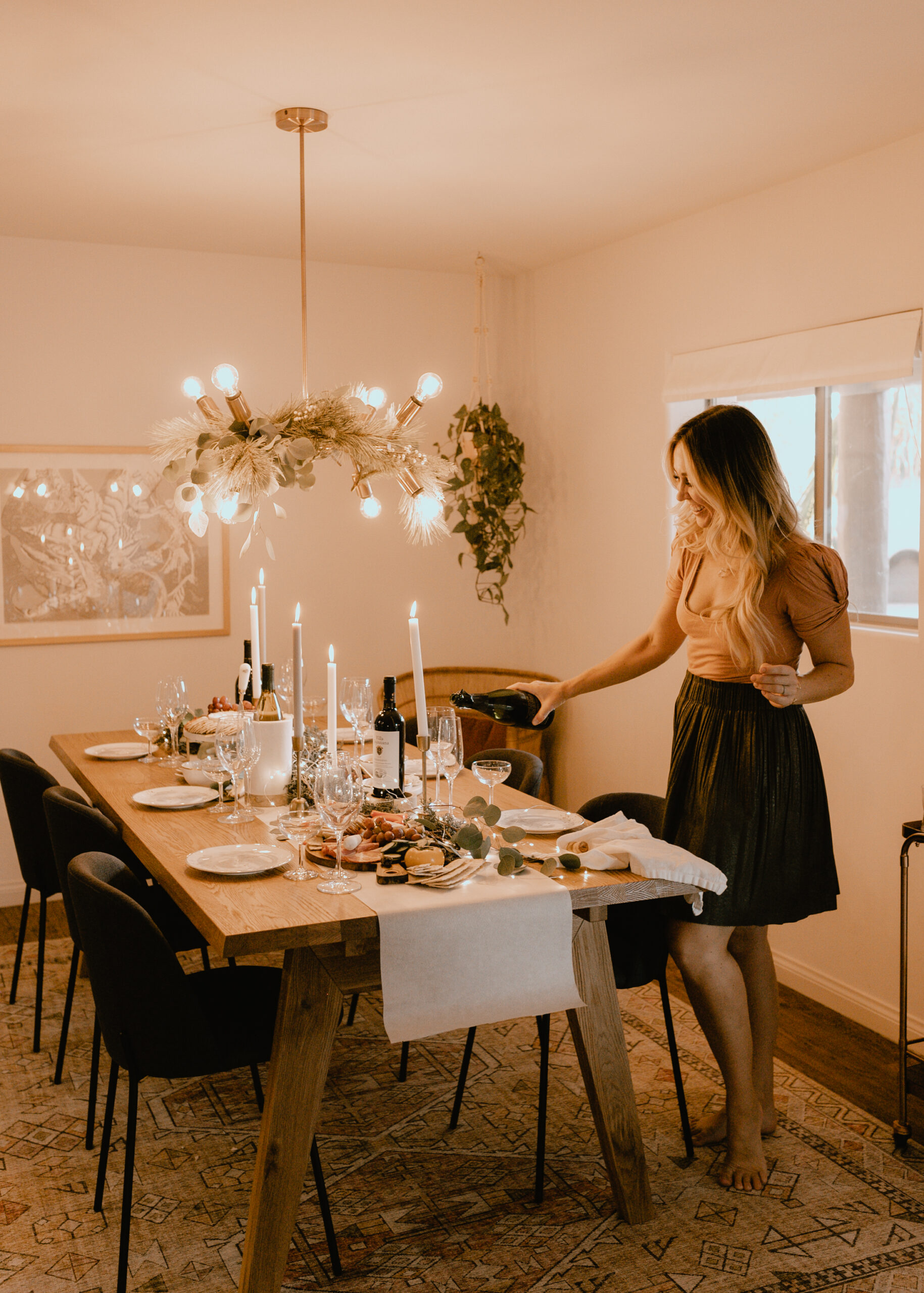 What do you think? Would you try this? Please tag me on social media if you are inspired and decide to host your own very merry charcuterie gathering! @thelovedesignedlife
Share the post "how to host a very merry charcuterie gathering"