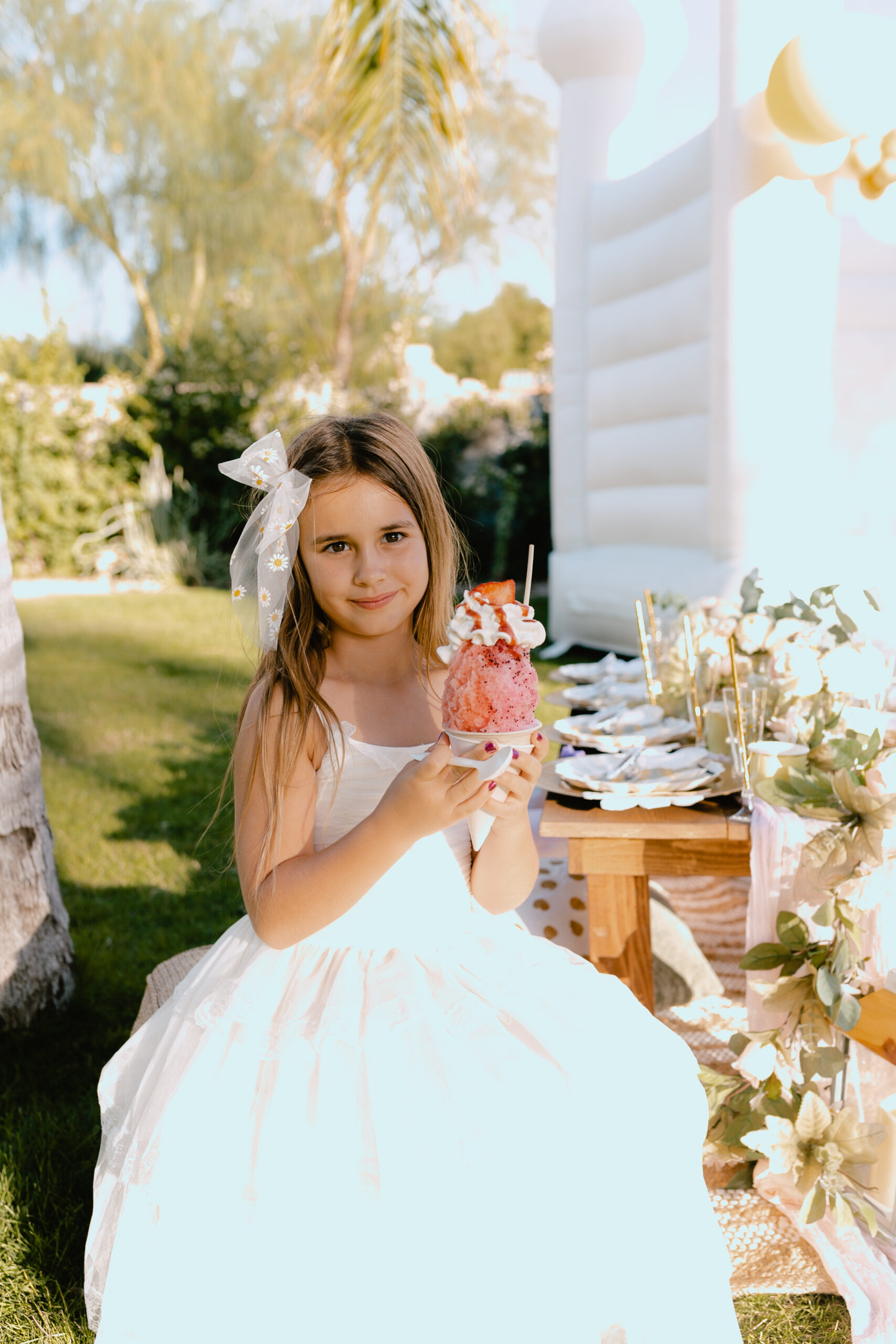 My sweet girly girl's honey bee spa birthday party was back in November, which always tends to be a bit of a crazy/busy time, falling right in between my husband's birthday (who turned a BIG number this year) and Thanksgiving. I tried to get ahead of the game this year, but it seems like her birthday post in January are just going to become a new tradition. 😉 I may not be able to control when my loved ones were born, but shifting the calendar a bit helps make the celebrations more fun!
For this year's birthday, I wanted to keep it easy and low-key at home. HA. I'm not really sure I succeeded, but that was where I started. Either way, because I wanted to keep it easy on myself this time, I found the cutest little local service here, Honey Bee Mobile Spa, that specializes in spa – themed birthday parties for the young. If you've been following, you know I've grown from being 100% DIY for my parties, to really appreciating the professionals who come in to help and make my life a little easier. This allows me time to put up decorations, get the food ready, and just general party prep.
Honey Bee Mobile Spa brings everything to you, including the chairs, robes for the girls to wear, and the most darling set up including girly magazines! It's honestly so adorable and cut my set up time way down. Our party also came with two "Honey Bee Hostesses" who took care of painting the girls fingers and toes and helping them with their face masks, while us mamas got to chat and adore the cuteness happening!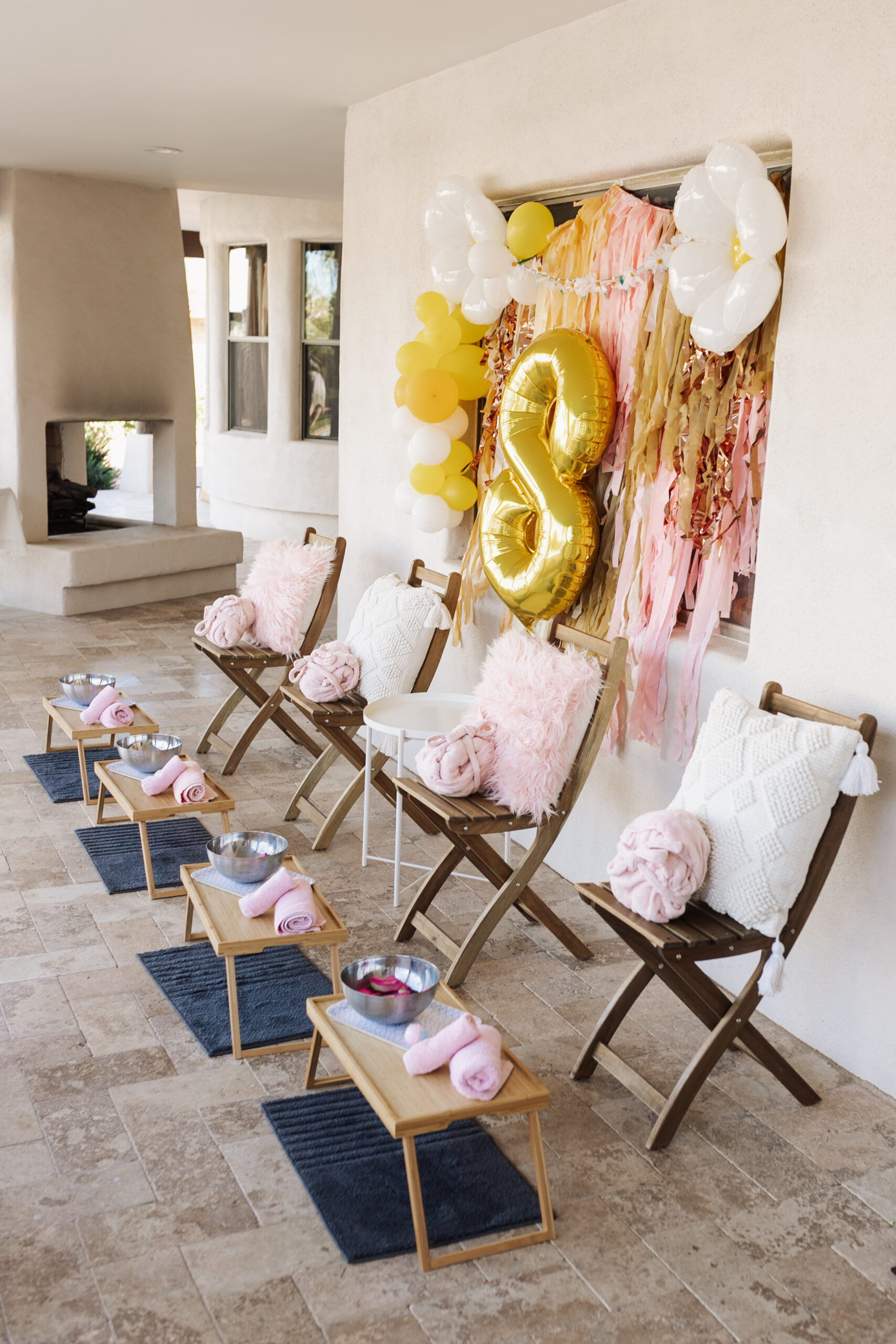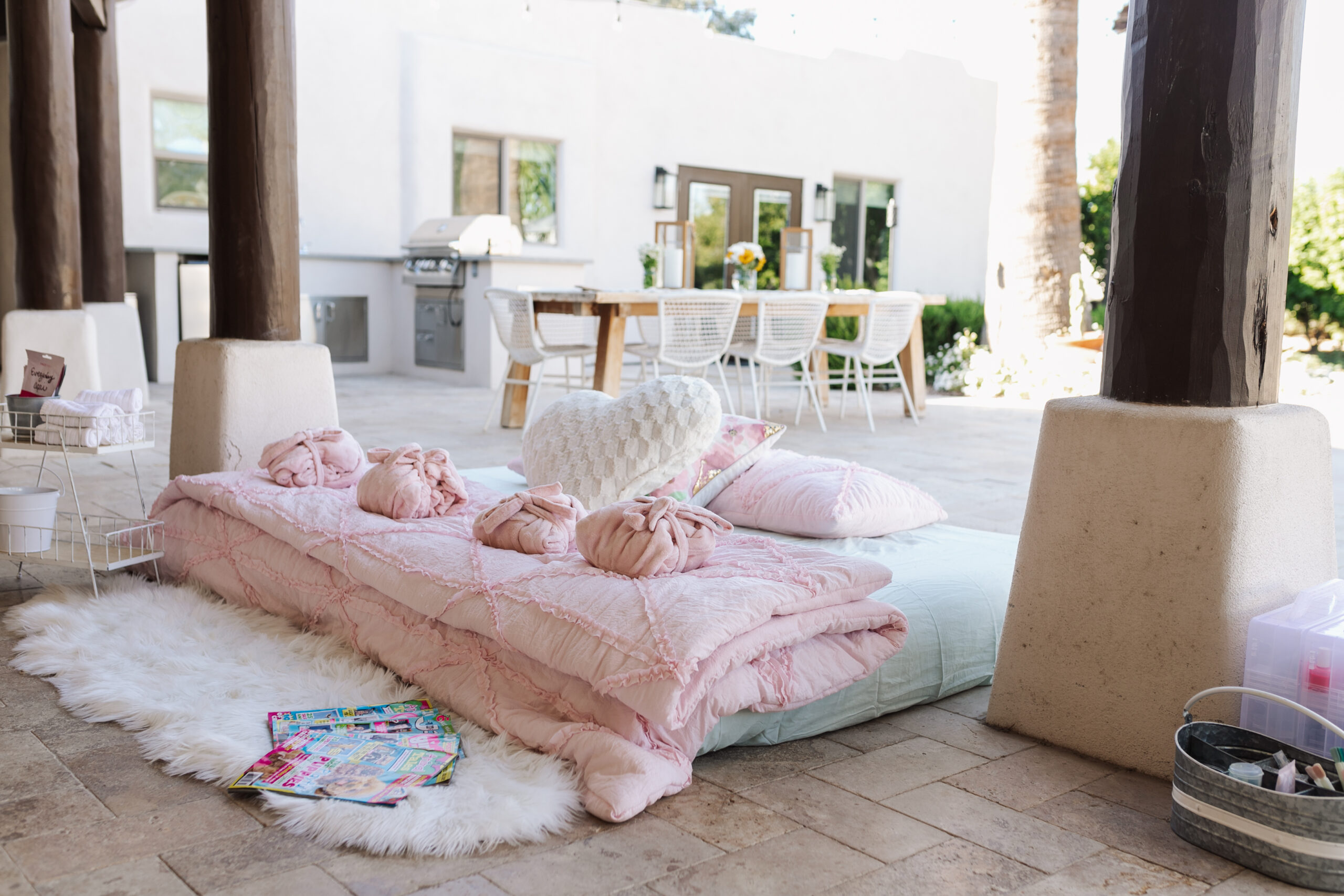 I went with the "Honey Bee" package, which included the mani/pedis and also the facials, and was just perfect for our group size. As I was looking at the Honey Bee Mobile Spa website, I noticed they also offered this sweet picnic table as an add on. This is totally the type of thing I would normally DIY, but when I saw this, I was like – sign me up! One less thing to worry about. I added a few of my own touches with the daisy flower napkins and honeybee plates to stick with our theme, and I loved how it turned out.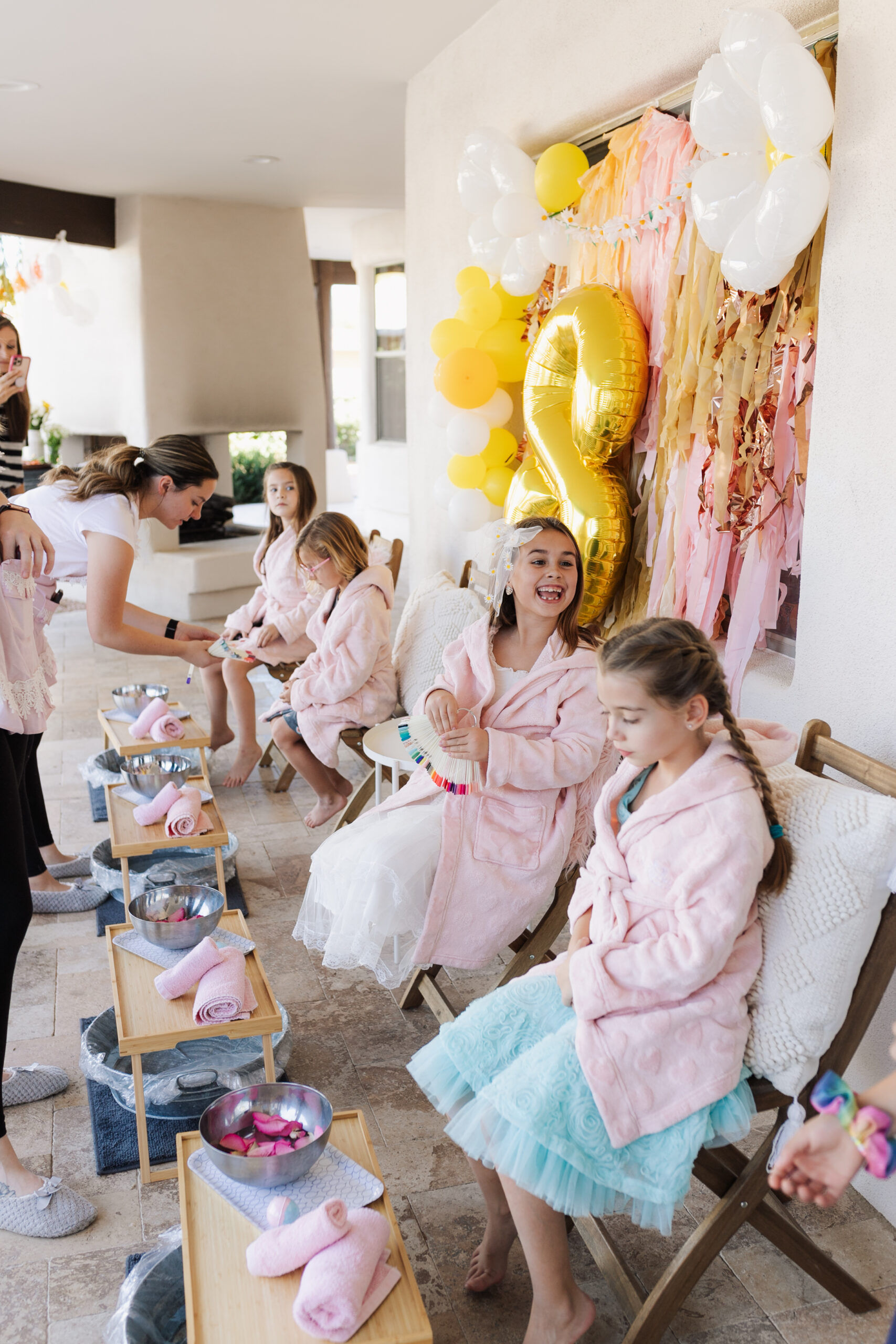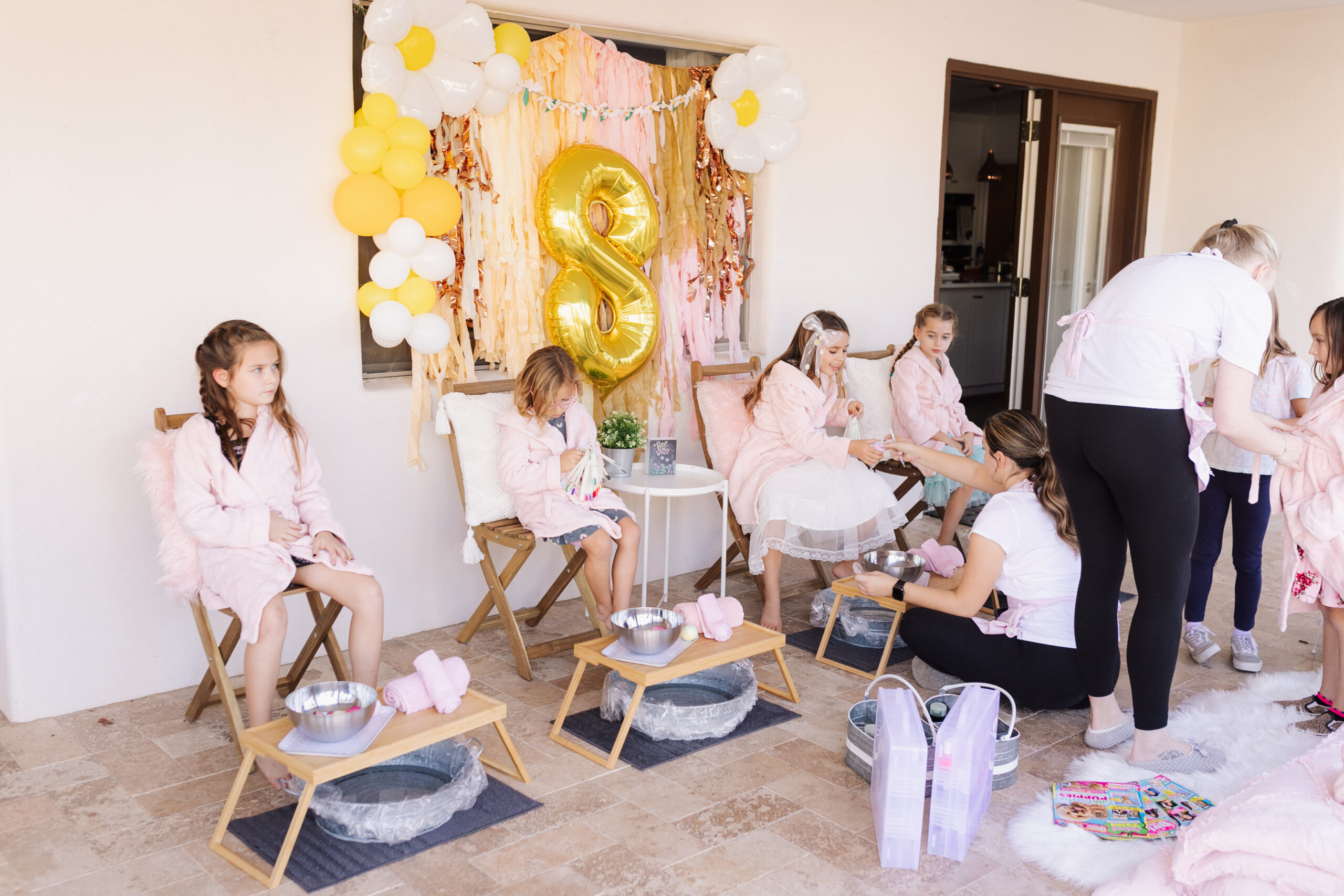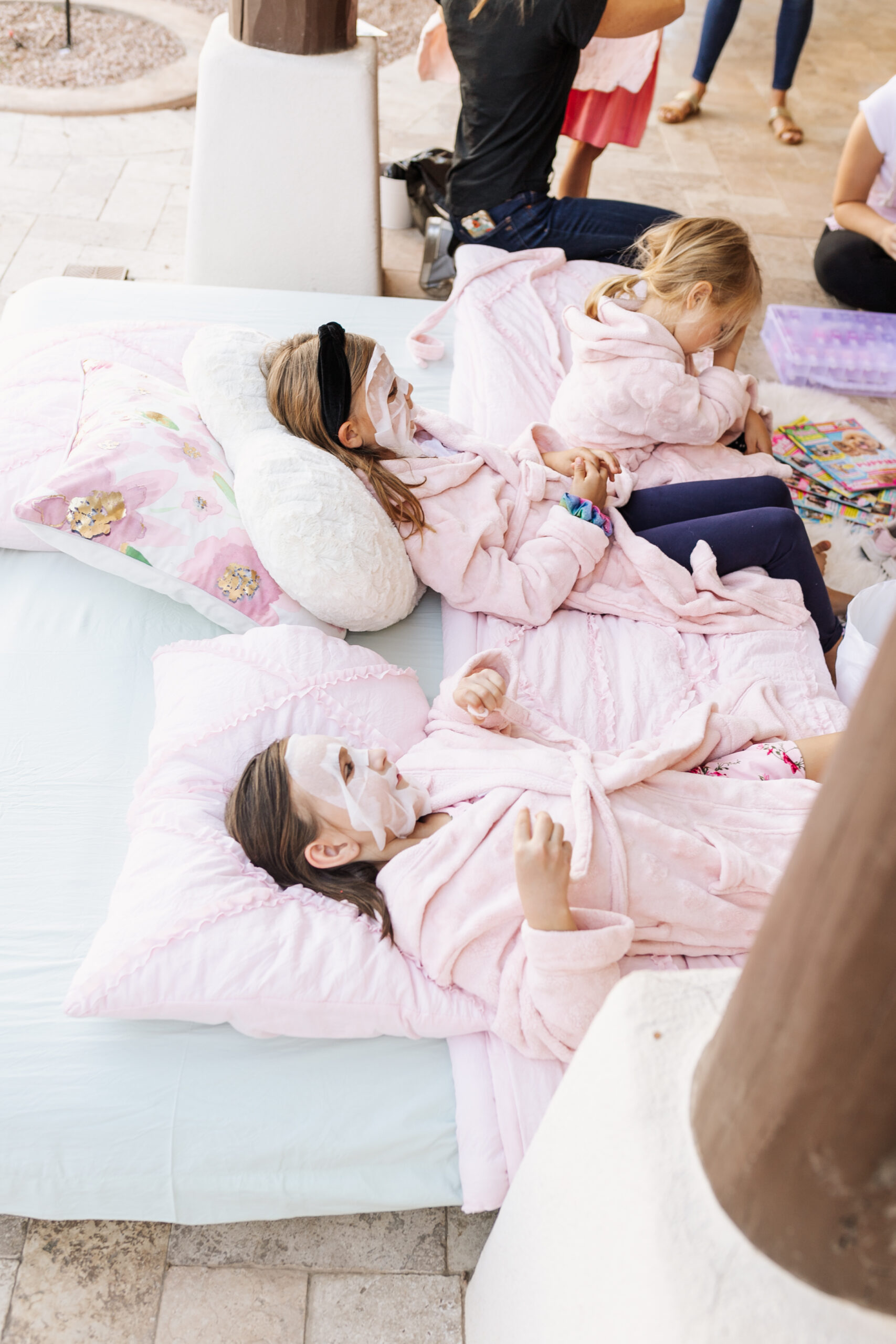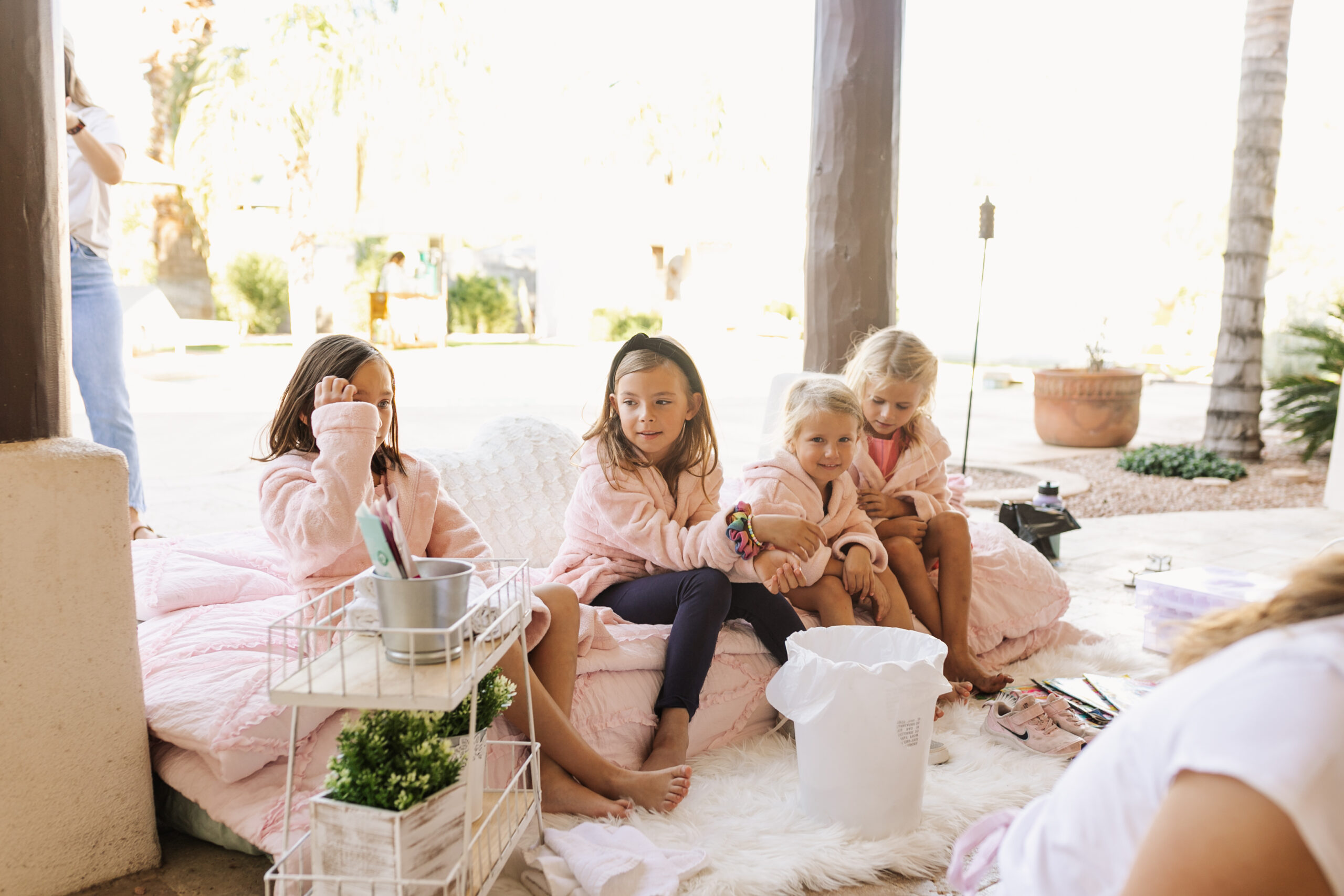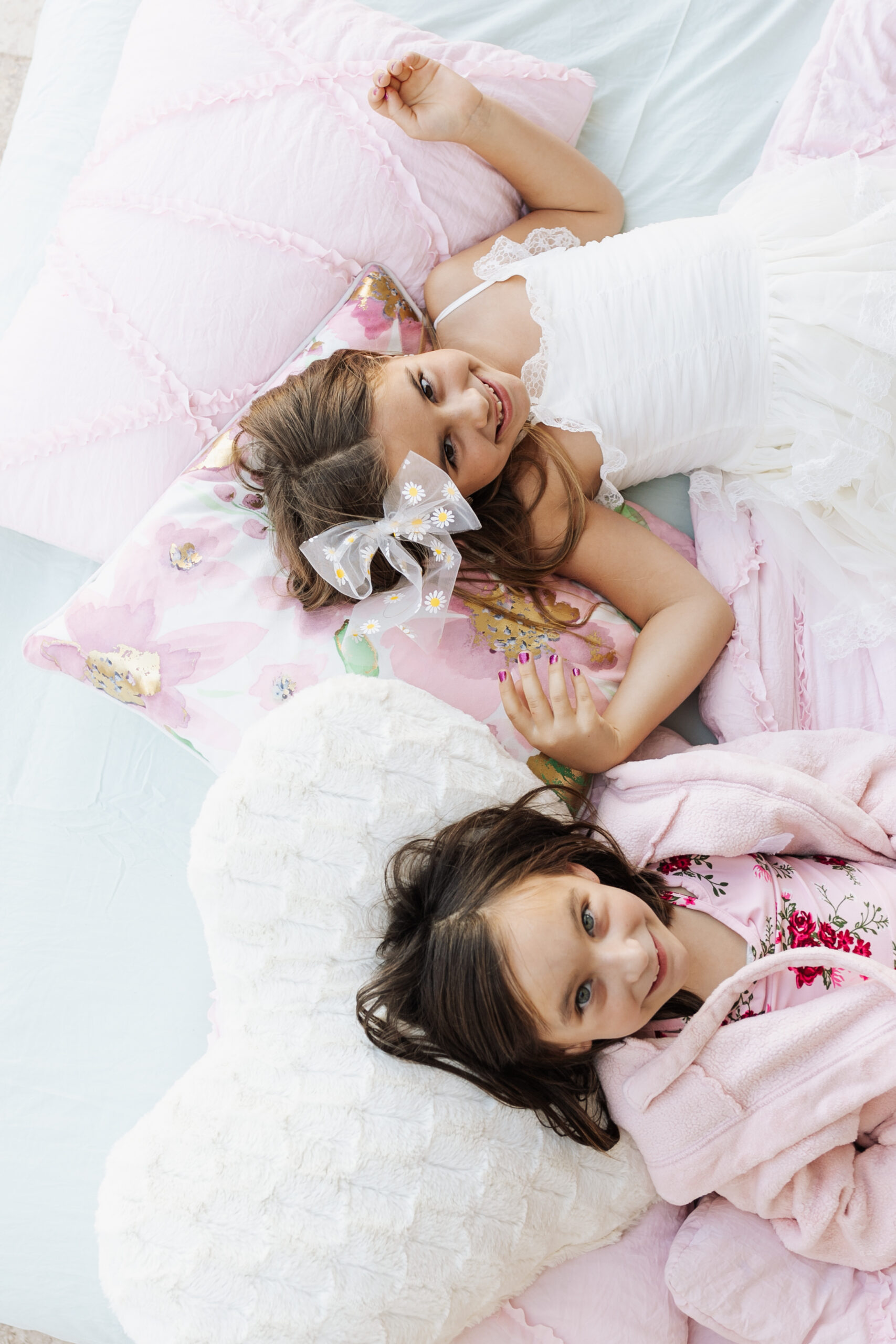 The cute name "Honey Bee" inspired my theme for the party. I was originally thinking to keep the decorations more minimal with just some daisies, yellows, whites, and touches of honey bee. But honestly, what girly girl's party is complete without pink? The fringe backdrop behind the spa area is from GlamFete. I got it for my girlfriend's baby shower last year and it ended up working well here again with the daisy balloons!
Oh and another great add-on that Honey Bee Mobile Spa offers for parties is this darling picnic set up. I normally love to do a cute tablescape at my parties too, but again this year, I called in the reinforcements. The girls brought in the rug, pillows, tables, chargers, and flowers for the table, and I added my own touch with the honeybee plates and bamboo utensils.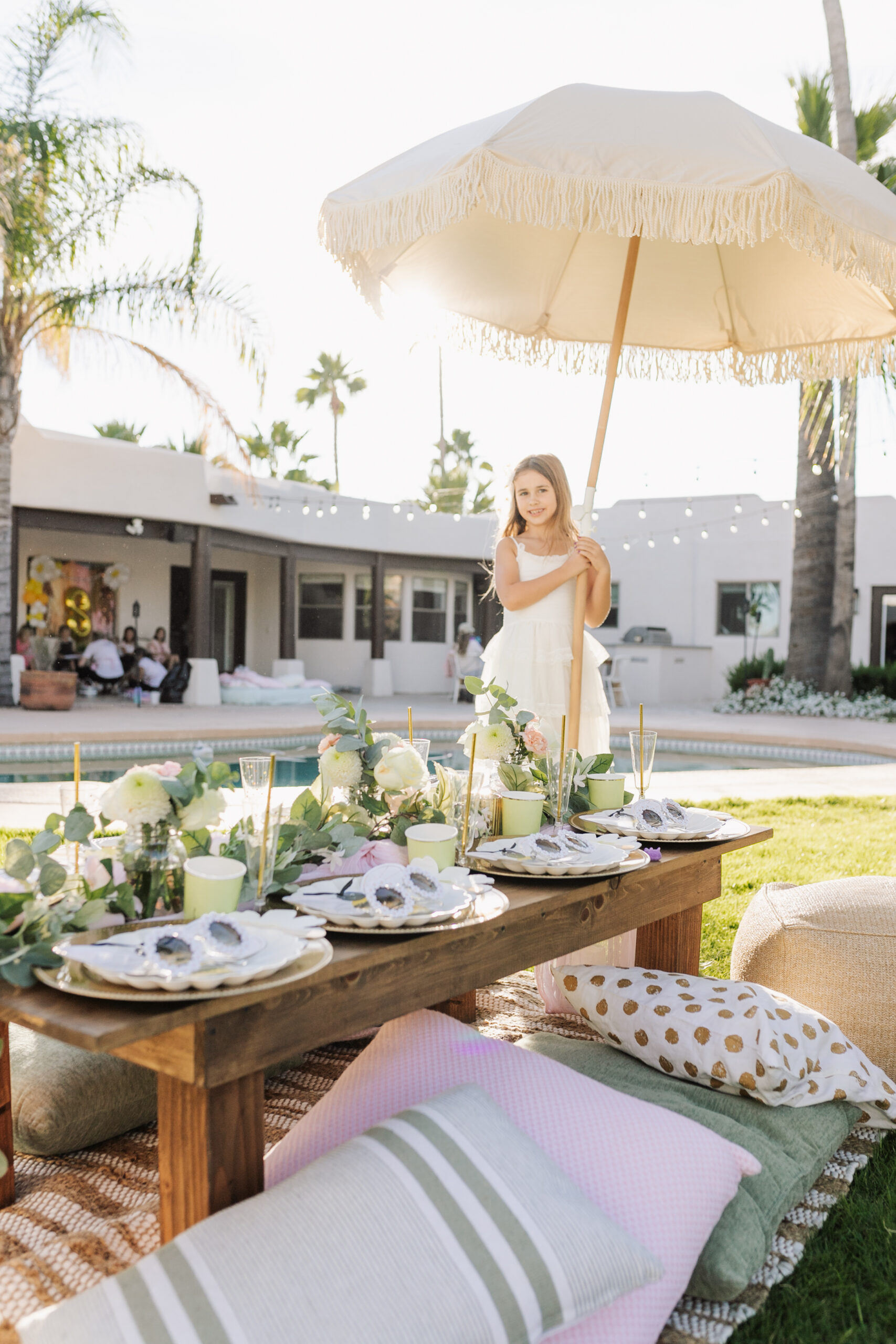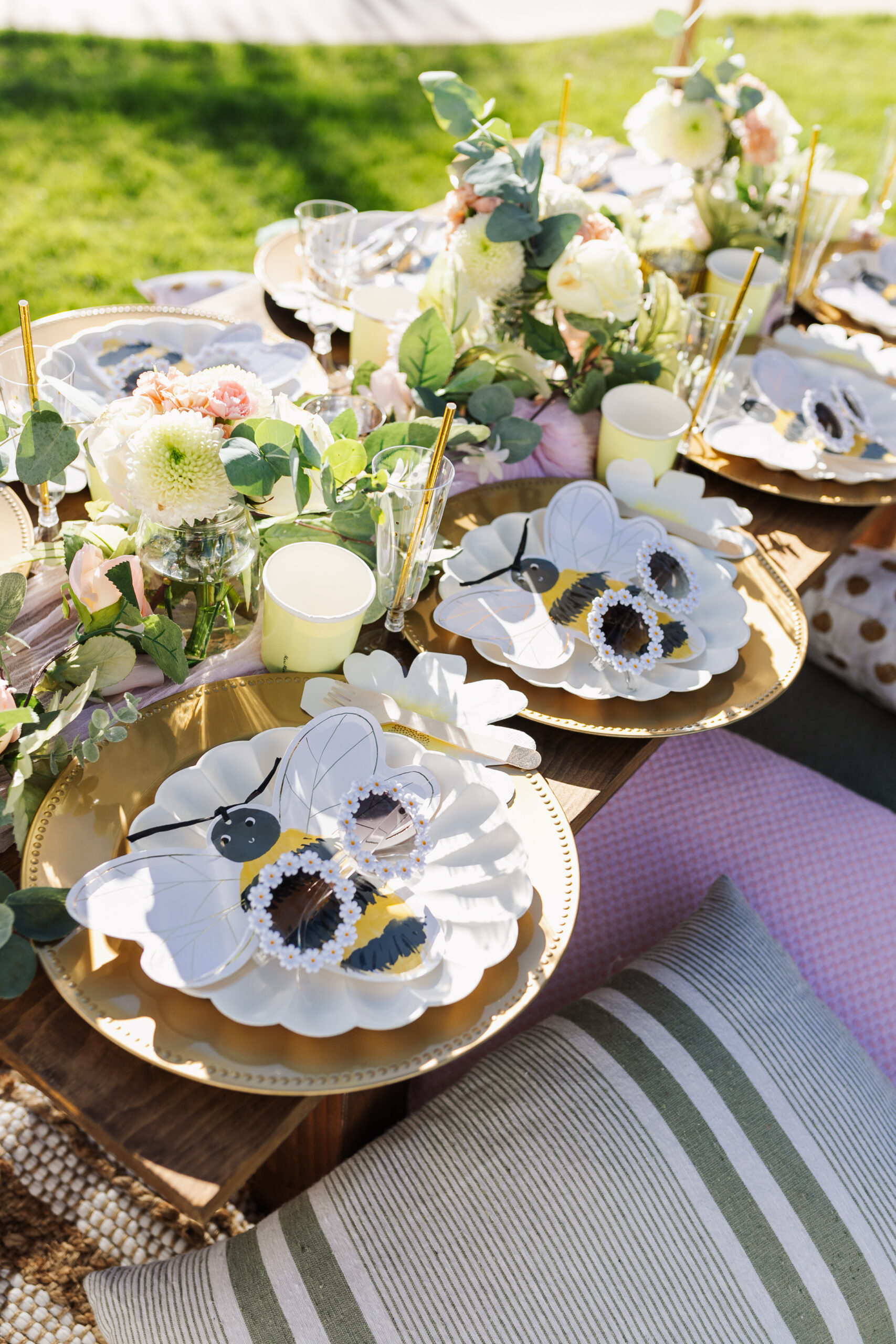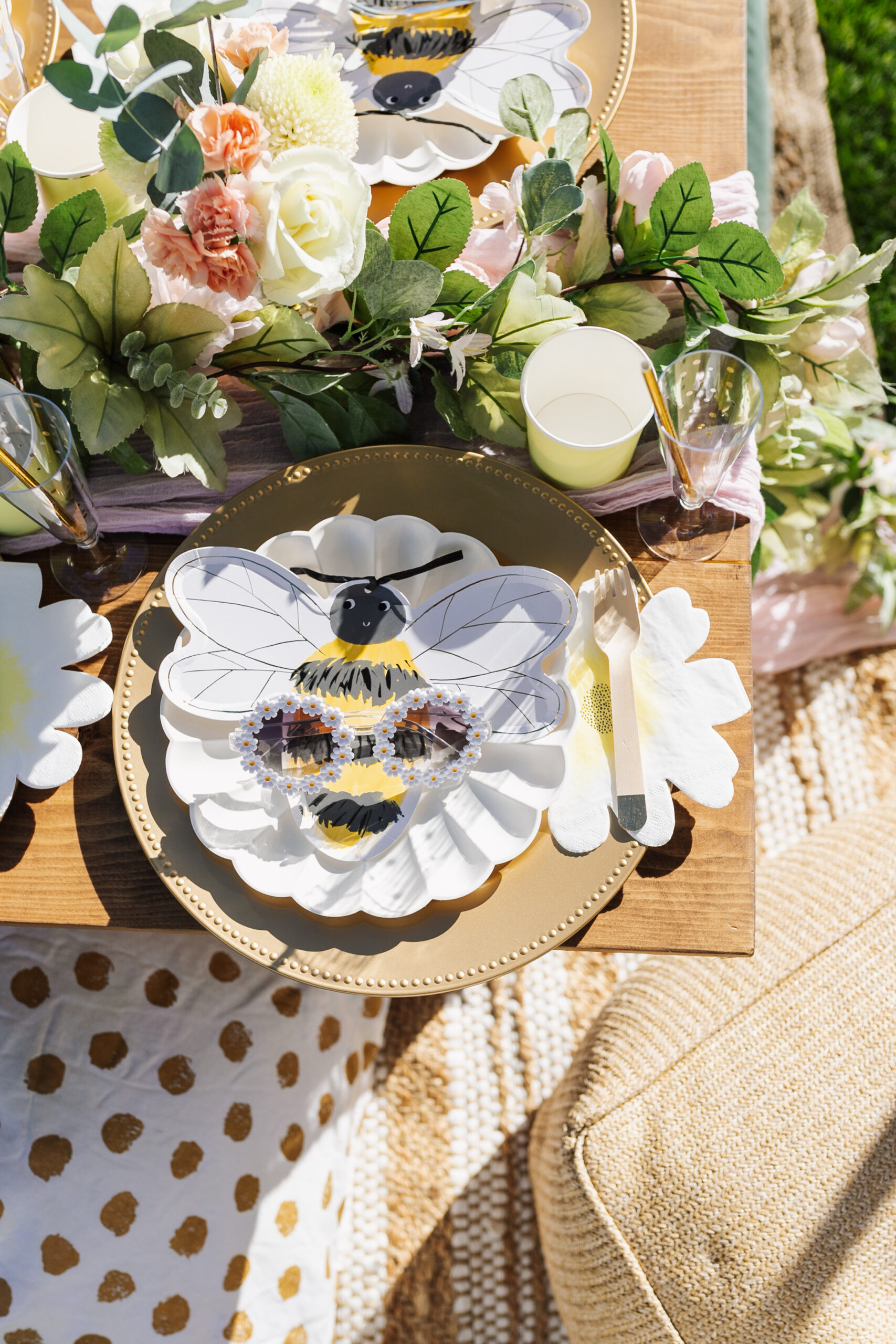 What kid's party wouldn't be complete without a bounce house? I have been obsessed with the white bounce house trend, and I am so happy I came across this one from local vendor Inflate Fourth Eight. It was the perfect canvas to add my DIY balloon garland! And also turned out to be a very useful spot for the girls to blow off some steam while they were in between their spa services.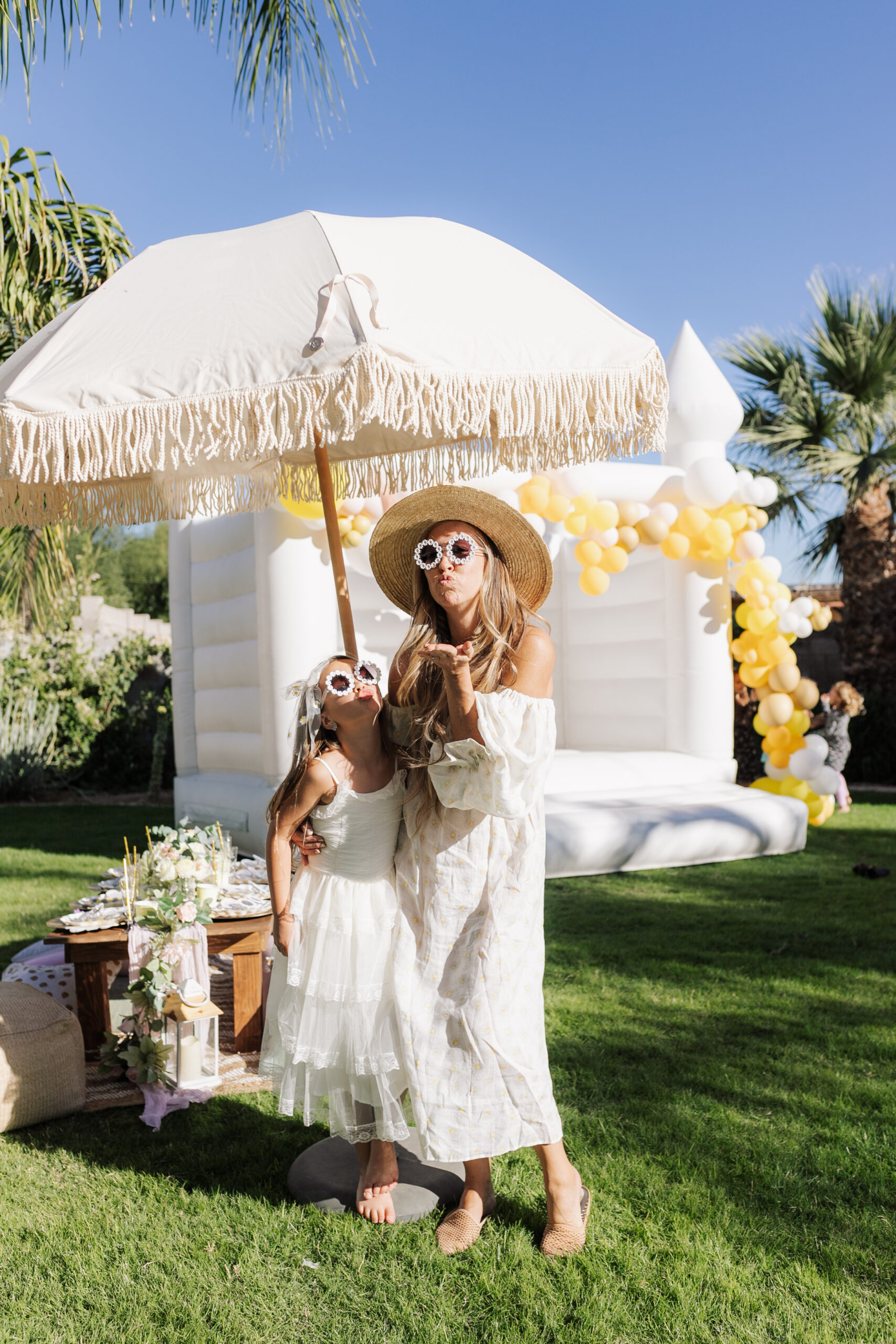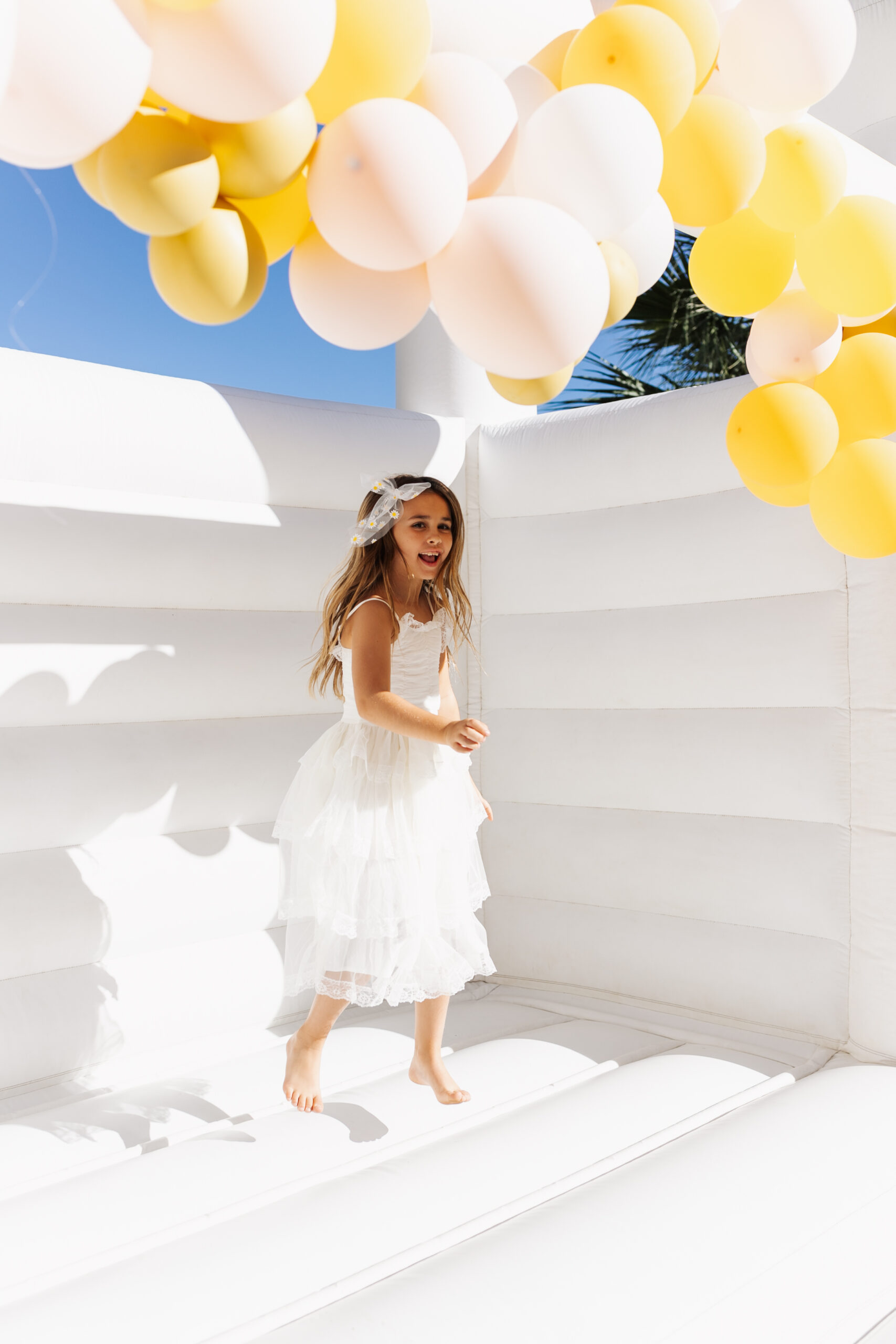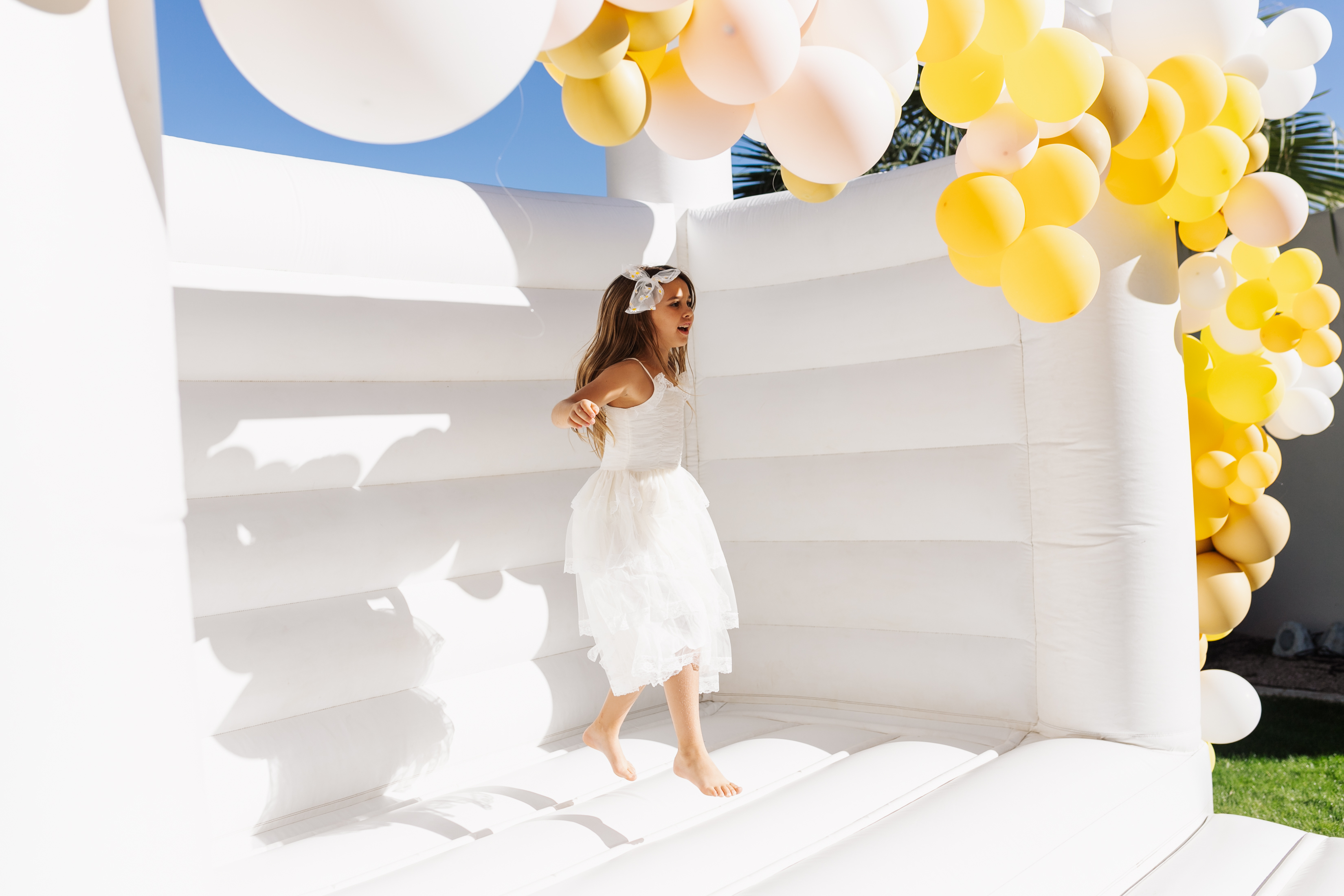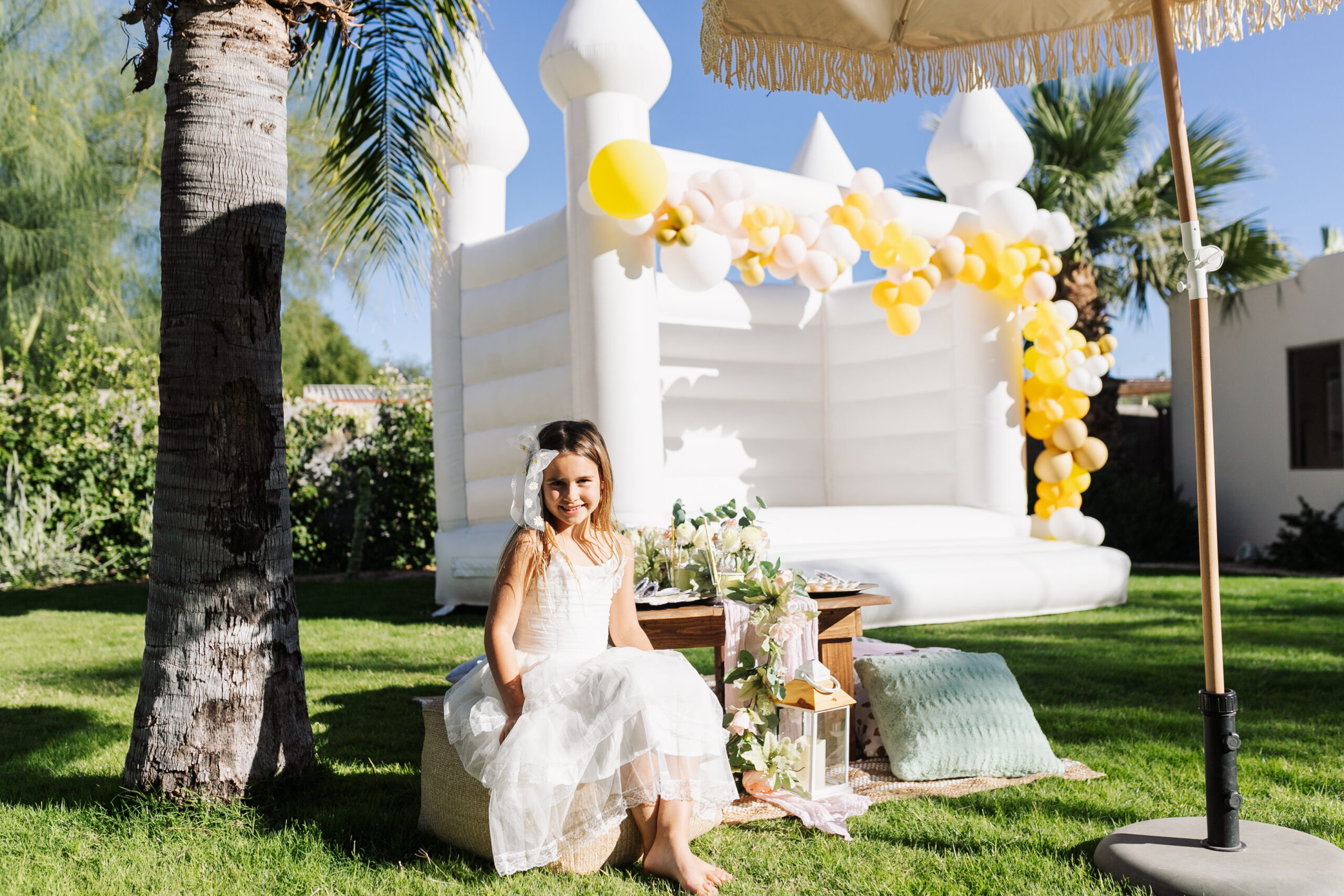 The literal cherry on top for this party was having the most delicious ICED Gourmet Shave Ice come to serve up treats! You guysssss, if you are like me and have had a regular snow cone only to think, "meh…" you are haven't experienced ICED! It is a whole other level with all natural flavors and colors and real ingredients. SO FREAKING DELISH. These pics cannot do it justice. This darling mother/daughter duo does pop-ups around the Phoenix area and are also available for your private parties too. Tell them I sent ya!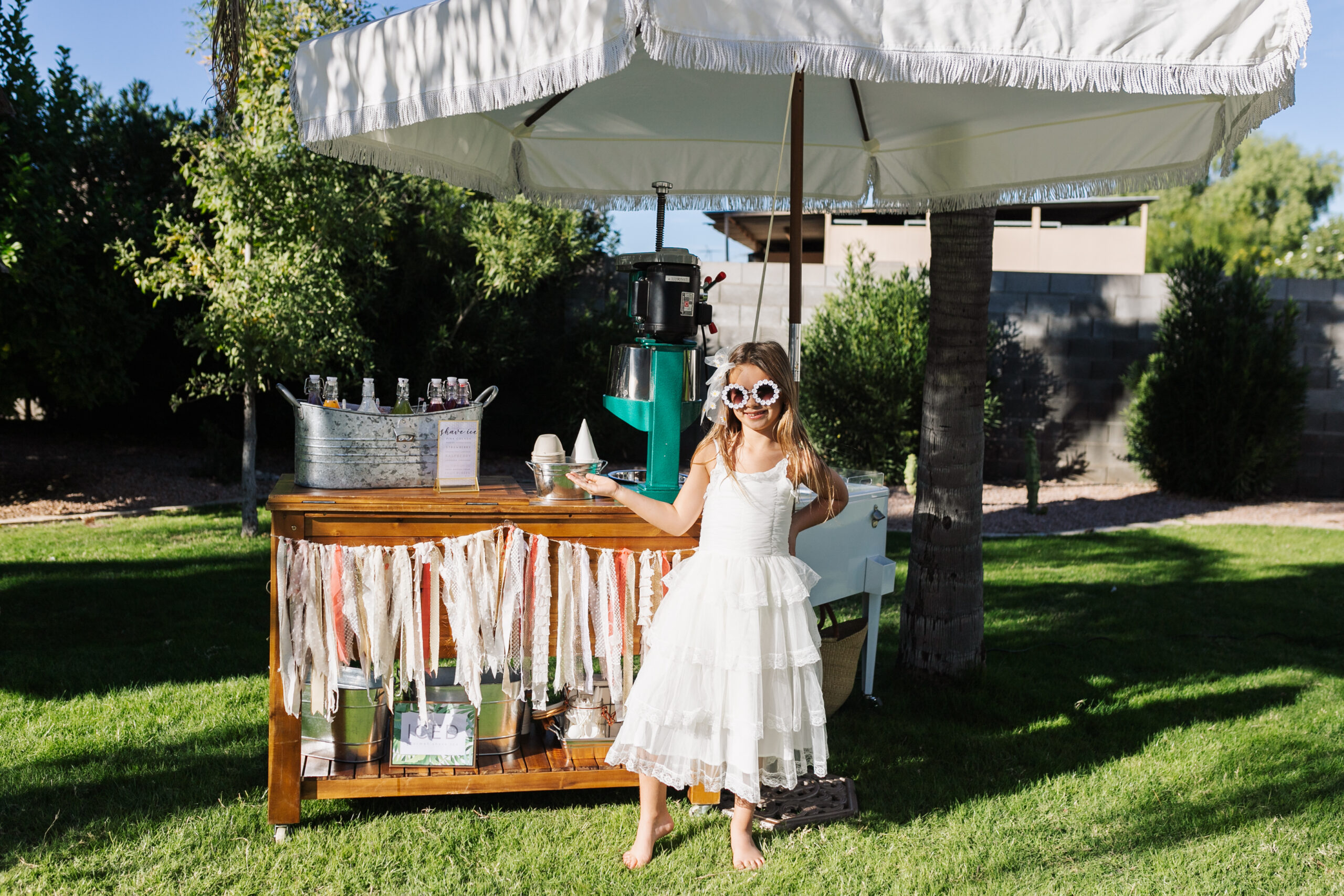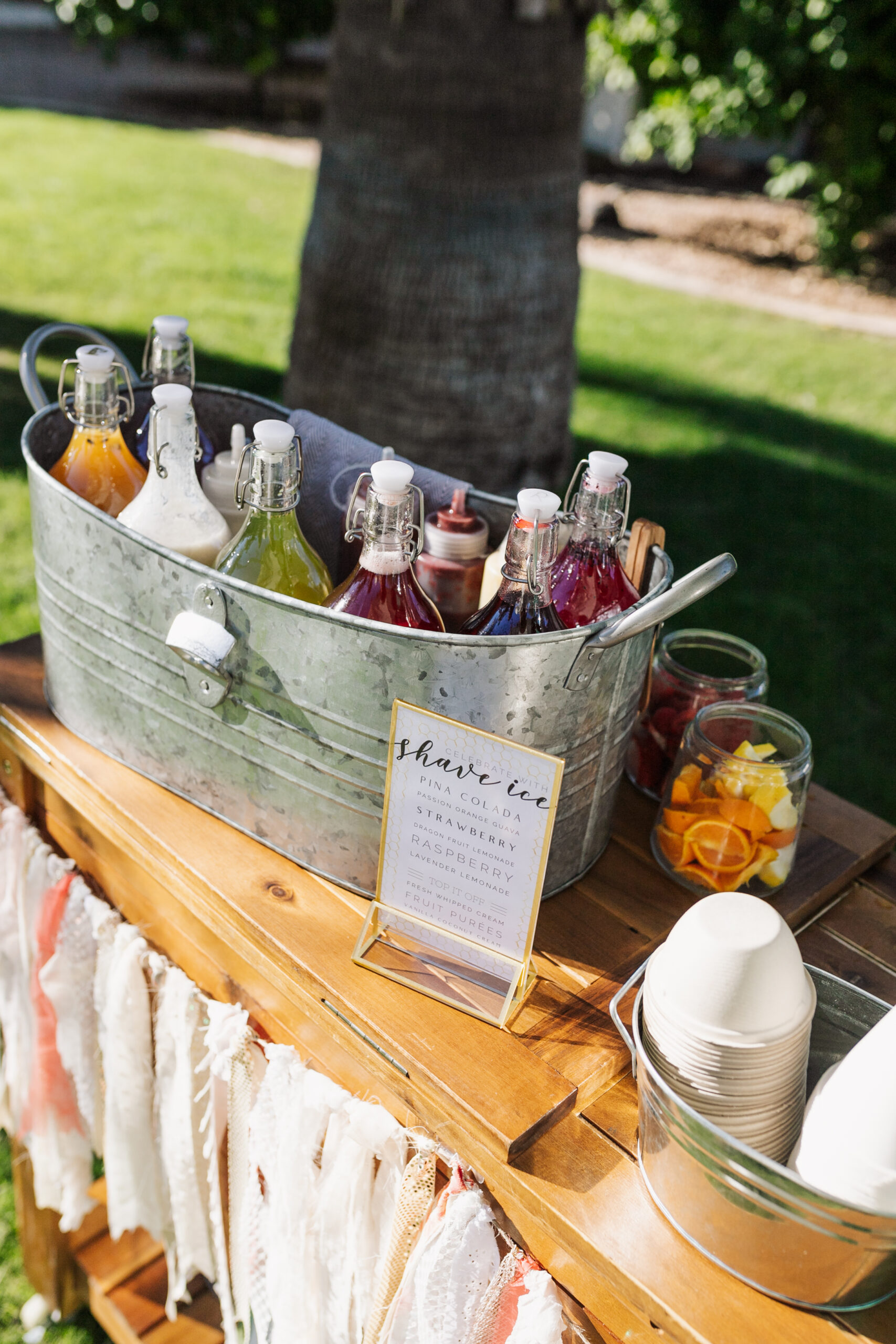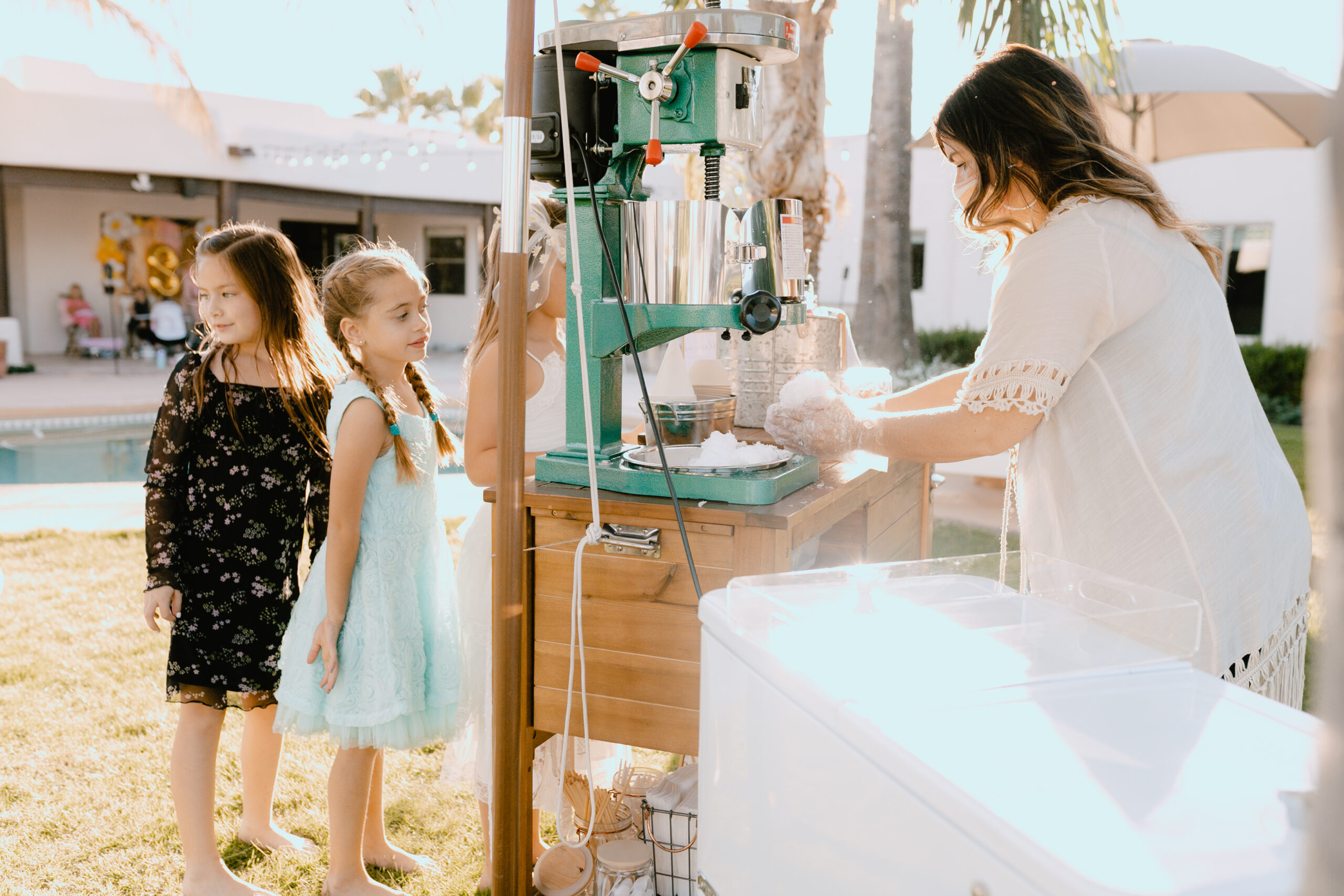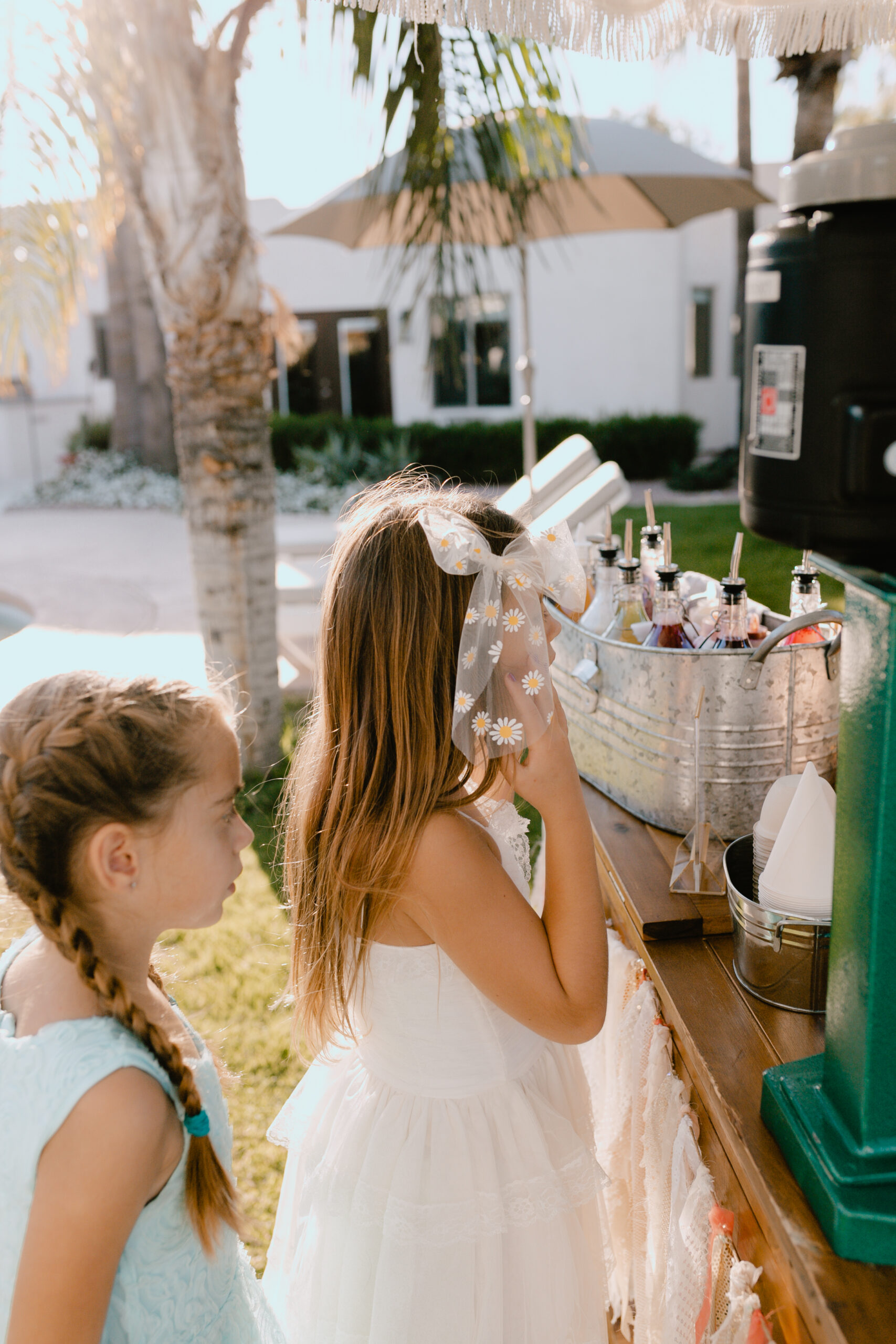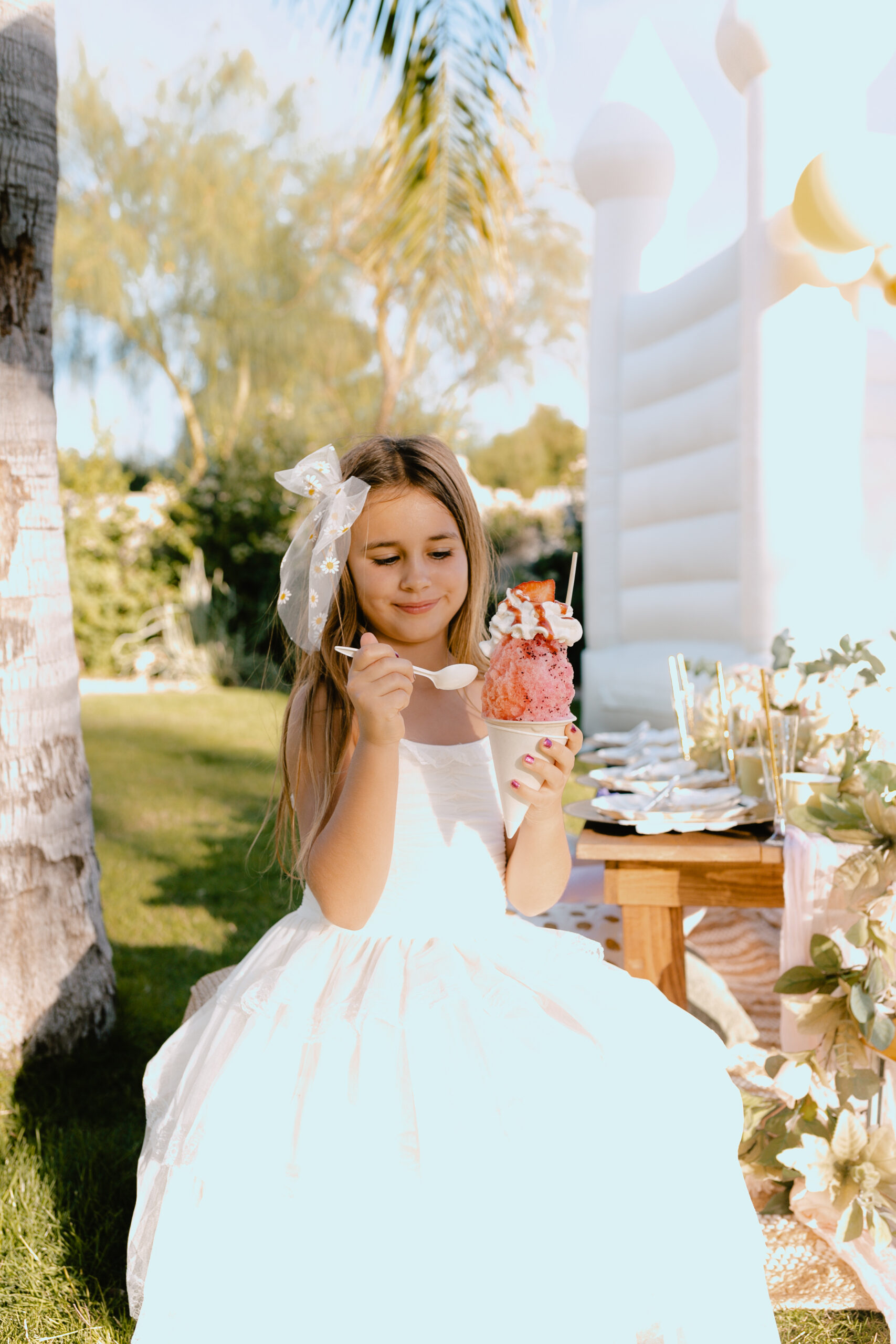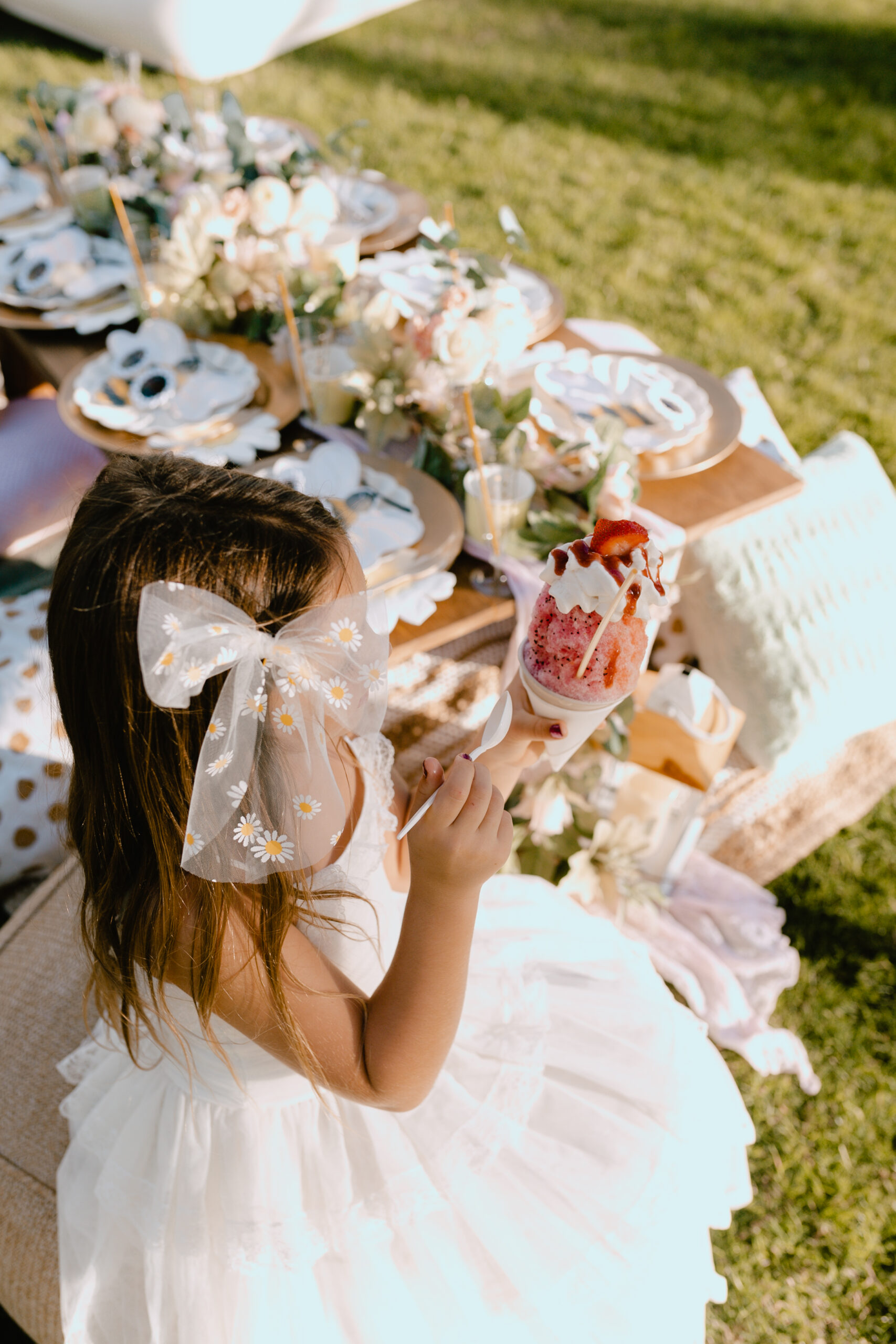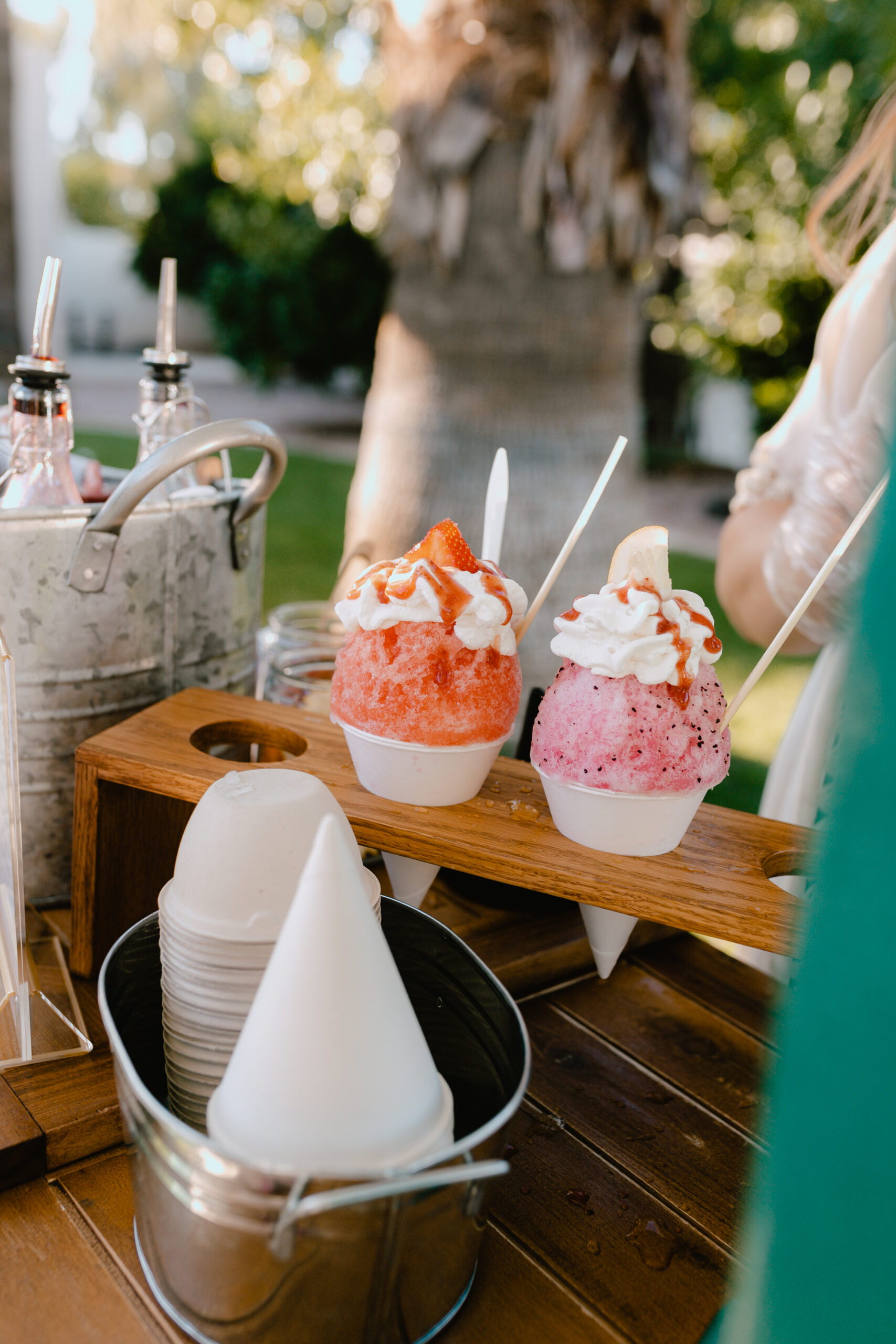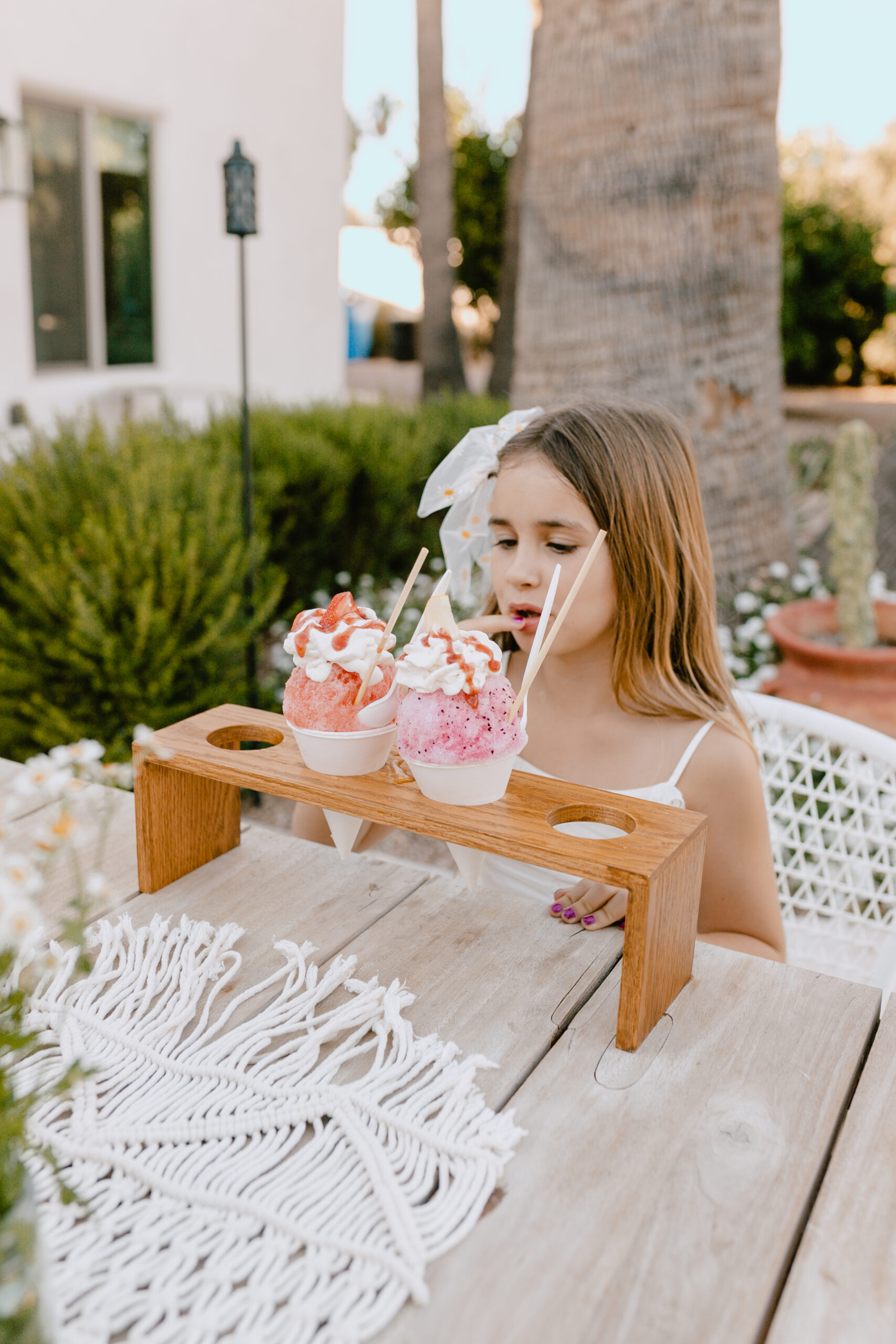 This was such a fun party to put together! After more than a year of not gathering, it's truly a joy for me to be able to host friends and family again. Thanks to all who came and made it special for our girl. And a special thank. you to all of our vendors! I will list them below again for easy reference.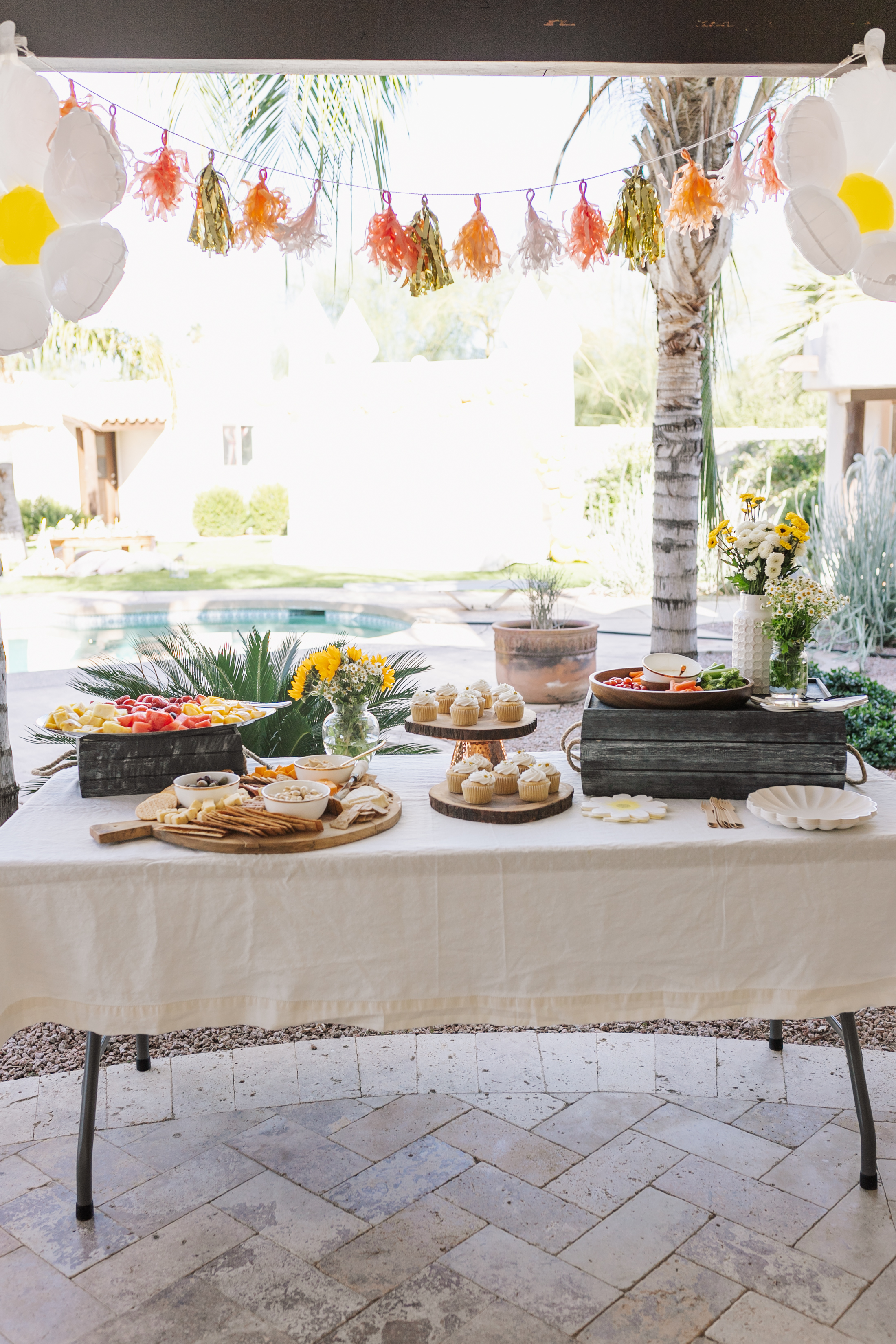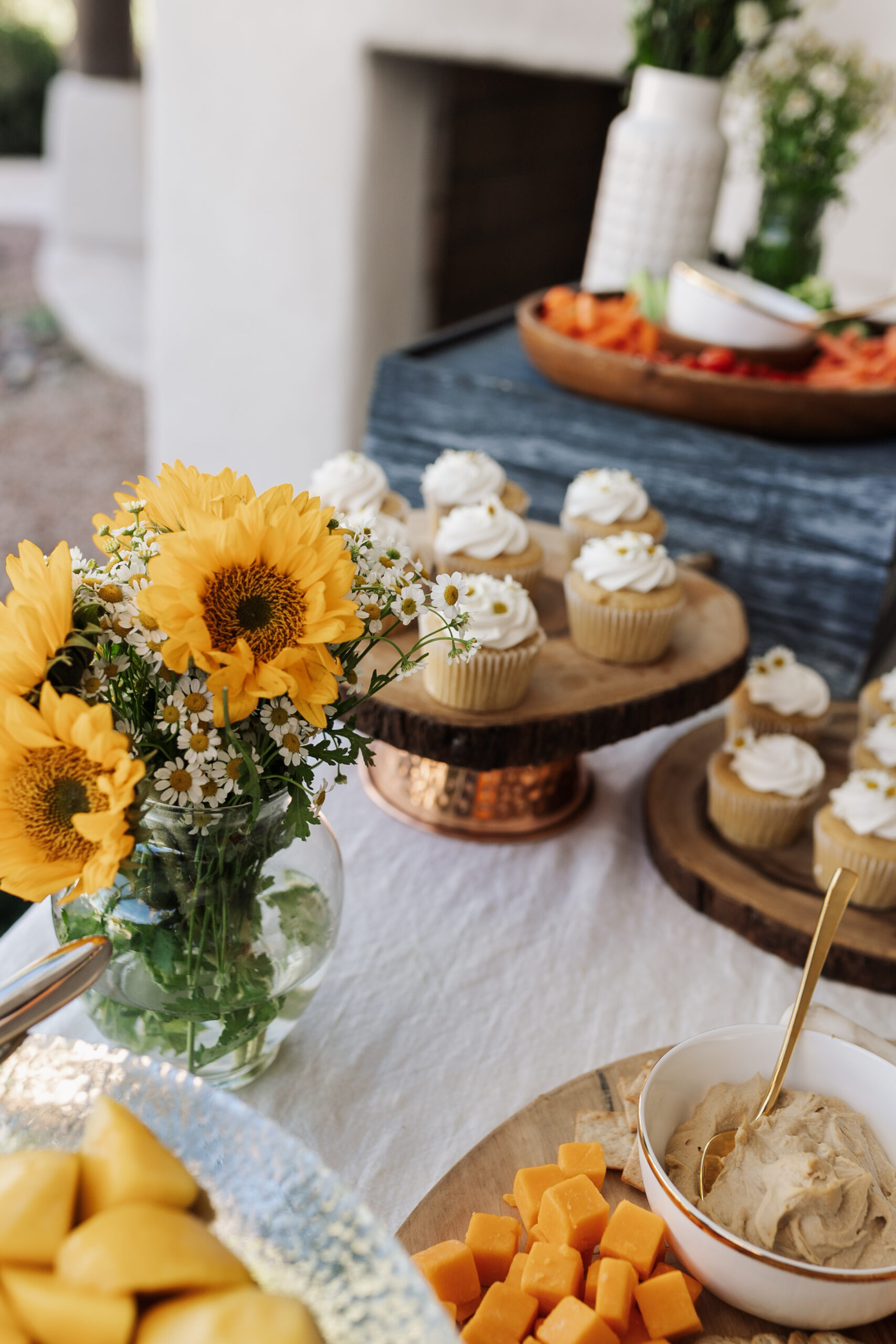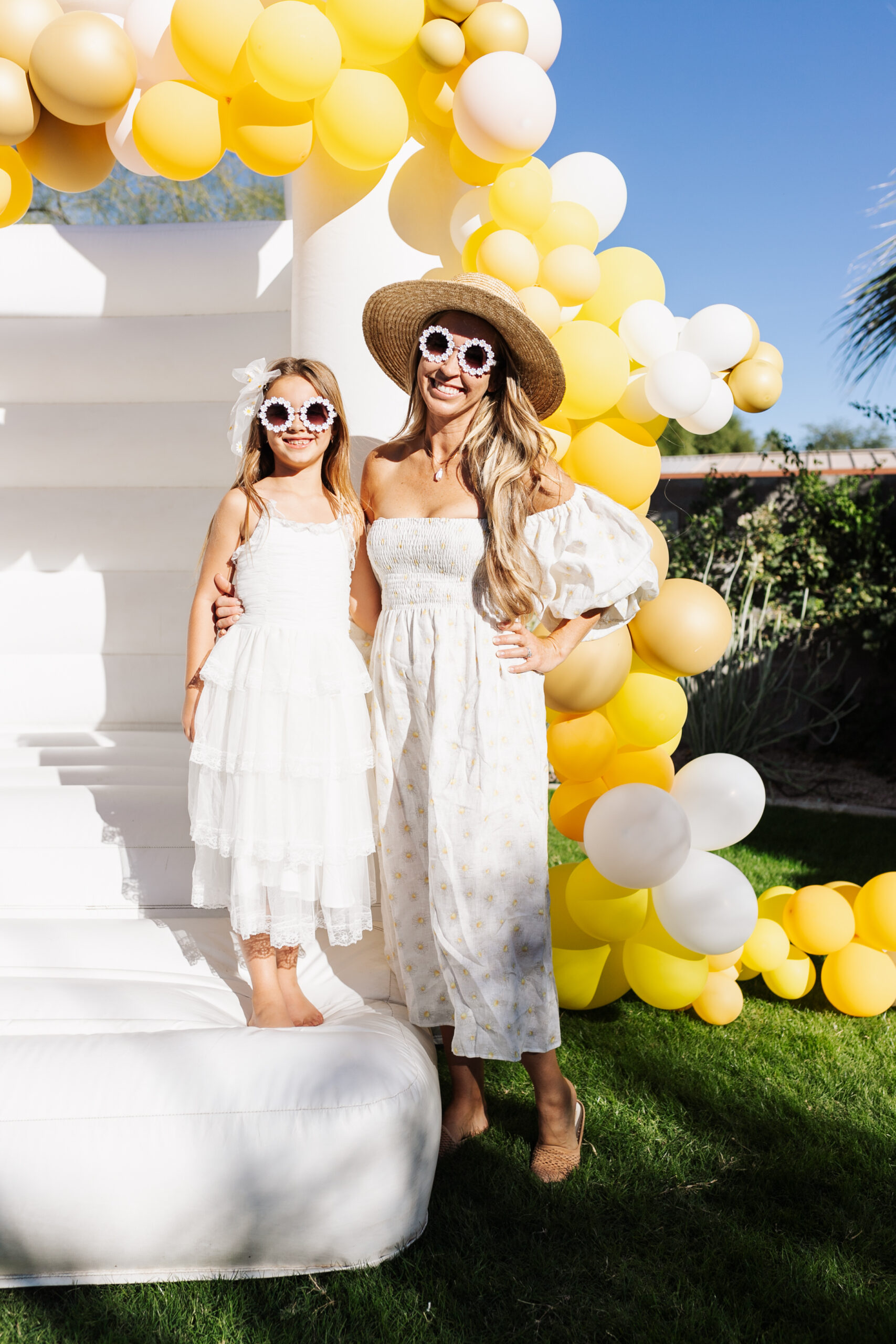 spa set up and services – c/o Honey Bee Mobile Spa
white bounce house c/o Inflate Forty Eight
gourmet shave ice c/o ICED
on me: dress (similar on sale here) | hat
See anything I missed for our honey bee spa birthday party? Let me know in the comments below and I will link it for you!
This post has been a collaboration with our partner vendors, who exchanged their services for my honest review. Additionally, this post contains some affiliate links. As always, all opinions expressed here are my own.