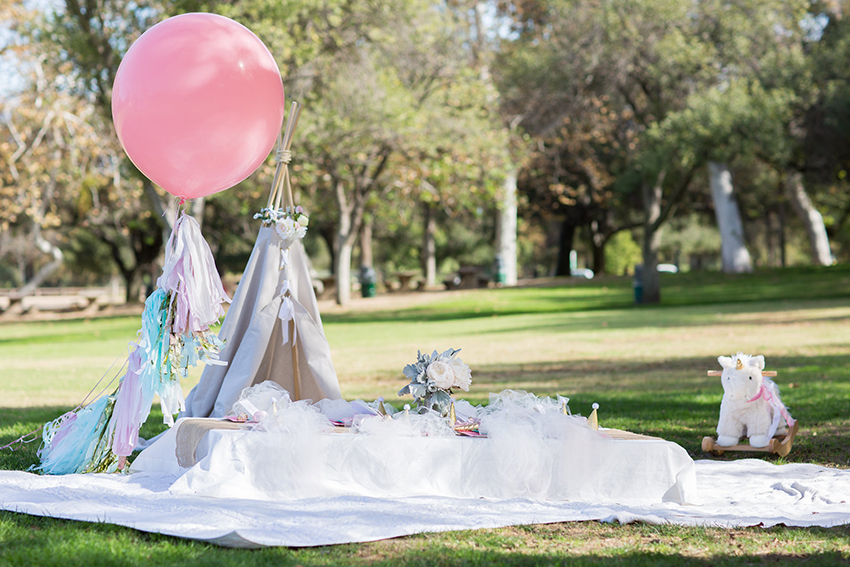 I am a visual person.  When I get a project in mind in my head, I know exactly how I want it to look and I cannot sleep until it is perfect.  I am faulted in that I sometimes have trouble communicating my overall vision to others.  But, if there is one thing I have learned from motherhood, it's how to let go and in the case of a party planning, to delegate.
This first picture perfectly exemplifies my party vision come to life.  The weather in my beloved LA could not have been more perfect for a late November afternoon, and I could not have more amazing, creative, and super talented friends to have helped me make it happen.
Making all this prettyness happen was no simple task.  In addition to asking for friends' help, I did a lot of DIY projects (see here, here, and here for just a few) in an effort to stay on budget.  Read on for all the juicy details of what was created by me and by my incredible gang of friends!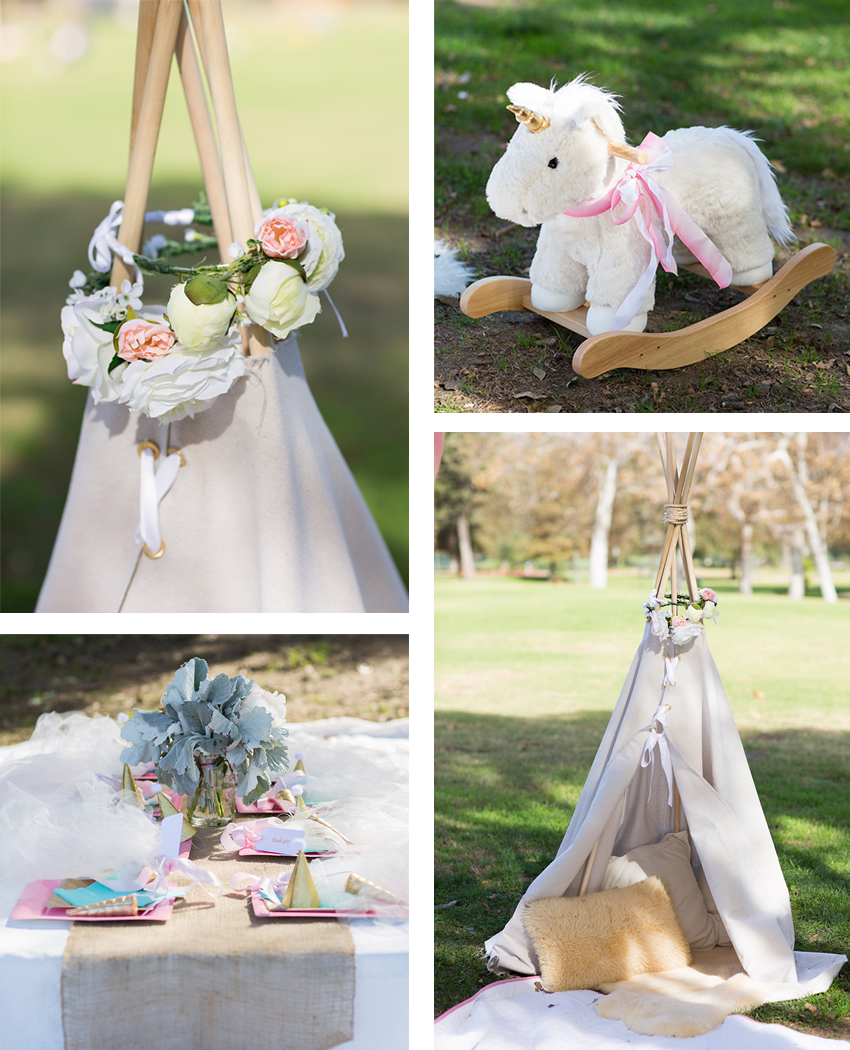 I made this DIY no-sew teepee for miss A as a gift from her dad and I for her big day.  I found the idea through Instagram (after lamenting about the prices of ready-made teepees) which lead me to Fawn Over Baby's step by step tutorial.  I adjusted the dimensions and some of the materials to make it work for my girly-girl.  And I re-used our flower crowns on top from our recent photo session for an extra feminine touch.
The adorable unicorn rocking horse was a gift from baby A's Nana and Papa after mom found it on Pottery Barn Kids.  It was too perfect for words!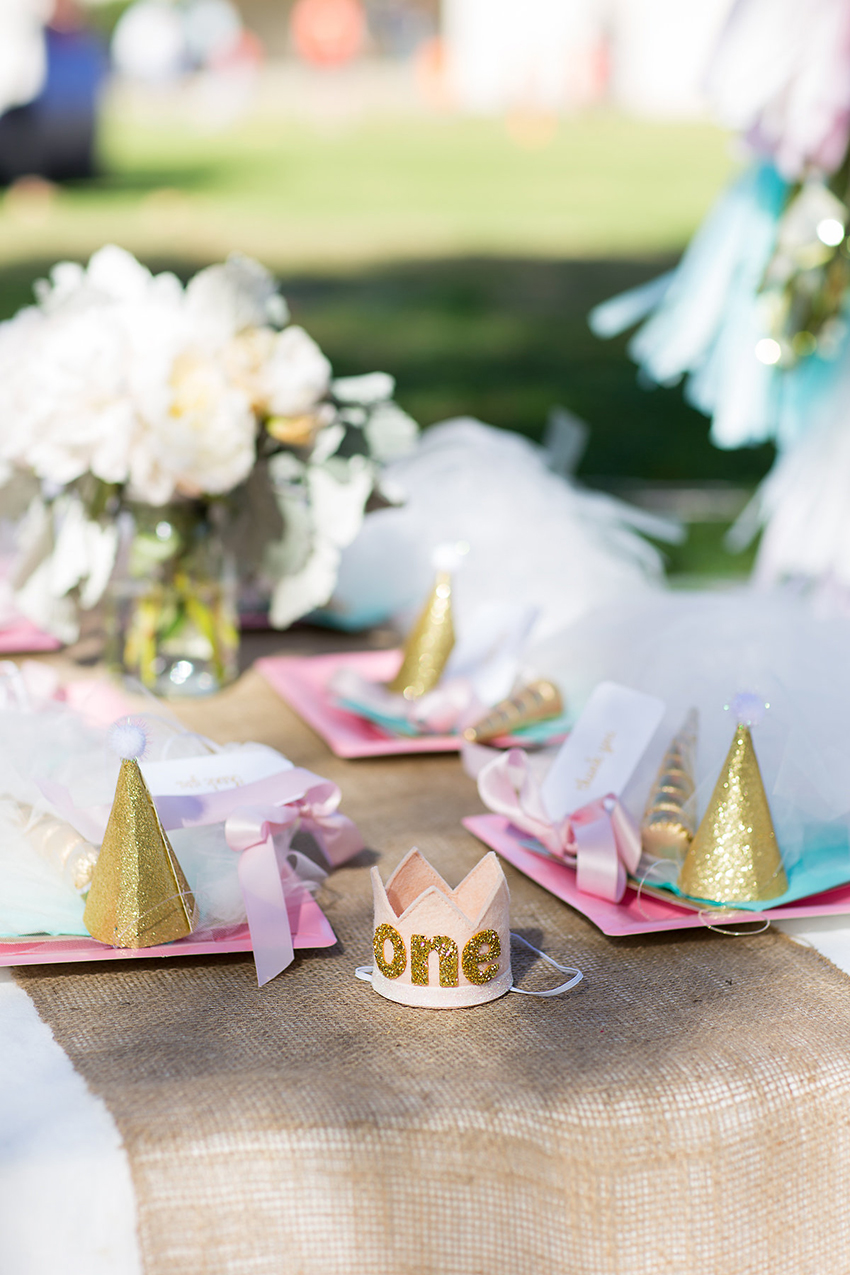 From the beginning, I knew I wanted a whimsical, earthy feeling to the party where everyone could just chill on blankets on the ground.  This table is simply a basic party rental rectangular table with cinder blocks underneath and a tablecloth over it!  We overlapped blankets on the ground under the table for guests to sit on and this space was a big hit with all the little ones.
Each place setting was completed with a DIY mini glitter party hats (made by my right-hand-crafting-sister) and for the girls, a gold unicorn horn from my online friend @ever_and_willa (who took a custom order for me even though she doesn't make these babies too often), and a tulle unicorn tail with a satin ribbon sash made once again by yours truly.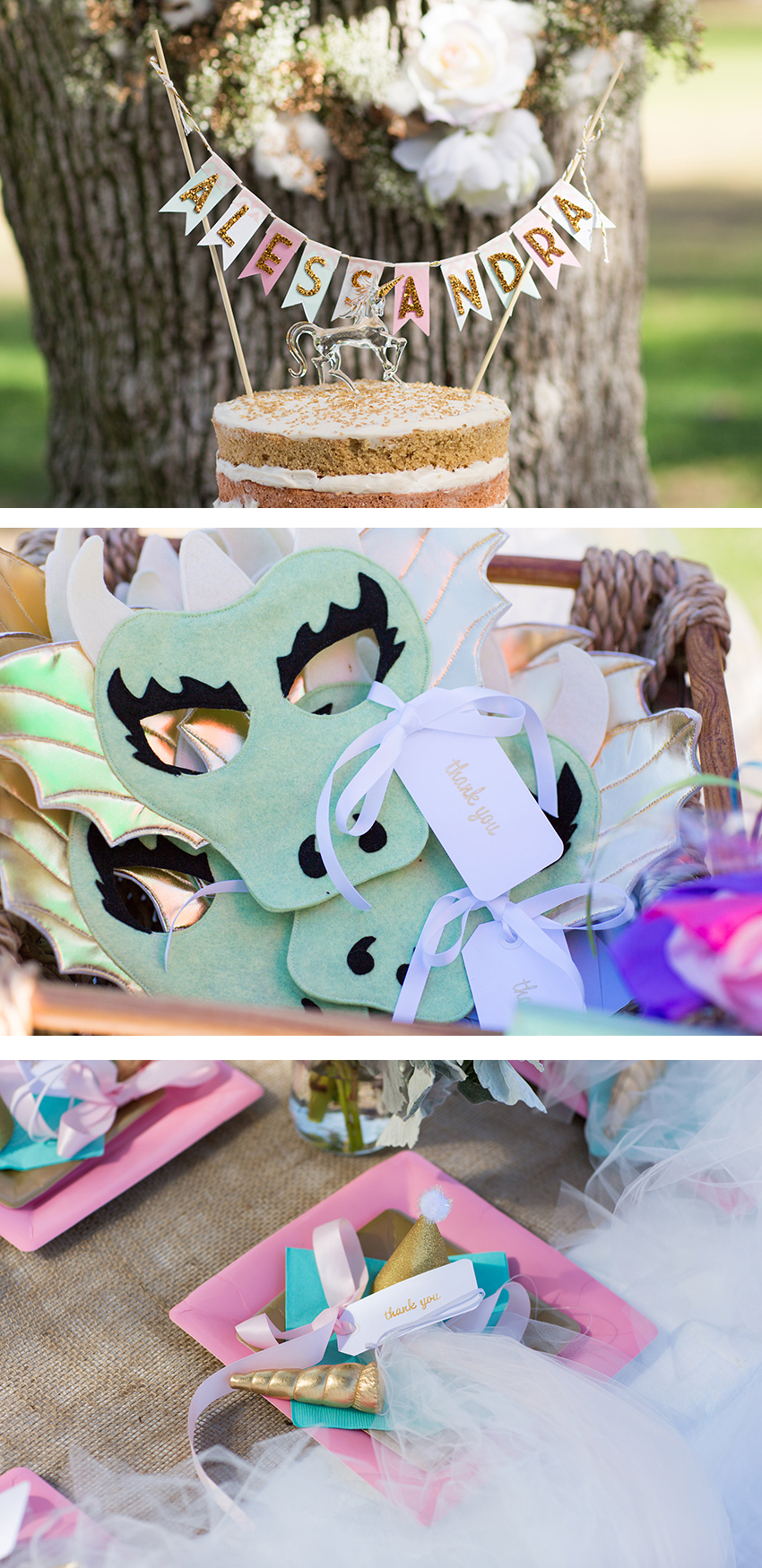 I made Alessandra's cake topper banner with barbecue skewers and scrapbooking supplies.  Super simple and I loved the personalized touch.  The gorgeous glass unicorn was sent to baby A as a gift from her aunt and uncle and we thought it worked just perfectly as a cake topper too!
For the boy favors, I again needed something special, so I worked with Jessica of Opposite of Far to come up with these incredible custom dragon masks to match our color scheme and theme!  I could not be more thrilled with how they came out!  She now sells a few different colors of the dragon mask in her shop since we created these together.  Boys and girls both loved these!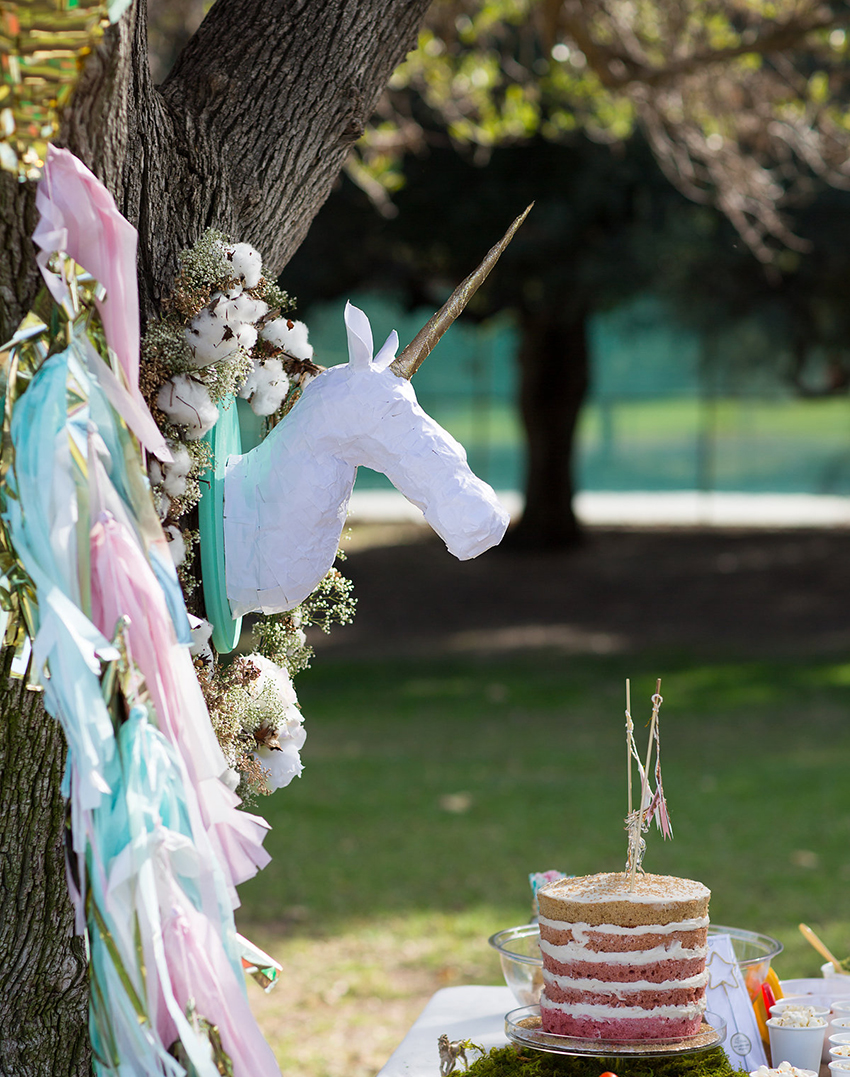 There's my paper maché unicorn head in action!  Also shown in this picture is the tip of my DIY mod piñata with my DIY tissue tassel garland coming down from the bottom of it.  Originally, I thought I would hang these garlands vertically, but the outside space just did not work for that configuration.  So one was here and the other was tied to a giant round balloon that I ordered on Amazon (seen in above pic by the teepee) and then filled the day of with helium at a local party store.
Oh and, I threw together this wreath as well as the table florals the day before the party with some fresh baby's breath, gold painted buds, peonies, and natural cotton plant to give the whole scene a little something extra.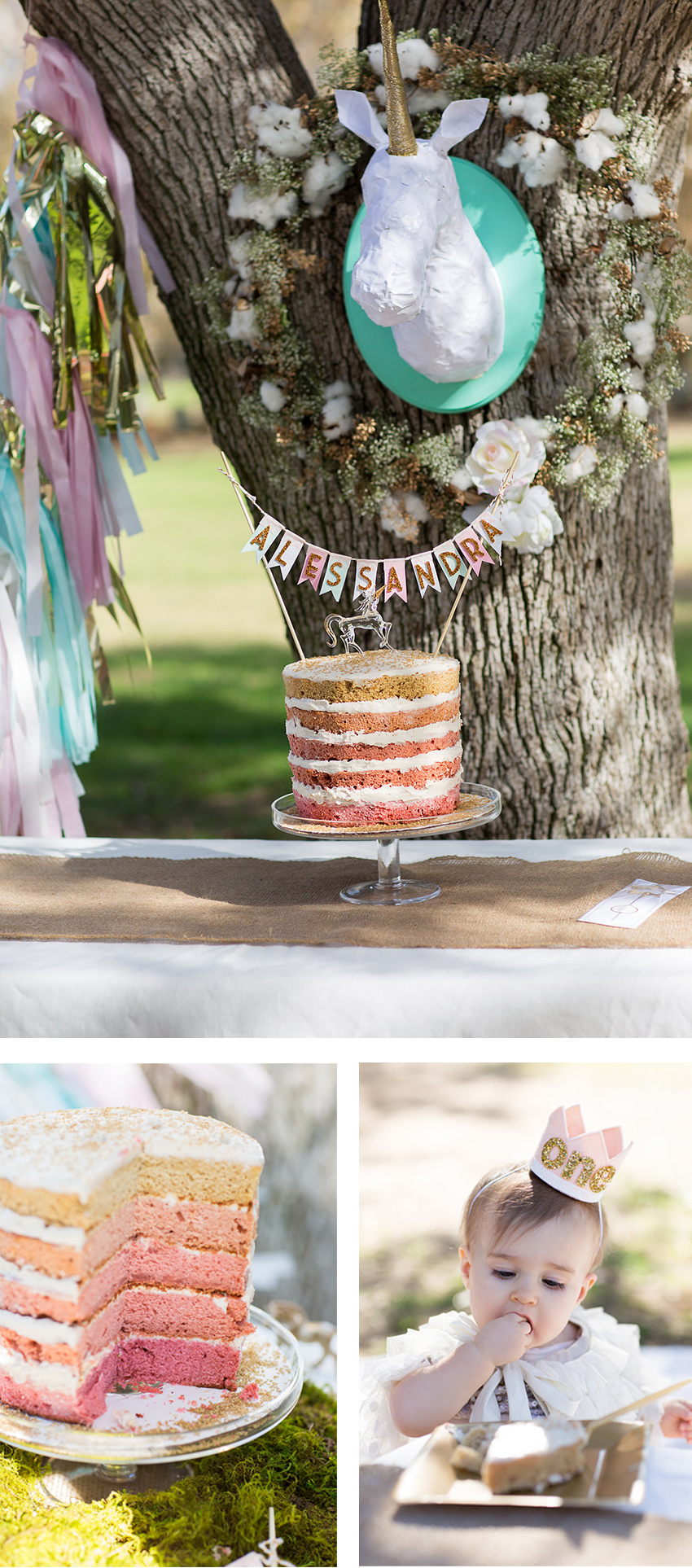 I. can. not. even. with this cake!!!  Again, I had something very specific in my mind and I was not sure if I could explain it to anyone else but lord knows I did not have time to do it myself!  I have been seeing a lot of "naked" cakes out there and I had had the idea for an ombre cake a while before that.  So I wanted that combination together.  Also, because of our family's combined dietary restrictions, it had to be vegan and gluten free.  I am sure I probably could have convinced some bakery or the other to tackle this project for a hefty fee, but one of my dearest friends (whom I have know since we were 12!) agreed to take on the challenge instead.  She tested recipes and color dye lots for weeks and nearly lost the whole thing on the way over but I mean- can you EVEN?!  SO worth it!  And in LA where no one eats cake at parties ever, I am pretty sure every single person was devouring it.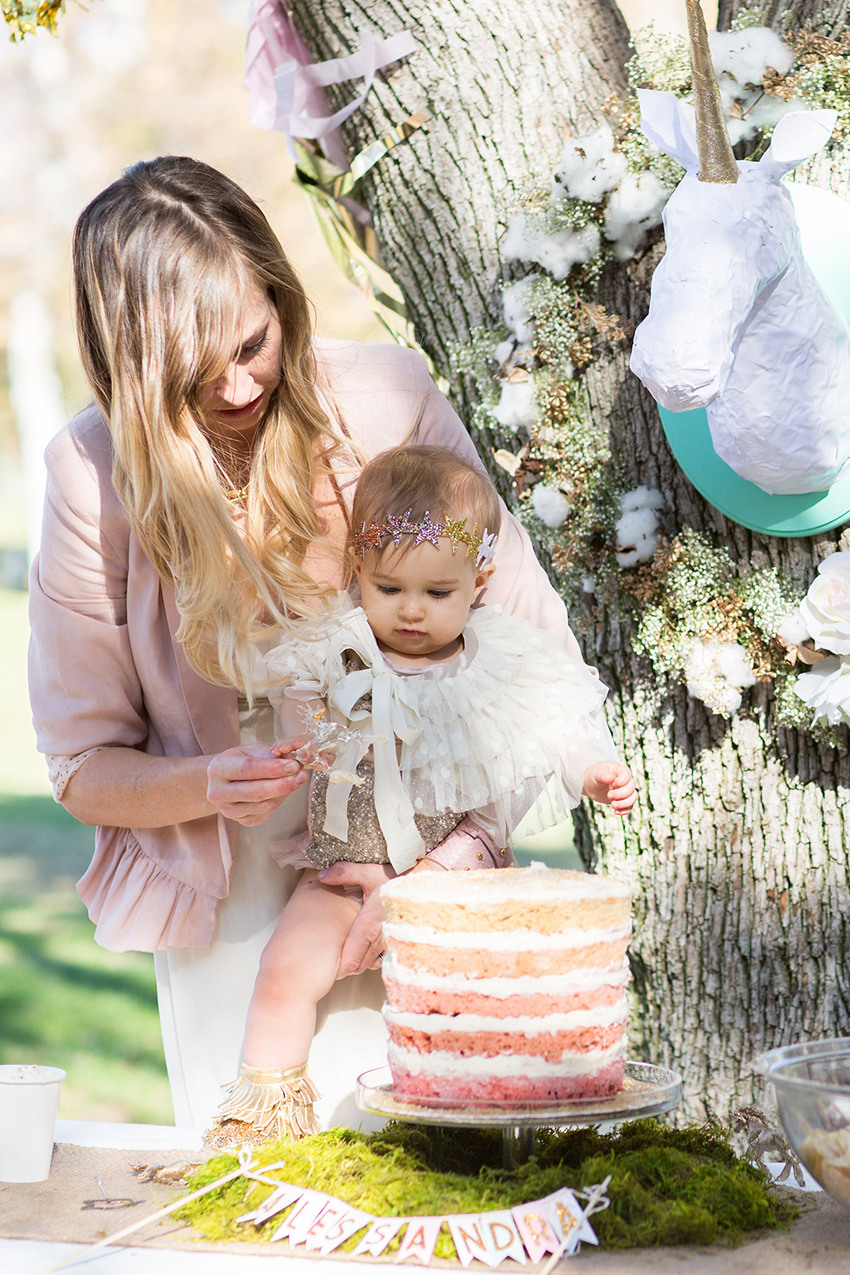 I can not leave out her outfit deets!  Both this star headband and the darling "one" birthday crown are from one of my faves Little Blue Olive. //  Capelet is from Joyfolie. // Little bow tank and showstopper shorties are by Tutu Du Monde from Poppy's Closet. // Gold sparkle moccs are from Mini Moxie.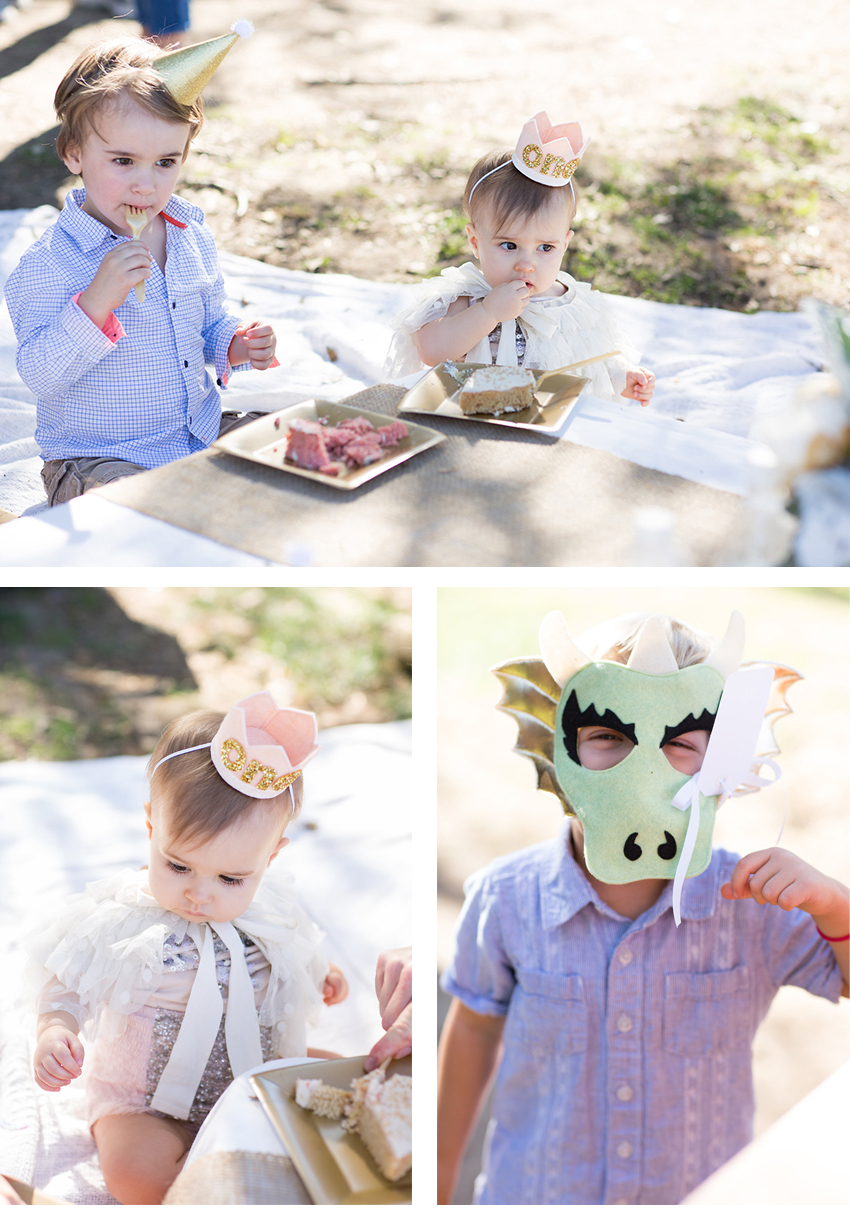 And last but certainly not least, my amazing and talented friend Brandi of BHansen Photography (whom I have known since we were 15!) traveled all the way from Arizona to photograph the party for me.  She makes all my hard work look so good.  If you need a family photographer in the Southwest region, (she travels!) definitely go check out her site!
Well, that just about covers it!  If there are any DIY projects you want more details on, let me know in the comments section by clicking through at the top of this post and then scrolling down to the comments section below and I will consider it for a future blog post tutorial!