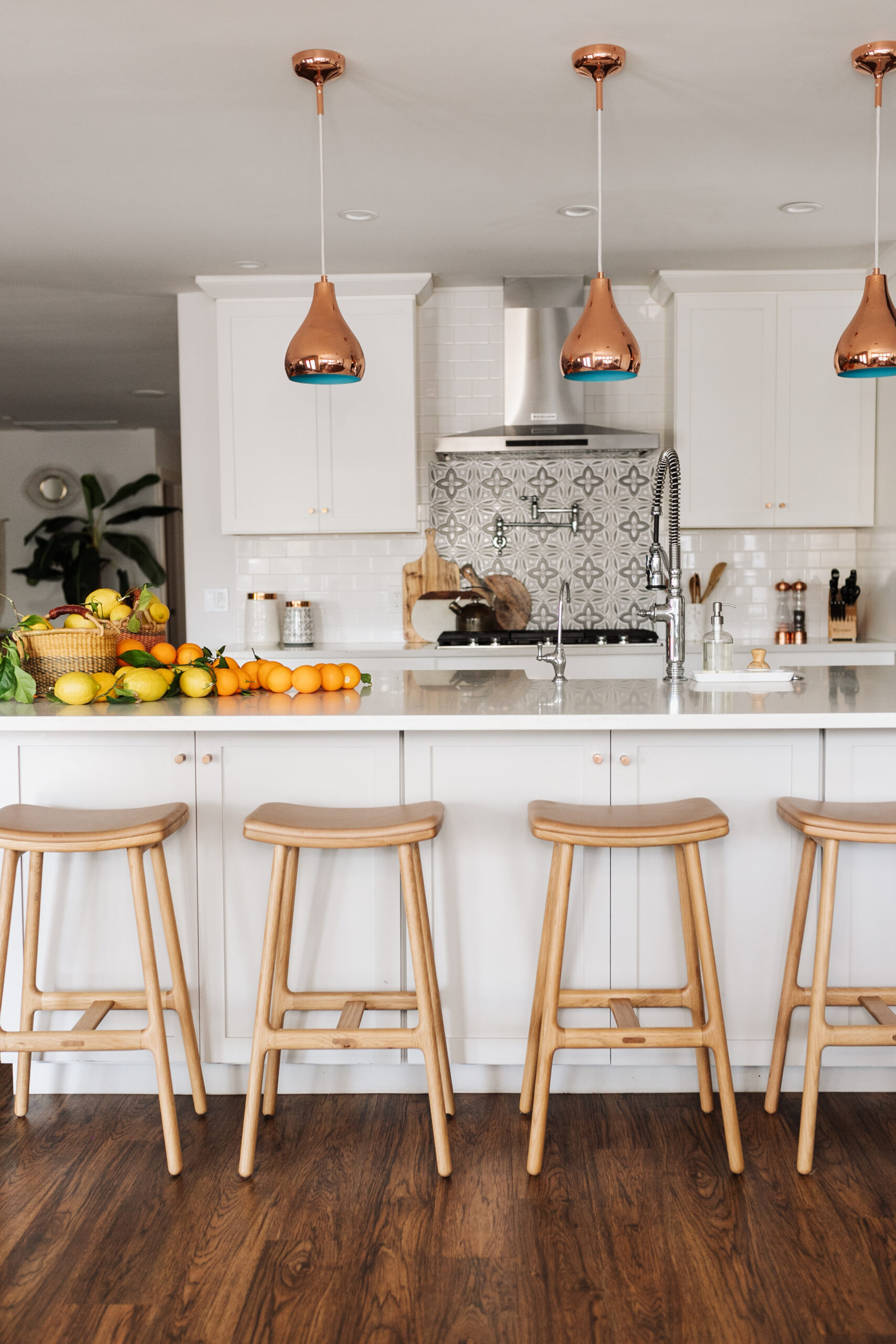 Happy New Year! Can I still say that this late into January? I'm going with it. 😉 I'm excited to share this little kitchen refresh with you today!
Before the holidays, I really wanted to give our kitchen a little refresh, with the intention of it being ready before company arrived. Well, as many of us know, global supply chain issues continue to be a thing, and this particularly has affected goods both large and small, including home goods. Then over Thanksgiving, our family unit all went through the big C (everyone is ok and recovered easily!) and we had to cancel our annual Thanksgiving dinner. We weren't really planning to have many people over Christmas anyway, so it was such a pleasant surprise when my brand new Article Esse Stools arrived on Christmas Eve. It was perfect timing for me to create the ldl home: new year kitchen refresh!
Yep, the main update in this kitchen refresh was the stools. For reference, here's what we had in here before. The kitchen was one of the very first areas we finished when we remodeled our entire home, and I think one of the most important, right in the heart of our home. The new stools are a subtle change, but I think make a BIG difference!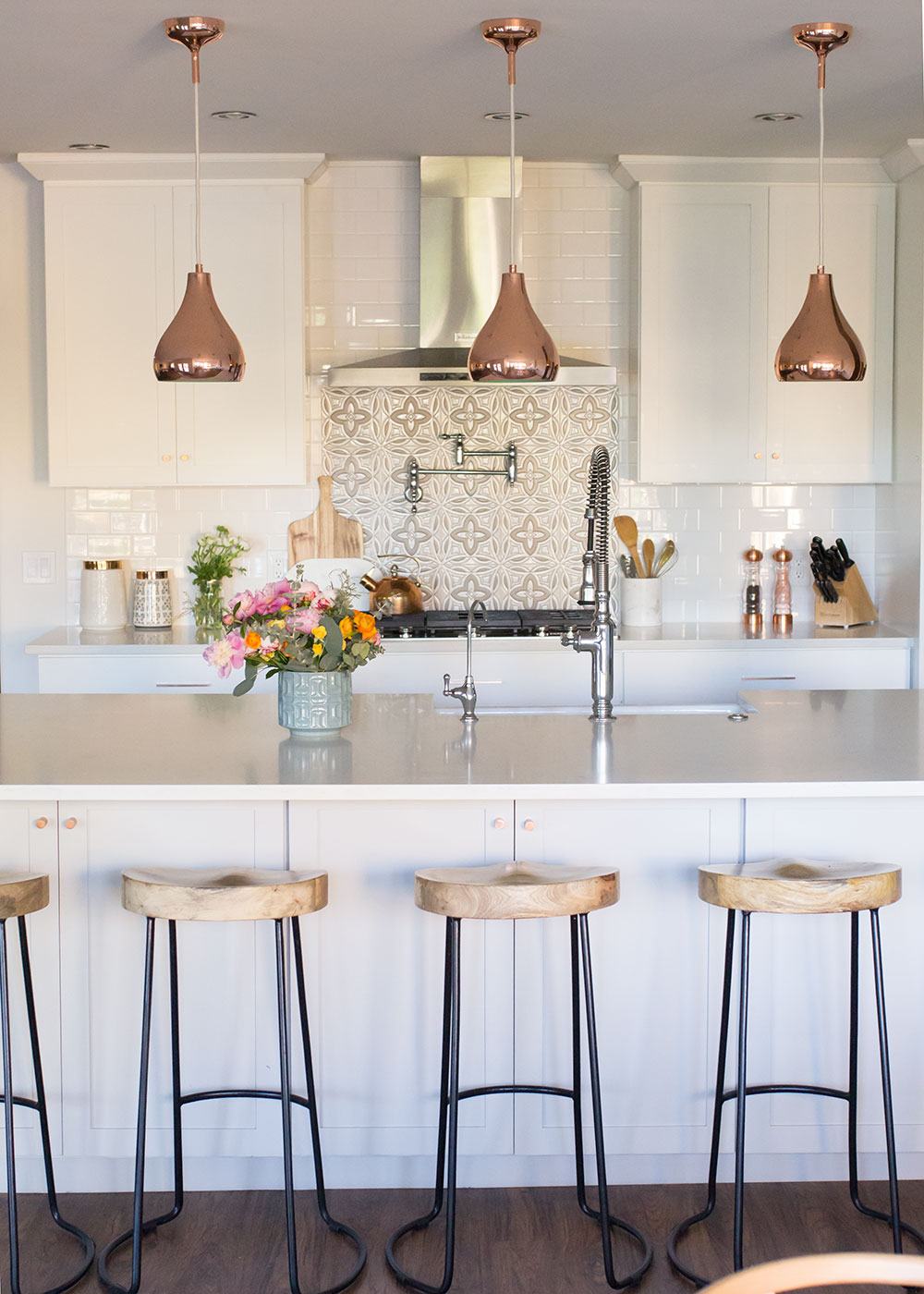 I loooved the look of these stools originally when I bought them a few years back. But there were a couple of things I didn't love.
First of all, I accidentally ordered the bar heigh stools, when we have a traditional counter height island. Secondly, the hard wood seat was not the most comfortable thing. Honestly, I didn't mind it much, but my husband complained about it often. (Insert eye roll, ha!) So I was looking for something with a little more cushion. And lastly, the way the base of those stools curved meant they didn't alway sit level on our slightly uneven floor, making them a bit tippy for the kids, who are the ones that most often sit here.
What I did like was that they had a narrow profile and no backs, so they could easily slide under the island counter with a more minimal look. So the new stools had to meet that criteria too.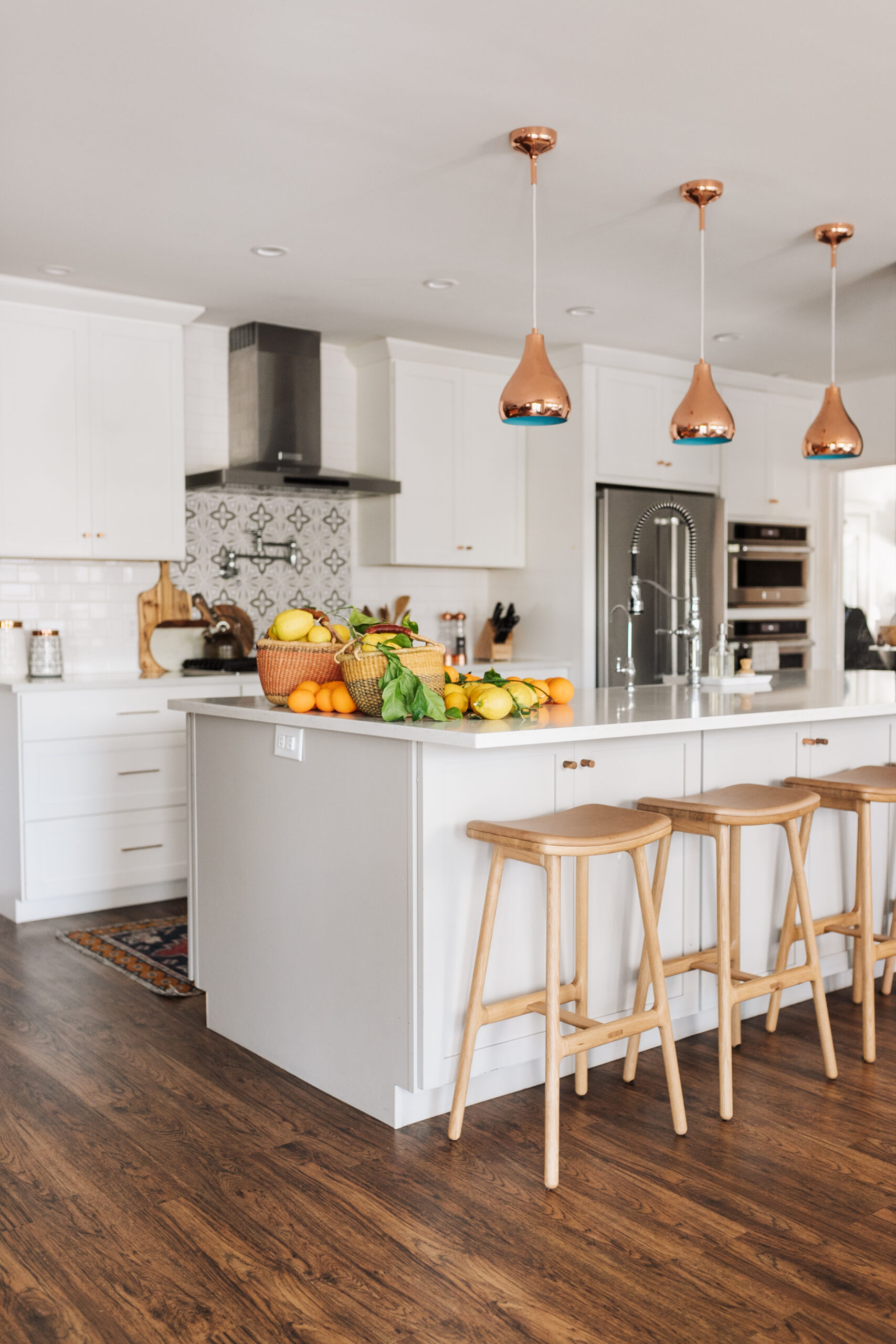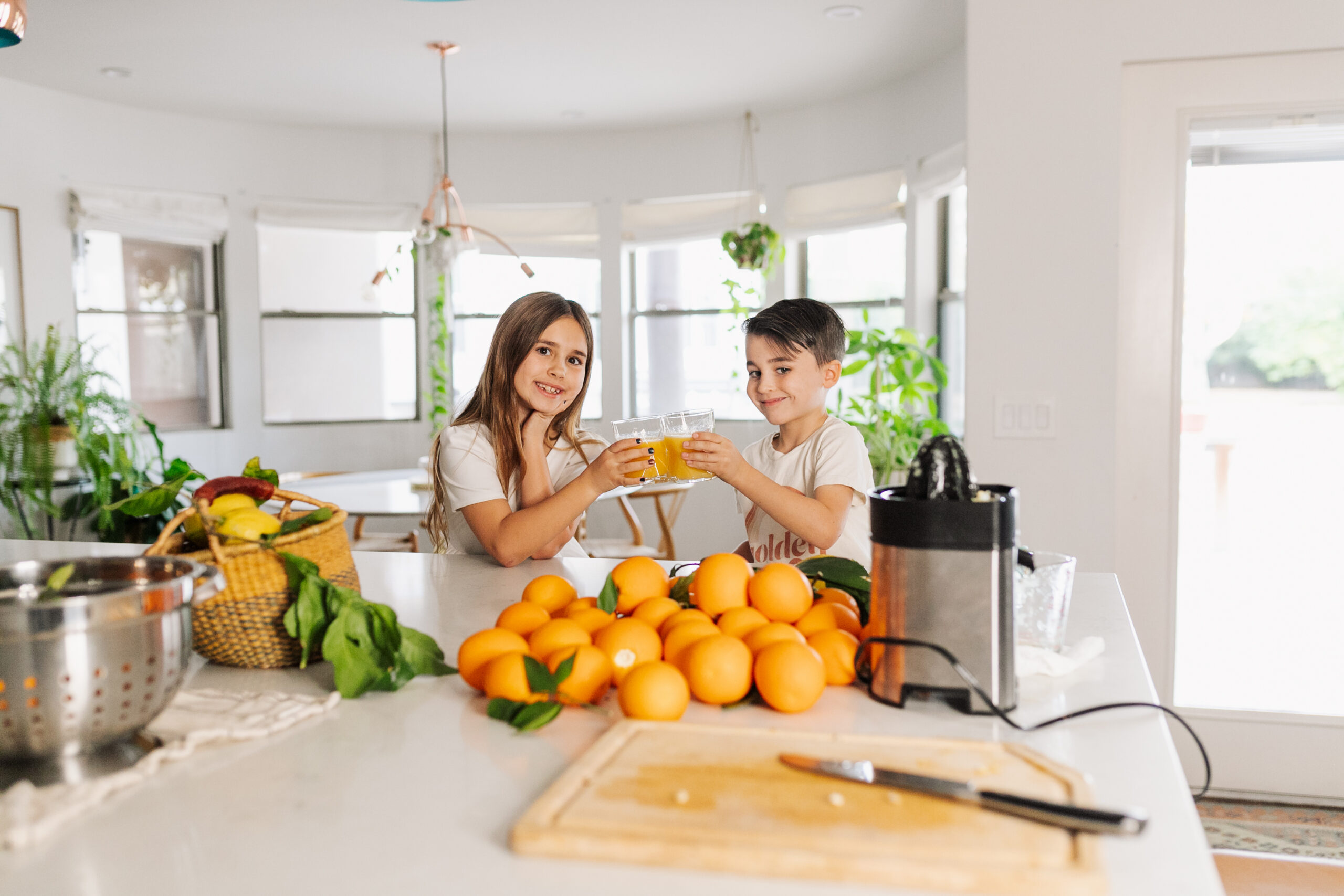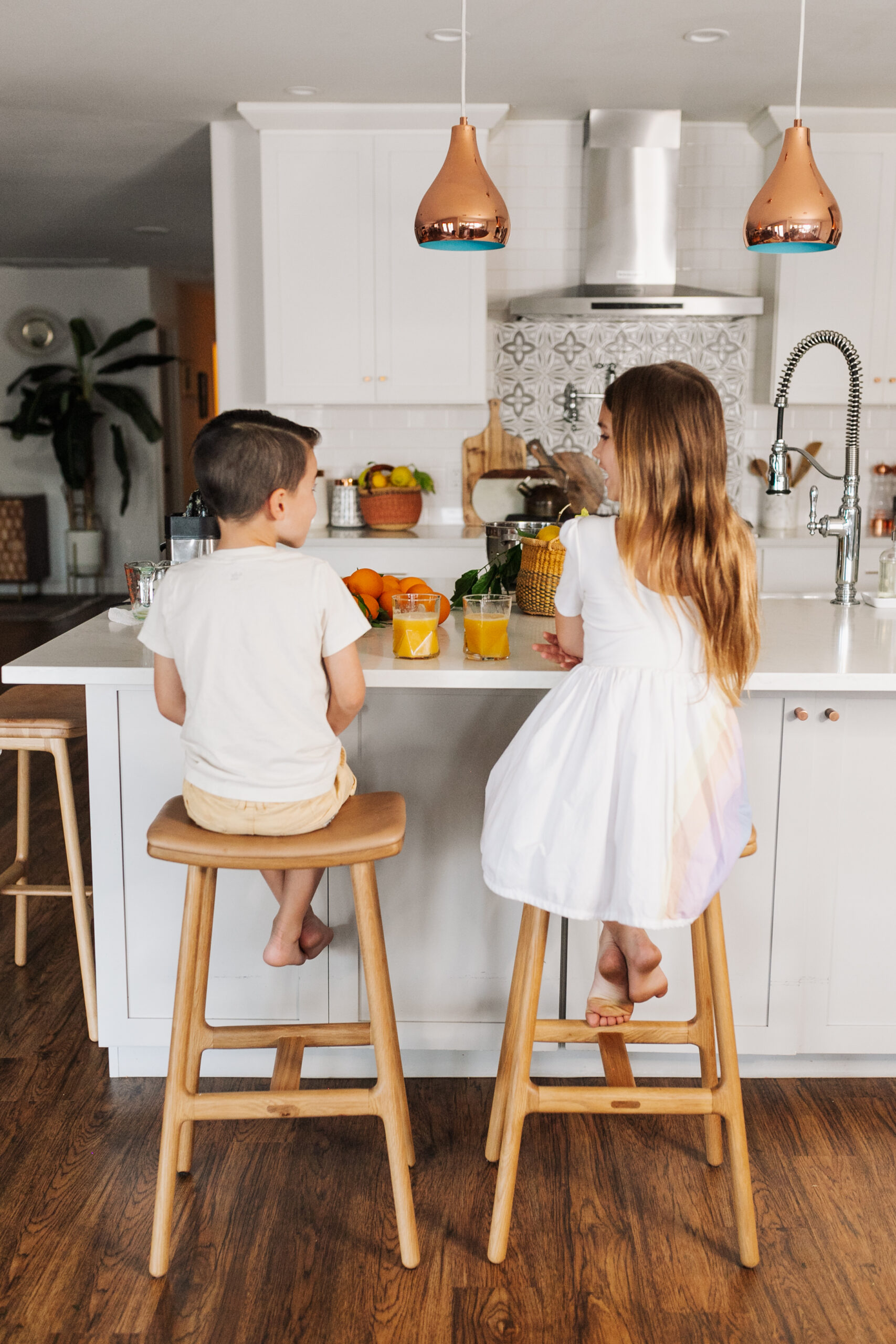 So for a few years now, I have been searching to find the most prefect replacement. And then I came across these Esse Stools from Article. If you've been following for a while, you know that Article is one of my favorite brands to work with for modern style, high quality, and well-priced furniture. This living room post was one of my first time working with Article, and is still one of my highest traffic posts to date, so I know y'all love it too. And this recent mountain living room at my sister's house was a big hit too.
I know some out there are hesitant to order online furniture they can't "test" first, but let me tell you, I have never had a bad experience with Article. In stock items ship fast to most anywhere in the US and Canada for a flat rate of $49 (or for FREE with order of $999+). And returns are east too, IF you end up not loving what you ordered. I only experienced this once – a couple years back with our dining room –  when I thought I would love the chairs I first picked, and then didn't. Article made it so easy to swap them out for chairs I did love.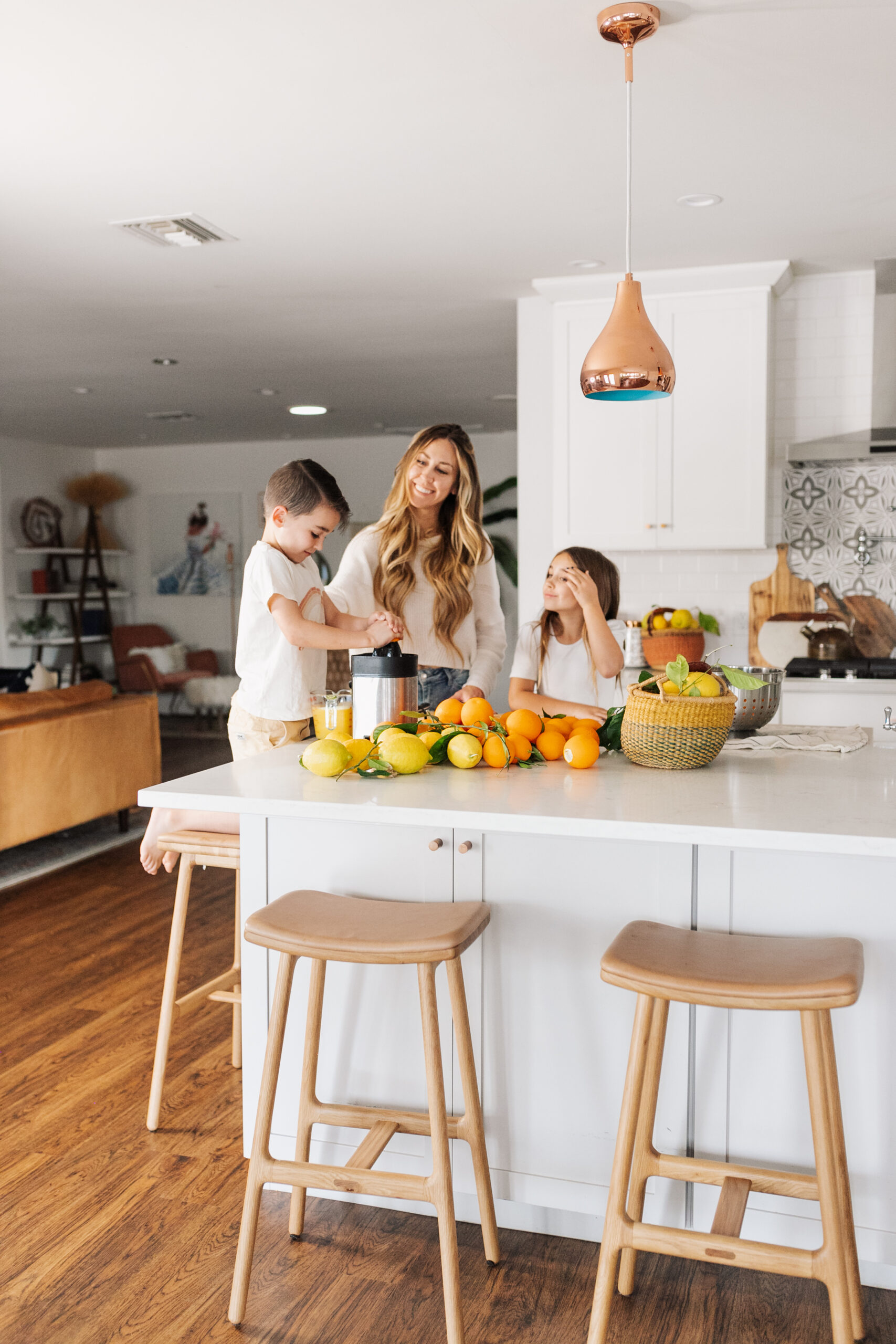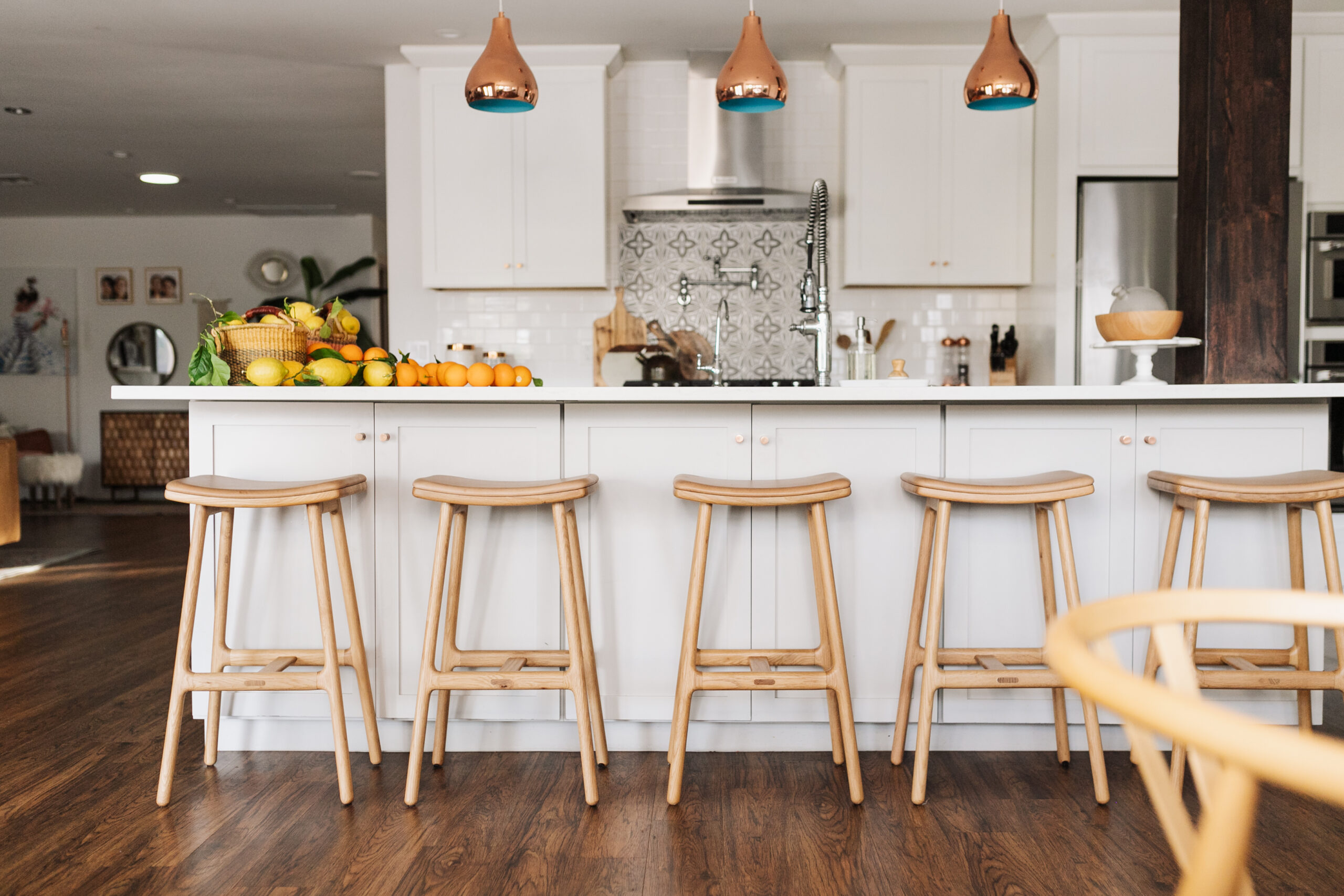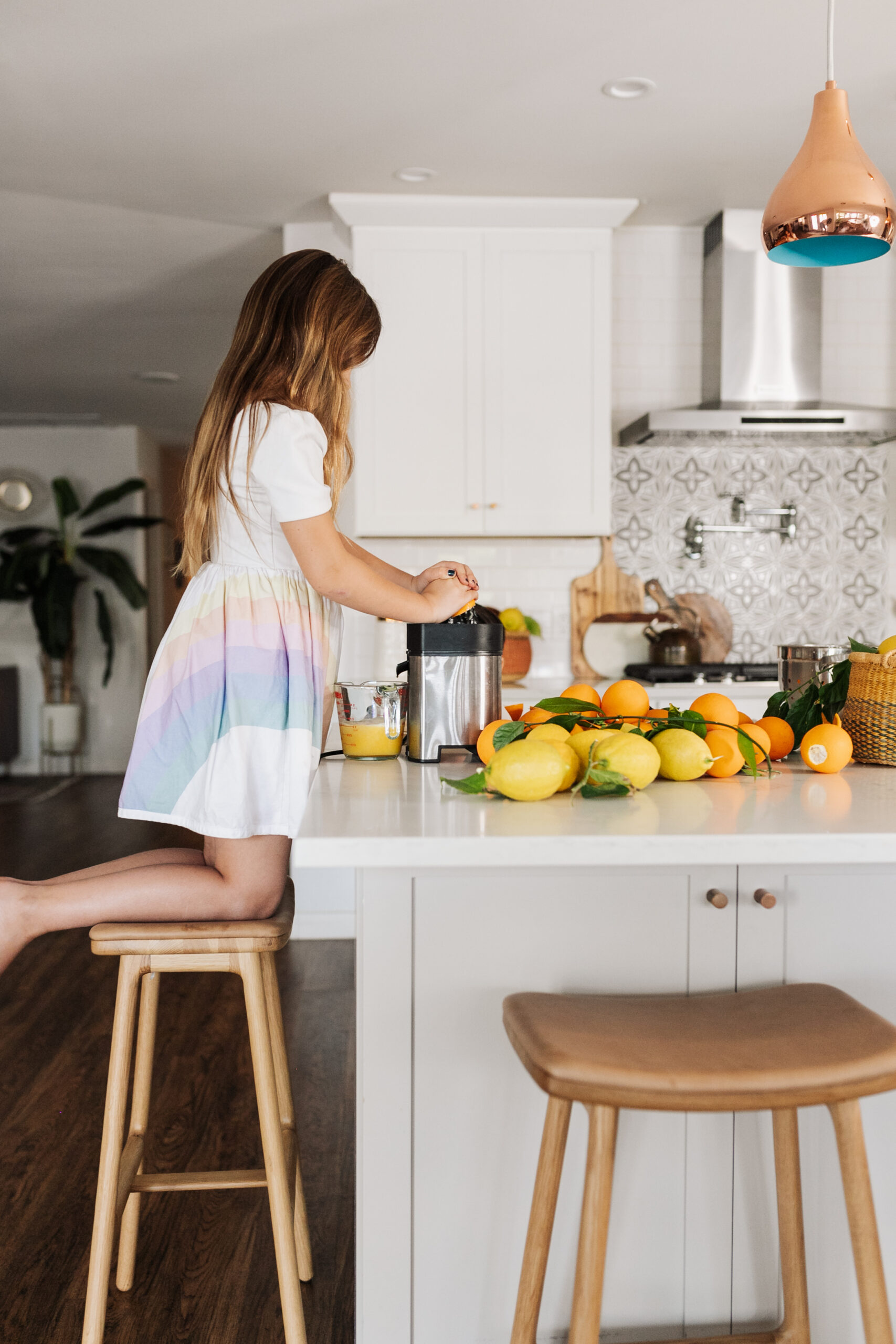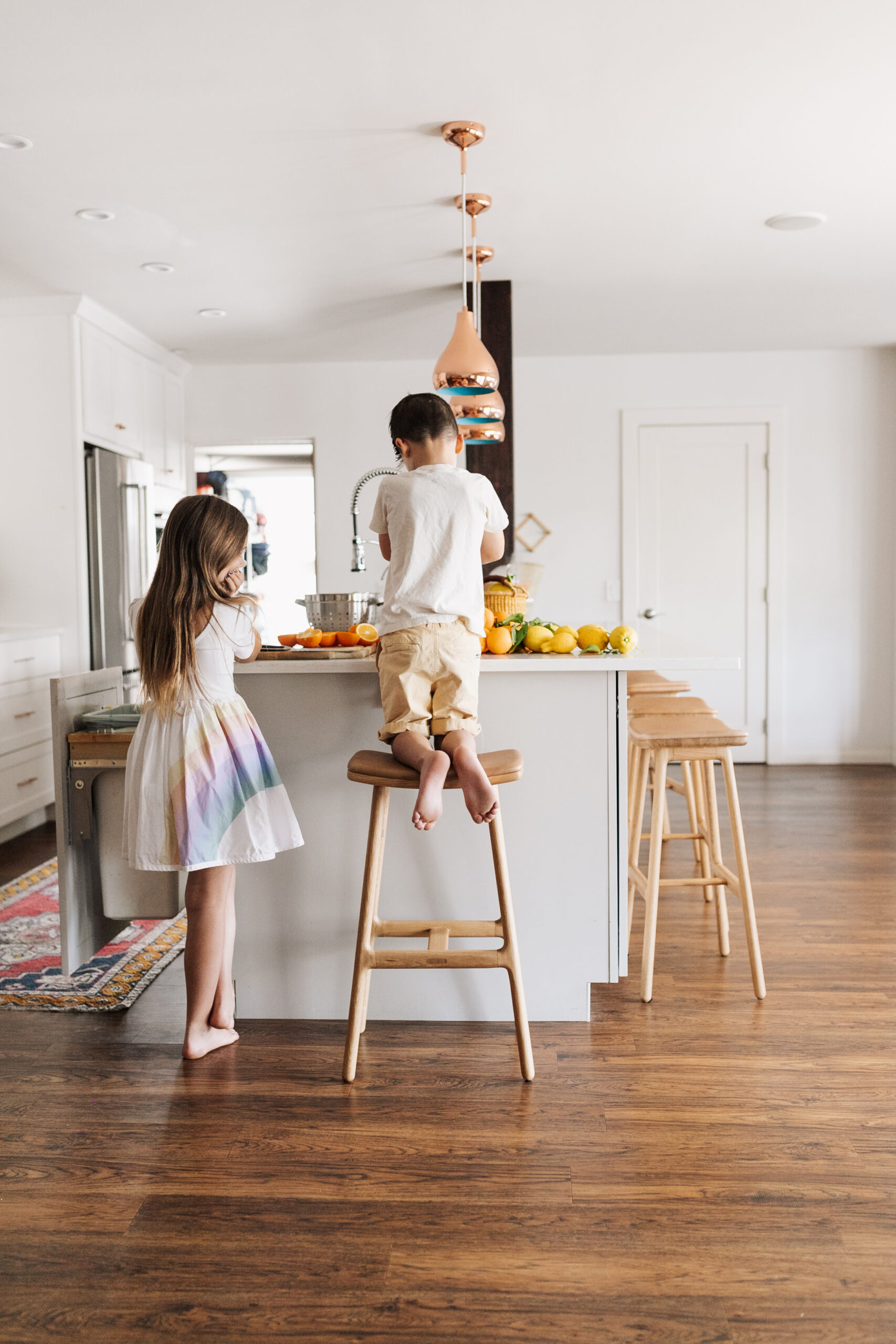 The other day, the kids and I harvested some winter citrus from our backyard trees and juiced them by the dozens with our juicer to drink, freeze, and share. The new stools came in perfectly handy too, for a little boost for the kids.
I am loving that these stools have this light oak finish which perfectly compliment my wishbone chairs in the kitchen breakfast nook too. And the soft leather seat wipes easily clean too. Perfect with kids!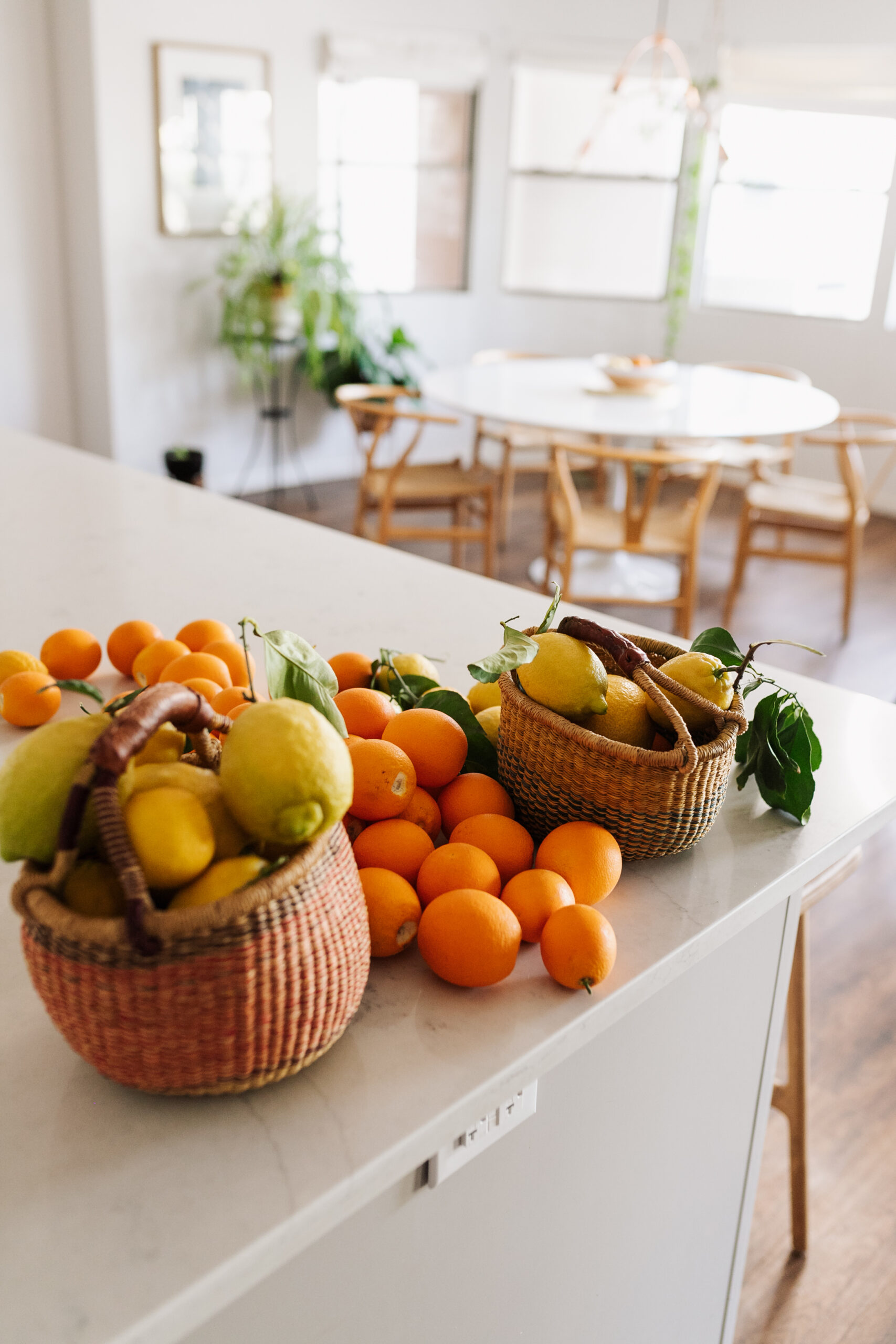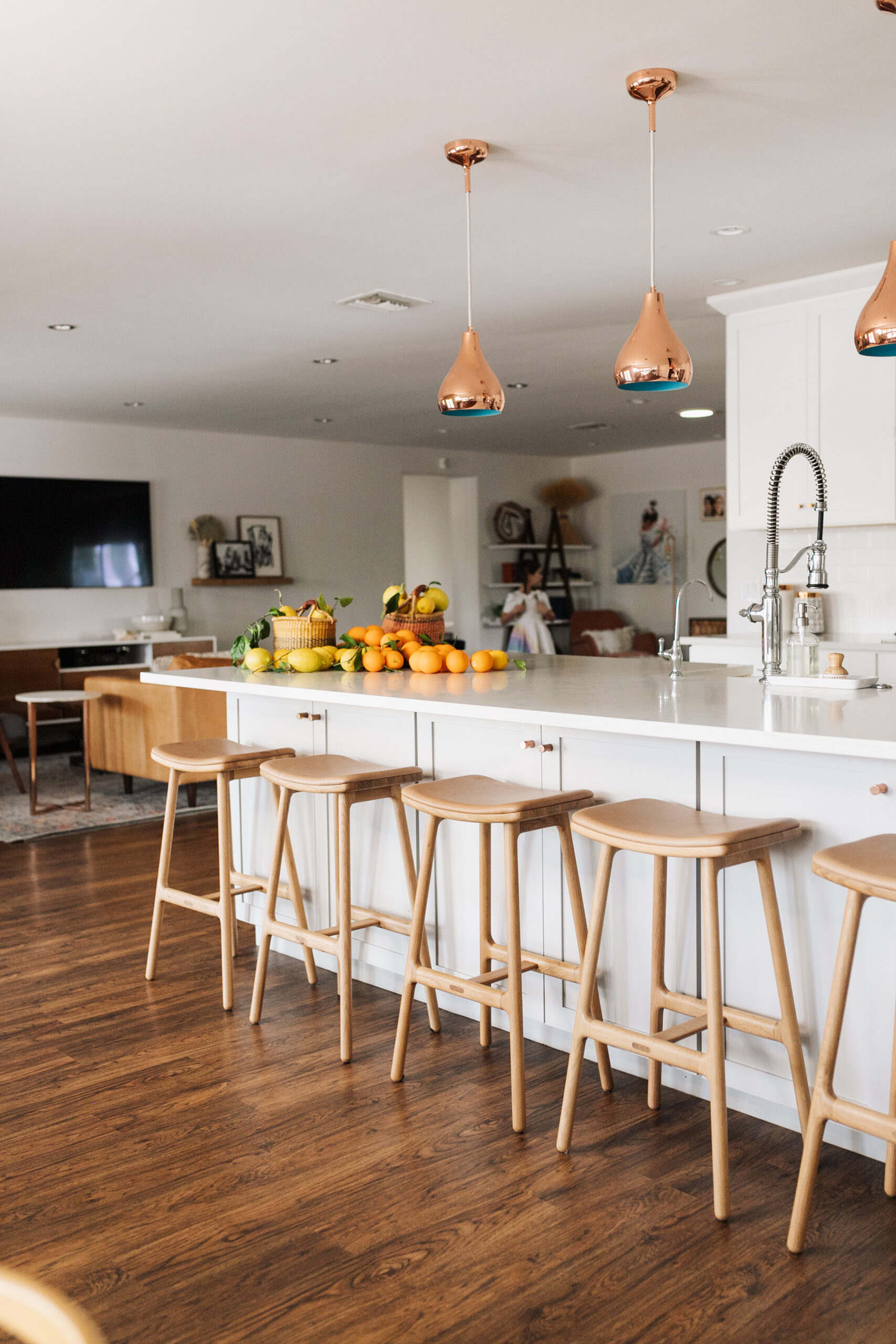 This post was created in collaboration with Article, in exchange for my honest review of our new kitchen stools. As alway, all opinions expressed here are my own.