This post contains some affiliate links and I will be compensated if you make a purchase after clicking on my links. Some items included in this post were also gifted in exchange for me sharing with you my honest opinion.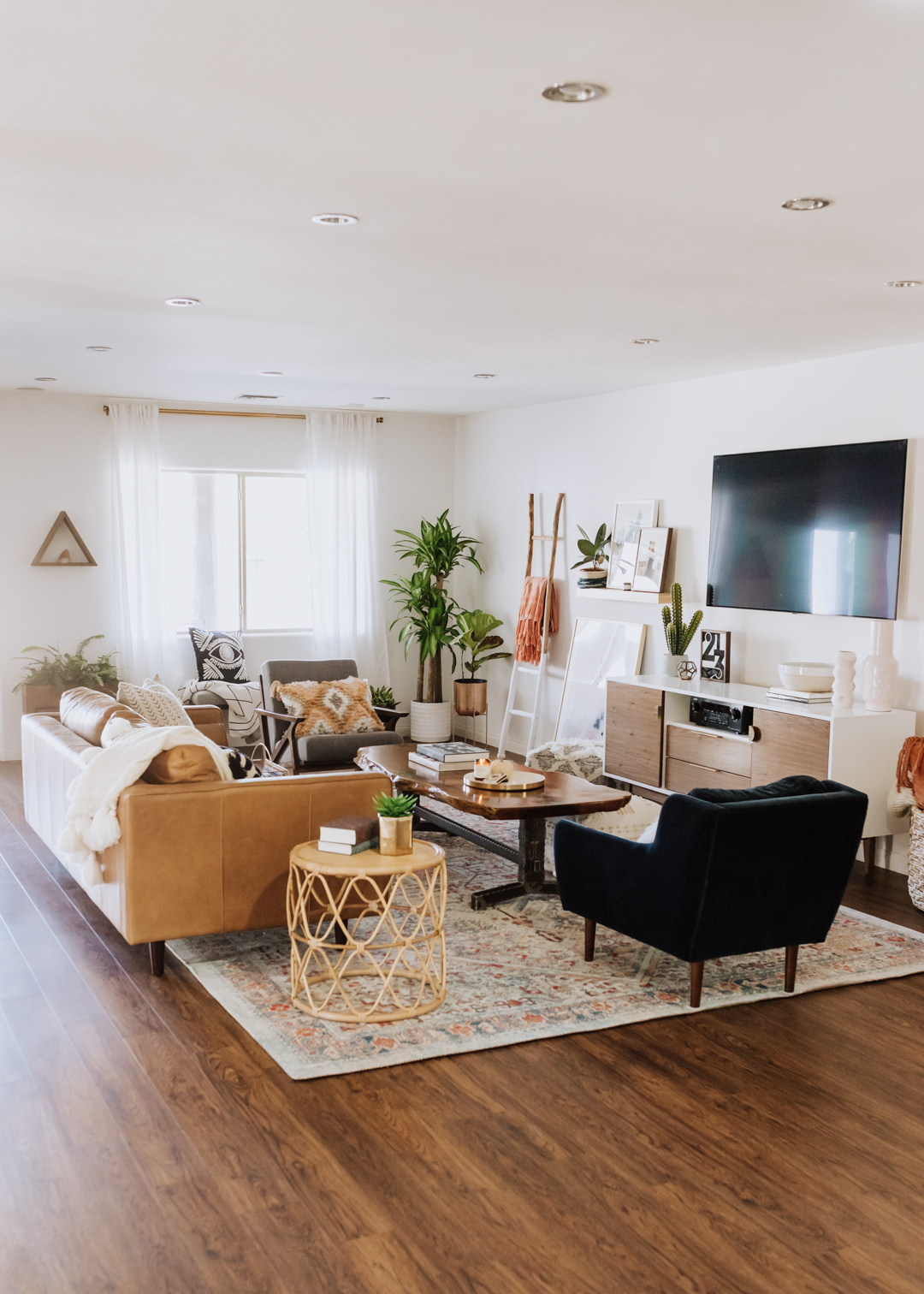 It's funny, the living room has been at the top of my room redecorating to-do list for the longest. But it is has turned out to be one of the last rooms to actually get done since we moved! I actually have been wanting to do it since long before we ever moved into this house, but my sensible husband convinced me to have patience and wait until we got into a space that was our own, and where we would be for a while. Don't tell him I said this, but he was right. This living room was worth the wait!
Let's start with the centerpiece of any living room, the couch. I have to start by telling you guys the story of our old couch. It was a slate grey/black sectional that was actually my couch I have had since I was in college! It was great quality, and was one of the more expensive things I owned at the time, so it has moved with us to every. single. place. we've ever lived together. It sure did serve us well! Many of our friends have crashed on that couch, it's seen countless movie nights in, and parties with family and friends. I've nursed each of my three babies on that couch. I loved it to bits. We even at one point thought about just reupholstering it. But when we found out that that would probably have cost us more than just getting a new couch, we started shopping around.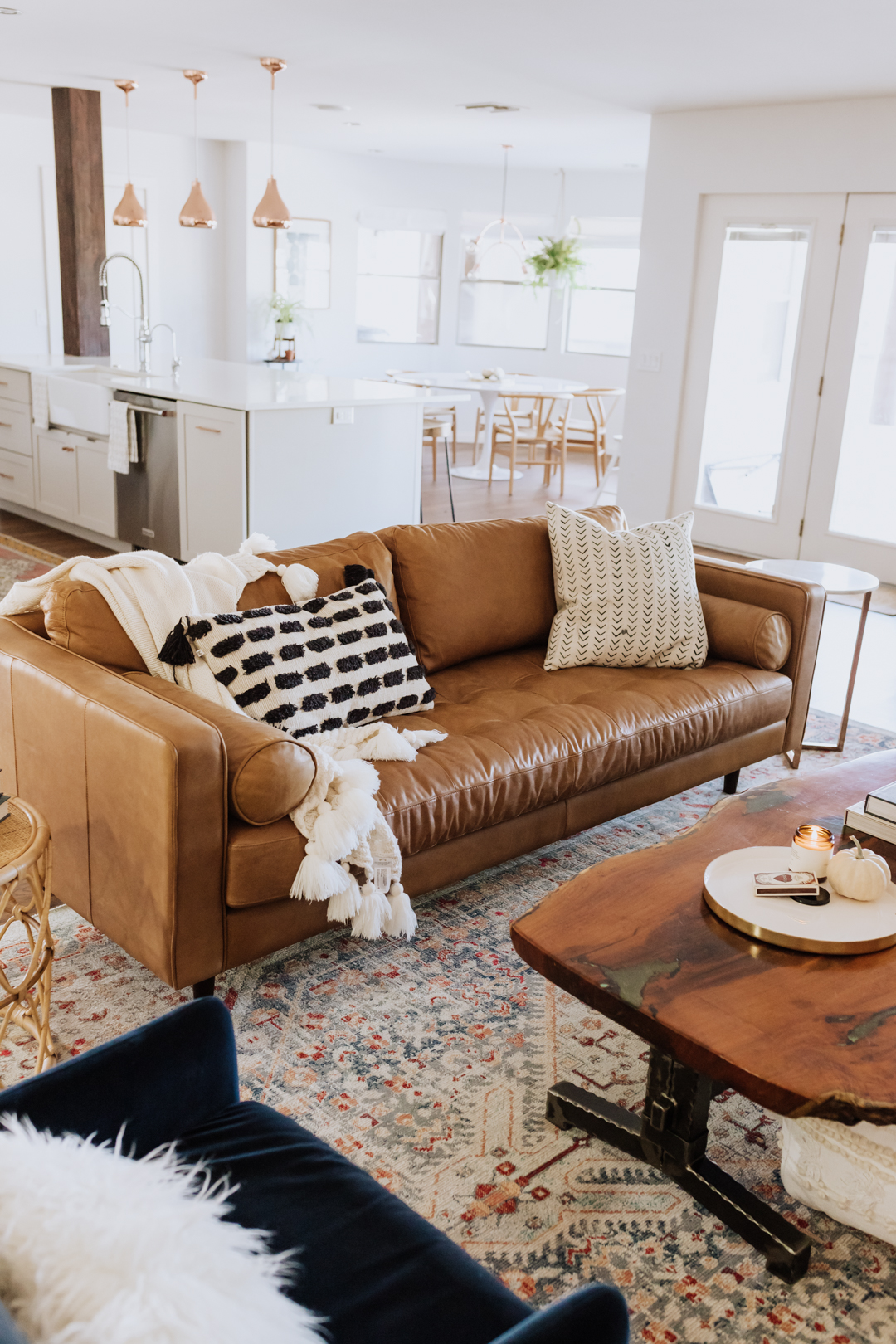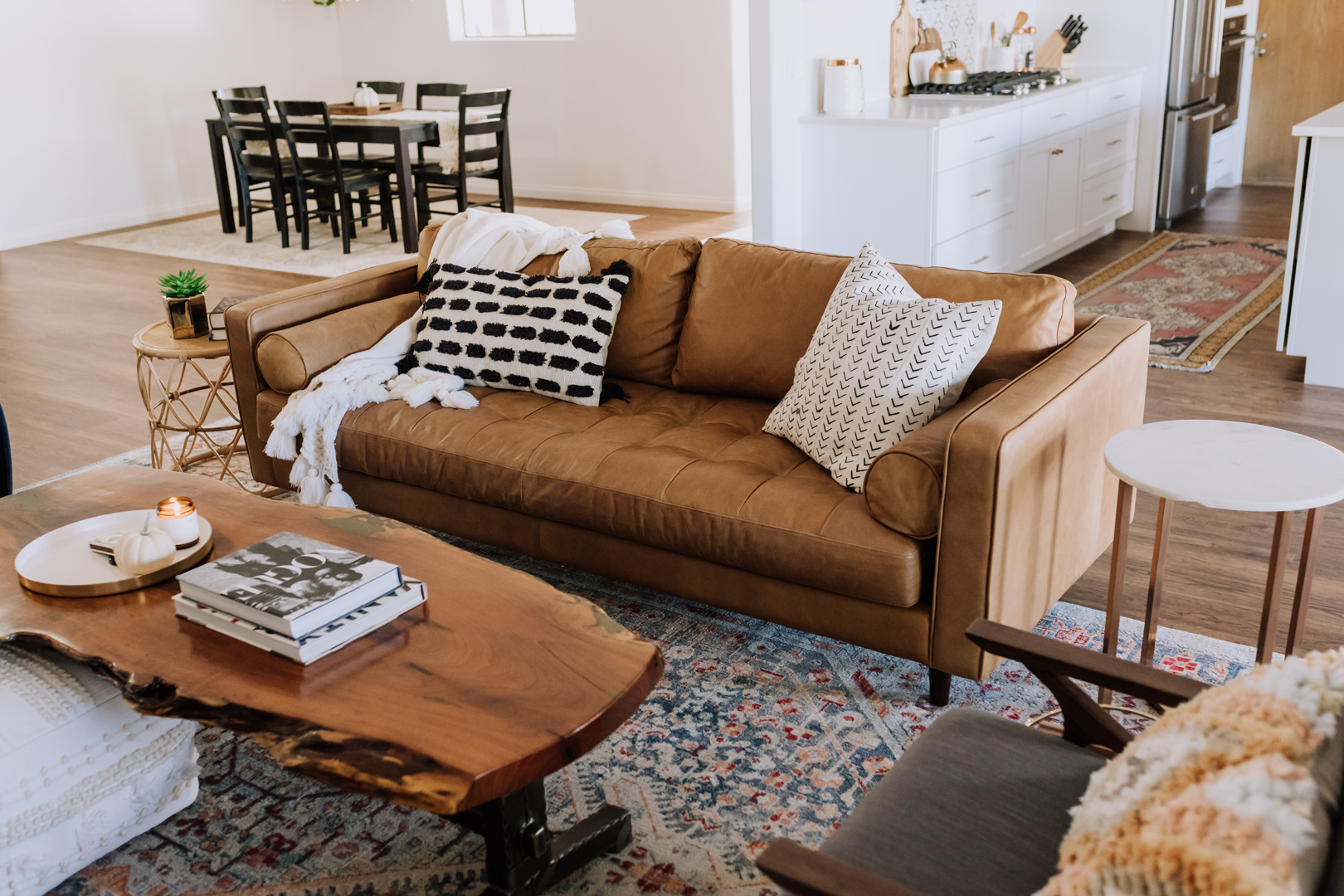 A couple of years back, I totally fell in love with this tan leather couch from the online furniture maker, Article. Miraculously, my husband agreed with me! [We don't always agree on interior design choices, haha.] Article makes the most beautiful, high quality mid-century modern inspired pieces. And they sell direct to the public online, which keeps their pricing super reasonable! So when we were finally ready to redesign our living room, this couch was the first piece we got. I then worked with the Article team to get some coordinating side chairs to round out this living space too. I love the classic mid-century styling of this armchair. So much so that I might actually go back and get another one, so we can have a pair side by side over here!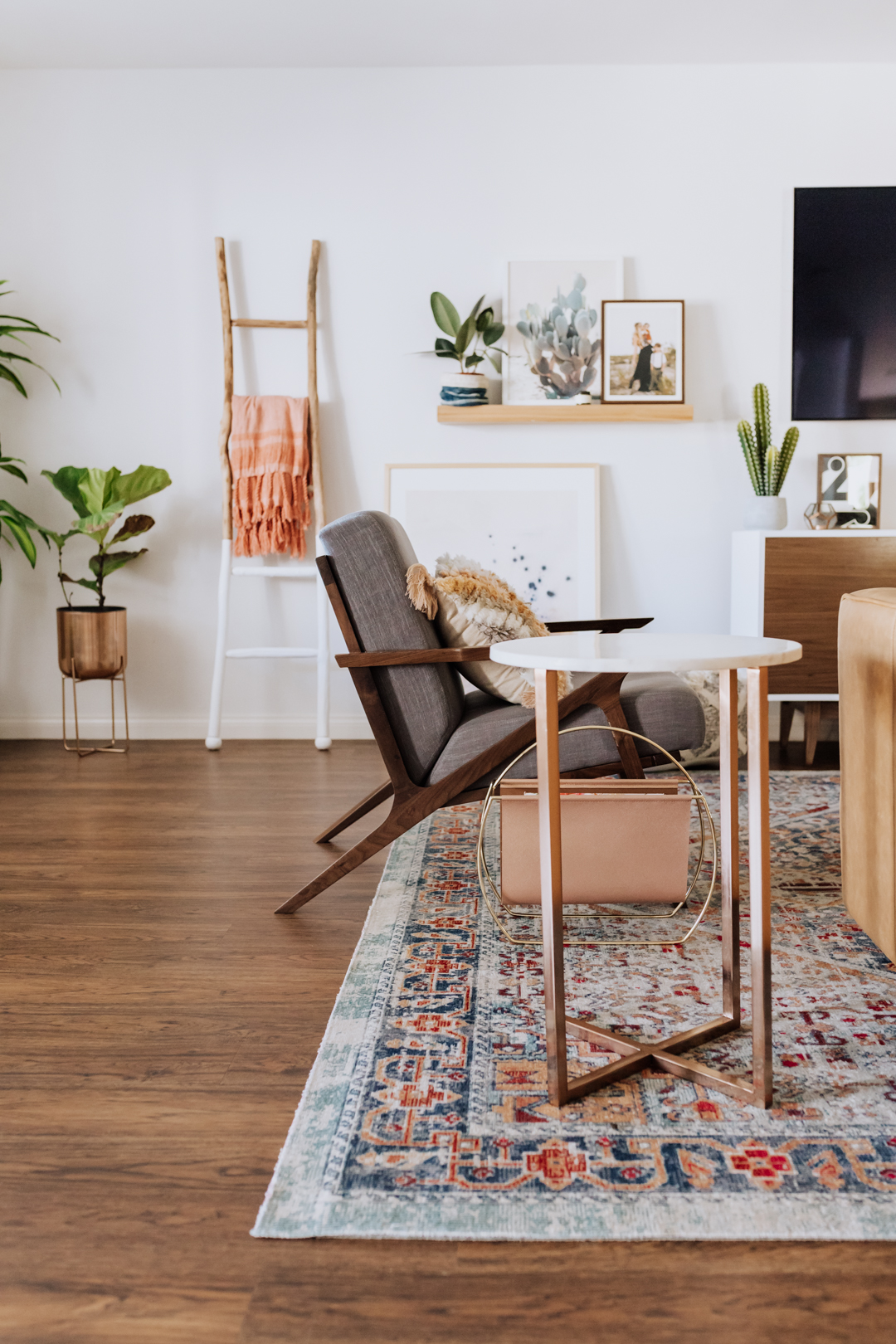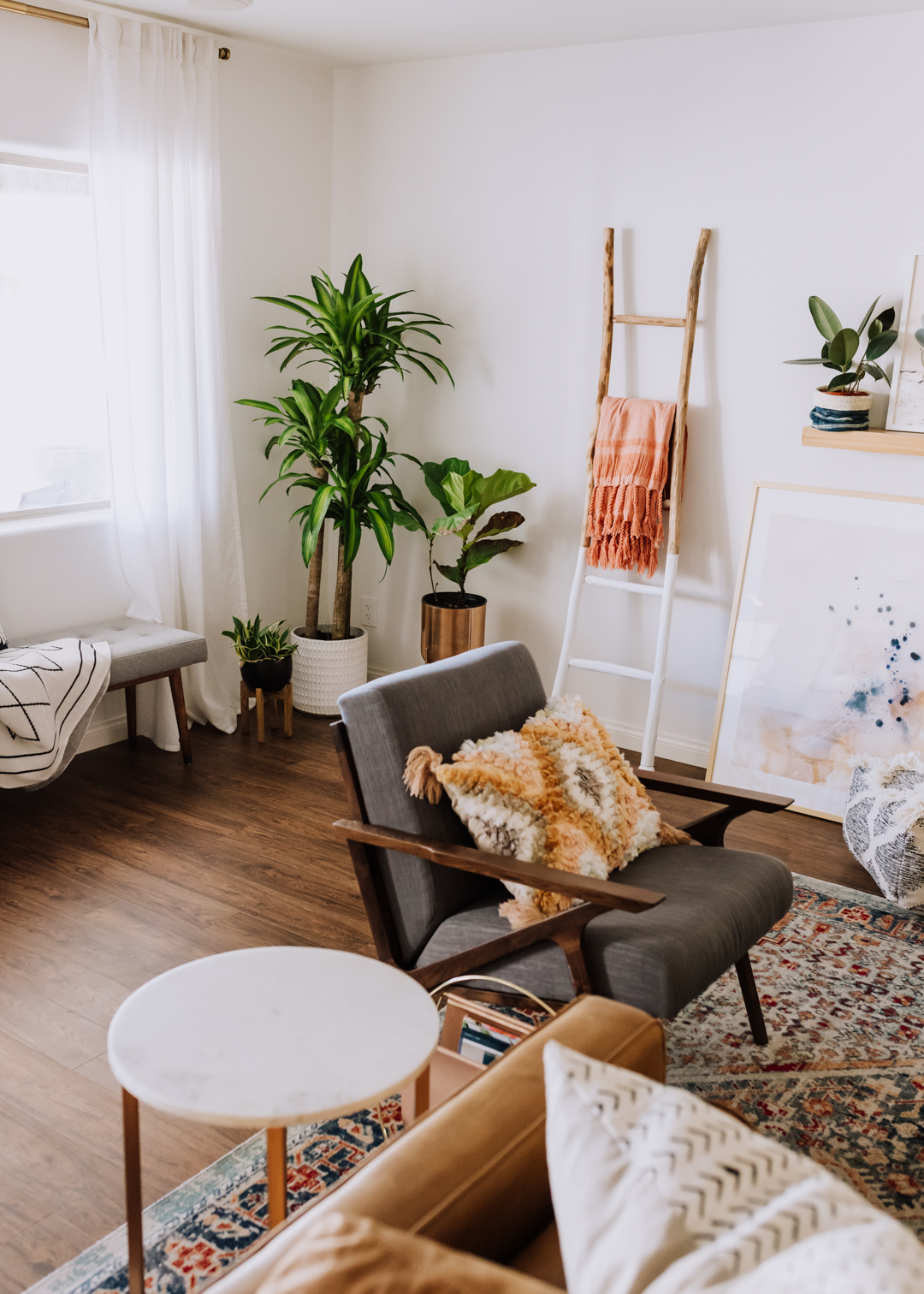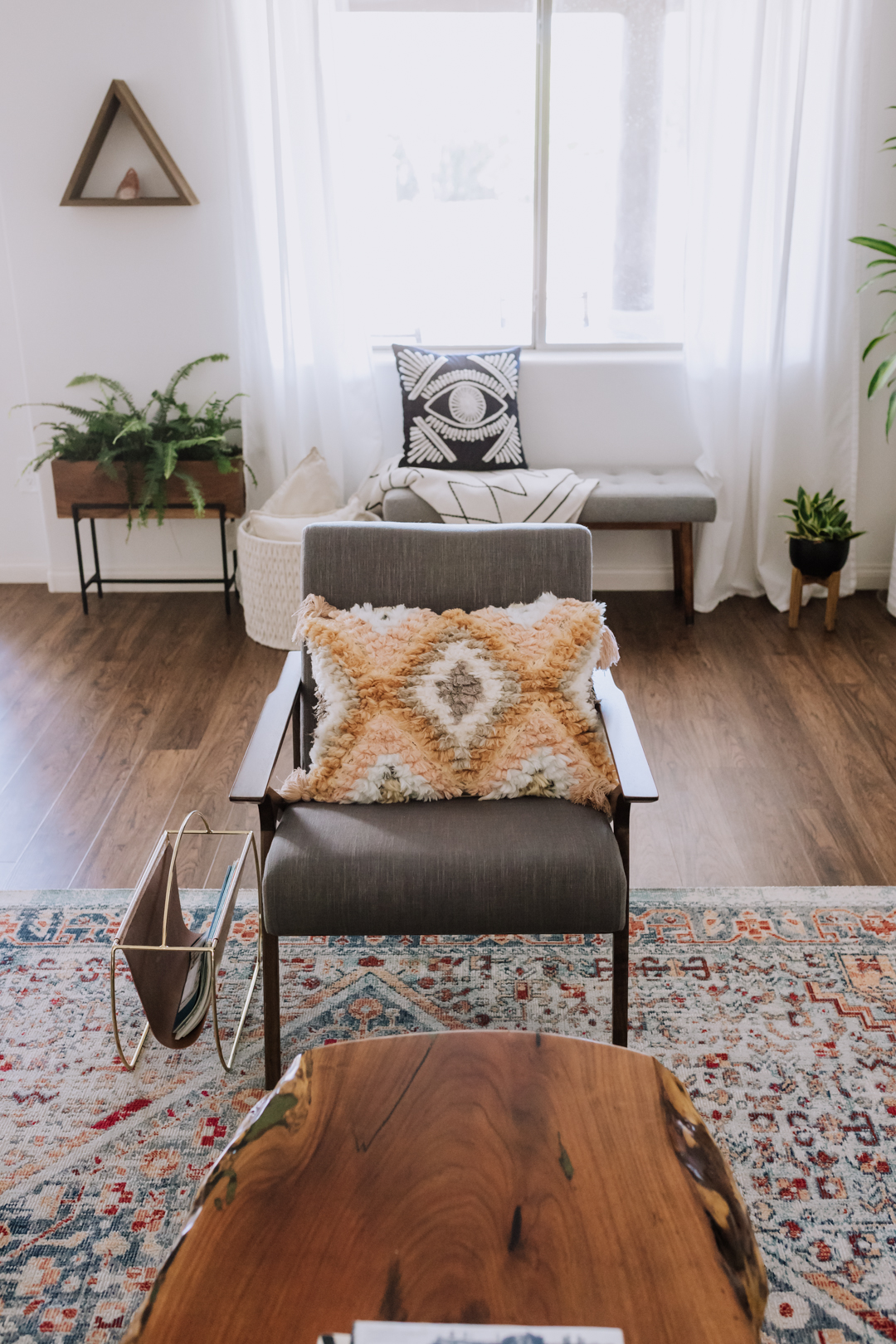 On the other side of the room, we went with this gorgeous plush dark blue velvet chair [which actually comes in a total of 12 color choices!]. It is super cuddly and definitely a fan favorite around here! I will say that the grey chair is more of a conversation chair – better for perching than for lounging, if you're curious about the comfort aspect of each. And the couch is perfect for all the things – naps, lounging, you name it!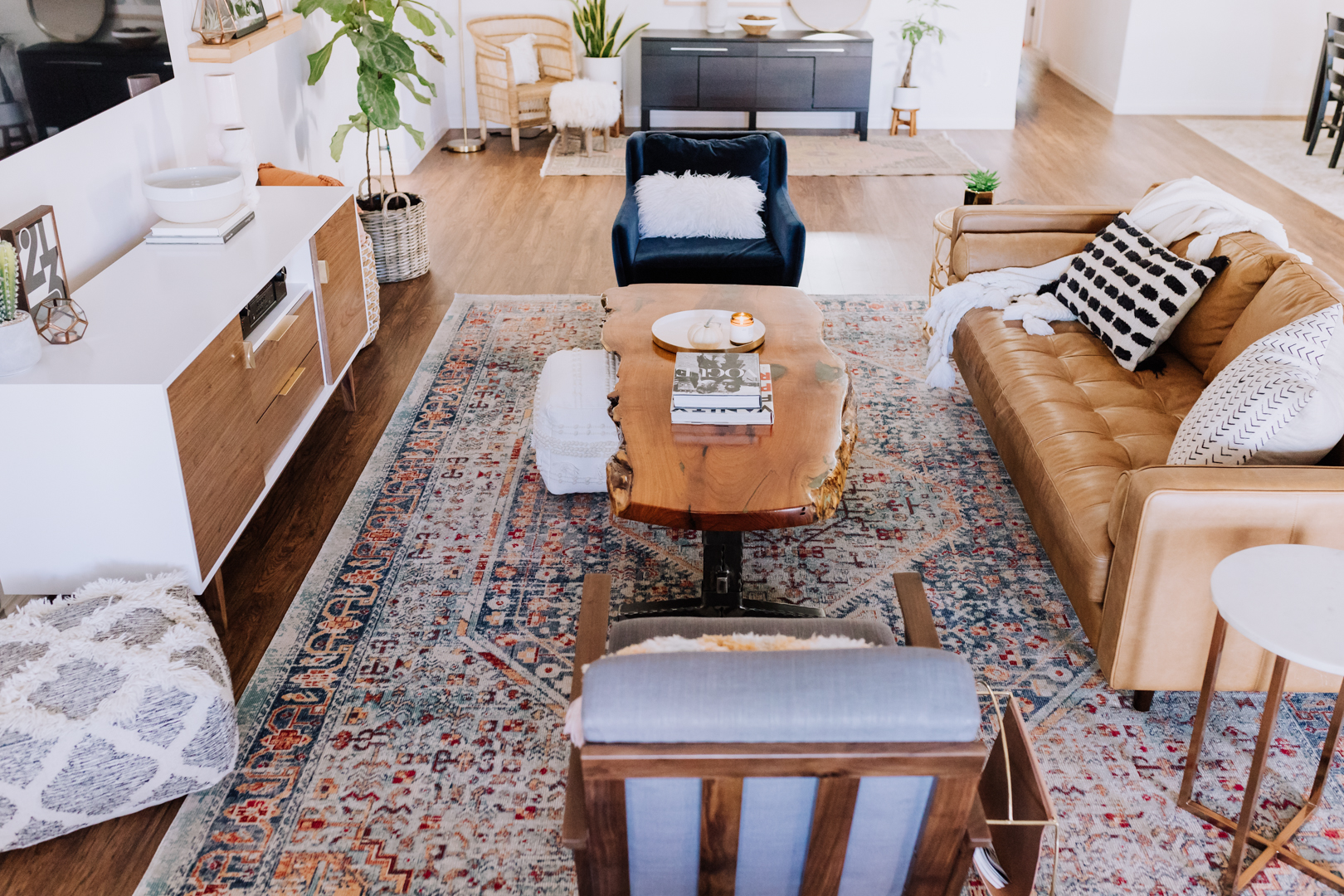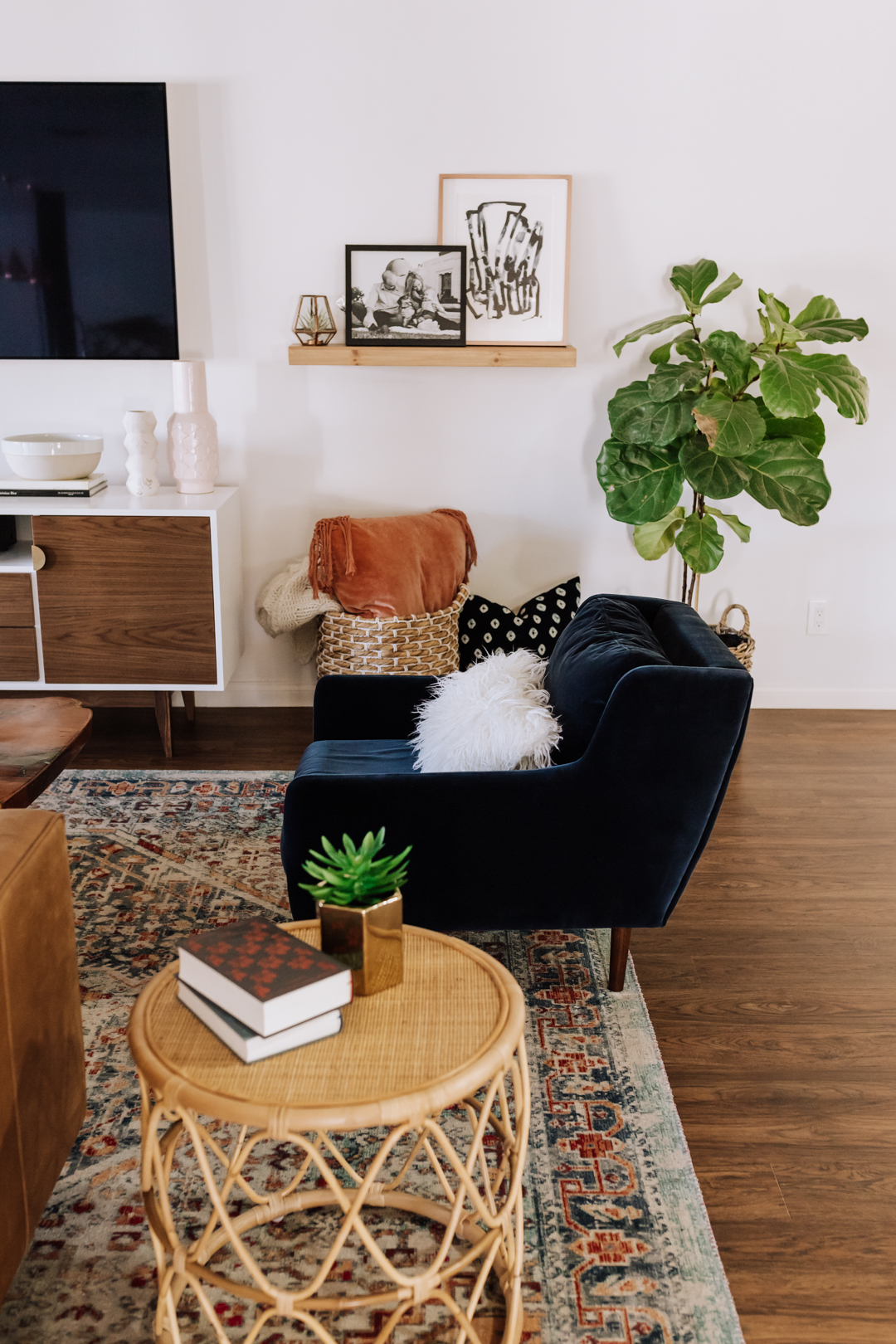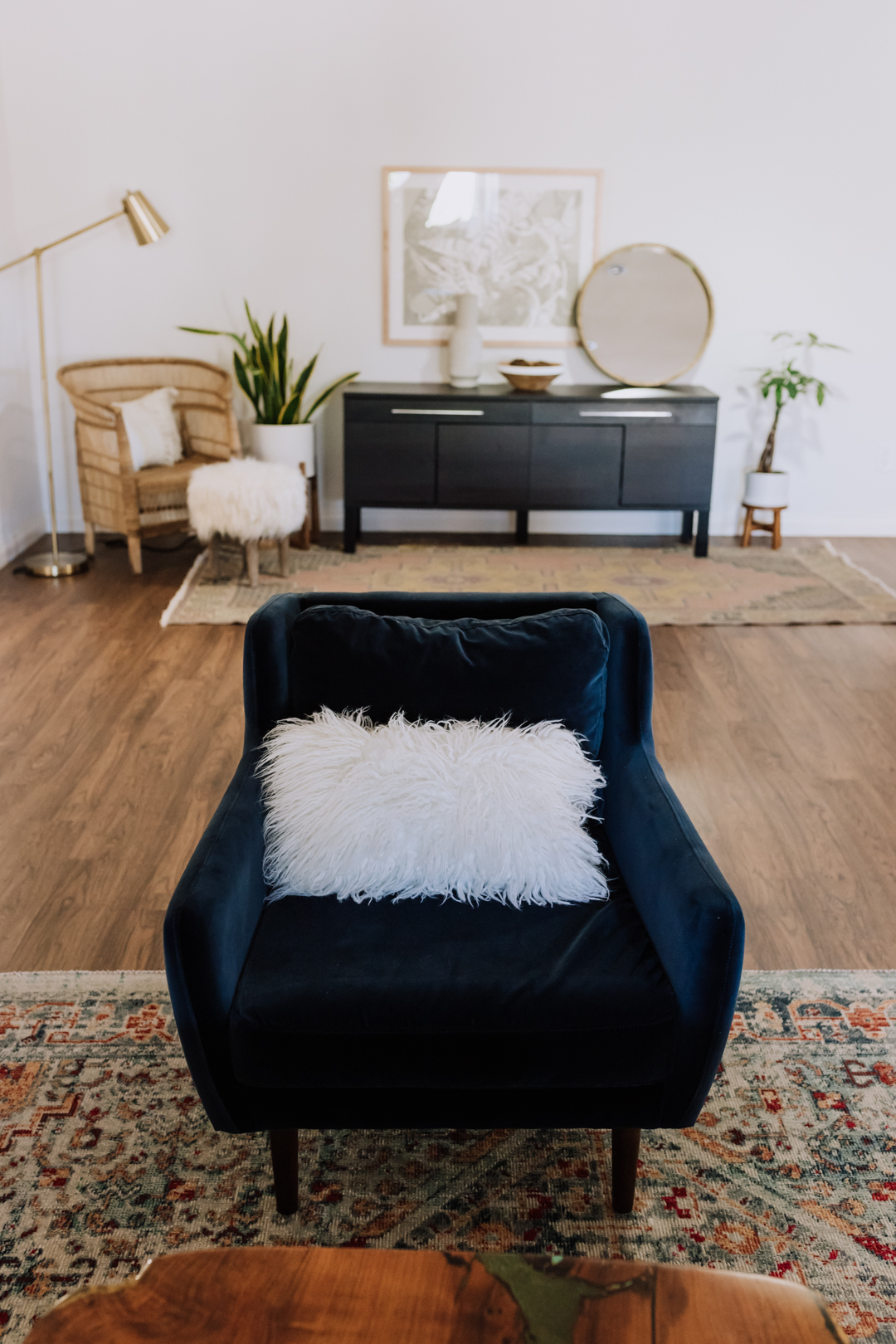 The other aspect of this room that was really lacking prior to this re-haul was the artwork. Since we have always lived in small spaces, that also meant we didn't have a lot of walls, or a lot of artwork. I am also one of those people who is notoriously bad about printing and framing family photos. Tell me I'm not alone!! So I made a commitment to myself in this regard, and worked with Minted to get some beautiful pieces for this area. I'll link all of the specific ones I got at the bottom here!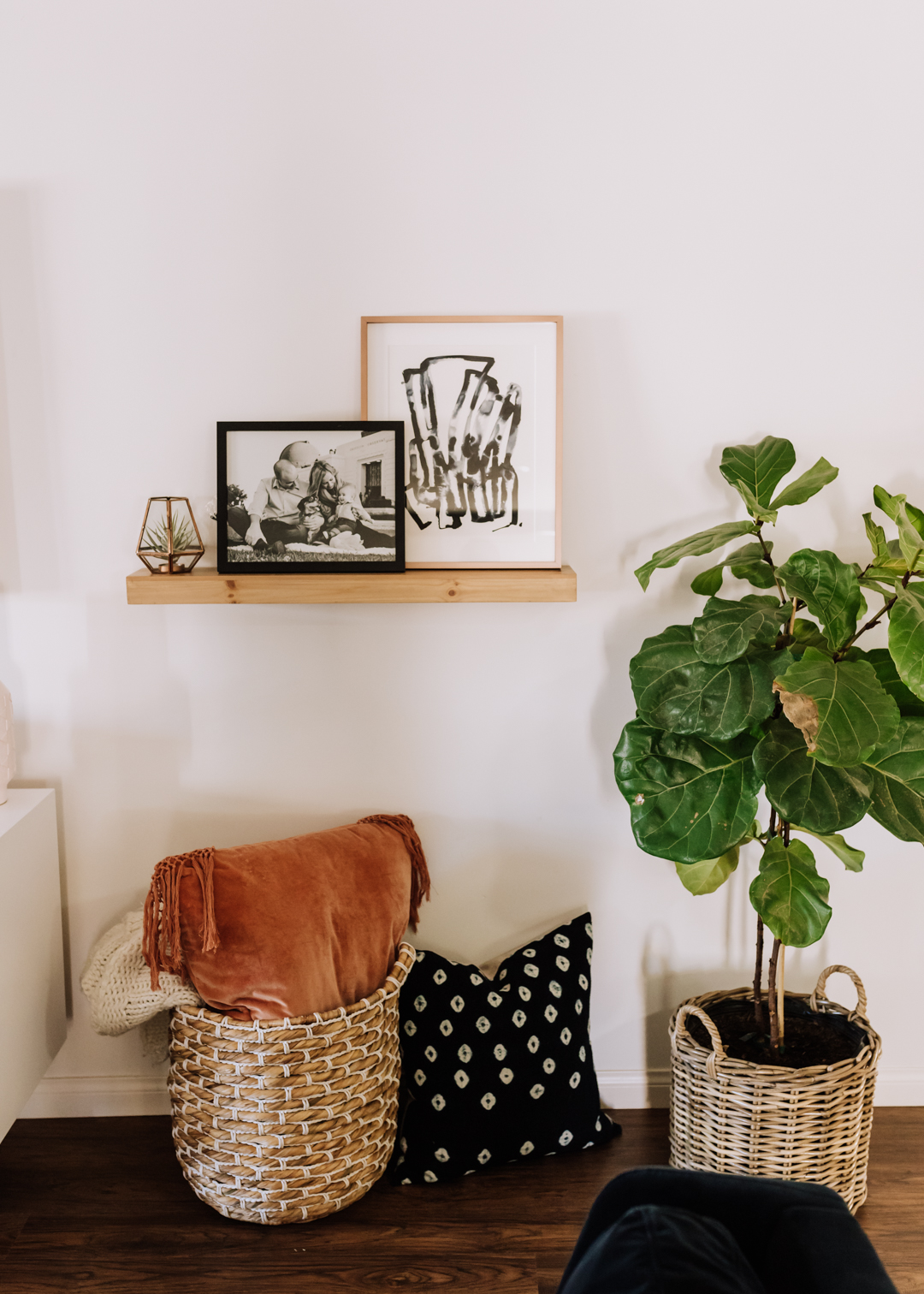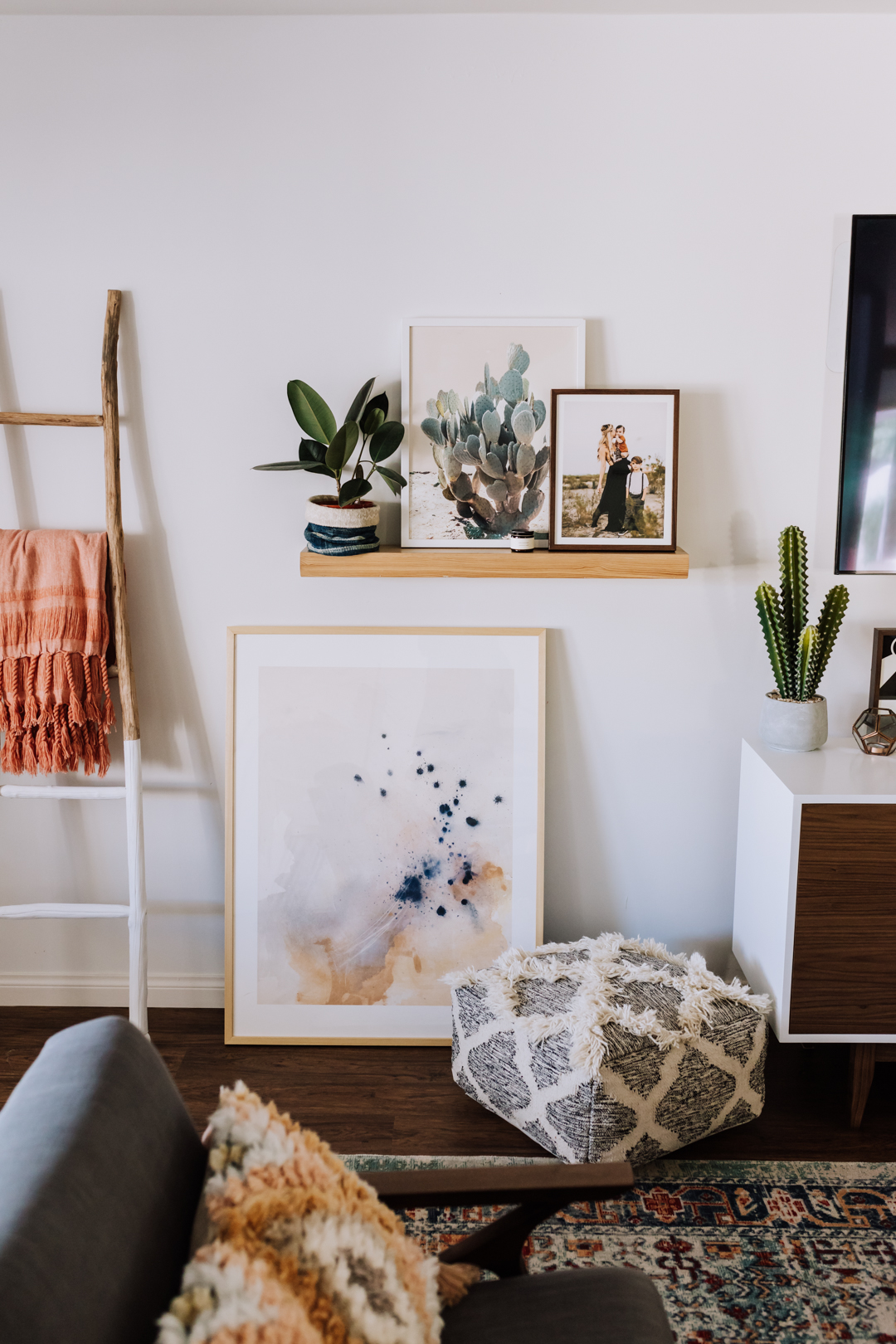 Some of you may remember my Instagram Stories poll from a couple of months ago, where I asked your opinion on an area rug. Rugs are just the hardest thing for me to decide on! The poll ended up being split basically 50/50, but the brand is Loloi, which I found one day by going down the Instagram rabbit hole. I'm obsessed! Loloi is yet another brand with beautiful pieces at a great price point. They don't sell directly to the public, but you can find most of their styles on rugsdirect.com!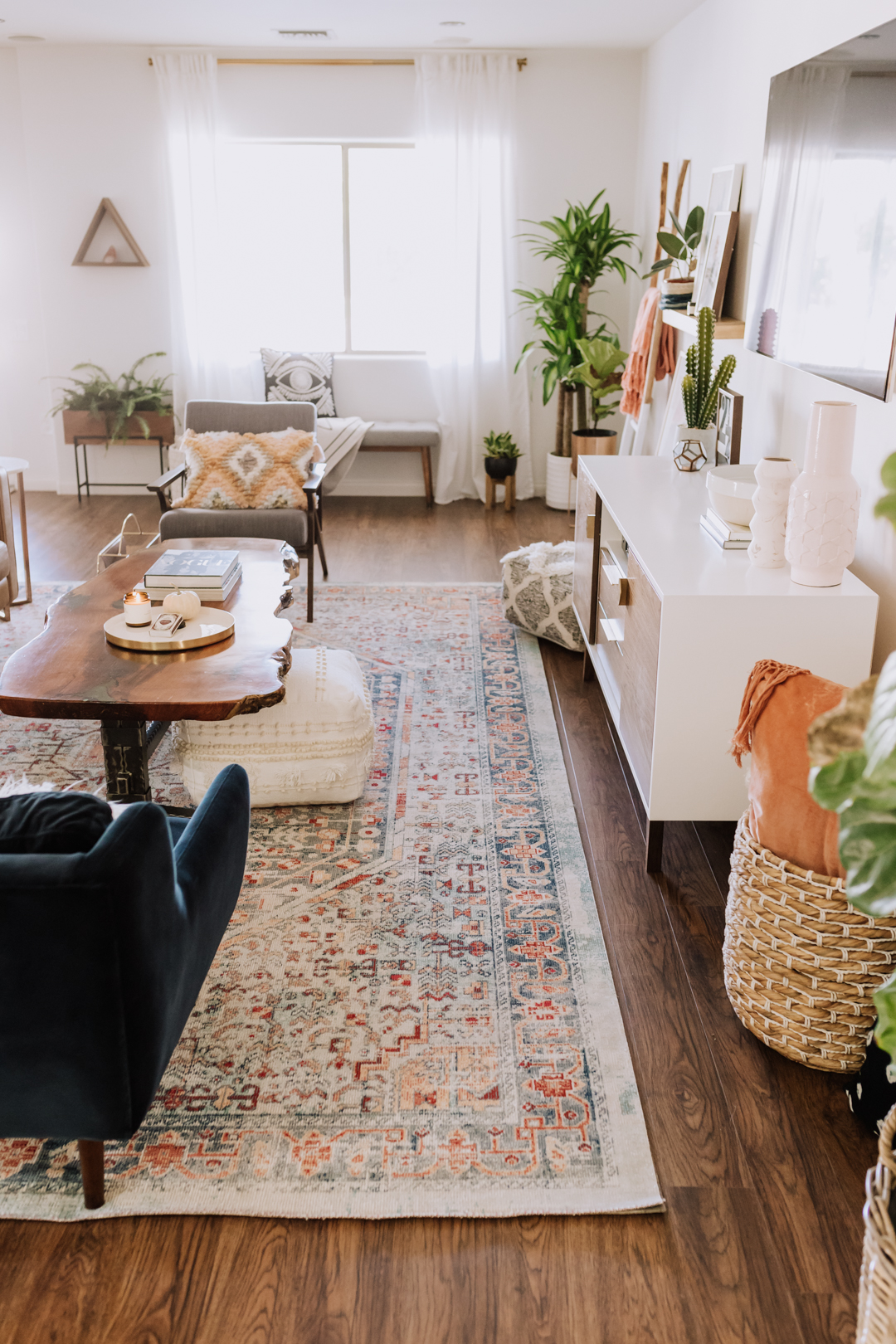 The final piece I want to share with you guys that made this space really special is this gorgeous media cabinet. I started out by searching for a vintage mid-century modern piece for this room. I came across this darling local vintage furniture store, Twigs and Twine. They have a ton of great stuff, but then I also found out that they make brand new mid century modern custom furniture through their inhouse line, Draftwood Design! After working with them, we came up with this design and I am fully obsessed! I customized the hardware for it to really make it special for our home. As I mentioned, they are local, but they also are able to ship nationwide! And it feels so good to have a locally made, custom piece in here, that surprisingly was less than some of the bigger national designer furniture retailers around.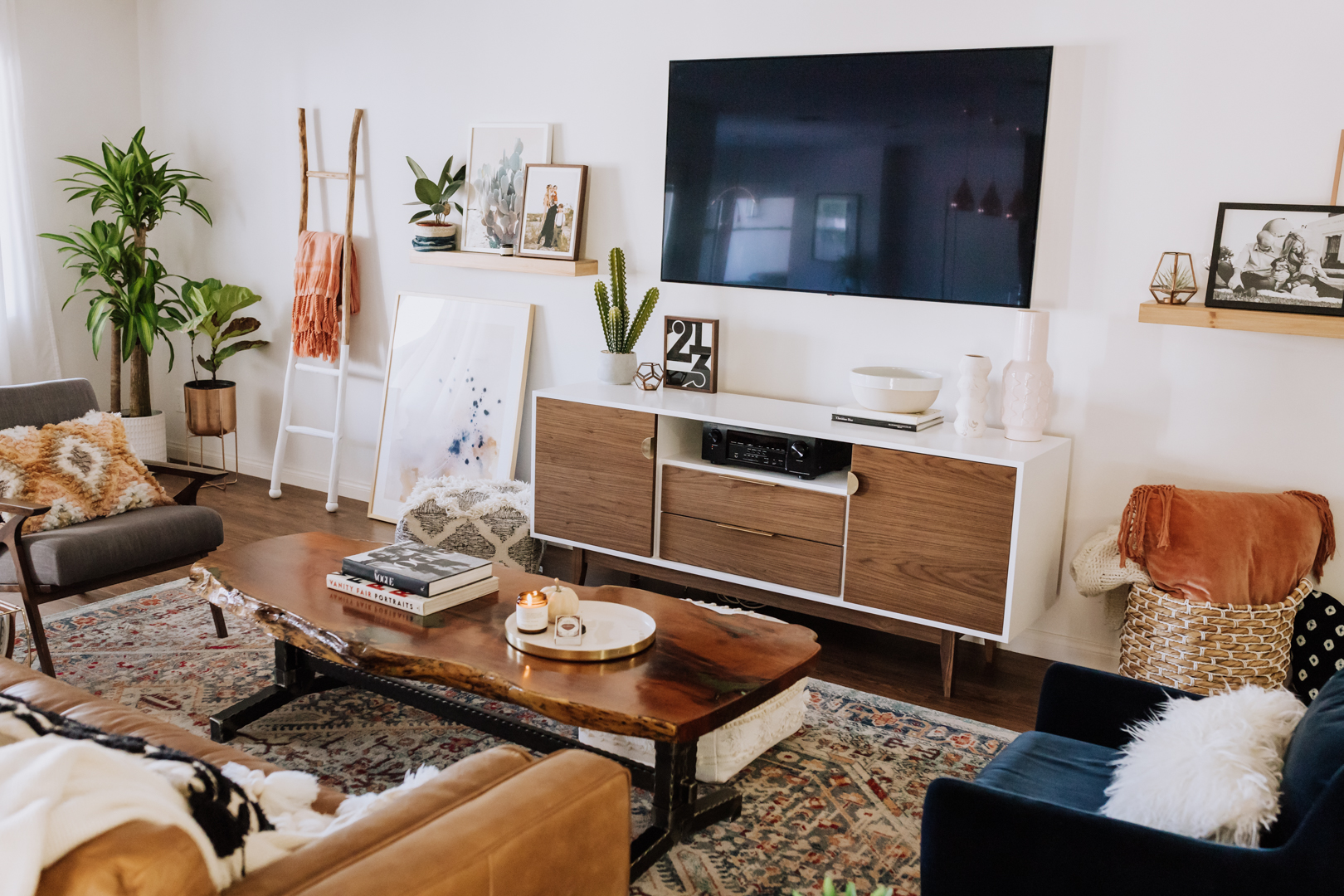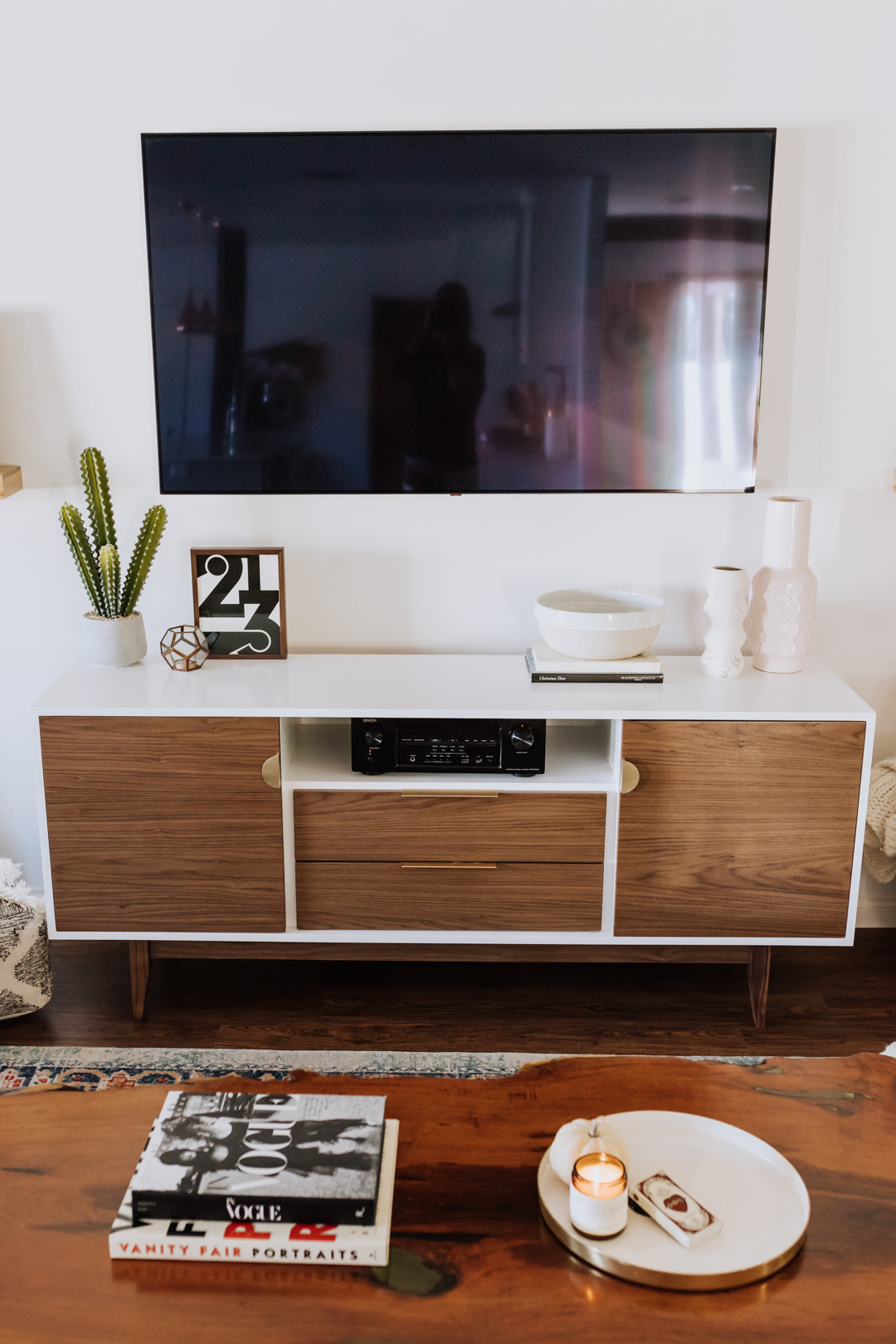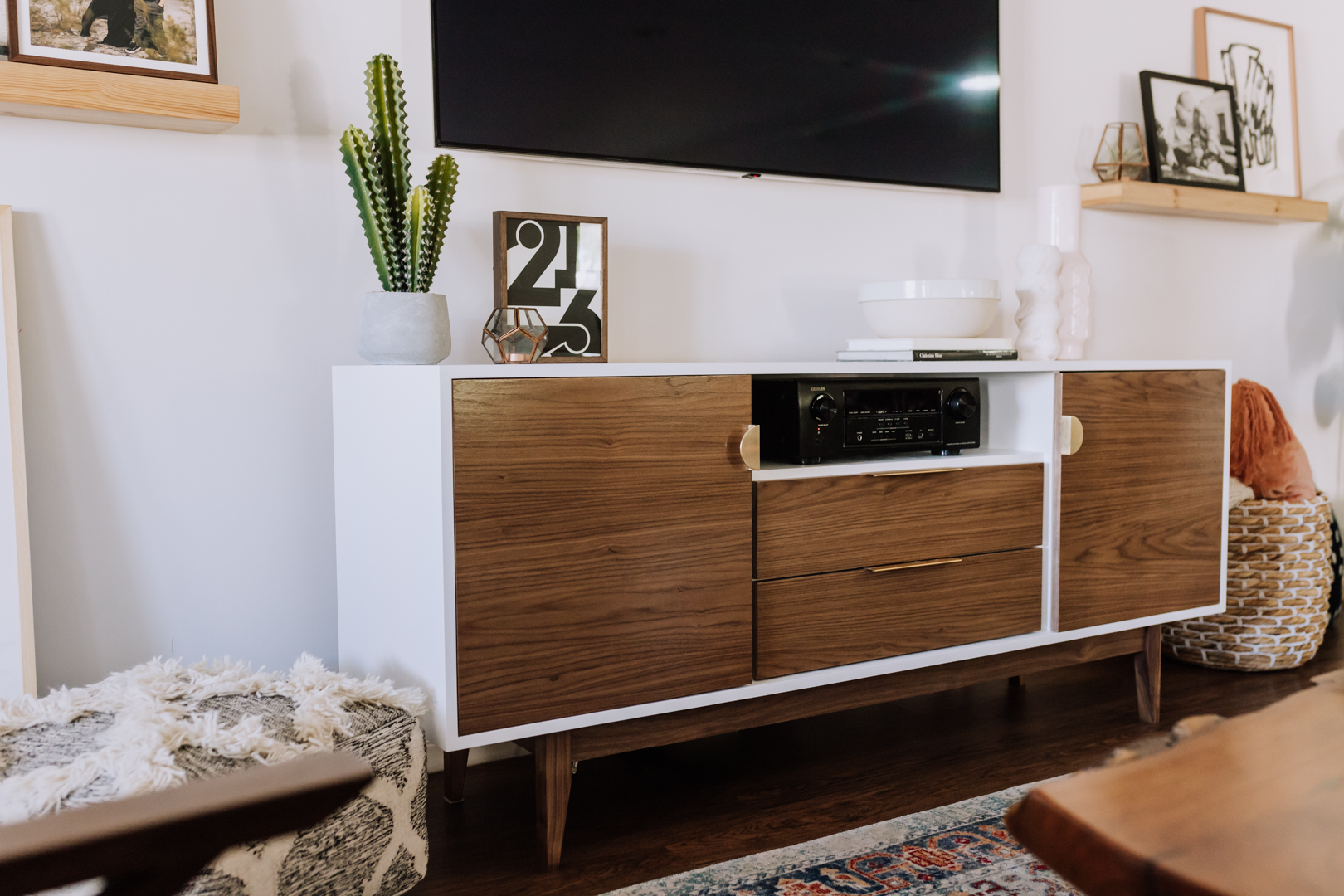 I'm so happy with how this room came together! It truly feels like a happy place for our family to convene each night, and to love and grow together! Linking everything I can here below. Let me know if you want a link for something I've missed!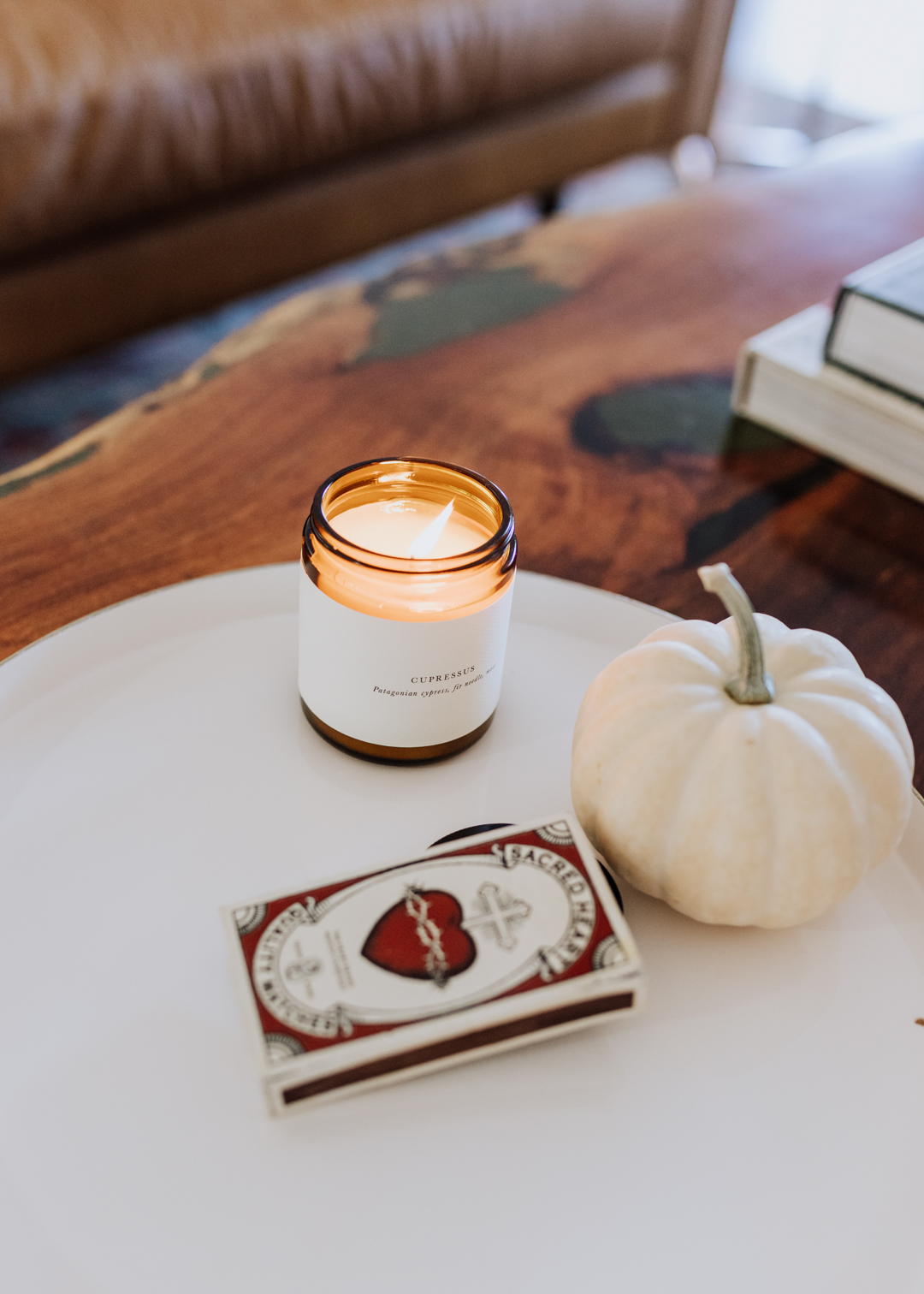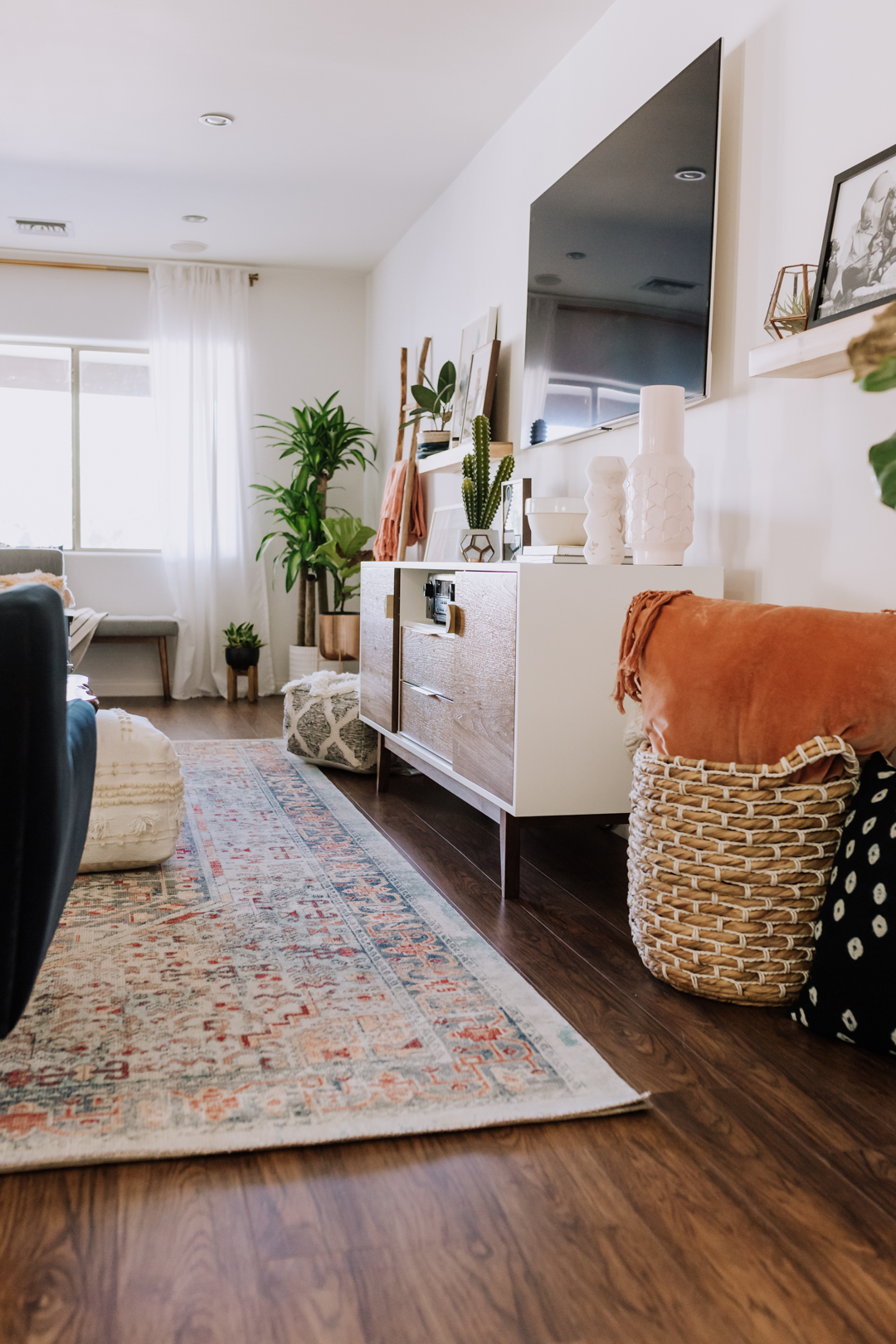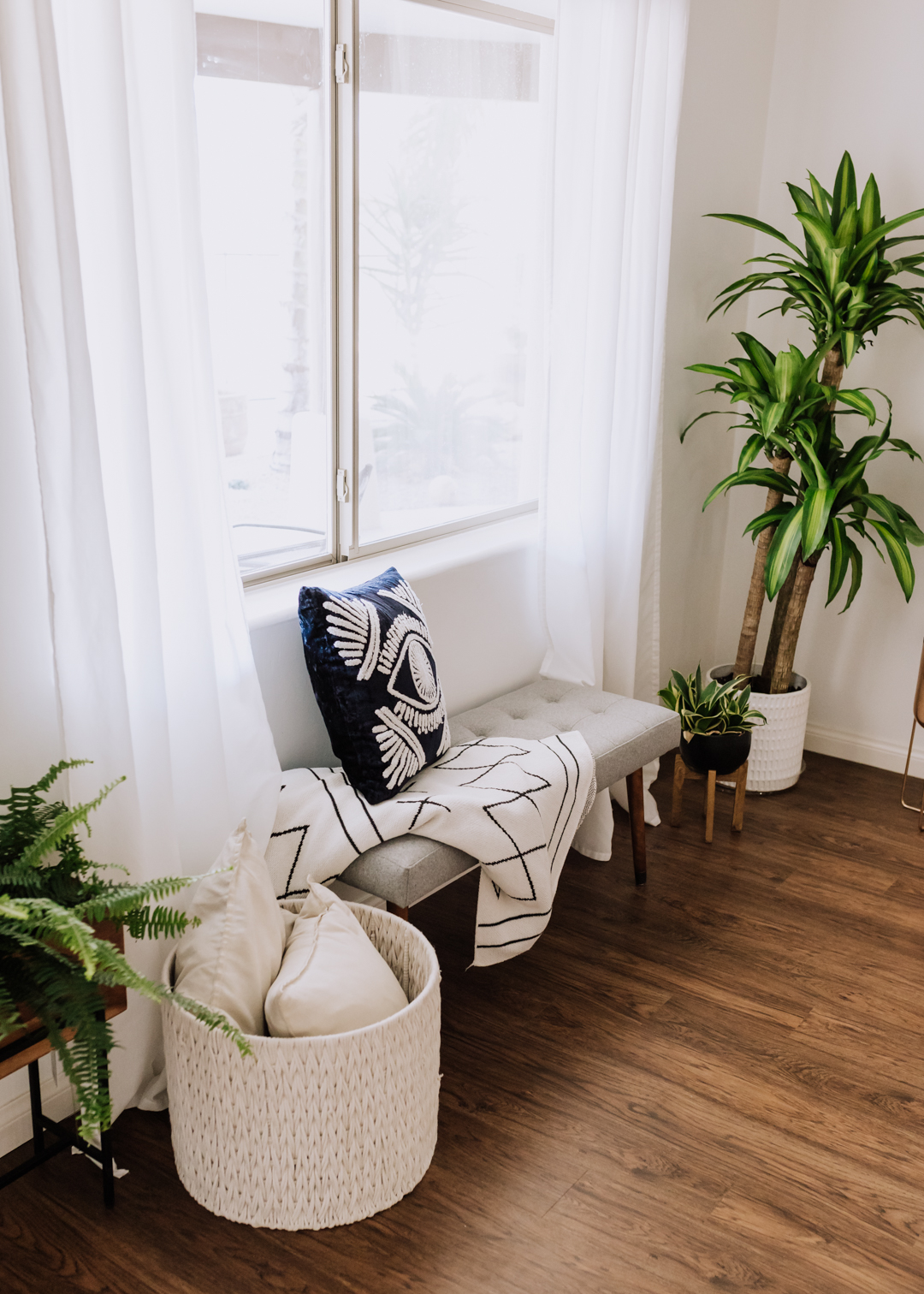 sven tan leather sofa c/o article
matrix blue velvet chair c/o article
otio grey chair c/o article
area rug c/o loloi  [find it here]
decorative blanket ladder [similar]
213 art print c/o minted
possibility art print c/o minted
raw study 1 art print c/o minted
the big picture custom art print c/o minted
cactus art print c/o minted
custom mid century media cabinet
lit candle c/o barratt riley
round marble side table [similar]
white tassel throw blanket on couch