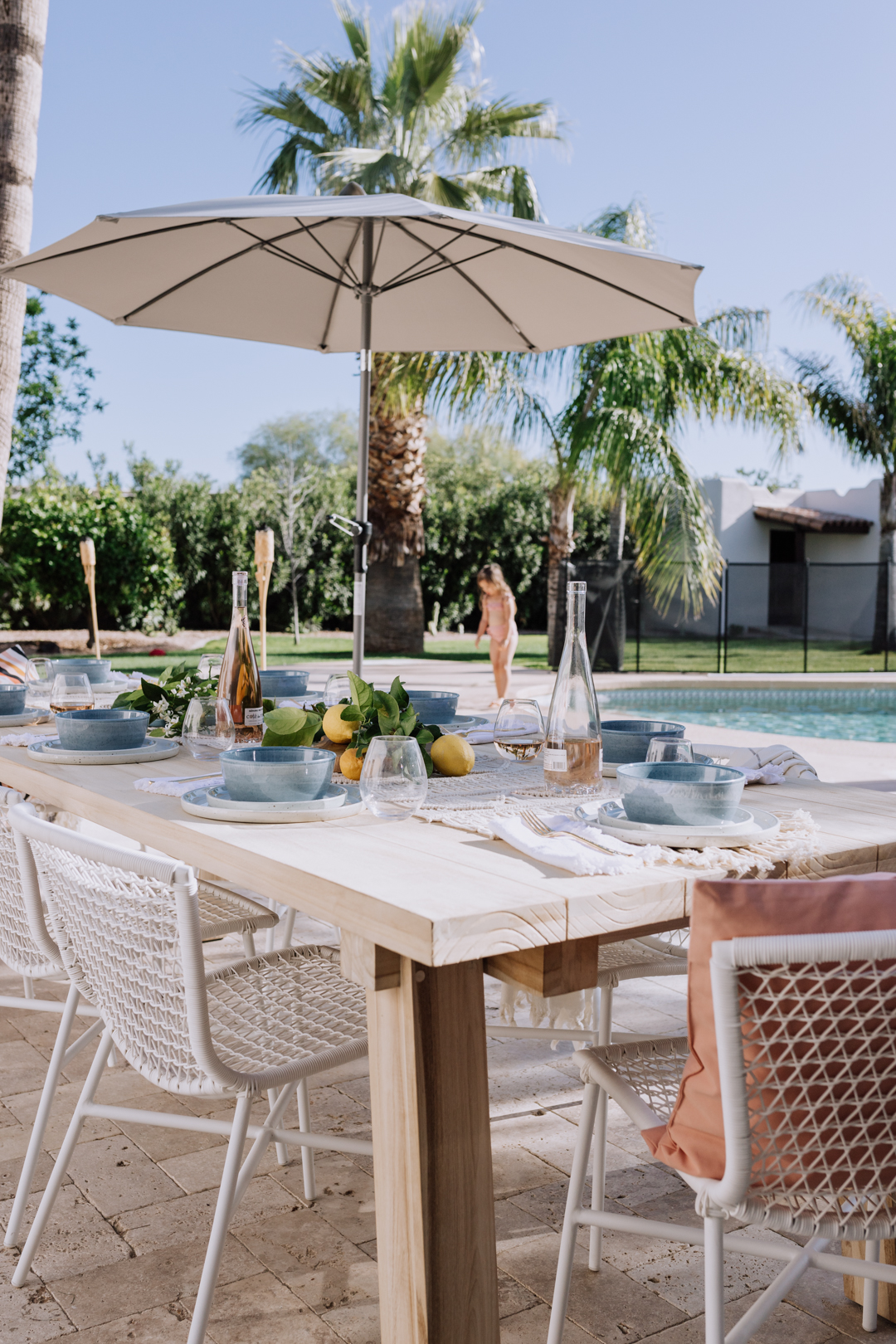 Last year, I shared with you guys how grateful we are for our big backyard. But as we went through the remodel process inside the house, as well as the addition of the casita, we started to realize some of the downsides of the the way the outside space wasn't functioning for us. We eventually ended up hiring a landscaper to help us complete our vision, which included some big projects like adding travertine pavers all around the patio area and adding more grass for the kids to play in.  We also took out some overgrown bushes in lieu of kid-safe succulents and other low lying and easy-to-care-for plants, and we added our outdoor kitchen.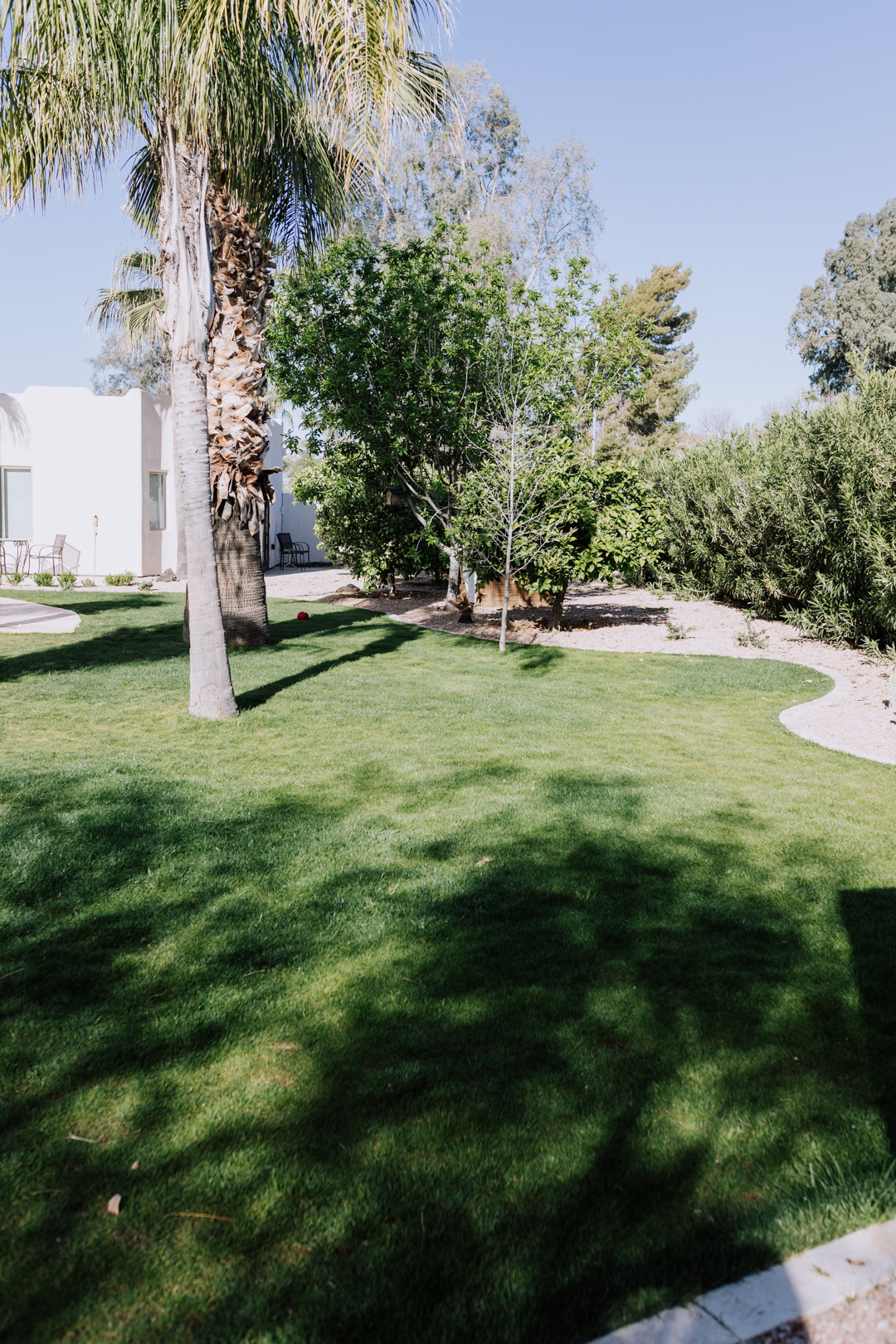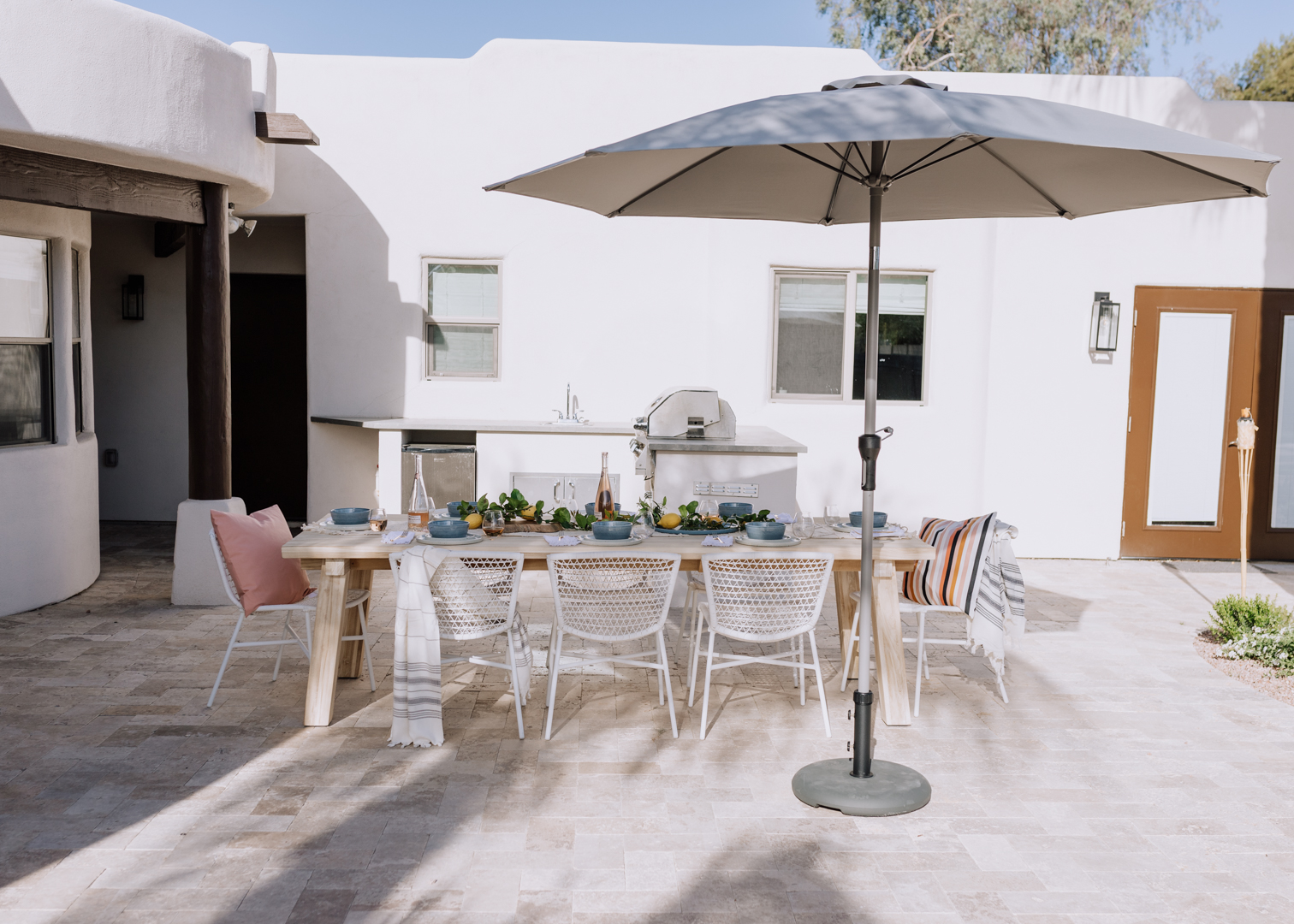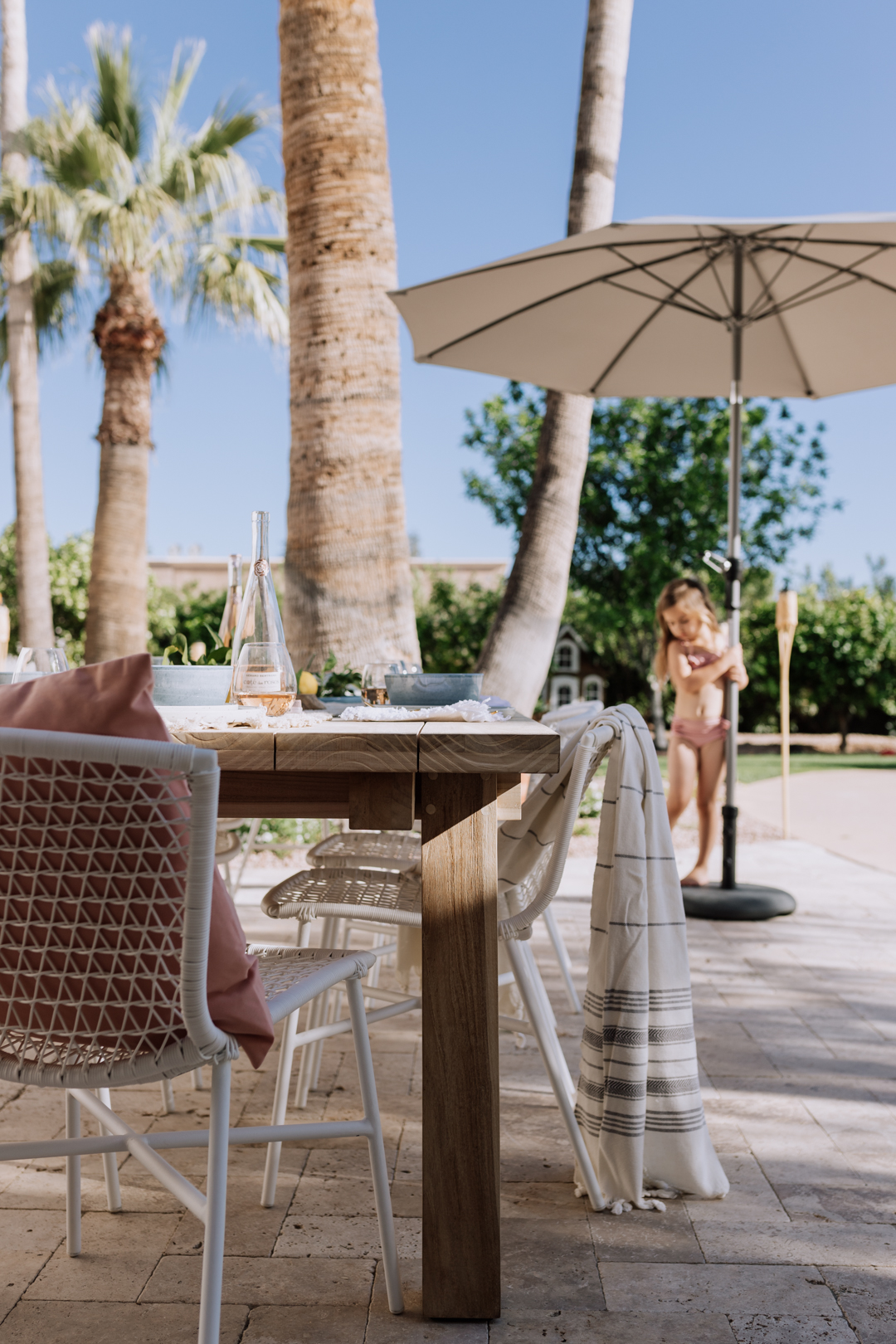 After we finished the big backyard landscaping project in the fall, the weather started to get cooler and we spent less time outside. But at the same time, I was shopping around and keeping my eyes peeled for some unique outdoor furniture pieces. Living in the desert, I also was obsessed with finding pieces that were high quality and durable enough to stand up to our extreme heat and summer monsoon season, without completely breaking the bank.
I collaborated with Article late last year on our living room for some key pieces there, and have been SO impressed with the quality of their furniture. So when I learned that Article was coming out with a new outdoor line, I jumped at the chance to work with them again! I knew I would be able to find the pieces I was looking for to create the backyard I have been dreaming of. I'm so thrilled with how our outdoor dining space came together!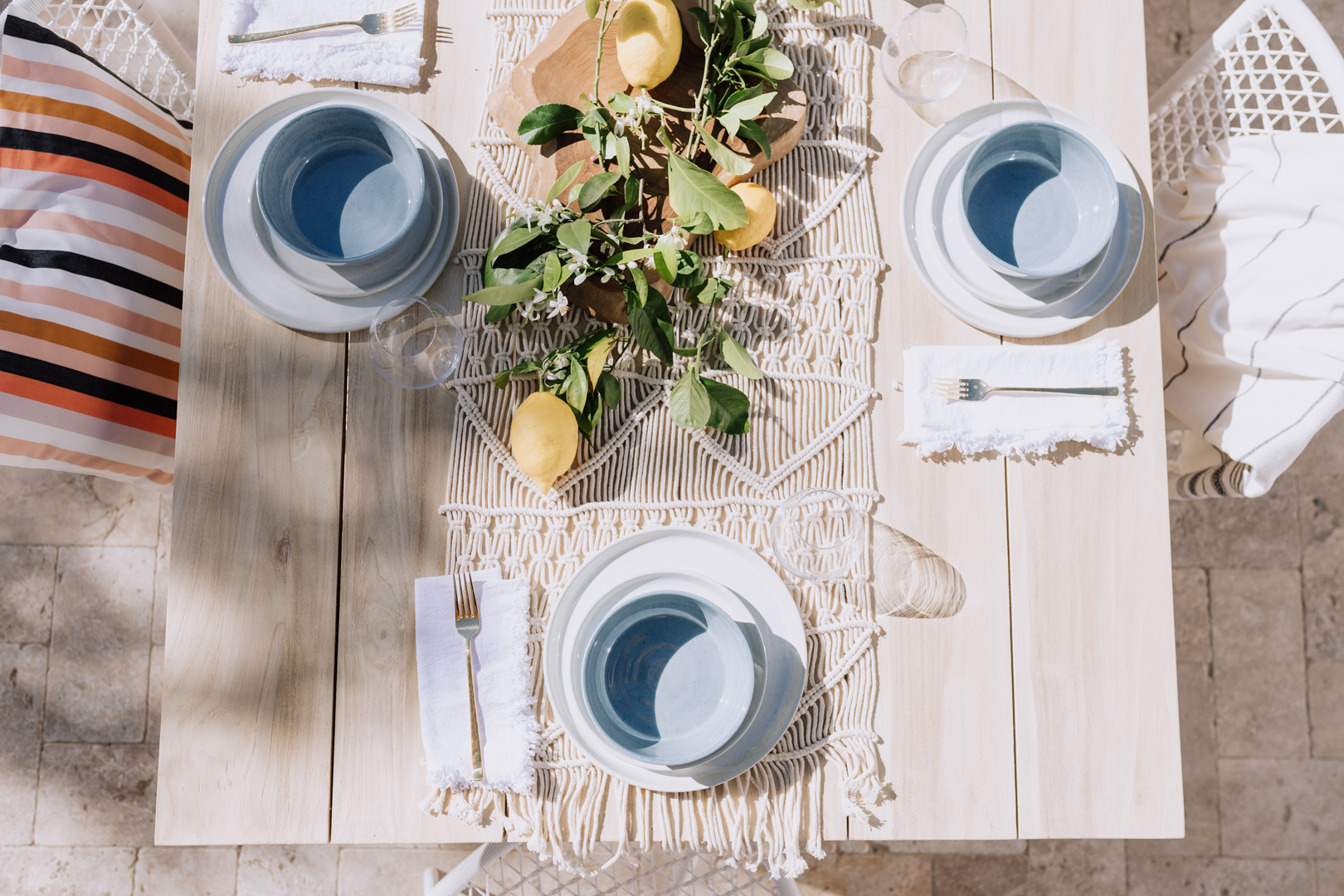 When we were first designing this outdoor kitchen space, we initially thought we would build a bigger island in a "U" or "L" shape to come out to where this table is and have more of a bar area with high stools. But eventually we decided to keep the BBQ, sink, and fridge area minimal and against this exterior wall. That way we could have a table out here that was less permanent and easy to move. This Teaka Table is made from natural, solid Teak wood and consequently, quite heavy, which makes it not super easy to move. I love that it's certifiably sourced, with no chemical sealants. And I love that we have the flexibility with a table, rather than a built in island. I imagine once the hotter months hit, we will rotate it more under our covered patio, where I'm sure it will get a ton of use.
But for the spring months, having it out here with the Paras Umbrella [ours is the light grey color] that is easy to move around and tilt provides just the right amount shade where we need it. [Make sure to grab the Paima Base to go with it too!] We loooove to entertain, so this current table position is just perfect for that! We just had Easter brunch out here this past weekend, and ended up spending the whole day out here. It was the most magical day spent soaking up family time.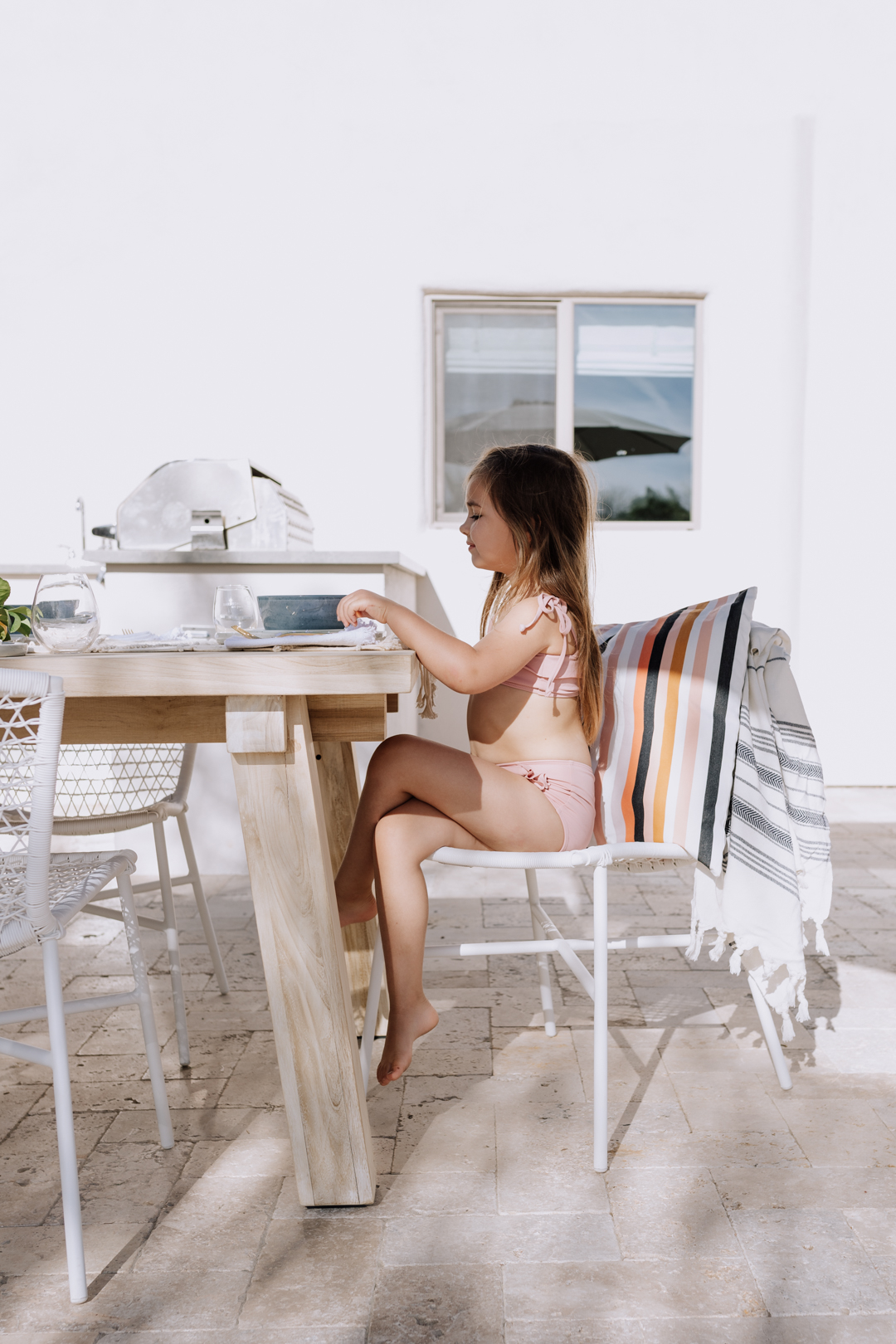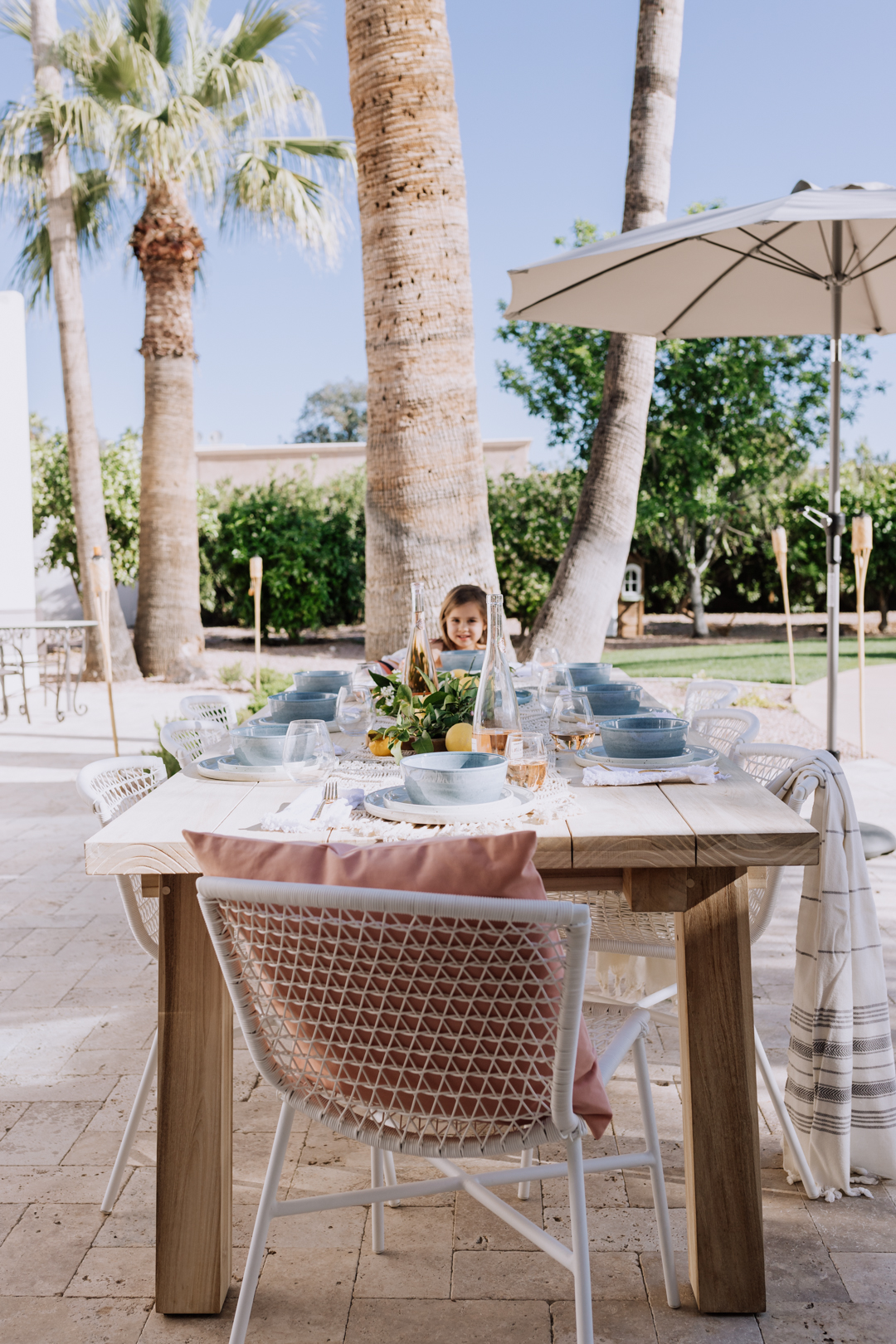 Chairs can be one of the hardest things for me to decide on, when it comes to picking furniture. But when I saw these Sala Dining Chairs, it was love at first sight. Woven from a more durable, technically advanced synthetic wicker and with a powder coated graphite base, they are lightweight so they are easy to move, stackable, and so far seem very durable!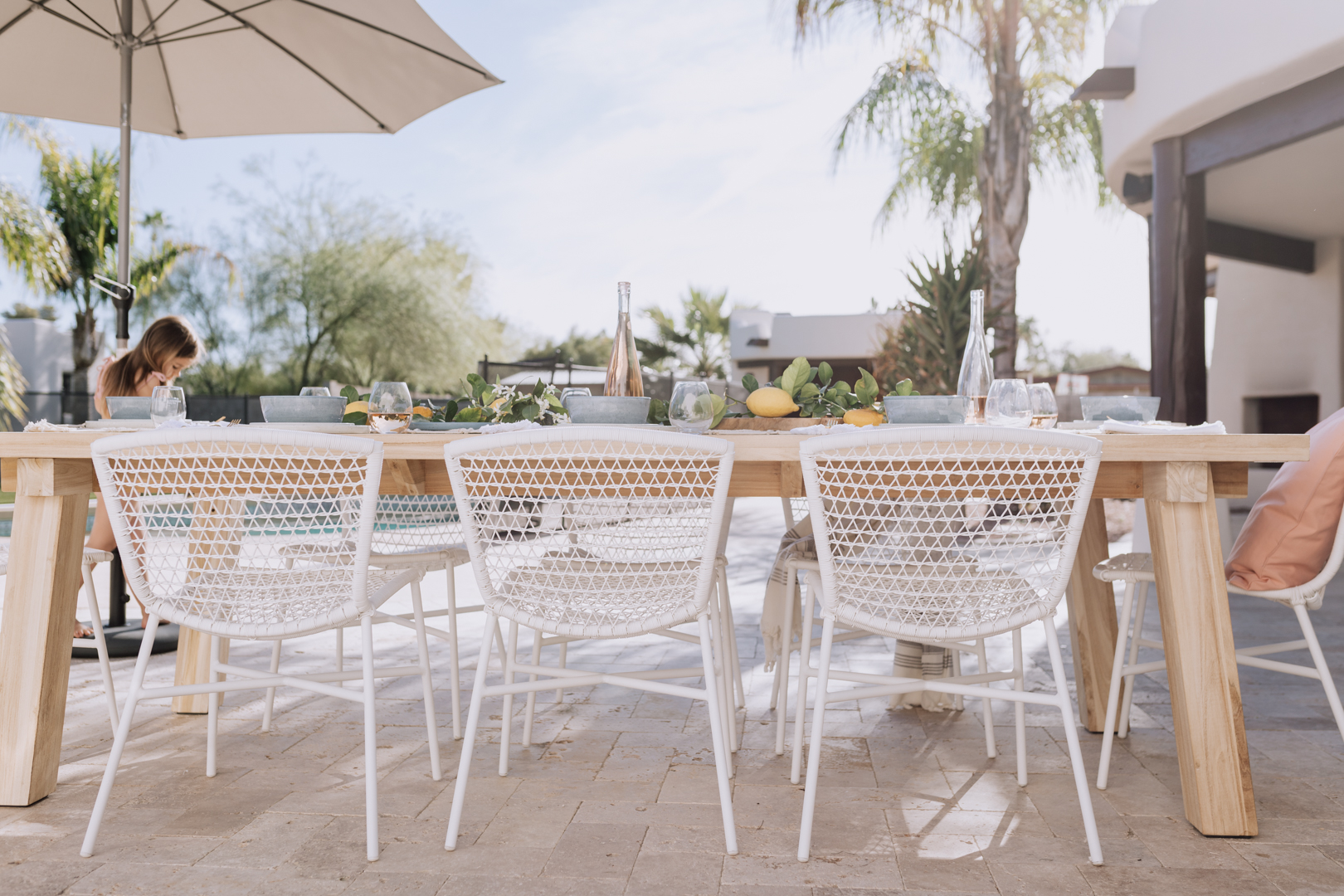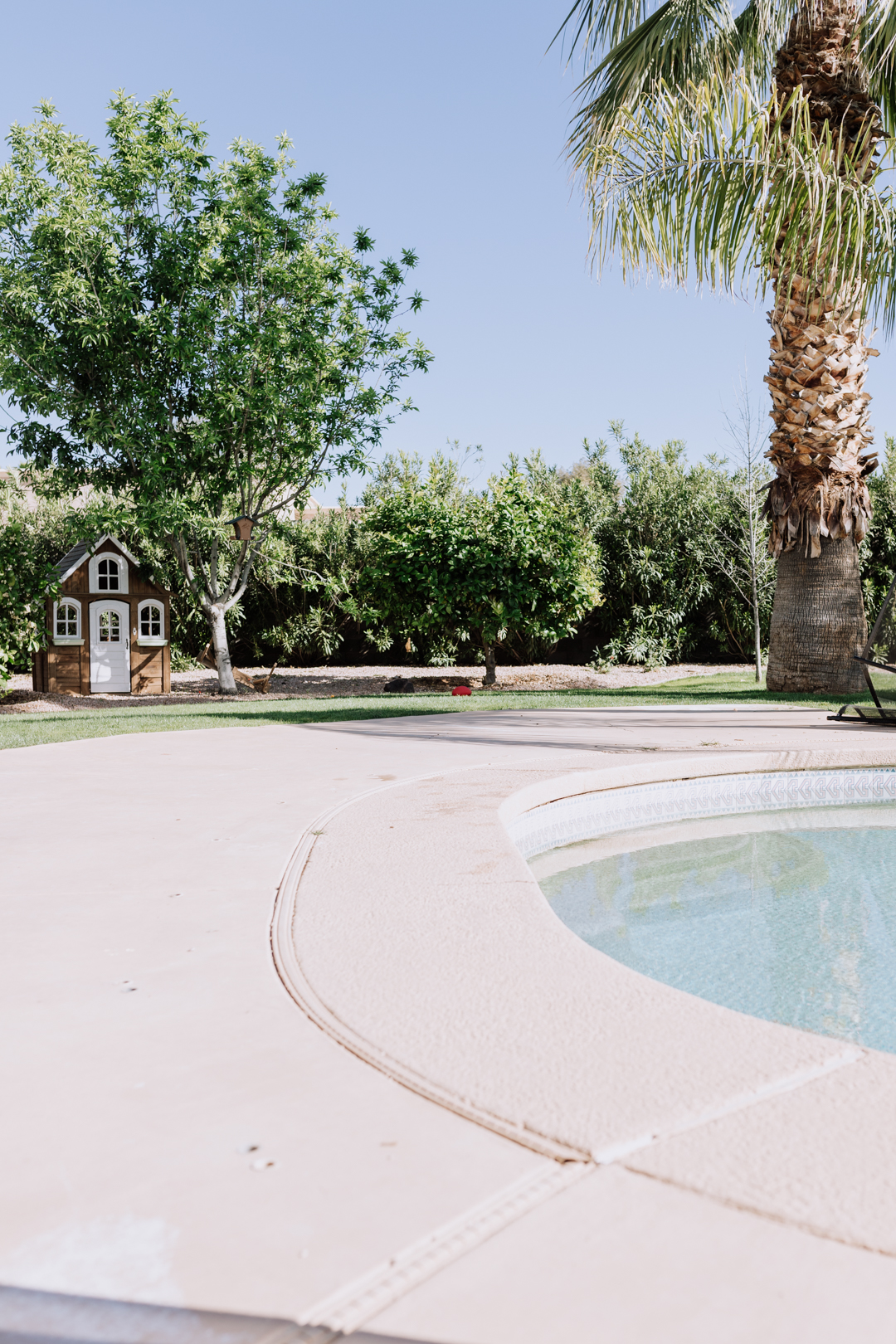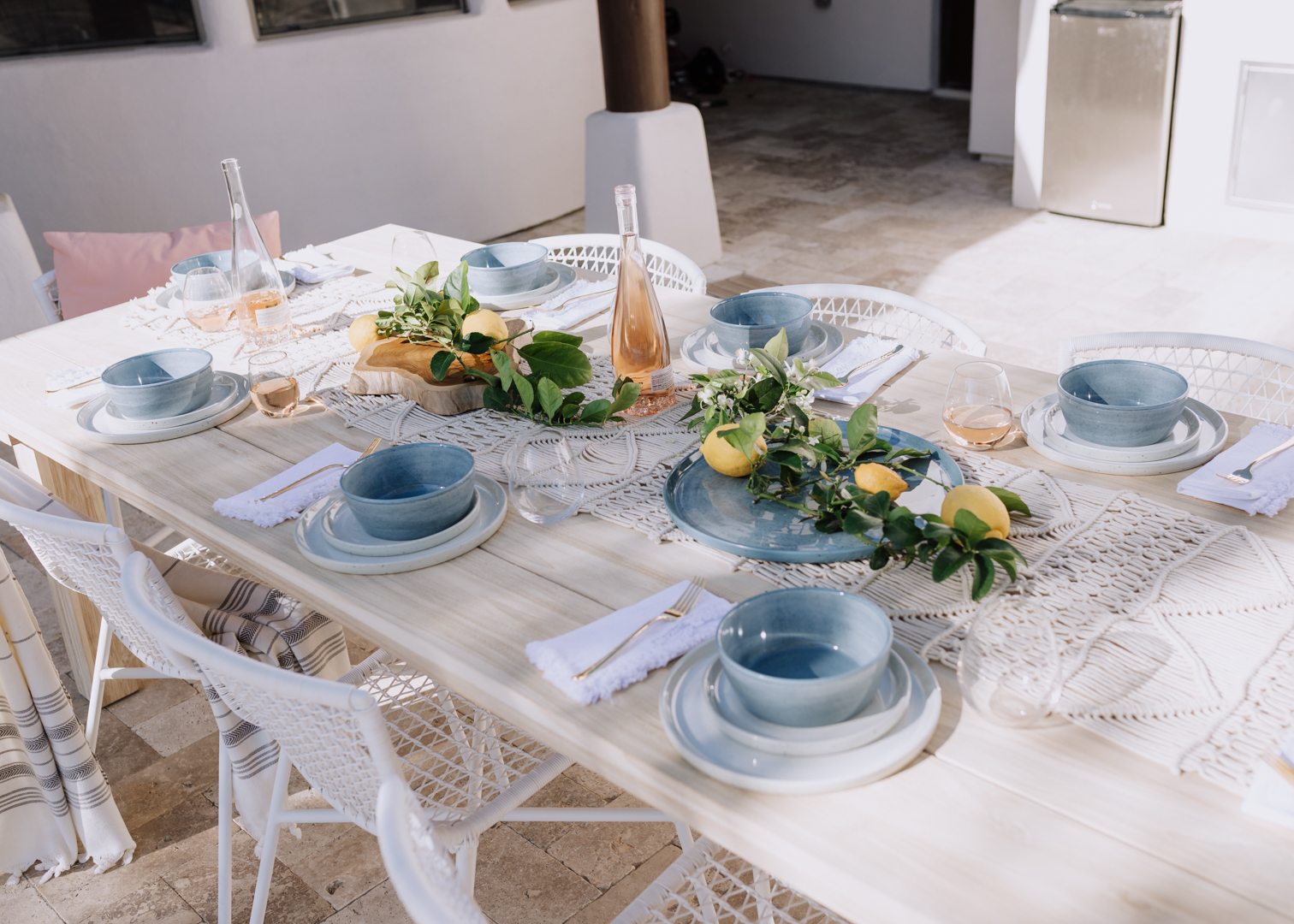 I thought about using these Daisy Chairs as accents for the ends, because they are probably my favorites!  But the Article team was so awesome and let me know right away that because they are a lounge chair, they sit lower than standard dining chairs and probably wouldn't work with this table. I might still snag those for our pool ramada though. More to come on that space soon!
I still have a couple more areas/projects I want to fill in back here, including some deck chairs by the pool, our pool ramada, and a few garden boxes. I have some space set aside in a back corner of the house for what I envision as our garden area, where we already have a grapevine, almond tree, apple tree, and peachtree. We also have citrus trees all around the front and back! I hope to create the garden boxes for vegetables and eventually have a few chickens too, but only time will tell. 😉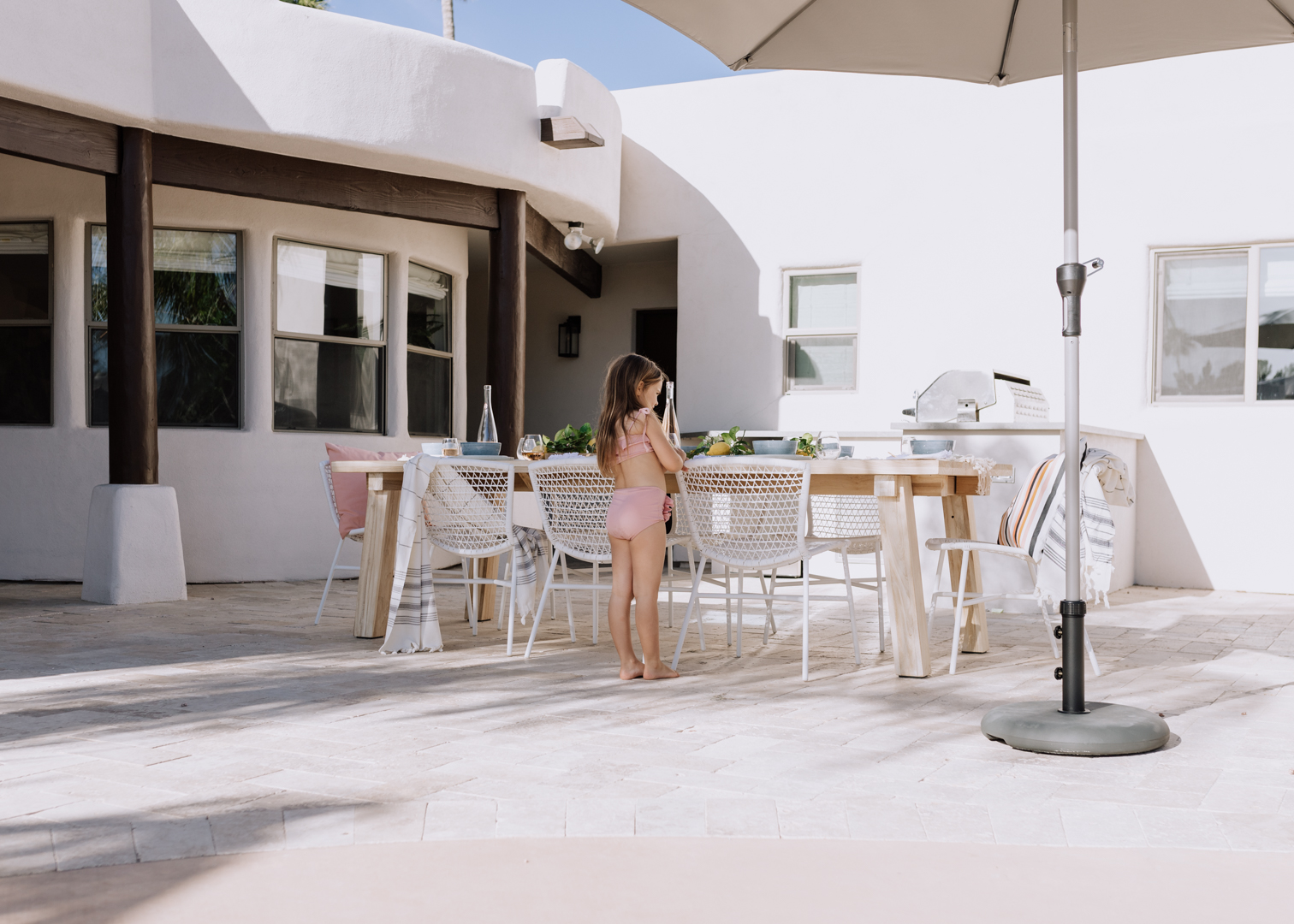 Oh and just because before/afters are SO satisfying, here's a pick of our backyard from the real estate listing two years ago, before we started any construction!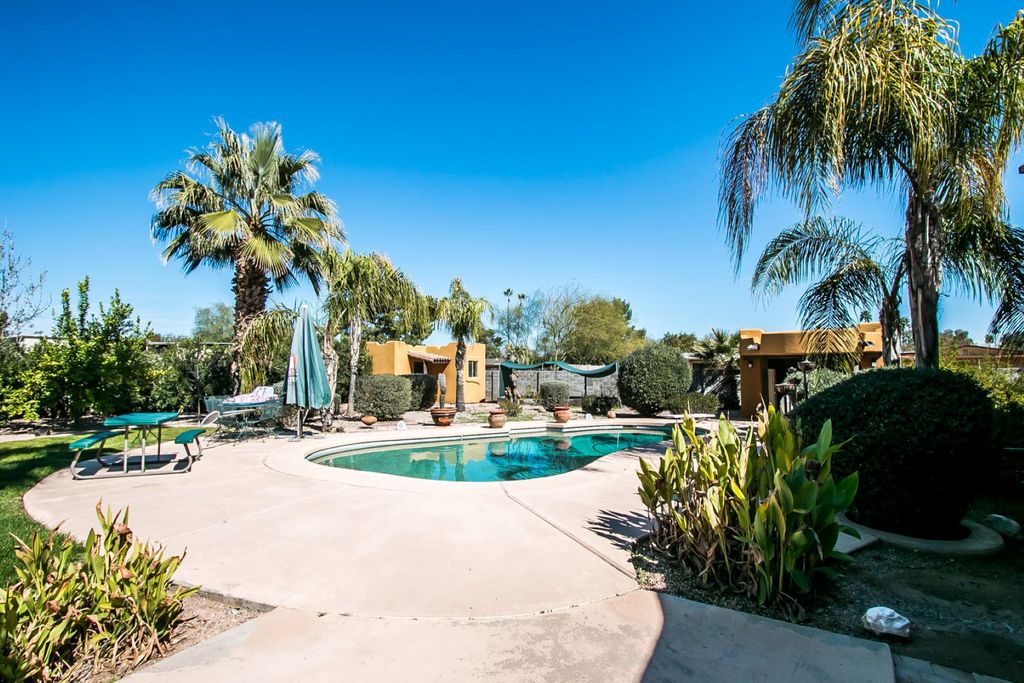 A big THANK YOU to Article for partnering with me to create this space. As always, all opinions expressed here are my own!
And please, let me know if you have any questions about this space and/or the design process in the comments below. xo