This post is a paid promotion by Fisher Price. As always, all opinions expressed here are my own.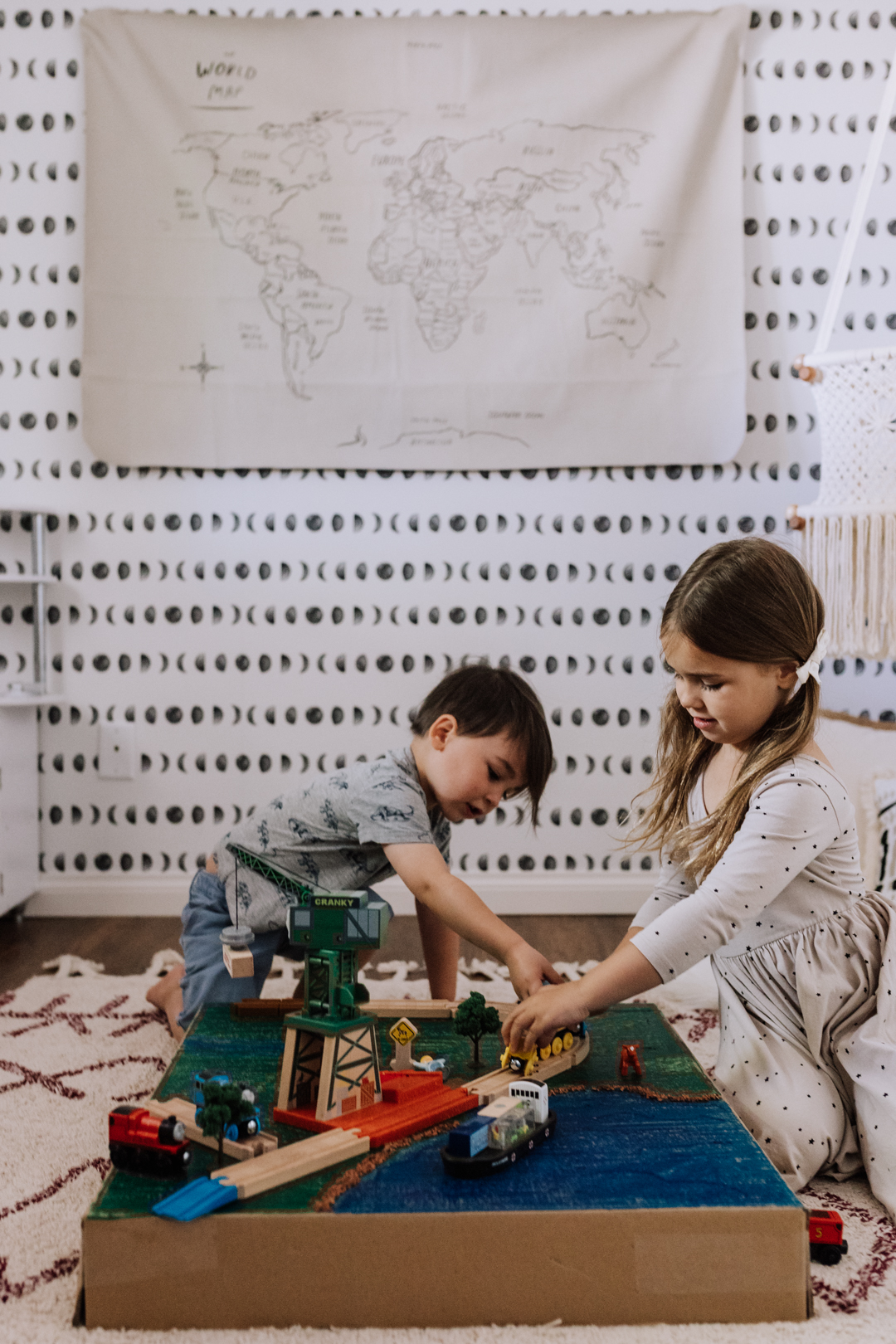 Choo choo! All of my kiddos have loved Thomas the Tank Engine at one point or another in their lives. To tell you the truth, I loved watching it when I was a kid, too! So recently, when we had the opportunity to partner with Thomas & Friends™ to create this post, I knew they would be so excited!
If you've been following along for a while, you probably also know that I prefer quality, wooden toys for the kids. I like the fact that wood is a more sustainable choice, in addition to the durability for years to come. When these train friends arrived, I could immediately see the high quality in the fully painted, premium beech wood engines and the construction of all the little trains and tracks. These little trains look just like they do in the show! My 3-year-old boy's favorite character is 
Thomas
, of course. And my 5-year-old daughter has really taken to 
Rebecca
.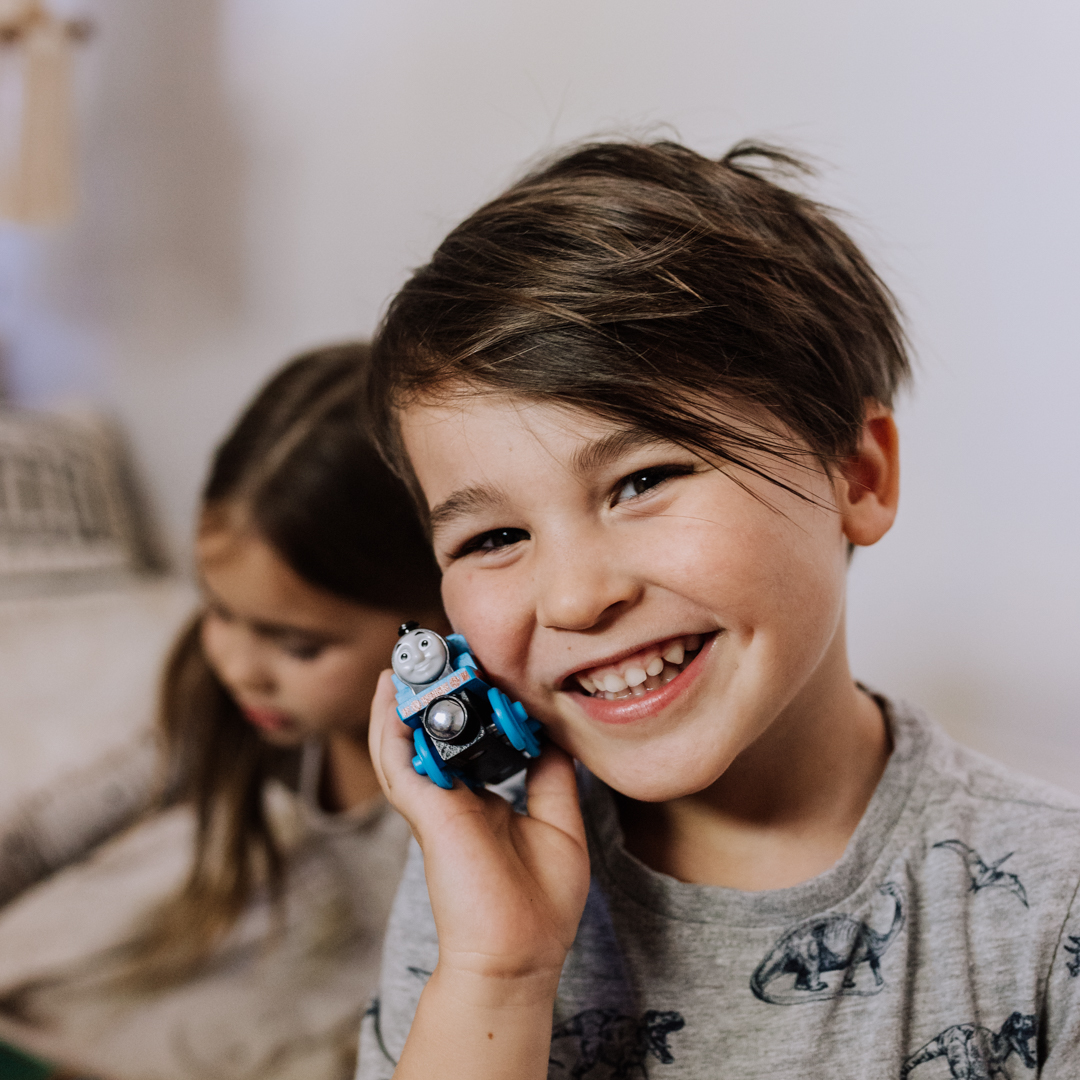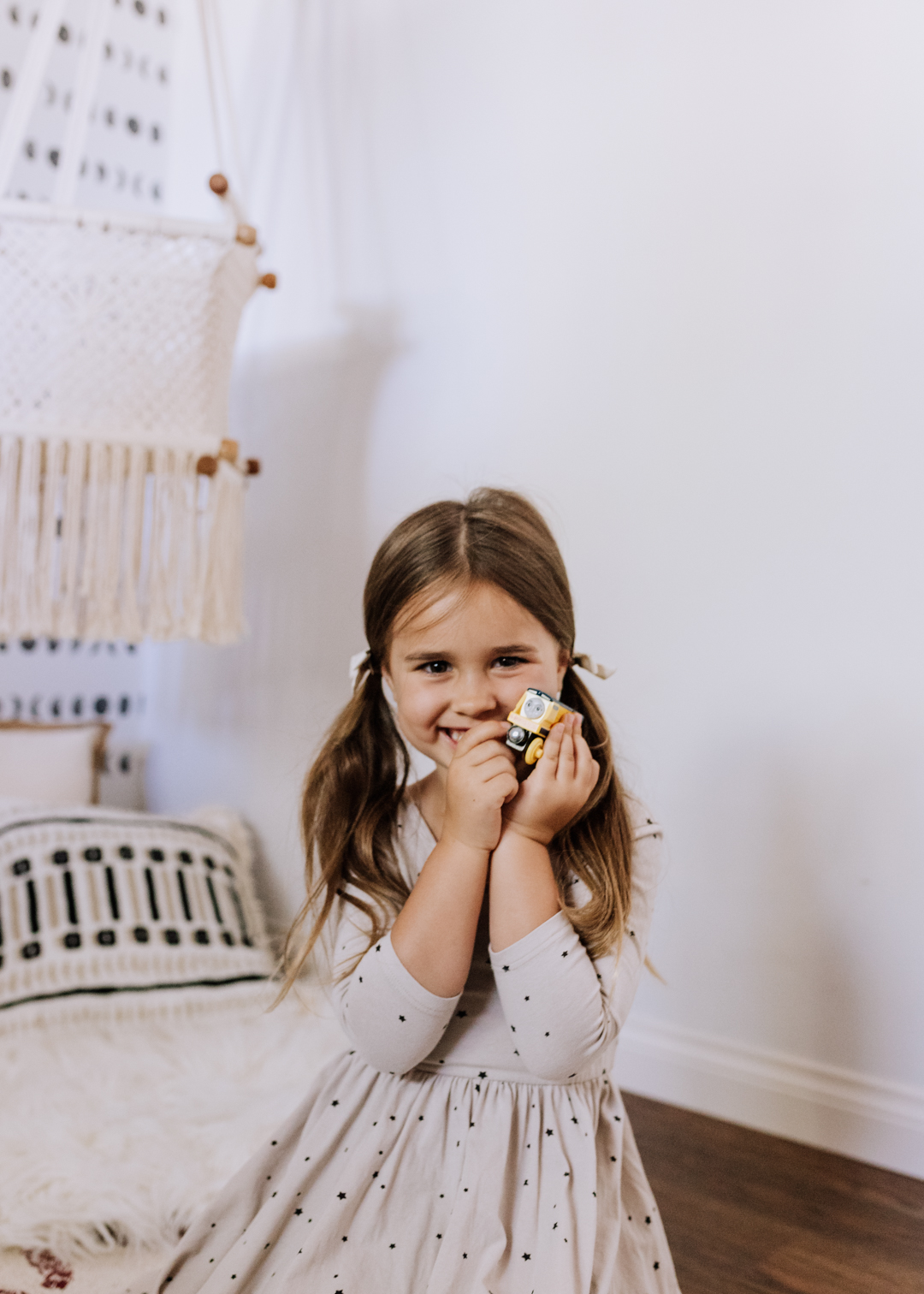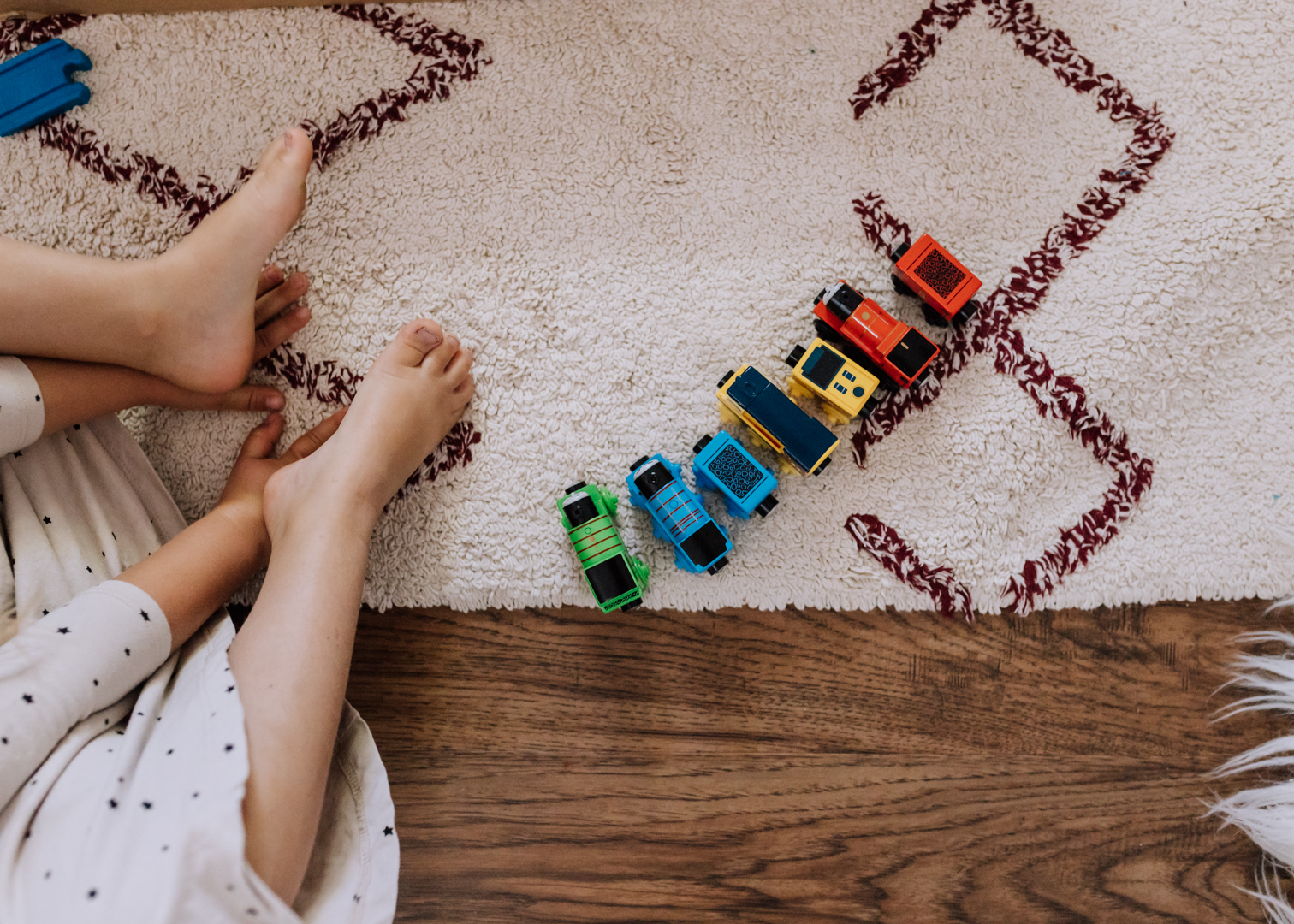 I decided to create our own little island of Sodor for the kids to play with their new Thomas & Friends™  Wood track & train sets. But to tell you the truth, I wasn't really interested in having a big, permanent train table, like you see around so often. The kids' playroom is small, and we try not to keep too many toys in their bedrooms or the rest of the house in general. At the same time, we had just recently gotten a furniture delivery, so we had a lot of extra large pieces of cardboard laying around. With Earth Day coming up, I felt like repurposing some of that cardboard for our own version of the Island of Sodor would just be the thing to do!
I picked up these craft paint sticks, as well as few other things, to create our cardboard train table over the weekend. I set it all up outside so the kids could help me create! Doing this with them reminded me of that one time I made 
these DIY cardboard "busses"
 for the kids a couple of years ago!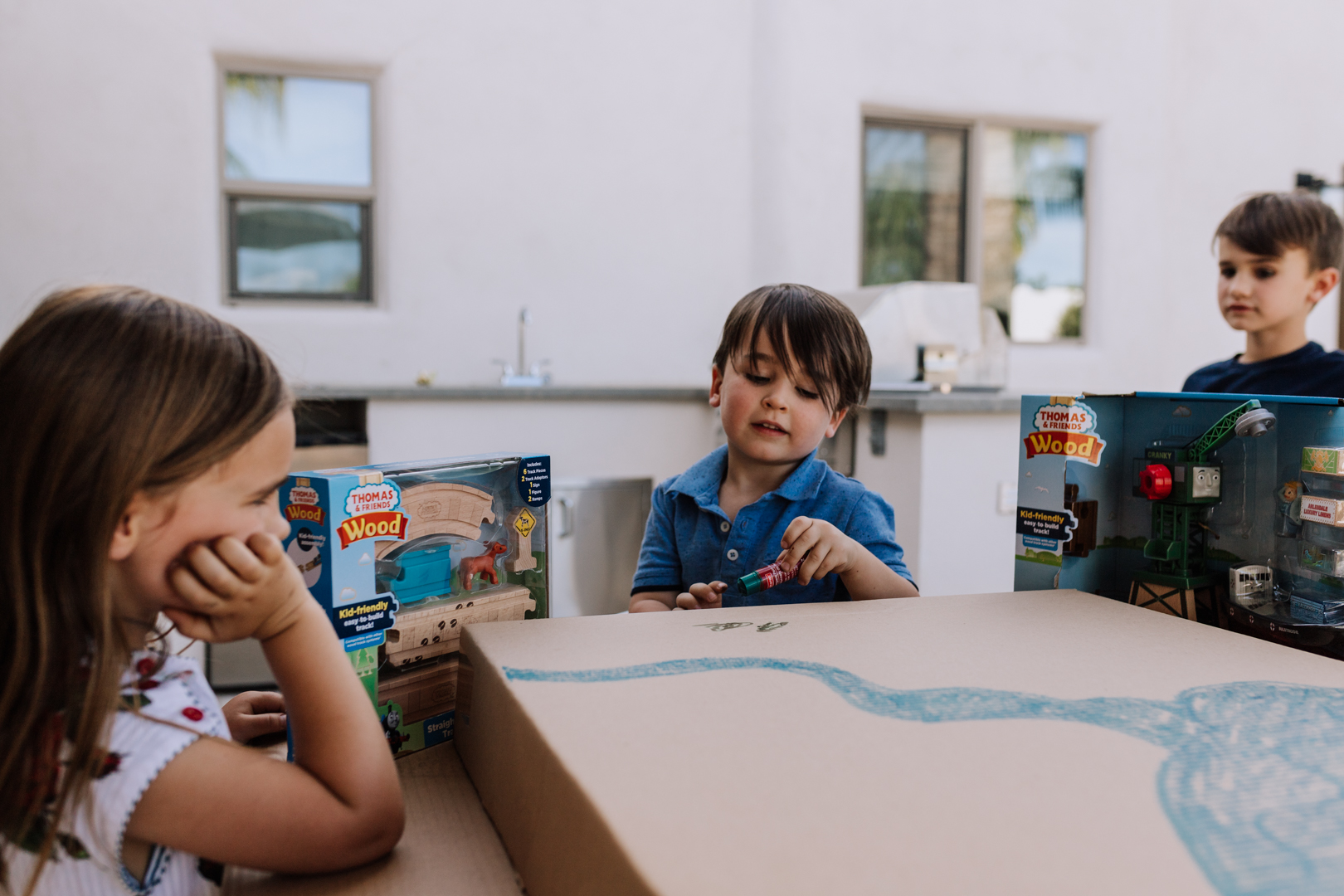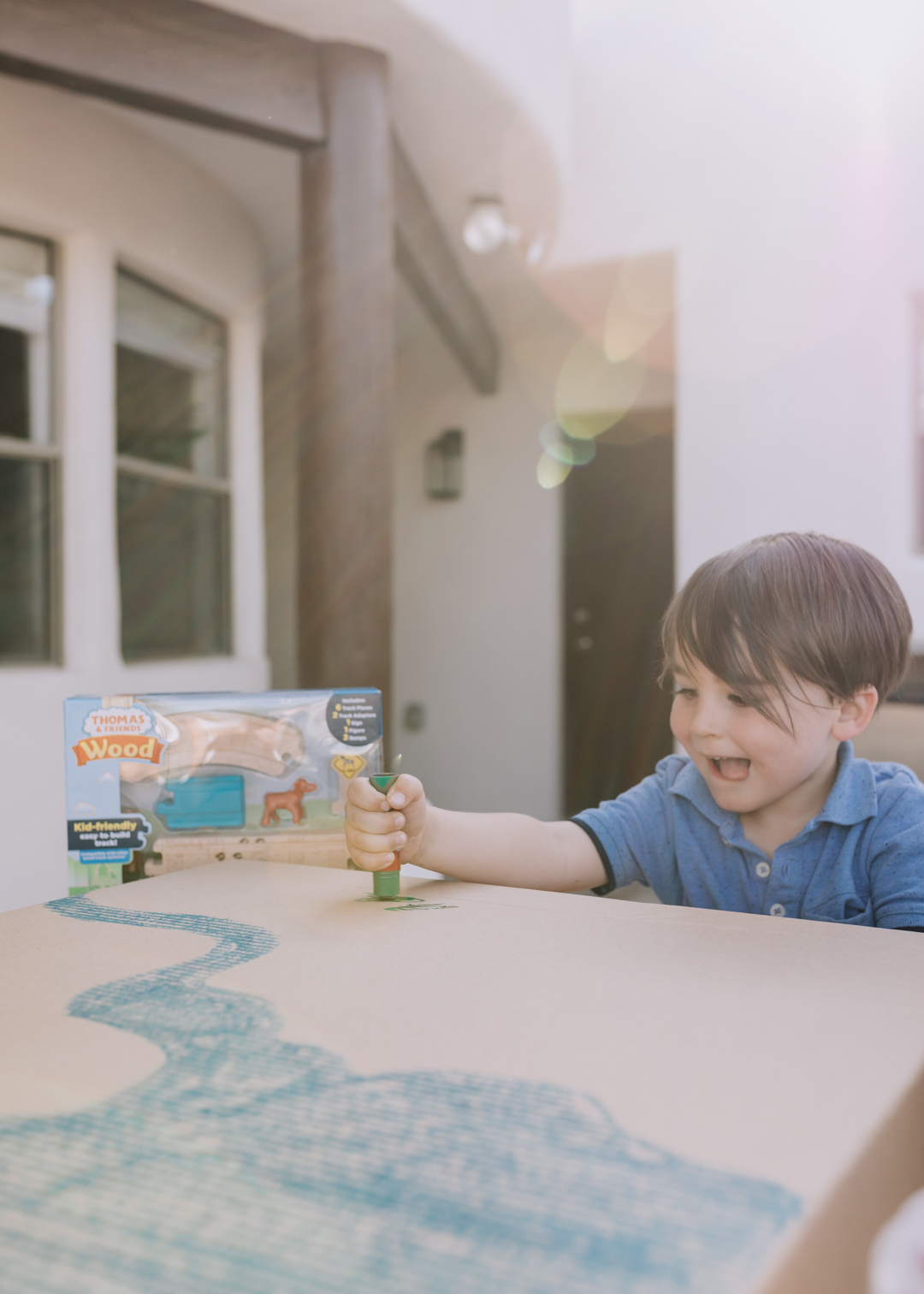 I was originally planning to use four other pieces of cardboard we had to add legs to this top piece and actually make it a table. But when I put them on, the table was really unstable. I was worried that the trains would just fall right off with it being unstable like that. To make this super kid-friendly and accessible, we just placed our Island of Sodor directly on the floor! Thomas & Friends™ didn't seem to mind. 😉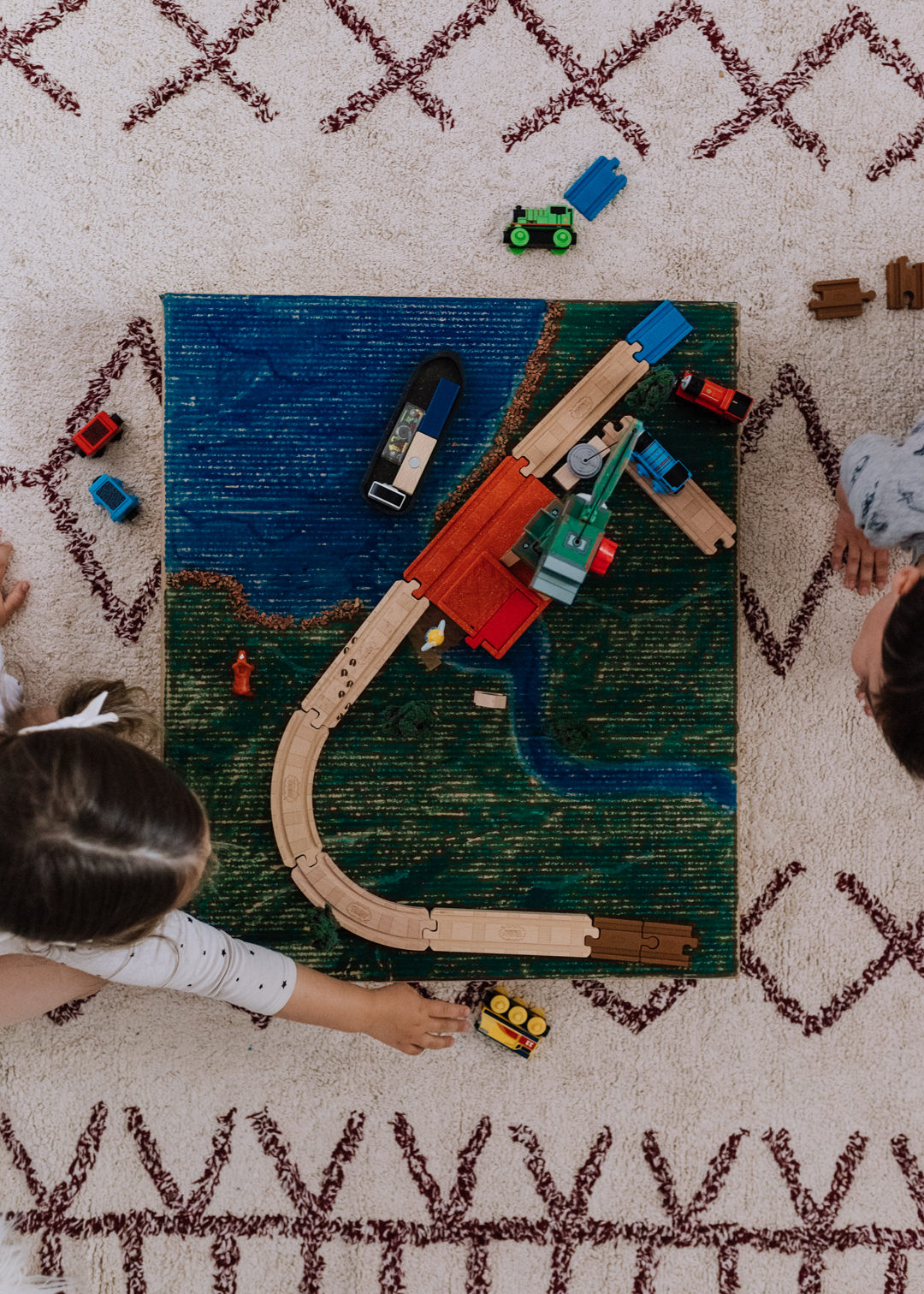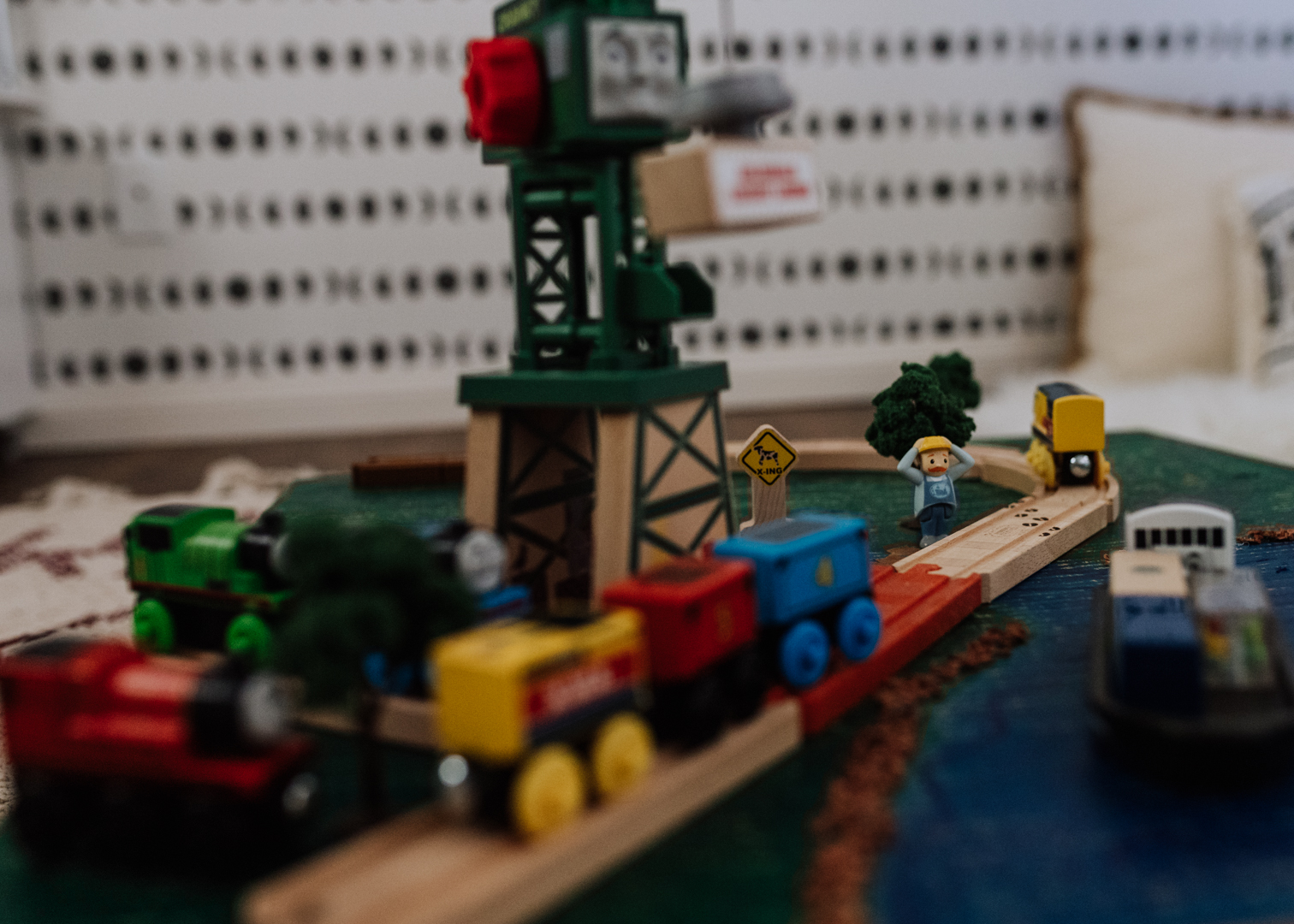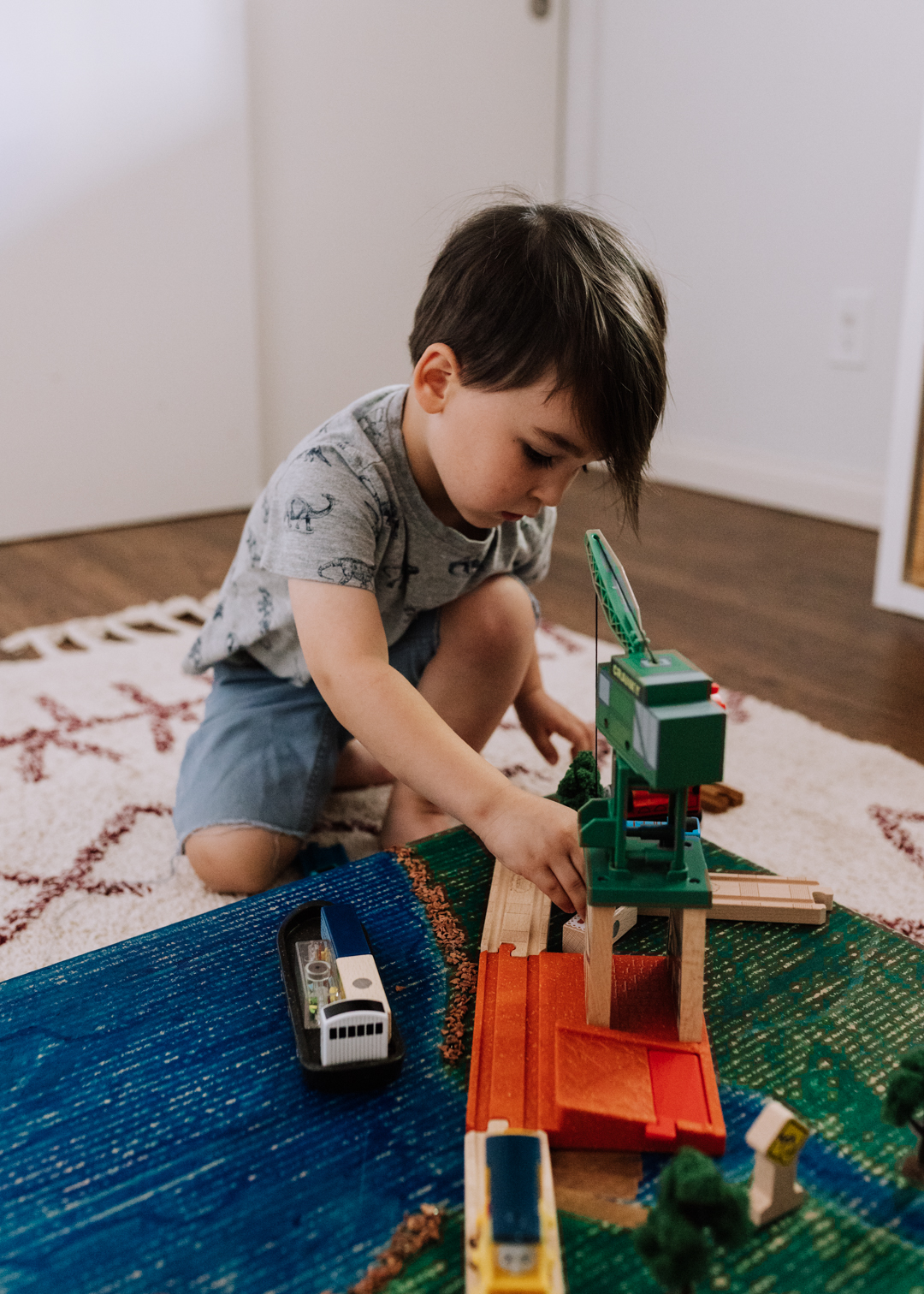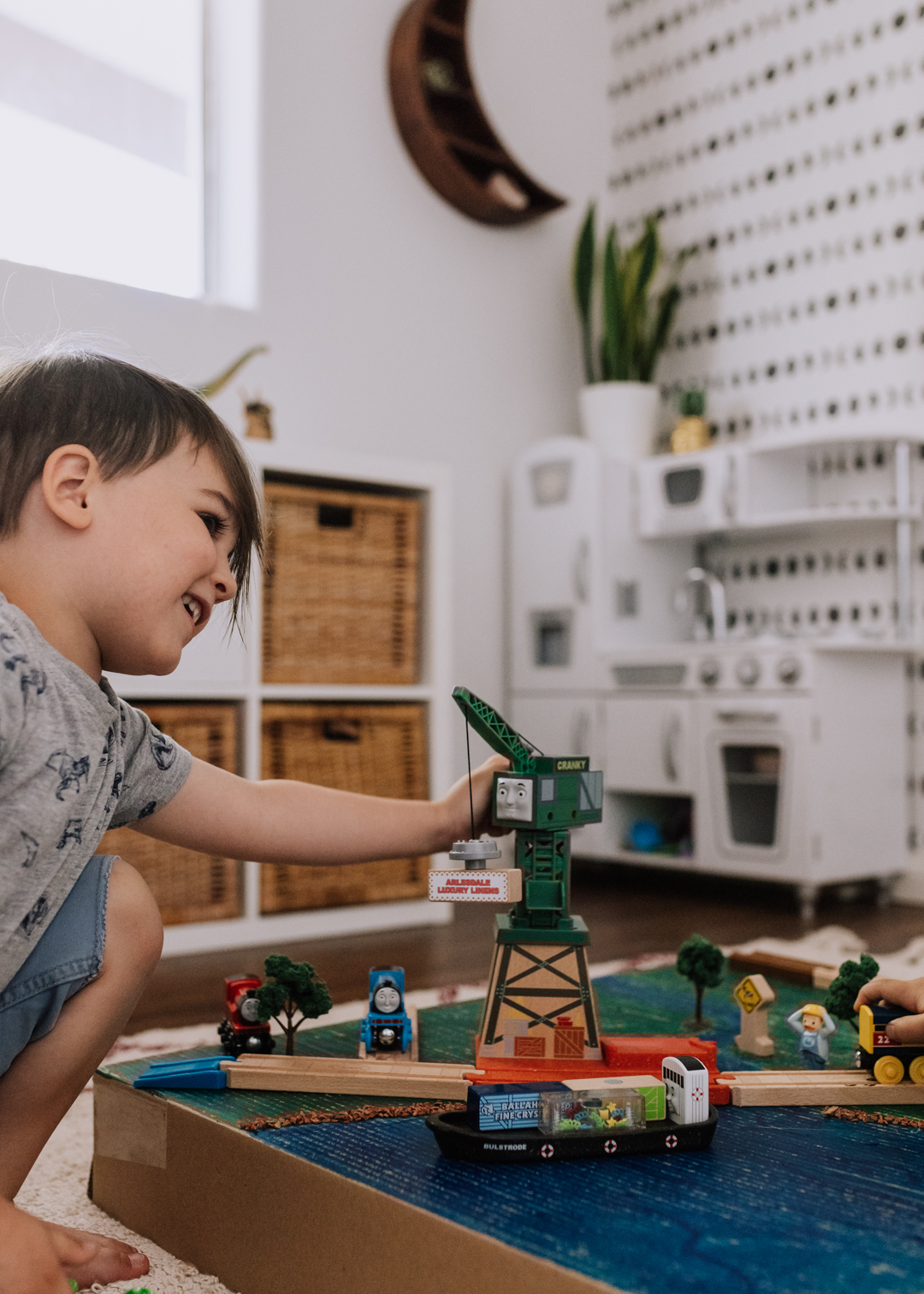 After we set it all up, Cranky the Crane quickly became a favorite too. He is so fun with his little magnetic piece to lift up the loads from Bulstrode the Boat! He also connects to any other Thomas & Friends™ Wood product, so it was easy to integrate him into our home-made Sodor.
In the busy-ness of our everyday life, it's easy for me to forget to actually sit down and 
play
 with my kids. Sounds crazy writing that out, but if you're a busy parent, you get it. This was such a fun and simple project that allowed us to get creative and have some FUN together. If your kids love 
Thomas & Friends™  Wood track 
&  train sets, I'd love to hear their favorite characters in the comments below. And if you create your own version of this DIY cardboard train table, let me know how it turns out!