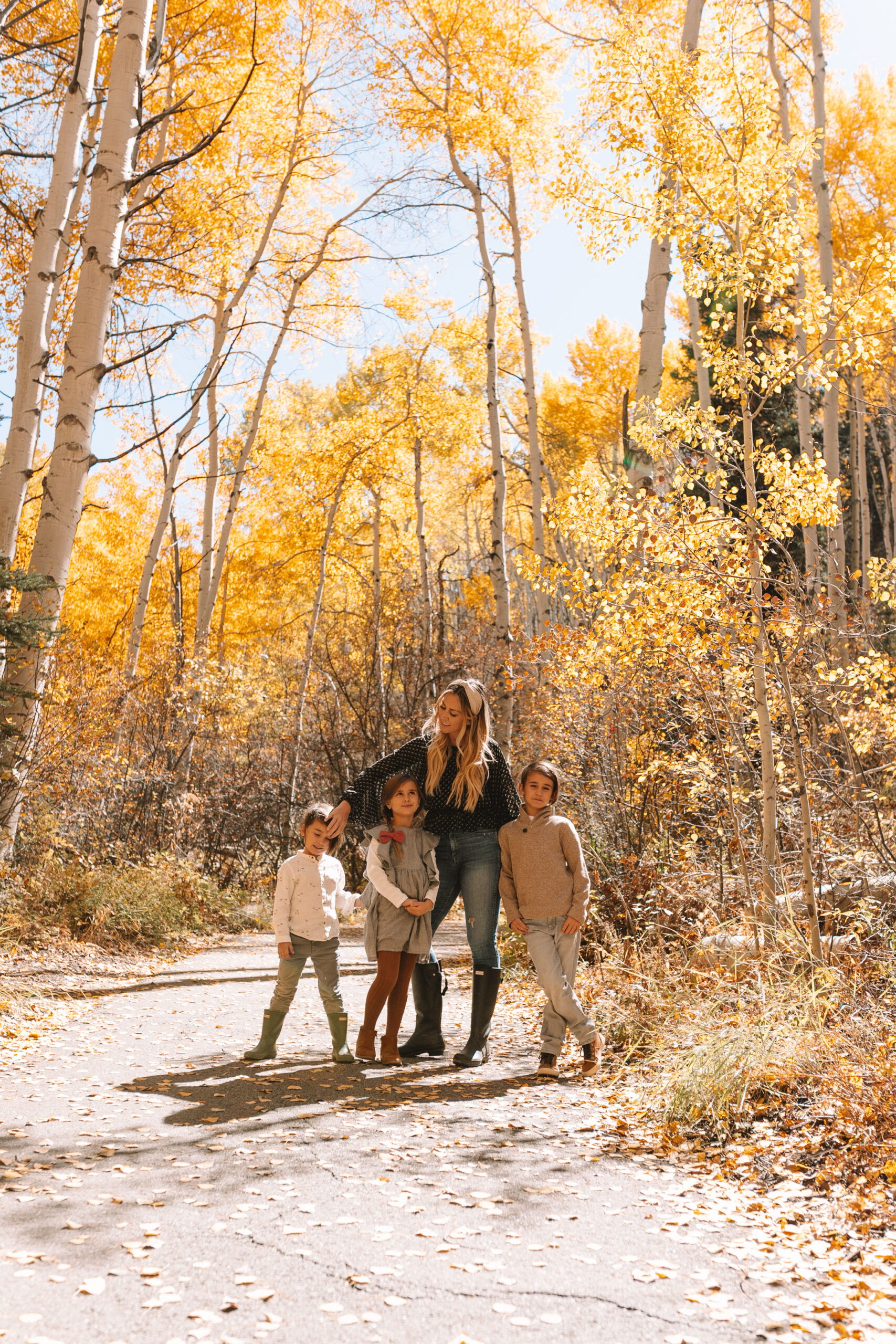 Living here in Arizona, we don't really get traditional autumn, as temps stay in the 90s-100s well through October. A couple of years ago, our family was invited to South Dakota for a fall trip. It turned out to be such a magical experience I never even knew my heart needed of true fall with the kids in a more traditional way of apple picking, fall festivals, and most importantly, cooler temps. It inspired me to make a point of finding fall for my kids and our family. We might not be able to do a fall trip like this every year, but this year, things came together and we made it happen!
If you saw my post this summer about our road trip then, you know that the first part of that was up through Moab, Utah, and then for a stay with my sister, who lives near Aspen, Colorado. I was so taken with the beauty of Aspen, I knew we needed to go back soon! Even though I grew up in Colorado, it's actually a pretty big state and I hadn't ever spent much time in Aspen as a kid. It had always been a dream of mine to see the famous golden aspen tree leaves changing up here at some point in my life.
The breathtaking changing colors of the aspen trees only happens within just 3-4 weeks (usually in late September – early October) every year. If you go earlier, they will be more green, and later, they will all be on the ground already. When I learned my kids' fall break was right during that peek leaf-turning time, the stars were aligned and we started planning our trip!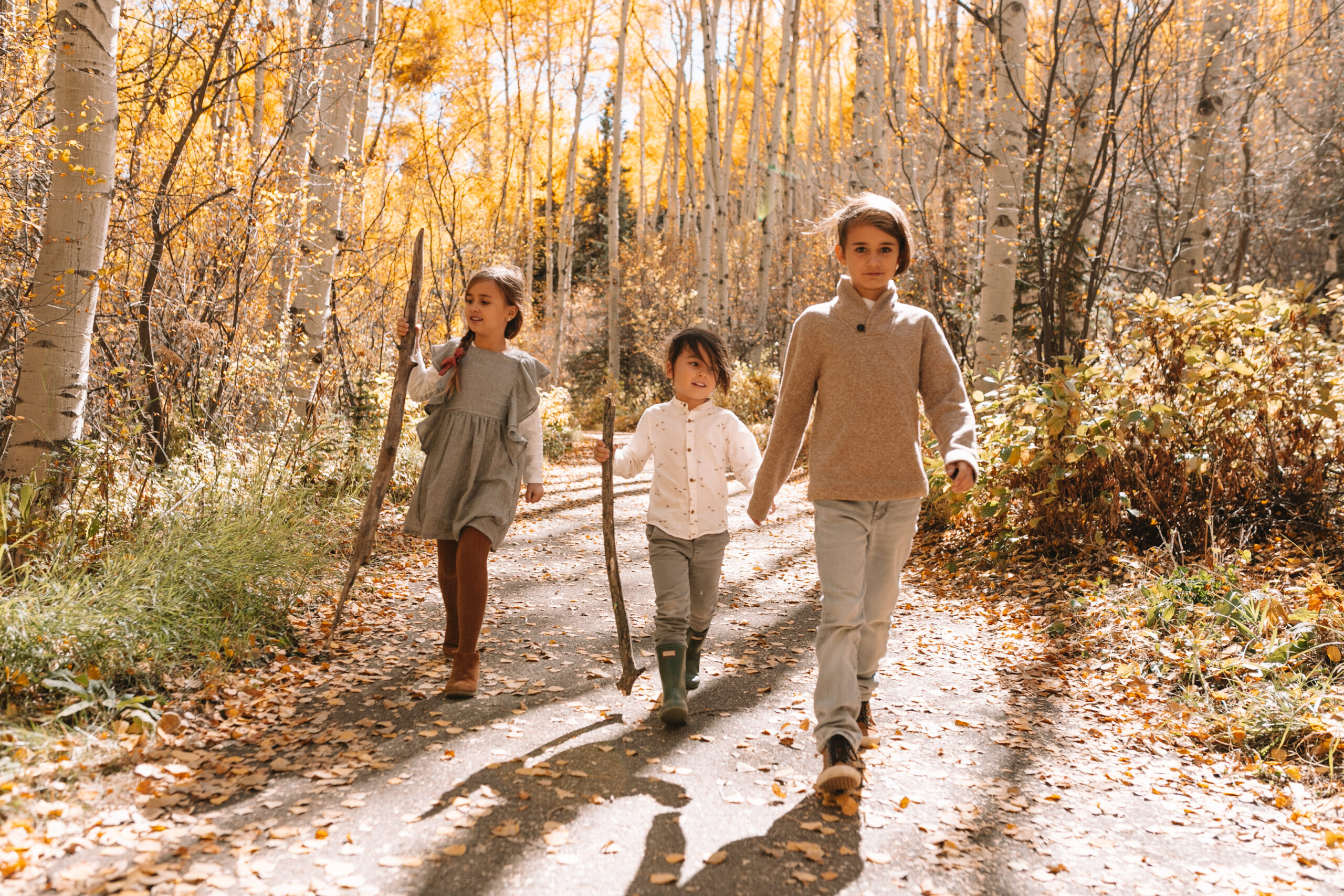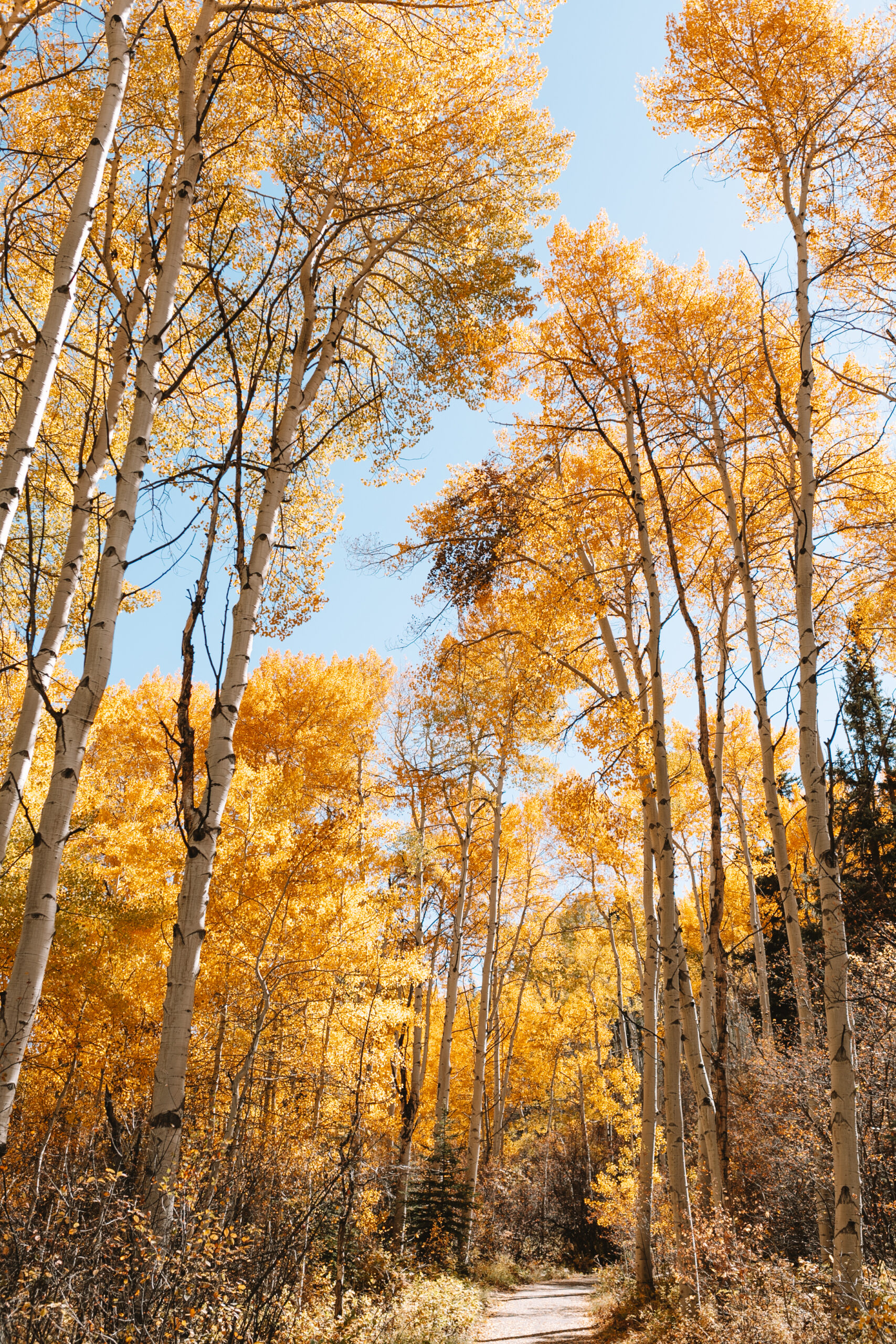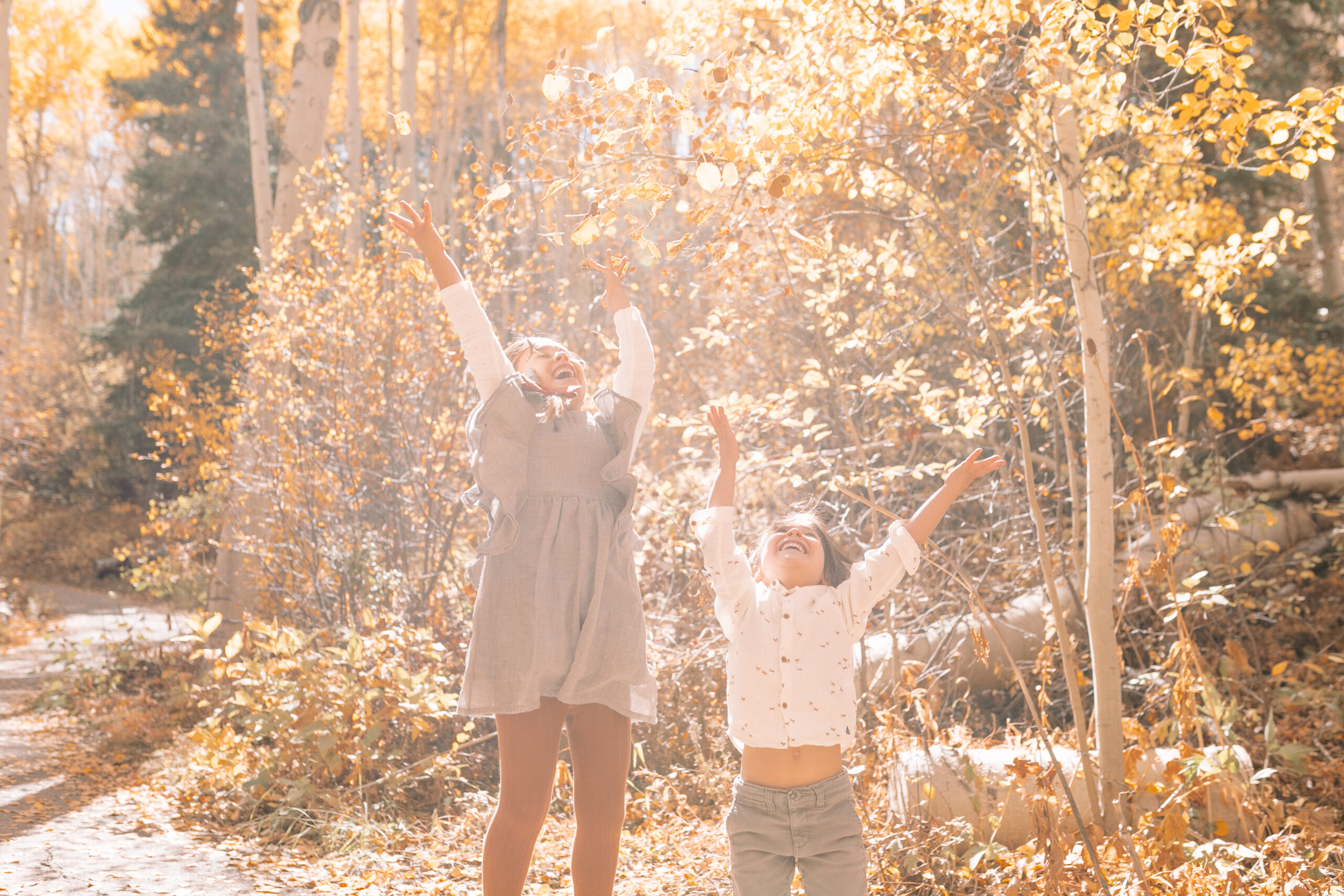 Oh, but I'm getting ahead of myself! So again on this trip, as with our summer road trip, we decided to go through Moab, Utah on our way up from Phoenix. We for sure could've driven all the way through (it's about 10-11 hours, with stops, from Phoenix to Aspen), but it's nice with the kids to take more frequent breaks. Backstory: this summer I had originally intended to stay at Under Canvas in Moab with the kids, but our reservation fell through then, so we had to get alternate accommodations. So we had a credit there, which worked out perfectly. *This is not sponsored, but I have been wanting to try out "glamping" for some time now, and have had my eye on these Under Canvas properties.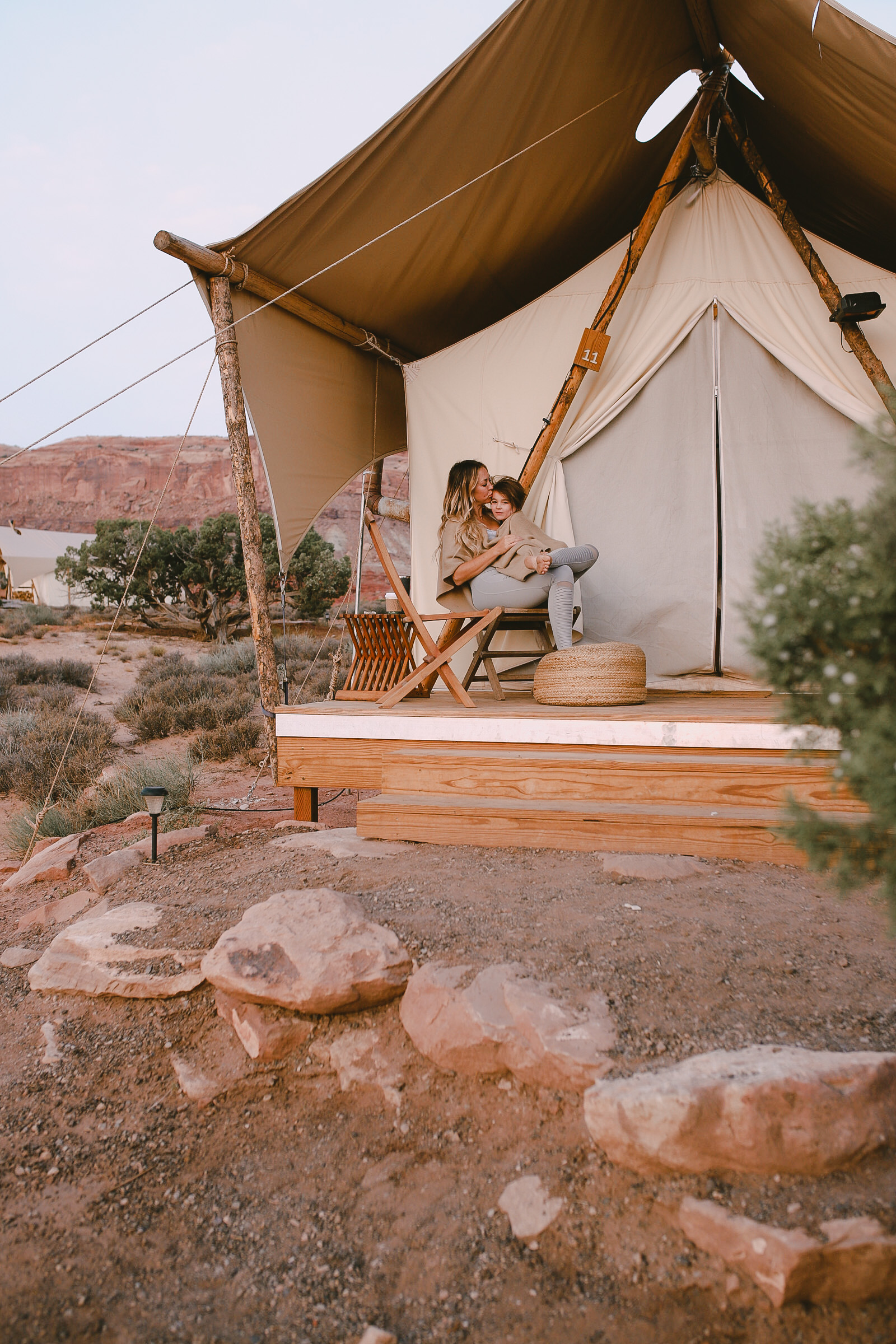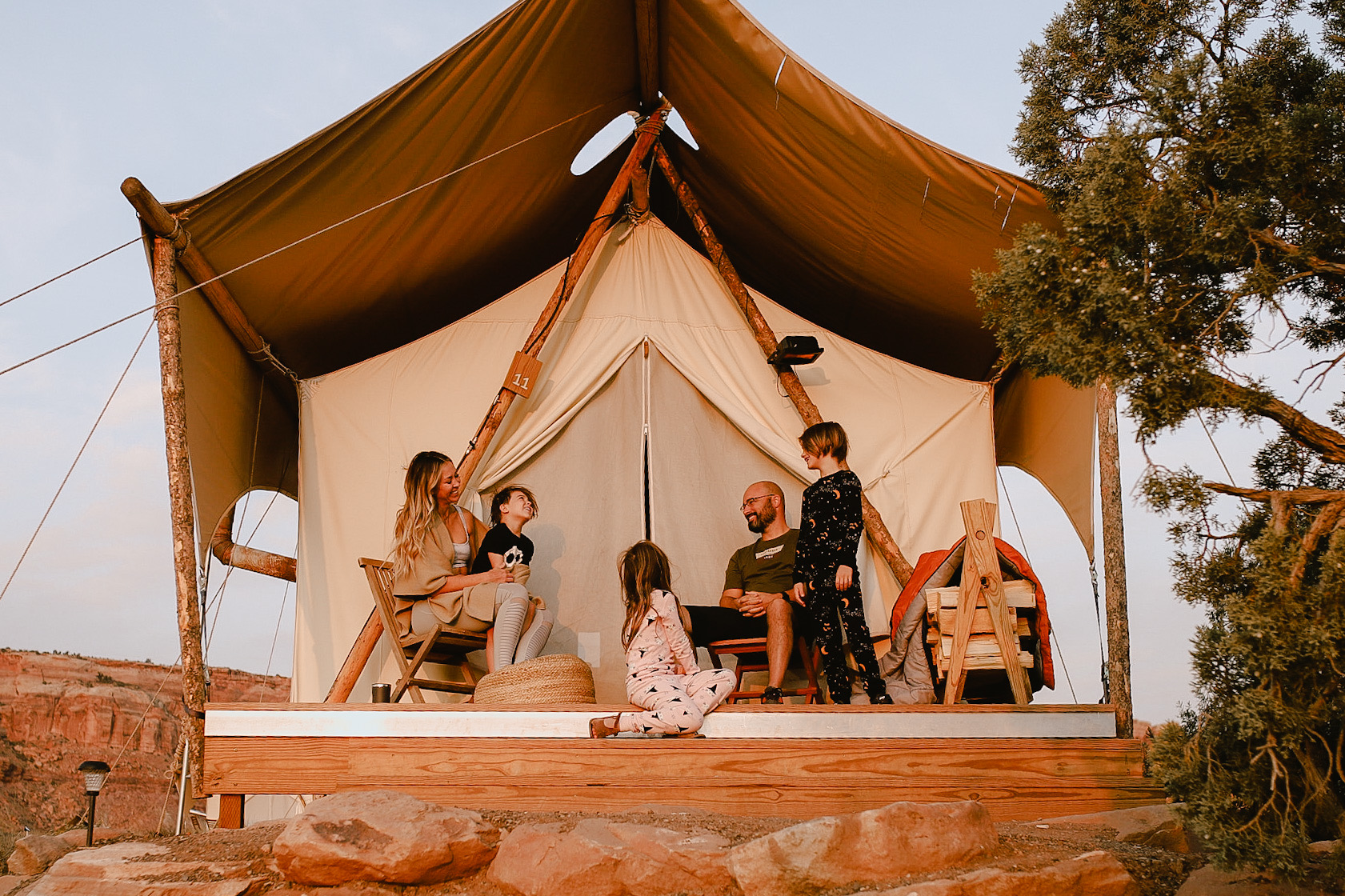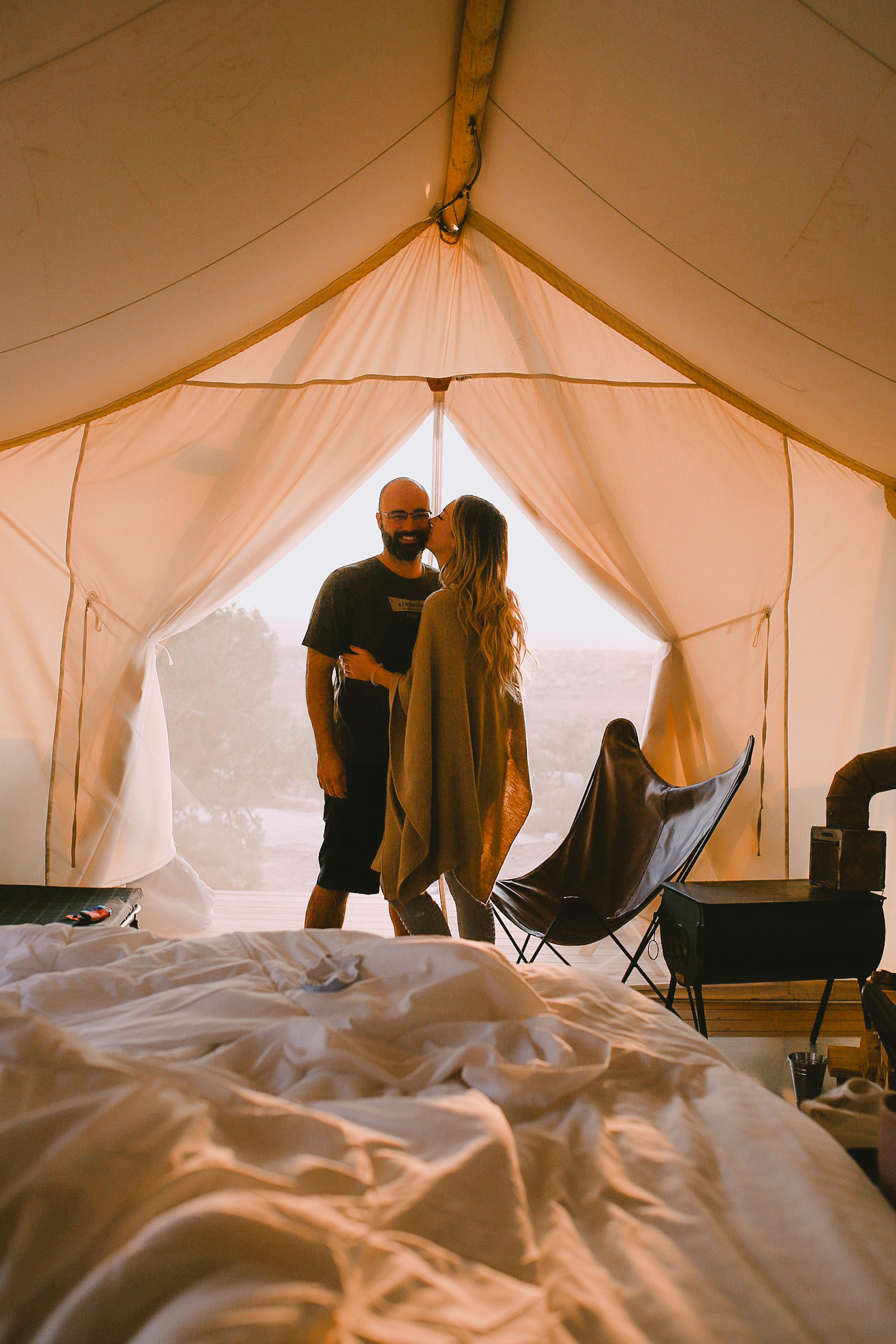 on me: moto leggings | sweater (similar) on the kids: pajamas
I couldn't get enough of these cute safari-style tents. We were only there for the one night, so we made the most of it and enjoyed both the sunset and sunrise from our little porch, had s'mores and listened to live music by the fire, and I did a sunrise yoga class in the morning. Then we took a hike/bike ride through part of Arches National Park before hitting the road again for our final leg to Aspen. We even met a pretty famous celebrity on the trail. Any guesses who it could've been? 😉 You can see the whole thing (minus the celebrity sighting, no photo evidence of that) in this little 15-second video I made on my Instagram Reels.
On our first day in the mountains of Colorado, we decided to take yet another drive to a local apple orchard. The drive was unbelievably beautiful through the mountain passes with the trees lit up with all the fall colors.
We went to Big B's Fruit Orchard for their u-pick, although they were unfortunately pretty picked over already. But the orchard store had a lot of great fruit for us to take home. They also had a cute little restaurant where we had lunch and the grownups got hard apple cider. We sipped our cider and listened to live music while the kids played on a small play structure and these fun rope swings for hours. The weather was absolutely perfect and it was overall such an amazing family day.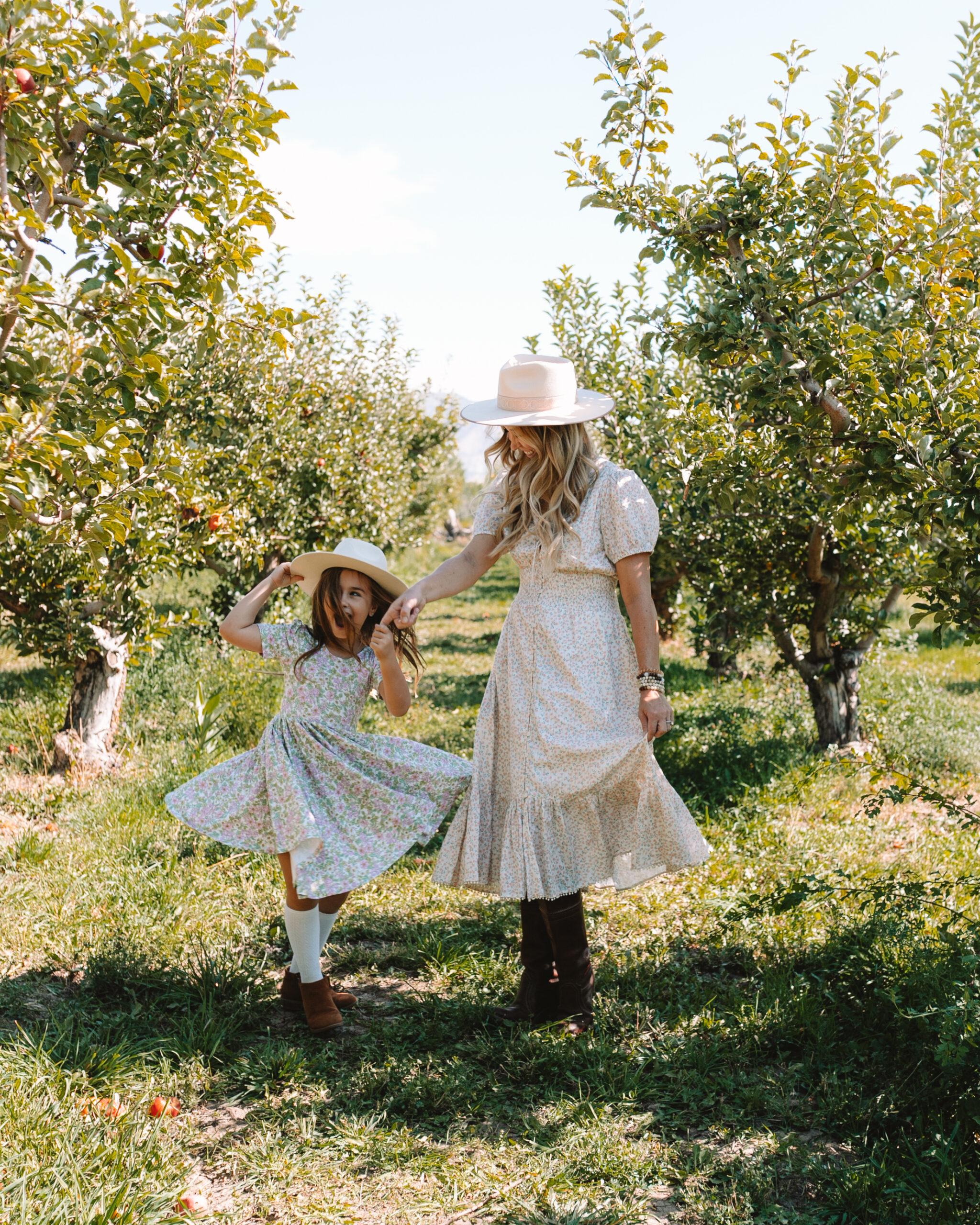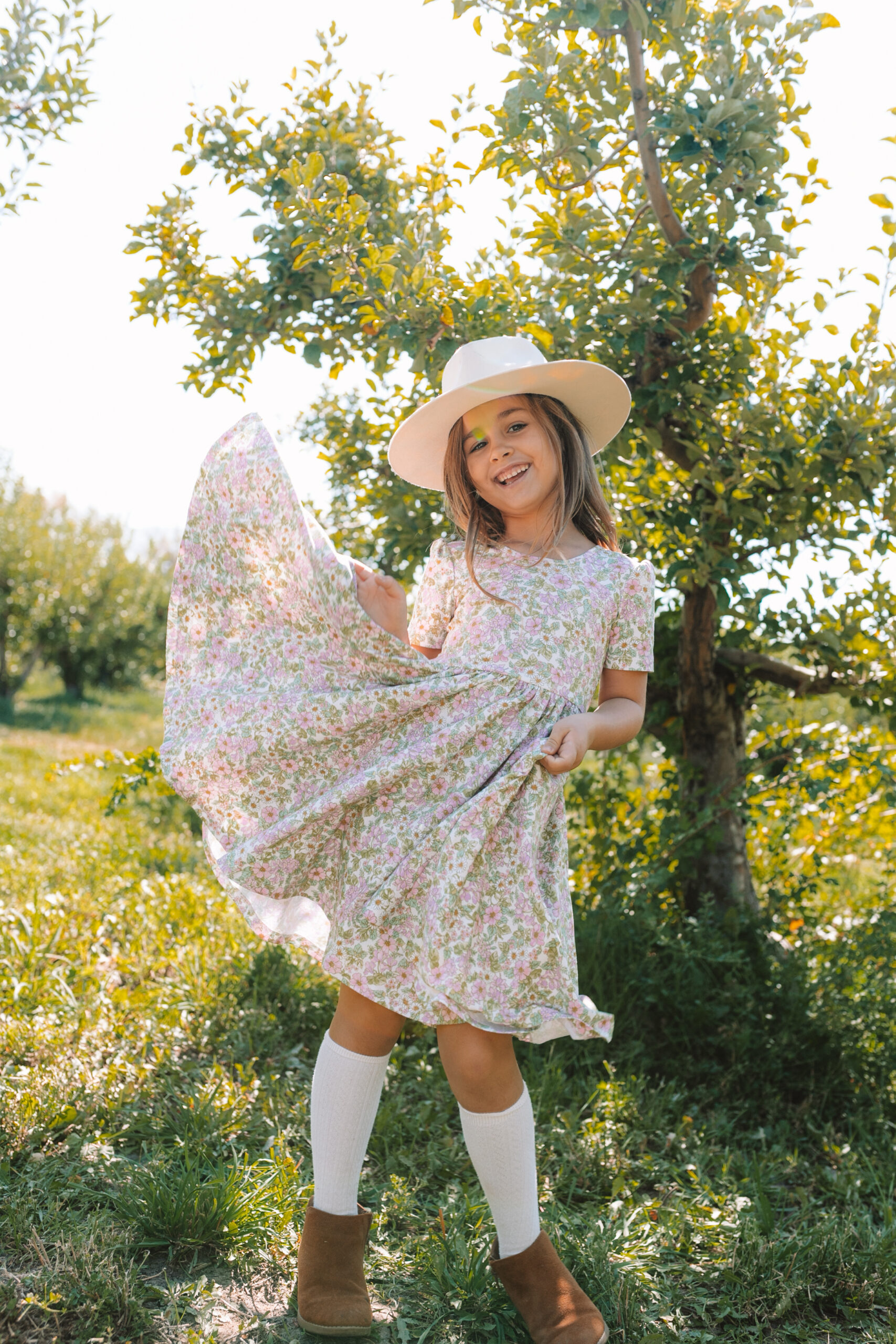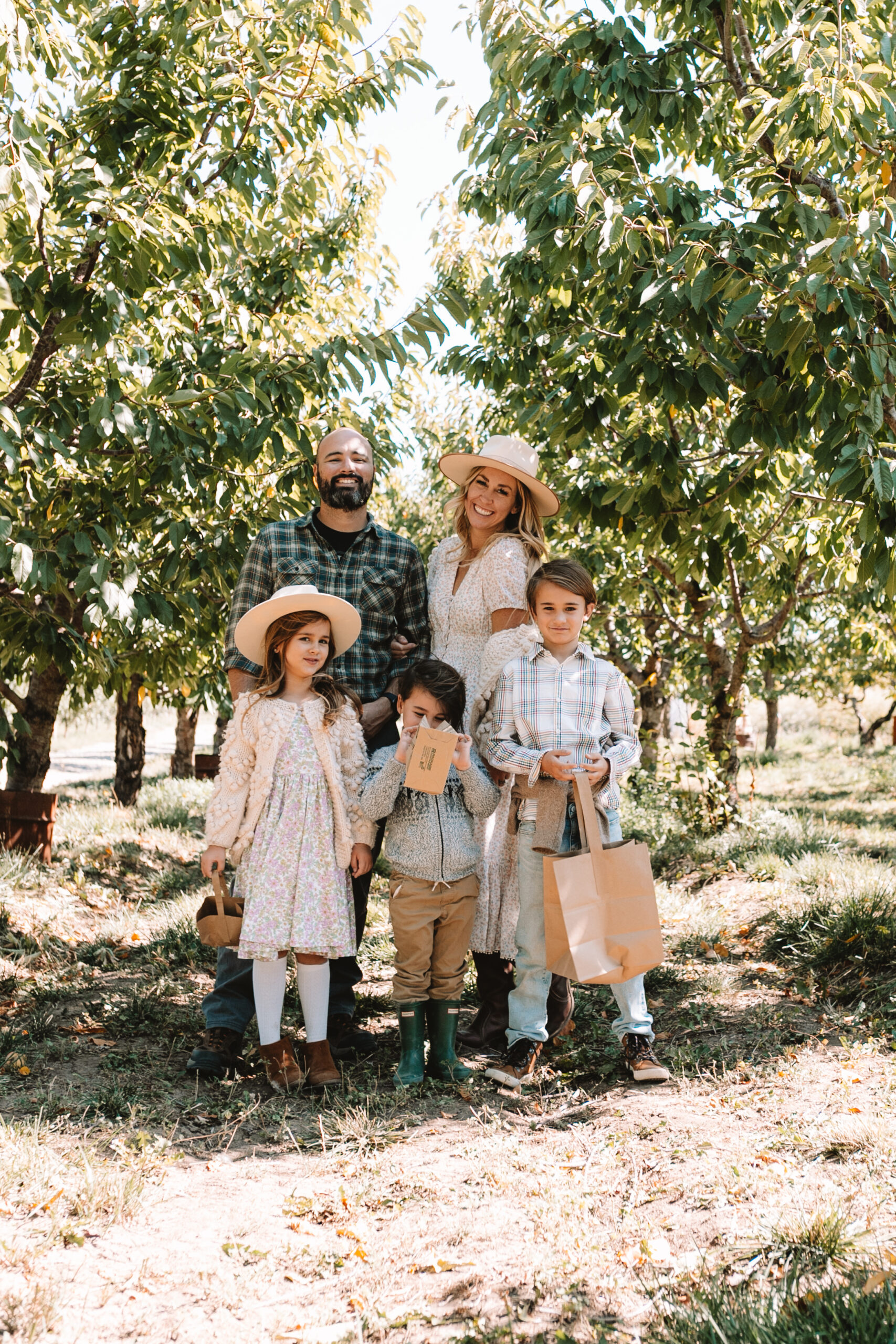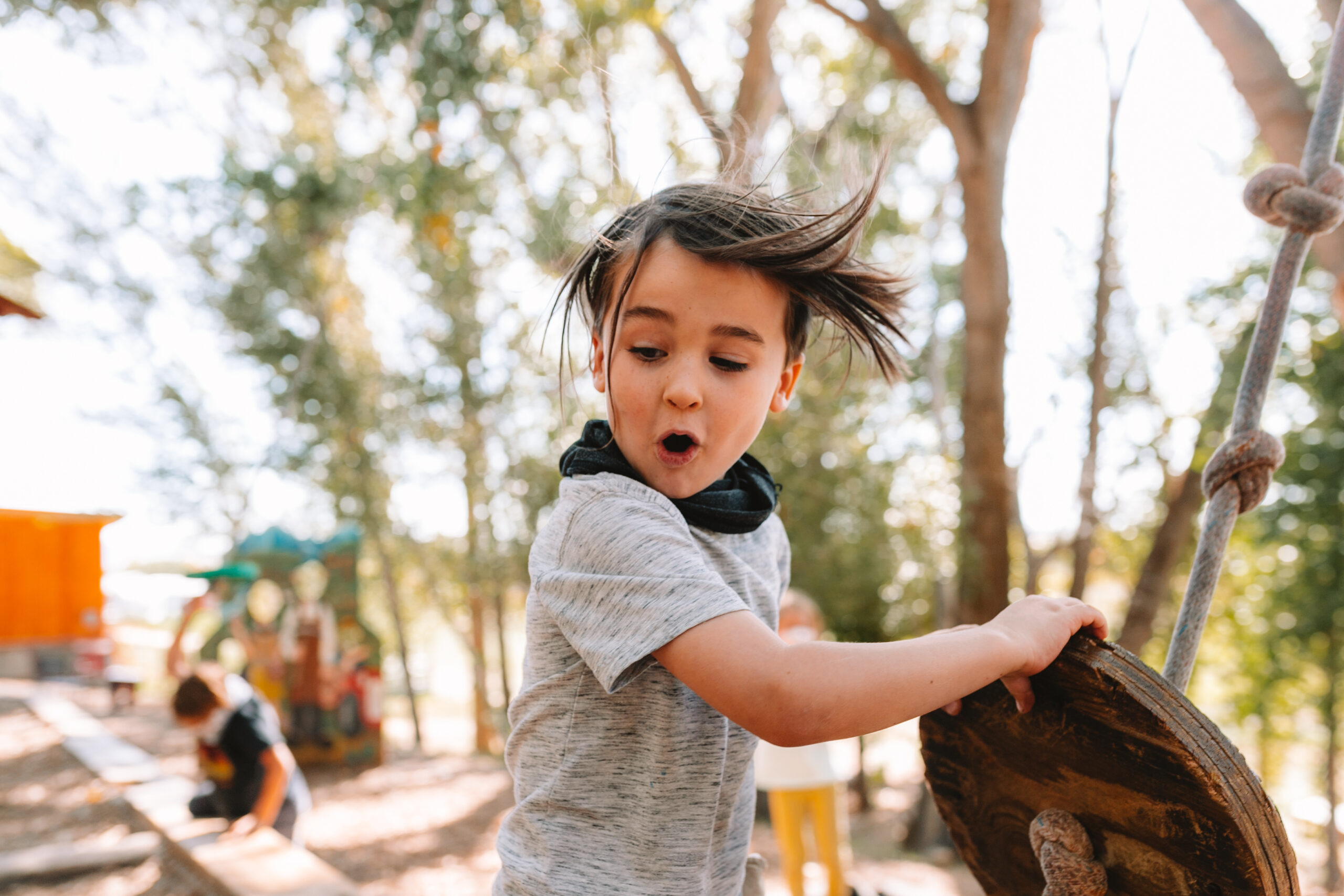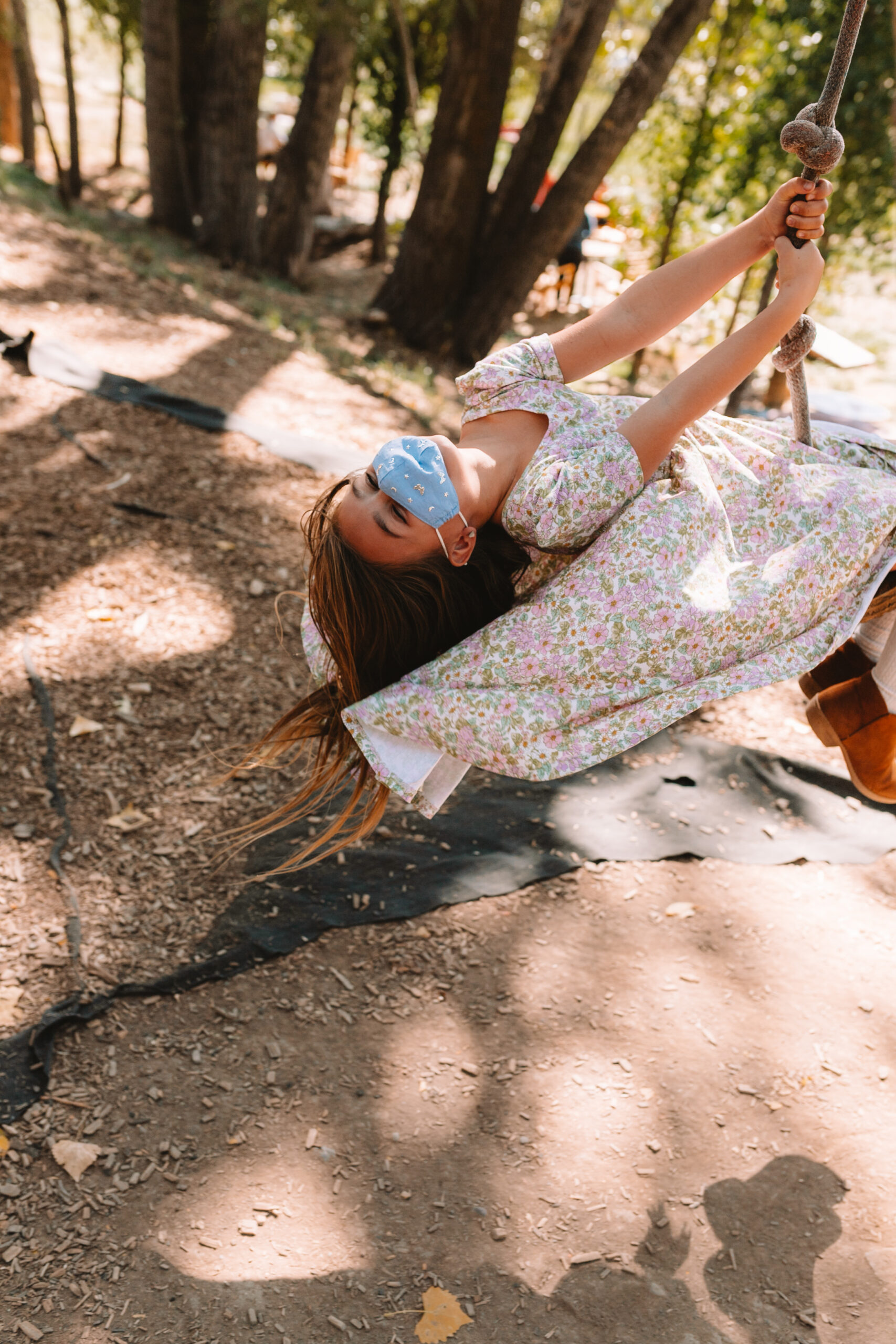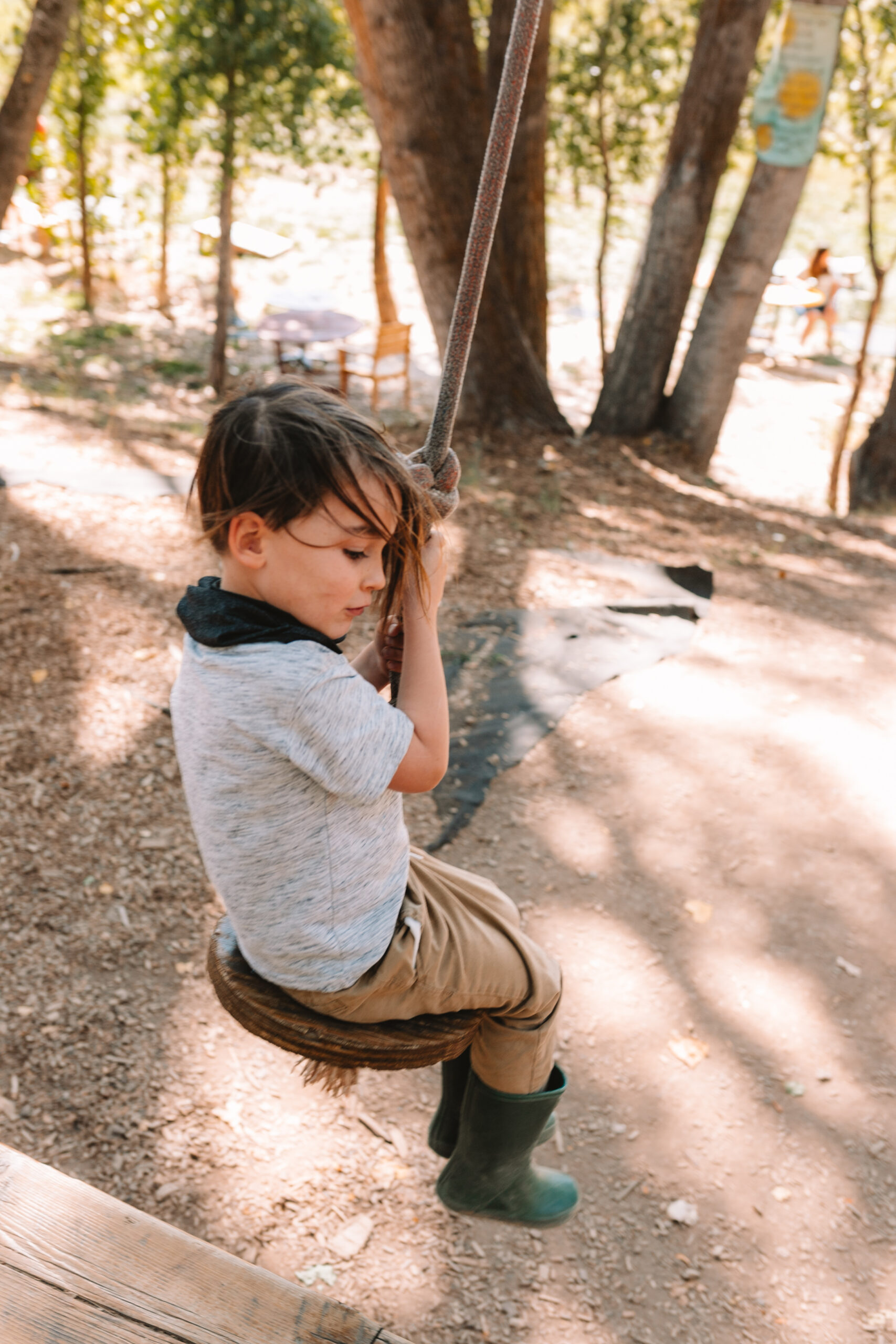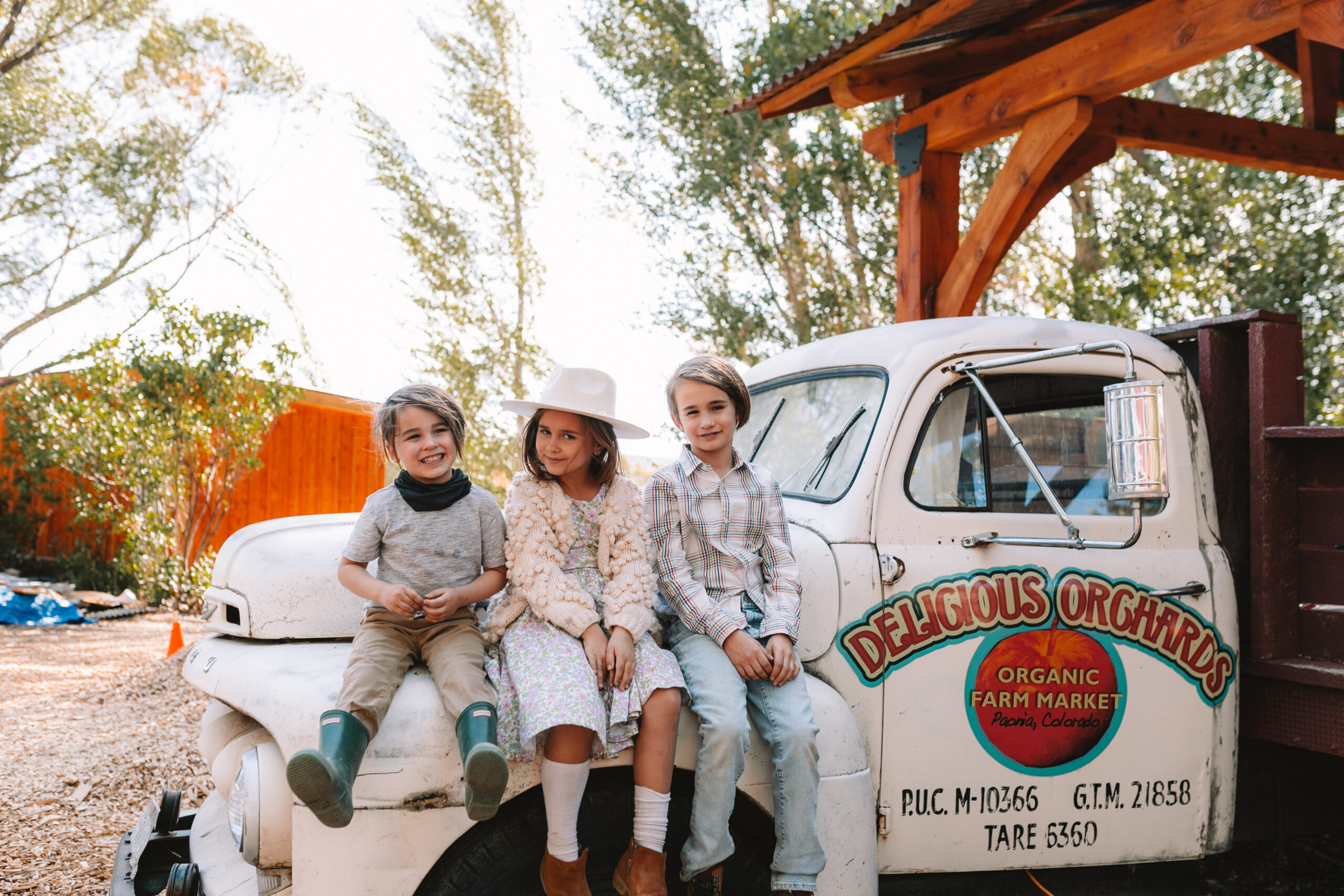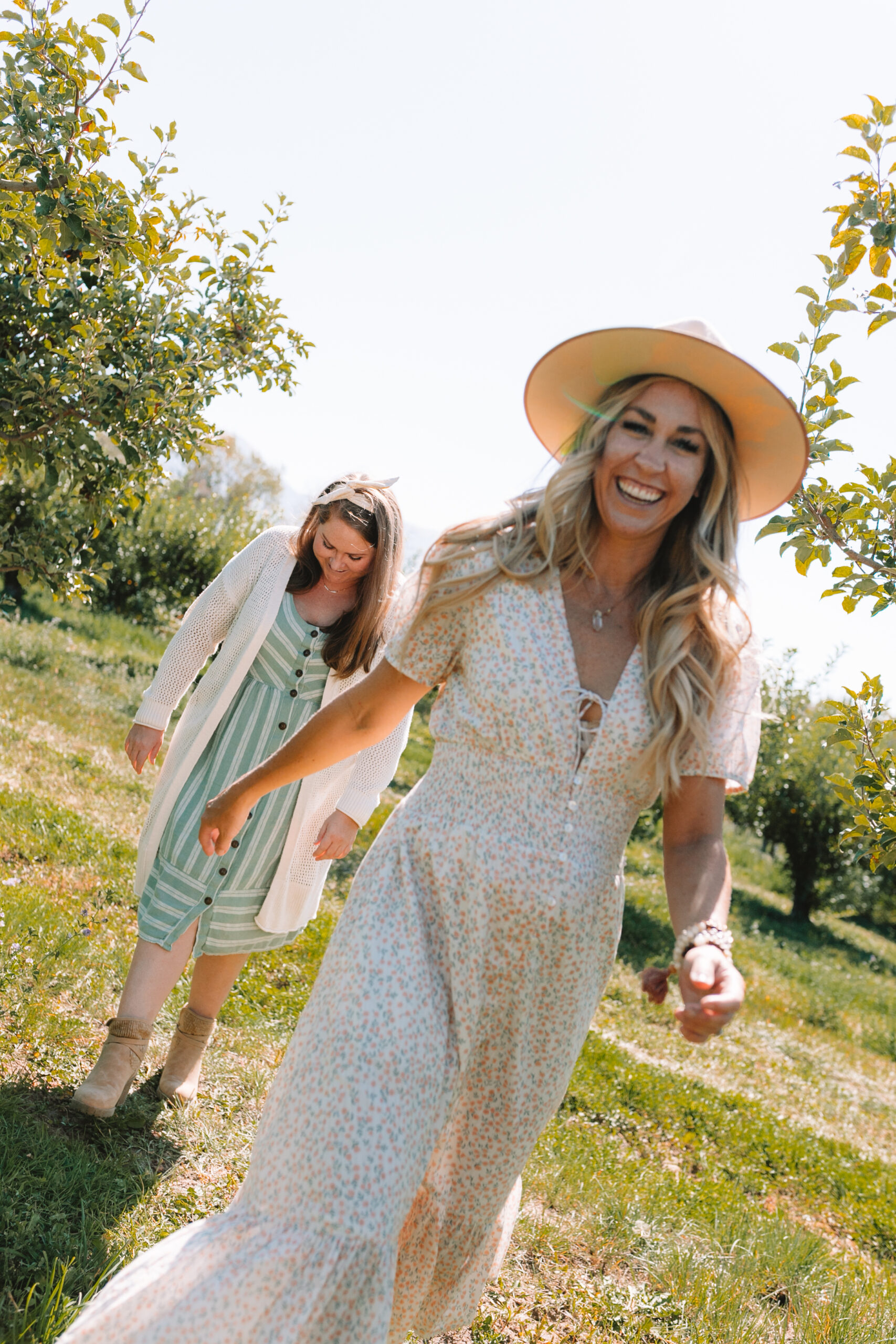 on me: dress via cricket + ruby (similar, similar) | hat | matching cardigan | on my daughter: dress | hat | matching cardigan | boots | knee highs
The next day we did some more exploring towards Aspen-Snowmass to find those glorious fall colors. We drover through Owl Creek Road here and then snapped these photos amongst the trees on the Owl Creek Trailhead. Another perfect weather day, with highs in the 70s and the sun shining down.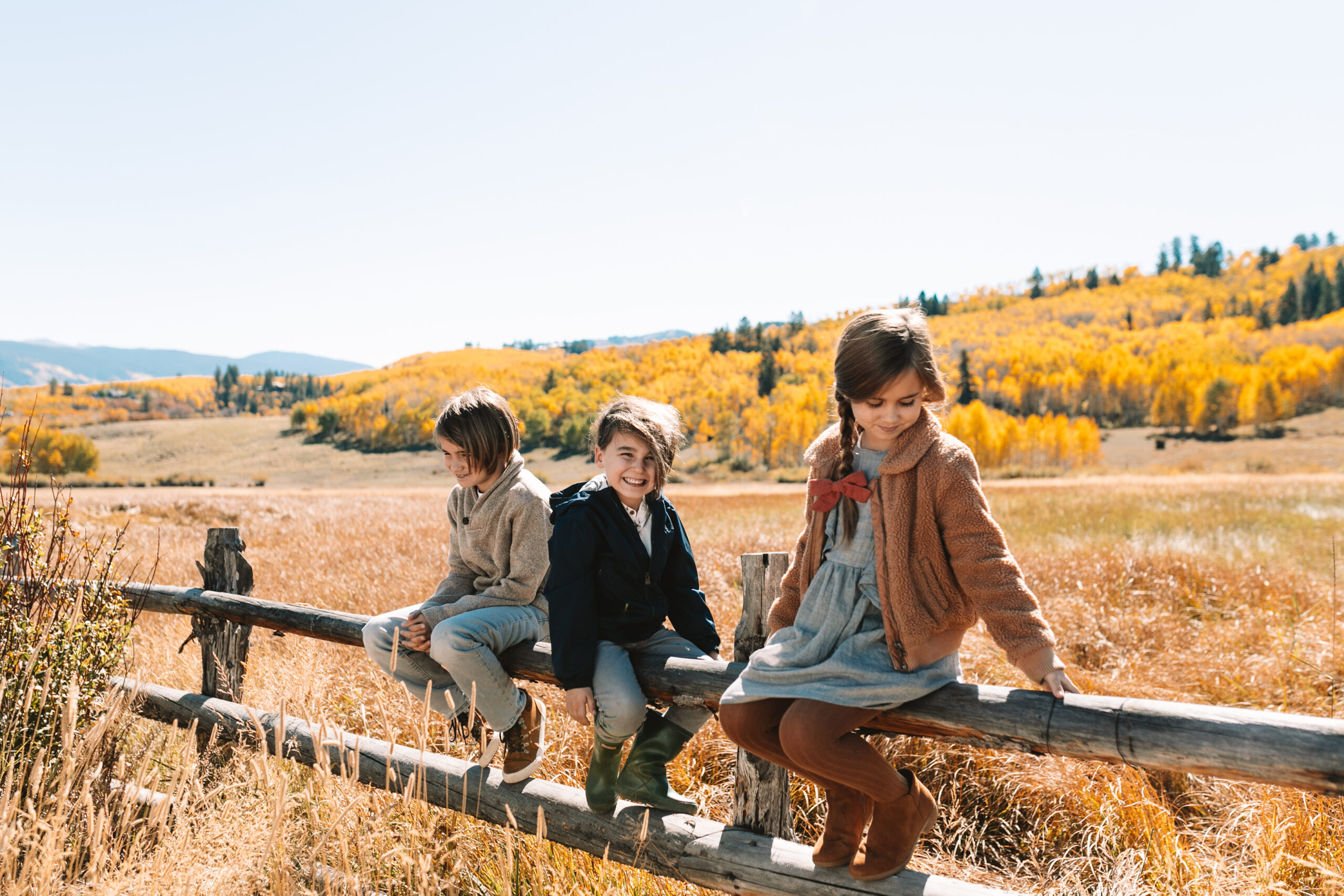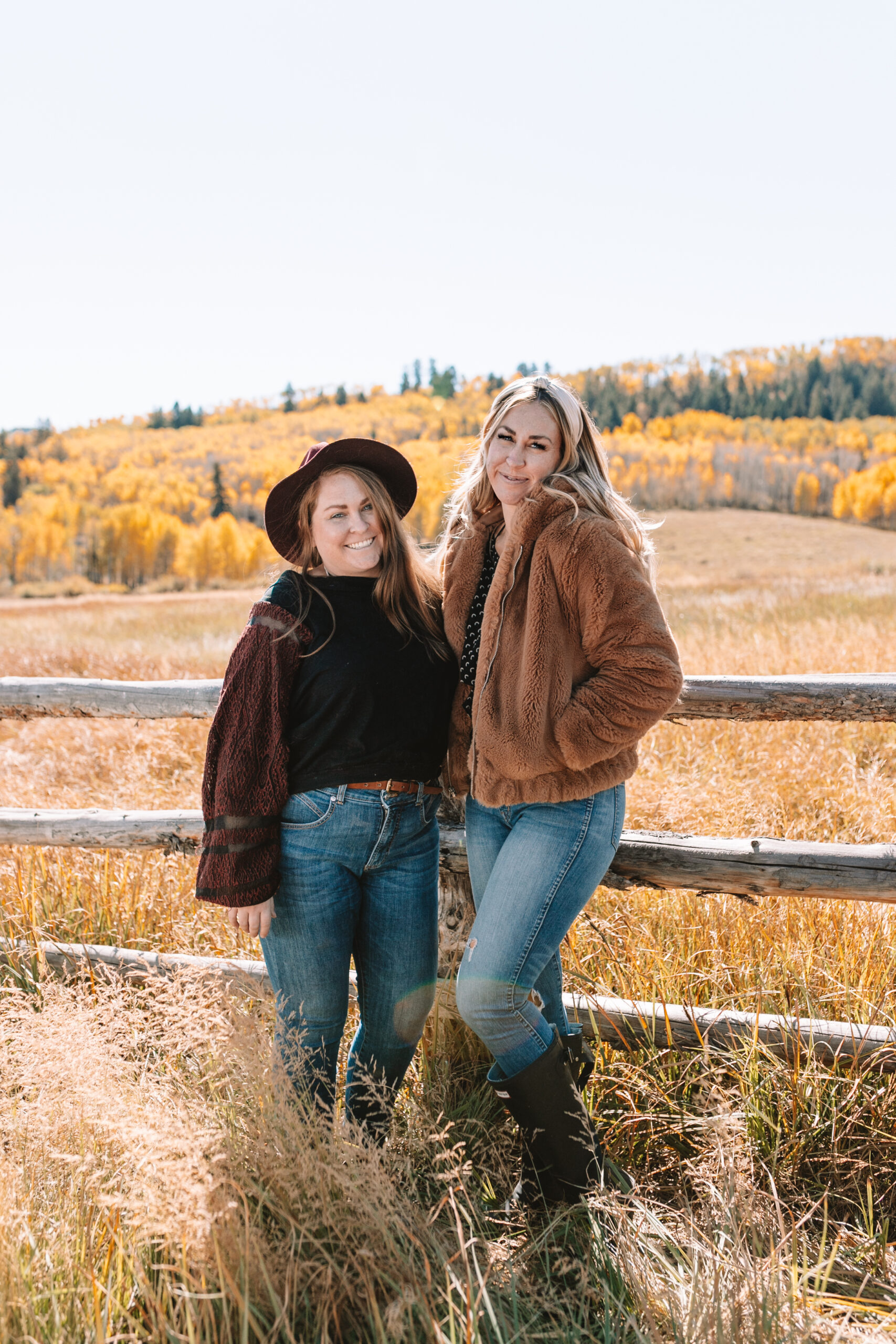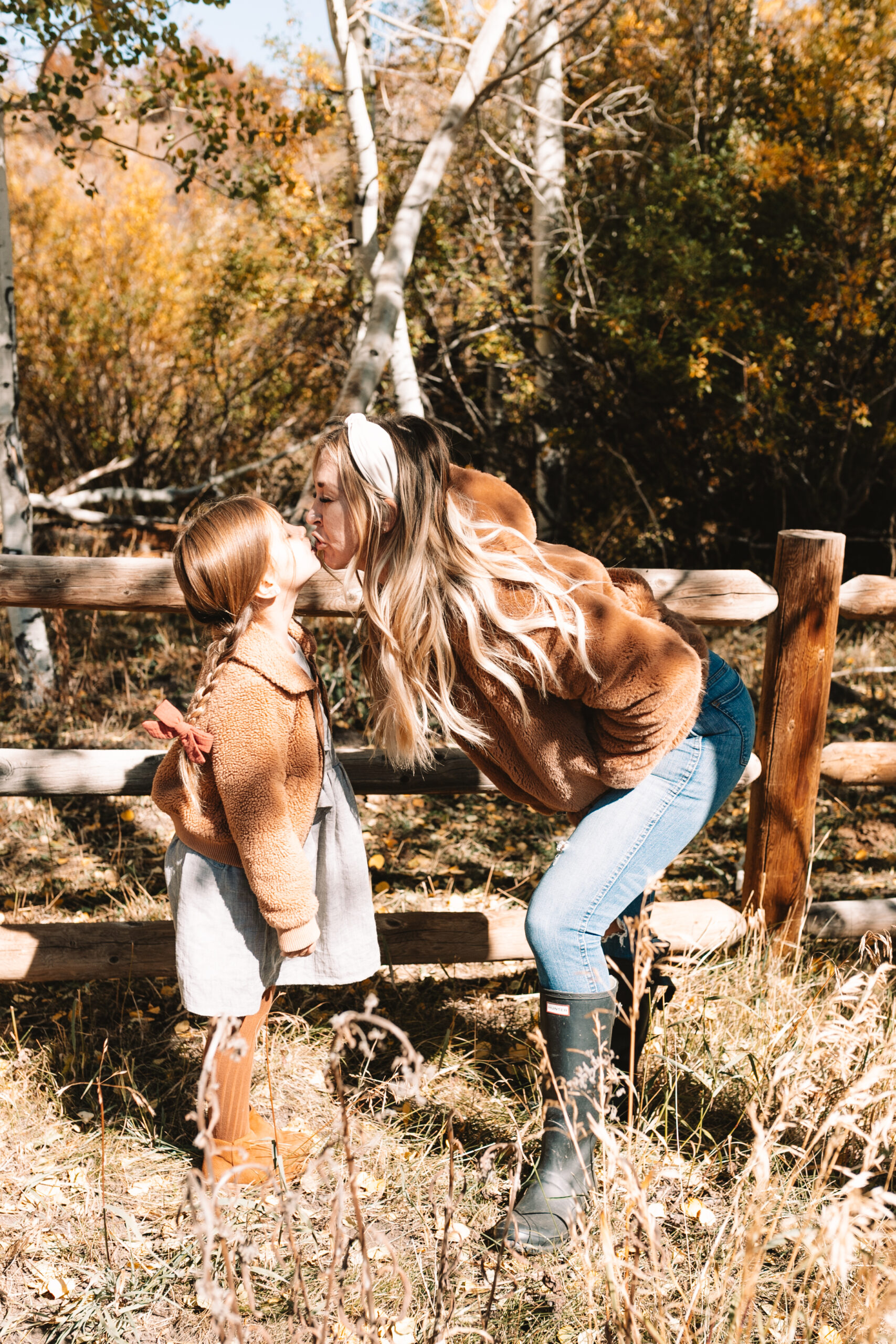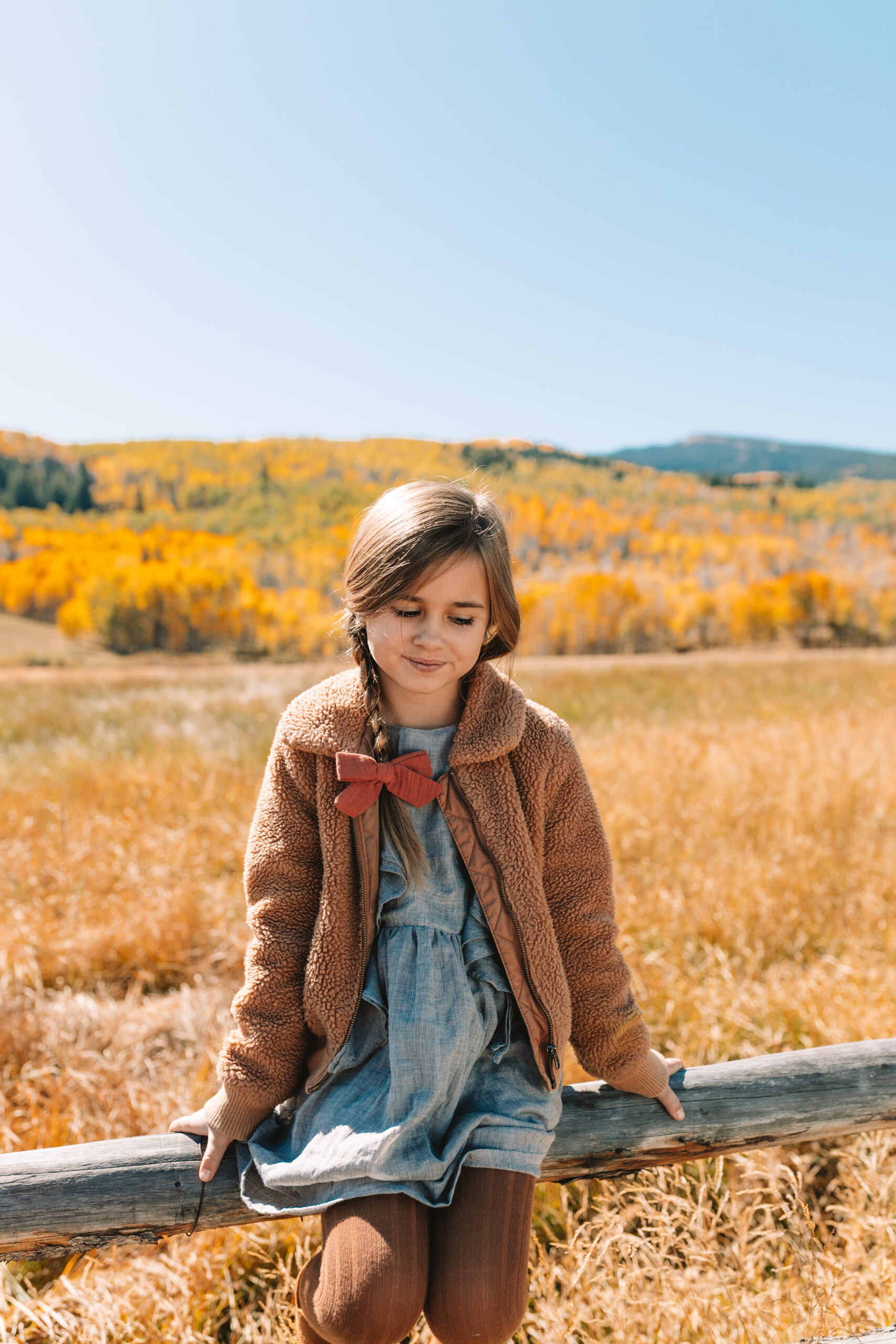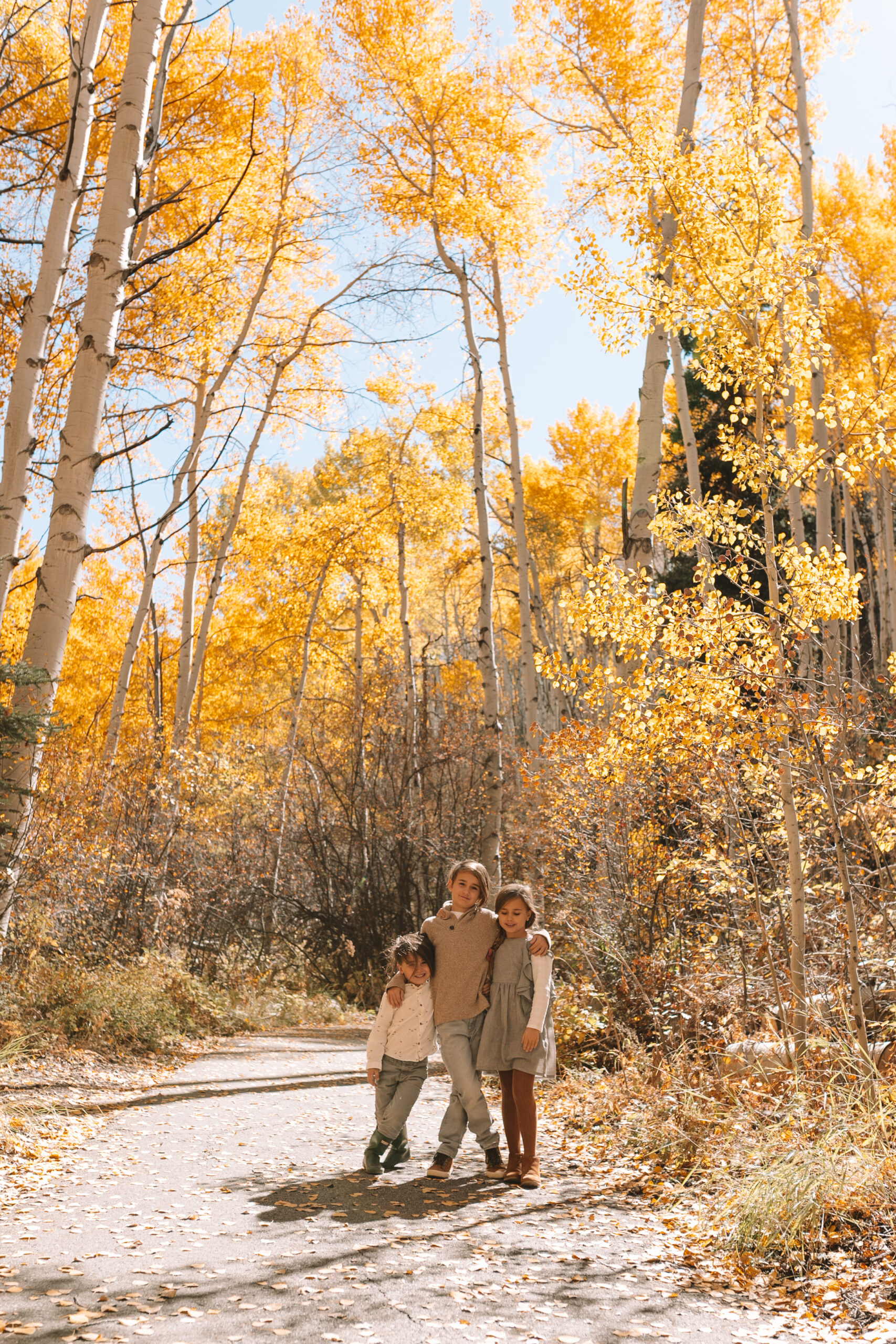 on me: blouse (similar) | denim (similar) | coat (similar) | boots | on my daughter: dress | shirt | boots | rib knit tights
I don't have any food pics, as I was so focused on the beautiful fall colors all around us while we were there! But I did want to take a moment to highlight some of our favorite places we ate at in and around the Roaring Fork Valley area while we were there.
White House Pizza, Carbondale – local gourmet pizza place in the cute downtown area of Carbondale, with an extensive menu and accommodations for food sensitivities like ours!
Ranger Station, Snowmass – pretty typical bar type food with a full bar specializing in New Belgium brews (a local Colorado brewery). Can't beat the location and view of Snowmass mountain though! It's easy to see why this place would likely get packed in the winter for apres-ski dining.
Mi Casita, Carbondale – a cute little Mexican food restaurant with both traditional and unique flavor offerings. We all loved what we got!
Spring Cafe, Aspen – this was my absolute favorite place we ate the whole time! If you are vegetarian/vegan/gluten-free etc. you will be in paradise here! This is an order-and-sit-down (or carry out) style place. Lots of offerings to accommodate those types of diets and food preferences. (See my happy selfie, below, as evidence.)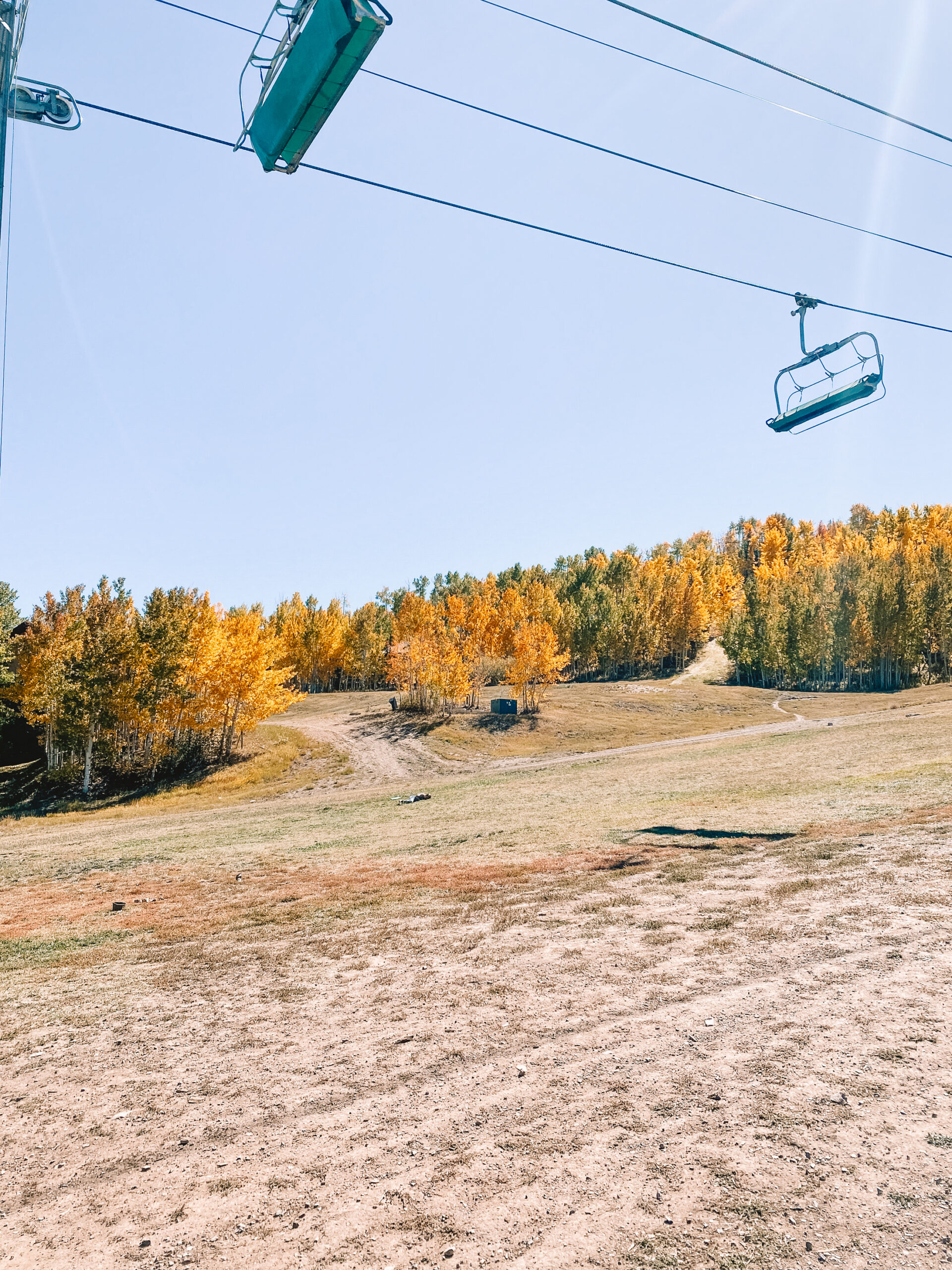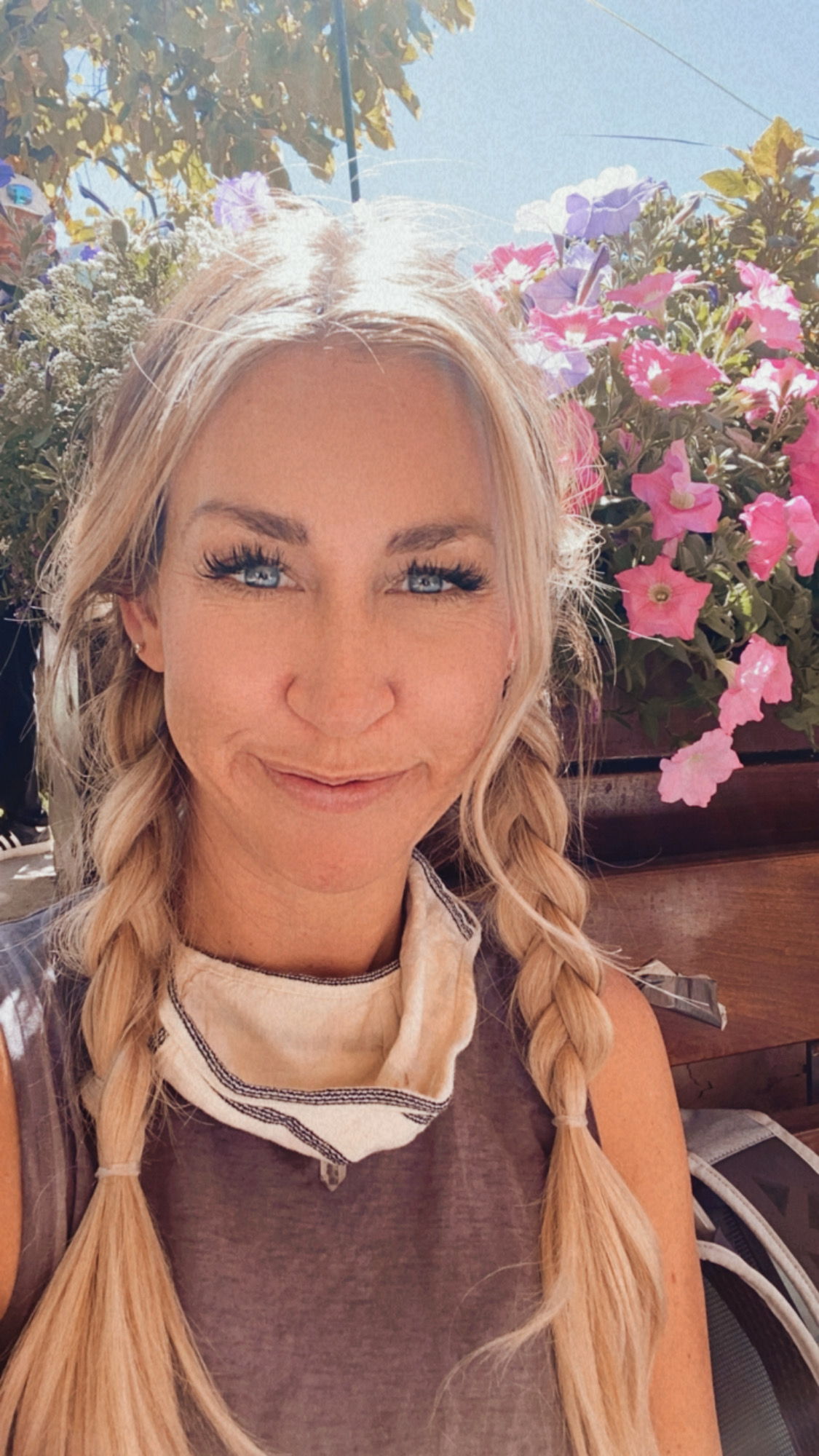 On our last day, we took one last drive up the famous Independence Pass to find a hike. All of the colors we saw the whole time we were in Colorado were nothing short of stunning, but this pass had some of the most beautiful of them all! The aspen trees in which Aspen is named after are dense all along the roadside, with winding walking/biking paths and brilliant golden leaves sweeping over the roadway. I couldn't resist pulling over for another quick snap!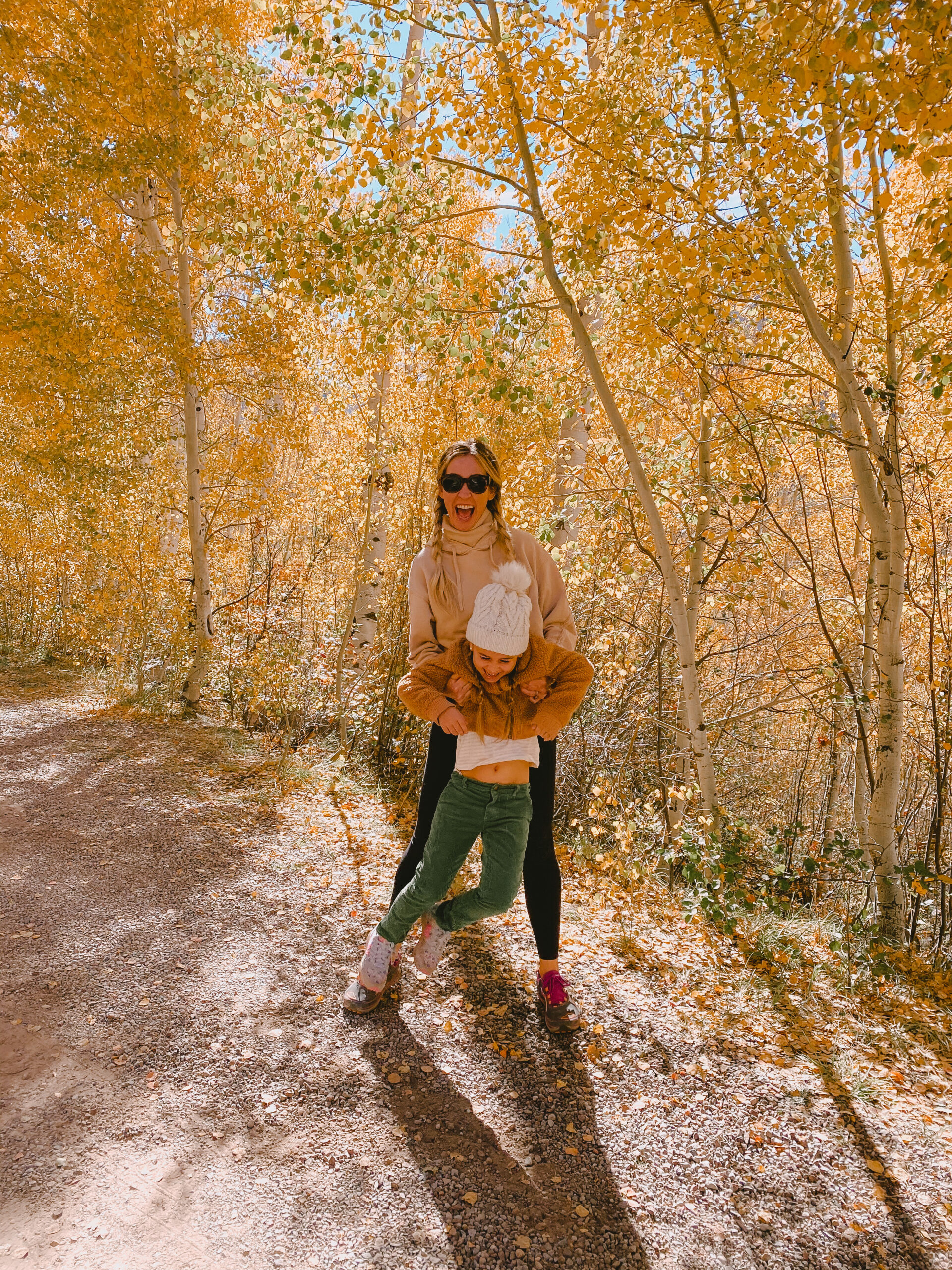 We had actually intended to go up the pass a bit further to find the historic Ashcroft Ghostown, which does require a little bit of a hike. But it ended up being further up the pass than we thought. So after making a pit stop at the Grottos Trailhead, we decided to stay there and try to hike and explore that area. As some of the reviews said, it's not much of a hike. More of just an area to explore, but a really beautiful one! The rock formations are thousands of years old and the water is crystal blue.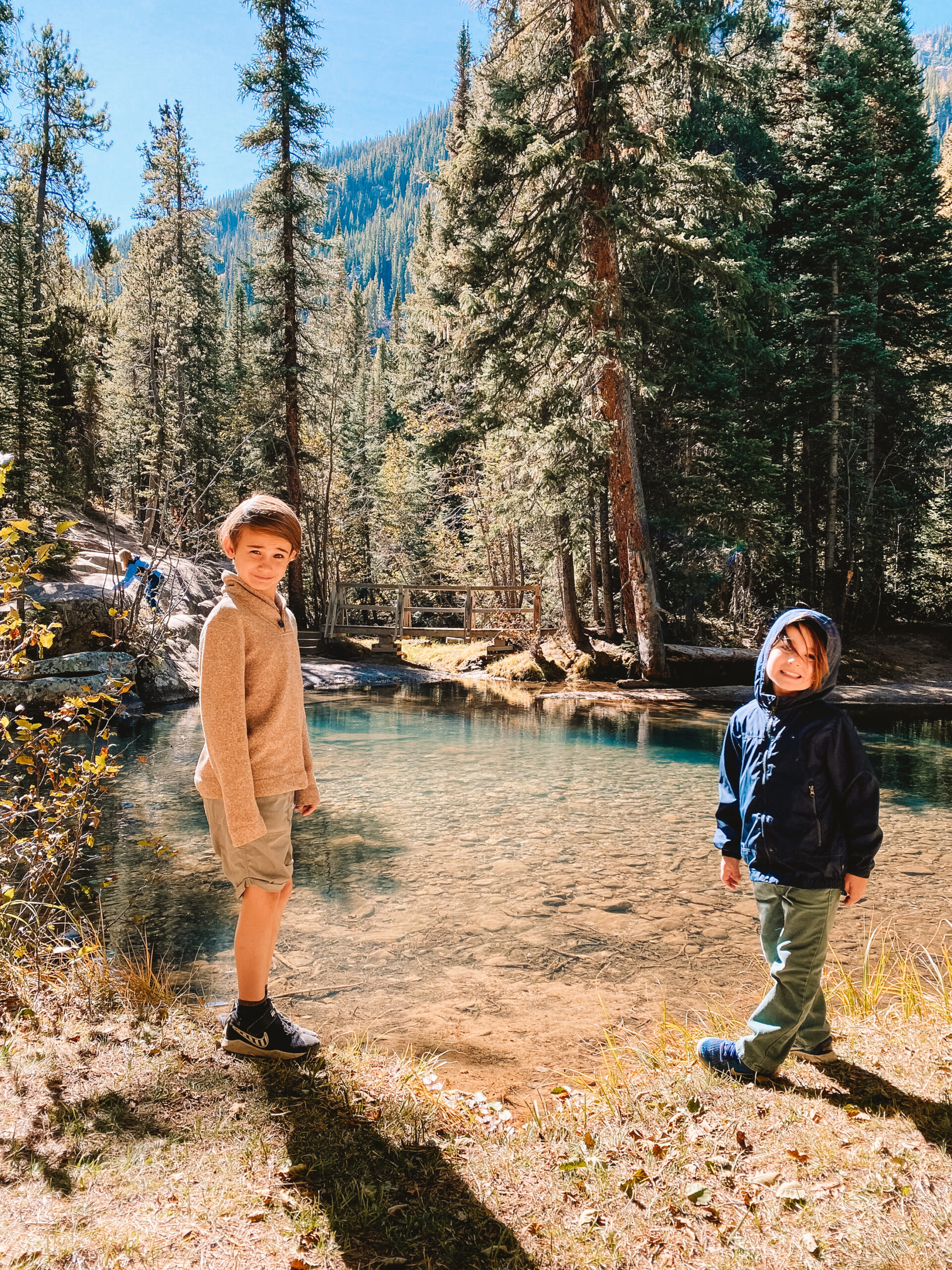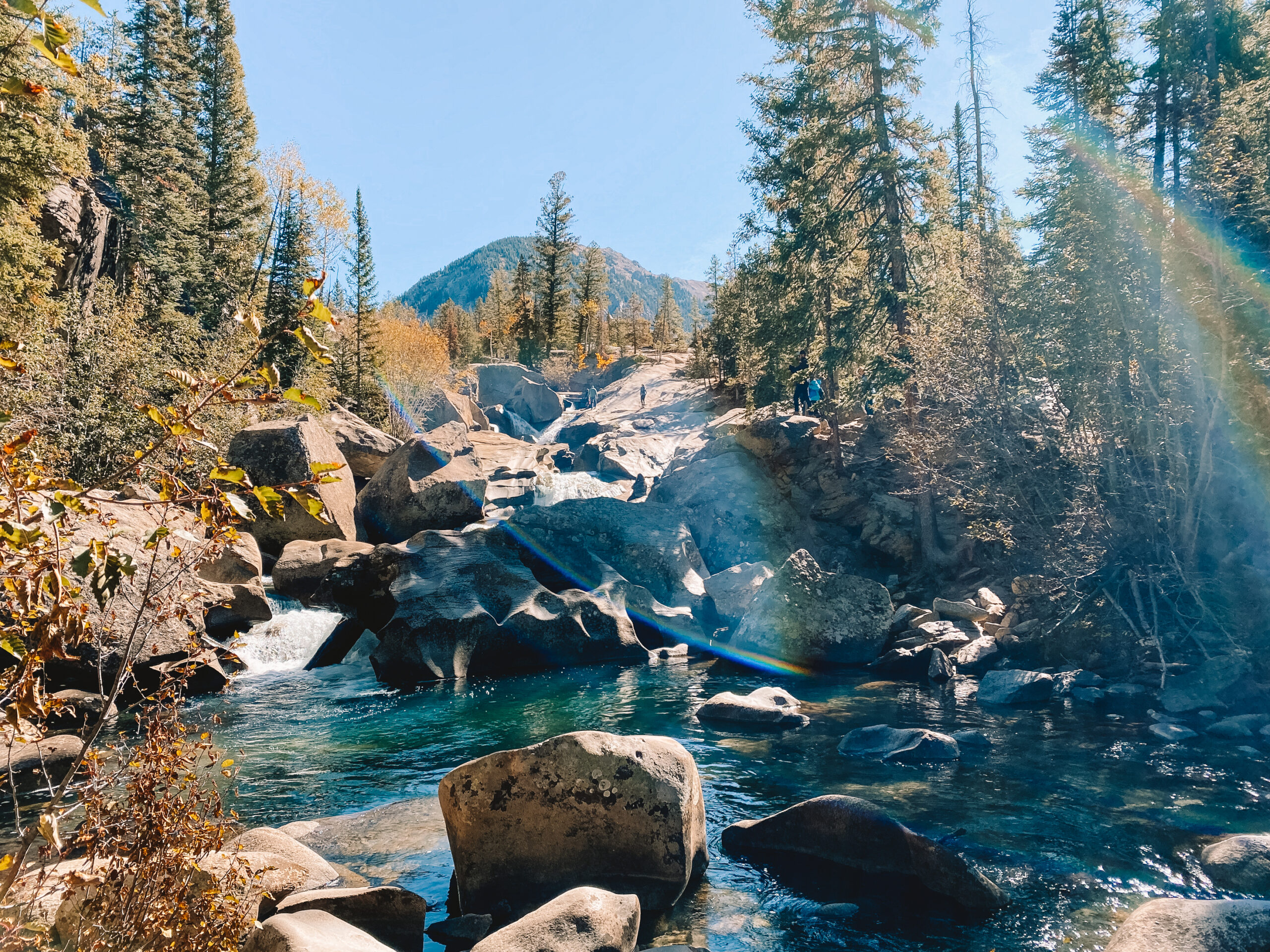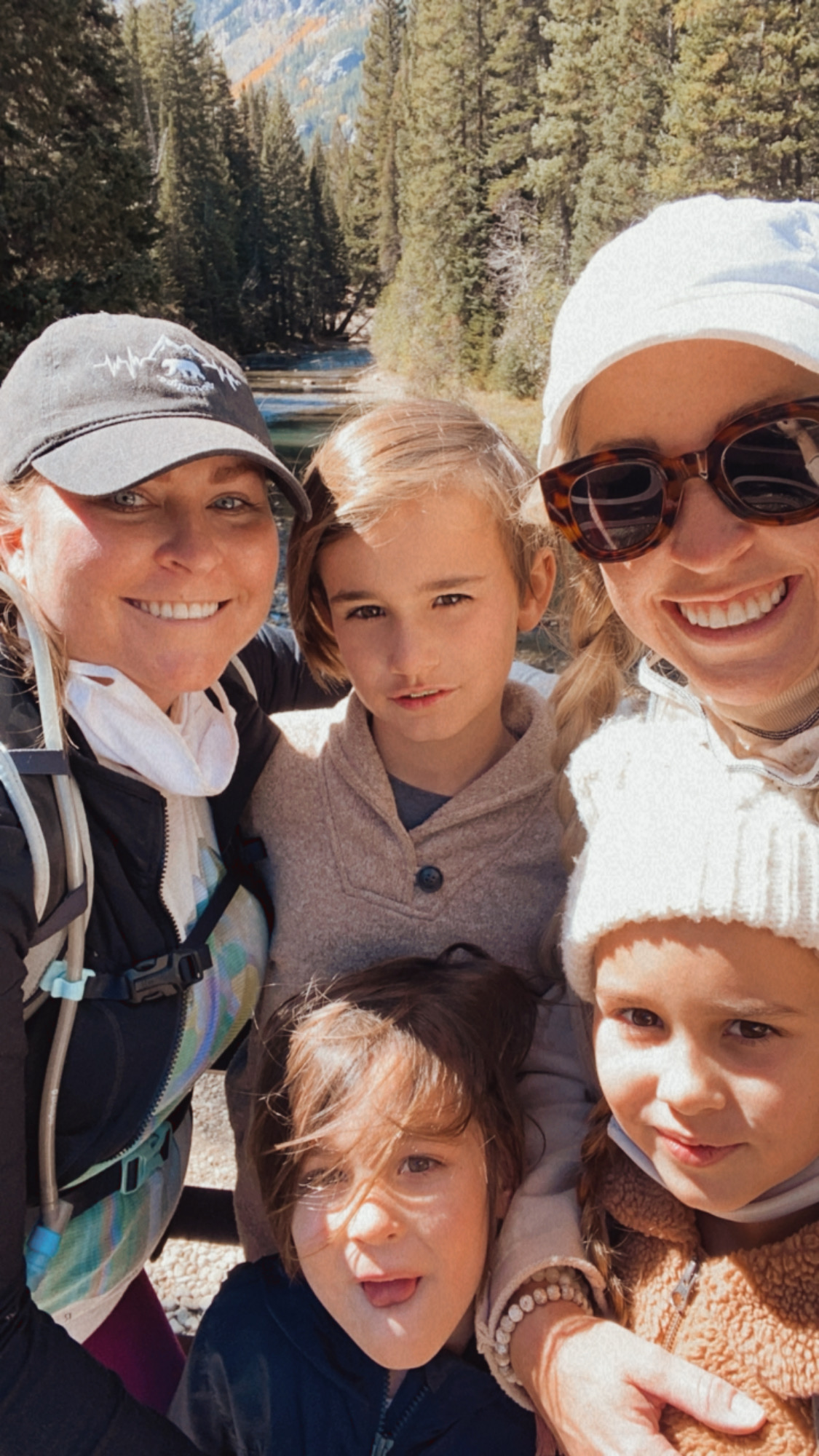 All in all, I'm calling this trip a win, with so many memories made as a family. 2020, I guess you're not so bad after all. And as I've already said, the most perfect weather! If you are looking for a trip to really experience all of the beauty that fall has to offer, I highly recommend Aspen and the Roaring Fork Valley in the mountains of Colorado this time of year!
This post contains affiliate links, which if you click and make a purchase through, I will receive a small commission. Thank you for supporting us through shopping the brands we love!