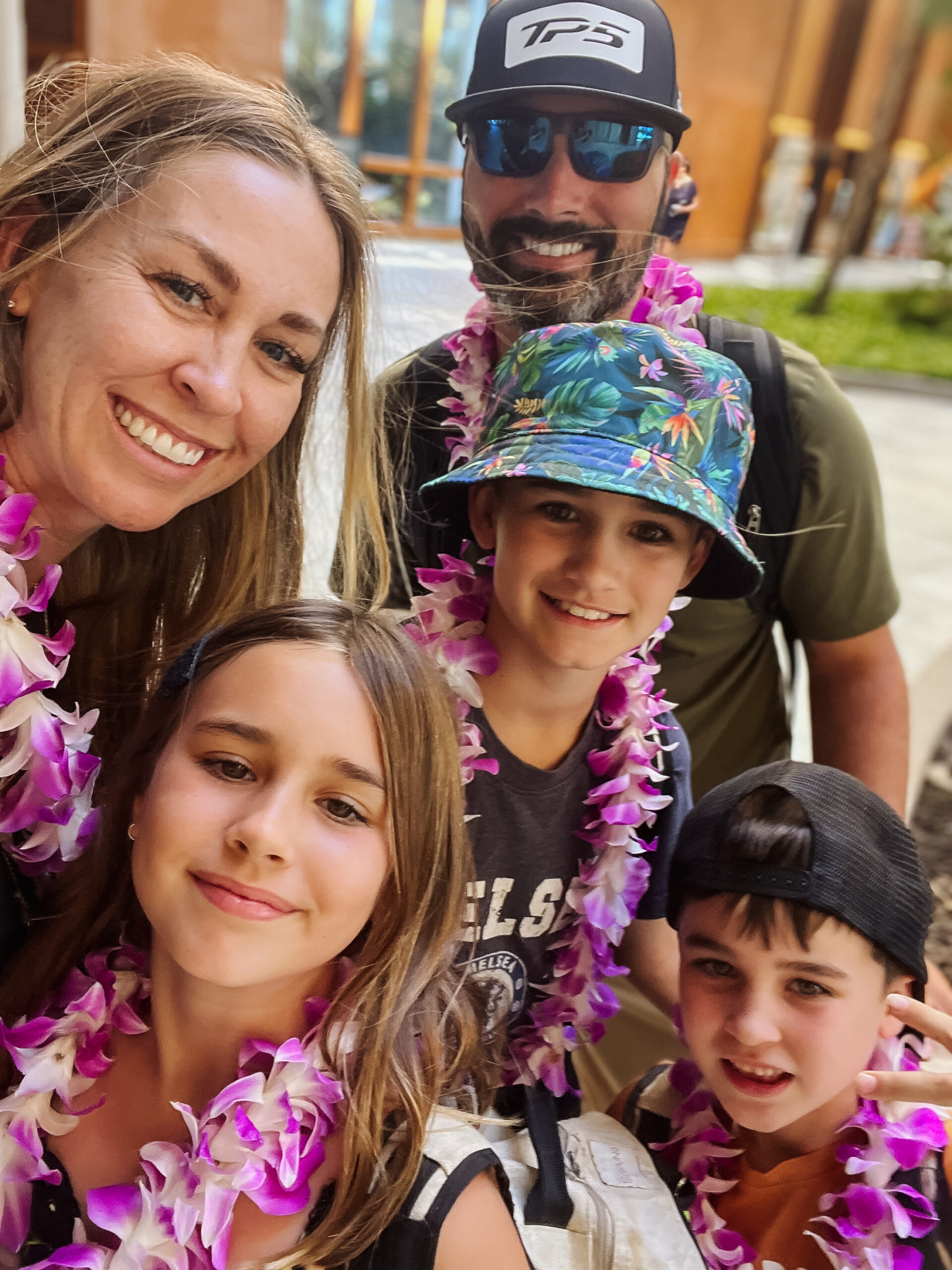 Ok I'm back to our family Hawaiian adventure: part 2. Never have I ever written a two part blog post so I'm sure you are all just sitting on the edges of your seats waiting for this. 😉 But as is often the case in real life, I have a lot to say about this topic so I was having a hard time containing it to just one Hawaiian travel blog post. If you missed part 1, here's the link.
The other reason this became a two part post is that we visited two different islands. That lent itself easily to creating separate posts.  At the time we were there, I wasn't sharing as much on Instagram, so I thought it better to give you a recap here of our travels. I often get asked questions about places we stay while on trips, but for the sake of my family's privacy, I do try to limit sharing our exact location, while we are on location. This way,  you can refer back to this post at anytime, when you are planning your future Hawaii trip!
Both Oahu and Maui had their unique features and fun things we did on each island that I wanted to share. But if I'm being honest, Maui was my favorite part of the trip. I have been dying to share this part with you all! Just a quick (and relatively cheap) thirty minute plane ride from Oahu.
So let's dive in.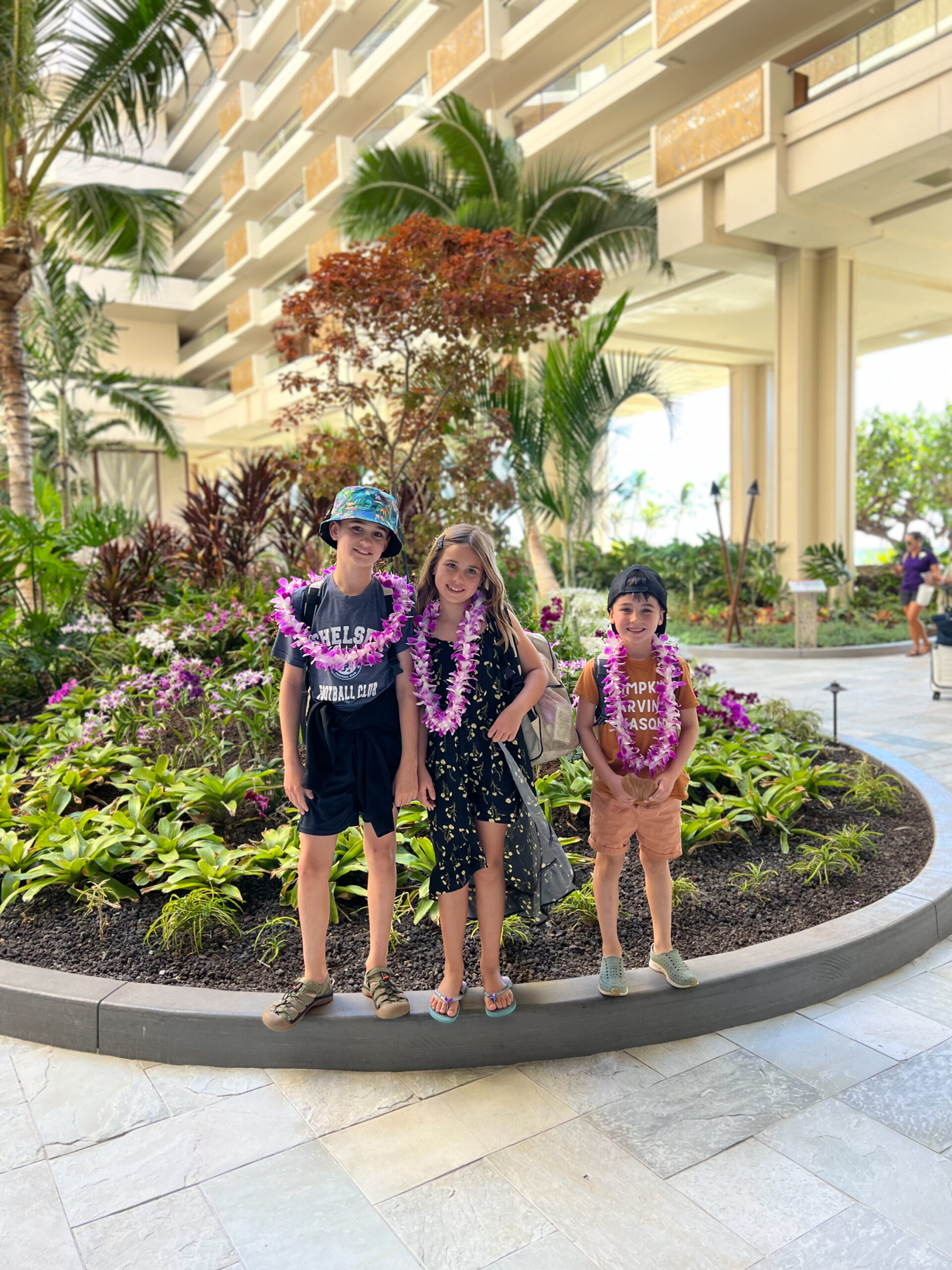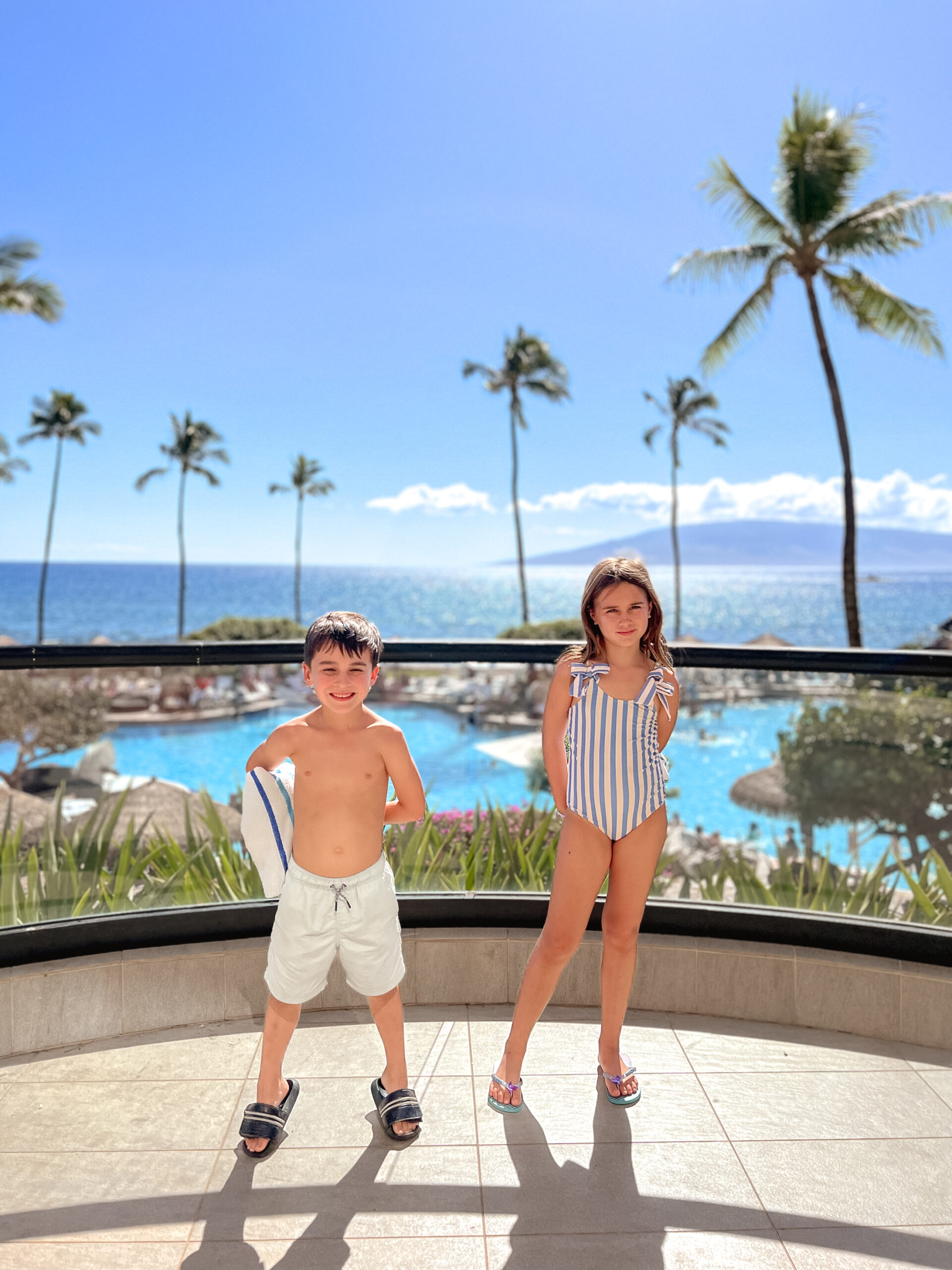 Part 2: Maui
where we stayed
When we travel as a family of five, I am always trying to find ways to make it more affordable. I am aware that traveling in itself is a luxury, and something my husband and I always dreamt of being able to travel while raising our three kids. One of the ways I am able to make it more affordable is by utilizing credit card points. I talked about this in my blog post from last year for our romantic Cabo getaway, and here again, I used my Chase Sapphire points to book this hotel, which is the Hyatt Regency Maui Beach Resort.
If you sign up for a Chase Sapphire card using my link here, they are currently offering a 60,000 point bonus (after spending at lease $4,000 in the first three months from account opening) I can earn points from your sign up too. The way I make our points go further is by then transferring them to my World of Hyatt account at a rate of 1:1 and exploring the resort offerings there, where the points go much farther!
We had a standard room with one king bed and a pullout couch. We then also asked for a rollaway bed. It was tight, but totally doable. We honestly did not spend much time in the room, so this worked just fine for us. I also did ask the front desk about a room with two double beds and a rollaway, but I was told that would be considered a fire hazard. And honestly, I think the situation we had worked out better. Just wanted to share that info for other families of five, if you want to avoid getting two rooms or a bigger suite.
This property is perfect for families with the live animals and birds all over (including penguins, flamingos, and other tropical birds), multiple pools, a water slide, direct beach access, and walking distance to the Whalers Village shopping and dining area. We rented snorkels and boogie boards one day right off our property and although the water was a little too choppy off our coast in October to see much via snorkel, the boys had a blast on the boogie boards.
There was also a coffee shop on property as well as multiple restaurants, which we took full advantage of while being there. To be honest, none of the restaurants were can't-miss, in our opinion, but still – you can't beat the convenience of having good food right on property!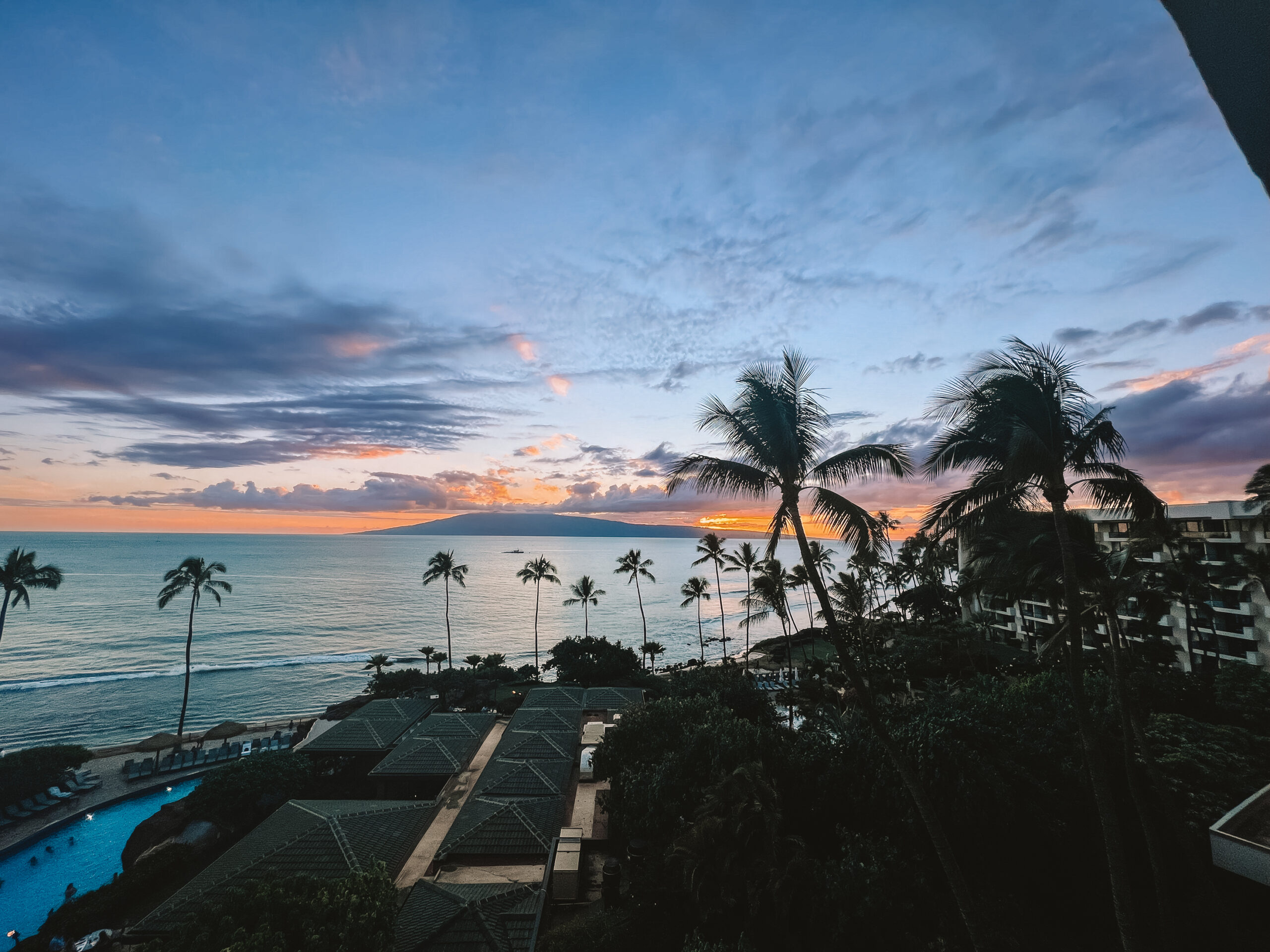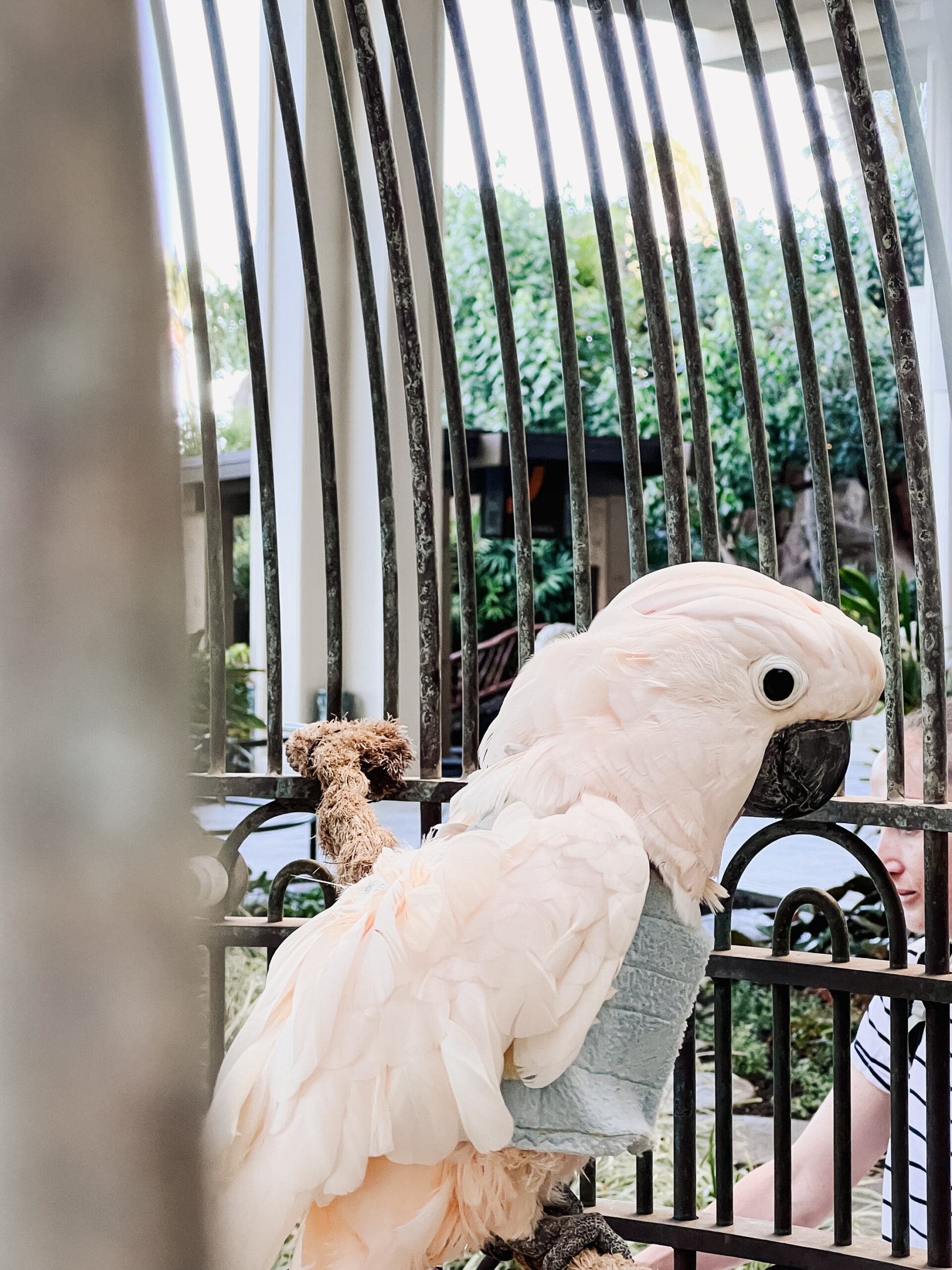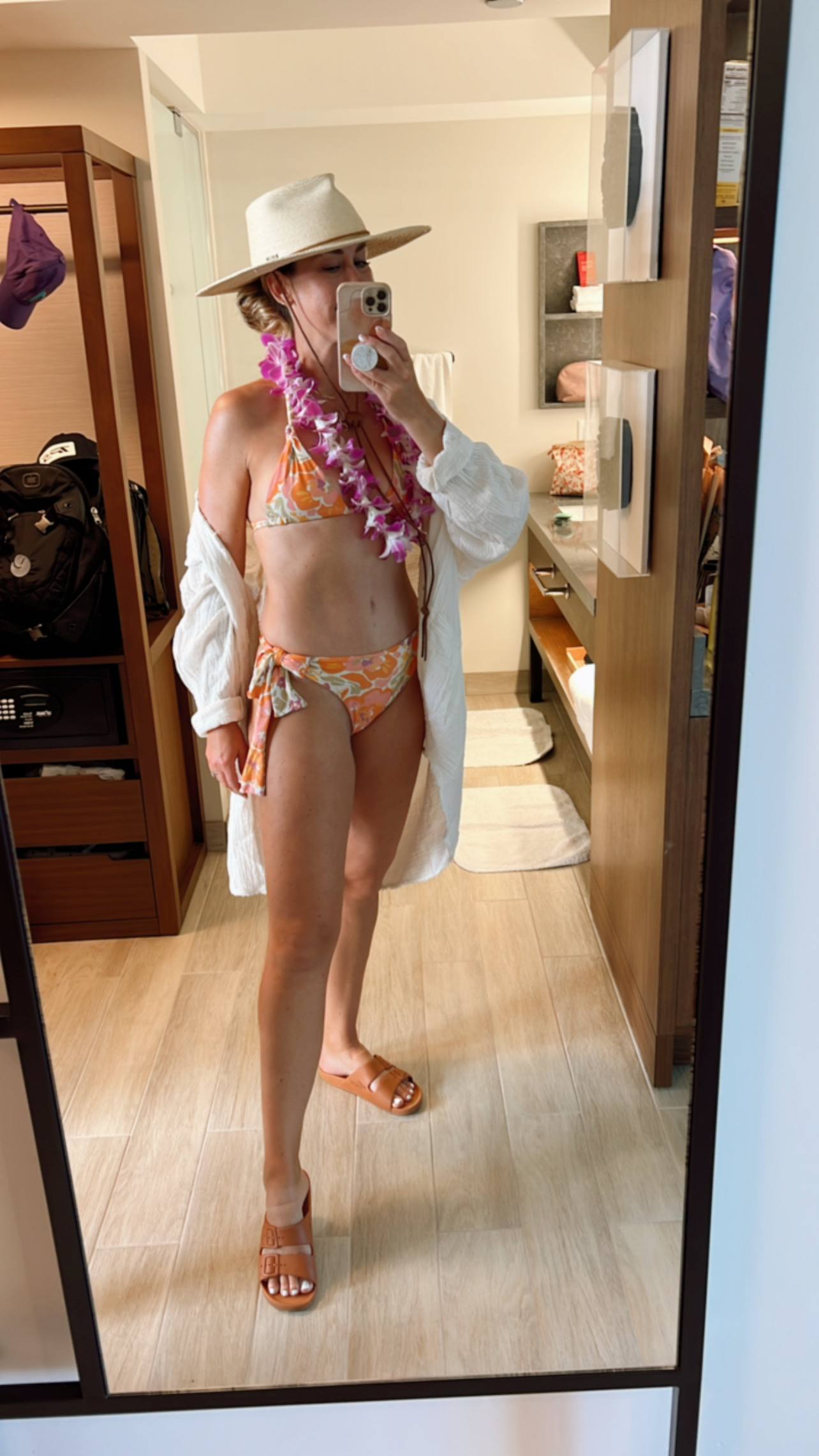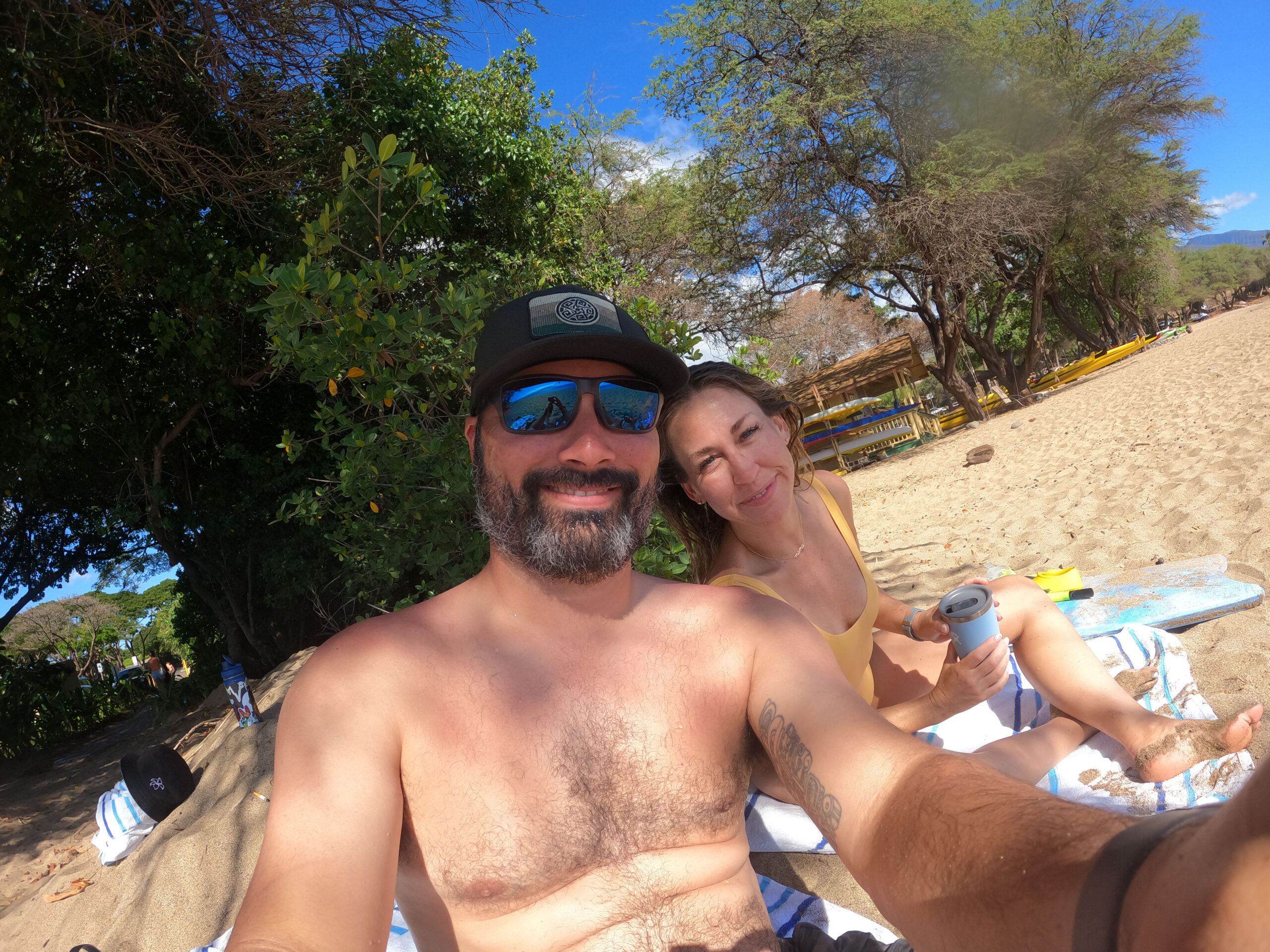 what we did
Because we stayed on Maui for five days (vs. just two full days on Oahu), we had time to do more. We tend to enjoy a good balance of planned/guided activities as well as some unplanned downtime. It makes me feel like we are getting the most of our trip, while still being able to relax. I utilized our hotel concierge services for the activities I had in mind and they did not disappoint! I just sent the concierge an email a few weeks in advance of our trip and they helped work out all the details and book for us. This is a free service for hotel guests so I fully recommend taking advantage!
So other than beach and pool time (and a massage at the spa for this mama) here are the planned excursions we did:
surf lessons for the kids
My husband and I have both done surf lessons in the past, so we were happy to sit this one out. It was actually a blast to watch the kids give it a go! Little Diego (seven years old) was the first to tire in the waves, but all three of the kids got up on the boards multiple times. We were so proud! This day was booked through our hotel concierge at Maui Wave Riders in Lahaina and they did a great job with the kids. (No affiliation here, just genuinely impressed.) Lahaina is known as a good spot for some gentle rolling waves, perfect for learning.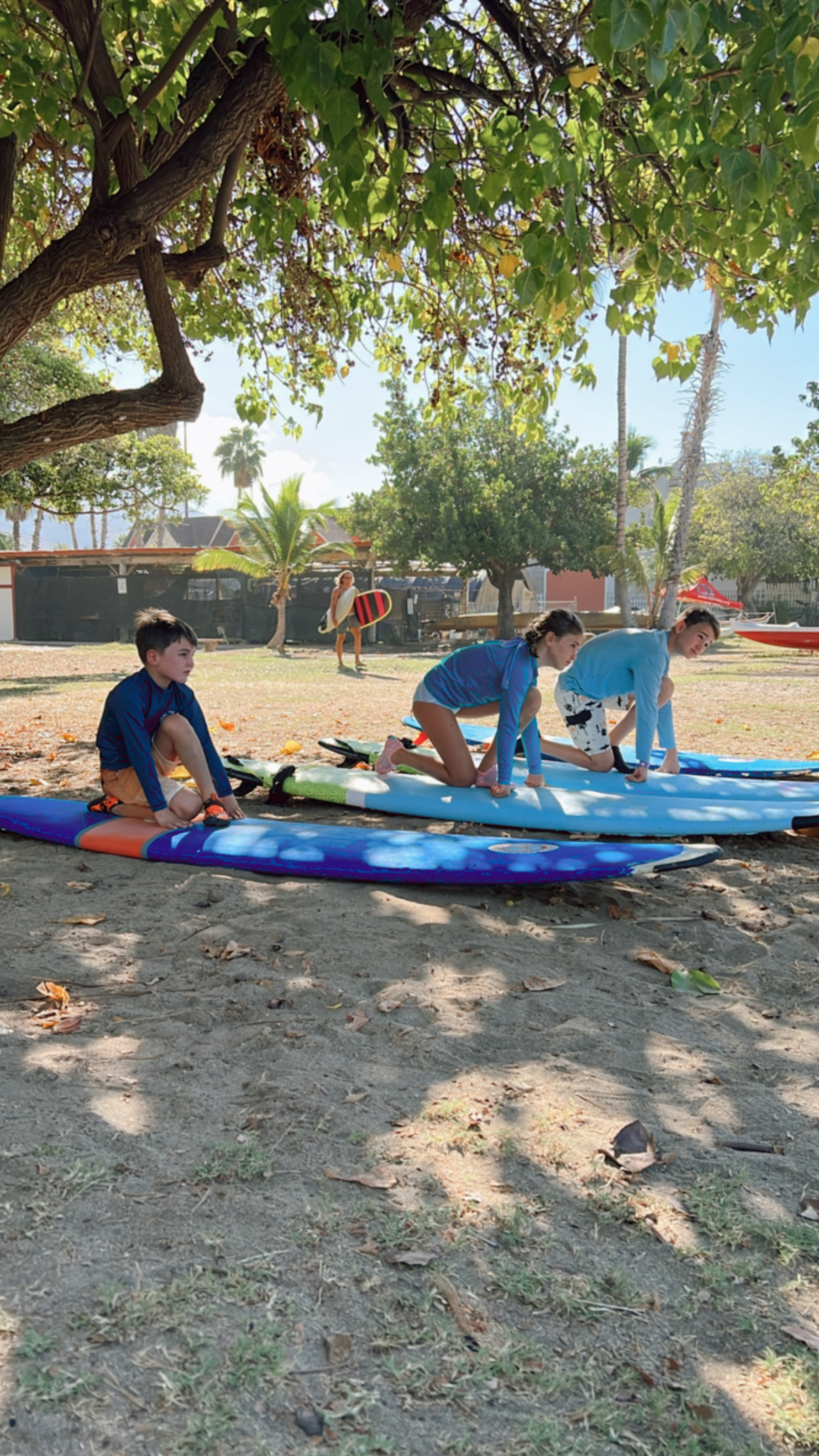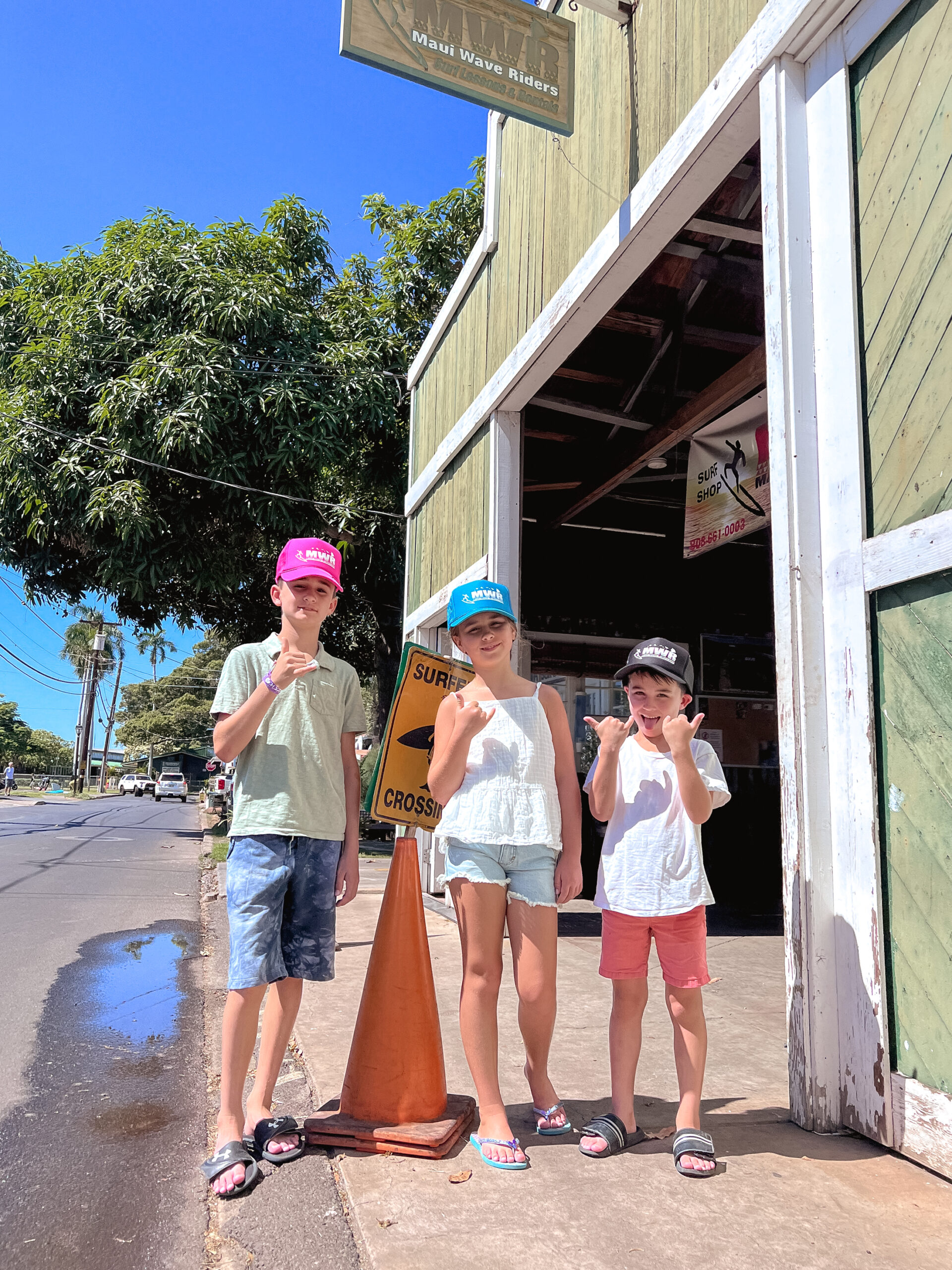 a luau
Some people love them, some hate them. I always have thought a luau can be pretty fun, and the kids have never done one, so I was excited for this! With the time change from the mainland, I'm glad we didn't plan this too early in our trip. Our first night out to dinner all three kids were literally falling asleep at the table, haha. But this was late in our trip and I think they were also just generally tired from so much fun in the sun. They were able to stay for the whole thing and *mostly* appreciate it, but they were for sure tired near the end (especially our youngest). I think the perfect balance would be maybe mid-trip, for future reference. And I do think it was better with our kids being a bit older. Even at "kid" prices, luaus can get spendy, and they were some of just a few kids there.
The Hyatt Regency does offer its own Drums of the Pacific Luau, but I had been told in advance by friends who stayed here before that you could easily walk by and enjoy some of the music and dancing with kids, without committing to the whole luau. We did see part of one nights' show from our balcony, and we were happy with our choice to do a different show. Additionally, even our concierge from the hotel recommended an outside luau. So that's what we did!
We went with the Feast at Lele luau, which was in Lahaina. This luau included "a journey through Polynesia" with a celebration of 5 different islands with accompanying courses. It was a LOT of food for sure, but I was happy that they also accommodated my vegetarian preference. Also loved that it was right on the beach so we got to enjoy one of Hawaii's fantastic sunsets.
sailing and snorkeling
I saved the best for last as this was probably my favorite part of the trip! We have been on many different types of boats – snorkeling, deep sea fishing, dolphin and whale watching (mainly in Mexico and California), but this was by far our favorite boat ride as a family! The crew was fantastic and the group size was just right – not too big but not too crowded either. We took the morning snorkeling tour on a large catamaran with Teralani Sailing Charters (again booked through our hotel concierge) and it was everything we were hoping for and then some.
The rate included a light breakfast and lunch, as well as drinks for adults. We had one stop where we saw dozens of sea turtles, which are one of my personal favorite animals and I was really hoping to see. And then we rode out a bit further where several dolphins swam alongside us. We had one more anchor point where we saw hundreds of colorful fish. They also had a fantastic photographer on board who took no-obligation photos of everyone. I don't usually purchase those type of things since I am also pretty handy with my DSLR, but in this case, I thought she did such an amazing job getting unique shots I couldn't quite capture, I had to get some! I also got some fantastic video footage on my GoPro, which I will be sharing on my Instagram in a Reel later today.
what we ate
I am not going to to into too much detail here as I don't want to spend time writing a review on every restaurant we went to. As a disclaimer, we are self-described picky foodies, haha. We have some food sensitivities, allergies, and preferences in our family that can make dining out a bit tricky, but we also love a good meal and are willing to pay for it, accordingly. One heads up (that may be obvious) is that everything in Maui is pretty expensive, and this includes eating out. Again, we don't mind paying for good food, but we weren't blown away by any of the dining options we ended up having. It's also a bit tricky with kids, because we don't always want to spend an arm and a leg for the kids to eat a fancy meal they may or may not appreciate. Staying in a true hotel for this leg (vs. the condo style suite we had in Oahu) meant we didn't have many options for eating in. I also was late to the party when it came time to make dining reservations, so definitely take that into consideration when planning your trip! Different restaurants have different policies as far as how far in advance you can make reservations, so best to just check in with each.
Bottom line: we weren't impressed by the food in Maui. But maybe we just didn't know where to go!
Ok, I think I have now officially exhausted all the details of our family hawaiian adventure! That's a wrap for part 2: Maui and all that we got to experience. Hawaii is still one of my favorite places on earth and I can't wait to go back one day. If you have any recommendations to add for me or my readers for the future, please do so in the comments!