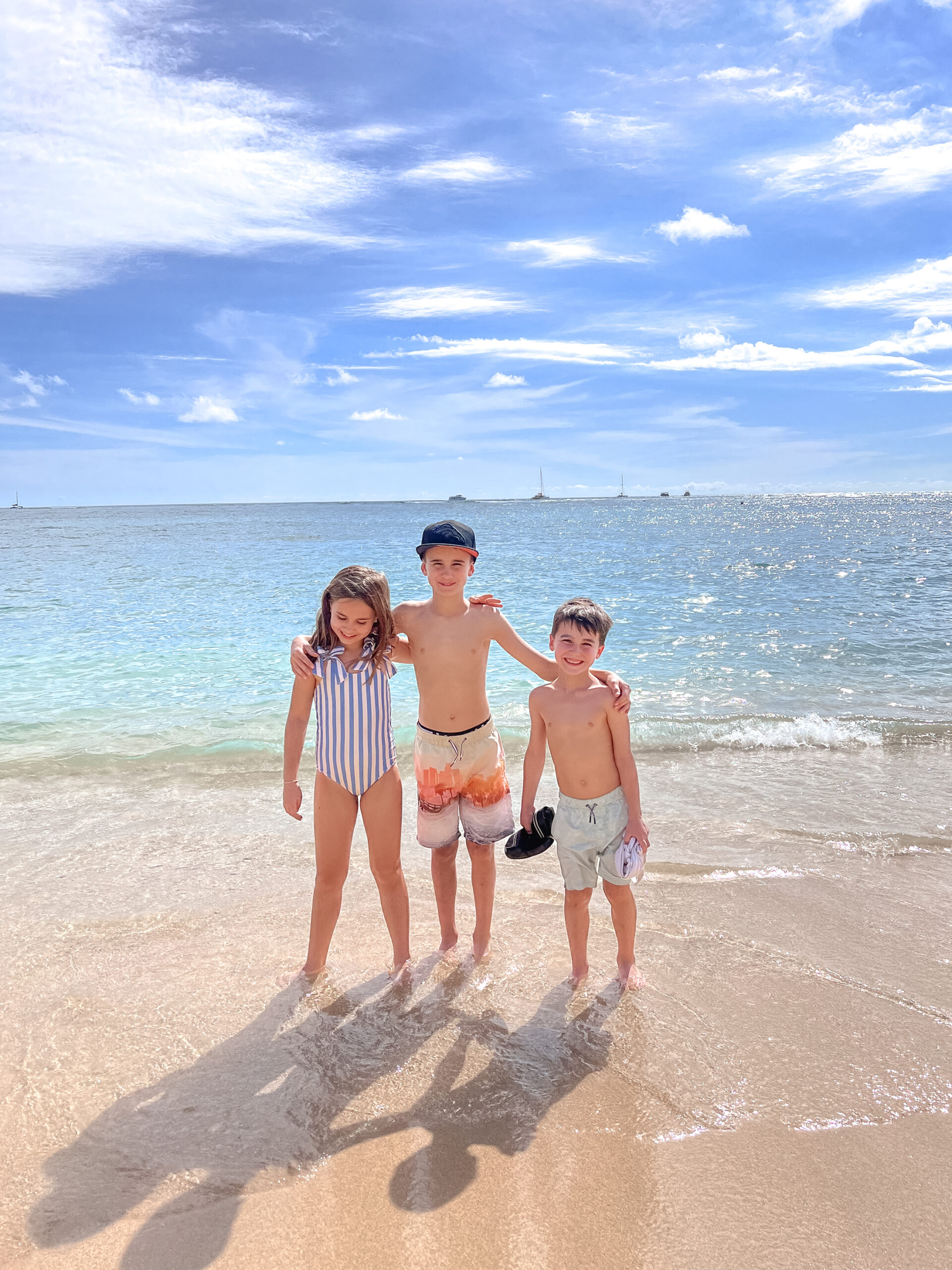 First of all, I want to thank you all for the love on my last blog post. It was deeply personal and those type of posts always take a lot out of me so your support truly means the world!
As I mentioned in that last post, I am starting off this year by going back to some travels and home projects I never got around to sharing last year. They won't necessarily be in any sort of chronological order, just what inspires me to share. I am starting with our family Hawaiian adventure from last October! And before I dig in, I do share a lot of partnerships and sponsored content on here and my Instagram, but this trip was pure vacation and 100% paid for by us (both in points and dollars). All opinions I share are always honest and my own, but in this case, they are #notsponsored. 😉
Second of all, as I was writing this post I realized it was getting reeeeally long because we really crammed in a lot of fun over the ten days we were in the Hawaiian Islands. So I am breaking it up into two parts – which will be the two islands we visited, where we stayed, and what we did on each.
Hawaii has a special place in our hearts because it is where we my husband and I went on our honeymoon 15 years ago. We haven't been back since, and so naturally, the kids have never been either. The kids share my love for the beach and I have always dreamed of bringing them back to this place, and exploring more islands we haven't been to before.
On top of wanting to show the kids where we honeymooned (in Maui – coming in Part 2), Tony has a good friend from college, who was also a part of our wedding and is from Oahu. Tony always said if we ever got back to Hawaii, we must see his friend, so it was really a full-circle-moment kind of trip.
Storytime: on our honeymoon 15 years ago, when we were young and generally pretty much broke (but had been gifted this amazing honeymoon trip as a wedding present!), we fully accepted the opportunity to go to a sales presentation for a time share in exchange for some free activities. Young and naïve as we were, we bought in – hook, line, and sinker. We still have that damn timeshare today. It's paid off now and we do use it when we can, so I guess we can say it worked out. But honestly one of the biggest financial mistakes of our young lives! 0/10 recommend.
As any family with young kids may have experienced, the first day traveling to the Hawaii time zone from the main land (for us, 4 hours difference from MST) is ROUGH.
Part 1: Oahu
where we stayed
The timeshare did come in handy for this trip though because our "home resort" is actually on Oahu in the Waikiki Beachwalk area. Where we had never been, haha. Waikiki is about a 40 minutes drive from the Honolulu airport, which is the biggest city in Hawaii. Honolulu and Waikiki feel just like that – a big city. Lots of tall buildings, highways, chain restaurants and shops. In a way, it kind of reminded me of LA – a big city by the beach.
We were not on the beach in our timeshare property, but we did love our proximity to the beach and how easy it was to walk around to the shops and restaurants. To be honest, I wouldn't say I'd recommend the Wyndham Waikiki Beach Walk property if you were going to pay out of pocket. It's overall a bit dated (although we did hear they have a renovation coming soon) and they 100% will try to get you to sit through a timeshare presentation, lol. Upsides included the total space (we had a two bedroom with a kitchen and living area and laundry in room, which was clutch) so if you can get a good rate than it might be worth it. And again proximity to the beach was nice – I got a couple of runs in along the Waikiki Beach Walk at sunrise, which was amazing! We never used the pool at the hotel though and instead just enjoyed as much beach time as possible in our short three day stay on this island.
All that being said, we agreed it would be our preference to stay somewhere in an Air BnB along the North Shore in the future, rather than a hotel in Waikiki. It just seemed a little quieter and less crowded up there, which is what we envision Hawaii to be for vacation, for us.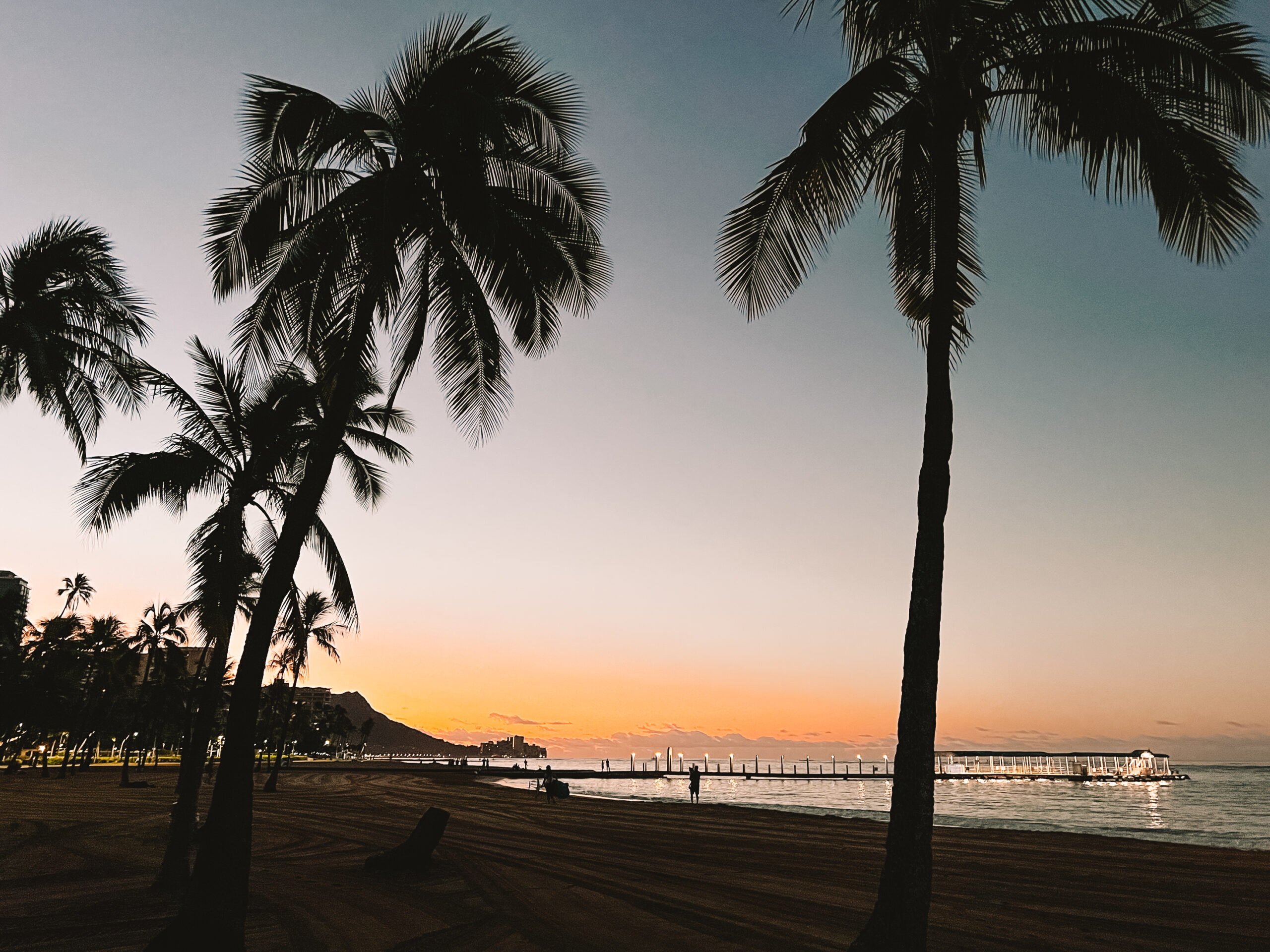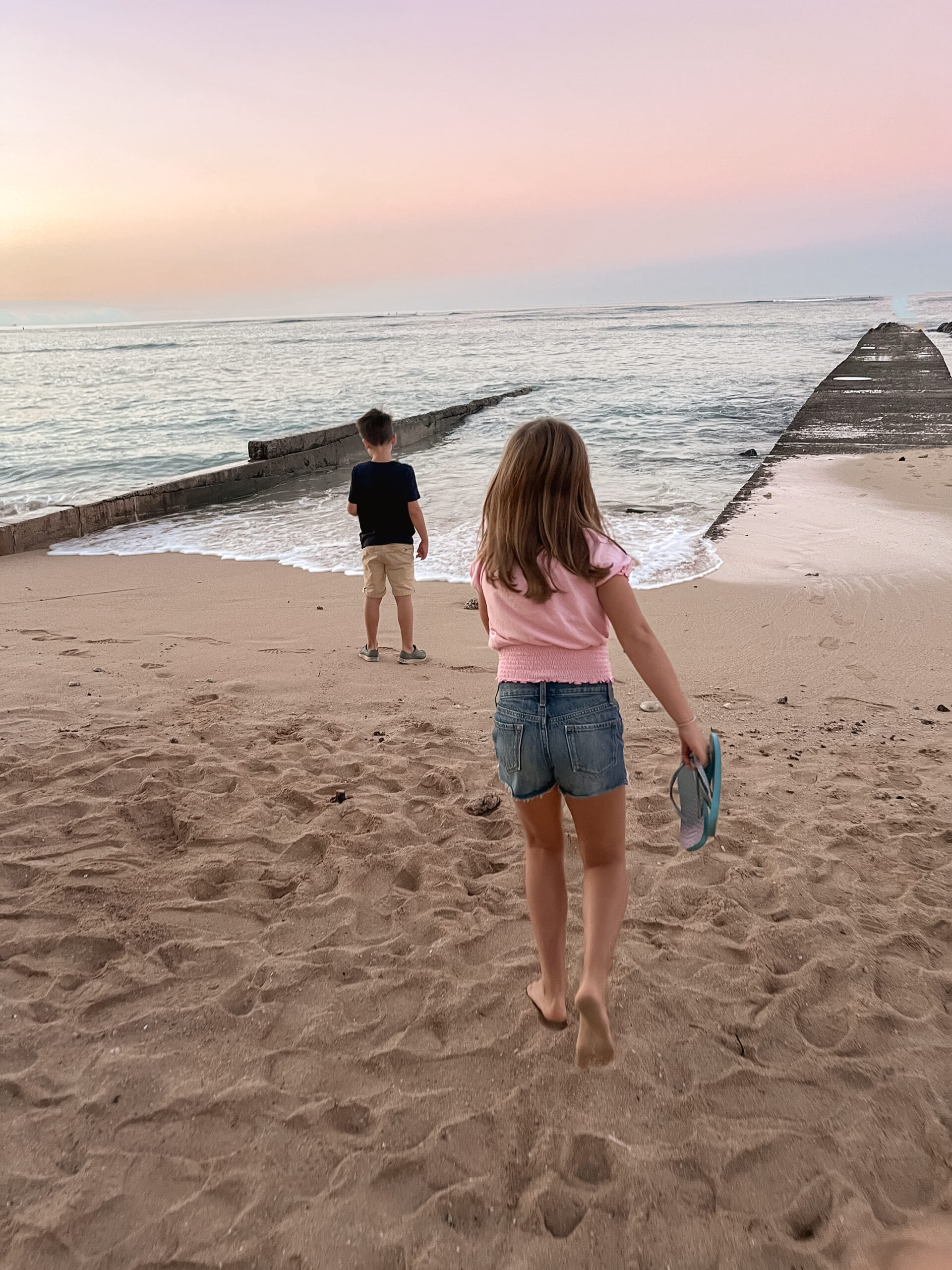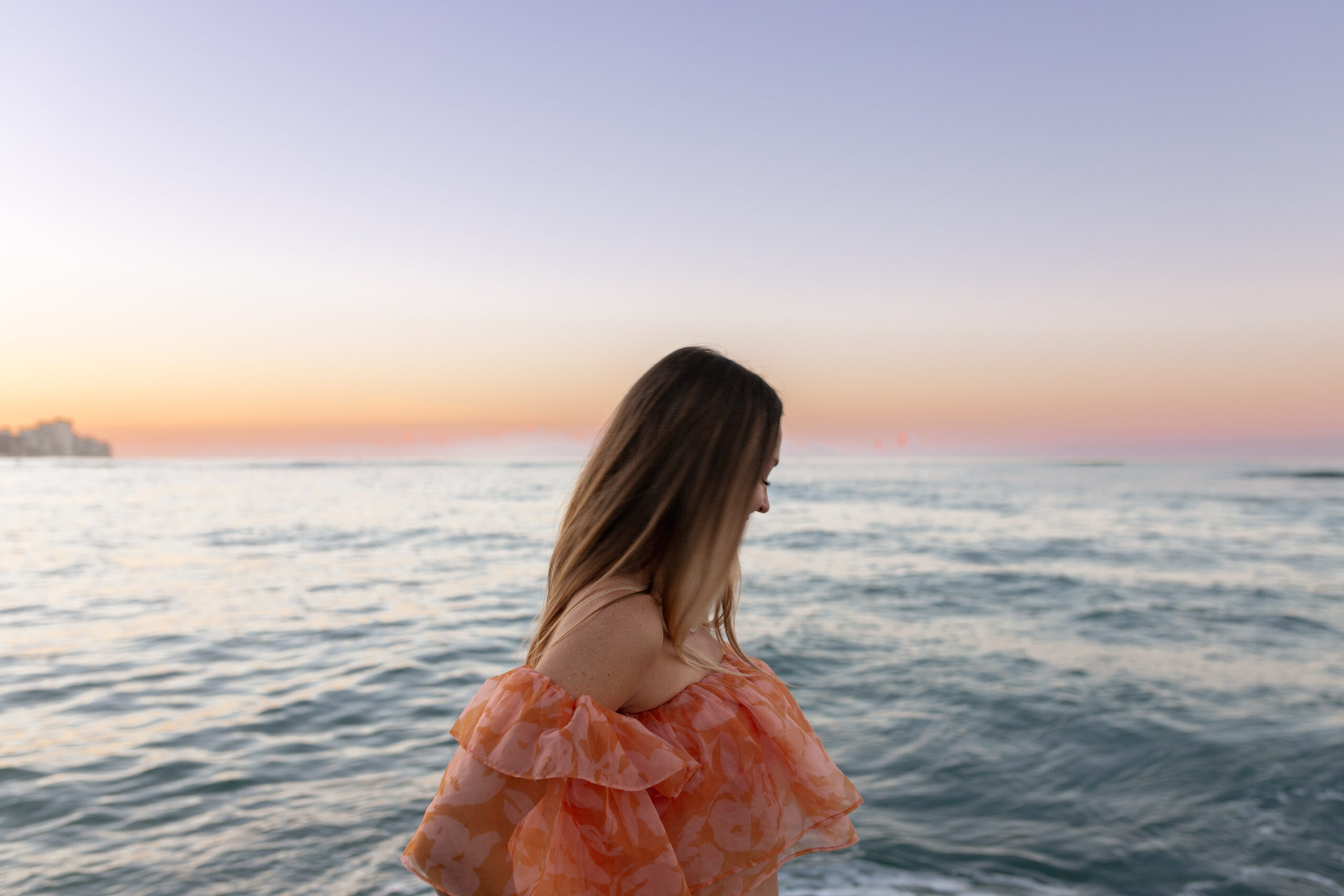 what we did
a failed attempt at history
On our first day, I had scheduled a tour at Pearl Harbor. Unfortunately at the last minute, the tour company I had scheduled called and said they couldn't guarantee we would be able to get on the USS Arizona, which was the whole reason I booked with a tour company in the first place! The National Parks Service limits the number of visitors per day that can go to this part of the Pearl Harbor National Memorial, so you either need to book an individual reservation in advance, or you can book with a tour company who will secure the reservation for you. Since we had heard this was the best part of the Memorial, we were pretty disappointed and I went ahead and cancelled. I figured we would just go and explore the memorial on our own (for free) instead.
As our luck would have it, the day we went we arrived right at opening time and oddly, there was a huge line out front still. We learned that a pipe had burst somewhere inside one of the museum areas, so the entire memorial was closed for the day! It was such a bummer! I have heard this is worth seeing and is also worth it to get a guide to make sure you hit all the high points because it is easy to spend an entire day immersed here. So we will try again if we ever make it back.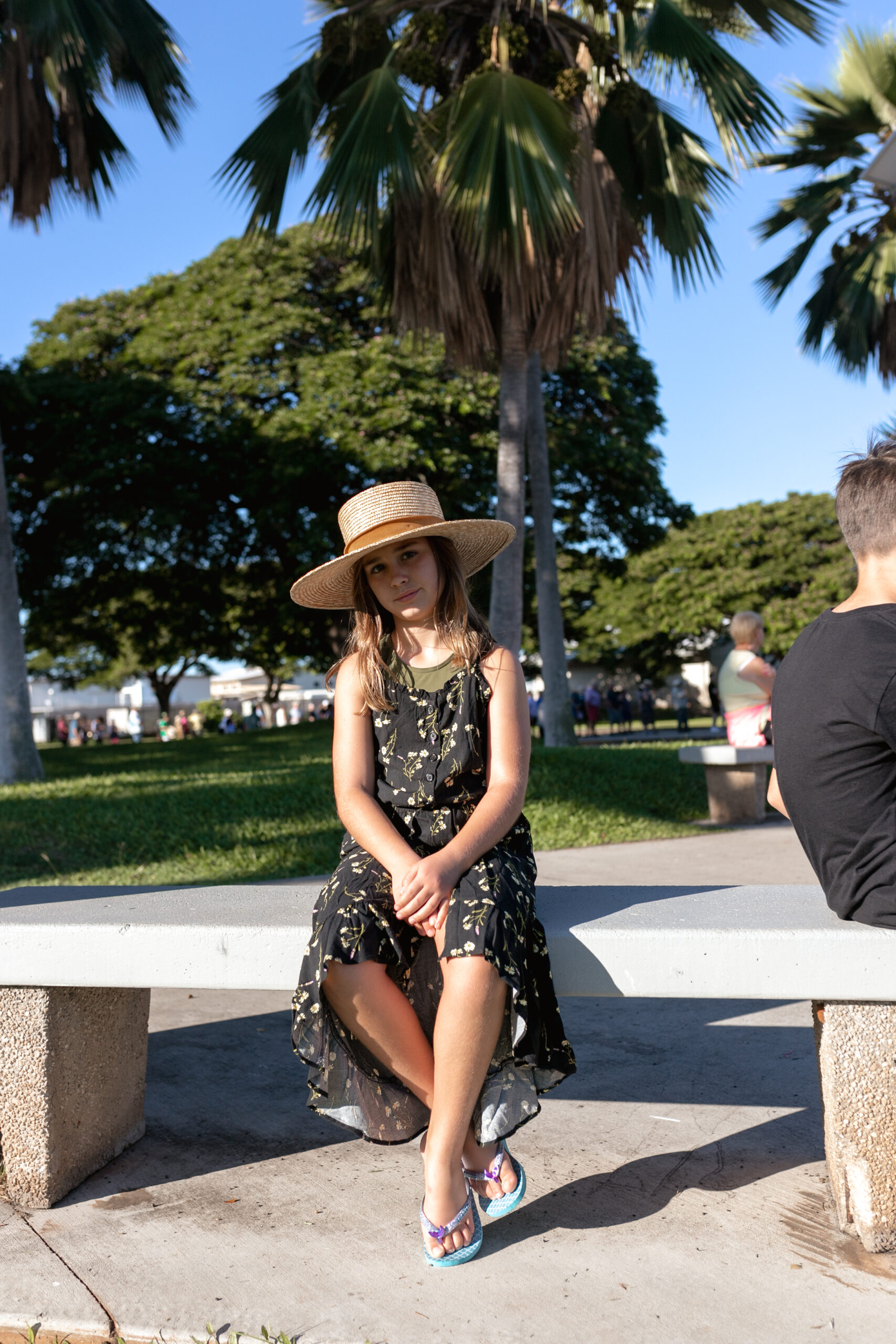 an unplanned drive around the north shore
Plan B for this day was that we just drove around the island. Tony really wanted to stop at the North Shore to watch the surfers o the big breaks. It was already late morning by this point, so it wasn't even the most gnarly of waves to watch surfers on. But the tide was still really rough and there were signs everywhere warning NO SWIMMING and CAUTION. Tbh, this was really stressful with the kids. All they want to do is swim in the ocean (and I can't blame them). They could not resist going right up to the edge of the water and dipping their toes in, even after I repeatedly told them they could not do that at this beach. It was setting my mom anxiety at level HIGH, so we eventually had to leave.
Actual footage of a wave crashing over the kids while they were just SITTING there on the beach of the North Shore: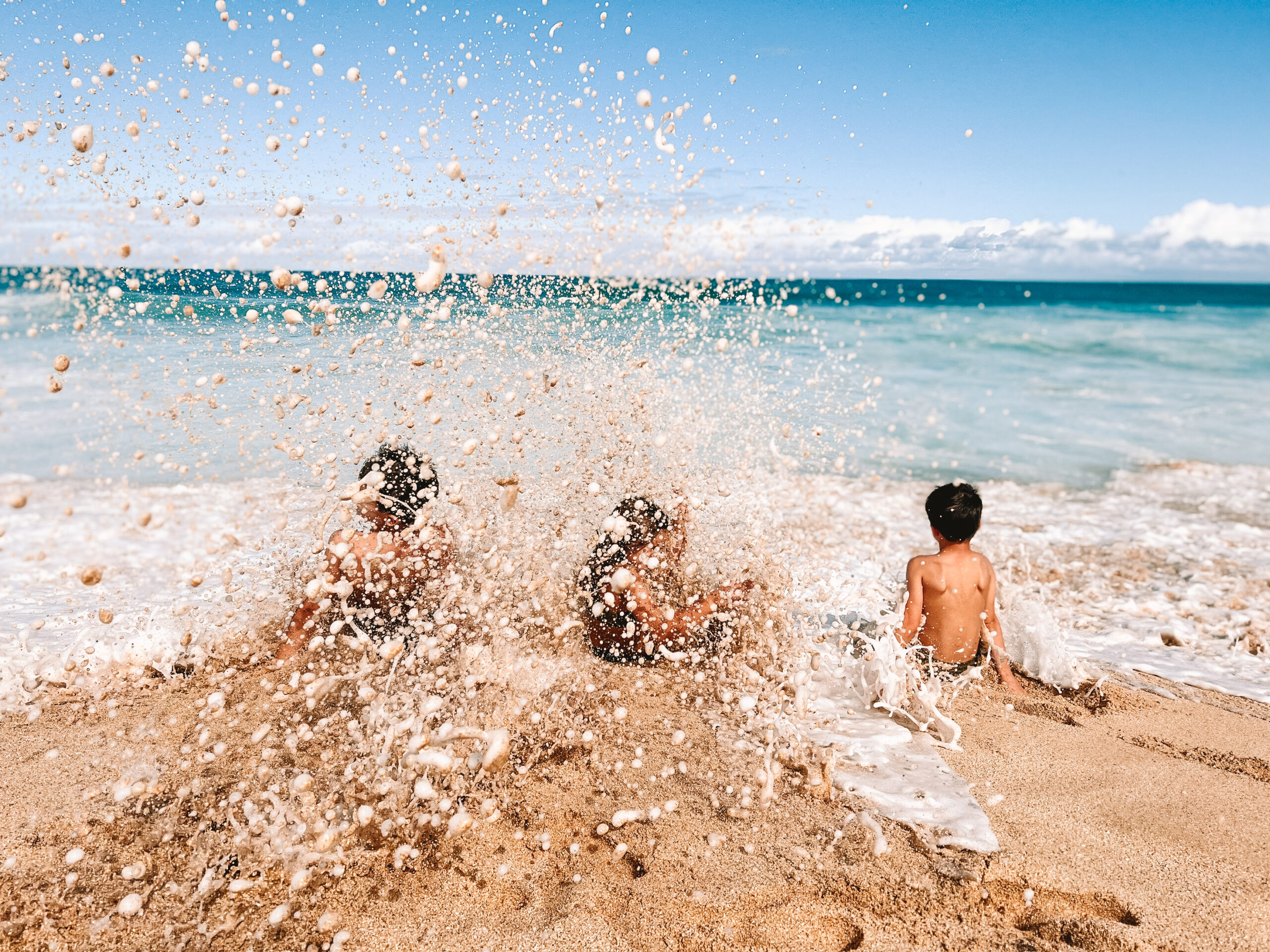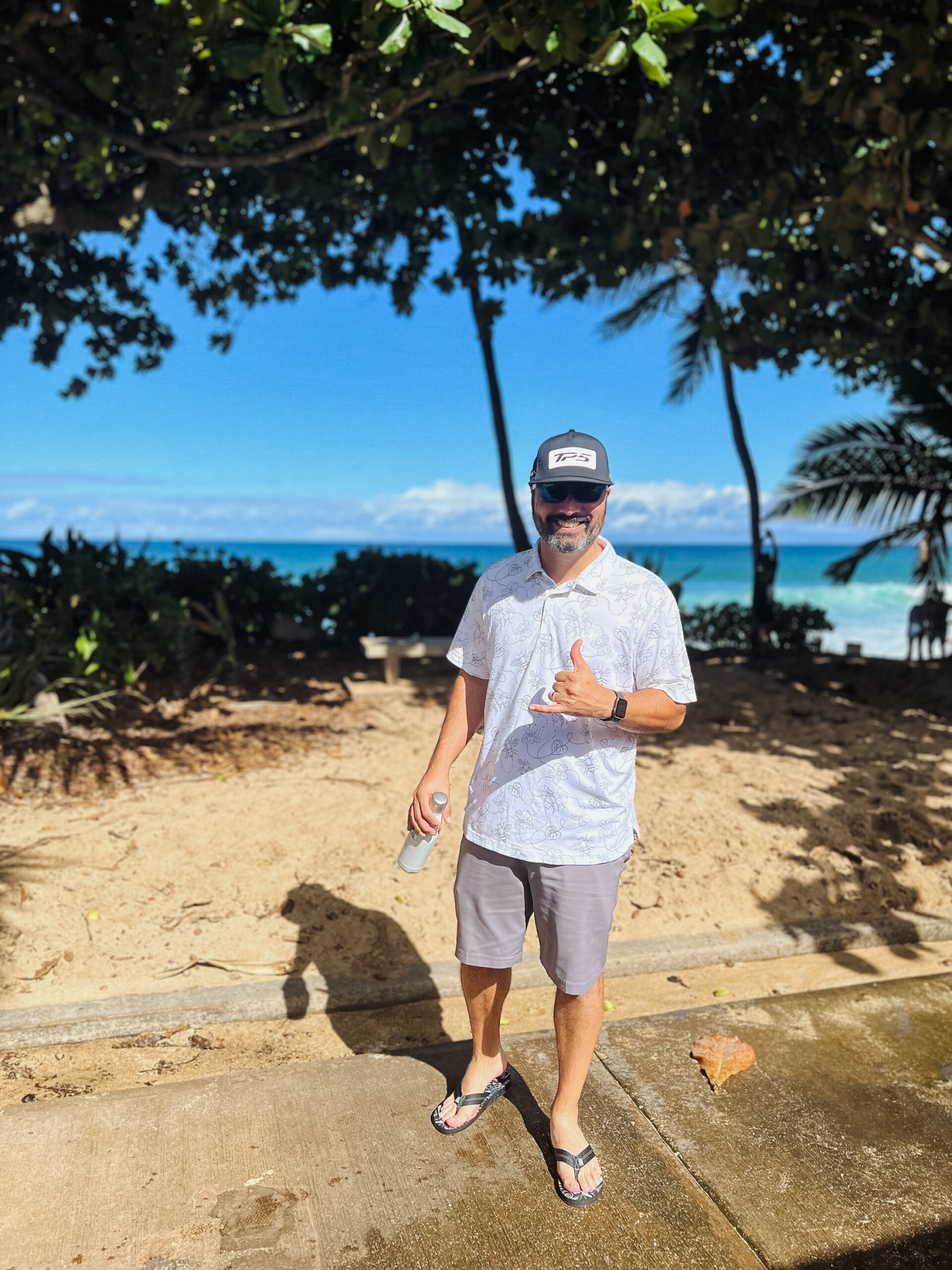 After some açaí bowls to chill us out, we continued our loop around the island and found a more calm beach where the kids could play. We were prepared with swimsuits, towels, and sunscreen, although we weren't really planning a full beach day. Still, we made the most of it and this was the probably the best part of the day! Sometimes I have to remind myself that all my kids want on a beach vacation is A BEACH. We could all happily stay for hours (and did).
We stopped one more time for some food truck food and marveled at the wild chickens that call this island home. It made me miss my sweet girls from back in Arizona.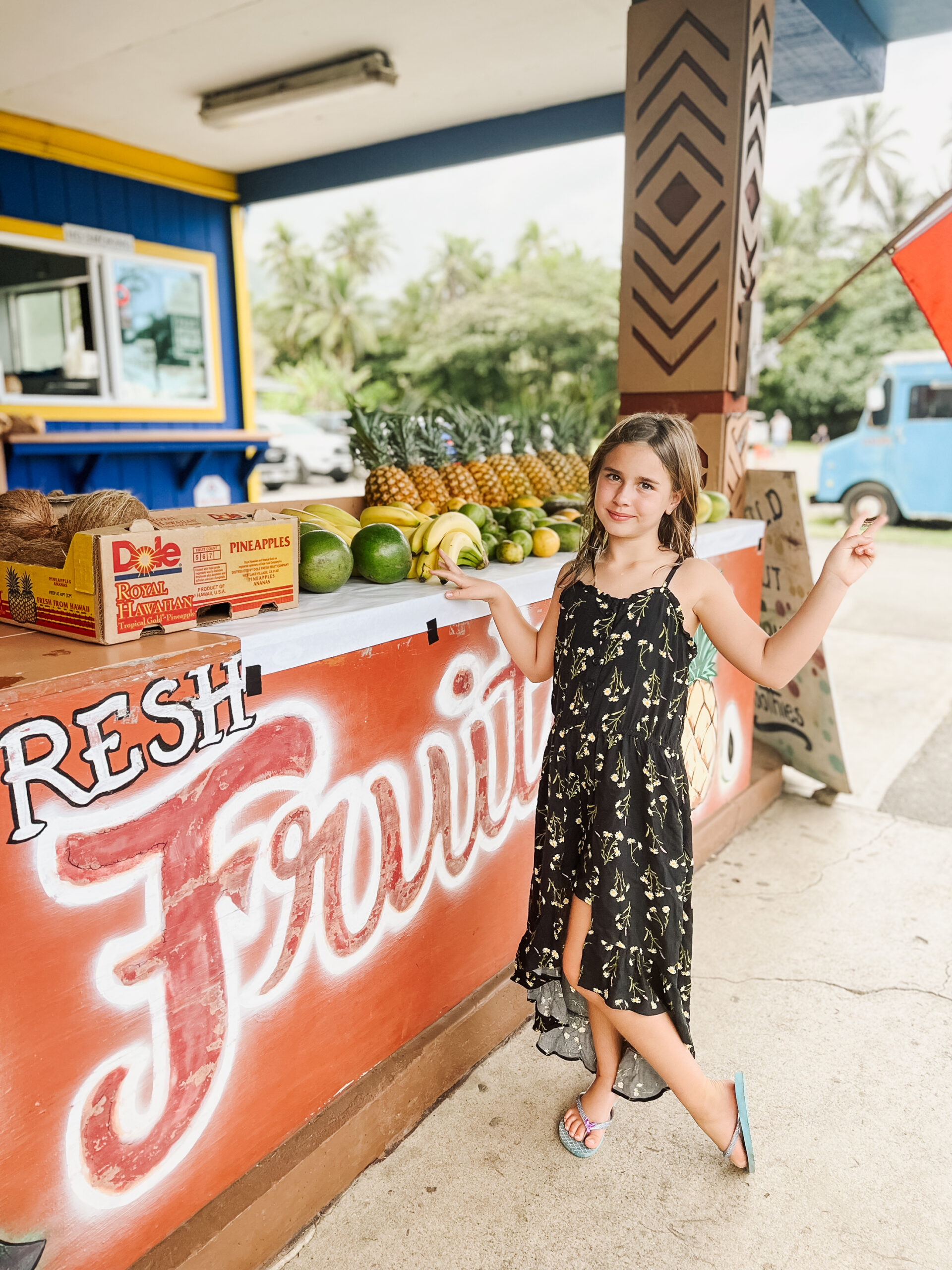 a local's tour (with map links!)
After our failed attempt at some history of Pearl Harbor, we were looking forward to our Local's Tour from our Oahu born-and-raised friend, Ty. We started the next day at a spot called Spitting Rock or Spitting Cave. I probably couldn't even tell you how to get there again, as it is a bit of a hidden gem within a neighborhood with a small public trail that weaves between houses. But I actually did find it on Google maps so I'll link that here. Full disclosure: this is another spot that put my mom anxiety on high. I have oddly developed a fear of heights since having kids and my mind has intrusive thoughts of the worst-case-scenario in situations like this. But the kids and Tony loved it, so I snapped a few pics and excused myself back to the car.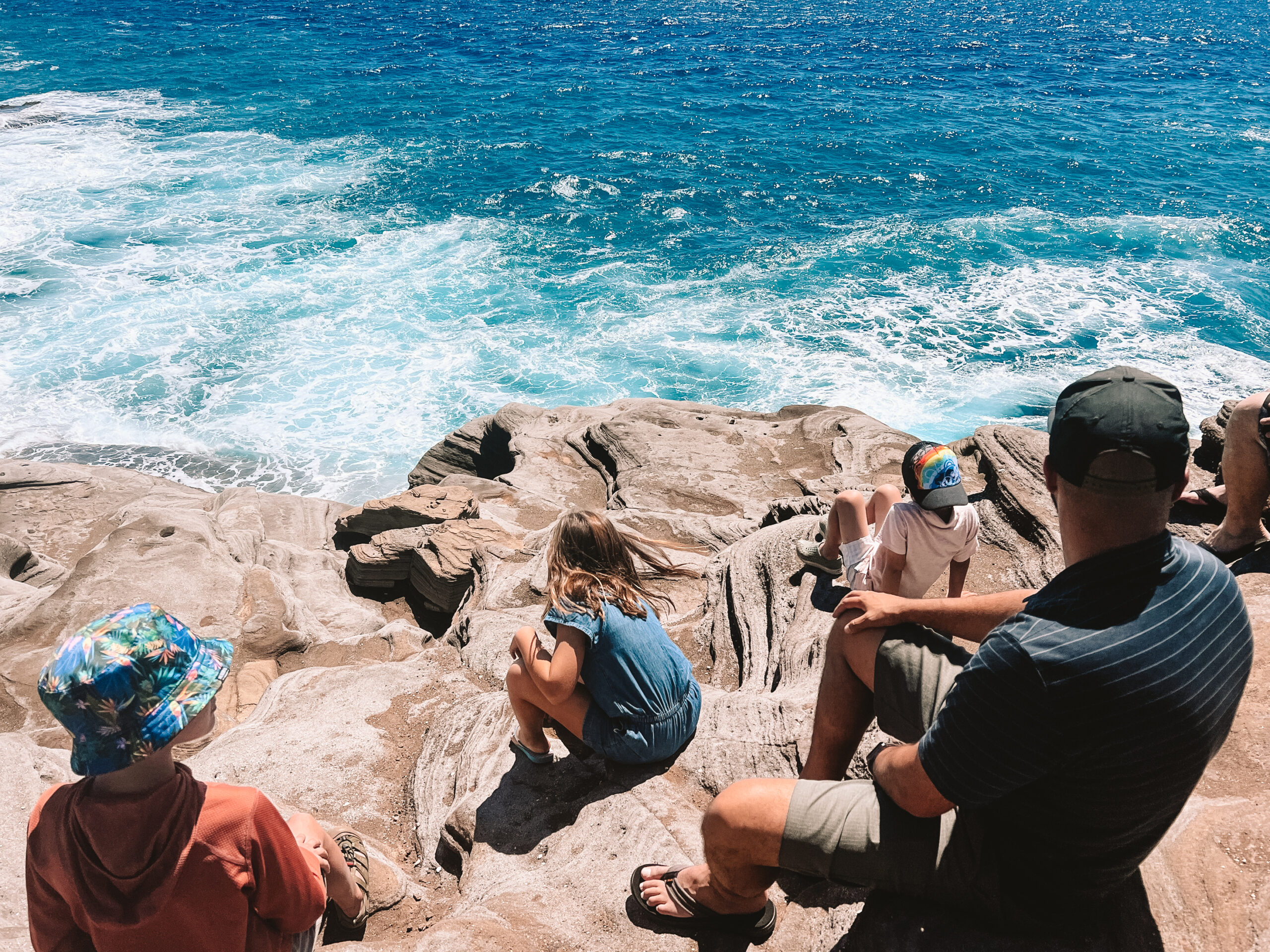 We then continued our drive south and climbed through a Lava Tube, which is a natural cave that was formed from the lava flow! This was pretty cool and also had great coastal views on the other side.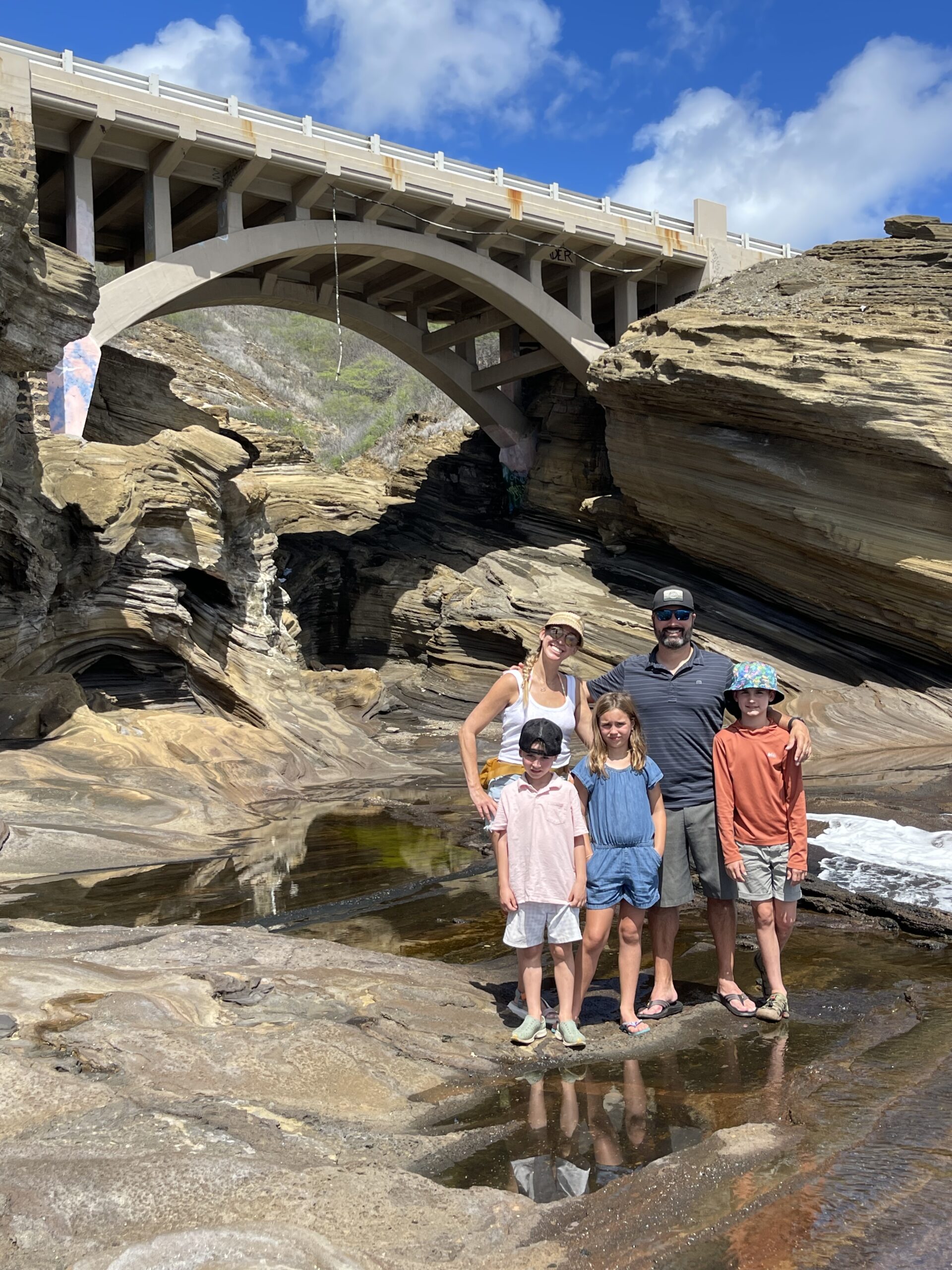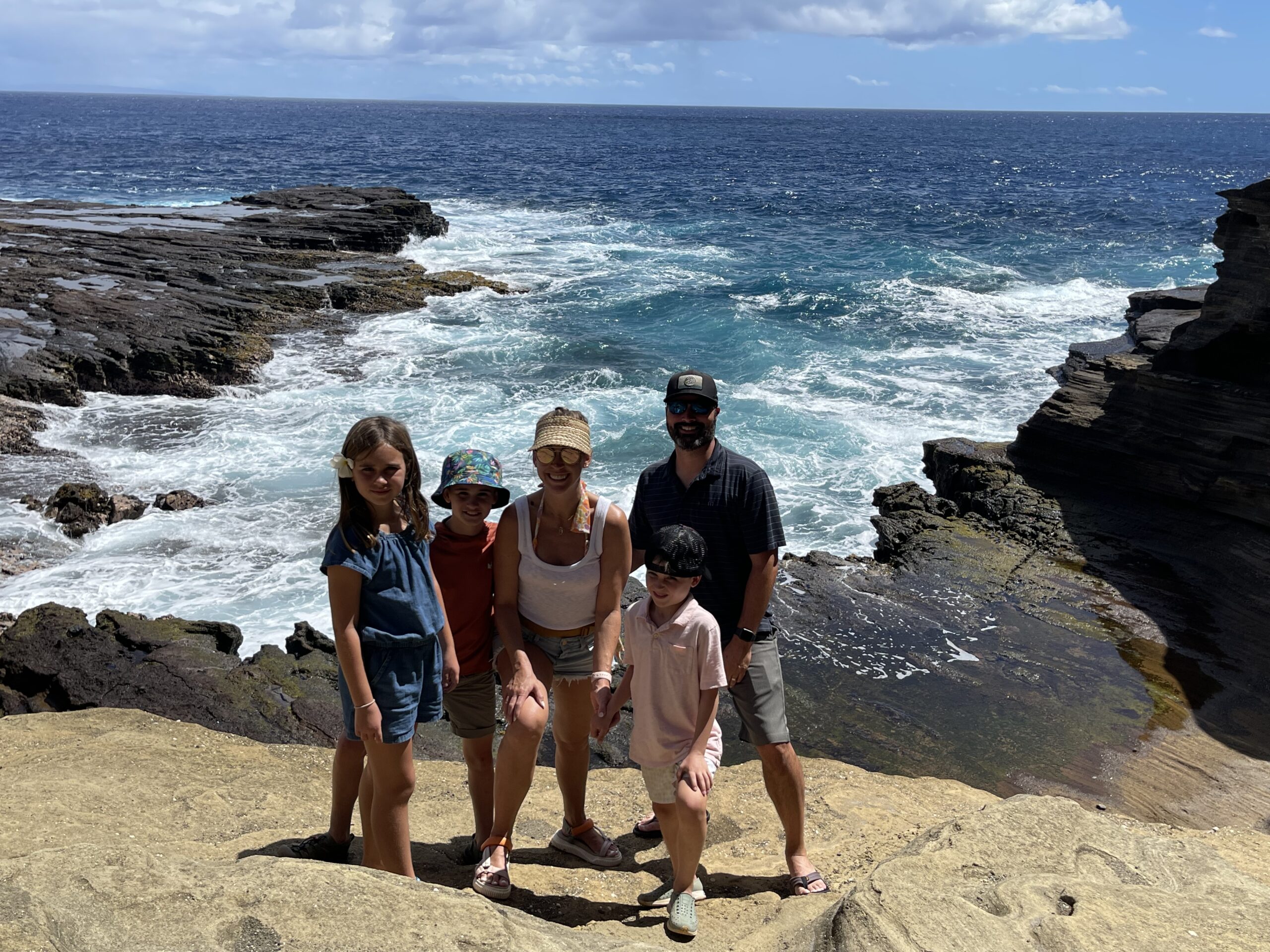 Our next stop was the Makapu'u Point Lighthouse Trail, which is a short hike up a mostly paved road with more incredible views from the lighthouse at the top. The kids were getting tired at this point and the climb was a bit hot in the late afternoon, but I would for sure recommend this hike for most anyone of any ability, still.
We ended our day with a little more driving and I honestly can't remember the name of this area, but it was high up near the center of the island so you could see the whole city, all the way down to the coastline below. We were all tired at this point, but it was such a fun day with so many beautiful views!
The next day, we headed to Maui! For us, three days was the perfect amount of time on Oahu, even with the adjustment to the time change and missing Pearl Harbor. Hope this post helps if you are thinking of visiting Waikiki or other parts of Oahu in the future. Stay tuned for Part 2 of our Hawaiian adventure: Maui!