This post has been created in collaboration with the Viceroy Snowmass to share with you 5 reasons Snowmass is it for a family ski trip. In exchange for a hosted stay, I am sharing with you my honest opinion and some insider tips!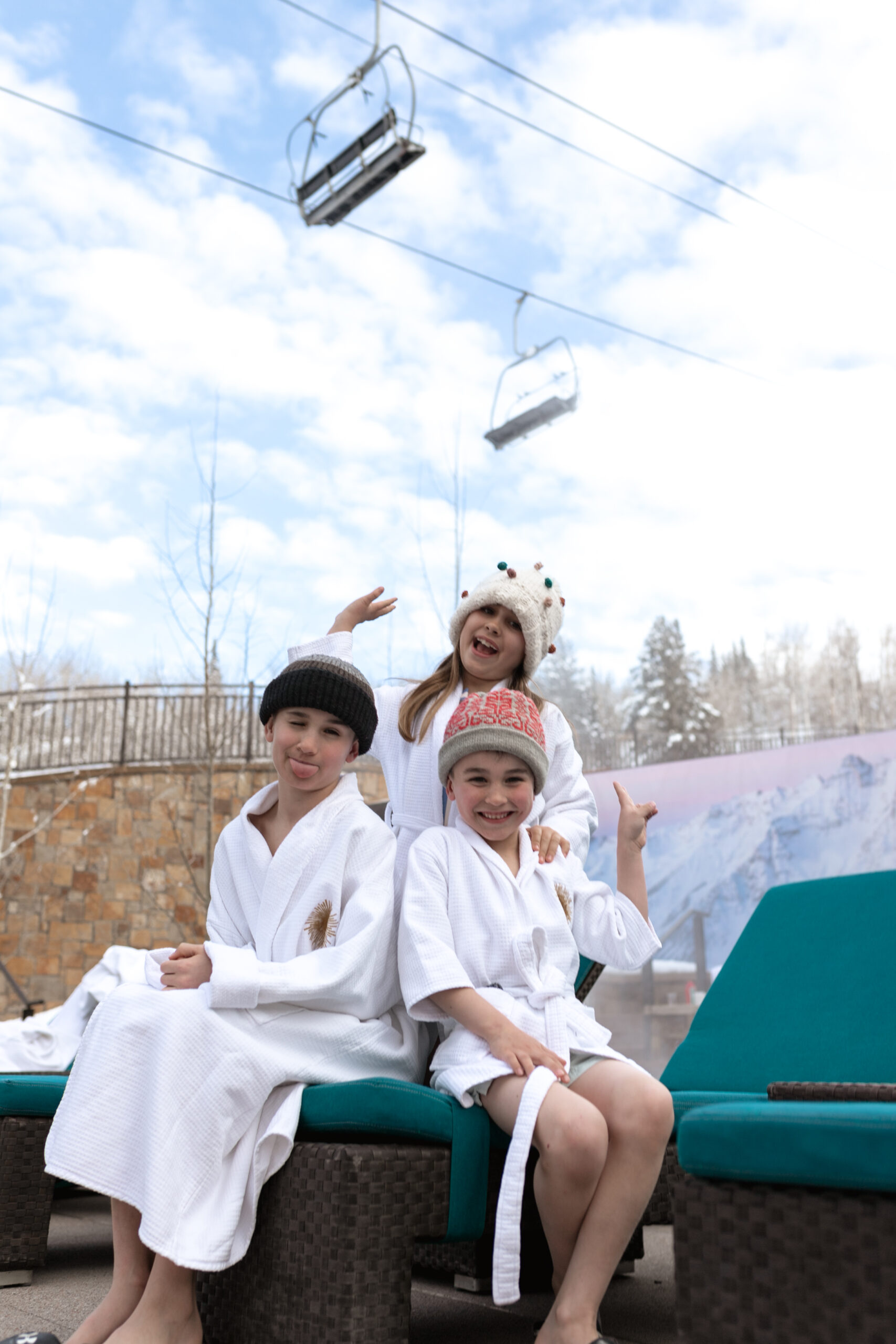 Since our family moved to this quaint mountain valley in Colorado, not a day has gone by that I am not grateful for the beauty of where we live! We spent about a year debating our move here when we decided we were ready to leave Arizona, but I am sure now that the Roaring Fork Valley is absolutely where we are meant to be right now, and words can not describe how lucky we feel to be here.
When we settled on this part of the state, near one of the most famed ski towns in the world, we agreed we would do our best to squeeze all the fun possible out of living here. This area is a giant outdoor playground, not only in the winter, but pretty much year round! So we committed to the full ski pass on the four mountains that make up the Aspen Snowmass resorts, geared up for winter, and here we are! We live pretty close to the resorts (about 30 mins or less), but it was also on my bucket list for this winter to do a family staycation (and you know I love a good family staycation!), so we could experience the mountain with the kids like a true vacation. Prior to moving here, we had only ever been on one family ski vacation, so it just seemed like a fun idea!
I know a lot of my audience doesn't live close enough to staycation, so my goal for this post is to share with you all the tips and tricks I've learned from not only visiting here over the years, but as a new and current local. And I specifically want to highlight some of the best things about our new favorite place to stay – the chic and luxurious Viceroy Snowmass.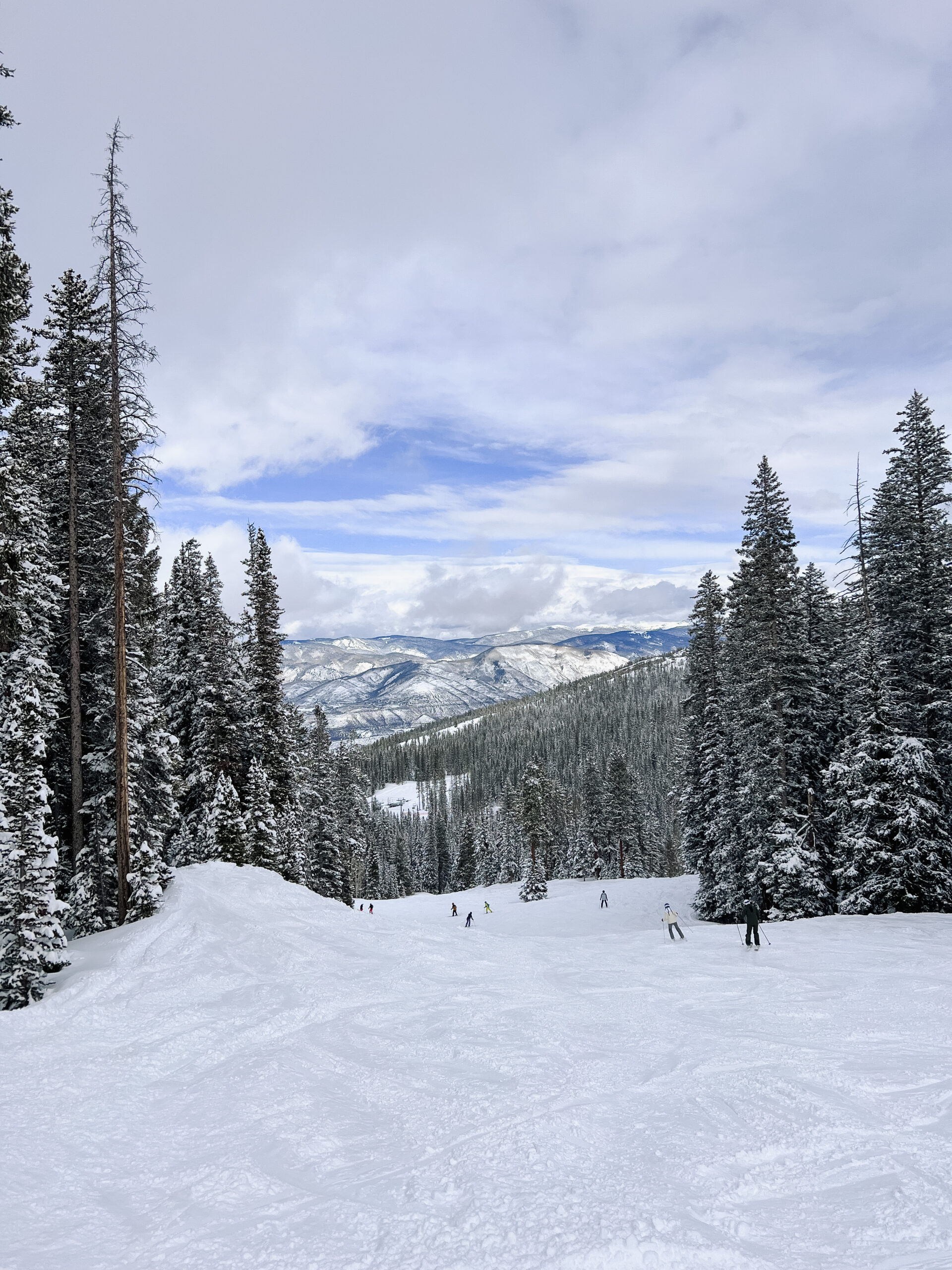 1 | why snowmass is it for your family ski trip
One of the unique things about the Aspen Snowmass ski resort is that it is not just one or even two mountains, as the name might suggest. There are actually four mountains to ski on the one pass – Aspen (aka Ajax by locals), Aspen Highlands, Snowmass, and Buttermilk. I often get asked which is my favorite mountain, and the answer is – it depends. Mostly it depends on your group type (girls trip, family trip, couples, etc.) and your ski/ride ability. But for families, my answer is always Snowmass! Snowmass dwarfs the other mountains with over 3,300 skiable acres of terrain – thats more than the other three mountains combined! It also has the most green and blue terrain, which is great for beginners or "new again" skiers. There is a great ski school program at Snowmass too, available for all levels of both kids and adults. But there is still plenty of interesting steeper terrain towards the top of the mountain as well, which means there is literally something for everyone!
The weekend we had our staycation in early March was actually an epic pow weekend! So we challenged ourselves to do Longshot as a family. Longshot is the longest continuous run at Snowmass – and some say in Colorado or even the lower 48 (but this is disputed by the internet). Either way, it's a fun and challenging long run of at least 3.2 miles of un-groomed terrain. It's also a short hike up to get to it from the top of the Elk Camp lift. Overall, mixed reviews from the family on whether it was worth it or not (I'll let you guess who was a fan and who wasn't haha), but I thought it was pretty fun!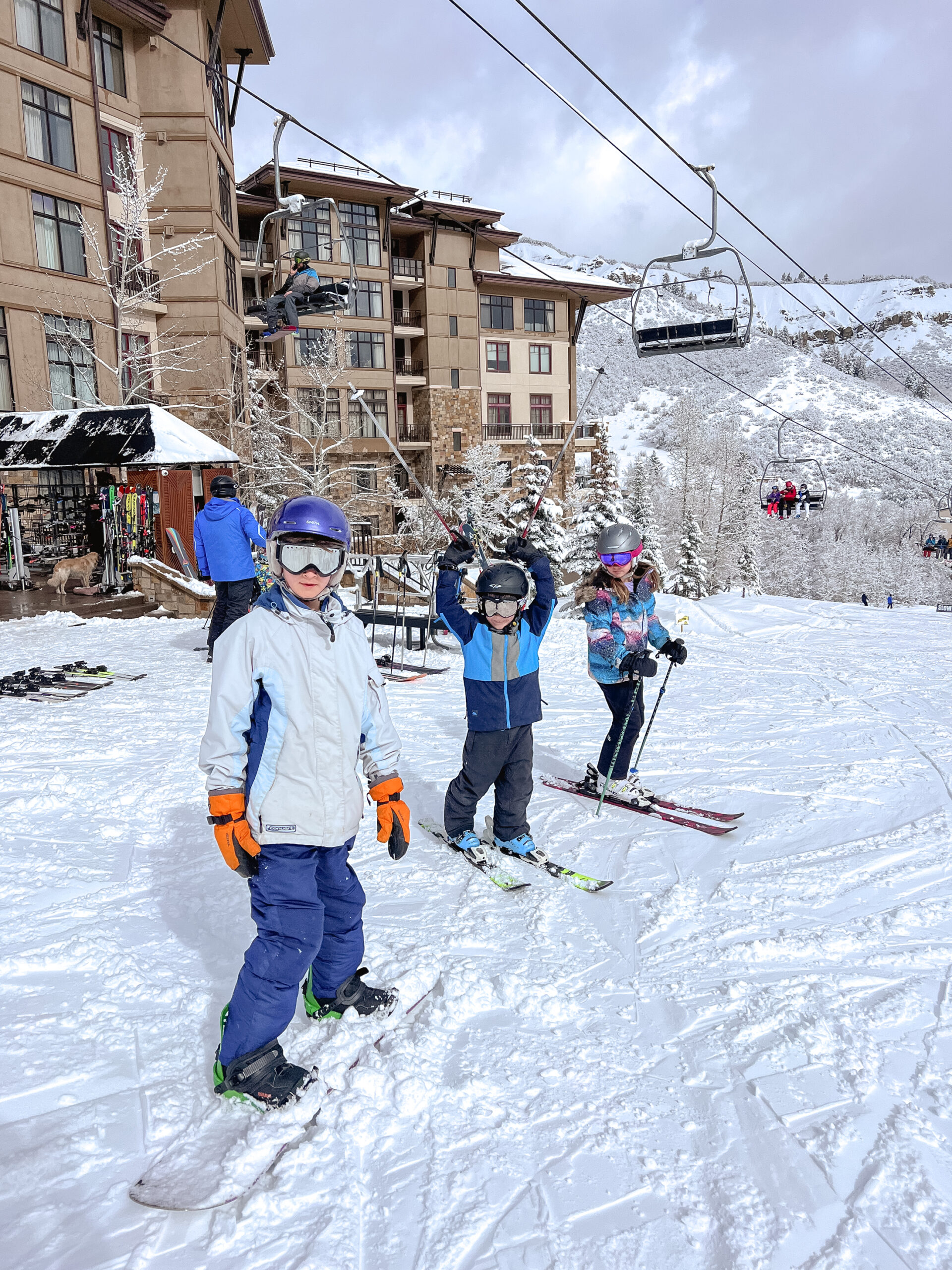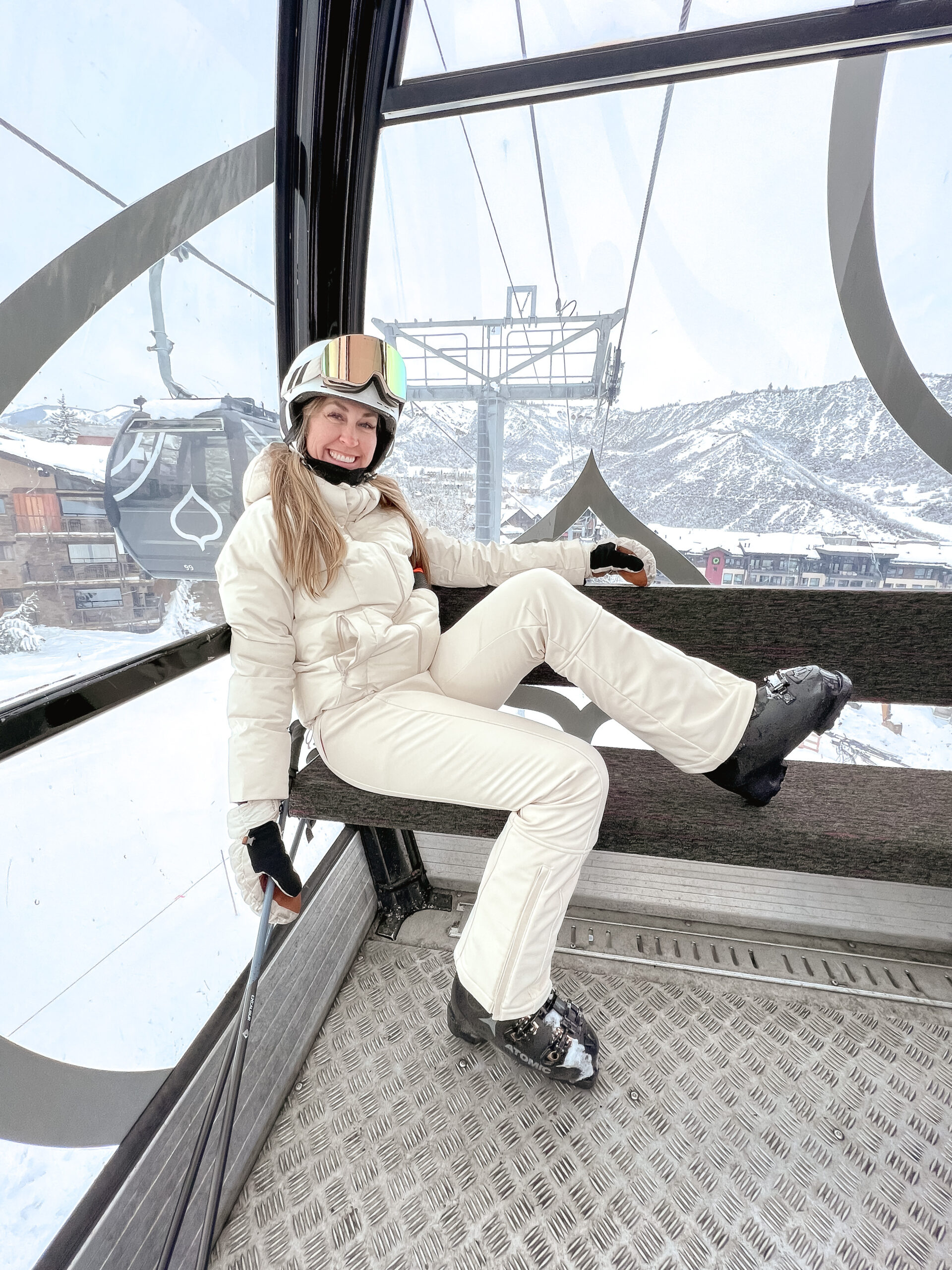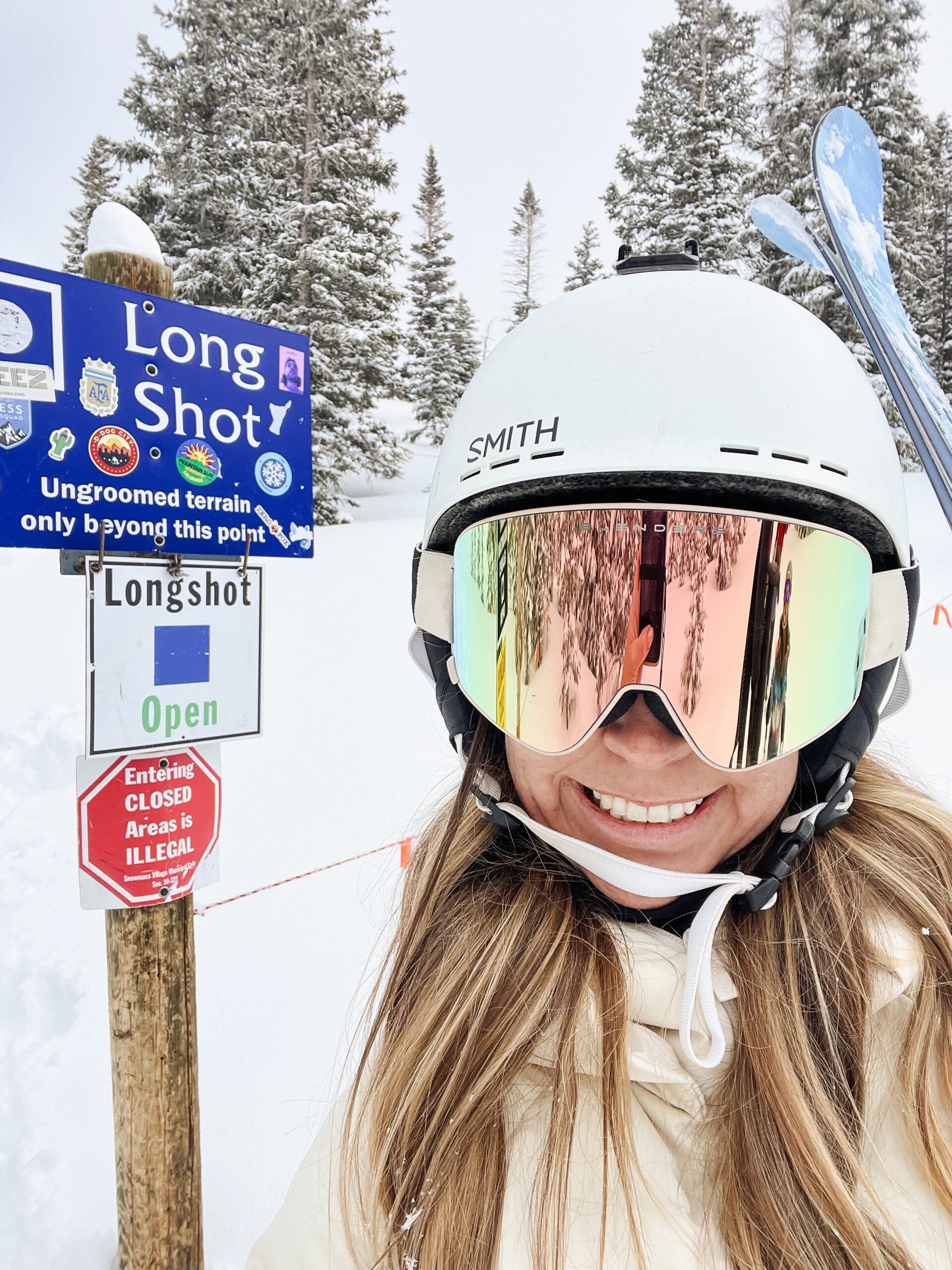 2 | the best place to stay in snowmass
Other than the diversity of terrain and sheer amount of skiable acres, Snowmass has the most lodgings being ski-in ski-out, which if you've ever skied before you know is a HUGE perk. Ski gear is bulky and annoying and it takes practice to manage it all – especially when you have kids who prefer NOT to carry their own stuff. IFYKYK. The Viceroy Snowmass is no exception to that, with a prime location right at the base of the mountain and next to the Assay Hill lift. This also makes parking super easy. We pulled into the car valet and they brought our skis/boards right down to the ski valet, where they had them waiting on the snow for us! The next morning was a breeze with the ski valet as well – just such a nice treat for all of us not to have to haul our own gear like we normally do!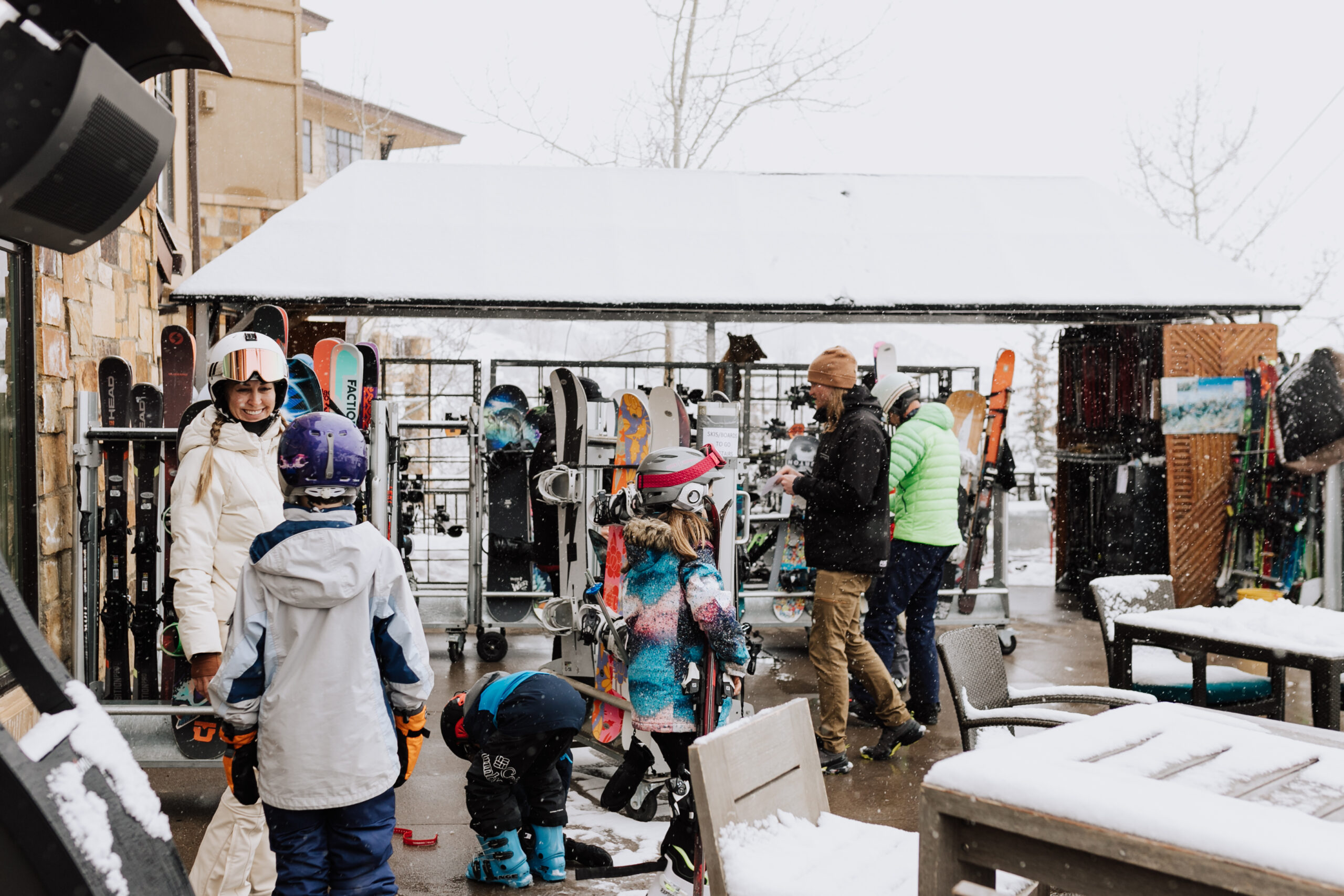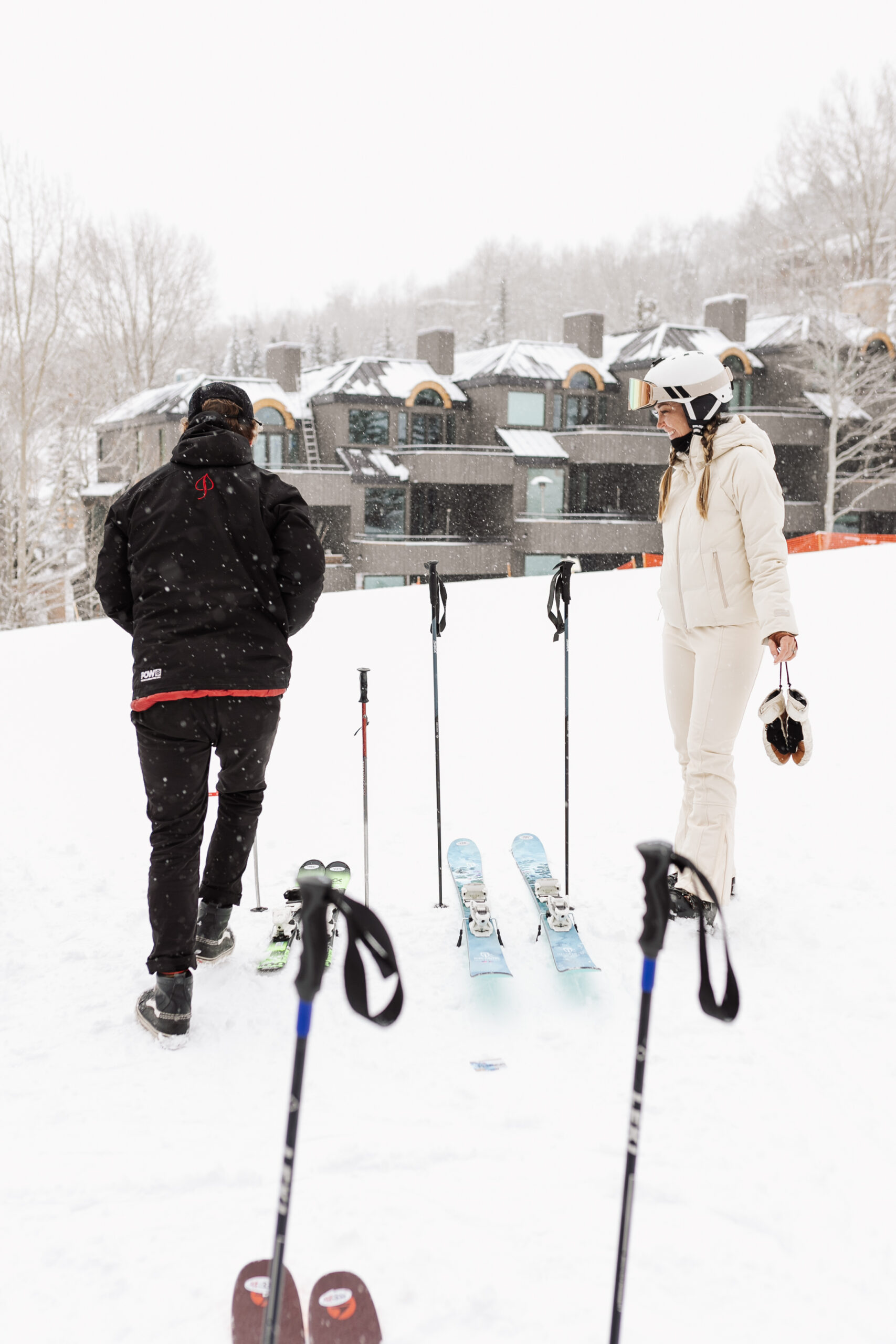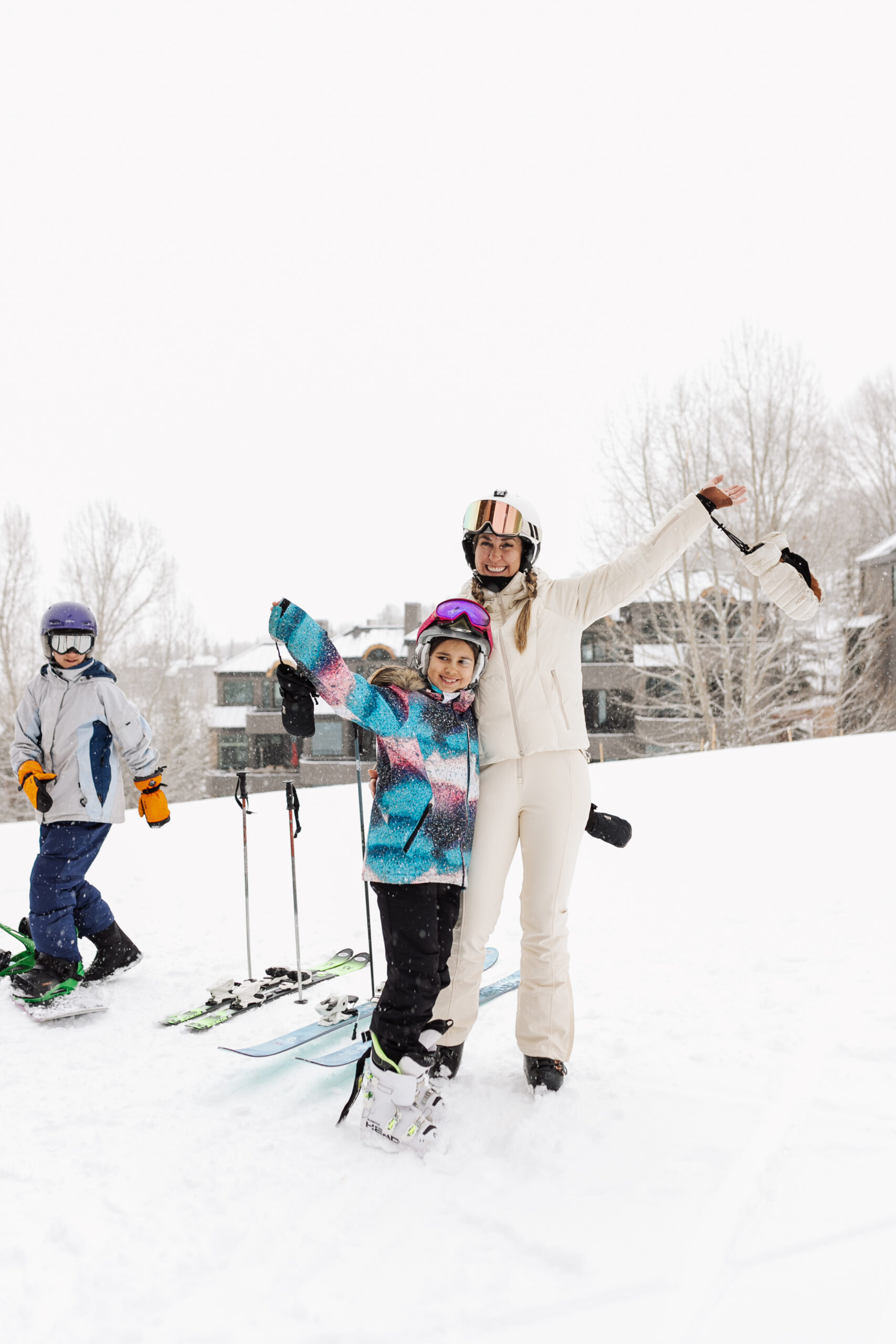 Since we came early to ski and our room wasn't quite ready yet, the valet also was able to hold our bags for us. Yes, this is pretty common for most hotels, but the Viceroy made check-in time a little extra with a lovely hot chocolate bar, fresh cookies for the kids, snacks, and even a welcome drink for the adults. It was *chefs kiss* after a long day on the mountain.
3 | family friendly for skiing + beyond
Ok so clearly we are fans of free hot chocolate and snacks (the mountain charges $5 for a hot chocolate btw), but the Viceroy doesn't stop there when it comes to family-friendly amenities. The third of my 5 reasons Snowmass is it for a family ski trip is the way the Viceroy goes above and beyond for their guests!
We were booked in the one-bedroom plus den residence and it was the perfect size for our family of of five. I was ready to move in. There was a king bedroom for Tony and I with a huge walk-in closet and ensuite bathroom, an efficiency style kitchen (including a large fridge and dishwasher), a double sided fireplace, and washer dryer in suite! This is another major perk for skiing that I think many people don't think about,  but when you come back to your room with wet ski clothes and need to dry them all for the next morning before getting back out, having a dryer is HUGE! The couch in the main living room was a pullout and there was also a small den with another pullout couch, so we had plenty of sleeping space. And there was a whole second bathroom that was perfect for the kids to share.
We were really extra spoiled by our Viceroy hosts with champagne for the grownups and cookies and milk for the kids! Also, how cute are the kids' robes? Can you EVEN?
After a little downtime and snacks, the kids were ready to hit the aprés scene down at the heated outdoor pool! I think they had such a great time swimming after having so many months away from a pool. And the hot tub was a welcome reprieve for all of our tired muscles.
4 | close to everything for your family
Ok so obviously we are a ski/ride sort of family and we love to stay on mountain as much as possible when we get the chance at a family ski trip. With all the amenities the Viceroy had to offer, we hardly needed to leave the hotel during our stay. But for those of you who aren't that into it – or maybe don't ski at all, I want to assure you there is plenty to do, just steps away from the Viceroy, in Snowmass Village. There is also Snowmass Mall, which is just a short (free) ride up the small colorful gondola the locals lovingly call Skittles. Between the two you will find tons of restaurants, shopping, and activities including ice skating, an arcade (inside the Collective Snowmass building), outdoor playgrounds, bowling, and special events happening both on and off mountain year round.
You can also get a sightseeing pass to take the big Elk Camp gondola up for access to the mountain coaster and tubing (hours limited, so be sure to check in advance). Yet another reason Snowmass is it for your next family ski (or non-ski) trip!
At the Viceroy, you can hope on the Luge anytime and catch a ride over the the Snowmass Base Village. It's just a short walk, but if you have your ski gear and want to start from the Elk Camp gondola, or just don't feel like walking, it's super convenient!

5 | don't worry, you're still close to aspen
In case you're feeling like you still want to experience Aspen, don't worry, you're still close. Aspen is the cutest little town to walk around and there are great restaurants and shops there too, so it's worth a trip into town. It's a totally different vibe from Snowmass, rich in history. It's just a short 15 minute drive into Aspen from Snowmass. Or you can take the very efficient local transportation system, RFTA.
As far as skiing goes, just a heads up that Aspen mountain only offers Blue and Black runs, so make sure you are prepared to ski that type of terrain before you go there.

That sums up my 5 reasons Snowmass is it for a family ski trip! Have I convinced you that I'm right? 😉
While the winter ski season is winding down now, don't forget summers in Snowmass are also stunning and so, so fun! Right now you can extend your stay – if you book four nights at the Viceroy Snowmass, they'll give you a fifth night on them. That's more time to enjoy the fresh mountain air, whether you bike or hike on a world-class trail, or simply sit back on our terrace and take in the view. With natural beauty all around, you create unforgettable memories, from grabbing cocktails at sunset to relaxing in your spacious guest room.