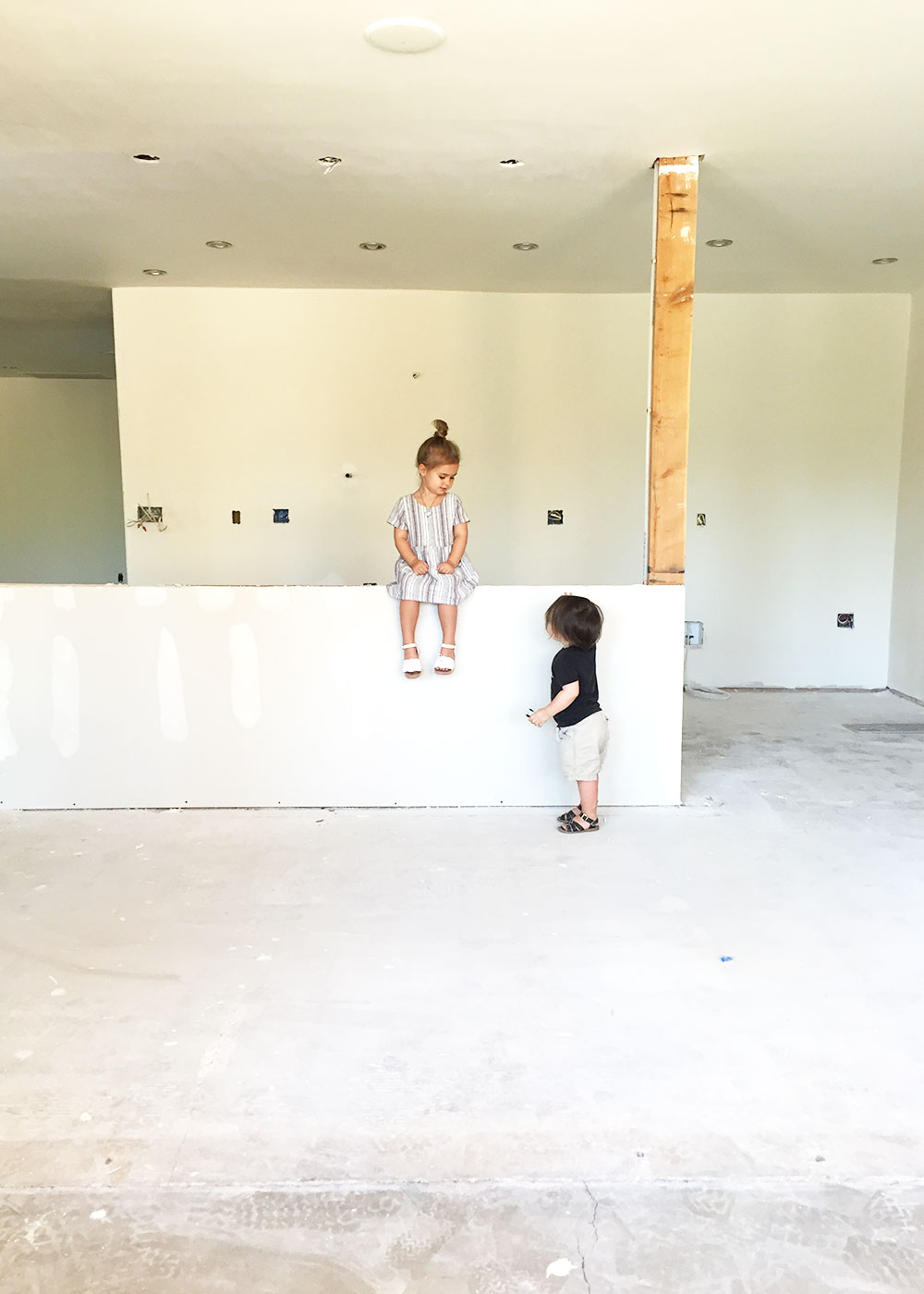 I've had a lot of interest lately in all of our home projects, so today I thought I would round up some of our latest modern kitchen inspo for the LDL Home! This is our current kitchen situation, so you are going to have to use your imagination a little bit with me here.
Just the process of designing our own kitchen is already a dream come true. My husband and I have both been renting for all of our adult lives thus far, so we have never really been able to make any major changes to a kitchen we have lived in. Well, there was our late 1960s apartment in Los Angeles that we fell in love with because it was dripping with charm. But all that charm also came with wood paneling in the 'den' and varnished wood kitchen cabinets. *cringe* Oh and how could I forget the avocado green tile countertops! Luckily, our landlords then let us paint the cabinets and wood paneling white, which helped. But other than that, that's about all we've ever done in the way of kitchen 'designing.'
Suffice to say, I have been dreaming of my dream kitchen for years. I will admit though, now that it is actually here, thinking about all the finer details and sourcing all the materials is a lot harder than I thought! I've been spending a LOT of time on Pinterest lately, going wayyyy too far down the rabbit hole trying to find this knob or that tile. And then I find a pretty image for the kids room and pin that. Hours later and I'm like wait, I still didn't find that tile I wanted! Ha.
And because I need to have a super long explanatory title for every creative project, I will call this one: Modern White Bright Kitchen with a Bohemian Vibe. Just don't call it rustic. 😉
From the get-go, I have always wanted an all white kitchen. Lots of natural light, marble countertops, white subway tile backsplash, and gold accents.
exhibits A, B, C + D: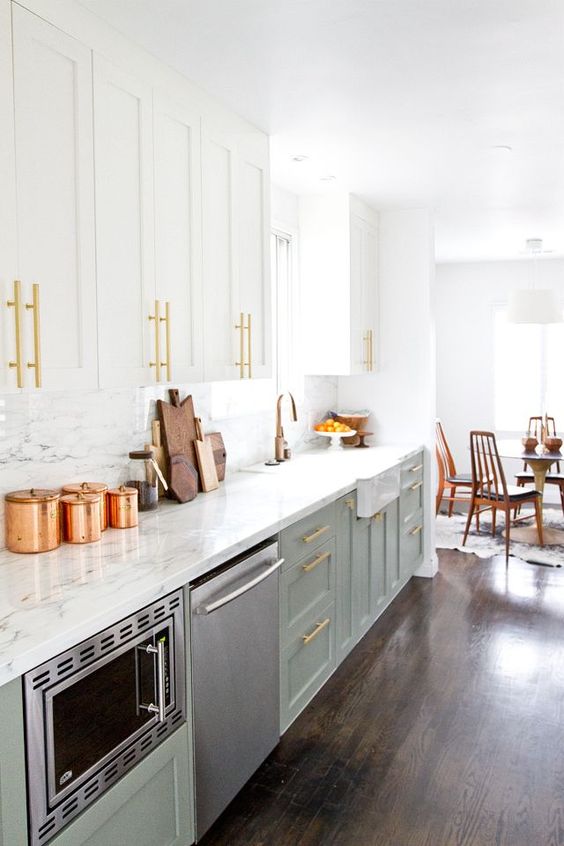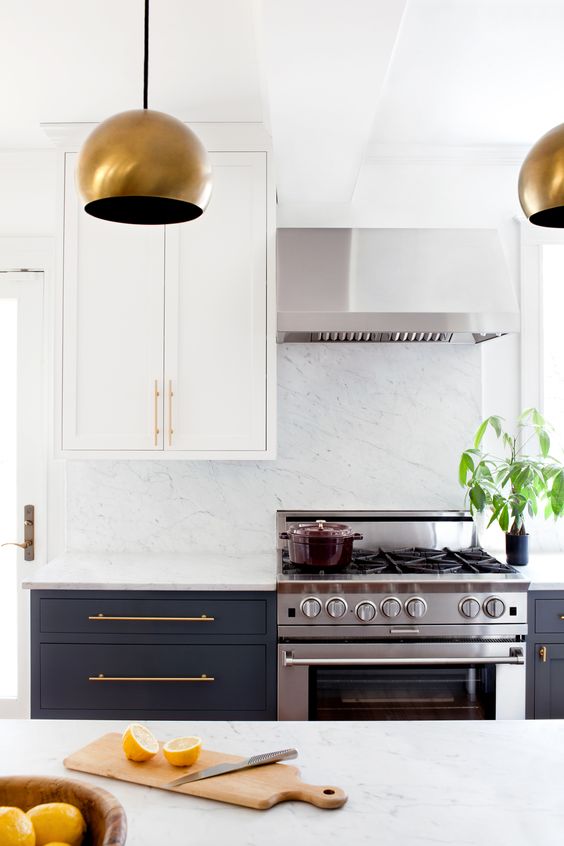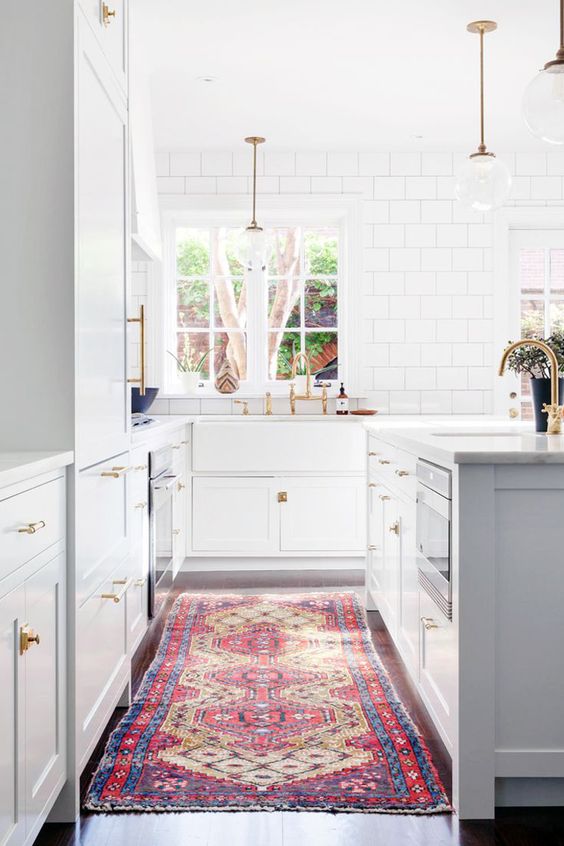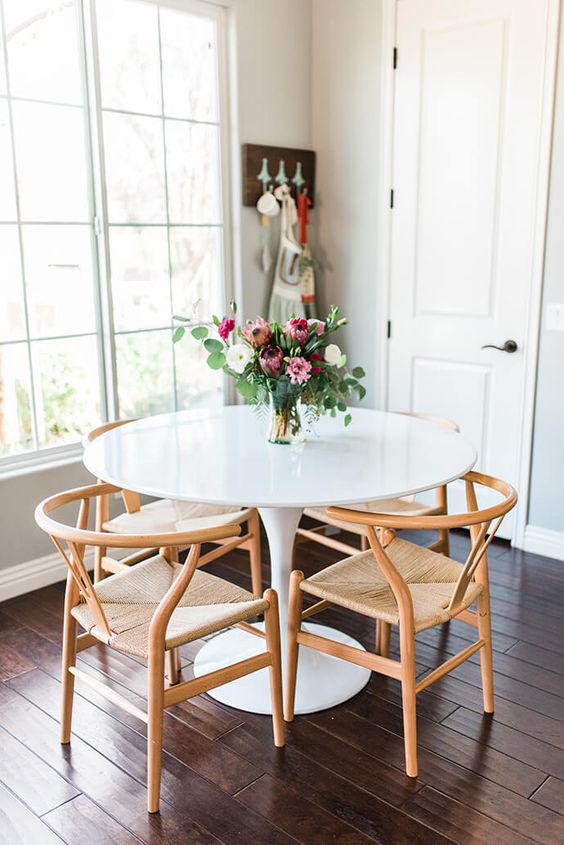 all images via pinterest
After going through this process (so far), I still want white + bright, but I have adjusted in some areas a bit. I learned that marble countertops are really not durable at all (especially if you have kids) because they are very porous and stain easily. But there is a manmade product, Quartz, that is much more durable and can be found in marble-looking patterns! Bonus, it's also a lot less expensive. There are several brands of this including Silastone, but we found a great local resource here at Arizona Tile that carries their own in-house brand of quartz and the price of it was a fraction of some of the other brand-names!
Design wise, as much as I love all white errthang, there has to be something to balance it out, even if that something is mostly neutrals. I do love the grey trend happening right now, but I think a lot of people fall into the trap of trying to match the grey and white everywhere, and end up with 500 shades of grey in their space. Our rental house right now has a lot of grey and it just makes everything look and feel a little cooler, if you know what I mean? A better option is to add some warmth to the room. So we are doing the two-toned look with white cabinets and a light grey island base, but bringing in warmth in the wood floors, warmer-toned hardware, and an exposed wood beam or two.
The other thing that has taken a lot of time is me really second guessing myself about everything. i.e. Trying to predict if we will still like something in 10 years. For example, I have been loving white subway tiles since way back when. But now they are SO popular, I'm worried that maybe I will be sick of them in a hot minute! Then I found this image on Pinterest and I was instantly in love with the idea of using a patterned field tile behind the range/hood. Still haven't settled on and exact one yet, but how pretty, right?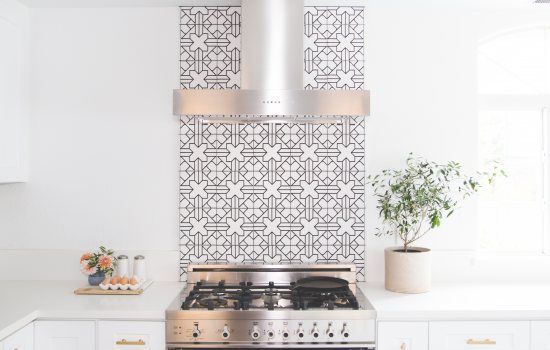 images via pinterest and tiles are from fireclay
Another thing I always thought I wanted was all gold (brass) hardware. But my husband was pretty against it. So we compromised to do chrome finishes for the fixtures (sink faucet, etc.), but gold for the hardware. And then I started to go down the road of rose gold/copper which I have been loving for the last couple of years. And to be honest, I think the copper will have a little more of a lasting/classic look to it. So we are going with copper for the hardware now, knowing that if we do change our mind in 10, or even 5 years, that that is easy to change! [Still with the chrome for fixtures though!]
copper inspo: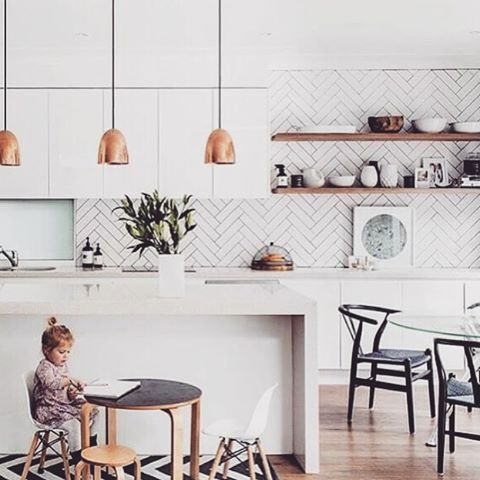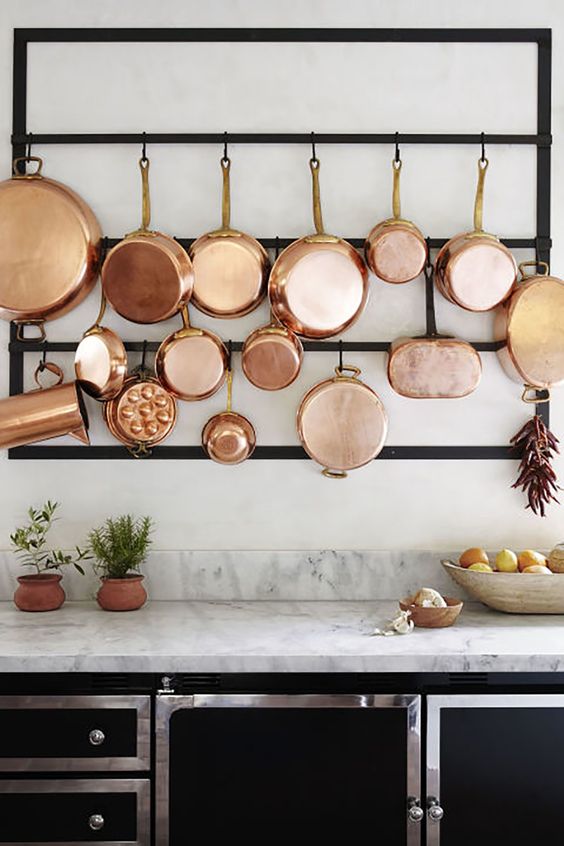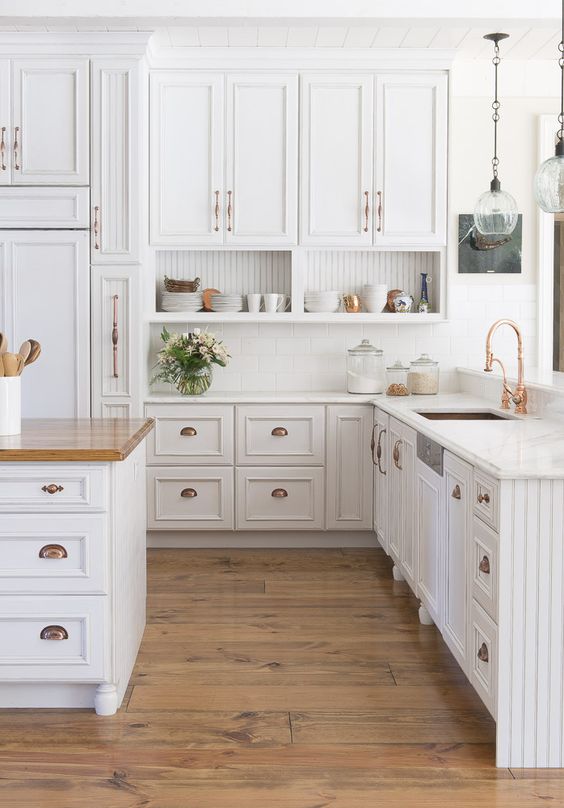 all images via pinterest
Ok so now that you are inside my head a little bit about my inspiration, I wanted to share some things I've found so far for the kitchen! Take a peek, check out the links below, and of course PIN this if you love it too! xoxo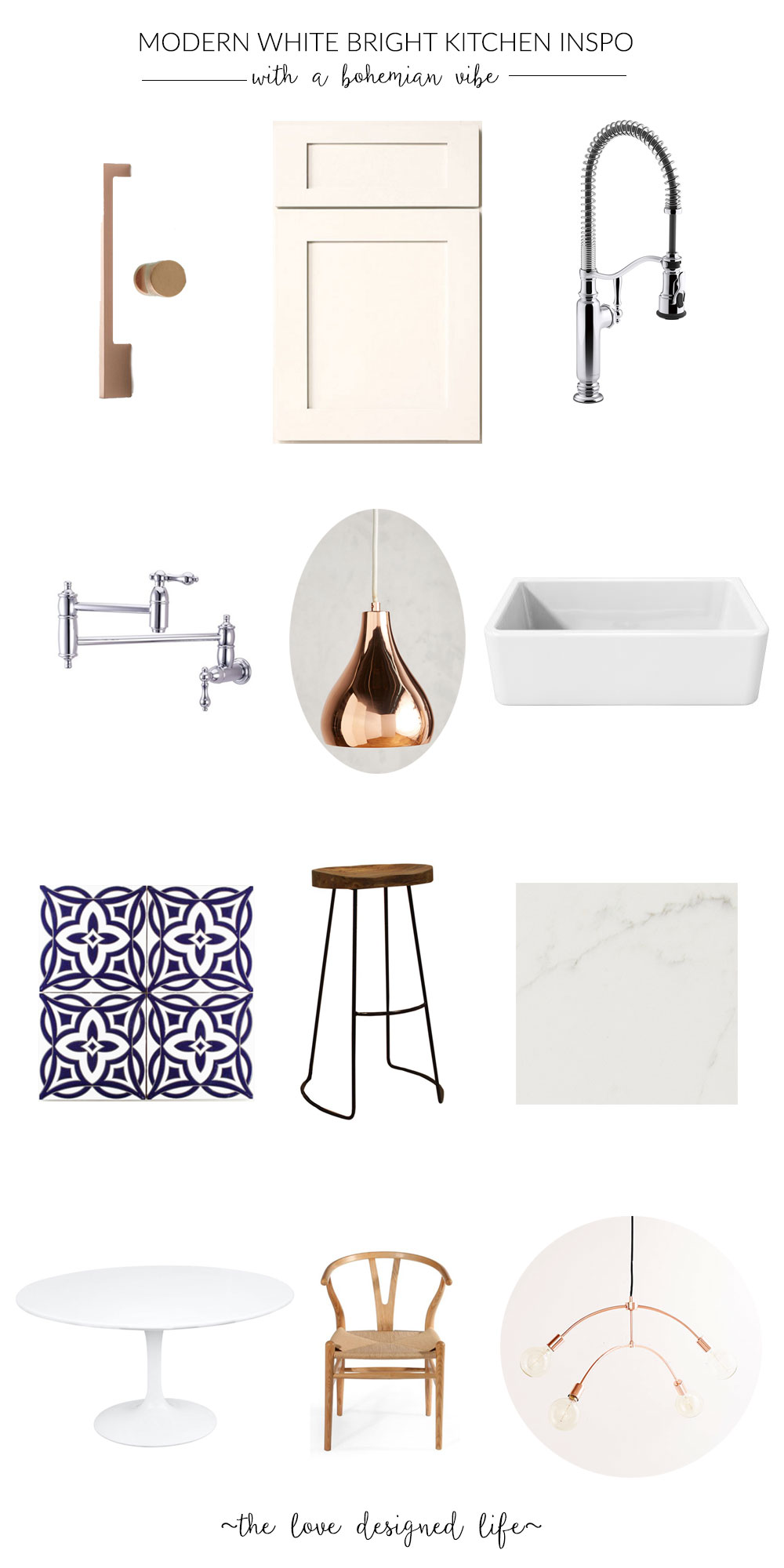 hardware – knobs // hardware – handles // cabinets via our kitchen contractor // kitchen faucet //
pot filler // pendant light // farmhouse sink //
field tile // bar stool // quartz countertop //
kitchen table // kitchen chairs // kitchen pendant
shop the post!


This post contains some affiliate links and all my own opinions! Thanks for supporting our little blog by shopping the brands we love.