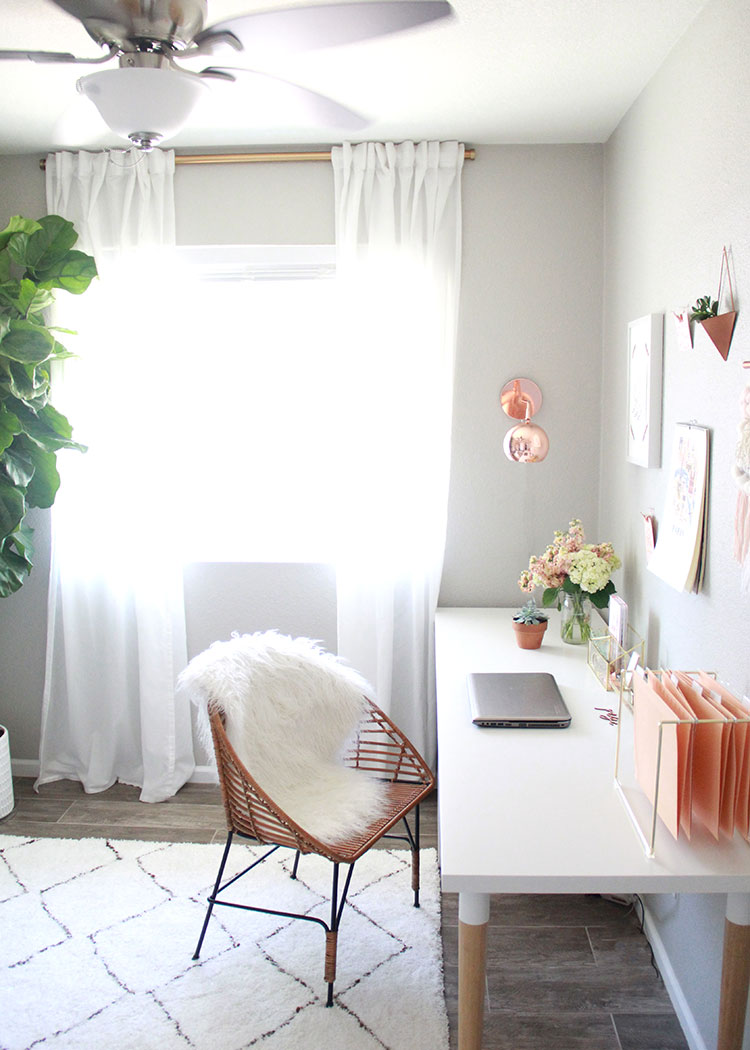 After six months of living in our new house, my new office has finally come together! This is such a special place to me for so many reasons. I have never had a dedicated office before and at the risk of sounding cheesy, I am honestly just so grateful we were able to make it happen in our family home. I am mostly grateful to my husband, who [somewhat begrudgingly] allowed me to take over the space and decorate it to my heart's content. I've said it before and I'll say it again, he's a real keeper.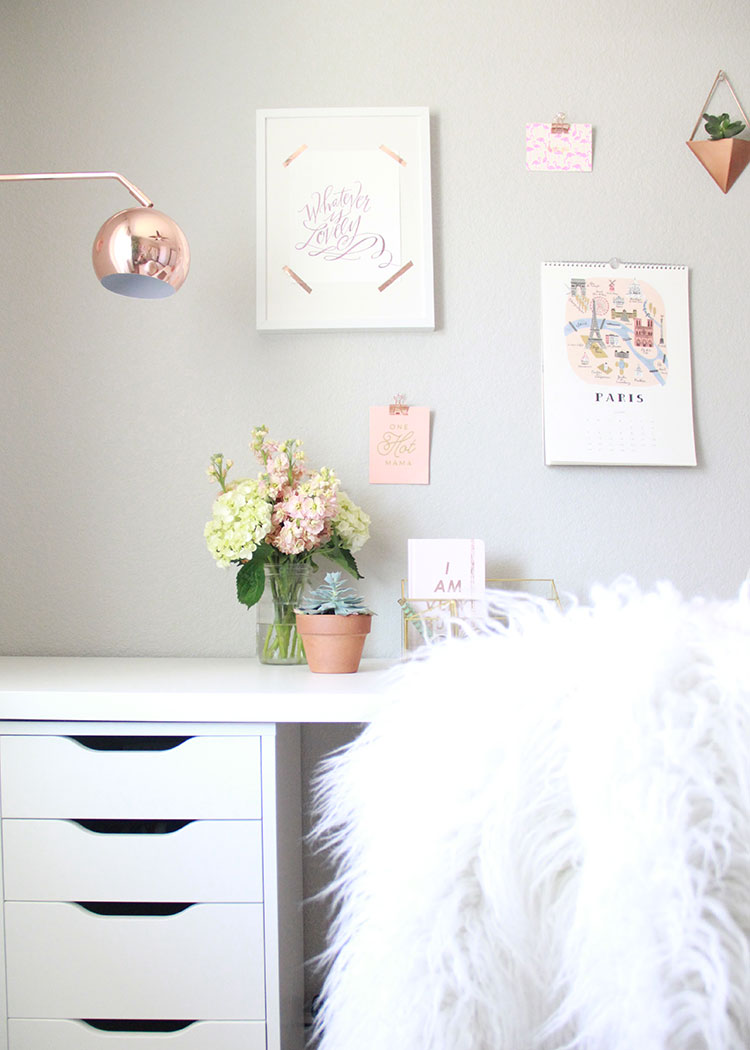 Ok, backstory to this space. When we moved here to the desert from California, our plan was to rent in as small of a space as we could manage for a year, in an effort to save money and learn the area, and then buy a house. Since we were in a two-bedroom condo in Cali [with our kiddos sharing a room] and it was working fine for us, we opted for a similar setup here. At that time, we didn't know we were expecting baby #3! But once we found out, we knew we would need more space once he arrived.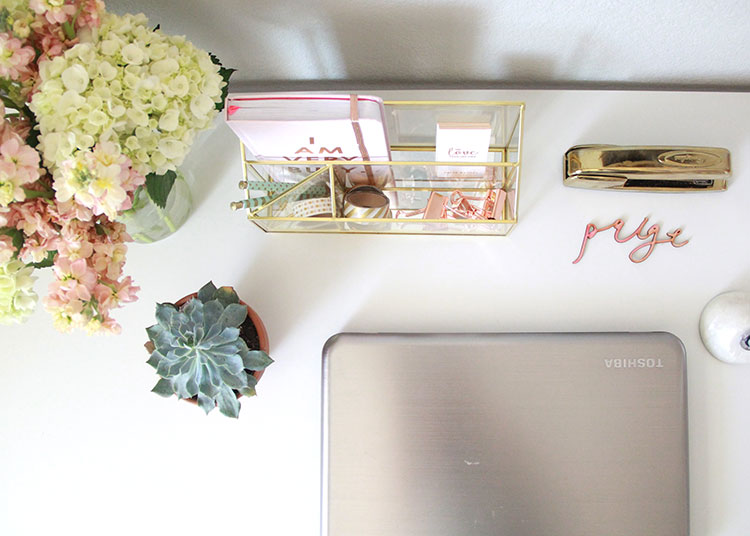 Long story short, we decided we still weren't quite ready to buy once our lease in the apartment ended, and through a string of good luck, we found the sweet little house we are renting now. It is three bedrooms and more square footage, and even though the bedrooms are pretty small, it actually fits us perfectly right now. We debated about how to arrange the kids, but where we landed is that because our older two have been sharing a room since my daughter was born and it has been working for us, we would keep it that way. Their existing furniture just barely fits in there, but it works. The third bedroom is what you see here that became the office. And the baby sleeps in our closet. I know, that sounds terrible. But our closet is actually a funny addition to the house that is legit bigger than the second and third bedrooms. We have all of our clothes, a full size crib, and a rocker in there! And I honestly find it to be the perfect compromise for me between wishing my baby still was co-sleeping with us and giving him his own room. He is still right by my bedside, just with a wall and a cracked door between us.
For the office, I wanted a space that was light + bright, clean, and inspiring. Those were my biggest priorities. I also wanted to have either a long desk or an extra wide one, because sometimes my husband does need to work from home, and I wanted him to have a bit of his own space too, if he needed it. We also needed some additional storage, so this table top + choose-your-own-leg combination from IKEA allowed us to get some extra drawers for storage too.
The final piece I got for the office to pull everything together was this rug from Rugs USA. For some reason, picking rugs is the hardest thing ever for me. Maybe because Rugs USA has such an amazing selection with some seriously reasonable prices! Or maybe because I'm just indecisive, ha. I always want white, because it looks clean and minimal, but with three kids and just general tracking in of dirt, they always seem so impractical. But I decided on this pretty little shag one because my office is a dedicated kid-free zone. I also got two other rugs for the house [which you have probably seen floating around my Instagram] because their prices and selection are just SO good.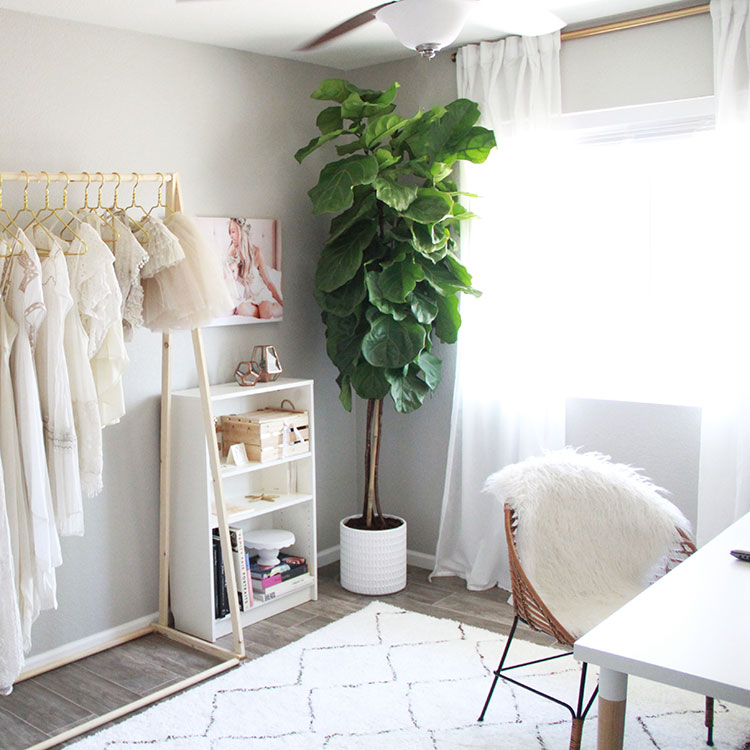 I picked up the simple little bookcase at IKEA too. My husband made me that clothing rack [keeper]! That chair is from Target and has moved around our house a bit, but I think it has finally found it's home in here now. I tried to see if it was online still to link it for you guys, but I think they don't carry it anymore, sorry! I'm obsessed with this rose gold sconce I found on sale at Urban Outfitters. A lot of these other things I have just collected along the way! Let me know in the comments below if there is anything else you want to know about!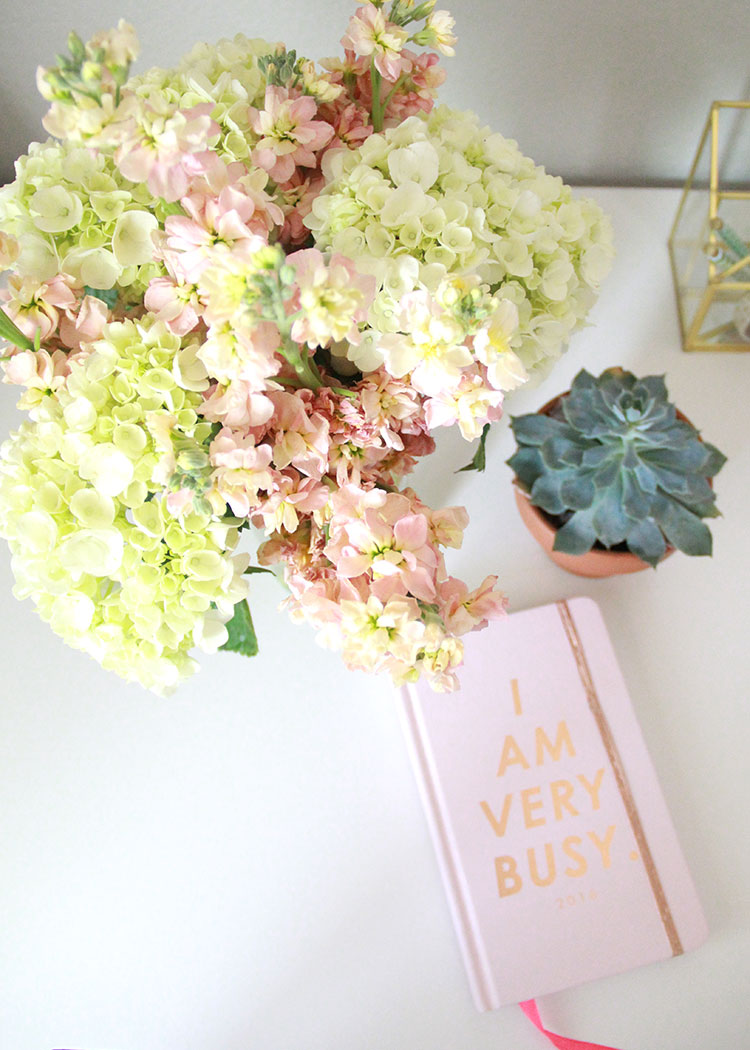 This post contains some affiliate links. I was sent product from Rugs USA in exchange for my honest review in this post. As always, all opinions expressed here are my own! xo