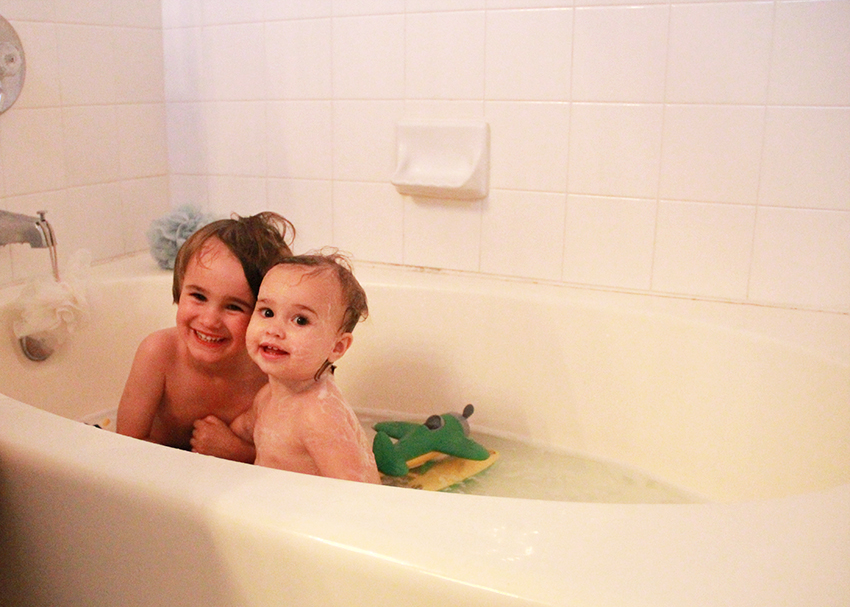 Bathtime is one of my favorites.  In our house, it's special time to connect with our kiddos because it requires 100% of my (or my husband's) attention to get them both clean.  It feels good to wash off the day and then deeply breathe in that fresh baby smell.  Seriously, is there anything better than that?  With each of my kids, this is also the best time for some after bath giggles by way of a game of peek-a-boo, some tummy raspberries, or just general sillyness.
When my son was brand new and again the same for my daughter, I was in charge of the baby baths.  My husband took over my son's baths when Alessandra was born so I could tend to her in the sink bath.  But around the time she was starting to sit up, I started to develop severe eczema on my hands.  My doctor told me to avoid excessive hand washing (um hello, with a new baby in the house ?!) and also any activities where my hands would be in the water for prolonged periods.  This sadly meant no more bathtime for this mama (but on the bright side, also no more after dinner dishes).  Since she was sitting up at this point anyway, my husband was able to put them both in the big tub together for bathtime.
Unfortunately for my kiddos, I passed the eczema genes on to them.  Luckily, theirs is not as severe as mine is at this point and I pray that it never will be.  But the combination of all of our sensitive skin has left me searching for safe, natural, and allergen-free alternatives to the mass produced products on the market right now (which often contain hidden questionable ingredients).   You may think that anything out there marked 'baby' or 'sensitive skin' is safe, but many of them contain added fragrance and/or potentially harmful preservatives that can cause skin irritation.  Through my extensive search for relief, I also discovered I am allergic to oat, which is a common ingredient in many eczema-related products. So I was thrilled when I found  Wash With Water, a product line which not only met all of my requirements for truly safe and natural products, but every item is oat free (and free of many other common allergens too)!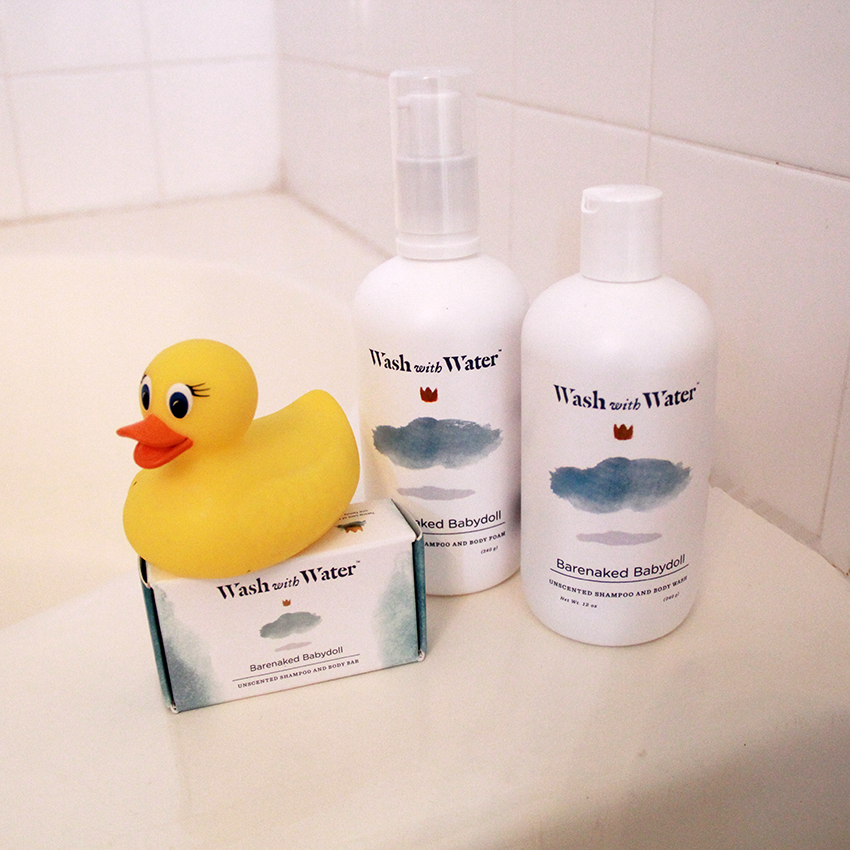 First things first, this is a small mama-run business so I already knew I liked it from the get-go.  And the more I read about Stephanie Pascarella's  brand, the more in love with it all I fell!  This mama's husband is the doctor behind the brand and she, like I, has a passion for all things natural, earth friendly, and healthy for tiny humans.  The duo also closely worked with a team of scientists to develop each of their formulas and to keep them 90% organic.  Stephanie explained to me that the amount of alcohol it would take to earn her products a 100% organic label would have made them counter-productive, so instead she stuck with a safe, natural, and productive ingredients to create the products that we see today.  She also told me that about one-quarter of the customers they see have eczema issues.  We talked more on eczema and allergies and I was sold on trying anything in the Barenaked Babydoll series (designed specifically for eczema-prone and sensitive skin)!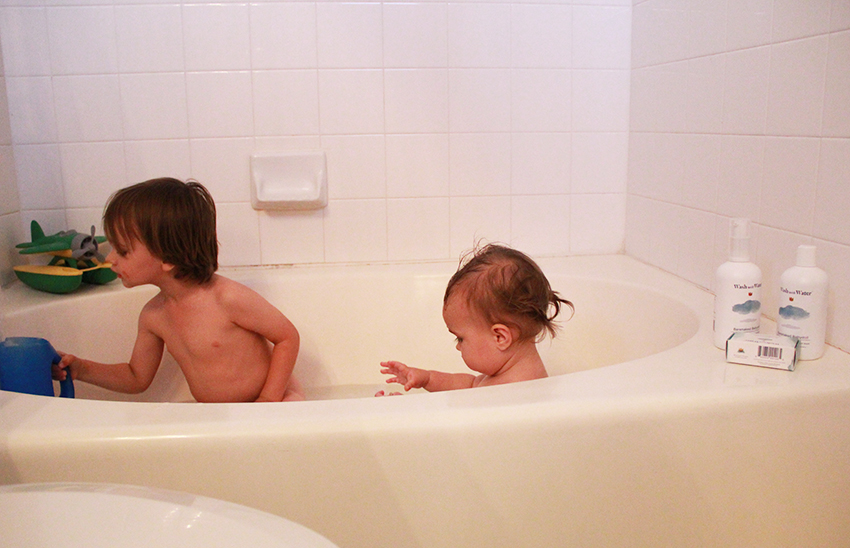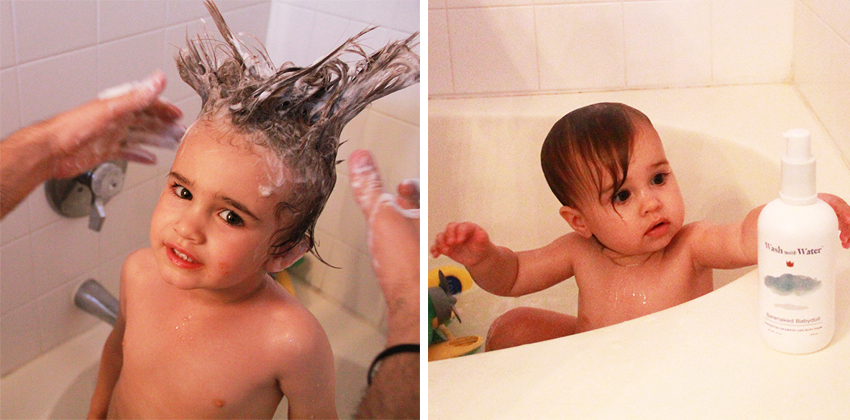 Of course I have some favorite bathtime products I have discovered over the years with these two peanuts.  But I scoured the internet once again to find the latest and greatest new products out there to help in the bathtime department for you guys.  So, here they are!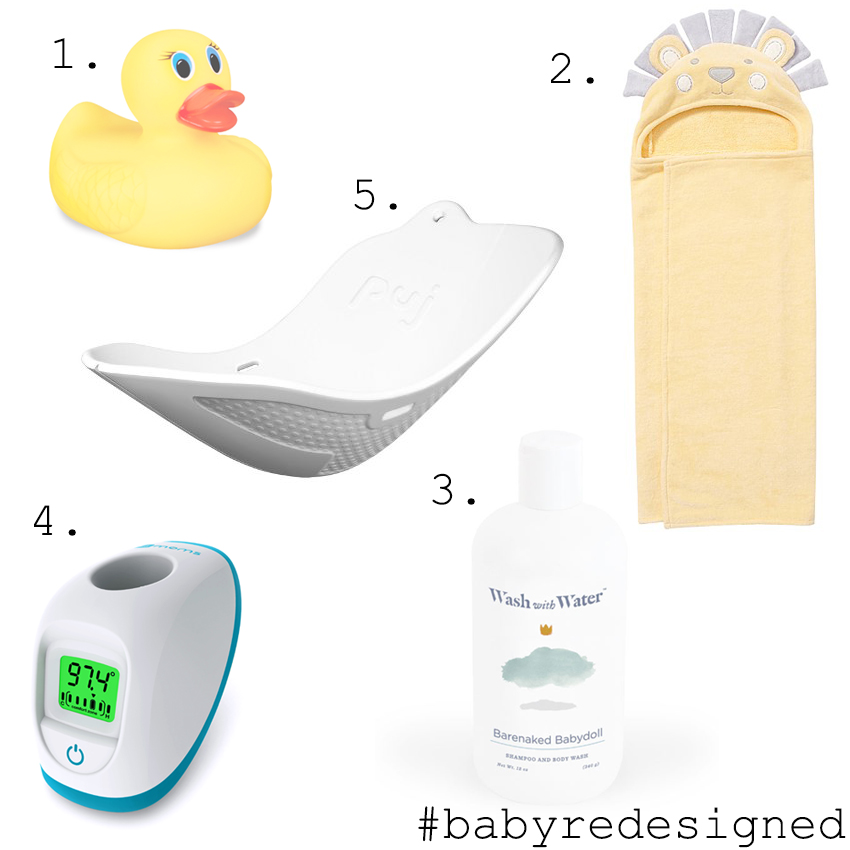 1.// the hot safety duck by munchkin
.  Ok ok, the rubber ducky is nothing new.  And even this particular version with the "hot" indicator on the bottom has been around a while.  A word of warning though, that indicator is not super accurate and can wear down over time (hence #4, see below).  Regardless, a rubber ducky in the tub is a must!
2.// nursery critter wraps by pottery barn kids.  Again, this is not totally revolutionary.  We had the adorbs cream lamby when my son was a newby.  But I do love how Pottery Barn Kids is always coming out with new critters like this lion and they also have the super cuddly fur critter series now as well.  You can never have too many of these!
3.// barenaked babydoll shampoo and body wash by wash with water. Totally obsessed now that we have tried it.  Technically, it's unscented (which means no added artificial fragrances, yay!) so do you know what that smell is?  That's the smell of YOUR baby, clean.  Again, my favorite smell in the whole world.  Besides my skin issues and allergies, I have an extremely sensitive sense of smell, so I am very picky about fragrances of any kind.  This stuff smells like heaven, naturally.
4.// spout cover by 4 moms
. So as I mentioned above, there are a lot of little products out there that can tell you if the water is too 'hot' or not, but most are not very accurate.  Also the temperature of the water can feel different on your hand than it does on your baby's more sensitive skin.  I personally have also made the mistake of going too cold out of fear of burning baby's skin, only to end up with a blue-lipped shivering babe by the end.  So I thought this digital thermometer was a pretty clever way to be sure of the bath's water temperature.  Bonus feature: it also covers the sharp, hard metal spout from a wobbly toddler's shenanigans.  It's like a two-in-one, and I am all about efficiency.
5.// the flyte by puj
.  We still have our original puj tub
 from when my son was born and I still love it for those newborn sink baths.  My only complaint is that while it is soft and can lay flat to dry and store, it was too big to fit in a suitcase for travel and there was no way to fold it down without making it into the bathtub shape.  So I think they really hit the nail on the head with this new Flyte version that can fold in half for easy storage and travel!  So awesome if you, like us, have a lot of family that lives far away and wants to see your new baby.  [And another bonus, it's a bit less expensive that the original version.]
As always, I would love to hear about your favorite baby bath products!  Also, if you have any general favorite baby products that are innovative and new, I want to hear about those too!  Leave me a comment by clicking through at the top of this post, then scroll down to the bottom again to get to the comment section.  Thanks in advance!