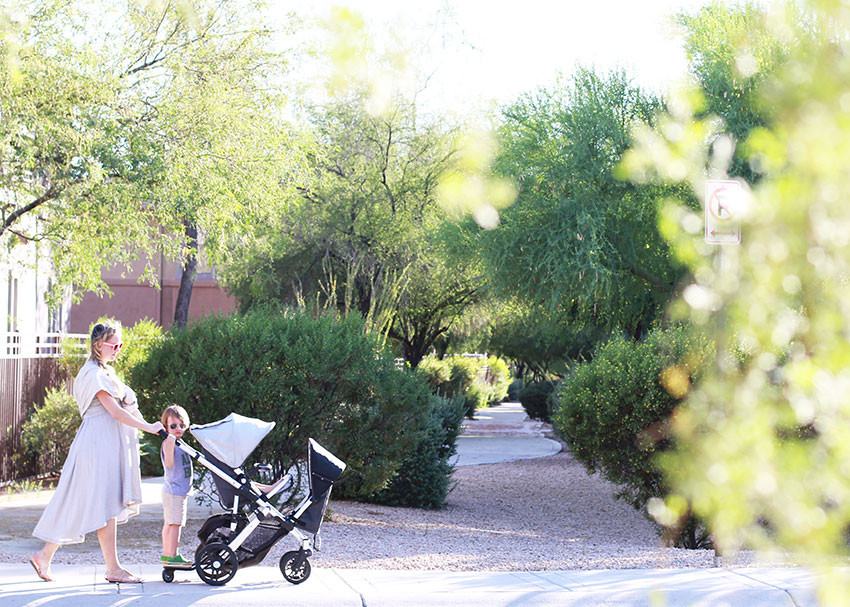 When it comes to getting around town with a new baby, it's just never as easy as it was before baby.  But there are ways to make it easier.   And there is certainly no shortage of products out there for you to chose from!  So for this #babyredesigned post, I'm going to keep it simple with just my most favorite products for new baby to get you and your family around town as easily as possible.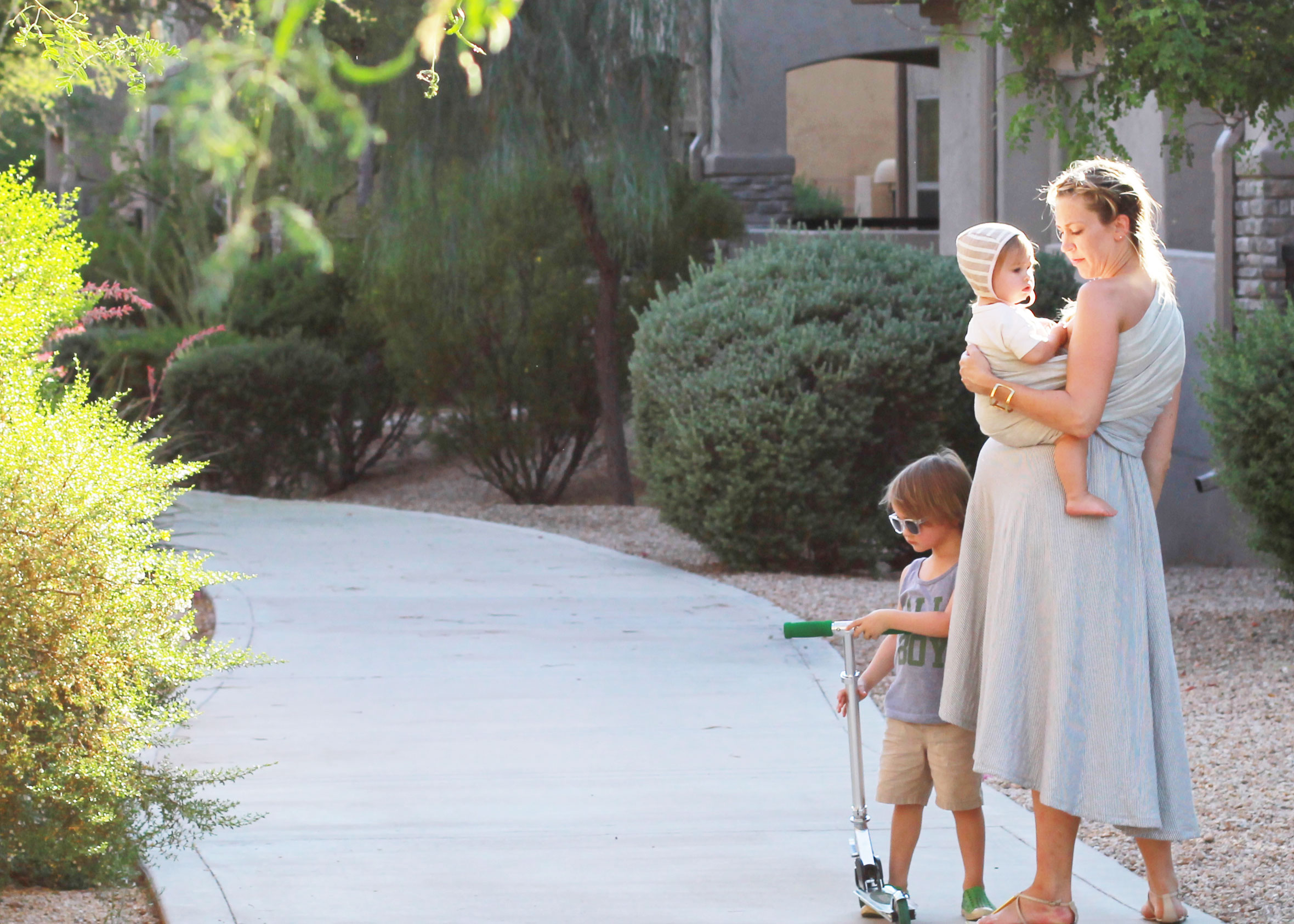 on my baby girl: bonnet from briar handmade. //  sakura bloom linen baby sling in maple. [see shopable link below]
I am a big fan of baby wearing for so many reasons.  First of all, for its convenience that allows you to be hands free in almost any situation and to be free from carting around other heavy cumbersome excess equipment.  It's also so good for fussy newborns who (if they're anything like mine) won't fall asleep any other way.  There have been lots of studies about baby wearing across many cultures exploring the various other benefits, but I won't go into all that here.  When I had my son, I spend a lot of time researching, trying, and buying different baby carriers.  And I found that I liked more than one, for different reasons and different purposes.  So I have three different ones listed here, and yes, I use them all!  Read on below to see why I think having one of each of them is a good idea.
One thing I did not want more than one of was a bulky stroller.  We have been living in small spaces since we started our little family, and we just don't have room for a bunch of different strollers.  I also knew that there would be times when we had more stuff than baby, so we would need a high quality stroller to tote note only baby, but all of our stuff.  [The UPPAbaby has massive storage space underneath.  I even walked it to my neighborhood Trader Joe's when my little girl was still an infant for full hauls and it did the trick!]  The third thing I had in mind was that as a runner, it seemed silly to need to get a separate 'jogging' stroller.  I wanted a stroller that could take us anywhere, without looking like a bicycle/suv hybrid.  So I was willing to spend a little more at the onset of baby #1 on a stroller that could grow with our baby and our family.  Again after obsessive research and stroller test drives, we went with the UPPAbaby Vista and it did not disappoint!  Again, read on below to see why.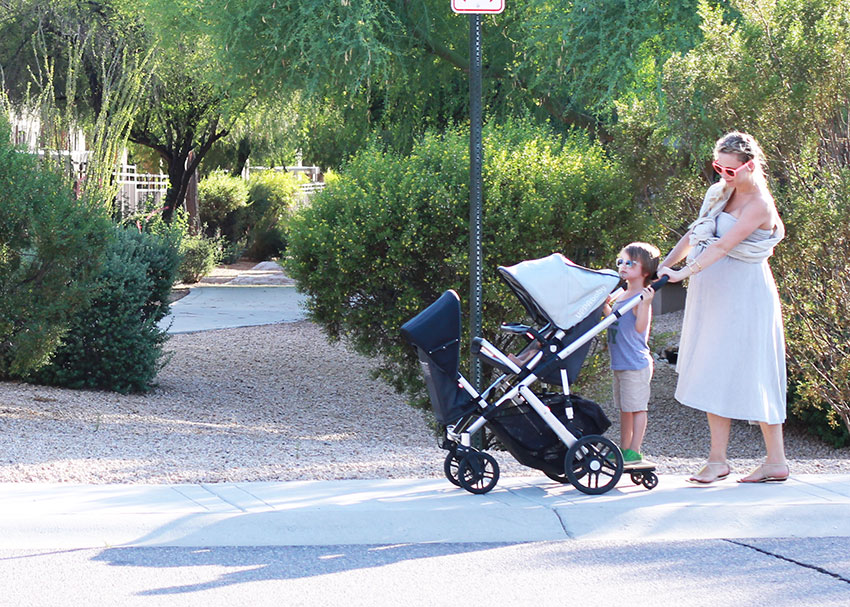 shown here: the uppababy vista stroller with the standard seat on top, rumble seat out front, and wheel board in the back. my son likes to use both the seat and the board, so we usually bring both along with us. [see shopable links below.]
And of course, you will need a safe option for when you aren't traveling by foot.  To start, the safest type of carseat for baby is an infant carseat.  The Peg Perego Primo Viaggio infant carseat has one of the highest safety ratings of any, and that was ultimately what sold me on it.  Not to mention the chic design and the compatibility with my UPPAbaby stroller! [note: UPPAbaby has discontinued the Peg Perego carseat adaptor for the stroller as they now have their own carseat model
.  but, you can still find it here.]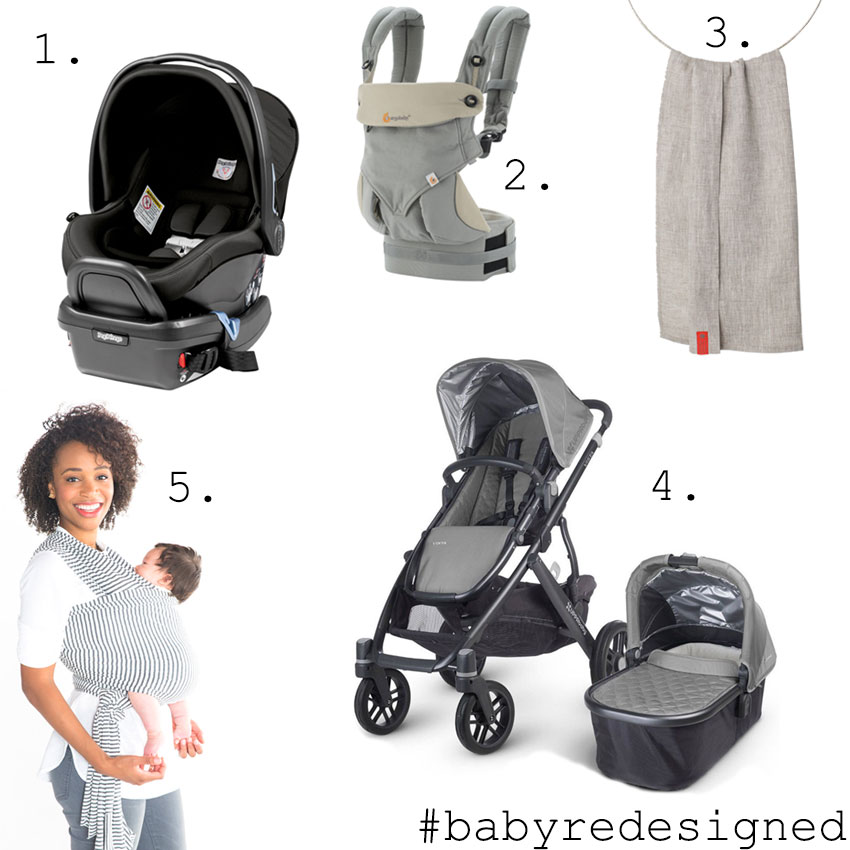 1.// peg perego infant car seat
// As I said before, what really sold me on this carseat was the safety and sleek, simple design.  It's not the cheapest on the market, but it's definitely a good one.
2.// ergobaby 360
 // When my son was born, I asked for the ergobaby original
 for Christmas and it was the most comfortable strap on carrier we had that worked all the way through the toddler stage. I also loved the convenience of being able to take it on and off easily wherever we were going.  Now, Ergo makes the much improved Ergobaby 360
 that can not only works on your front, back, or hip but also allows baby to face in towards your body or out to face the world.  This was awesome for about 6 months – the toddler years, but I didn't love it for the infant stage.  Yes, Ergo does make an infant insert
, but it always felt awkward and not supportive enough, not to mention hot if you have a spring/summer baby.
3.// sakura bloom baby sling
// I was always intrigued by the idea of a sling.  It just seems so simple – one piece of fabric that can come off and on without touching the floor.  But it wasn't until I was pregnant this time with my still little [read: clingy] toddler that I finally decided I needed a way to hold her besides my ever-full arms.  The problem was both my Ergo carrier and my Solly Baby wrap went around the waist, and I just didn't feel comfortable or safe wearing either when pregnant.  My Sakura Bloom sling has saved the day many times now and is definitely one of my faves.  I never had this in the infant stage of my first two, but I think I would prefer it more with an older baby/toddler who can hold their head up well and sit comfortably on my hip.  But, I'll keep you posted once our new guy comes around!
4.// uppababy vista
 // As you can see from my above comments and pictures, I really don't have a bad thing to say about this stroller. When my daughter was born, we also purchased the parent organizer
, the rumble seat
, the bassinet stand
, and the wheel board, among other accessories. But the Vista already comes with all the parts you see here!  With all of that, I'm pretty sure this stroller will take us all the way through baby #3 too, which is exactly what I wanted when I first bought it.
5.// solly baby wrap //  This is the absolute best for the newborn stage.  Babies just snuggle right in there so naturally and securely which leaves you truly hands free!  Downside is you do have to be in a clean space (usually home) because when you are tying this onto yourself, the ends will drag on the floor.  They suggest when you take it out, to just keep it on your body and that way you can easily pull baby in and out.  The Solly Baby Wrap is designed for infants through the first year, but depending on the size of your baby and your own comfort level, you may end up wearing it for a shorter or longer period of time.  This is why I suggest the other two options for your older baby/toddler.