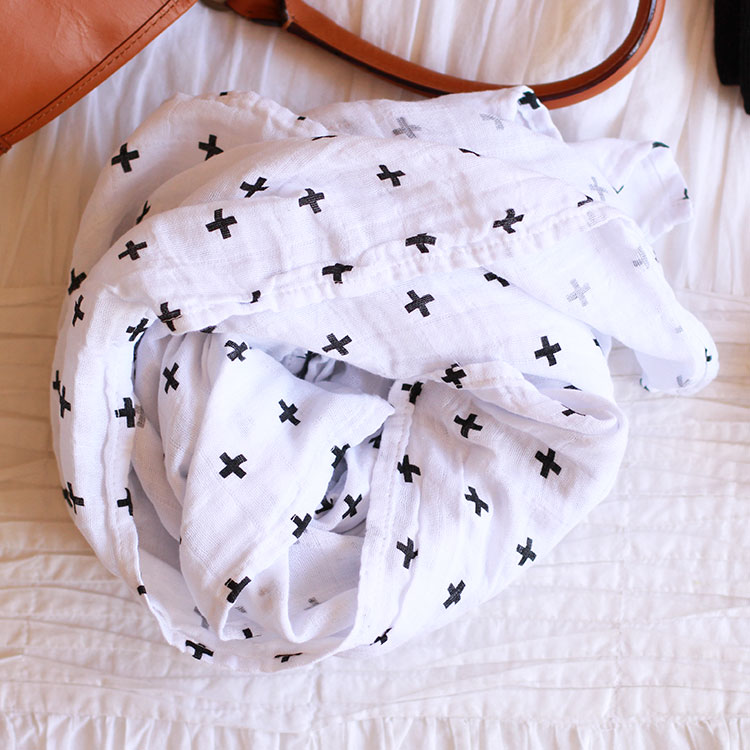 I have started gathering things I want to bring in my birth center bag this week, now that we are less than three weeks away from my due date!  This part of pregnancy is always the trickiest.  On the one hand, I don't want to have everything ready and then just have it sit there and gather dust and then wonder if I should wash it all again (maybe just me and my OCD??).  On the other hand, now that I am 37 weeks, I am birth center eligible so he literally could come any minute!  So, I kind of want to have everything ready, like, right now.  Luckily, I have my other two kiddos to keep me busy, and to keep my mind off of this impending due date.  But they also keep me busy so I don't feel like I'm getting anything done.  Ahggg!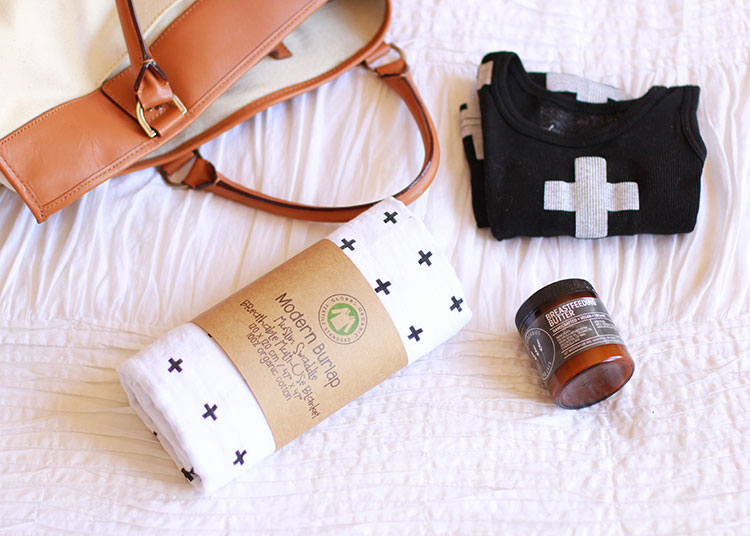 Anyway, one of the things we just got this week is this darling organic cotton muslin swaddle from Modern Burlap.  I love all of their modern black and white swaddle prints, but this classic Swiss cross pattern is just my favorite.   I've talked about why I think this swaddle is the bees' knees in my #babyredesigned series, but just to reiterate: these blankets are so versatile!  From swaddling at birth to covering the car seat or stroller while you are out to an easy nursing cover, the possibilities are truly endless.  My other two each still sleep with their favorite muslin blankets that they have had since birth.  That's why I always get at least one new one for my newest babe, so they each have something special to hold on to even as they grow.
The muslin fabric of these blankets is also breathable [perfect for our hot Arizona summer] and super soft, even right out of the package.  And muslin just gets softer over time.  The black and white pattern is not only pleasing to the contemporary adult's eye, but is also good for baby's visual stimulation and development too!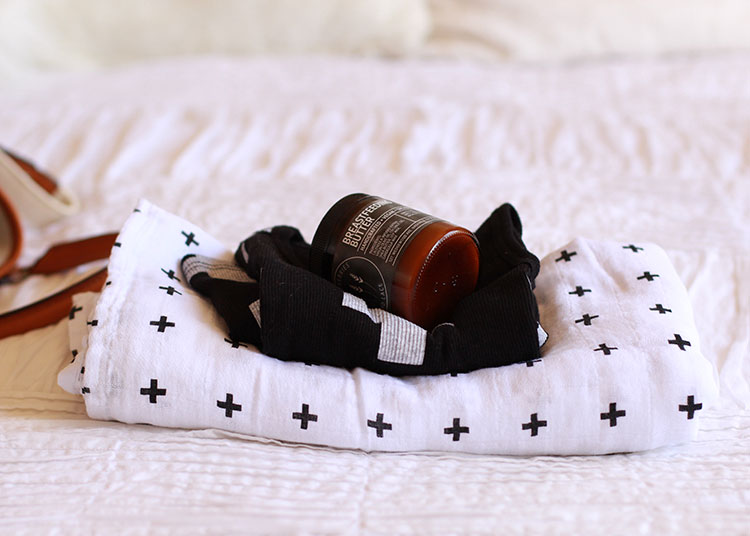 I'm going to do another post soon with some more of my favorite things I'm bringing with me in my birth center bag, but shown here are the organic Swiss cross muslin swaddle from Modern Burlap, this nununu tank top playsuit, and breastfeeding butter from my all-natural vegan friends at Blueberries & Lace.
And because I love you guys SO much, Modern Burlap and I have teamed up to offer 10% off to my readers for TWO DAYS ONLY.  So hurry over to grab yours and enter code thelovedesignedlife at check out.  Code will officially expire at 10pm PST on July 23, 2015.
I can't wait to see my new little man wrapped up in this darling thing.  Now, the only thing left for me to do is to convince these two that this swaddle is not, in fact, a cape for them to play with.  Wish me luck!