If you spend a lot of time on instagram like I do, you are bound to run into some brands that you've never heard of before, and suddenly you must have one of everything they make after briefly skimming through their feed, liking all their pictures, and following them.  (no, just me?)
My latest obsession is little kids' brands.  Obviously because I have two little ones, but especially since having a girl, my shopping habit has taken new form!  Picking out clothes for her is pretty much my dream come true.  Most of these faves are small shops on etsy, big cartel, or they have their own websites.  All of them are moms and entrepreneurs (aka in insta-speak, mompreneurs).  I love supporting mompreneurs/ small businesses and have found this little insta-community to be very supportive of one another as well.  Which makes me ♥ them all even more.  When we women lift each other up, it is a beautiful thing!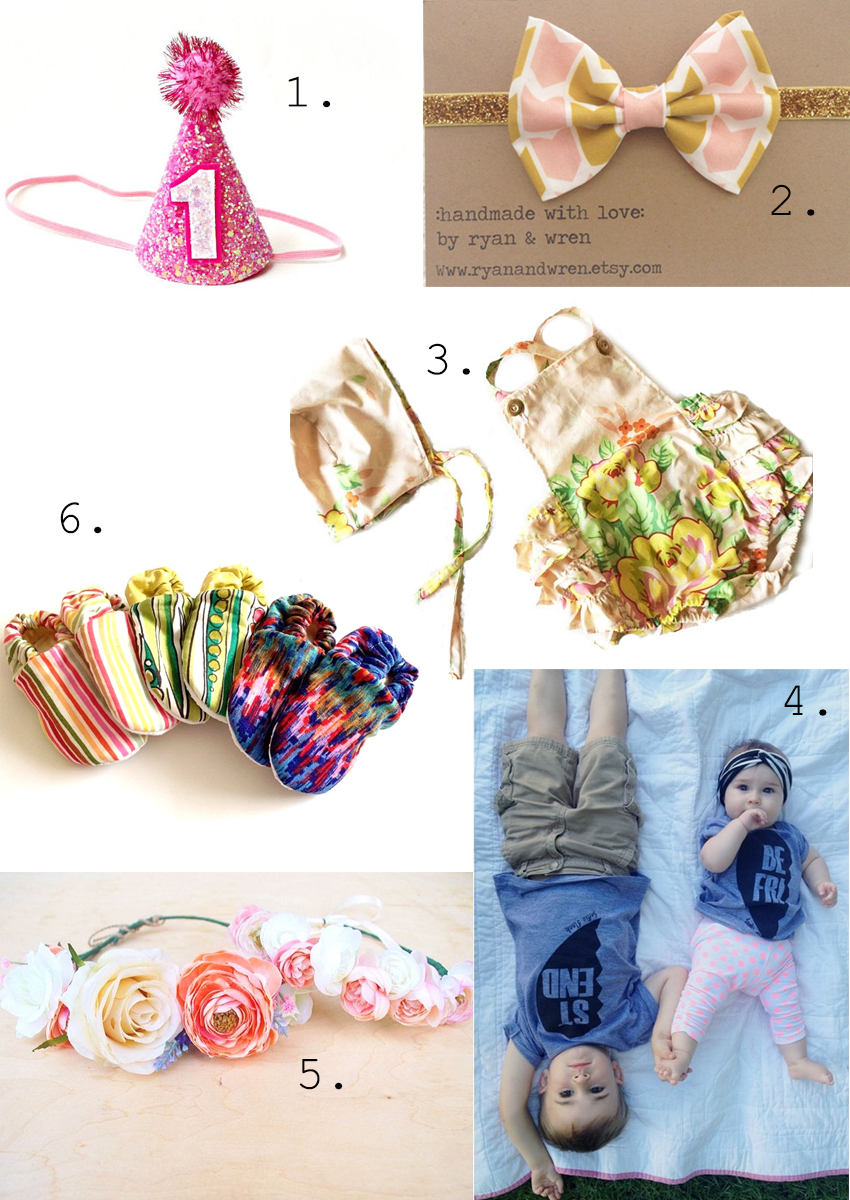 1/ w: little blue olive ig: @littleblueolive For the cutest birthday hats, felt/glitter crowns, dress up hats, and little photo props, nothing is sweeter than little blue olive!  I must order something from her for little A's first birthday party.
2/ w: ryan and wren ig: @ryanandwren A friend of mine gave me some little headbands when I was pregnant with little A from this shop and I was instantly hooked.  As soon as she arrived, I was placing orders with Ryan & Wren to beef up her uber-girly headband collection.
3/ w: sadie then ty ig: @sadithenty I'm not even sure how I first came across this mama who shops for vintage fabrics and then makes limited edition pieces by hand which she then sells on her website as well as her instagram flash sales.  This was my favorite piece of hers and I scored the last one she had left for the season!
4/ w: indie nook ig: @indienook Mostly screen printed tees for kids but they also have adult tees and some cut & sew bottoms in kitschy-cute themes.  Photo you see here is cred to yours truly of my babes.
5/ w: kenzie jaws ig: @kenziejaws Even if you never heard of Kenzie Jaws, you've likely seen these flower crowns and/or Kenzie's super stylish daughter who gives us all double heart eyes on the daily floating around instagram .  She also makes knit hats and now has a tee-shirt line launched on her website.
6/ w: leiaroux  ig: @leiaroux I haven't yet scored a pair of these little shoesies but as soon as Leia Roux's shop re-opens, I hope to!  Not only does she sell shoesies, her daughter is a daily dose of adorable on my feed and this girl keeps it real about mommyhood.  A great follow for sure!
Just a final note: all opinions in this piece are my own.  I was not compensated in anyway for promotion of these brands.  This is just my honest opinion!