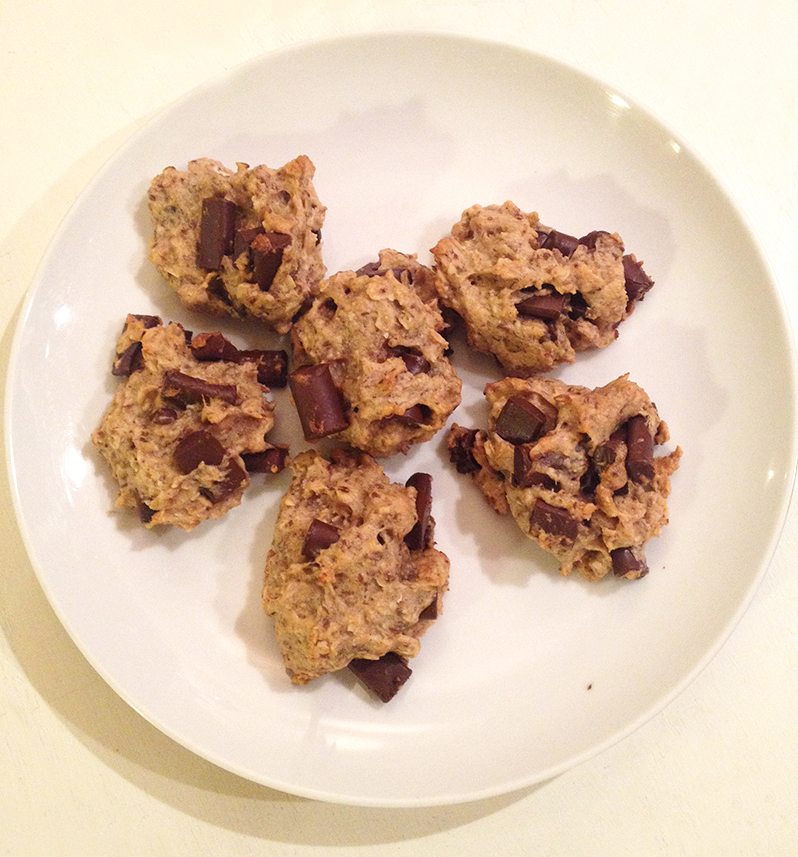 You have had them before.  But what's special about my oatmeal chocolate chip cookies?
Well, a few things actually. First of all, this particular cookie recipe is designed for my fellow breastfeeding mamas out there.  If you are struggling with low milk supply, a few key ingredients in this recipe will help!  Even if your supply is just fine, these cookies have nutritious ingredients in them that can't hurt your cause.  Not a breastfeeding woman at all?  These cookies are perfectly safe and delicious for partners, kids, extended family, co-workers, etc.  Unless you do not want to share.  In which case, they will surely make anyone who eats them start lactating ;).
There are other recipes out there for lactation cookies.  Now you can even buy some pre-packaged brands at specialty stores.  The problem I ran into with those options when my little A was brand new was that she had a very sensitive tummy.  After trial and error, I learned she could not have dairy or soy through my breastmilk.  I was off those foods completely for several months to keep her happy and our household sane.  Also, as I have mentioned before, my husband has a gluten sensitivity.  So I figured  I would challenge myself to come up with a cookie that is gluten-free, soy-free, vegan, AND could help with lactation!
I tested this recipe last week based on a similar one I had used before for a lactation cookie and my accumulated knowledge of baking vegan and gluten free.  For the record, I am not a vegan, but I consider myself vegan-ish.  I never eat meat, but I do enjoy some dairy products and the occasional (but only certain types of) fish.  Just want to put that out there in case there are any purists amongst you.  One final full disclosure item: if you have celiac's disease (a more extreme gluten allergy/intolerance), this recipe might not be for you as it contains oatmeal.  Oatmeal itself does not contain gluten, but many places that manufacture oatmeal also manufacture wheat and gluten products so the possibility of cross-contamination is there.  However oatmeal is one of the key ingredients to boosting milk supply in these cookies and it is not considered a high gluten grain, so I included it here.
After I finished baking, these cookies were deemed a success by my esteemed panel of taste testers (AKA my family)!

Mommy's Oatmeal Chocolate Chip Lactation Cookies
makes approximately 3 dozen
Ingredients:
1 cup coconut oil
1 cup evaporated cane juice
2 tablespoons vanilla
1/4 cup ground flaxseed
1/2 cup warm water
2 cups all purpose gluten free flour (such as brand Bob's Red Mill)
1 tsp xanthan gum
3 tbsp brewer's yeast
1 tsp salt
3 cups oats
1 cup vegan & soy free chocolate chips (such as brand Enjoy Life)
1./ Pre-heat oven to 375 degrees fahrenheit.
2./ Mix together the coconut oil, evaporated cane juice, and vanilla in a large bowl.  If you have never worked with coconut oil before, please note that it is at a solid state at room temperature and that is normal.  You could warm it up a bit if you want to be sure it blends well with your other ingredients, but it's not necessary.  Evaporated cane juice is just a less processed form of the more common refined table sugar.  You can find it pretty easily at most grocery stores, health food stores, and they also sell it at Trader Joe's.
3./ In a small separate bowl, wisk together the ground flaxseed and warm water.  Let sit for a minute and then add more water if necessary.  You want the mixture to still be liquid, but a little sticky because this is what is standing in for your eggs.  Beat the flaxseed mixture in with your oil and sugar.
4./ In a medium separate bowl, combine flour, xanthan gum, brewer's yeast, salt, and oats.  Gradually add flour mixture to wet ingredients until well mixed.  The resulting mixture should be pretty thick in texture.
5./ Stir in chocolate chips.  You could also add or substitute other dried fruits or nuts, but I am partial to chocolate.
6./ Drop by rounded tablespoon onto an ungreased cookie sheet.  Flatten them on top a bit with your hand or the back of the spoon.
7./ Bake for 9-12 minutes.  The cookies are done when they are golden brown around the edges but still soft in the center. If you do not have time to bake them, this dough can be eaten raw as it does not contain any eggs!  The potency of the ingredients is said to be stronger when the dough is eaten raw.  I personally prefer the taste of them when baked because the brewer's yeast can come through more in the dough and it is a little bitter.
I would love to hear your feedback!  Let me know if you tried the recipe and how it turned out.  Did it help your milk supply? Click through at the top of this post to get to the comments and let me know!