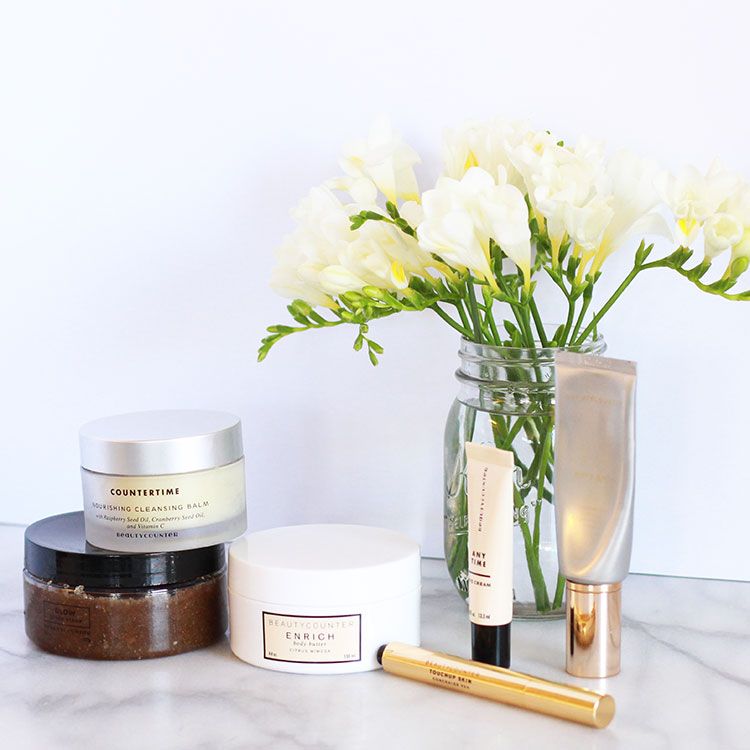 I am pretty excited to be sharing with you today one of my favorite product lines!  Seriously, I have been wanting to share more about why I love not only Beautycounter's products, but more importantly their mission, for a while now.  This is an area I have become extremely passionate about in my own journey towards better, safer, natural skin health.  I first learned about Beautycounter when I read this article from goop last year.  The article itself is actually about household cleaning products [and it is an excellent reference for that!] but it also discusses some everyday personal care products and ingredients that can be found in both and why they are so harmful to our bodies.  At first I was overwhelmed by all the information contained in it.  And terrified about what was in my cabinets that I tried so hard to keep green and natural.  But I have slowly changed things out and I go back to reference that article often because it does contain so much good information!
In fact one ingredient that that article does mention, but I somehow missed the first few times I read it, I found out earlier this year I have a very severe allergy to and it was causing my skin to breakout in an uncontrollable eczema allergic reaction.  It is a preservative commonly found in everything from shampoo to laundry detergent to everyday household cleaners [and in my case, when I finally looked, all three!] called methylisothiazolinone.  Even in brands I thought were "safe and natural" contained this ingredient!  [Just want to disclaim here that if you read my previous post about my personal struggle with eczema, you will see that I had several allergies to a variety of things including food, environmental, and chemical.  I believe it was a combination of eliminating all of those allergens and at the same time aggressively treating my systemic allergic reaction that finally helped heal my skin, however this particular ingredient was one that made a huge difference pretty quickly when I eliminated it from our household.]
Even if you do not have this same exact allergies as I do, here are a few alarming facts that everyone should know:
The E.U. has banned more then 1,300 ingredients in personal care products, while the U.S. has banned only 11.  Eleven!
In the U.S. there have been no federal laws to regulate how products come to the personal care market since 1938.
There are approximately 10,000 chemicals commonly found in personal care products, only about 10% of which are regulated.
Harmful chemicals can hide in "fragrance" when it is listed as such on an ingredient label because fragrance is considered a "trade secret" which means that the company does not have to disclose its ingredients.  Always opt for "fragrance free" [not the same thing as "unscented"!] whenever possible.
Once I felt that I had my household products under control, I turned to my personal care and beauty products.  One of the things I like most about the Beautycounter brand is that they are all about getting safer products into the hands of everyone, regardless.  So while Beautycounter products are rigorously tested for safety, and they fully disclose all of their ingredients in clear print right on their website [you might be shocked by how many 'natural' companies do NOT do this] so you know you can feel good about purchasing from them, they are certainly not the least expensive product line on the market.
So if you, like me, aren't quite ready to buy their entire line of beautiful products [someday], I highly recommend a couple of additional resources so you can at least become better informed about the products you do buy.  The first is the printable Beautycounter Never List [Intro_to_beautycounter_Never_list_flyer].  This list gives you some of the most harmful ingredients you should always avoid, and more information about why those ingredients can be detrimental to your health.  For on the go, you can also download the pocket version, which I personally carry in my wallet.  I also would suggest downloading the Environmental Working Group's [EWG] Skin Deep app on your phone so you can scan product labels while you are out shopping quickly and easily, without having to remember all the long scientific ingredients to avoid.
I was already a fan of Beautycounter's products when I found out that they now use consultants to help get their product out to everyone.  This is how I came to meet my friend Lindsay Osterhaus, who helped me learn even more about Beautycounter and their expanding product line.  I love the consultant model because I got to see, smell, and try all the newest products before I bought! So if you are feeling like I was and you just want it all right now but aren't sure where to start, let me tell you about some of my current faves!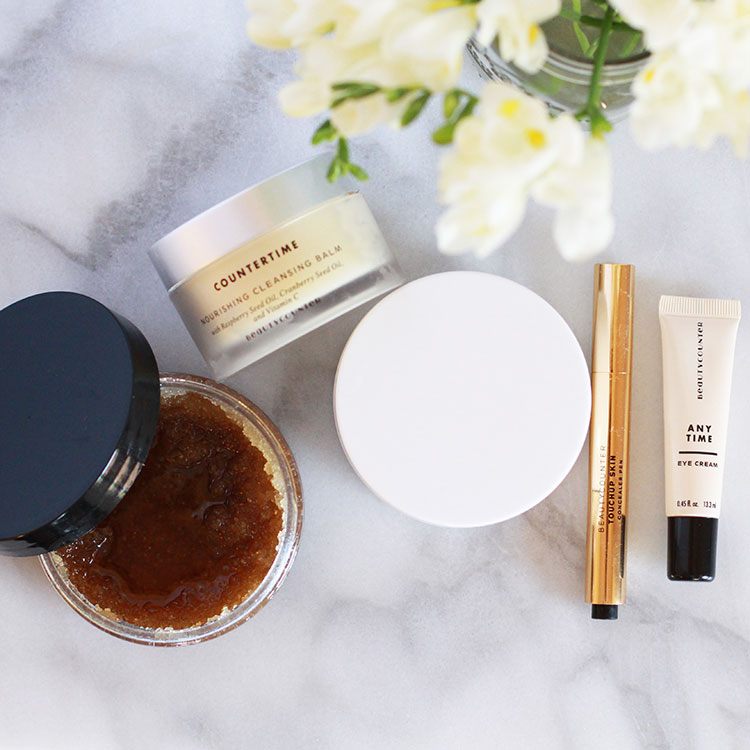 Lindsay suggested for anyone who isn't sure where to start, to start with the products that you use on the biggest parts of your body.  As we live in the desert and our skin can get very dry here, I recently picked up the Enrich Body Butter, which has a wonderful thick and creamy texture and a light citrus smell.  It is awesome when paired with the Lustro Sugar Scrub, which I talked myself into even though it seemed like kind of a luxury item, and it has been so perfect for after long days spent playing in the pool with my kids.  For everyday, you might also want to try the WASH Everyday Body Wash and the HYDRATE Everyday Body Lotion.
Some of my other go-to faves include: the Countertime Cleansing Balm, the Anytime Eyecream,  the Dew Skin Tinted Moisturizer, and the Touchup Skin Concealer Pen.
And for one final FUN way you can start trying out safer products, enter our G I V E A W A Y!  Lindsay and I have teamed up to bring ONE lucky winner a chance to win some of our faves!  Including: one HYDRATE Everyday Body Lotion, one 10ml bottle of LUSTRO Face Oil 2, and a Countertime Sample Set [one week's worth of Soothing Face Wash, Radiance Firming Complex, Uplifting Day Cream, Restorative Night Cream, Vibrant Eye Perfector].  In total, a $60 VALUE!  See below for multiple chances to enter!  Contest begins now, August 6th, 2015 and ends at midnight on August 9th, 2015.