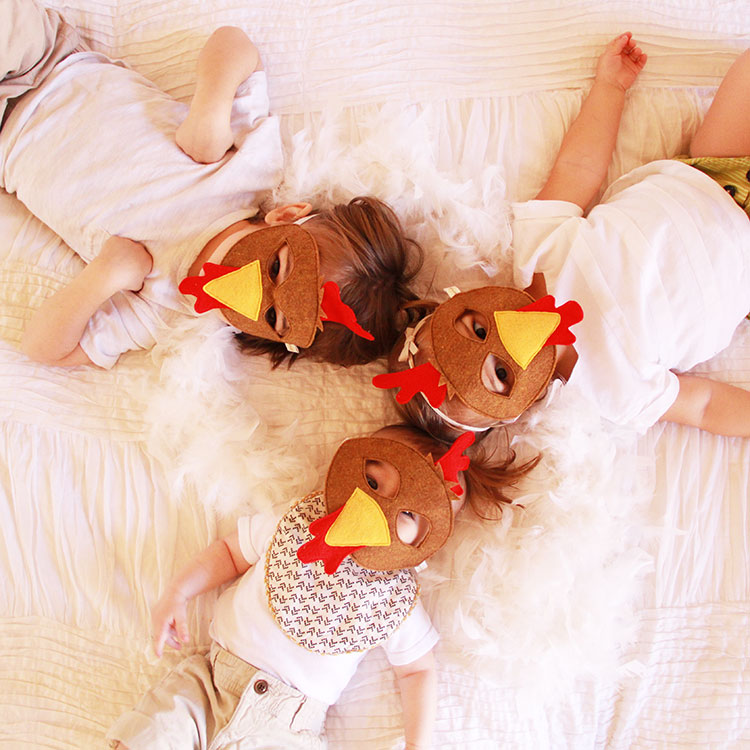 Hooray for day three of The Love Designed Life Twelve Days of Christmas giveaway – Three French Hens!
My little chick-a-dees could not make my heart any happier than when they are all together, playing pretend in these darling handmade felt masks by Jessica Near of Opposite of Far. If you have been following along with me for a while, you know my admiration of Jessica's work runs deep. I first came across her adorable masks last year and loved the idea of imaginative play they encourage. When it came time to plan my daughter's first birthday party, I could think of no one better to help me out with a unique party favor for our guests. When I initially contacted Jessica, I was planning to just use an existing dinosaur mask she had but in green and call it a dragon. But Jessica went out of her way to make me a custom dragon mask in the most perfect mint and gold color combo to match my baby girl's birthday color scheme! The dragon mask is still available in her line today [and is still a favorite in our household].
[the above two photos by bhansen photography]
Then, earlier this year, I had the fantastic opportunity to work with my friend Qiana K Photography for a series of photoshoots with Opposite of Far. Jessica had the idea to create a storybook series using her masks and classic children's tales. Qiana wanted to pull together looks from as many small and handmade shops as possible, so she asked for my help! The results were nothing short of magical. So many good images from those stories, so if you want to see more, please check out The Princess & The Frog and The Tortoise & The Hare, Little Red Riding Hood, and Goldilocks & The Three Bears and The Big Bad Wolf & The Three Little Pigs. We also all worked together on handmade Halloween costume ideas! Perhaps needless to say, our Opposite of Far mask collection has grown healthfully.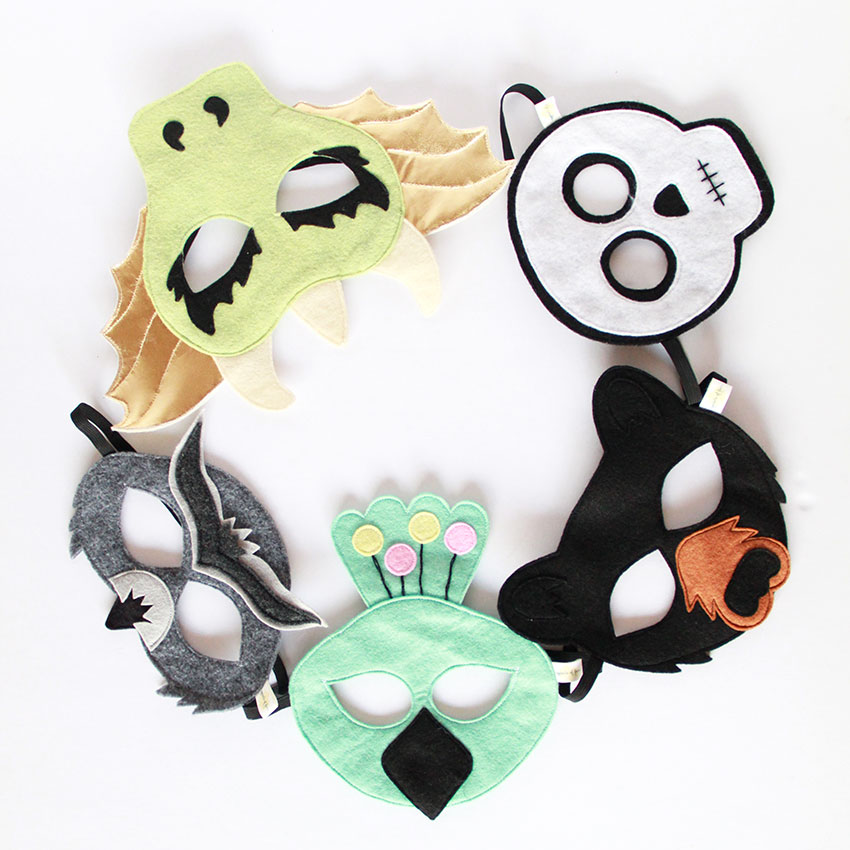 Jessica launched Opposite of Far in 2011 during her recovery from two consecutive [and unplanned] back surgeries. Once she realized returning to her "real job" as a preschool teacher would no longer be possible, she set her sights on other ways to bring playful, imaginative learning to the every day lives of children. Opposite of Far allows kiddos to wear the masks to pretend great stories and travel on grand adventures, or as an accessory to express their personality with every single outfit. Every mask, tail, beard and crown are completely original designs that she created to be realistic enough for children to recognize & identify, but also still soft, friendly and playful.
To win a $50 shop credit to Opposite of Far, head on over to my Instagram now! Make sure you are following both myself and @oppositeoffar, like the photo, and tag as many friends as you like in the comments there.  Each comment counts as one entry, so don't be shy! You must follow all three steps to qualify. Contest runs for 48 hours from 12/3/15 6:00 am – 12/5/15 5:59 am and one winner will be chosen within 24 of contest end and announced on the original Instagram post. This giveaway is in no way endorsed or sponsored by Instagram. By entering, you certify that you are at least 13 years of age and that you agree to these terms. Please no giveaway accounts and only tag real people/ actual friends (no ghost accounts or celebrities, etc.). **PLEASE NOTE: Holiday orders for Opposite of Far CLOSE DECEMBER 5TH. If the winner would like their mask to be received in time for Christmas, please be sure to order the same day as you are announced!**