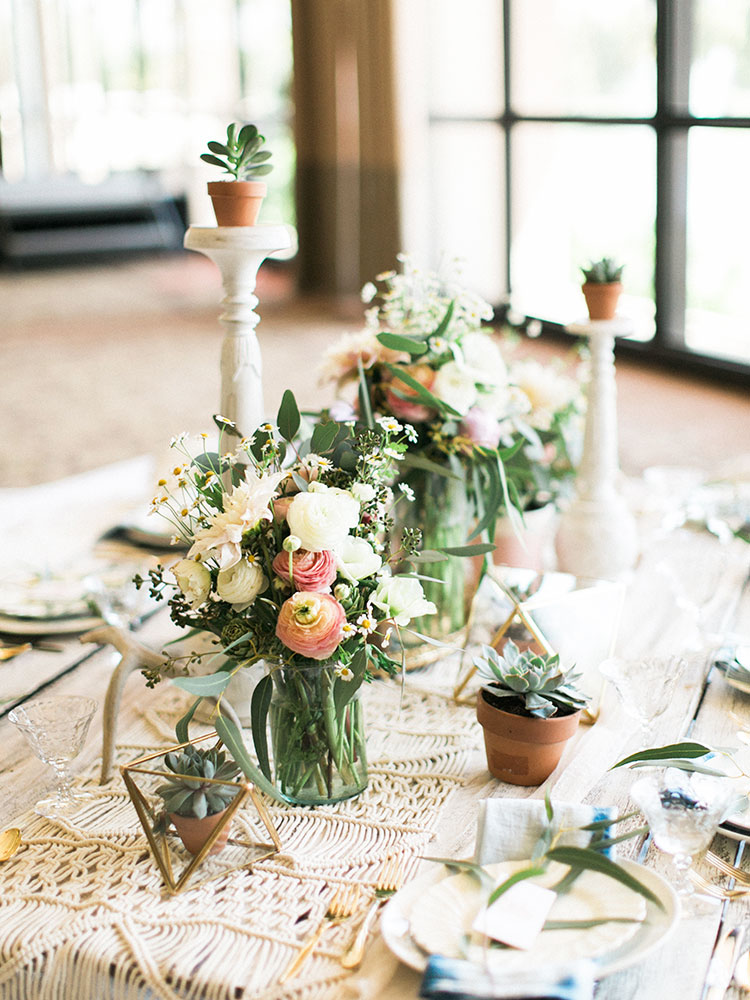 A few months ago, a former fellow Delta Gamma sorority member reached out to me to ask if I would be a designer for an upcoming charity event, Tables That Bloom, benefiting the Foundation for Blind Children. Of course I was beyond honored to be asked, so I said yes! It turns out my Delta Gamma sister [we were in the same chapter at ASU back in the day] was coordinating all the designers for the event and had seen my work around and thought I would be a good contributor!
Tables That Bloom is an annual fundraising event in it's second year. The luncheon is set up where each designer is assigned a table and is allowed to design a centerpiece and tablescape in anyway they chose. The designers varied from interior designers, event planners, party rental companies and more. It was so fun to see all the variety and creative ideas everyone came up with on the day of the event!
The luncheon took place at the Phoenix Country Club in mid-April and was set up with traditional round tables in a ballroom. Of course me being me, I had a big idea that was a bit outside of the box. It took some work and coordination to pull it off, so I wanted to share how it all came together, because while I did most of the heavy lifting, I certainly could not have done it alone!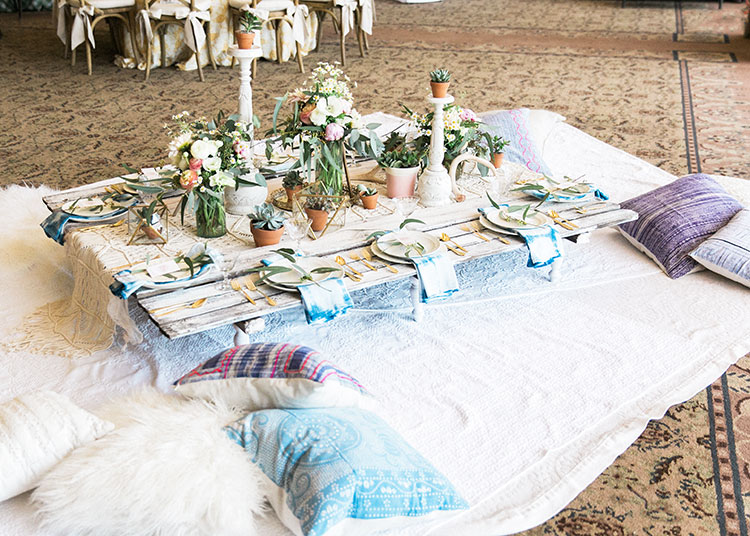 First things first, I needed theme for my table design. I called my go-to creative brainstorming partner, my sister [real, not sorority ;)]. She helped me think about what themes might fit in with my aesthetic, and then we thought about what events would be going on around that time of year. And then she suggested a "festival" theme, in homage to Cochella and other music festivals that happen in the springtime. It only took that one mention and my wheels were already turning and I was off to the races!
Spinning off this boho-chic vibe, I immediately knew I wanted my table to be lowered to the ground, with blankets and pillows all around it in lieu of chairs. Of course I was concerned about the logistics of this at the actual event as far as guest being comfortable and the waitstaff service during lunch. So as an alternative, the design coordinator of Tables That Bloom, Sara, suggested we set up my table design near the front of the room and then have a plain table where the guests would actually be seated for lunch. It was a perfect compromise!
Now that I had the go-ahead on my idea, I needed to start sourcing the actual materials. And I needed a lot of them, but the main things I was looking for were the table itself, dishware, and some accessories for the tablescape. I reached out to my friend Yvie of Vintage Rusticity Rentals and she could not have been more sweet or helpful! Vintage Rusticity caters to the boutique bride and can provide everything – from furniture to dishes and flatware, even accessories for smaller events. Yvie was actually a designer at the inaugural Tables That Bloom event last year and both her father and brother are legally blind. So although she wasn't available to volunteer as a designer this year, she told me she still has a special place in her heart for the Foundation for Blind Children and was happy to help.
This "table" is actually two tall vintage fence posts pushed together with custom made little legs. Vintage Rusticity also provided the candle sticks, the blush avocado dyed cheesecloth table runner, the antler sheds, the crystal goblets, all dishware, the gold flatware, and the matelasse blankets under the table. Whew, she's amazing!
I have been dying to work with Boho Pillow since I first stumbled across her amazing Instagram feed about a year ago. I contacted Monica for this project and she agreed to let me borrow a few of these beauties for the event! Don't you just want one in every corner of your house?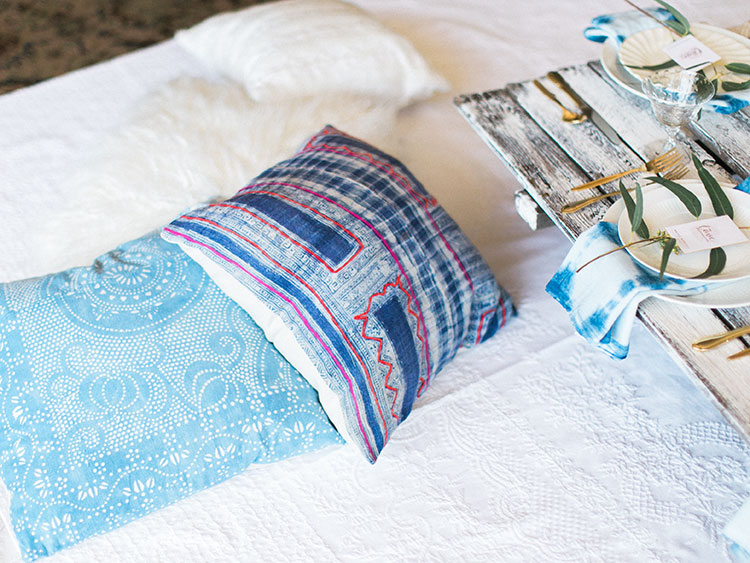 The beautiful indigo color that Monica favors in her textiles and for many of the pillows you see here is what inspired this all white-loving mama to get down with the Shibori dye. All of these napkins for the table were hand-dyed by me! The process was lengthy, but surprisingly easy and fun. I kinda want to dye everything in my house now, ha.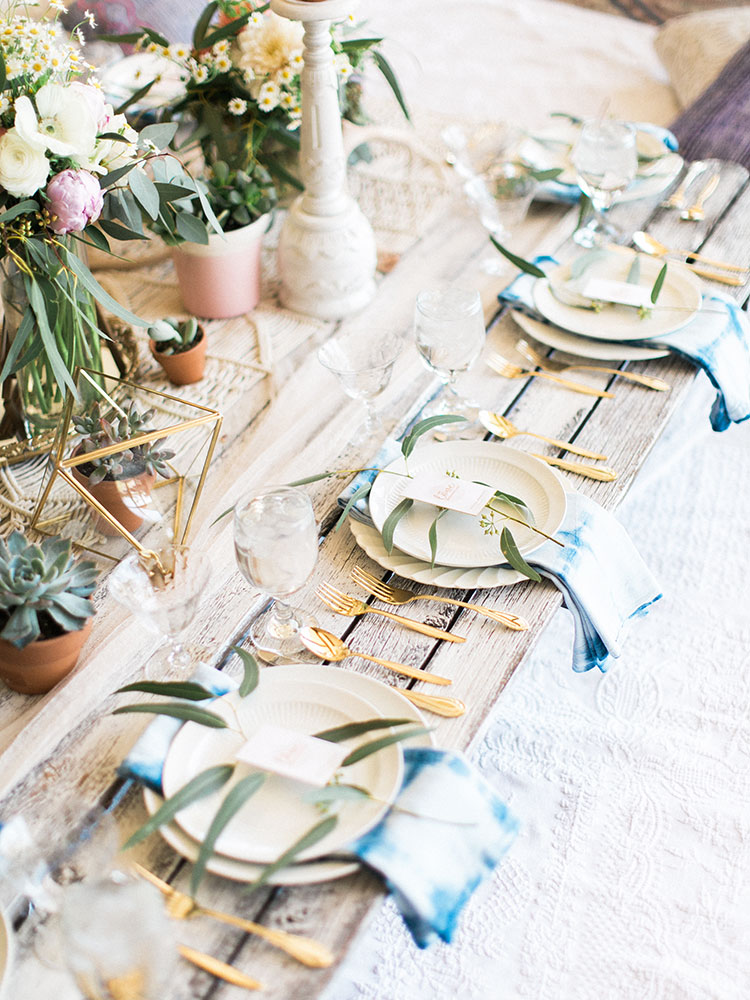 Finally for the florals. I couldn't have a "table that bloomed" without them! I knew straightaway that I wanted to have lots of potted mini succulents on the table, and that I wanted fluffy spring blooms in smaller sized garden clusters [rather than one bigger centerpiece]. However when I started asking around to some of my florist people, I found that they were all still in the busy season of weddings and/or could not donate to anymore charitable events for the year. Since I more or less knew the look I was going for, I decided to ask my friend Jenna of The Florette if she could help me to order some blooms, and she agreed! She was so great about helping me select the right stems and amounts of everything I needed. I ended up using all the blooms and had a bunch of seeded eucalyptus left, but that was about it! Which is great because I never want to waste florals. I have to admit, when I was designing these arrangements the night before the event, I was totally nervous I was fucking it all up. But I am so happy with how they turned out! And all three arrangements ended up selling in the silent auction, which was great as that was more money that went towards the charity!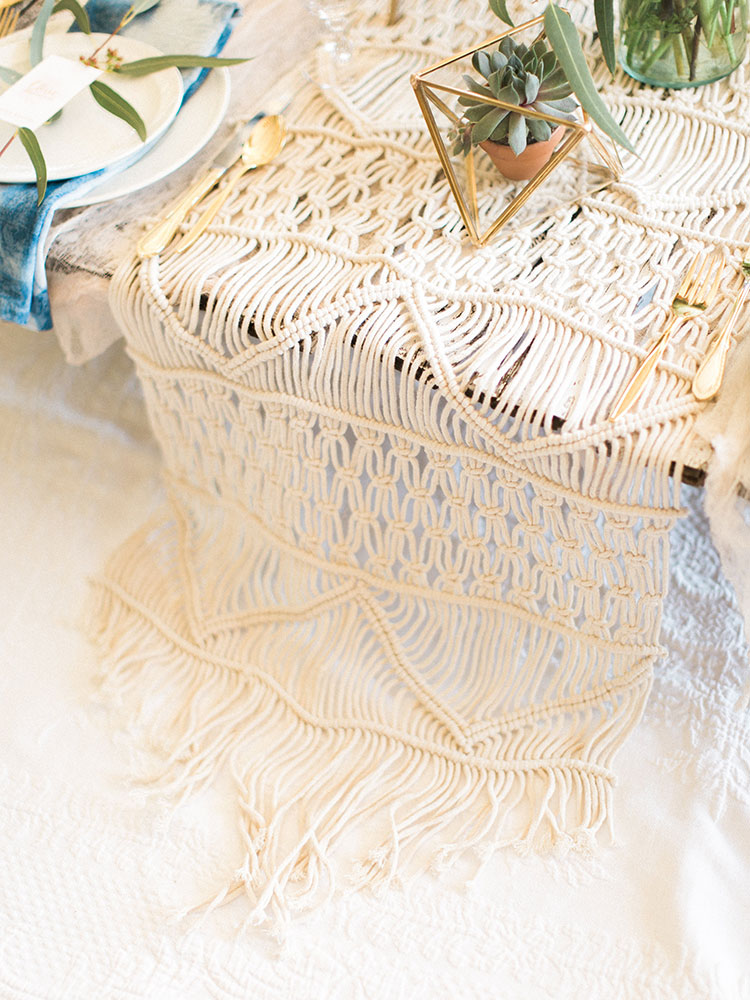 a few other details: // gold cube terrariums // macrame table runner // mongolian fur pillow [affiliate links, fyi]
A special big thank you to Rachel Soloman Photo for taking and allowing me to publish these beautiful images of my work! [all images are (C) Rachel Soloman Photo]