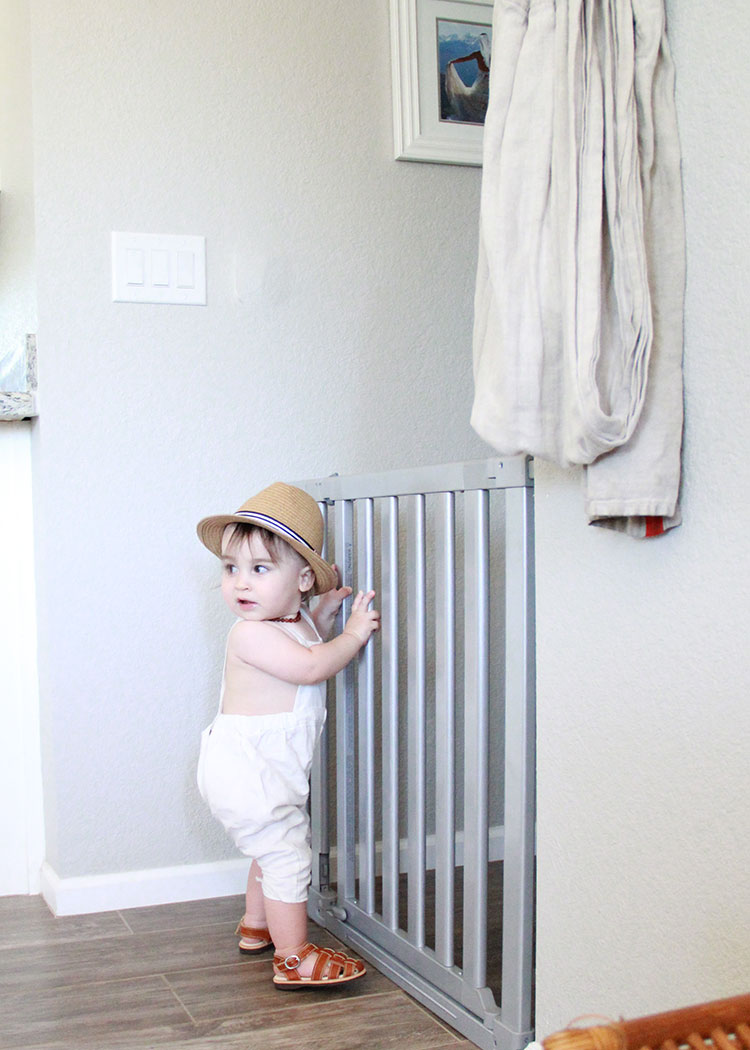 We juuuuust finally got around to putting up a baby gate from Munchkin to contain our mobile baby a couple of weekends ago! To be honest, now that our house is all on one level, we debated if we would actually need one or not.
Our last apartment was upstairs, which was a pain in the you-know-what for a lot of reasons, but one of those reasons being that we needed to have a secure baby gate at the top of the stairs. In fact, it was something we put off for far too long and just kept a cheapy one that we had had for years there rather than one that was approved for top of the stairs. I actually didn't even know that "approved for top of stairs" was such a thing, but let me tell you, it is and it makes a big difference! We found out the hard way when my daughter pushed too hard on the cheapy gate and fell down the stairs once. She was fine, but I was a total wreck about it. I am such a stickler for safety when it comes to my babies, I felt like I should have known better. I went out and bought a new gate within the hour.
What made us decide to get a baby gate for our new house was that once Diego started crawling, he was getting into EVERYthing. Our living/dining/kitchen area is all in one open floor plan, which I actually really like because I can see the kids no matter where they are. But in our hallway down to the bedrooms, my office, and the bathrooms, it can be a little tricky to keep track of that baby! We can shut all the doors, but it's SO much easier to just shut one baby gate!
When I told my husband that I wanted a baby gate there he was hesitant. Both of us are pretty happy to start getting rid of baby stuff now that we are on our last baby. So I told him I would find one that could fit in seamlessly with our style. That's how I came across the Munchkin Luna gate. I love it's modern, minimal design and the little motion sensor nightlight feature is super handy for me since I am usually up late working. I made my husband help me install it during naptime on the weekend. But the truth is, it was so easy with the turn-key mounting and the fact that it came fully assembled, I probably could have done it myself! [Shhh, don't tell him I said that.]
So that's basically it! We are loving how this simple modern gate is fitting into our lives and our home now! Check it out if you're shopping for a new baby gate!
Thank you Munchkin for sending us this gate and sponsoring this post. As always, all opinions expressed here are my own!