Last month we went to Disneyland, so I wanted to share with you guys a 5 updated Disneyland tips I learned this trip! The last time we went was three years ago, so a lot has changed, both for our family and for the park itself.
As much as I wish we could be annual passholders, my husband does not share this wish with me, lol. So we compromise. And by compromise, I mean that every other year or two, I beg and beg him to go, promise him I won't spend too much money, and sometimes threaten to go (or just do go ahead) without him, so I don't have to listen to his whining. 😉
This year, as fall break was approaching, it occured to me that my kid's fall breaks actually lined up! (We are at two different schools still, so this isn't always the case). I also had some hotel vouchers in my pocket for DoubleTree, and I was able to use them to book us a room at the location in Anaheim, which was about 1 mile away from the park. The stars aligned and I knew I had to make this trip happen!
Now, I know there are entire blogs dedicated to Disneyland and making the most of it. But I just wanted to give you my perspective, as a family who goes there on vacation every couple of years or so, and also tries to stick to a budget, but also wants to make the most of our time. Also, if you're a single/solo parent, how to navigate the park with kids of different ages. (My husband ended up being able to make it for one of the two days we were there, the other day it was just me + a 4, 5, and 8 year old.) I will also share where it's worth it to splurge and where to save!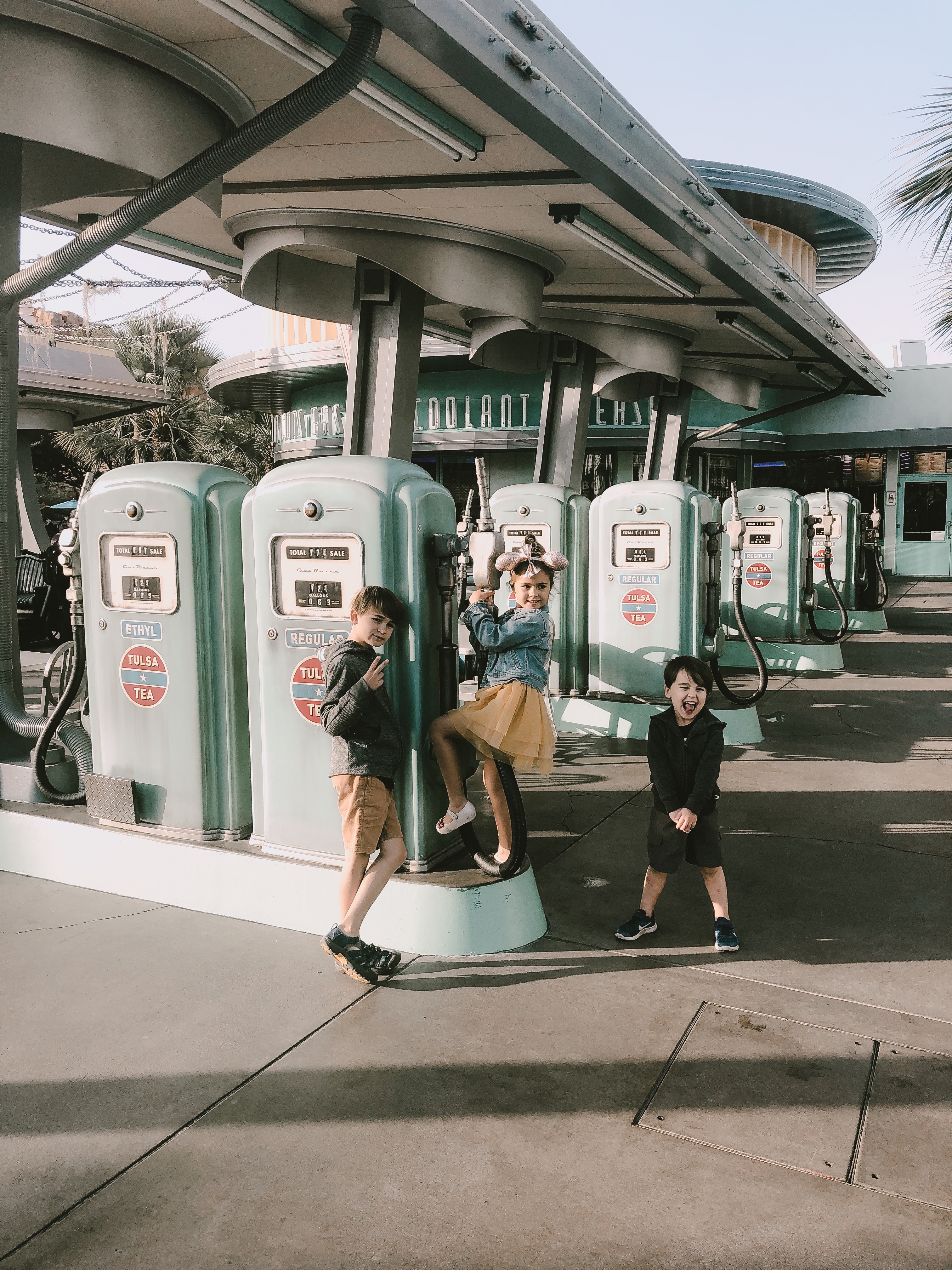 when to go
We went in October, which for us was Fall Break. Arizona schools start in early August, so we have this luxury of fall break (and I kinda love it for trips like this!). October is also just about perfect SoCal weather season. The highs were in the 70s and 80s, with overnight lows in the low 60s. So sunscreen during the day and a light jacket for the evenings.
The holiday season is also a great time to go (during any school breaks, not so much, but November and beginning of December is great)! And also the springtime (but again, I would avoid Spring Break time). Summer can be brutal – hot and crowded. I just personally don't do well in crowds, so if you like to avoid them too, just avoid those high-volume times!
Also in October, they have out all the decorations for Halloweentime at Disneyland, which is just fun!
If you are able to go during the week, weekdays (Monday-Thursday) in October are also considered low-volume days. This isn't really advertised on any of the sites where you can purchase park tickets, and frankly, it won't save you any money. But it does mean less crowds, which trust me, makes a huge difference in your overall experience! Friday- Sunday are always high volume days, and throughout the summer, pretty much every day is high volume.
I am also a big fan of going first thing in the morning. The park opens at 8am everyday. However, there are select days that offer Magic Mornings, which is access to the parks 1 hour before they open to the public. It is not every day for every park, so be sure to plan accordingly if you do that, especially if you are going with 1-Park Per Day tickets (as opposed to ParkHopper tickets.) There are 2 ways to get Magic Mornings:
Stay in any of the Disney-owned properties including Disney's Grand Californian, The Disneyland Hotel, and Disney's Paradise Pier Hotel.
Purchase any Disneyland ticket for 3 Days or more and receive 1 Magic Morning with your package!
We did not have either of these options available to us (we stayed in an off-property hotel and we only did 2 Disney Days), but we did get there just slightly before 8 am on both days. There is usually still a bit of a wait to get in through the gates. It may feel like a lot of people when you're waiting, but once your in, the lines for all the rides move so fast and you can just skip around the park!
Just to reiterate the value of getting there early – I randomly was chatting with a couple of other guests in my hotel in different parties. Both said that they felt the park was so crowded and that they hardly got to do any rides. We were there on the same day and had the exact opposite experience. We did more than half our rides in the morning! With very little waiting! This also was partially thanks to MaxPass, which I will get to in a moment.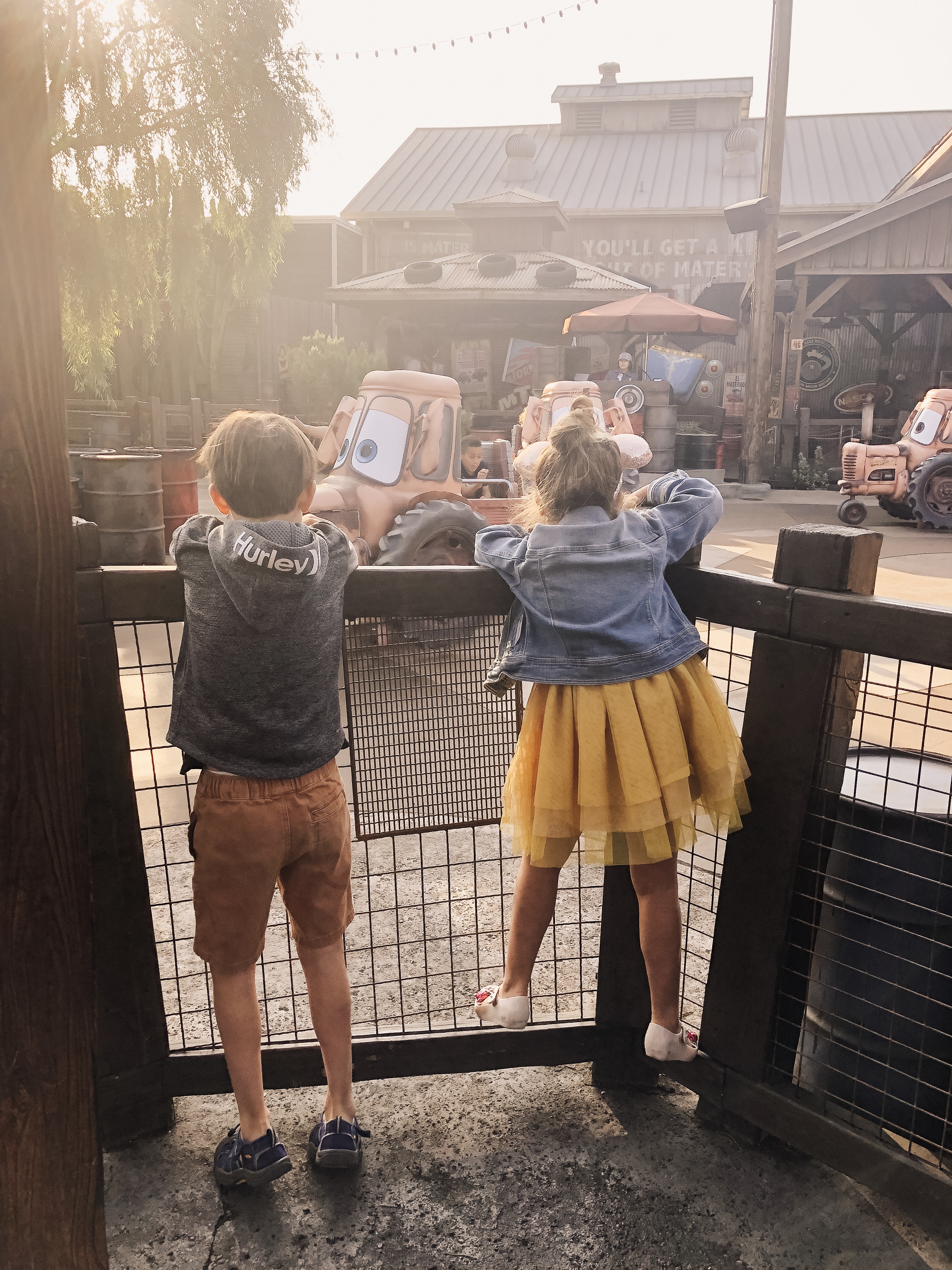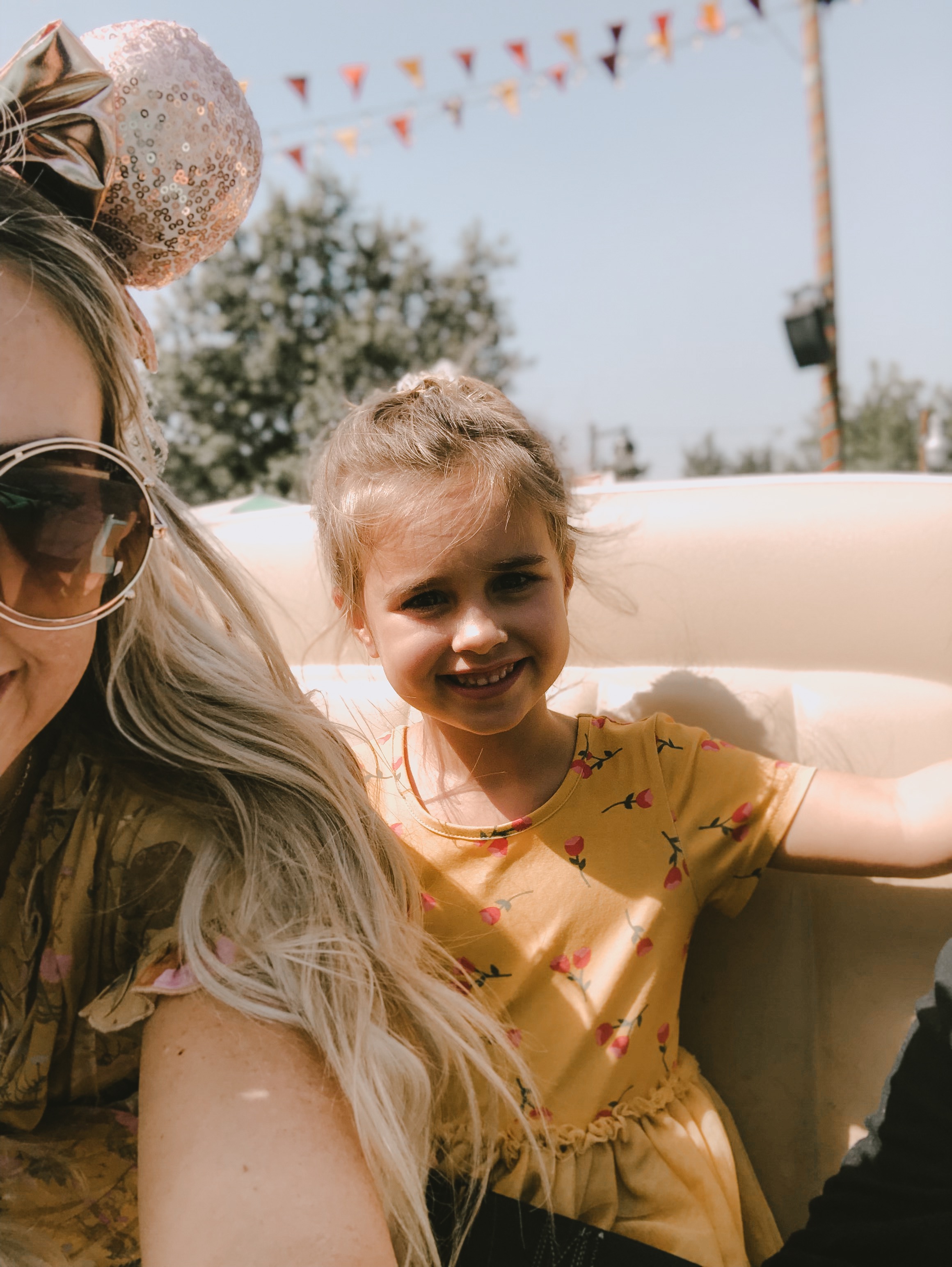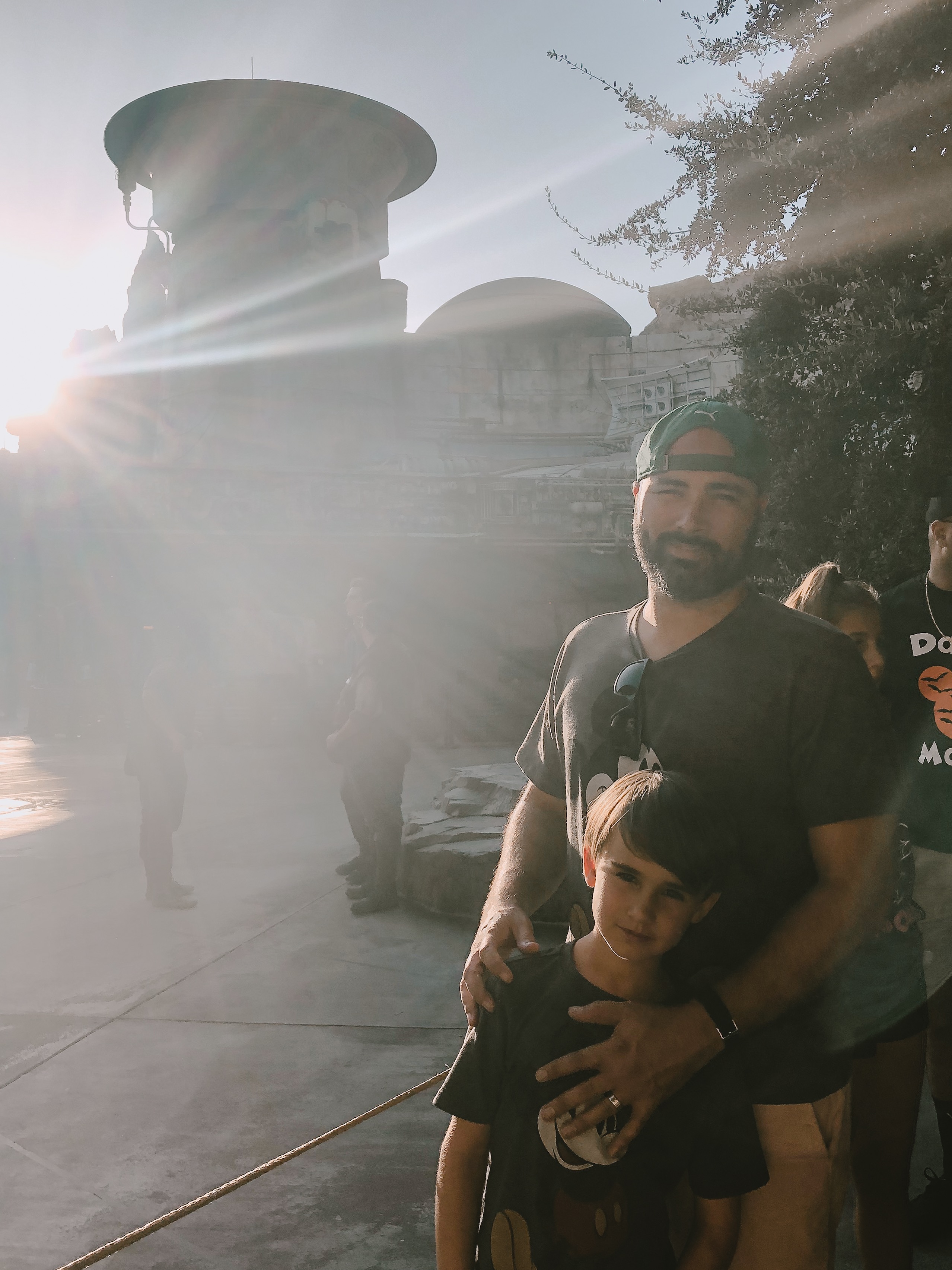 where to stay
If you can manage/afford staying at one of the Disney-owned properties I mentioned above, I say go for it! I hope to do it that way one of these days, for sure. You can't beat the convenience of being able to walk steps onto the property. The Grand Californian is actually connected straight to California Adventure, so you can cruise in and out (especially handy if you have little ones who are of napping age).
However, there are so many other properties that are super close, even walking distance! Again, we stayed at the DoubleTree Anaheim, which was about 1 mile away. I was worried it would be a bit too far to walk, so the first day, my husband dropped us off there. On the second day, we loaded all three kids up in the stroller, and we walked both there and back, and it was totally fine!
But there are so many other hotels in close proximity, and for much lower rates than the Disney properties, so just keep your eyes out for a deal. Again, many are totally walkable and there is also a Shuttle that is specifically for the area hotels that runs along the main street towards Disneyland. So staying in an off-property hotel can be a huge money saver!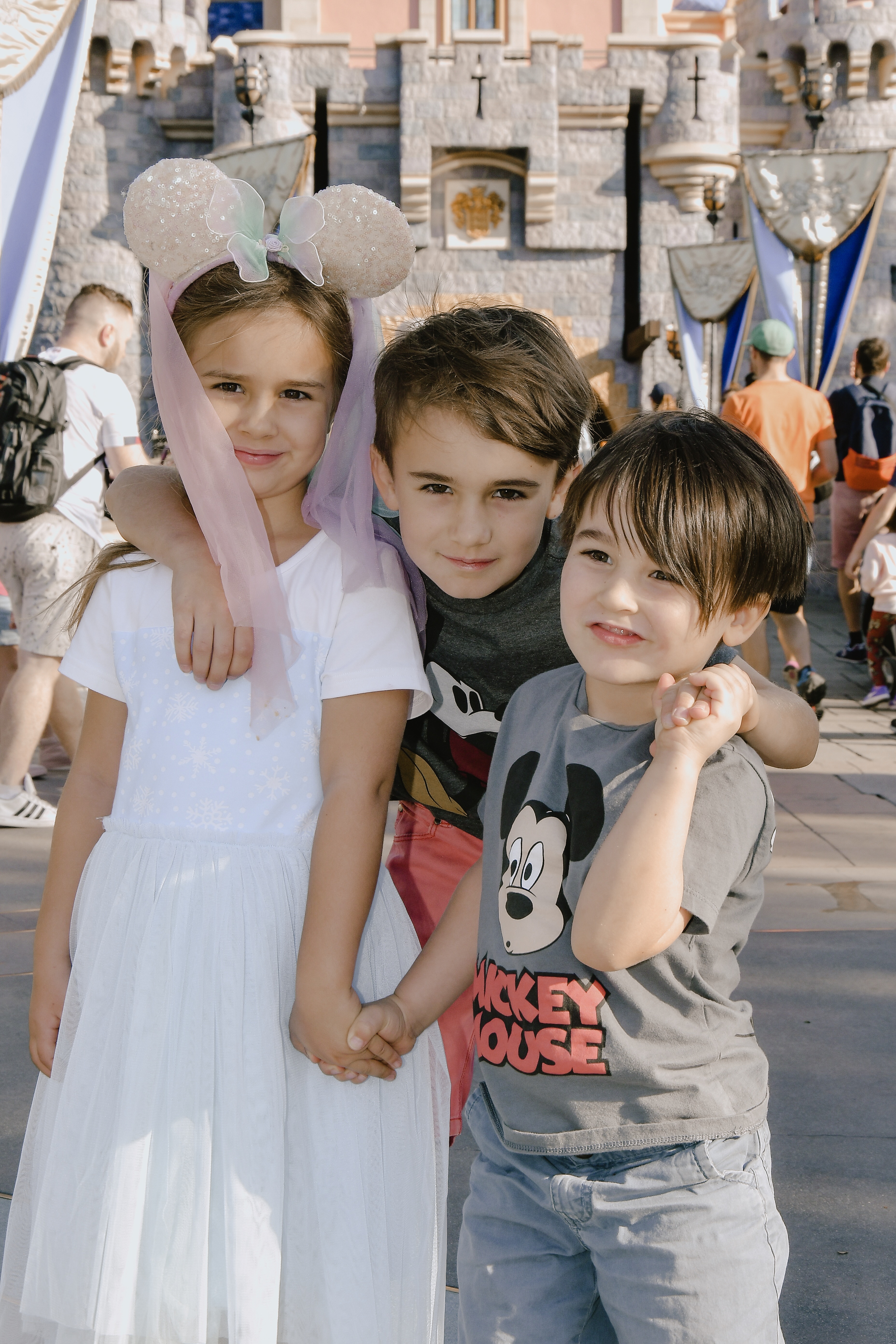 how many days
I think this is so personal to each family! In the past, we have only ever done one day per visit. On this trip, we did 2 days with the 1-Park Per Day Tickets, and that worked perfectly for us. This just means that you can't go back and forth between the parks, you can only be in the one park for the whole day and then you can do the opposite park for the second day. It's kinda a production to leave one park and go through security for the next park, especially with little ones and/or if you're in a big group. In my opinion, it's a much better use of time to commit to one park for a day. There's plenty to do inside of each!
One caveat to this is to check on any special events. For example, when we were there, the California Adventure park was closing early for the Oogie Boogie Bash, a separate ticketed event which we did not purchase for. The information I found online looked like they would kick us out, but as the time of the Bash neared, it didn't appear they were actually kicking anyone without wristbands out. Still, better to double check, so you can get your money's worth at your park of choice!
ParkHopper tickets mean that you can go back and forth to both parks on the same day. I would say if you are spending 3 days or more, and/or have older kids or adults only going, this would make more sense. And/or if you are going during the holidays and don't want to go to the separate ticketed events, then you might want the flexibility of being able to hop over to the other park.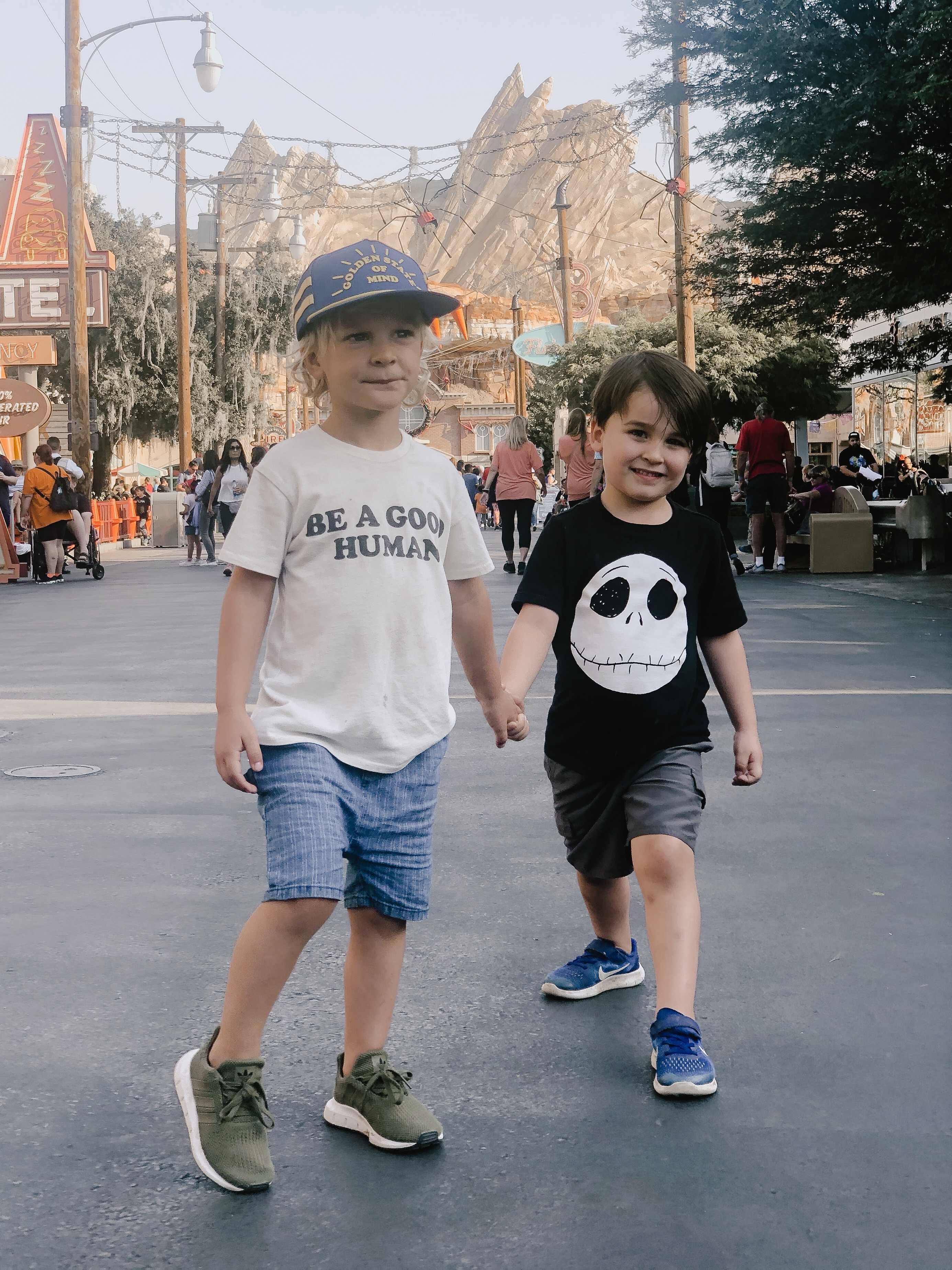 meeting up with friends @occasionally_perfect
where to eat
I feel we so lucked out on this, because we ended up meeting up with some friends from school who are Disney experts and booked many of our dining reservations in advance. It was such a relief to be able to walk into restaurants and have our table ready, even with a big group. My takeaway from that was, plan your dining in advance! Download the Disneyland App, and you can make reservations at several restaurants at either park, character dining, and most restaurants in Downtown Disney.
FYI: you do not have to have tickets to the park to dine in Downtown Disney. So if you come in the day before you have tickets to the park, you can still head there to eat and dance and shop!
As far as character dining, we have never done it! But everyone I know who has says it's a great way to meet some characters and get fun pics without having to wait in line to see them in the park. Bonus points that everyone gets fed. Word to the wise: the Disney Princess Breakfast Adventures fills up fast, so book that one way in advance!
If you're not into spending and arm and a leg on every meal inside the Disneyland resort, you CAN bring in food. Larger coolers and glass containers are not allowed. But you can bring in smaller cooler bags, food, and water bottles. We usually will bring lunch with us for at least one of our days, and then plan our dinner with a reservation in advance.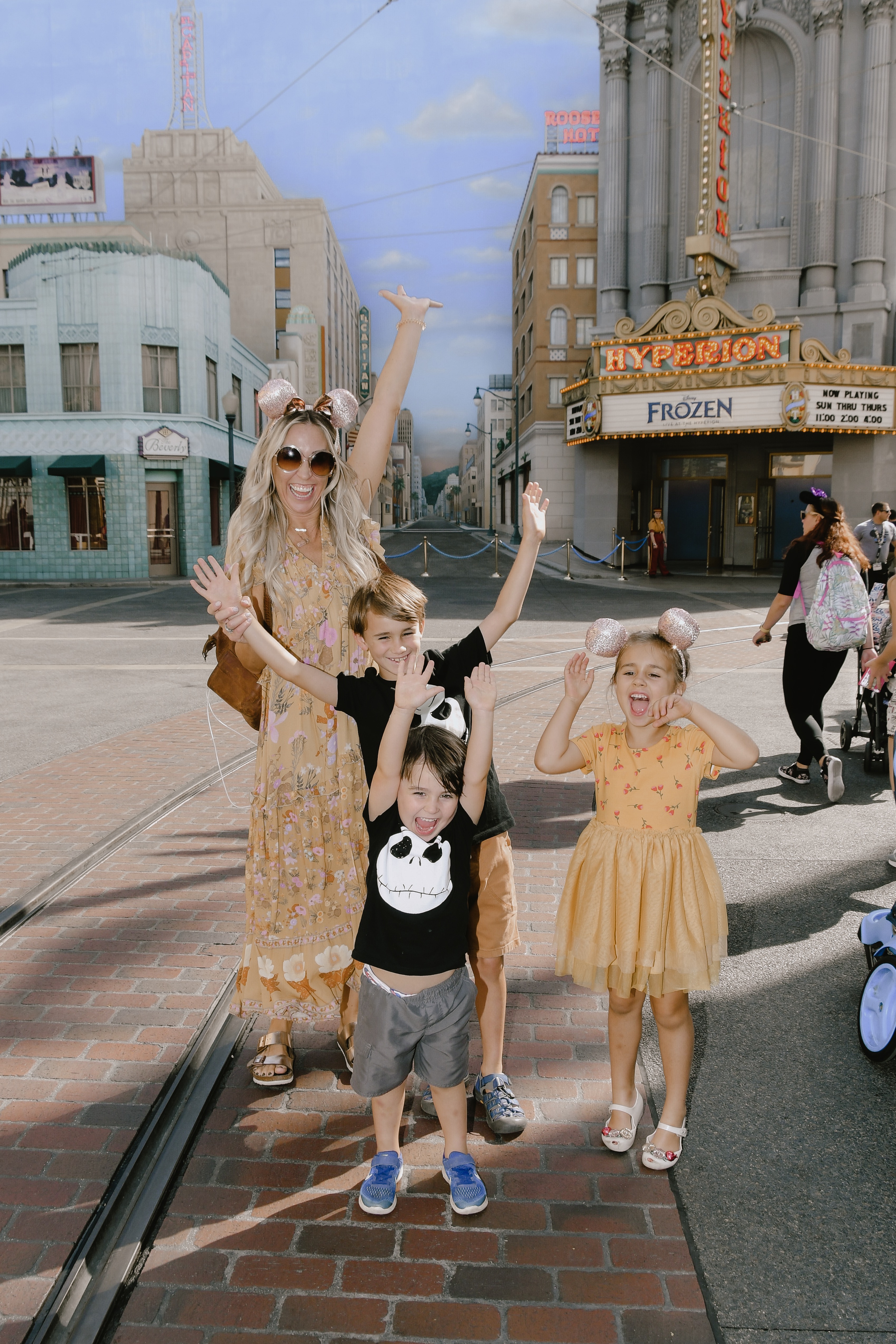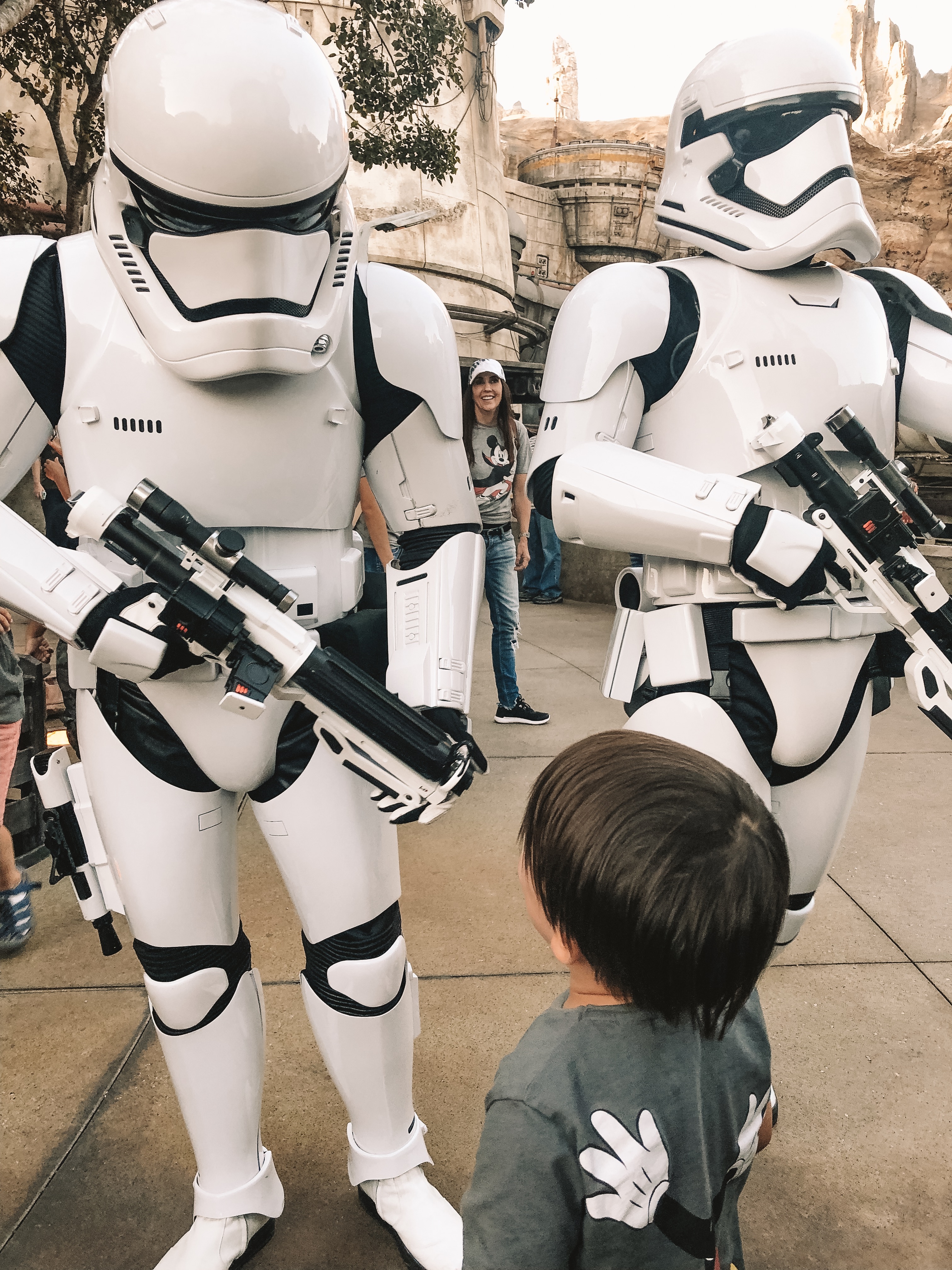 to MaxPass or not
I admit, I was so confused what MaxPass even was when I was looking at tickets for this trip, so I figured I'd share. It's an additional +$15 per ticket, so at first I thought, nah. But here is why it is 100% worth it.
Back in the day, Disneyland used to have little FastPass kiosks. These did not cost extra- they were just first come, first served. So you could run around to as many as you wanted and get passes for some predetermined time later in the day. But a few years back, Disney updated this to the MaxPass. And word is, they will soon be eliminating the paper FastPass kiosks completely.
To use MaxPass, you have to download the Disneyland App. You actually don't have to buy MaxPass In advance, but you can when you purchase your tickets. Otherwise, you still have to option to purchase it through the app once you enter the park. Either way, you cannot access MaxPass until your ticket is scanned and you enter the park!
And here's why you want it: this is the easiest way to get and use FastPasses. You can access all the rides that distribue Fast Passes right from your phone! So the second we entered the park, I immediately grabbed 2 passes for each of us to attractions I knew we wanted to do. You can only do 2 every 2 hours, so once you grab 2, you have to wait until 2 hours has passed to get 2 more. But it's great because we could be standing in line for one ride, and be grabbing fast passes for another as we waited! And in between we did lots of the smaller rides that don't need FastPasses, or went to see characters, shows, etc. This is how we were able to do probably 15+ rides each day!
Another huge benefit is that with the MaxPass, you now also get Disney PhotoPass. As someone who loves to take my own photography, I was reluctant that this was a perk. But on this trip, I left my big girl camera behind and used only my iPhone and PhotoPass. Another change I noticed since we last visited, was that a lot of key photo opps that used to just be kinda, 'grab it if you can get it,' are now roped off and only available to if you are using PhotoPass with the photographers in designated areas. This includes the Mickey flowers in the front of the park, all characters, the Castle pic (see the first shot in this post), and all the ride camera captures. It's all included with PhotoPass/MaxPass though, and you will get them straight to your app within a few hours!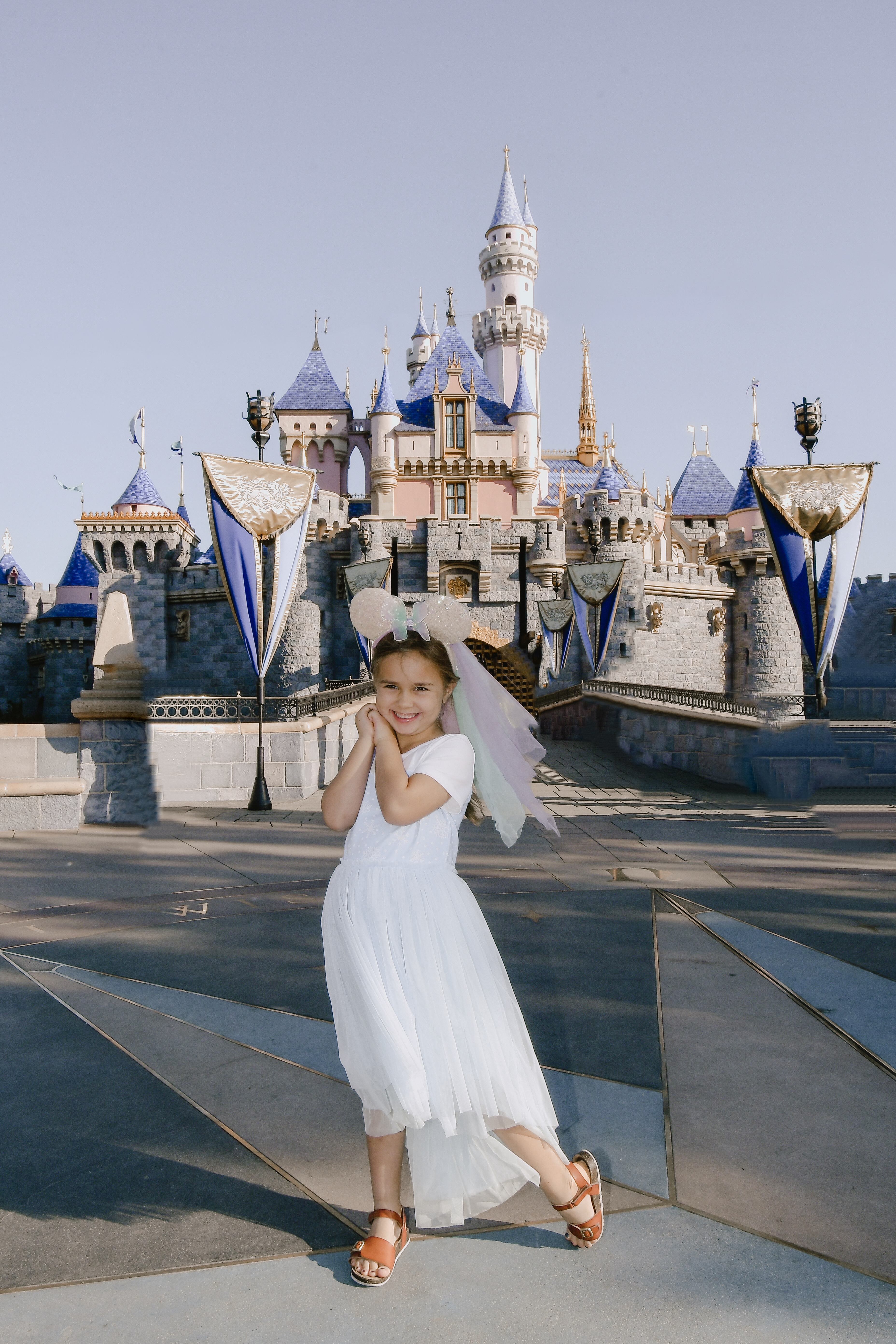 Ok last bit of advice, that doesn't fit neatly into my sub categories here, is ride sharing and ages/heights for kids. I feel like my kids were at the perfect ages for this trip, because at 4 years old and just barely over 40″, my youngest could join us on almost every ride, as long as he was with me. Many rides can seat one adult and 2 kids, so my daughter was often with us too. At 8 years old (my oldest), every ride we did allowed him to go solo. We only ran into a couple we had to skip because both my 4 + 5 year olds needed to have an adult and it was just me.
Oh and also! I did totally splurge and got my little girl an appointment at the Bibbidi Bobbidi Boutique. This also books up well in advance, but I, *ahem* I mean she, has always wanted to do it. Ok fine, it was me. 😉  The whole experience was probably my fave thing ever! So yes, worth it.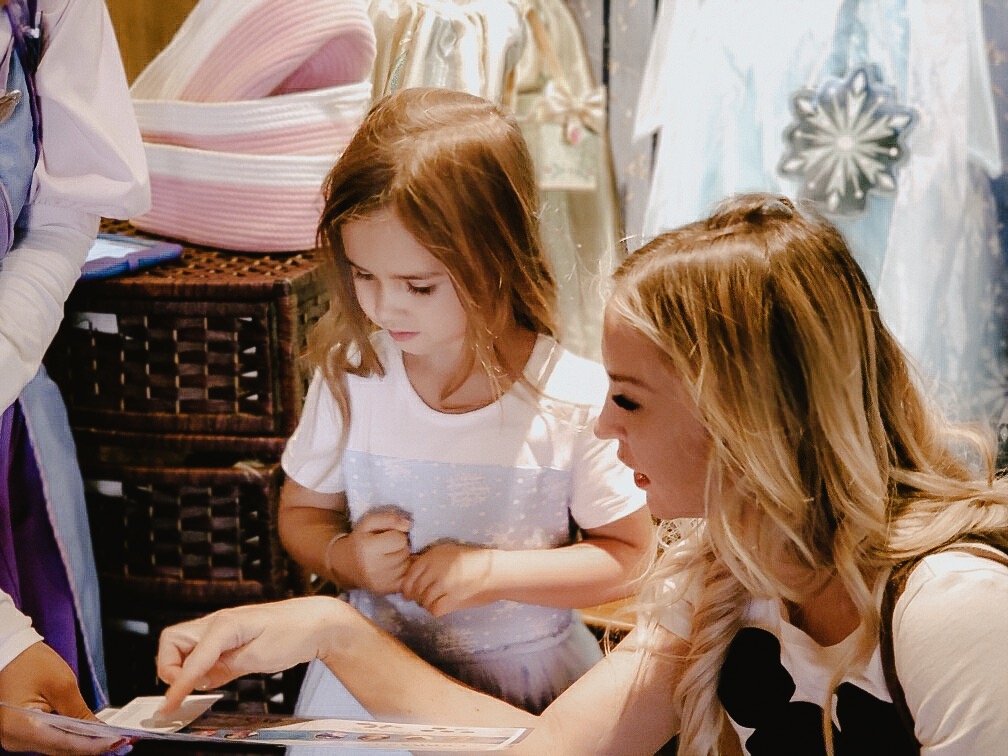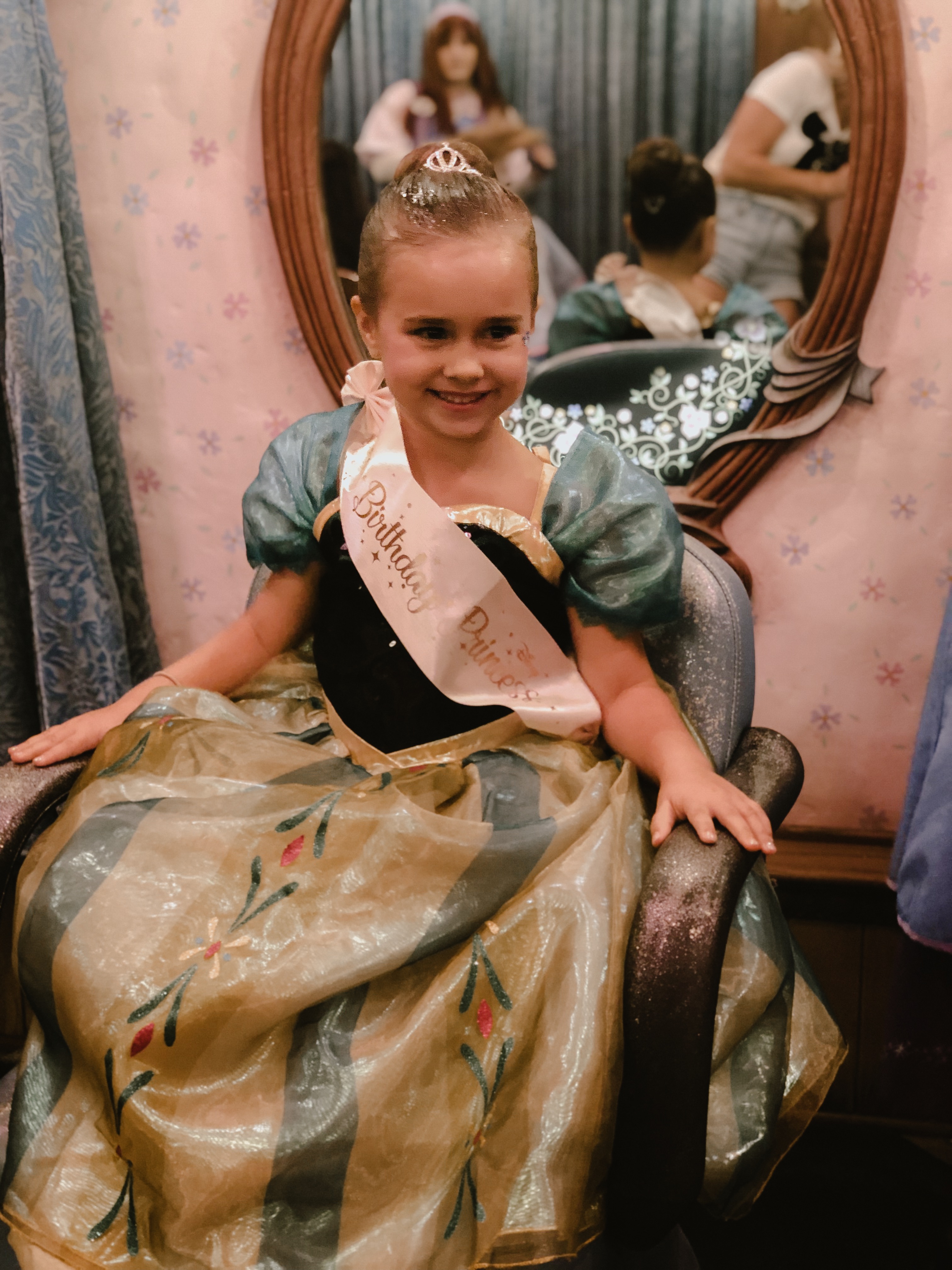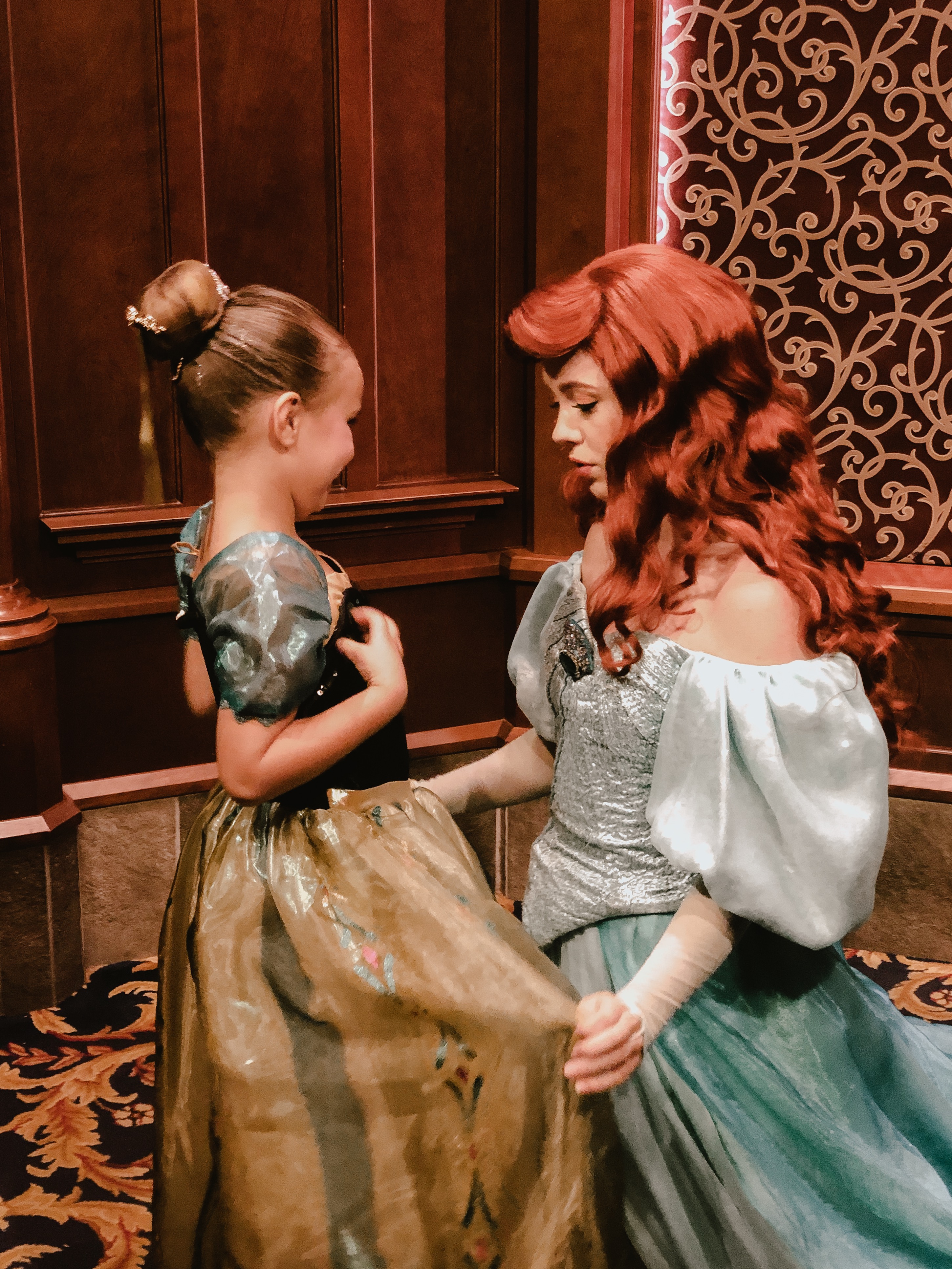 If you don't have a trip already on the books to Disneyland, are you ready now!? YES! Ok great, because I of course have to share this amazing Early Black Friday Deal for you all! This time of year is the best deals all year, and Get Away Today already has some of the best deals on vacation packages to Disney Resorts (and more). So get on it while you can! Click the graphic below for more: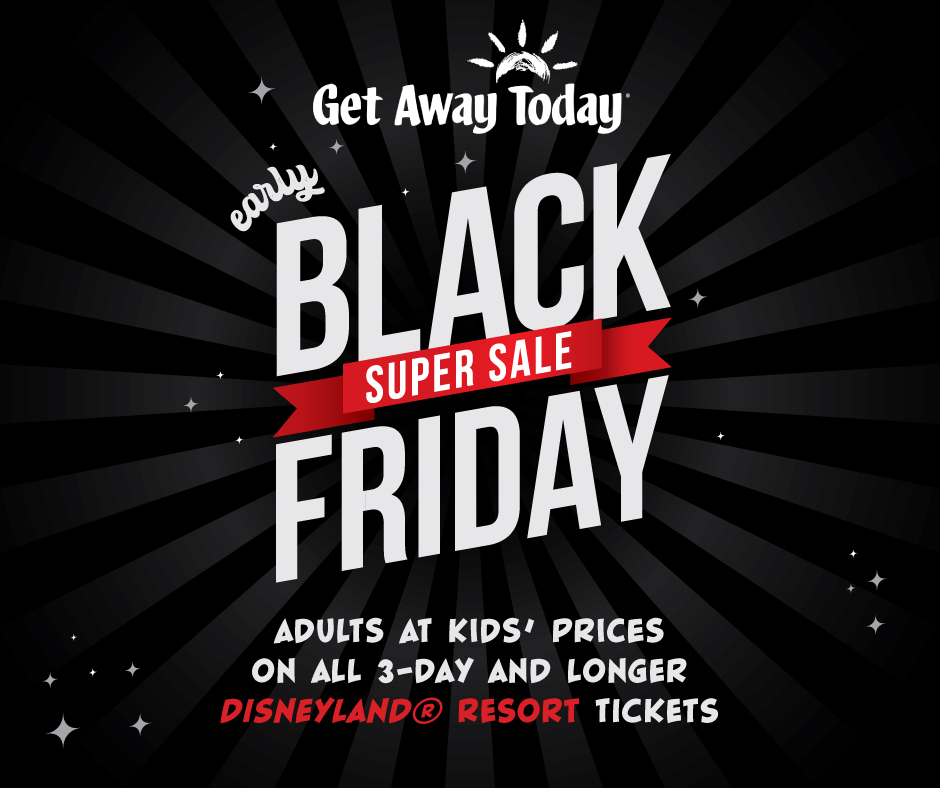 Adults at Kids' Prices on 3-Day and longer Disneyland Tickets – that's up to a $20 savings per ticket!
No blackout dates – valid for travel through 12/31/2020
Valid on Park Hopper and 1-Park per Day Tickets with or without MaxPass
Can be combined with our Extra Night Free Hotel stays and up to 25% off at the Disneyland Resort Hotels (select dates)
Can be used with my promo code lovelife so you can save an extra $10 off their vacation packages (minimum 2-night hotel stay & 2 tickets)