It's official.  My baby girl is turning one in a week!  Since starting this blog a few months ago, I have met so many awesome mamas, movers, and shakers through this online community (and especially through Instagram) that my baby A and I wanted to celebrate with some of our favorites in a super fun giveaway!  I appreciate so much all of you who have supported me in this new adventure and I hope you consider this a small token of that appreciation.  You guys are the best!  We are keeping with the magical unicorn theme of her birthday (seen previously
here
, 
here
, and
here
) and sharing some of the very best items I found while planning her party.  Again ,this is an Instagram contest, so head on over to
my feed
 to officially enter!
And, as promised on my IG post, here is the full list of official prizes!  Who's excited?!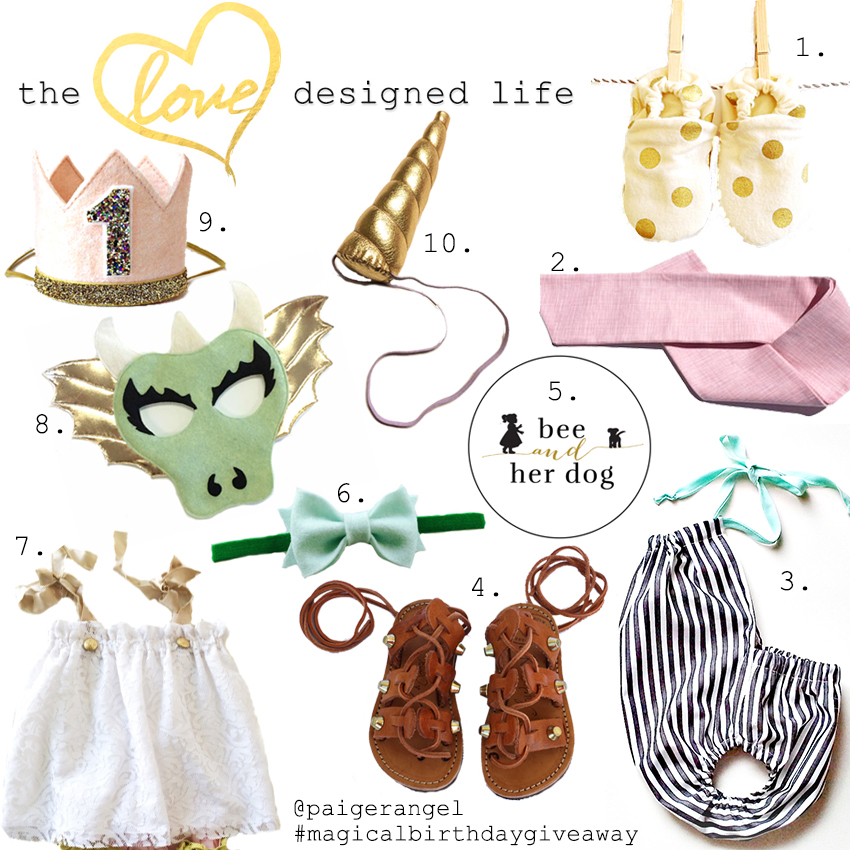 1.// 
@leiaroux
– 1 pair of shoesies, winner's choice from available listings (the cutest little things to keep baby toesies warm)
2.// 
@weemaggies
– $20 shop credit (baby kimonos, headwraps, and more?  yes, please)
3.// 
@elskanshop
– $25 shop credit (I swoon over her stuff every season, but you better have fast fingers to snag!!)
4.// 
@kandelphy
 – 25% off one pair of child's gladiator sandals (we need a pair of these for our endless summer so cal days, stat)
5.// 
@beeandherdog
– $15 shop credit (to be used towards one of their adorable, go-anywhere playmats)
6.// 
@ryanandwren
– any 2 available listings (addicted to these adorable and unique little hair accessories)
7.// 
@sadiethenty
 – $15 shop credit (obsessed with her vintage inspired children's clothing line)
8.// 
@oppositeoffar
– winner's choice of dragon mask (that was custom designed for us!) OR unicorn mask (equally as magical)
9.// 
@littleblueolive
– $20 shop credit (a birthday crown is a must for any little's special day)
10.// 
@ever_and_willa
– 1 gold unihorn (essential for imaginative play, a touch of magic included)
ANNND as if all that weren't enough, 
me
+
@bradyandlola
 are teaming up to give the winner a total of $50 PayPal CASH!! You can do more small shop shopping or use it towards shipping, whatever you want!
[to qualify for entry:]
1. Follow all above shops on
Instagram
.
2. Tag 3 friends in the comments section on the original Instagram giveaway post.
3. For 2x EXTRA entries, repost this image in your own Instagram feed with the hashtag #magicalbirthdaygiveaway, tag @paigerangel, and comment "posted" in the comments section of the original giveaway post on my feed (not required to qualify for first initial entry).
[fine print:]
Open to US residents only.  Open to both public and private Instagram accounts.  One person will win all prizes in contest.  Please be sure to follow all shops, tag 3 friends, and to comment "posted" if you are reposting for extra entries.  Entrants may re-post the image once per day during the contest period.  Additional postings more than once per 24 hours will not be counted.  If you are a private IG account and are reposting, be extra sure to comment on my post as I will not be able to count those entries if you do not.  Also, for private accounts, please check back on original post after contest ends to see if you have won as you will not get my tag notifying you of winning if not.  If the winner has not claimed the prize within 24 hours of announcement, a new winner will be chosen.  Giveaway and spam accounts will be disqualified.  Contest starts today, November 12, 2014 and ends November 19, 2014 at 12 midnight, PST. The winner will be randomly selected and announced on my Instagram feed by November 20,2014.  Make sure to follow all the rules to qualify.  Winner is responsible for paying all shipping of prizes won (although PayPal cash prize can be used towards shipping, at winner's discretion) and for coordinating prize delivery to yourself from each individual shop.  I will place the winner in contact via email with all participating shops upon claiming of prize.  Have fun and good luck!  xoxoxo