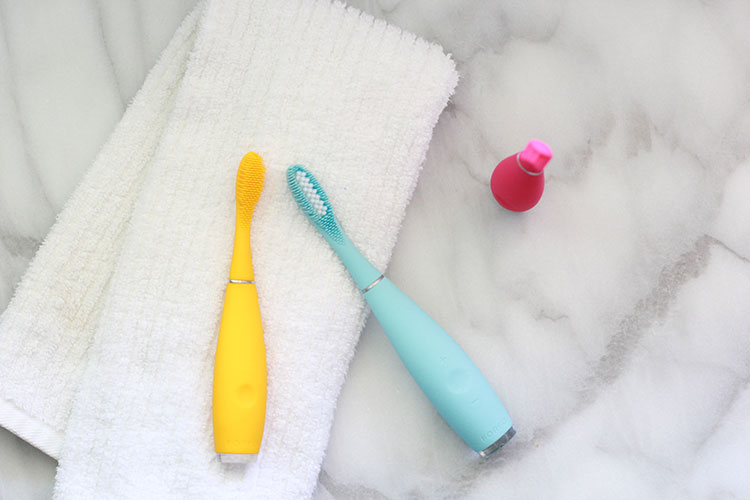 I know it might sound weird that we are excited about toothbrushes over here, but our new ones from FOREO are just so cool, well, we are! We recently got to test out the ISSA hybrid and the ISSA mini in our house and it's been smiles all around ever since!
FOREO
is a Swedish-based beauty company with a full range of innovative products from skin care, to oral care and more. When I first heard about the ISSA toothbrush from FOREO
, I was immediately intrigued. I had an electric toothbrush at one point years ago. I have hesitated to invest in another one since, as once you do, you have to continue to buy expensive replacement heads and you are sort of committed at that point to whatever brush you have. I do know, however, that electric toothbrushes clean your teeth much better than the manual ones, so I have been wanting to get for a while now. And now that the kiddos are big enough to be brushing regularly, I have been wanting to update the rest of our family with some as well. The FOREO ISSA brushes checked many of those boxes, so I was excited to give them a try!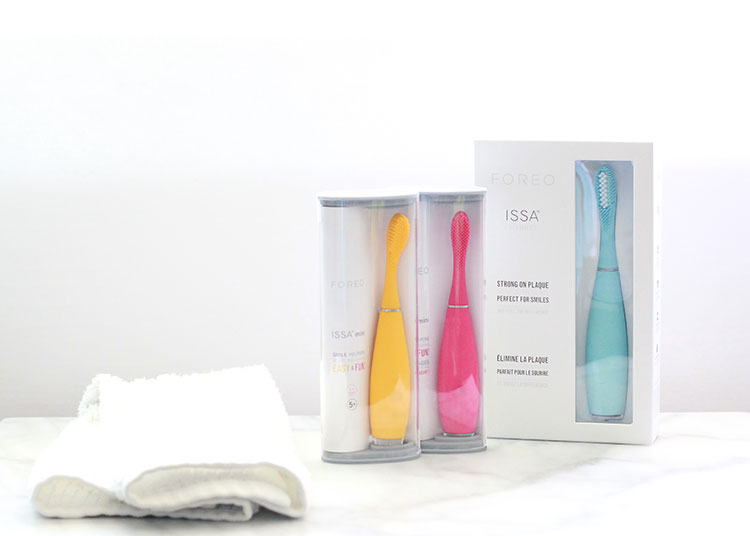 First of all, I am a sucker for good design [and good packaging], and how good are these? The silicone toothbrushes are sleek, compact, and lightweight, and I just love the minimal packaging design. Also, silicone naturally repels bacteria, making these toothbrushes a more sanitary alternative to traditional nylon bristles which notoriously harbor bacteria. This is a big plus in my germ-a-phobe mama mind! The ISSA hybrid, which is what I have [shown below], is the best of both worlds, with the soft, gum massaging silicone bristles on the outside and the stronger, scrubbing PBT polymer [which is also bacteria resistant] inside.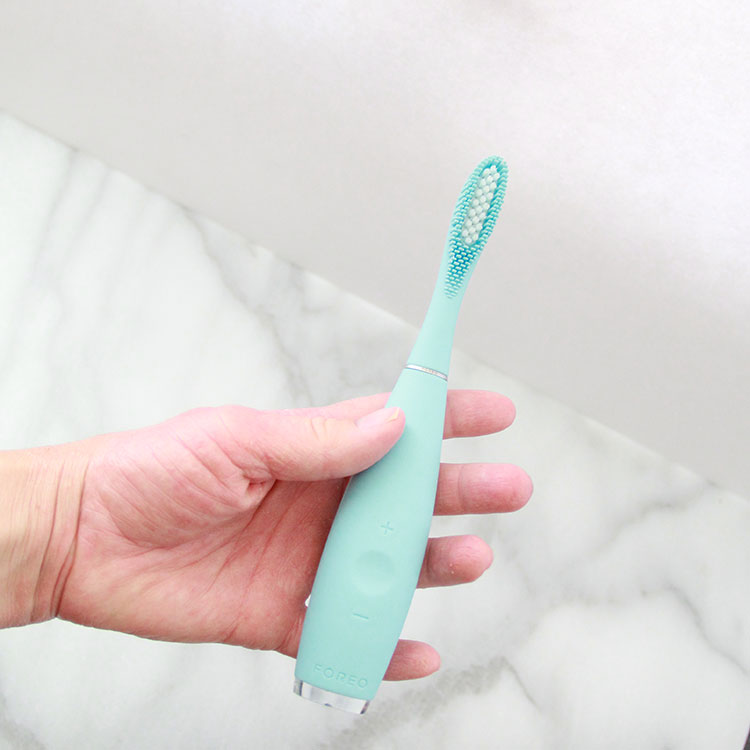 As soon as our happy mail arrived, my big boy was dying to try out his new toothbrush! When we got it out of the packaging and turned it on, his face immediately lit up!
He loved the vibrating massage action and the cute little happy and sad faces. I love that the two minute self timer and pauses in between will help remind him to brush every part of his mouth. And those little faces light up at the end of each brushing session to give him feedback so he knows if he is doing it right or not! The size of the ISSA mini
is perfect for his small hands and is again, so lightweight and easy for him to handle. We also both loved that you can use this brush with any toothpaste. The kids love this one from the Honest Company.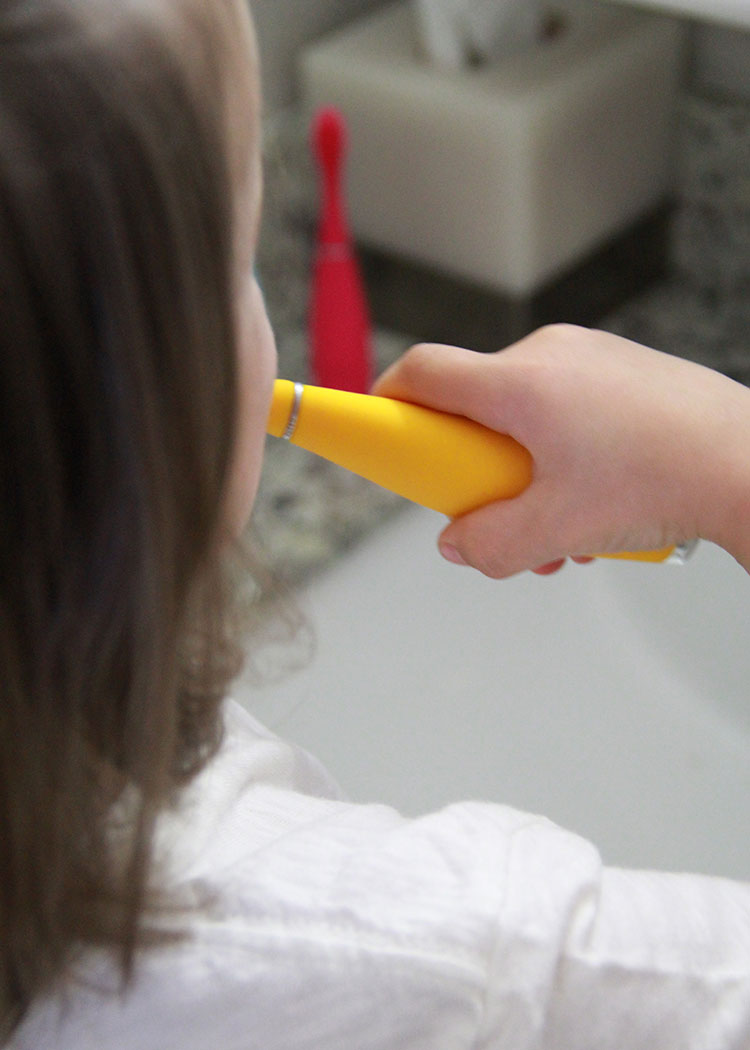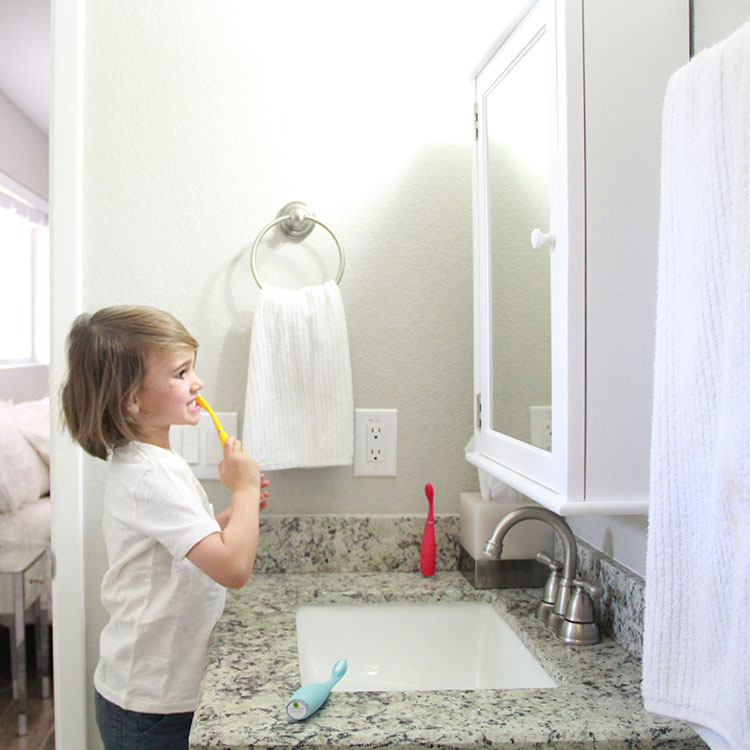 Ok here are some of my favorite parts about the ISSA toothbrushes
. 1// You only have to replace the heads ONCE a year! This means that even though the initial cost of this brush is a little higher, you save money over time by not having to buy so many replacement brush heads. 2/// One charge [which takes about 1 hour with no docking station] lasts up to 365 brushes! That means you only have to recharge your brush on average twice per year, making it great for travel. The ISSA is also waterproof, so you can use it in the shower, and has a flexible head so it can cover every part of your mouth! Seriously what's not to love??
So now you can see why I L O V E this toothbrush, right?! I think this dude and I will be having more toothbrush parties in our future. I also got one of the ISSA mini's for his little sister, even though she is only two [the ISSA mini is approved for ages 5+]. It works for us though because my husband or I always have to help her brush her teeth anyway. And it avoids a fight because she always wants to do/have everything her brother is doing. 😉
If you want to get your hands on one of these bad boys, use the code BBISSA15 at checkout to save 15% off of your FOREO toothbrush! Also if you order before the end of the month, you can also get FREE SHIPPING
on any order over $50, no coupon code needed!
Our family did receive product in exchange for this blog post review. This post also does contain affiliate links. As always, all opinions expressed here are my own. Thank you for continuing to support our little family through this blog.