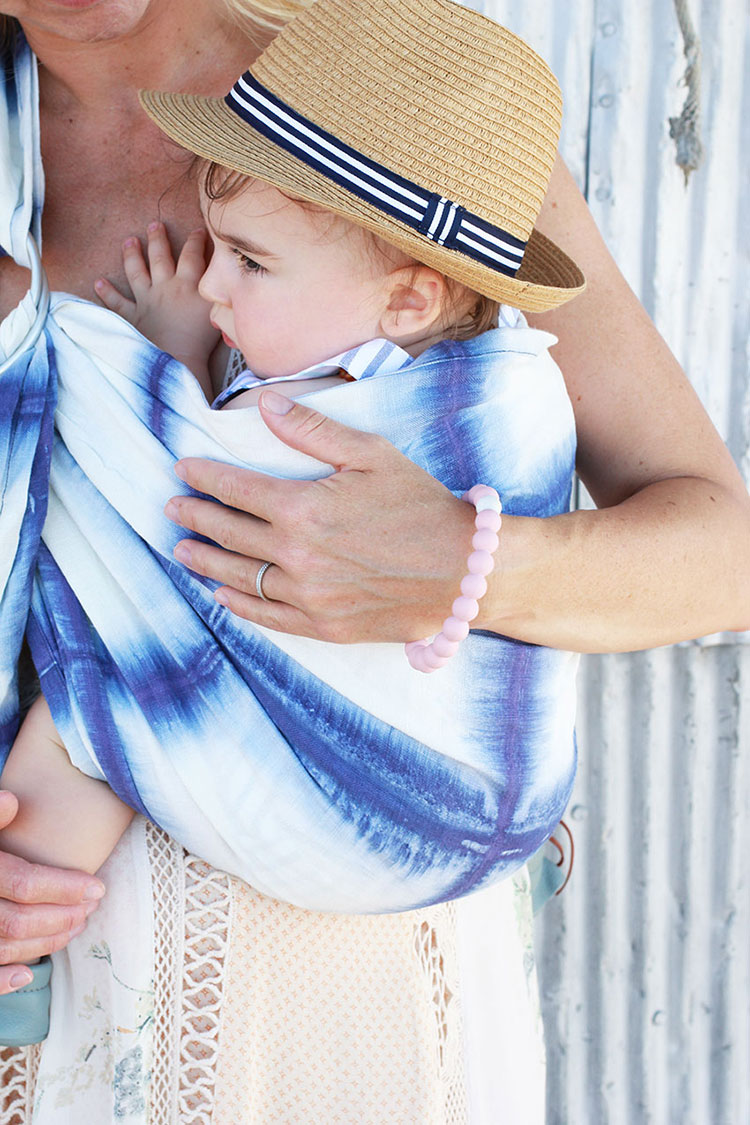 I have shared some baby carriers that I like in past posts, but as today is the first day of International Babywearing Week, I thought it would be handy to breakdown just my top three favorites! People often ask me what my ONE favorite baby carrier is and the answer honestly is all three- for different reasons. The benefits of babywearing are vast and are now widely recognized. So here, I will share a little about the specific benefits for each carrier. If you are passionate and committed to babywearing like me, you will soon understand why you need them all!
best for: Newborn – 6 months [but can wear baby safely for up to 12 months +].
positions: Front of parent, facing inward ONLY.
fit/material/comfort: Soft, stretchy jersey knit is one size fits all and holds baby in a natural position against your chest without bulky straps or buckles. When worn properly with the fabric spread out over your shoulders, baby's weight is evenly distributed, making it super comfortable for both mom and baby.
ease of use/ convenience: This wrap admittedly does take a bit of practice to get the hang of. But it honestly is NOT hard! When baby is a newborn, I suggest just leaving it on as you go about your day. For example, tie it on before you leave the house and then you are ready to go once you get to your destination and can just pop baby in! I literally wore one of my three that I own every single day for several hours a day for about the first 8 months!
bonus benefit: When baby is brand new and you are worried about germs from the outside world or from uninvited touching, wearing baby in this wrap usually will disarm those well meaning individuals and keep germs away!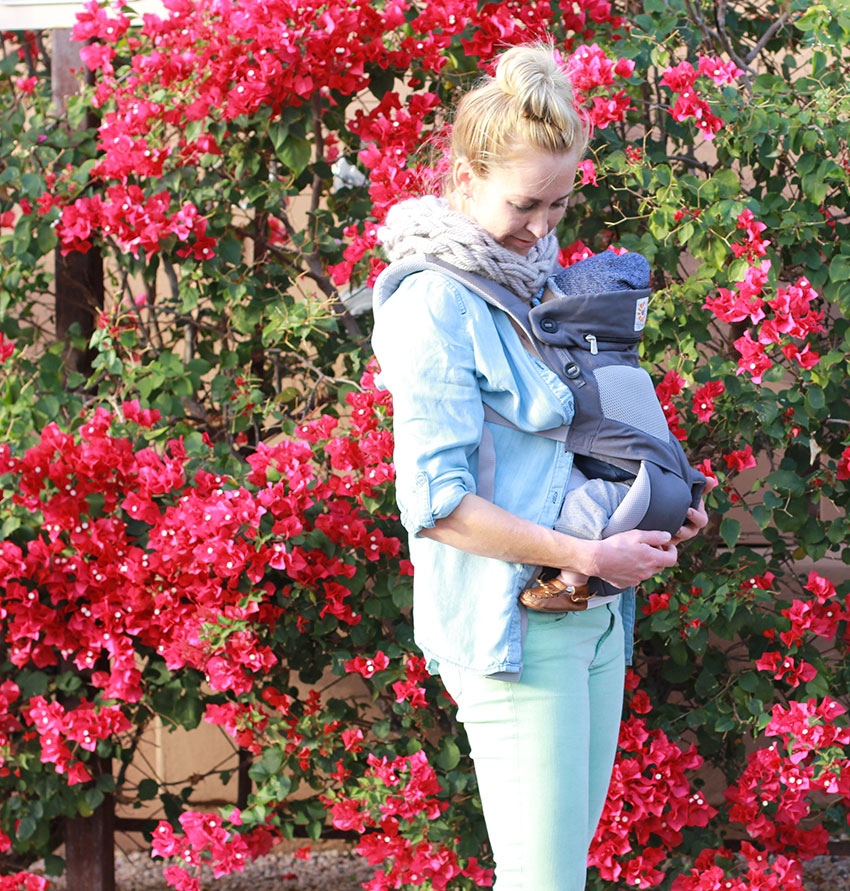 best for: ~4 months – toddler [but can wear baby safely with the infant insert starting from 7-12 lbs, and without the insert up to 33 lbs]. I personally never had good success with the infant insert, which is why I recommend this carrier for older babies and toddlers. However the latest Ergobaby ADAPT can be worn in four positions as well, without the infant insert! I personally haven't tried that one yet, but I love the features on it and would for sure consider it if buying today!
positions: Four ways: 1// front of parent facing inward. 2// front of parent facing outward. 3// back of parent facing inward. 4// side hip carry. [Just a side note that although I LOVE the flexibility of all the positions on this carrier, I mostly wear my babies on my front facing inward and on my back. Rarely do I wear them facing out.]
fit/material/comfort: This structured carrier can be adjusted to any size and will grow with your baby. The padded straps, wide waist belt, and overall ergonomic design make it comfortable for long wear and perfect for activities such as a family hike.

ease of use/ convenience: The Ergobaby is VERY easy to get on. Some will need help with the center back buckle. It is also recommended to get assistance when setting up a back carry. It is a little bulky, so it is not convenient for every trip as it doesn't easily fold into your bag.
SPECIAL DISCOUNT CODE: Ergobaby very RARELY offers discounts on it's products, but I have this exclusive code for 10% off ANYTHING on their site! Please note each customer can only use this code ONE time. So if you have any gifts or accessories to buy in addition to your own, make sure it all goes on one order! Go to ergobaby.com and enter code mmcnCo99gneqE1F at checkout!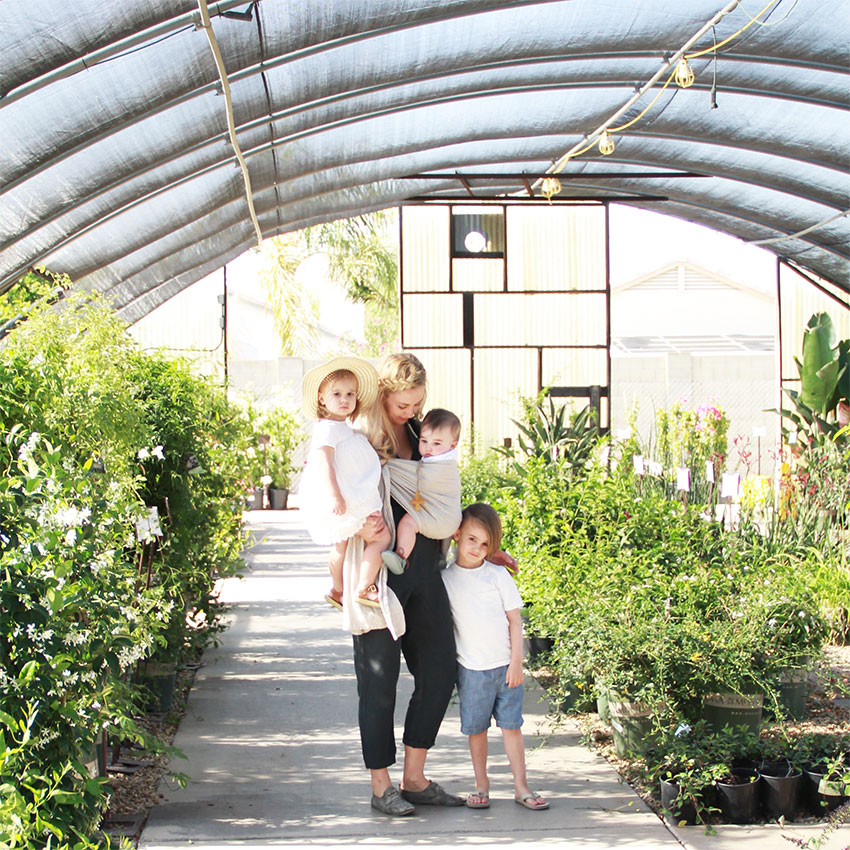 best for: I say ALL ages [up to 35 lbs]. This one can be a little tricky for some parents for newborn head support, but totally do-able!
positions: center front, tummy to tummy [newborn] , side hip for older baby + toddler. I have also seen a back carry in this sling for toddlers but am yet to try it myself!
fit/material/comfort: Ring slings can be made out of various woven fabrications, such as silk, wool and linen. These fabrics have a little give, but do not stretch. My favorite is linen, because it is a natural fiber that is strong, durable, and breathable. It also gets softer as you wear and wash it over time. And again if wear it properly, with the fabric spread out across your shoulder and the rings sitting in the corsage position, it is very comfortable. For balance, you should switch up what side you wear baby on from time to time.
ease of use/ convenience: For this one to be easy to use, it again takes a little practice. But overall, it is VERY easy. I leave mine threaded all the time so I just pop it on or off whenever I need it. It is also super convenient because it folds [wads] up really small. I always have one in my bag or car for quick grocery stops. The sling became imperative for shopping of any kind once baby number three arrived. Because, even Costco only has room for two in the basket up front!
You can find all the colors and fabrications of the Sakura Bloom ring sling on their website. If you want to try one on and are local here in Arizona, they are also available from my friends at Modern Milk!
So those are my top three! There are so many carriers, wraps, and slings out there, I encourage you to go find what works for you. I hope this had been a helpful guide. Tell me some of your favorites in the comments below! And of course, any questions you have I can answer there too.
This is NOT a sponsored post! Although I have worked with each of these brands separately in the past, these are and always have been my favorite babywearing choice! Happy International Babywearing Week!