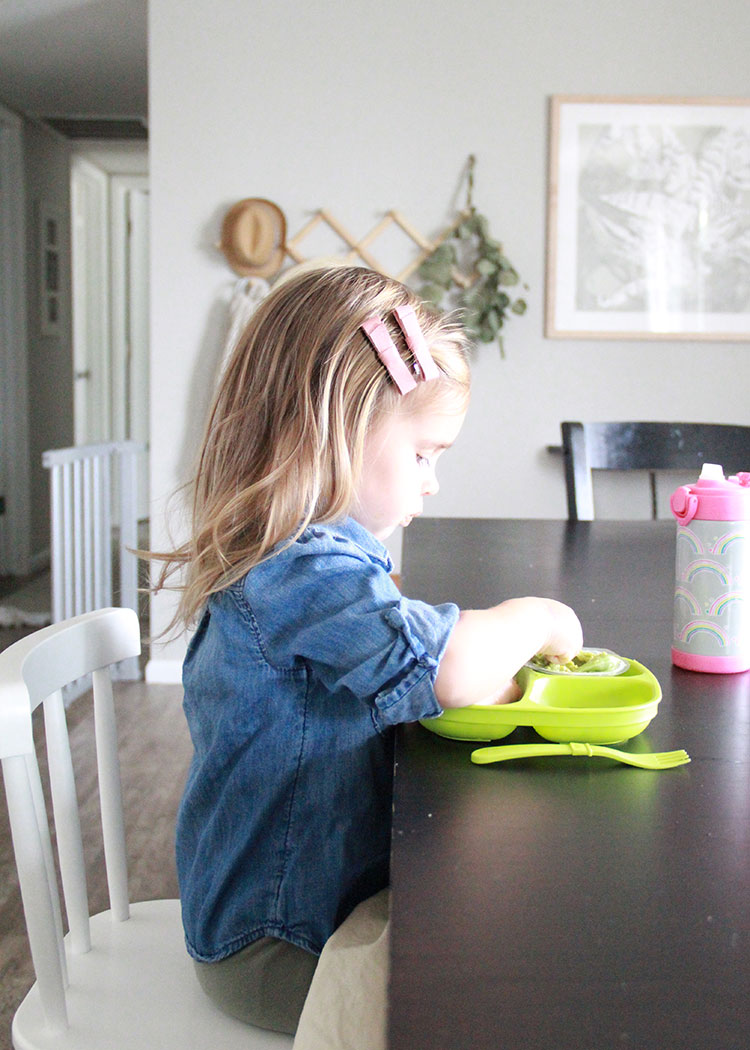 Our sweet girl, our second baby, is also our picky eater. This has been SO frustrating for both my husband and I lately! Alessandra is about to turn three [tomorrow] and this has been going on for several months. She usually will eat well at breakfast, snacks are her fave, lunch is about 50/50, and dinner is rarely eaten. The only guaranteed thing we know she will eat for lunch or dinner is chicken nuggets. But we also know the girl cannot subsist on them alone!
Her older brother is the exact opposite of picky and has always been a good eater. When he was her age, he surprised us with how much he could put down! When Alessandra was a younger toddler, she too was a pretty good eater, mostly eating anything that we served her. So where did we go wrong? After months of cajoling, bargaining, bribing, threatening, and every other trick we could possibly think of to get her to eat dinner, we had had it! We needed help with this situation.
That's where Feeding Littles came in. I had heard of the Feeding Littles course through a few friends who had tried it before. Megan, a Registered Dietitian Nutritionist and one of the co-creators of the course, is also a Phoenix local. [She teaches occasional classes over at my friends' mom wellness boutique, Modern Milk AND she taught my prenatal nutrition class at Babymoon Inn.] Her partner is Judy, an occupational therapist. Between the two of them, they make an expert team for how, what, when and where to feed you little ones!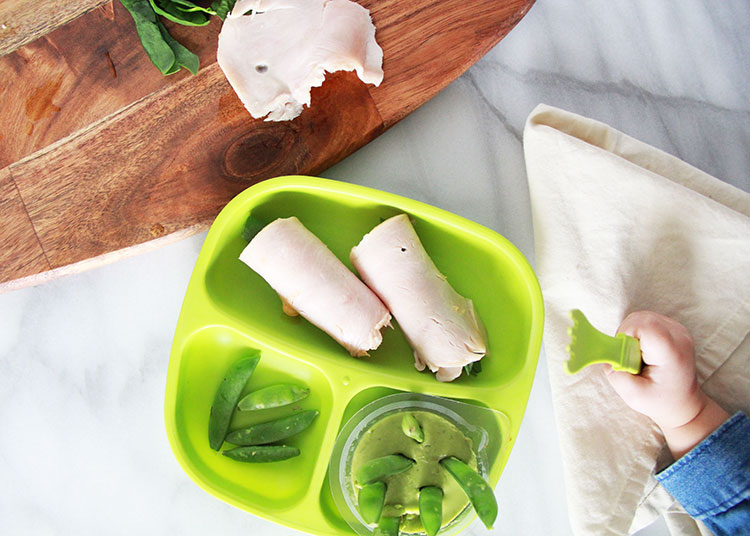 When I reached out to Megan, she suggested her online course for toddlers. Oh, so many things I love about this course, I don't even know where to begin! First of all, I loved that it's ONLINE. I'm a busy mom [aren't we all] and finding time to dedicate to a hours-long, in-person course away from my kids just isn't in the cards right now. This online course is all videos! Each video is 10-15 minutes long, with simple easy tips covered in each section. There are also a TON of printables so you can take your own notes, go shopping, and even get new meal ideas!
Which brings me to another of my favorite things- the meal ideas! To be honest, I was concerned before I started that this course was going to tell me I needed to be more of a "Pinterest mom", You know, cut my kids food into adorable shapes and create food art to get them to eat. That is just SO not me. But no to fear! Megan suggests simple and easy ways to make food more interesting for your littles. Also, meal ideas [food rut, anyone?] and nutrition information. In this fast-paced world of ever-changing diets, it is so nice to have a solid and balanced approach about what our little ones really need!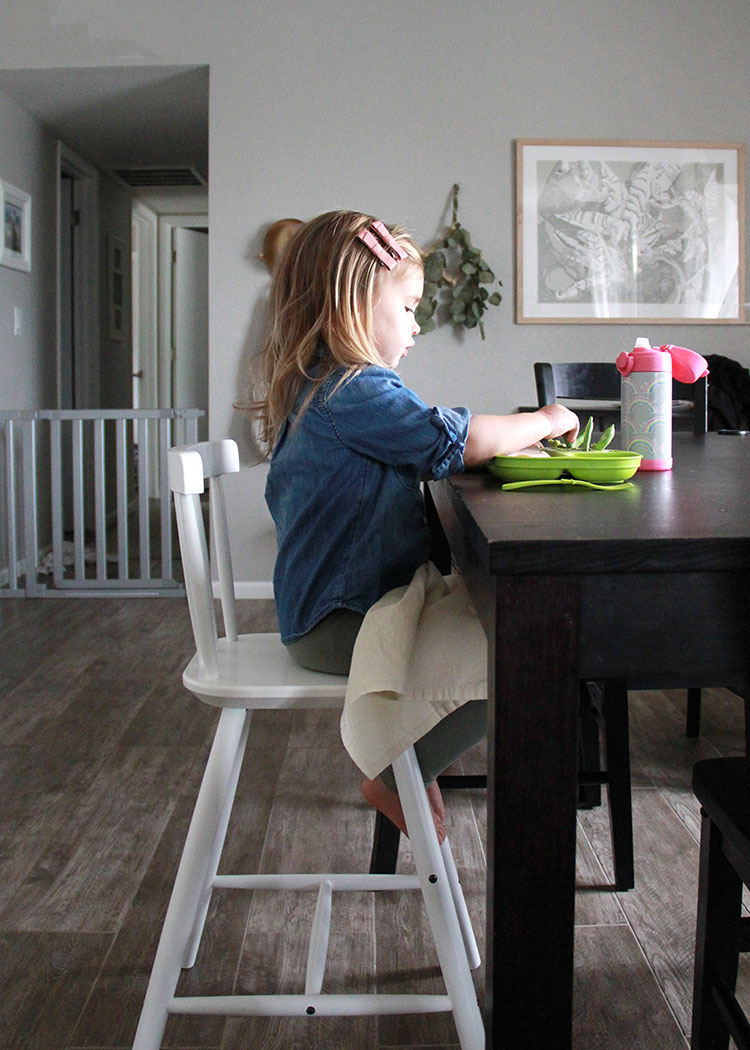 Ok, now for a couple of things I picked up from the online course.
We transitioned Alessandra to eating at the table in a regular adult chair a while back. While I could tell it was uncomfortable for her, she refused to sit in the booster seat we used to have. But after watching the video about how important it is for children to be sitting up at the right height, with their feet resting on something [it's called the 'barstool effect'], I went to IKEA to grab this chair for her. She actually loves it and was so excited for something new just for her! Now she asks to sit in it for meals and I can tell she is just so much more comfortable in it.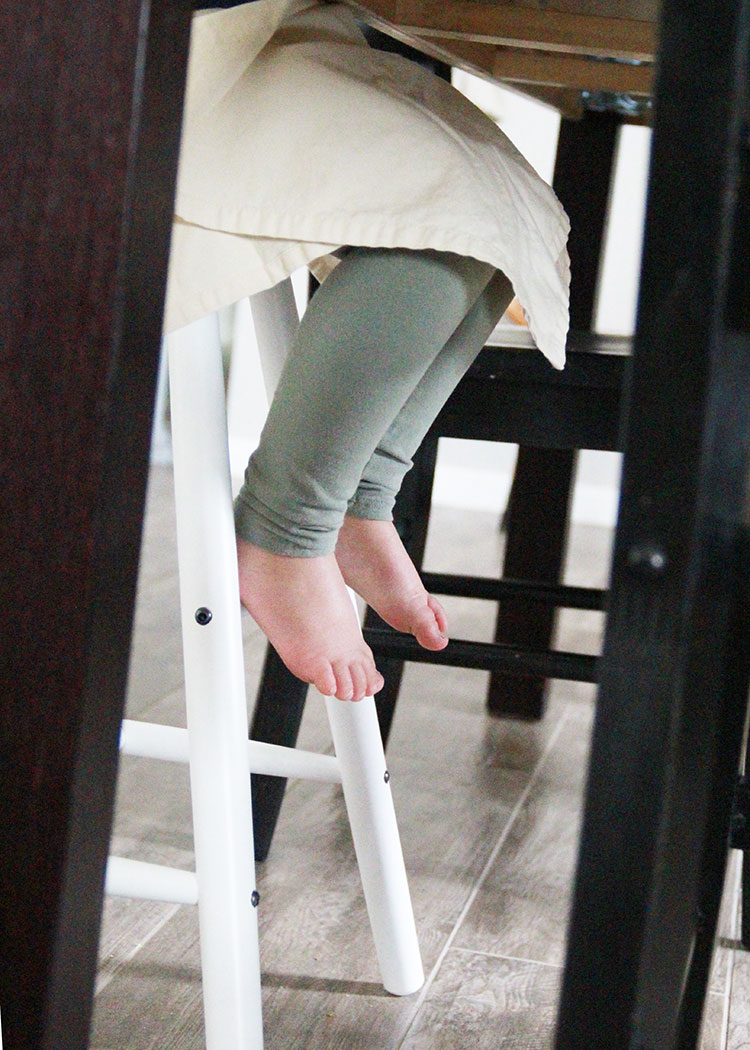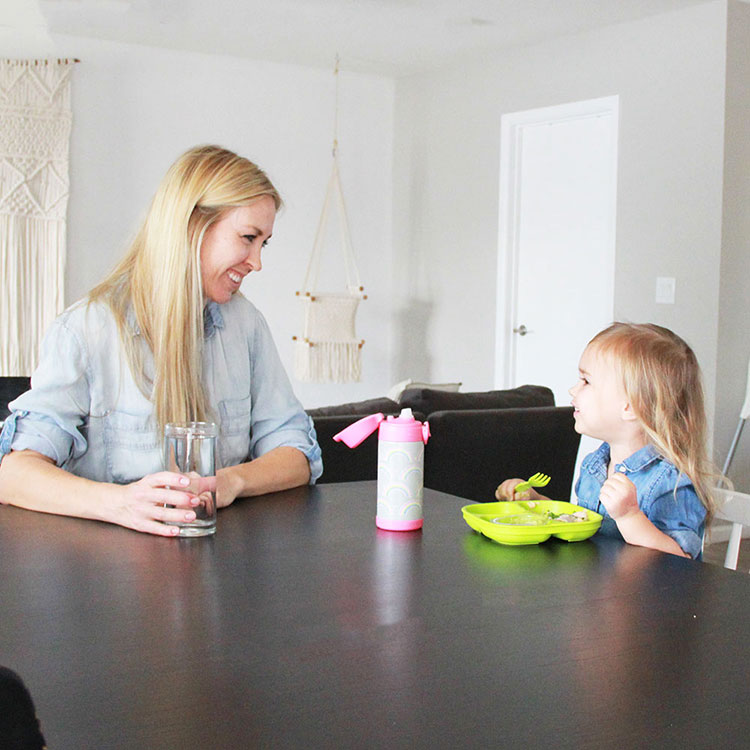 Another little tip [that probably seems pretty obvious] is to sit down and eat with your kids. I am totally guilty of trying to do dishes, clean, or even just check my phone while the kids eat. For me, it is easier to enjoy my meal if I just eat after they are finished. But as Megan explains, it is SO important for us as parents to model good behaviour and feeding habits for our children. So now I am making more of an effort to at least sit down with the babes during lunchtime. And most nights, my husband and I make a point of sitting down at the table to eat as a family. That is something we both have always agreed is very important to us.
The other thing that I think was really important that this course gave me was peace of mind. Of all the little things we could be doing better, we also were doing a lot of things right. By offering our kids a varied diet and not giving in to being "short order cooks," eventually they will have wide palettes. We offer them healthy, balanced meals, and they chose whether they eat it or not. And this is what the Feeding Littles course recommends as well!
I could go on and on about all the things I have learned in this course! Some were just good reminders, other things were big "ah-has". I seriously loved the new meal ideas because I often feel we get in a rut. So basically, if you have a toddler, YOU NEED THIS COURSE. I would say even if you don't consider your toddler "picky", you have something to learn from this course! It's so easy in our busy lives to fall into patterns of just feeding our kids what they will eat. But it doesn't have to be that way!
Because I am so passionate about how good this course is, I asked Megan if she could provide a discount code, just for my followers. She said yes!
You guys, for ALL that is included in this course, it is already a screaming deal at just $69. But JUST for my readers, you can get $15 off using the code PAIGE2016!!
I hope you'll try it, I know you'll love it. And I can't wait to hear what you think! Reach out and let me know when you do.