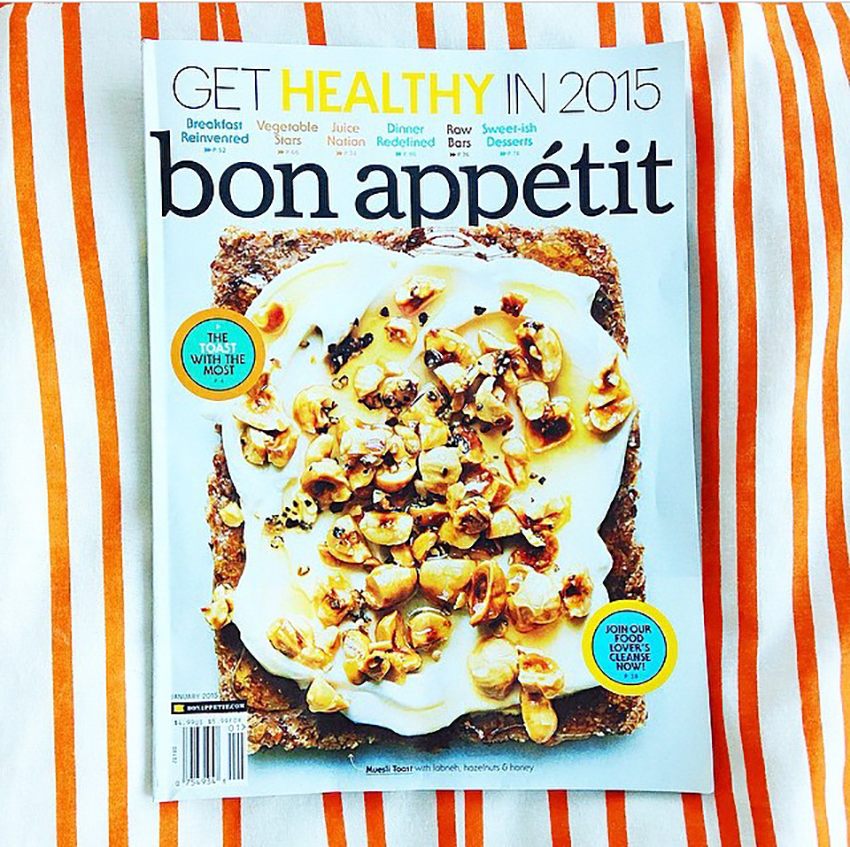 A while back, I started a cookbook club with some of my girlfriends and wrote about it here.  The idea is each month, a new hostess picks a cookbook or a cooking magazine and all the participants pick a recipe to cook from it.  Then we get together for a dinner party!  It is always fun and great food to be had.  Even though I have since moved away, the party still goes on every month and I am so proud to have started something that brings friends together.
Around the same time as cookbook club began, a friend and coworker was telling me how she had had this idea for a while to get all of her novice chef friends together once a month to cook out of her favorite cooking magazine, Bon Appèit.  Between her and her sister, they always have a place to host, and only asked their guests to bring a dish out of the current month's magazine.  Depending on the theme of the issue that month, some dinner parties are adults-only and some are kid friendly.  They have hosted a full Thanksgiving feast, a "stand up" pizza dinner party, and a cookie exchange, to name a few.  The sisters intend to make this project last for one full year (and if we're lucky, longer!).
I have been wanting to share my friends' super-classy version of of cookbook club for some time now.  These ladies think of every glorious detail.  The biggest rule in their book is that everything, and I mean EVERYTHING, must come from the issue.  From the flake finishing sea salt party favors, to the cocktails, to the flatware.  Everything.  These plates, bowls, cups, flatware, and straws all come from the most wonderful eco-friendly company I just learned about, Sutsy Party, which was featured in a previous Bon Appètit issue.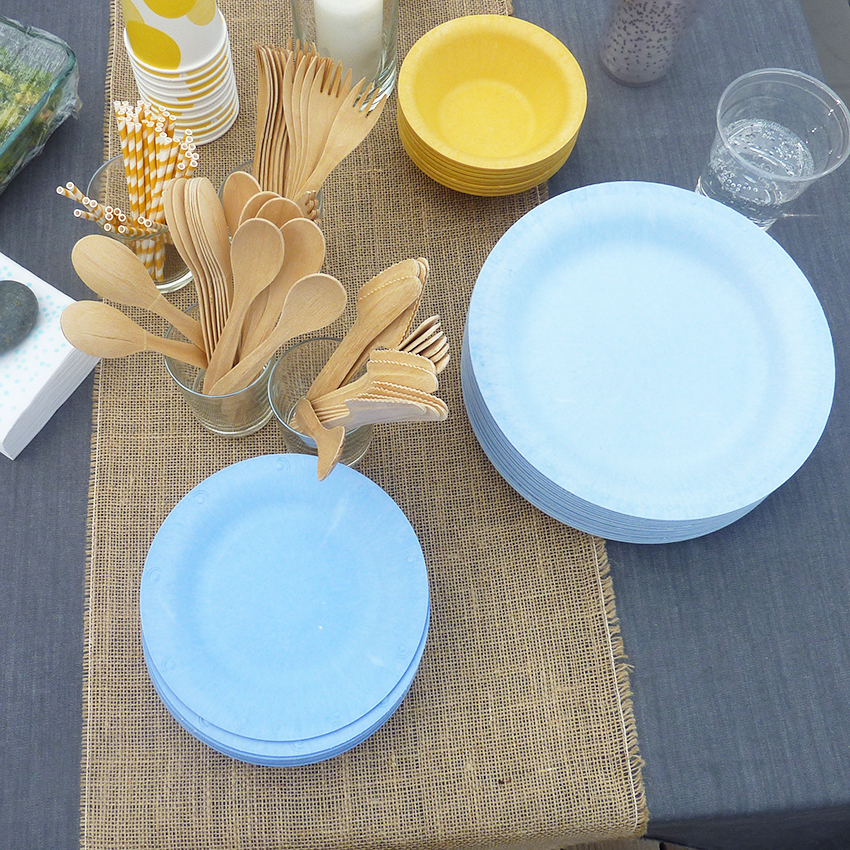 This month being January, the issue of course revolved around "getting healthy."  This was a little intimidating for at least one of our foodie hostesses, but even she admitted in the end, everything was fantastic and well worth the effort.  I couldn't agree more.
In case you are a Bon Appètit magazine collector yourself and want to follow along, here is what our brunch menu for the day included.  Come in, write your dish on the chalkboard wall, and get eating!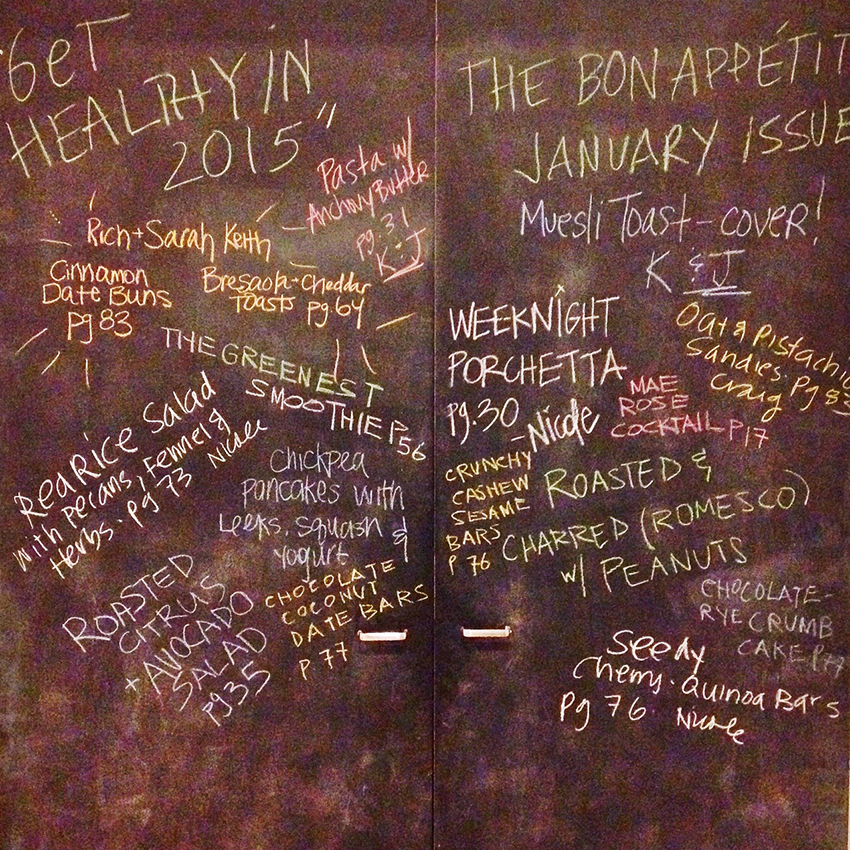 The day kicked off with a variety of cocktails and healthy drinks to start: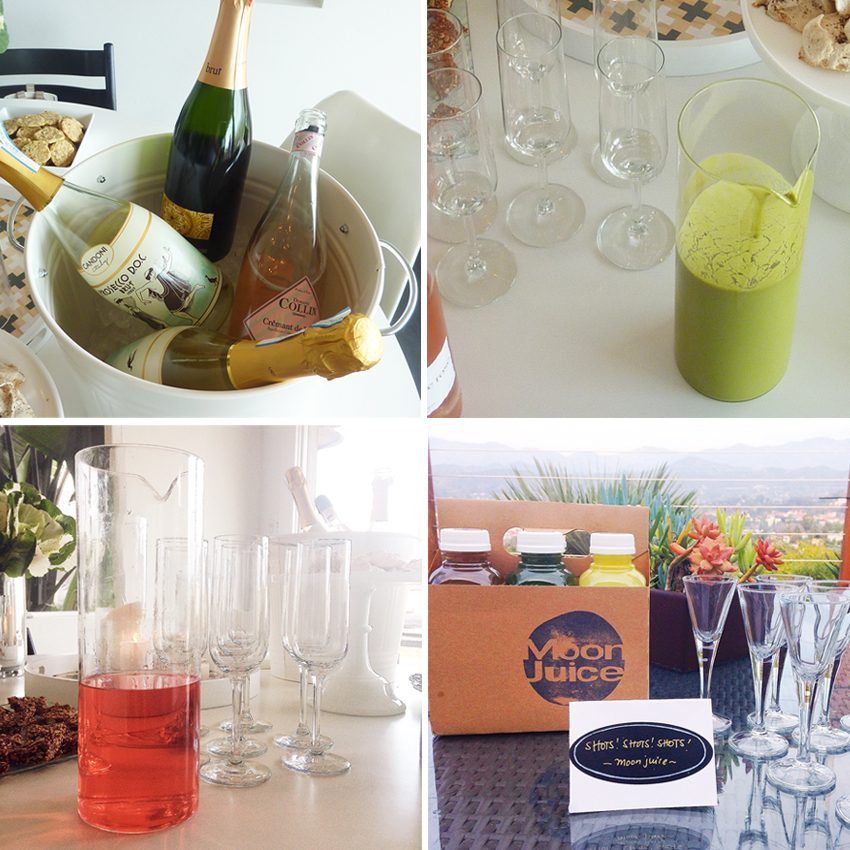 [clockwise from top left] a variety of bubbles and liquors recommended by the mag, the Greenest Smoothie (page 56), a selection of Moon Juices (page 74/75), Mae Rose Cocktail (page 17).
Weeknight Porchetta (page 30)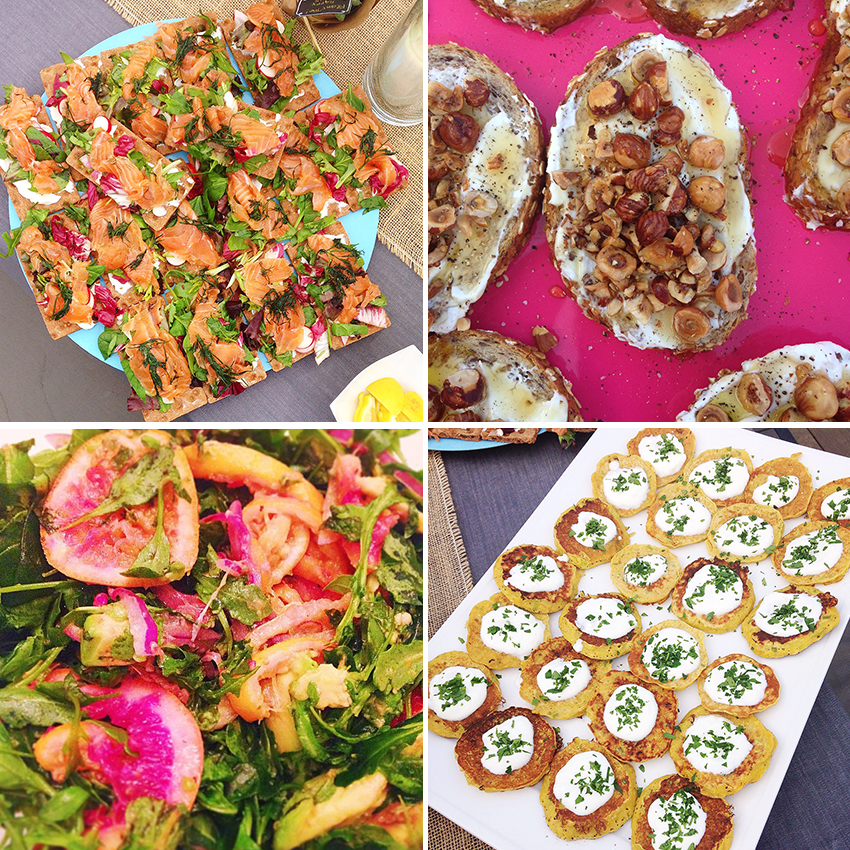 [clockwise from top left] Smoked Salmon Breakfast Salad with Crispbread (page 56), Muesli Toast w/ Labneh, Hazelnuts and Honey (cover), Chickpea Pancakes with Leeks, Squash and Yogurt (page 59), Roasted Citrus and Avocado Salad (page 35).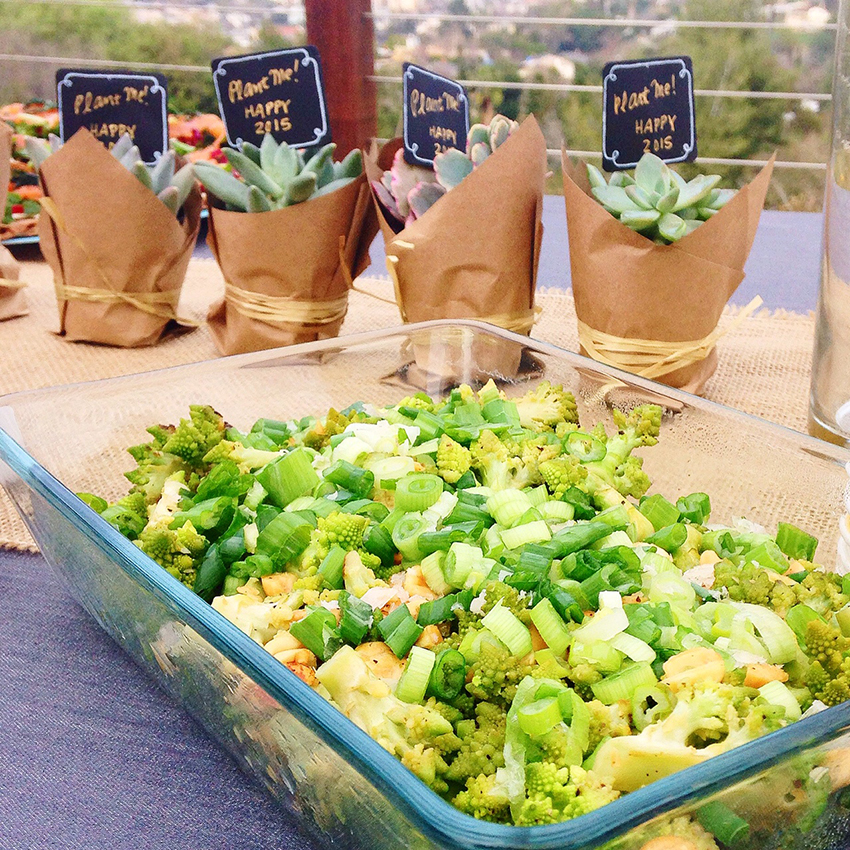 This was the dish we brought and we actually substituted fresh Romesco, which just looked so tasty and was in season at the farmers' market when we went! Roasted and Charred Broccoli with Peanuts (page 73).
Also on the menu but not pictured here were Pasta with Anchovy Butter and Broccoli Rabe (page 31), Bresaola and Cheddar Toast (page 64), Red Rice Salad with Pecans, Fennel, and Herbs (page 73).  As I was going through this list I kept thinking- this was my favorite, no wait, this!  Everything was so, so good.
And there always must be not one, but a selection of desserts.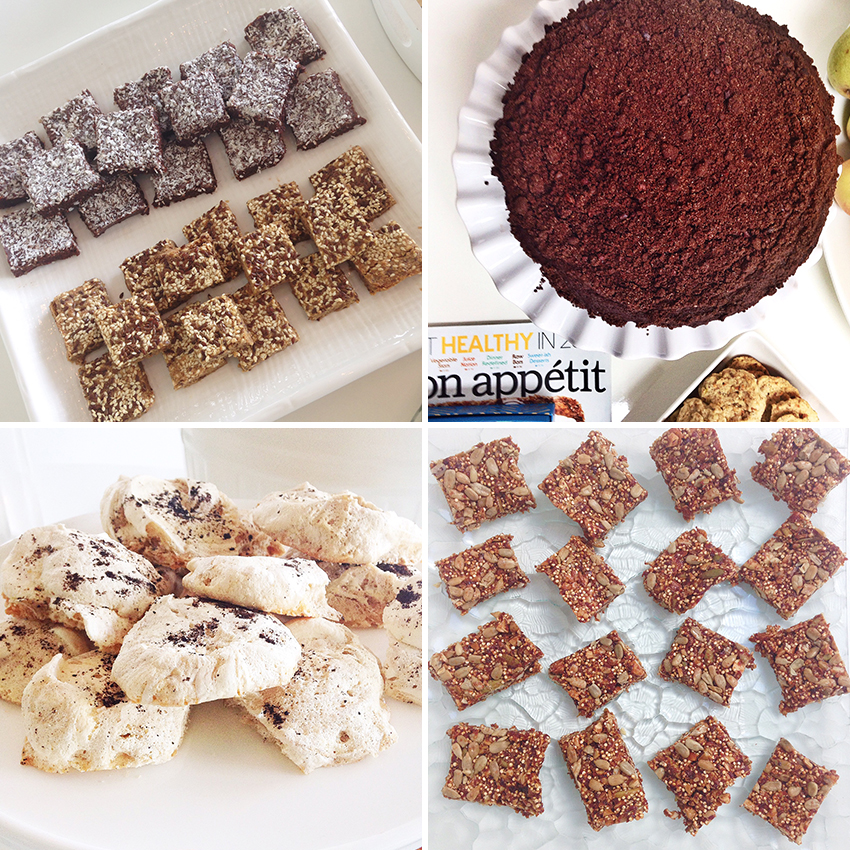 [clockwise from top left] Chocolate Coconut Date Bars (page 77) + Crunchy Cashew-Sesame Bars (page 76), Chocolate-Rye Crumb Cake (page 82), Seedy Cherry-Quinoa Bars (page 76), Hazelnut Butter and Coffee Meringues (page 83).
And also on the dessert buffet but not pictured: Cinnamon-Date Buns and Oat and Pistachio Sandies (both on page 83).
All the guest were sent home with these darling mini succulents hand-wrapped in butcher paper, which also adorned our dinner table and a tiny tin of  Jacobsen Flake Salt.
So you are not up for hosting such a fabulous dinner party once a month yourself?  I get it.  But you simply MUST follow along with these ladies on instagram @bonapetitfordestruction for many of the serious food porn pictures you see here and all the lovely details from each month's issue.