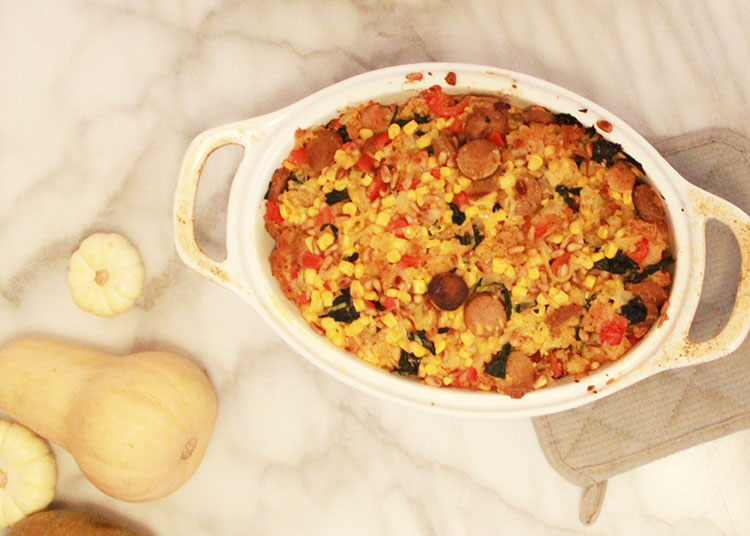 The holidays make me all nostalgic. I know, I got a little nostalgic in my last post too. As much as I [clearly] love Christmas, I think that Thanksgiving might actually be my favorite. Because you still get to get together with friends and family and cook amazing food and drink and eat too much, but there is no pressure about buying and exchanging presents. Although I love the spirit of giving that comes with the holidays, I also get a lot of anxiety about finding the perfect gifts for all of the amazing people in my life. So Thanksgiving for me is like the fun, less stressful holiday of the two.
One of my favorite things about Thanksgiving growing up was my mom's Confetti Cornbread Stuffing. She found the recipe in the newspaper one year and it was such a hit, it became a staple at our family's table for every Thanksgiving and Christmas since. As my diet, and eventually my family's has changed over the years, and as we have inherited the gift of hosting Thanksgiving most every year [which I truly love], I have updated and perfected this recipe to meet our family's crazy dietary needs.
I always like to disclaim our restrictions in each food post I do to be clear for anyone following along who might have more serious allergies than we do, so forgive me if you've heard this before. I am a vegetarian who eats some fish [so if you want to call that a pescatarian, but I am highly allergic to shellfish so none of that], my two older babes are sensitive to dairy, and my husband is gluten free. Now he does not have Celiac's or anything, he is just sensitive. So you will notice that this recipe is vegan, but it is not entirely gluten free. The meatless sausage is made with vital wheat gluten, which is not suitable for Celiac patients. However, it is only a small part of this recipe, so for him, that amount of gluten is manageable. If you were less concerned about the vegan aspect of this recipe, you could sub regular polish sausage, as was in the original recipe, or turkey sausage to make this 100% gluten free. There are of course, other things you could substitute to make it totally vegan and gluten free, but the taste and texture of the sausage really adds something special to this stuffing, so I would suggest not leaving it out!
Generally speaking when it comes to cooking, I am all for short cuts that can make your life easier. But to meet all these dietary restrictions, I am sorry to tell you friend, there are no short cuts.  Starting with the fact that there are no ready-made gluten free vegan cornbread stuffing crumbs on the market. Gluten free, yes. Cornbread, yes. But gluten free and vegan and cornbread crumbs, sadly, no. Maybe someday Trader Joe's [hint, hint]. So here is a quick recipe for homemade Gluten Free Vegan Cornbread which I adapted out of one of the many cornbread recipes in the Joy of Cooking
[a great kitchen staple, no matter what kind of diet you follow, by the way]. Make it a day or two ahead of time, cut into 1/2″ cubes and let dry out or toast at a low temperature in the toaster oven or regular oven to speed up the process.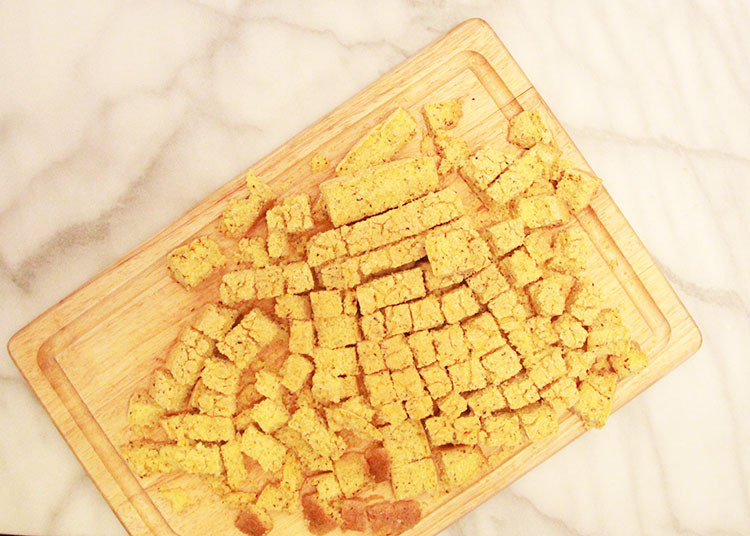 gluten free vegan cornbread
ingredients
1 tablespoon vegetable oil
1 3/4 cup cornmeal
1 teaspoon baking powder
1 teaspoon baking soda
1 teaspoon salt
2 tablespoons ground flaxseed
6 tablespoons warm water
2 cups almond milk
directions
Preheat oven to 450°F. Grease a heavy 9-inch oven proof skillet or an 8-inch square glass baking dish with the vegetable oil. Wisk together in a large bowl cornmeal, baking powder, baking soda, and salt. In a seperate small dish, wisk together flaxseed and warm water. Let set for two minutes, then add flaxseed mixture and almond milk to the dry ingredients.
Place skillet or pan in the oven and heat just until the oil begins to smoke. Remove and pour batter in at once and return to the oven.
Bake 20-25 minutes or until top is browned and center feels firm when pressed.
Now on to the stuffing recipe! But first, a few notes. My favorite kale lately is dinosaur or Lacinato kale, but curly kale also works well here. The recipe called for fennel, which I do recommend and it usually pretty easy to find, but my store was out of it when I was shopping so I used leeks here instead.  I have found that canned creamed corn is pretty hard to find, but that could be a result of living in Southern California/ the Southwest where that is not a common food. And yes, it is vegan! If you can't find it, canned or frozen regular corn works fine as well. Also, for our family, we always double this recipe, which make two pans worth because we love it so much that we like to have leftovers for the week afterwards. It also freezes nicely if you don't think you can eat that much stuffing in a week. 😉
happy confetti cornbread stuffing
ingredients
1/2 lb kale, center ribs removed, torn into 1-inch pieces
6 tablespoons Earth Balance buttery spread
1 medium red pepper, seeded and diced
1/2 large or 1 small yellow onion, peeled and chopped
1/2 medium bulk fennel, coarsely chopped
1 lb Polish style vegan sausage [such as Tofurkey Kielbasa]
1/2 14oz can of cream style corn [or one full can of regular corn, drained]
1 cup vegan cheese shreds [such as Daiya]
3/4 cup pinenuts, lightly toasted
1 1/2 cups vegetable stock
1/2 tablespoon dried oregano
salt and pepper to taste
directions:
Preheat oven to 350°F.
Bring a large pot of water to boil. Add the kale; cook for five minutes or until kale is just tender. Drain in colander. Using hands, thoroughly squeeze out excess water. Set aside.
In a large skillet, melt 1 tablespoon of Earth Balance over medium high heat. Stir in the red pepper, onion, fennel, and garlic. Cook, stirring frequently, for ten minutes or until the vegetables are softened. Transfer the mixture into a large mixing bowl and toss with the stuffing crumbs.
Using 2 more tablespoons of Earth Balance, cook sausage in the same skillet in small batches, stirring frequently until browned all over. Add sausage to stuffing along with any accumulated pan drippings.
Stir in creamed corn, vegan cheese shreds, and pine nuts until well combined.
In a medium saucepan, combine the vegetable stock and remaining 3 tablespoons Earth Balance. Cook and stir over medium-high heat until butter is melted. Pour over stuffing mixture to moisten; toss gently to mix. Stir in oregano, salt, and pepper.
Turn into a greased 3-quart shallow casserole or 13×9-inch pan. Bake for 35-40 minutes or until heated throughout.