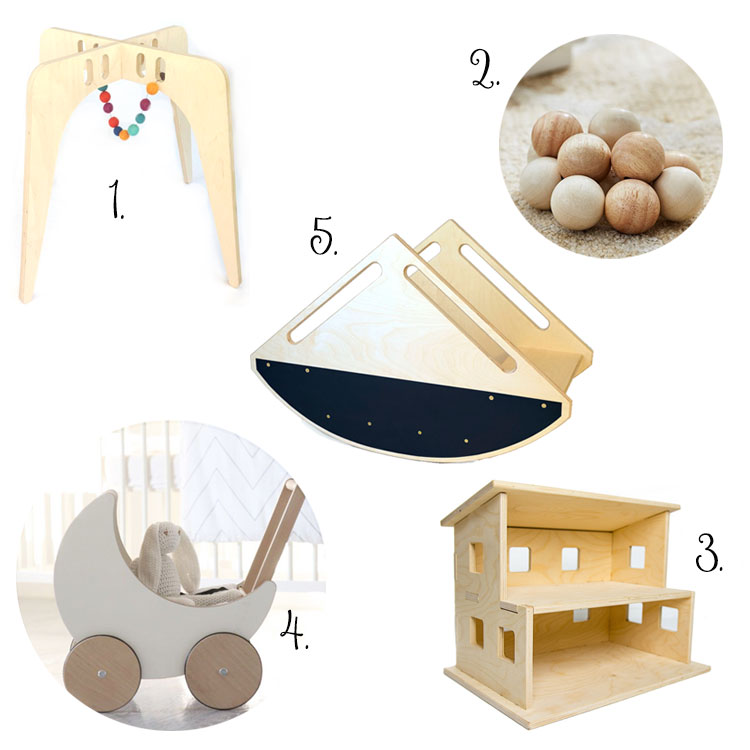 Anyone else have a strong dislike for brightly colored, loud noise-making plastic toys? I am sure I am not alone. I mean, [I guess] I understand that kids like those type of toys and I'm sure they help with some aspects of brain development and what not, but those are definitely not the toys that I want to have to look at all over my living room floor.
I am always looking for more claissic, minimalist toys when I shop for my kiddos. So I thought I'd share some of my finds this year, some of which will even make their way under our Christmas tree. But hurry. Many retailers have already begin with shipping cutoffs for Christmas! I will try to give you some alternatives to those pictured, but no guarantees!
1.// wooden baby gym from nina + june.  this one pictured is my favorite, but it is currently past Christmas deadline. this Land of NodThis Land of Nod one is also cute, or the always affordable IKEA has this one.
2.// these classic neutral beads are strung together on an elastic to give them fun movement and minutes of entertainment for baby. 😉
3.// love the simple, minimalist beauty of this dollhouse, which you could paint to your liking, or keep as is.
4.// I am obsessed with the wooden doll pram we got baby girl A for her birthday this year [pictured, below]. but when I went to the Land of Nod website to find it, and it's not listed anymore! the one in the above picture is from a European shop Ooh Noo and I actually love the crescent moon shape. the newest Land of Nod doll pram is pretty cute too.
5.// this little Paloma Teeter Totter is so cute and looks like the kids would have a blast on it! it comes in a variety of colors, just in case you do happen to like bright colors.