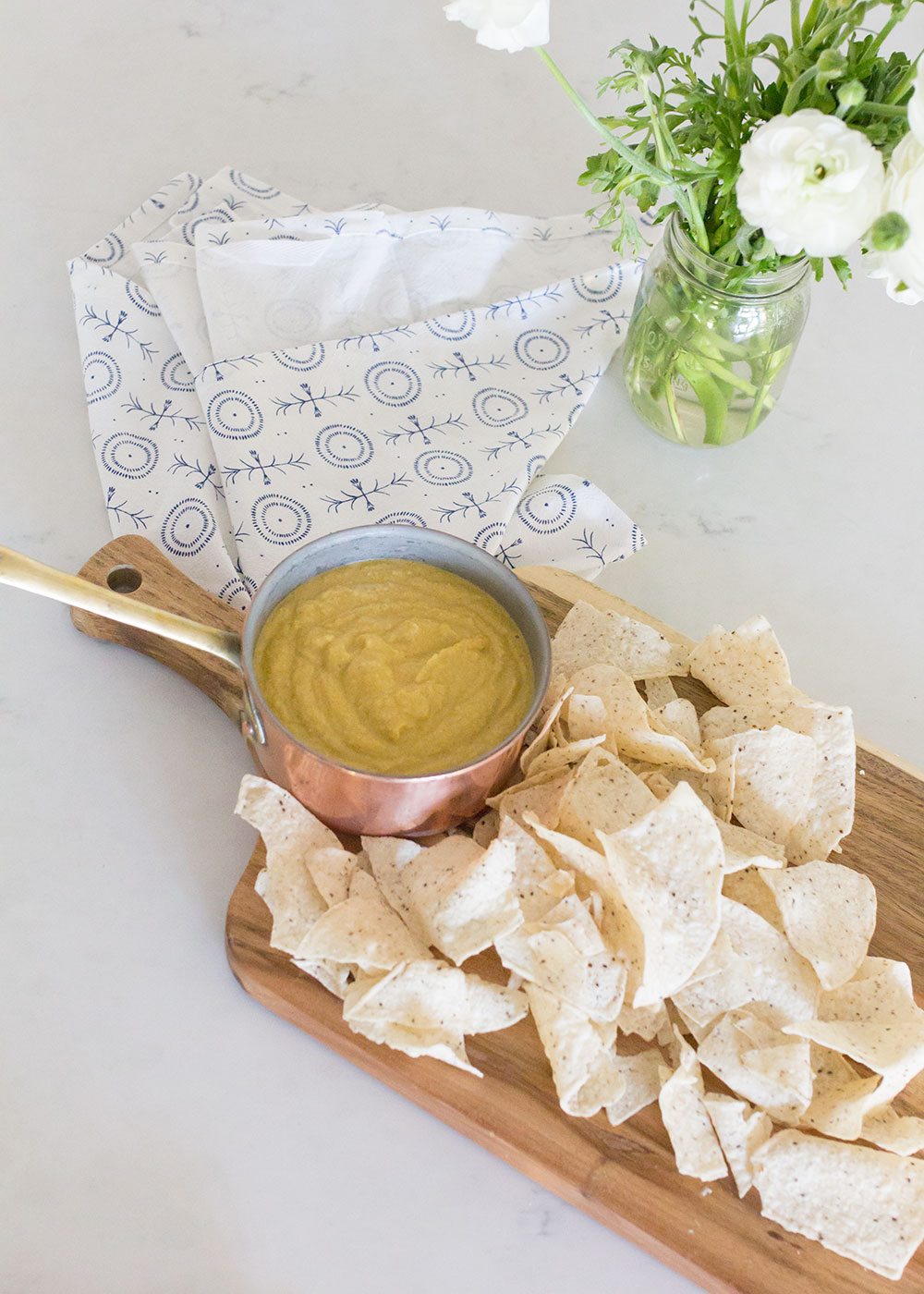 This past weekend was the last couple of days on my cleanse [more on that coming soon!], so I wanted to play around with making a clean vegan queso dip. Cause, ya know, there were some people interested in a little football game that was going on on TV. On Sunday, we were invited to a friend's house to eat food and watch the Justin Timberlake concert, so I figured I should at least bring something that I could enjoy while we were there! 😉
As you may know, I normally eat a vegan-ish diet. [Here's my favorite vegan and gluten free stuffing recipe, and the ever-popular vegan and gluten free naked ombre cake.]  I have tried full on veganism before, and have had to go on a limited diet when I was breastfeeding for my baby's tiny tummies. Again, more on my food/diet history coming in the post on my cleanse experience later this week. But for now, suffice to say, I la-la-la-love pretty much all vegan and plant based foods, although I also do have a weakness for cheese.
Years ago, a friend sent me a vegan queso recipe that was super yummy, so I pulled that out as I was planning our dish to bring to the Super Bowl party. The problem with it [as with many other similar recipes], is that it called for soy [regular miso] and cornstarch, both of which are not Clean-friendly. I did a little googling and also found this recipe for vegan queso, which was a bit closer to the clean version I was looking for. The problem with this one was that it called for regular potato, which is also not Clean-friendly. In addition, some of the tasty sounding toppings like tomatoes and peppers, are nightshades, which is off the list when your cleansing. [Of course if you are not cleansing, you should definitely add those toppings because they would be so tasty on top!]
So I improvised and sort of combined the two recipes I had. I think what I came up with is pretty darn good!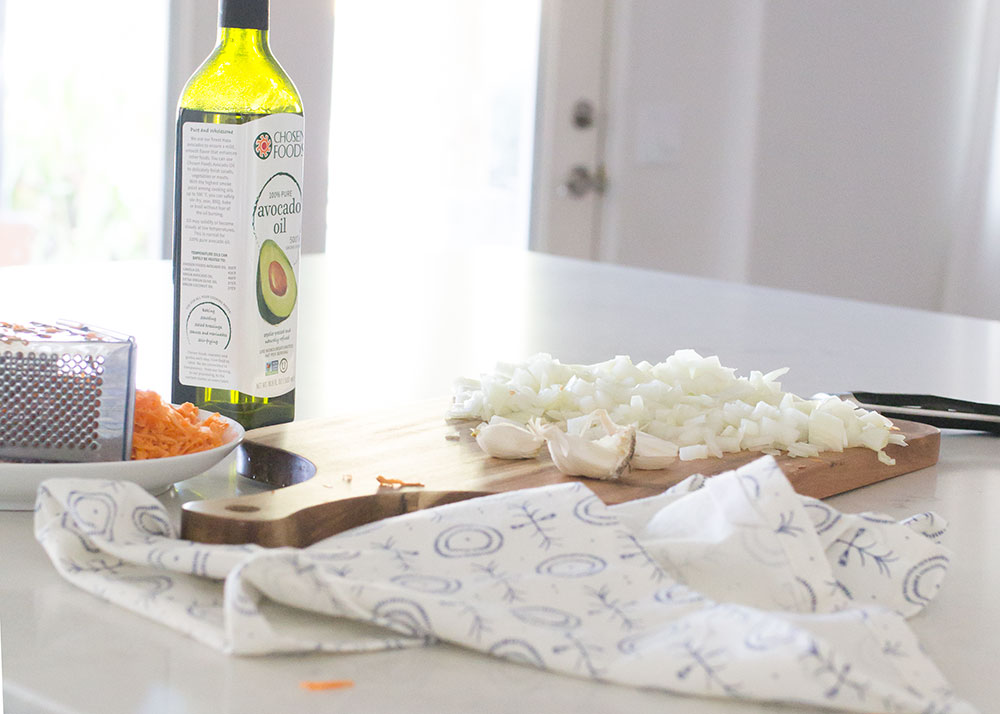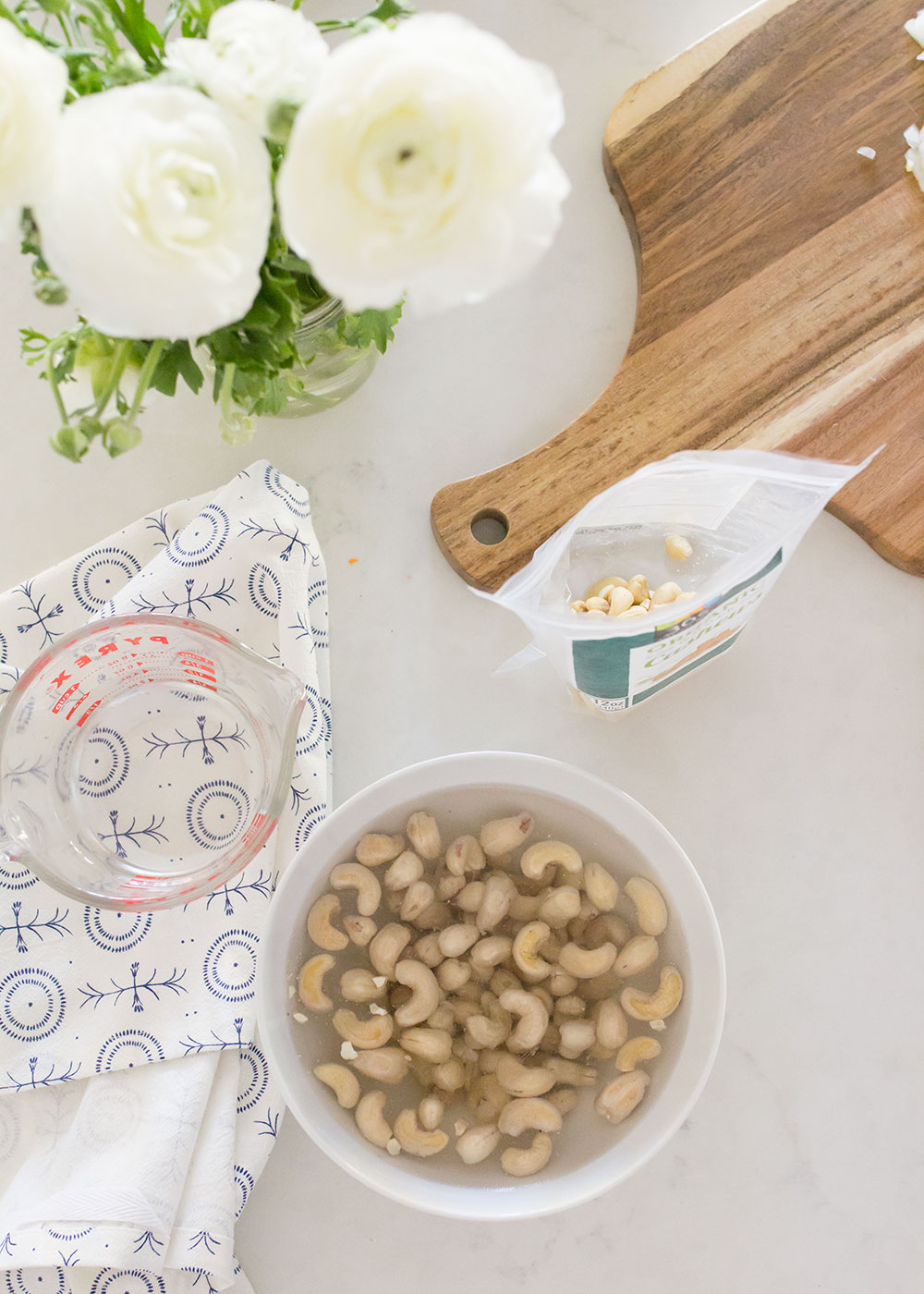 Clean Vegan Queso Dip
1 cup raw cashews
1 1/2 cups water for soaking + more for blending
2 tbsp. avocado oil
1 medium yellow onion, diced
1 cup sweet potato,  peeled + grated [about one small]
4 cloves garlic, peeled + minced
1/2 tsp. paprika
1 tsp. cumin powder
1 tsp. roasted chili powder
1 tsp. garlic powder
1 tsp. salt
1/4 cup nutritional yeast
1/4 cup chickpea miso paste
2 tbsp. lemon juice [about half a lemon]
1 tbsp apple cider vinegar
In a medium sized bowl, soak cashews in 1 1/2 cups filtered water for a minimum of 4 hours and up to overnight.
In a medium saucepan, heat avocado oil over medium-high and saute onions with a dash of salt until slightly translucent, about 5 minutes.
Add in sweet potato, garlic, paprika, chili powder, cumin, garlic powder, and salt and continue cooking until well mixed, about 3-5 more minutes.
Add the cashews and the soaking water, stirring to combine. Let simmer until potatoes are cooked through, about another 5 minutes.
Transfer to a blender, or use an immersion blender in the same saucepan over low heat. Add nutritional yeast, miso, lemon juice, and apple cider vinegar and blend together. Add 1 cup more of water + more as needed to achieve desired creamy consistency.
Serve immediately with grain-free chips, such as these.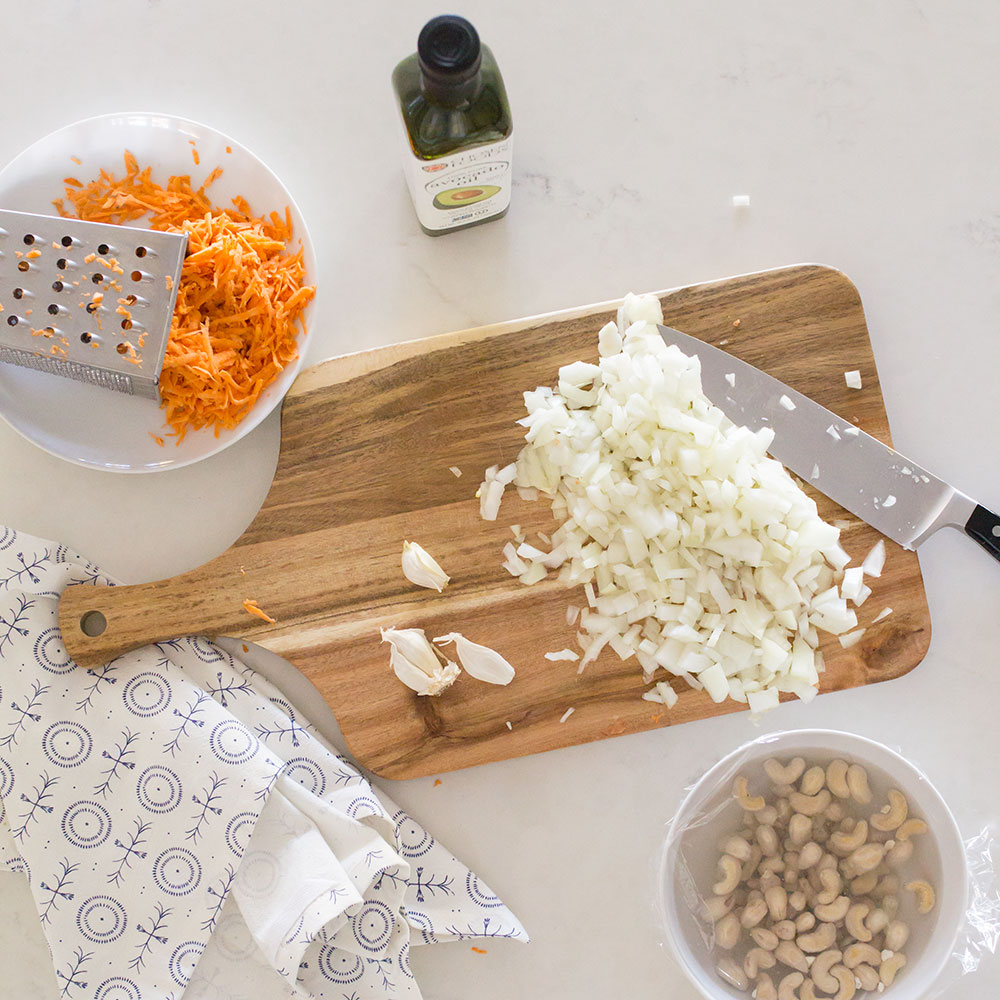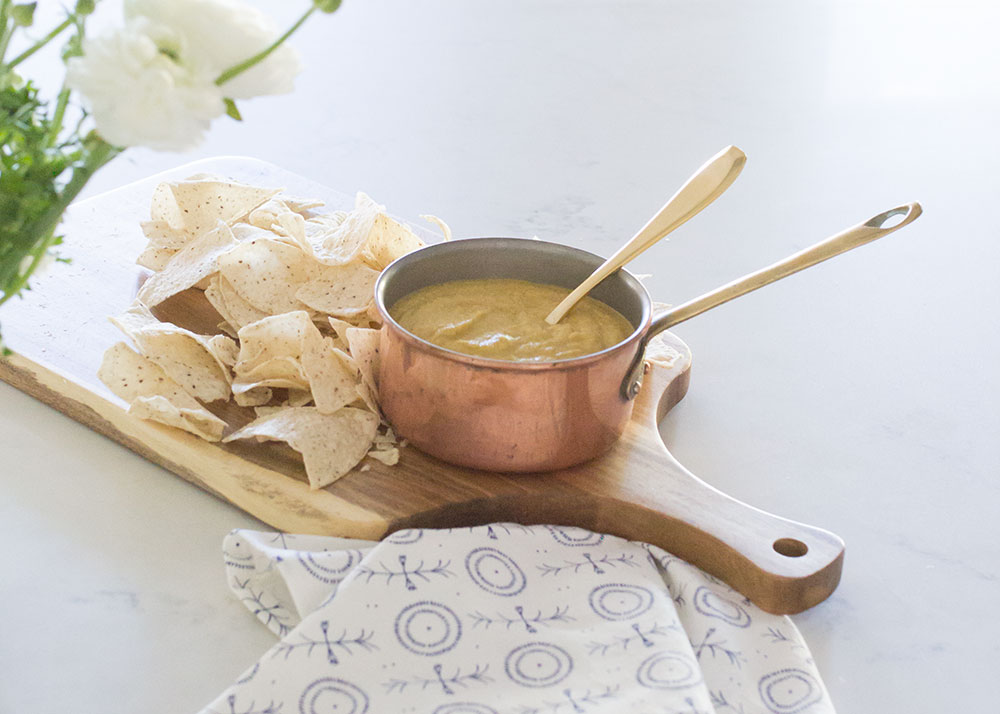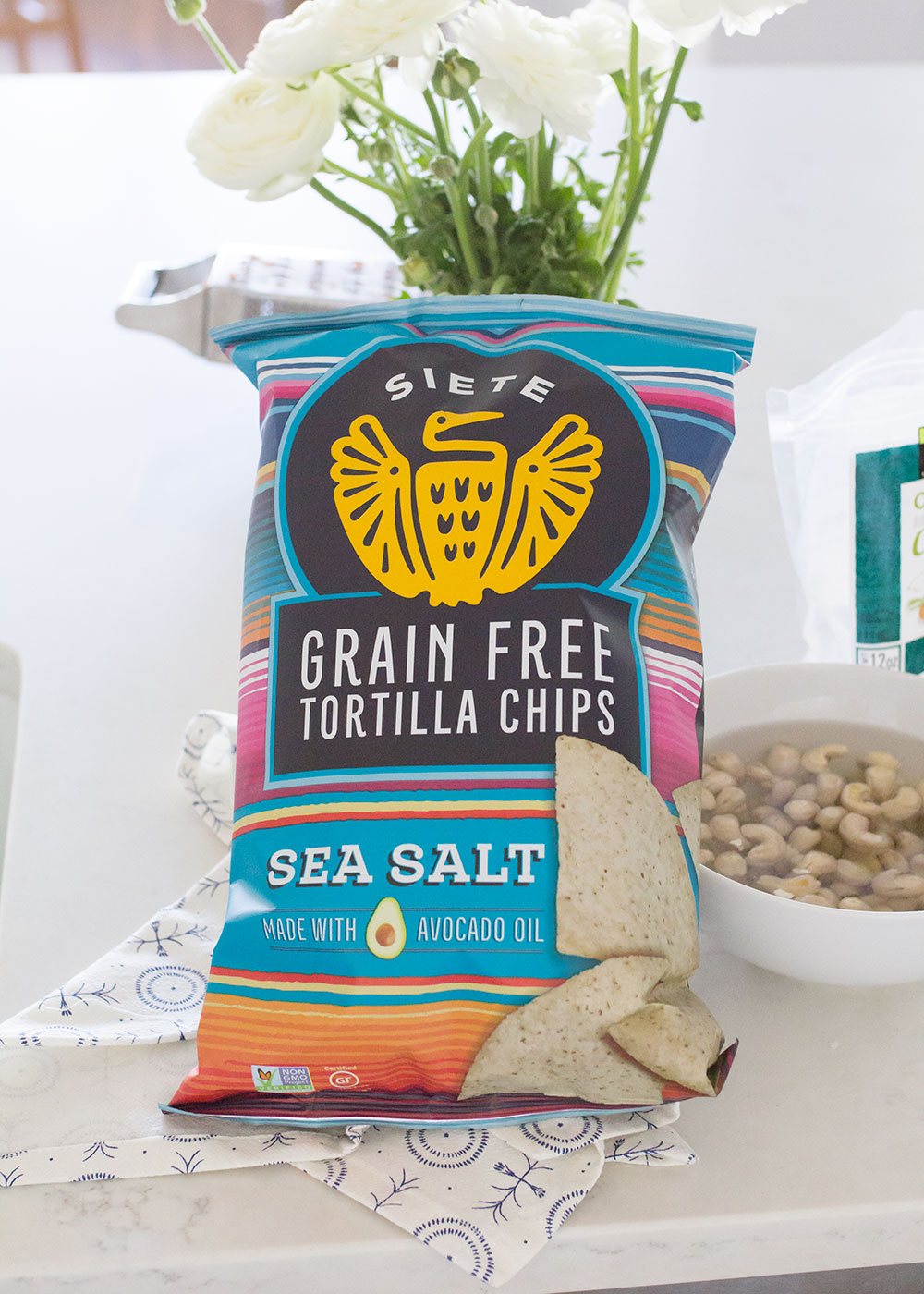 I may be biased but I think this one is sooo good! And every bit as addicting as the real deal. Soaking the cashews makes them more creamy and easy to blend in with the other ingredients, while the yeast and miso paste help build that salty cheese-like flavor. And I was pretty thrilled to find these super tasty grain-free chips at Whole Foods to serve them with when I was shopping last week! Note: most gluten-free chips and crackers are made with corn, which is also a no-no on the Clean diet. So these were a real treat! But you could of course also serve it with some cucumber slices or carrot sticks as well, to avoid grains. [By the way this is not sponsored or anything, I just found them and think they are super tasty, so I had to share with you guys!]
Also, this clean vegan queso dip is picky-kid approved by my tiny taste-tester, which is always a win around here!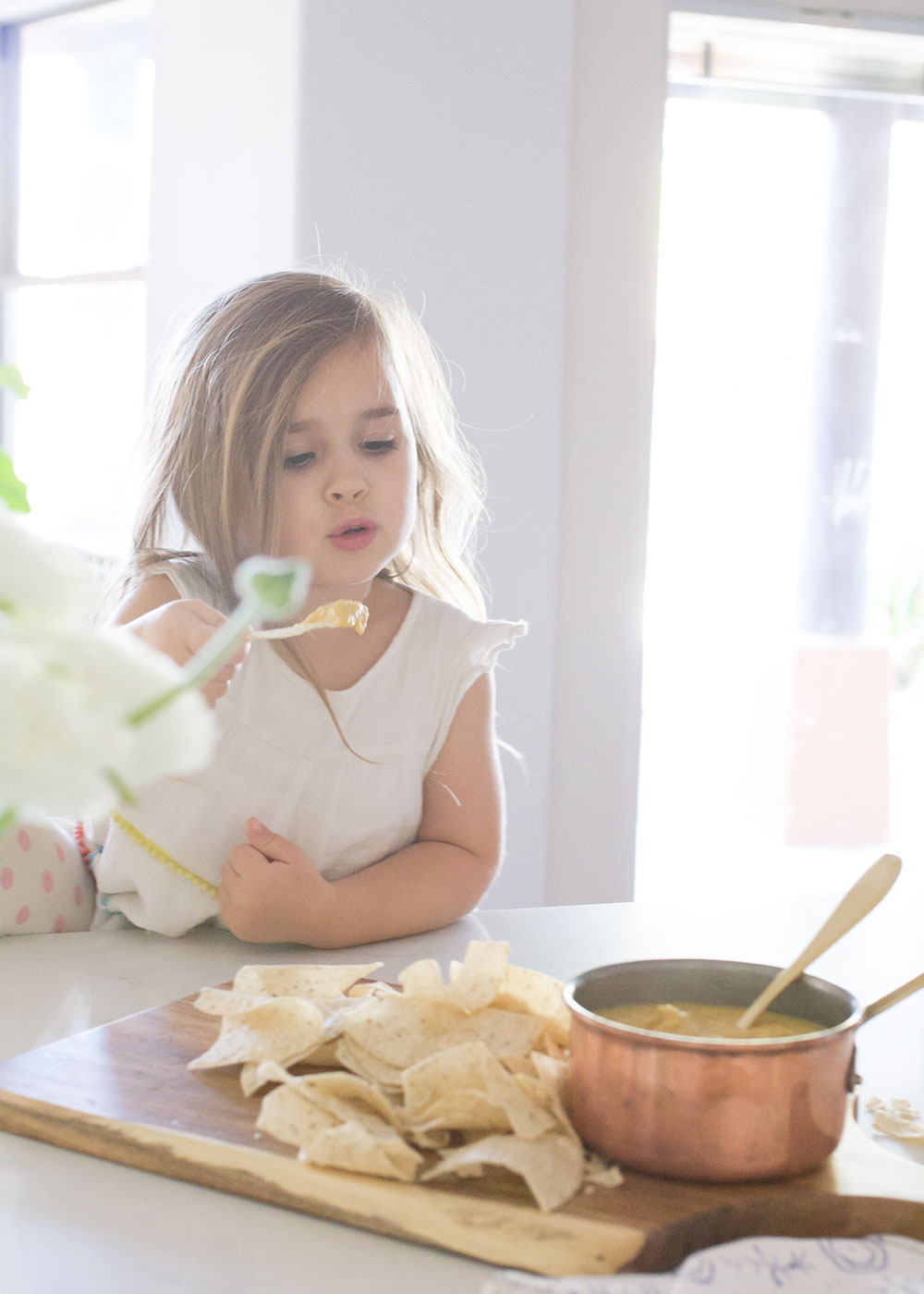 Now the only trick is how not to eat the whole bowl in one sitting! Try it out and let me know what you think! xoxo, Paige