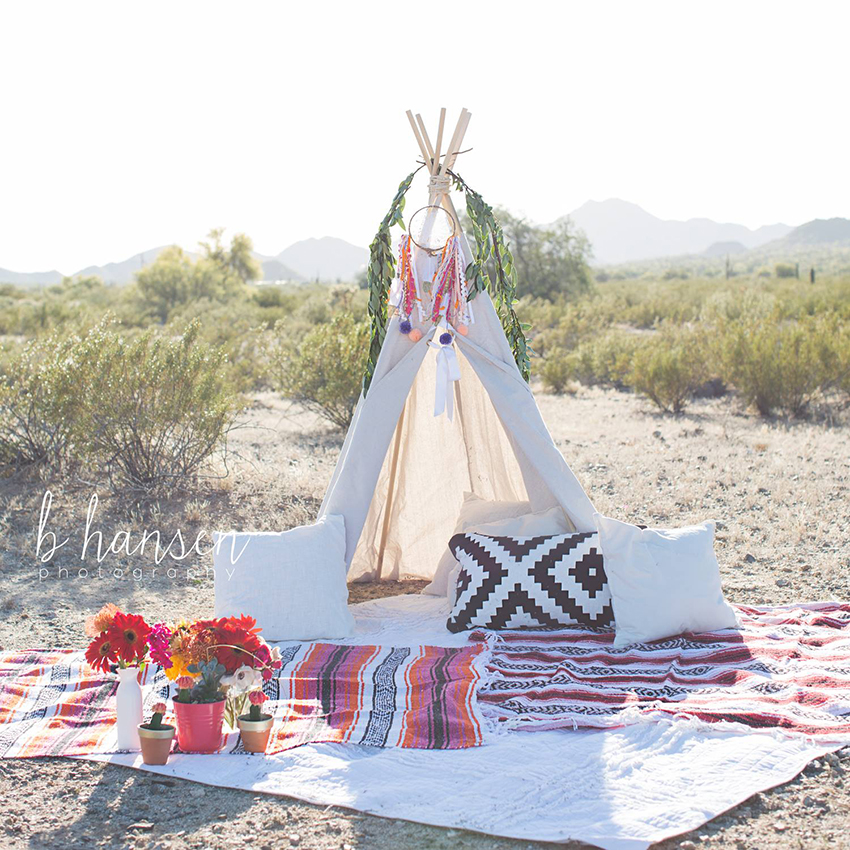 Well we had so much fun with our last b. hansen photography workshop (and a lot of requests for more) that Brandi and I teamed up again to put one together last month!  Just like before, Brandi expertly lead the photography workshop portion with a ton of information perfect for beginners that helped get our participants out of auto-mode and into using all the amazing features of a DSLR camera.  There was plenty of time between each lesson to practice on vignettes that I had styled and then again at the end we did a fully styled family photo session for everyone to apply their newly acquired skills.
Brandi loves to cook and blog about her food and recipes and she again made all the delicious food for our event.  So if you want more info and beautiful pictures of the festive spread, as well as some of our vendors for the event, you can link to her blog for more of that here.
For me, I thought it would be fun to share with you this time some of the pictures I took myself with my newly acquired skills.  For our first workshop, I was also a participant and I didn't even know what DSLR stood for at that point. [insert embarrassed face emoji] This second time around was a great refresher for me and now, I am learning my way around the camera (that is probably way to fancy for me).  But, I think my skills are showing improvement!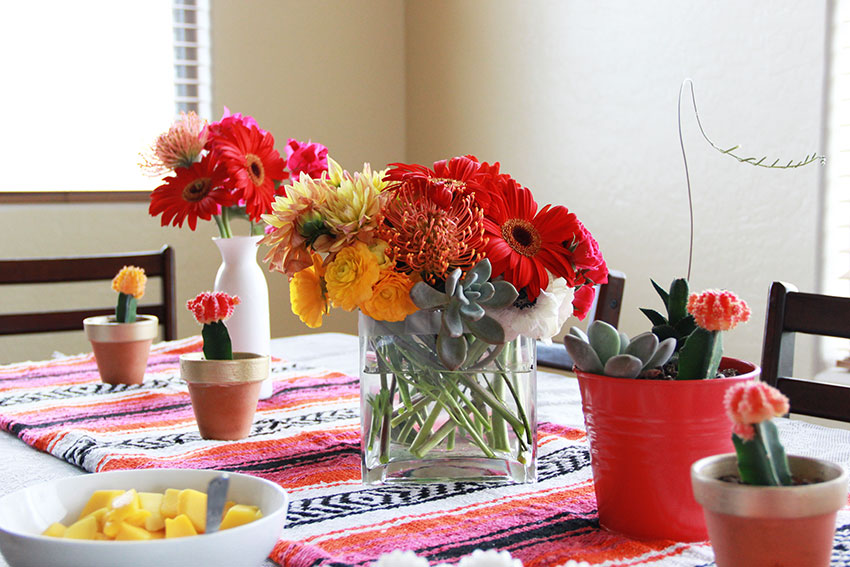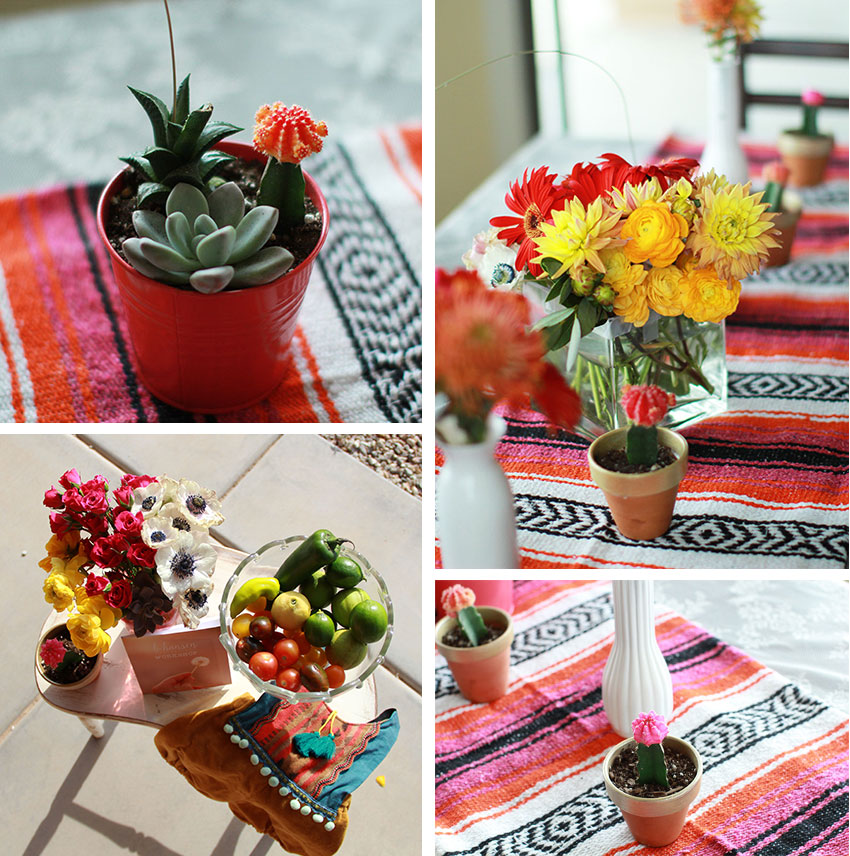 And of course, I love sharing with you all my inspiration for the styling portion!  When Brandi and I were talking about this event and finding the right family to allow us to style them, I immediately suggested to her my long time friend Angie and her beautiful family.  They popped into my head because there littlest one is turning two on Cinco de Mayo this year and although most of us are pretty good about documenting our baby's first year of life, sometimes by year two, that can drop off – especially with the second child!  So I thought it would be fun for them to capture this moment in their family's history with a subtle, festive theme that celebrated their baby girl.  It was so special to be able to work with a personal friend and may I say, she was an excellent client!
I wanted to stay true to my design aesthetic, which as of late includes a heavy bohemian vibe, but at the same time, I wanted to push myself a little.  If you have been following along with me, you already know my favorite color is white.  I don't care what you read or hear from other photographers, an all white family photo session never goes out of style and will always be a timeless addition to your photo album.  That's why so many people do it!  But of course, my role here is making photos look as unique and special as the families in them.  And with the idea of a colorful festive theme in my head, I knew I wanted to add punches of color to the scheme of my normal white and neutral palette.
Whenever I am creating a set or styling a look for a family, I always start with a color scheme.  It helps me get in the right mindset and it's what I always go back to if I am feeling lost in the creative process.  It's not all about being matchy-matchy either, but finding colors that complement one another.  Since I wanted bright, vivid colors, I stayed on the warmer side with reds, pinks, oranges, and even some yellows.  And because the accent colors of this shoot were so bright and eye catching, I still wanted our family in whites and neutrals so that your eye would go to them and they wouldn't be consumed by the chaos of all the colors.
Because my clients usually prefer to do their own shopping (with my guidance), the next place I go is the family's outfits.  You can see my inspiration boards for the family in this previous post.  And when we are doing a workshop like this, my goal  is always to be able to go from table to photo shoot with the same theme, seamlessly.   This means using a lot of the same elements for both, but often in different ways.
I have to admit, as I was collecting all the amazing pieces for this shoot, I doubted my decision to be so bold with color and worried it might be too much.  But once it was all set up and our family got in there, pure. magic.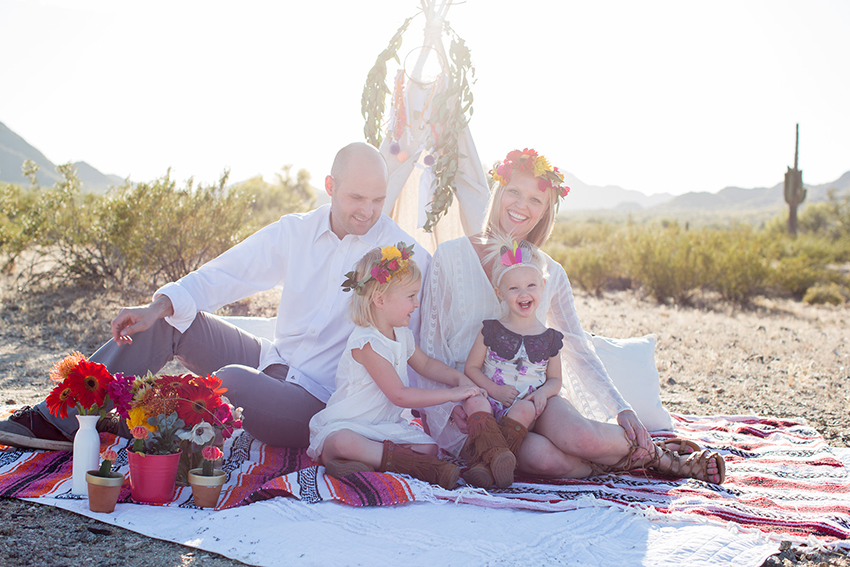 On Set: dreamcatcher by miss ruby locks // left side blanket from gunn & swain // right side blanket from nosh studio // teepee was a previous diy project of mine // all florals by me.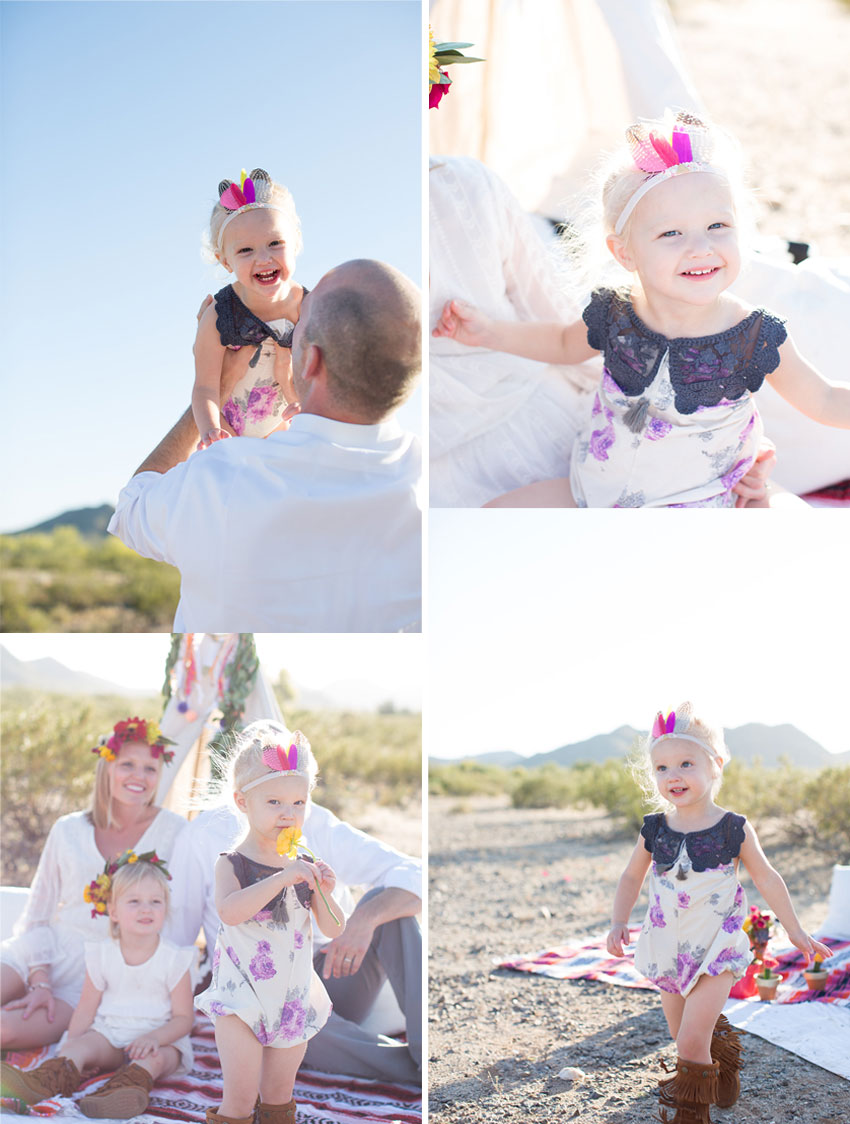 Our little soon-to-be birthday girl has a fiery spirit. On London: headband by a tiny arrow // romper by the brass razoo [tip: for updated release dates and previews of these hard-to-get pieces, follow @elisevaughn on instagram] // boots by minnetonka moccs.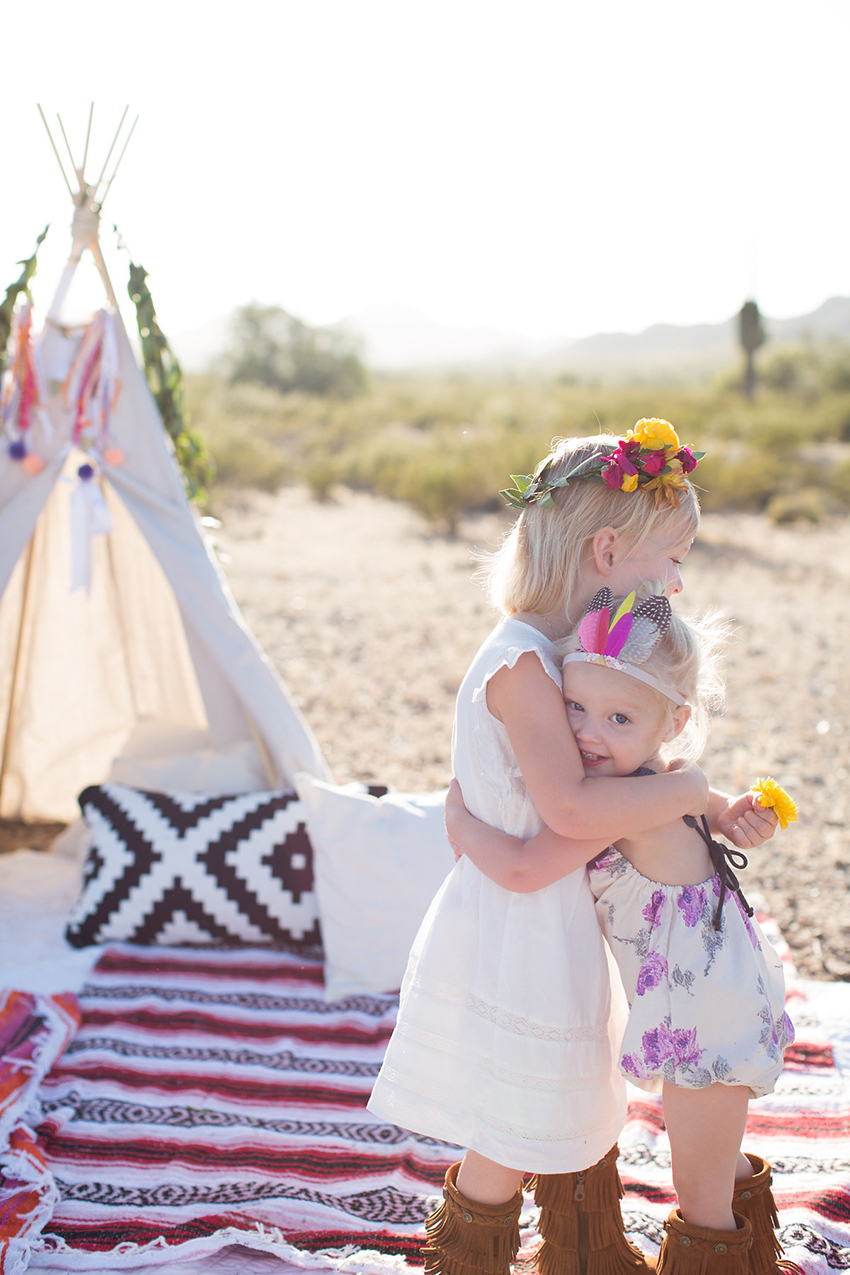 I love their sisterly love.  On Harlow: flower crown by me // dress by gap [currently sold out but you can find similar here] // boots by minnetonka moccs.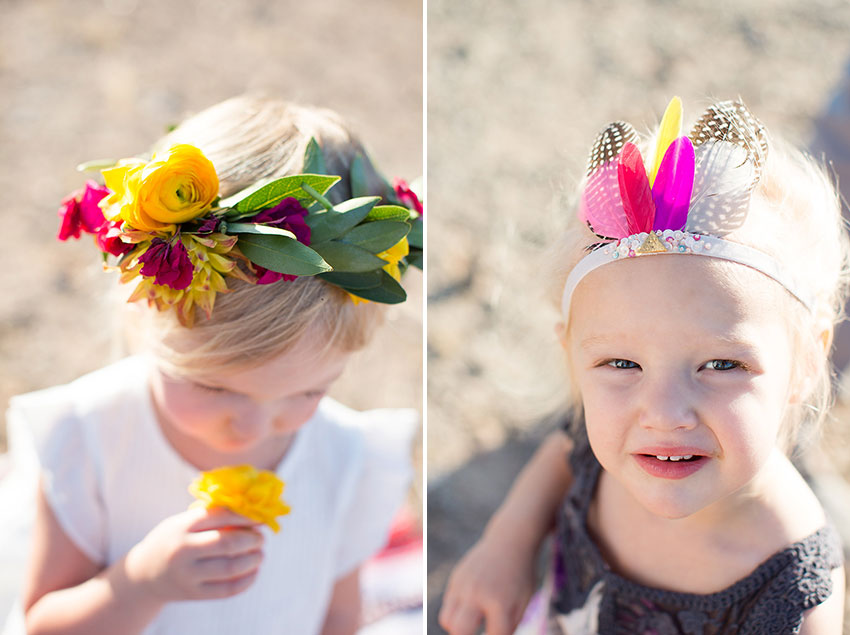 I think headpieces are such a beautiful aspect to add in photos to make women and girls feel beautiful and special.  The flower crowns for both mom and Harlow were made from fresh flowers by me.  London wore this stunning feather headpiece made especially for this shoot by Janis of A Tiny Arrow.  I love her work!  You can send her a message through Etsy and she can make any custom feather headpiece you can think up.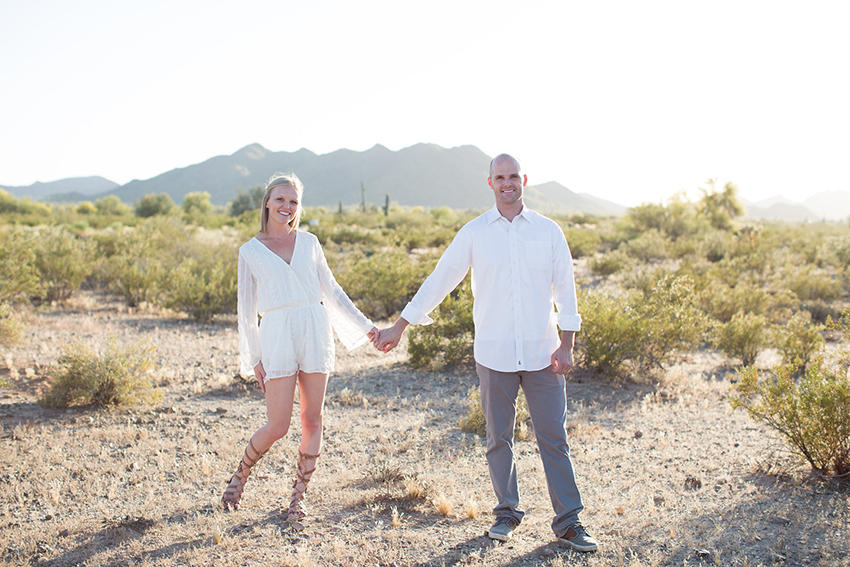 And one final look at the people who made it all happen for this beautiful fam!  I was so impressed how Angie took my style inspiration and followed it to a T.  Luke wasn't as into being styled, but I think he still did pretty well ;).  He was able to pull everything for his look from his current closet!
On Angie: romper from piperlime [now closed] // gladiators by cynthia vincent.
All photos of the family by the ever-talented Miss Brandi of B. Hansen Photography.