Happy National Pizza Day! Gosh, I do love these made up holidays! Like most people, my husband and I both grew up enjoying pizza as a special treat every now and then. Pizza is an easy comfort food for pretty much any occasion you could think of. But as we grew into adulthood and began discovering our family's various food sensitivities, we found the ease of just ordering a pizza for dinner was no longer. When we lived in Los Angeles, it actually wasn't that big of a problem because we could easily find dairy and gluten free options at pretty much every independent pizza joint in town. And there were at least five within a half mile radius of us. We even had a 100% vegan pizza joint that was just a couple of blocks from where we lived.
But when we moved to Arizona last year, again we found ourselves stumped when it came to a go-to pizza joint that could meet all of our dietary needs. To recap: my husband is gluten-free, I am a vegetarian, and our bigger two kids are both diary sensitive. Even though we now have found a couple of delivery places that can accommodate our needs, more often than not, we just end up making our own. The additional costs of gluten free and dairy free requests at a restaurant sort of take the 'cheap' factor out of the traditional 'cheap and easy' dinner idea. And to be honest, with kids, it's almost easier [and certainly more fun] when we stay home and all make it together! Overall, it's just a great way to meet everyone's dietary needs and taste preferences.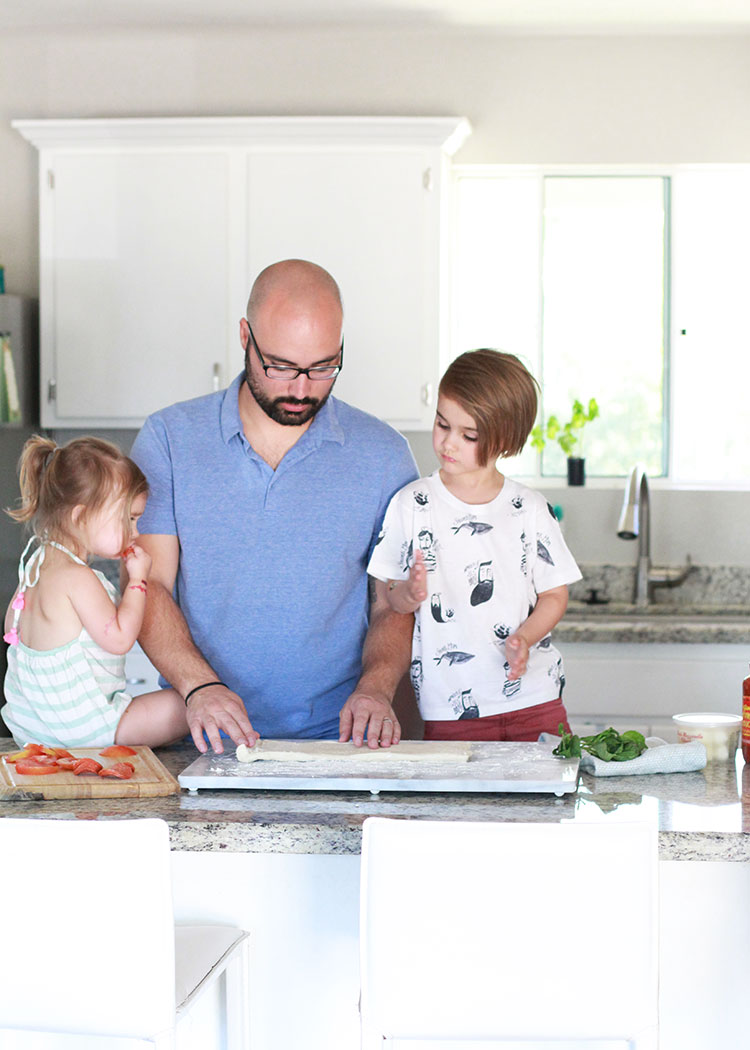 I like to start out with a refrigerated pre-made pizza dough. Not that making your own pizza dough difficult. It's actually super easy, you just have to plan in advance a bit so you leave yourself enough time to let it rise. Sometimes we will make our own gluten free pizza dough and it is pretty tasty that way. But I like to take the shortcut, more often than not. I am a big fan of the Trader Joe's refrigerated whole wheat pizza dough, but here we used the Immaculate brand pizza dough. Mostly because I had already been to two stores with three kids and didn't want to go to another, ha! For gluten-free Dad, I grab some of the Udi's frozen pizza crusts, which you could find at Whole Foods or another health food store.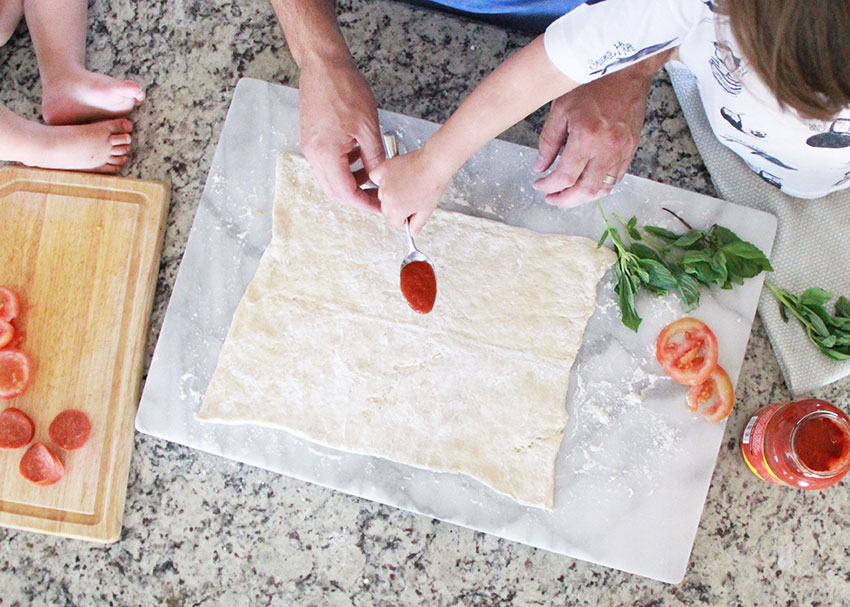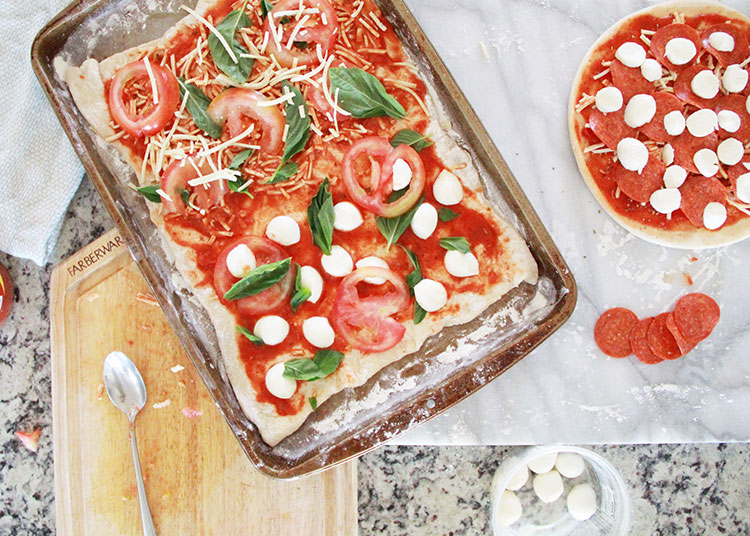 Then we all top as desired. For my kids' side, we love the Daiya brand faux cheese best. It's one of the few that melts and is so tasty! Or sometimes we will just do no cheese and only veggies and sauce.  I always put some sort of veggie on their pizza, even if they pick it off because I want my kids to grow up loving vegetables!
Now with our little family, pizza is a Friday night tradition. We also usually get a movie for the kids to watch and it's just a great way to start off the weekend. It's nothing fancy, but it meets all of our needs, it's cheap and it's fun! What traditions do you have around food in your families? I'd love to hear about them in the comments below!
Happy National Pizza day and Happy Friday too! If you need some more pizza inspiration, you should definitely check out our friends @bonappetitfordestruction, who were just featured this last week on the actual Bon Appetit mag website! I also featured them last year right here on this little bloggy blog. So proud of these ladies and their creative spin on the dinner party and featured recipe!